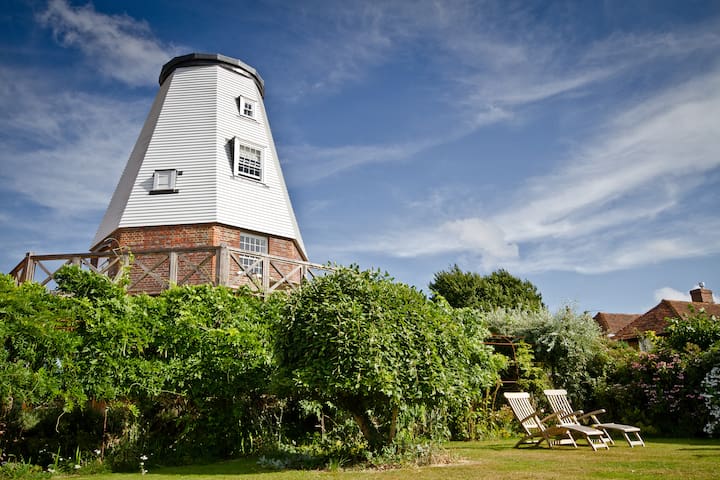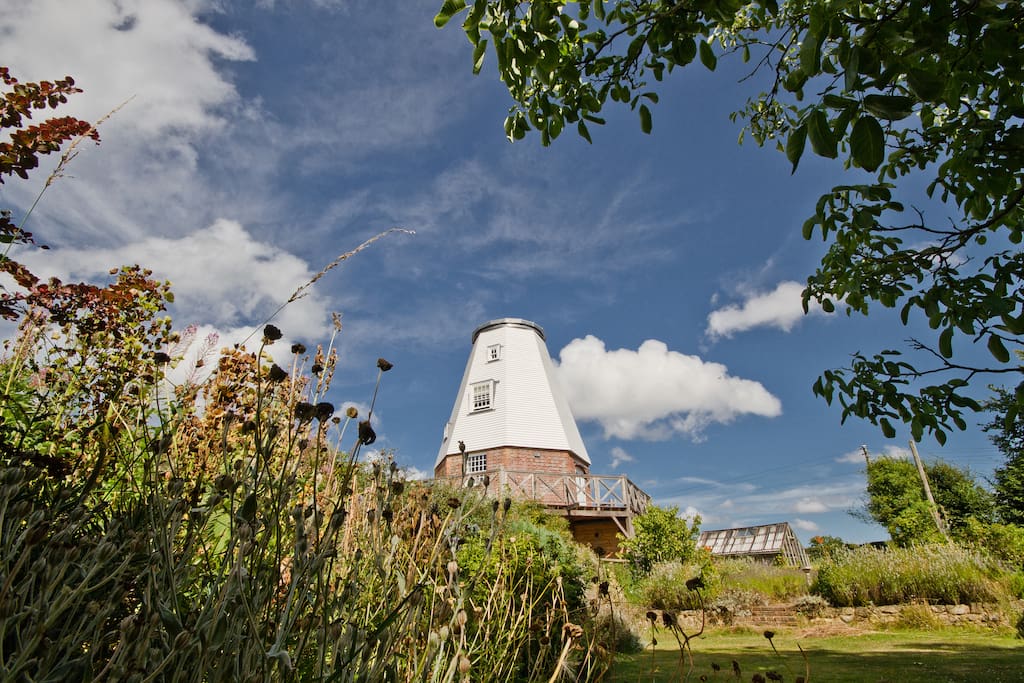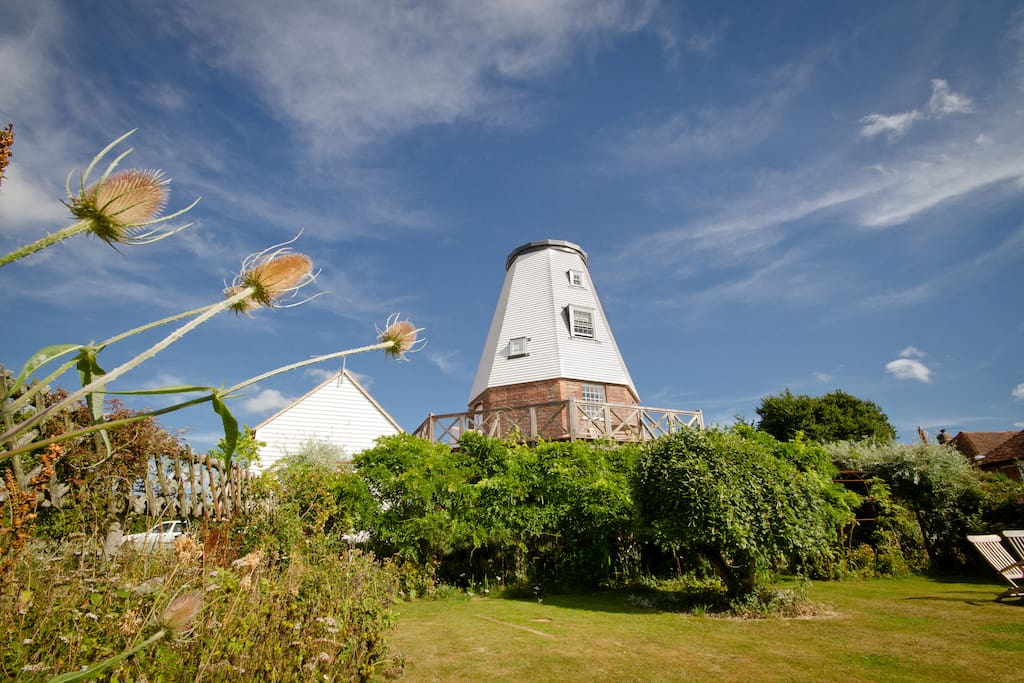 Old Smock Mill is a romantic place for couples. The atmosphere inside is peaceful and relaxing. Everything is designed to unwind you from the moment you walk in. It is surrounded by the lovely Kent countryside where you can ramble and refresh yourselves by perhaps ending the day in one of the great pubs cosy by a log fire in Winter or in Summer in an English garden. Guests have said how hard it is to tear themselves away, it truly is a treasure to find.
A kiadó hely
Az Old Smock Mill egy gyönyörű négy emeletes épület (három emeleten a nyaralás hagyja), hogy óvatosan helyreállították egy nagyon magas szinten. A tizennyolc hüvelykes téglafalakkal és a fehér időjárású fedett toronnyal kiemelkedik a táj. A tölgy külső lépcső vezet fel a gyönyörű színpadra, ahová belép a Millbe. Minden emeleten masszív gerendák húzódnak, amelyek az eredeti, függőleges tengelyű óriás lendítő kereket és zsákos emelőt hordozzák. Ez egy nagyon szokatlan romantikus és emlékezetes hely marad. Minden szobát gondosan tervezték, hogy tartsa magát, de a kényelem és a modern létesítmények is gondoskodnak. Az üdvözlő kosár, beleértve a tulajdonosok csirke szerves tojás lesz érkezéskor. Hálószoba: Gyönyörű francia king size ágy, ropogós fehér pamut ágyneművel. Van egy gyönyörű, régi réz mosdókagyló és csapok, valamint egy egyedülálló puha rendszer a ruhák lógására. Nagy gerendák tartják a vas óriás lendületes kereket egy lenyűgöző spirális lépcső vezet a fürdőszobába. Fürdőszoba: Kettős végű fürdő, talapzat medence és WC. Séta nedves szobában zuhanyzó padlófűtés. Fehér bolyhos törölközőt és helyileg készített kézi mosást biztosítanak. Konyha: A konyha jól felszerelt, mosógéppel / szárítóval ellátott sütő főzőlapos hűtőszekrény / fagyasztó mosogatógép kenyérpirító vízforraló és egy jó választék a kannák serpenyők evőeszköz üveg és a porcelán. Nappali: Étkező kerek asztallal és négy székkel. Ülőterület kényelmes bőr kanapé és két szék TV DVD lejátszó és WiFi. A gázfából készült tűzhely kiválóan alkalmas esti órákban ülni. Más: A 9 'széles állomás, ahol egy kerek teak asztal és négy szék található. A padlás a padlás délelőtti oldalán és két teak-gőzölős székek a napozáshoz. Van egy nagy, öreg almafa alatt lévő terület, amelyet a kertben grillezésre lehet használni. Tisztítás / törölköző / Linen: Minden törölközőt és ágyneműt tartalmaz. Minden héten megváltoztatják az ágyneműt és a törülközőt, és a malom tisztítják. Felszereltség / szolgáltatások: Grillező, Parkolási lehetőség, Kilátás a tulajdonos kertjére. Mosogatógép, Hűtő / fagyasztó, Főzőlap / Tűzhely, Sütő, Ruhaszárító, Mosógép. Központi fűtés, Internet hozzáférés, TV. A területről Megközelíthetőség A szélmalom nem alkalmas a kerekesszék használatára. Kívül Az első emeleten lévő malom környékén 2,5 m széles, tölgyfahordós terasz található, amely körülveszi a malomt. Minőségi asztalok és székek vannak ellátva teak gőzösökkel és párnákkal a pihenéshez. Grillezőt lehet szállítani a kertben lévő területen, nem pedig a bejáratnál. A tulajdonosok kertje magán. Coast / Beach A helyi strand Camber homokos, fantasztikus homokdűnékkel és széles homokos strandokkal várja vendégeit. A közelben helyezkedik el a Rye Cinque Port városa. Érdemes egy napos kirándulást! A tengerparti város Hastings kb. 30 perc. távol a híres horgásztavak és a Jerwood Galéria. Az óváros nagyon bájos és tele van szokatlan üzletekkel, de a strand elsősorban kavicsok. Golf A helyi terület gazdag golfpályákon, különböző nehézségekkel. Az erdei Cranbrookban van egy teljes 18 lyukú út, amely kevesebb, mint öt perc alatt elérhető. A Biddendenben van egy par 18-18 lyukú pályája, a Chart Hills és a Dale Hill a Flimwell-nél. Hogyan juthatunk el oda Gatwick 36 mérföldre van. Heathrow 54 mérföldre van. Dover kikötői 40 mérföld és Folkstone 36 mérföld (az euro-alagúthoz). Egy autó elengedhetetlen a buszjáratok intermittálásához. A taxik használhatók, de le kell foglalni. A Staplehurst állomás közvetlen vonalon Londonba egy óra alatt 15 perc alatt elérhető. távolságok Benenden kb. 10 perc. séta és a legközelebbi falu. Tenterden és Cranbrook kb. 10 perc. autóval mindkettő érdekes hely a látogatásra. Cranbrook a működő szélmalom és a Tenterden a gőzvasút. Bewl víz (szintén a Lapland UK helyszíne), amely kiválóan alkalmas kerékpárok kölcsönzésére, és a tartály körüli komphajózás kb. 15 perc autóval. A híres kertek a Sissinghurst kastély és a Great Dixter 10 perc. autóval. További részletek A Benenden falusi boltja és hagyományos hentesei vannak. A nagyobb üzletekhez a Tenterden Tesco & Waitrose-t tartalmaz. A Cranbrookban van egy co-op szupermarket és egy Hartley Dyke farmüzlet, amely szintén jó halüzletben van, jó áron. A Cranbrook & Tenterdenben ATM és bankok vannak. Mind Tenterden, mind Cranbrook sportcsarnokok fedett úszómedencékkel és nyilvános teniszpályákkal rendelkeznek. Az Apicius a Cranbrook egyik legfontosabb Michelin-csillagos étterme. A West House at Biddenden egy másik Michelin-csillagos étterem. A Benenden-i bulla jó ételeket kínál, és az Iden Green Woodcock mindkettőt kedvező áron kínálja. Fabios Cranbrookban van egy deli / kávézó, és finom olasz díjakat kínál, és a legjobb kávét szolgálja körül. Egyéb érdekes helyek 10 mérföld távolság alatt: Cranbrook Tenterden Gőzvasút Sissinghurst Kastélyparkja Nagy Dixter Scotney vár Bodiam kastély Pashley Manor mulatságok Marle Place kertek és galériák Smallhythe Place Batemans Rolvenden Történelmi Járműgyűjtemény Finchcocks Zenei Múzeum Biddenden és a Chapel Down szőlőültetvények Bedgebury Pinetum Hempsted Forest Silcocks Organic Farm Shop Hartley Dyke Farm Shop és a halüzlet A közeli gazdálkodók piacai Tenterdenben, Cranbrookban és Sissinghurstben zajlanak Más nyílt kertek szezonálisan, a Sárga Könyv másolata. 25 mérföld távolságban Tunbridge Wells Knole, Penshurst Doddington Place Leeds vár Godinton Park Camber Sands Rozs Winchelsea Hastings óváros és a Fire Hills A közelmúltban felújított 1930-as évek De la Warr Pavilion Bexhillben 30/40 percen belül. hajtás Goodnestone Park Gardens Canterbury katedrális A Romney Marsh templomok A madárászok Dungeness menedéke Helyszín típusa: Vidéki.
The Old Smock Mill is a gorgeous four storey building (three floors for the holiday let) it has carefully been restored to a very high level. With eighteen inch brick walls and white weather boarded tower it stands out on the landscape. The oak exterior staircase leads up onto the beautiful staging where you enter into the Mill. Massive beams span each floor carrying the original upright shaft giant spur wheel and sack hoist. It is a very unusual romantic and memorable place to stay. Each room has been carefully designed to be in keeping but comfort and modern facilities are well catered for. A welcome basket including the owners chickens organic eggs will be given on arrival.

Bedroom:
Beautiful French king size bed with crisp white cotton sheets. There is a beautiful old copper basin sink and taps and a unique pulley system for hanging clothes. Large beams hold the iron giant spur wheel a stunning spiral staircase leads to the bathroom.
Bathroom:
Double ended bath, pedestal basin and toilet. Walk in wet room shower with under floor heating. White fluffy towels and locally made hand wash are supplied as standard.
Kitchen:
The kitchen is well laid out with washing machine/dryer oven hob fridge/freezer dishwasher toaster kettle and a good range of saucepans frying pans cutlery glass and china.
Living Room:
Dining area with round table and four chairs.
Sitting area comfortable leather sofa and two chairs TV DVD player and WiFi. A gas wood-burning stove is great to sit by in the evenings.
Other:
The 9' wide staging where a round teak table and four chairs are supplied. A bench on the morning side of the staging and two teak steamer chairs for sunbathing. There is an area under a large old apple tree which can be used in the garden for barbecuing.
Cleaning/Towels/Linen:
All towels and linen is included. Each week the linen and towels are changed and the mill is cleaned.
Amenities/Facilities:
Barbecue, Parking, Views onto the owners garden.
Dishwasher, Fridge/Freezer, Hob/Stove, Oven, Tumble Dryer, Washing Machine.
Central Heating, Internet Access, TV.

About the area
Accessibility
The Windmill is not suitable for wheelchair use.
Outside
The area around the mill at first floor has a oak staging balcony 2.5 metres wide which encircles the mill. There are quality tables and chairs provided with teak steamers and cushions for relaxing in. A barbecue can be supplied to be used in an area in the garden not on the staging. The owners garden is private.
Coast/Beach
The local beach is Camber sands with its fantastic sand dunes and wide open sandy beaches. It lies close to the lovely Cinque Port town of Rye. Well worth a day trip! There is also the seaside town of Hastings approximately 30 min. away with its famous fishing huts and Jerwood Gallery. The old town is very charming and full of unusual shops but the beach is mainly pebbles.
Golf
The local area is rich in golf courses with a varying degree of difficulty. In forest Cranbrook there is a full 18 hole course which is less then five minutes away. In Biddenden there is a par 3 18 hole course called Chart Hills and Dale Hill at Flimwell.
How to get there
Gatwick is 36 miles away. Heathrow is 54 miles away. Ports of Dover 40 miles and Folkstone 36 miles (for euro tunnel) respectively. A car is essential for getting around as the bus services are intermittent. Taxis can be used but need to be booked. Staplehurst station with a direct line to London in under an hour is 15 mins away.
Distances
Benenden is around 10 min. walk and is the closest village.
Tenterden and Cranbrook are around 10 min. by car, both are interesting places to visit. Cranbrook with it's working Windmill and Tenterden with the steam railway.
Bewl water (also is the place of lapland UK) which is great for renting bikes and catching a ferry round the reservoir is about 15mins by car.
The famous gardens of Sissinghurst Castle and Great Dixter are 10 min. by car.
Further Details
Benenden has a village shop and traditional butchers. For bigger shops Tenterden contains a Tesco & Waitrose. In Cranbrook there is a co-op supermarket and Hartley Dyke farm shop which also has a great fish shop at good prices. There are ATM machine and Banks in both Cranbrook & Tenterden. Both Tenterden and Cranbrook have sports halls indoor swimming pools and public tennis courts. Apicius is a Michelin starred restaurant in Cranbrook booking essential. West House at Biddenden is another Michelin starred restaurant. The Bull at Benenden has good pub food and the Woodcock at Iden Green both reasonably priced. Fabios' in Cranbrook is a deli/cafe and has delicous Italian fare and serves the best coffee around.
Other places of interest under 10 miles away :
Cranbrook
Tenterden
Steam Railway
Sissinghurst Castle Gardens
Great Dixter
Scotney Castle
Bodiam Castle
Pashley Manor
Merriments
Marle Place gardens and gallery
Smallhythe Place
Batemans
Rolvenden Historic Vehicle Collection
Finchcocks Museum of Music
Biddenden and Chapel Down Vineyards
Bedgebury Pinetum
Hempsted Forest
Silcocks Organic Farm Shop
Hartley Dyke Farm Shop and fish shop
Nearby Farmers Markets take place in Tenterden, Cranbrook and Sissinghurst
Other open gardens seasonally, copy of the Yellow Book available.
Under 25 miles away
Tunbridge Wells
Knole,
Penshurst
Doddington Place
Leeds Castle
Godinton Park
Camber Sands
Rye
Winchelsea
Hastings Old Town and Fire Hills
The recently refurbished 1930s De la Warr Pavilion in Bexhill
Within 30/ 40 min. drive
Goodnestone Park Gardens
Canterbury Cathedral
The Romney Marsh Churches
The birdwatchers' haven of Dungeness

Location Type:
Rural.
Vendégek hozzáférése
A vendég a bejárati bejárati ajtón keresztül érinti a Millet a külső külső lépcsőházhoz. A földszinti terület privát és családi használatra alkalmas.
Guests access the Mill up the outside exterior staircase to their front door on the staging. The ground floor area is private and for family use.
Kapcsolat a vendégekkel
Ha a vendégeknek szüksége van a szomszédos támogatásra, kéznél vagyunk és szívesen segítünk. De különben maradnak a vendégek a magánéletükért.
If guests need support being next door we are at hand and are happy to help. But otherwise guests are left to their privacy.
Egyéb fontos dolgok
The Mill is not a party venue and is strictly for the couple who have booked only unless otherwise agreed with us in advance.
Important:- we request that anyone enquiring about the accommodation has an informative and fully verified Airbnb profile. This is an integral part of the Airbnb experience and we are much more likely to accept your booking if your profile is transparent and open.
Ingyenes parkolás a helyszínen
További személyek Díjmentes
Hétvégi ár Ft69753 / éjszaka
Mindig az Airbnb-n keresztül kommunikálj
A fizetésed védelme érdekében soha ne utalj pénz és ne kommunikálj az Airbnb webhelyén vagy alkalmazásán kívül.
Nem alkalmas háziállatok számára
Bulik vagy rendezvények befogadására nem alkalmas
Gyermekek (0–12 év) számára nem biztonságos vagy megfelelő - The Mill only has one room and is designed only for a couple.
Érkezés 16:00 után bármikor
Távozás a következő időpontig: 11:00
Please be thoughtful when arriving and leaving as the owner's house is nearby.
We request people not to smoke anywhere in the property.
Also guests should leave the property as they find it.
If there are any breakages which can happen to all of us can you just let us know so we can replace things for guests following on.
We are on a septic tank so please use the bin provided in the bathroom.
We're sorry but as we have a dog ourselves we don't allow pets.
El kell fogadnod az alábbiakat:
Lépcsőzni kell - There are 3 flights of stairs the last one being spiral.
Biztonsági szolgáltatások
A foglalás minimális hossza 2 éjszaka
Hello I enjoy painting in oils, gardening and seeing gardens, cooking and having great meals with the family. We love to holiday in the West country by the sea. With the Windmill I have worked to create an interesting space for people to share and enjoy. The Windmill is set in our garden and we are delighted to meet the guests who will be staying although you are left to be as private as you wish. We have Ash our golden labrador and Maisie the kitten who is very much the boss.
Freshly laid eggs from our organic chickens are given as part of your welcome basket.
We look forward to meeting you in our relaxing surroundings.
Válaszadási arány:
100%
Válaszadási idő:
egy napon belül
Ismerj meg más lehetőségeket is Benenden területén vagy a közelben
További szálláshelyek Benenden területén: