A hibiscus lined driveway welcomes you to a 2 acre property featuring a cozy bungalow with amazing sea views from the balcony. Self contained kitchen, king size bed, solar heated water. Located on the Eastern side of the Island, perfect for sunrises.
There aren't enough great things we can say about our stay at Pira's bungalow. It was memorable from the moment she picked us up from the airport and greeted us with wonderfully scented fresh lei's. Pira then took us on the scenic route back to her bungalow to show us around the town and took us at a couple of markets for us to get groceries. Once at her property we were in awe at how beautiful it is with lots of hibiscus trees and so many fruit and coconut trees but by far the most amazing view of the lagoon! From our balcony we experienced the most beautiful sunrises and had a view of all of the other islands within the atoll. We also met Pira's mom who is just as sweet and gave us the warmest welcome! The bungalow is as described if not better, with all of the kitchen essentials, perfect for the two of us! We were welcomed with a bowl of fresh fruit picked from their very property, the biggest starfruit on the island and tastiest passion fruit! Pira grew up in Aitutaki and knows the island very well so definitely trust all of her recommendations. She was gracious enough to arrange our scooter rental and had them pick us up from her bungalow, as well as arranging the best lagoon cruise/snorkle tour we've ever done and booking an amazing cultural dance show and dinner with the best seats in the house! Pira went above and beyond to make sure we were comfortable and had a most memorable experience there! She was so kind to let us borrow her kayak which we used a couple of days to travel across the lagoon and visit several of the other islands which are quite beautiful, one better than the next! Although the kayak was indeed a great experience for us, I only recommend doing so from her side of the lagoon if you're experienced and physically fit, as the waters are not as calm as they look once in the middle of the lagoon, and the current does pull you away quite a bit. The lagoon charter that Pira booked for us, took us to the remaining of the islands that were too far for us to reach by kayak. It was the highlight of our trip as we had not yet snorkeled such crystal clear waters and such beautiful white sand beaches! At the end of our trip we had a very pleasant evening chatting with Pira's mom out on her patio overlooking the lagoon. It was the best way to end our trip to Aitutaki and our only regret was not staying longer than 5 days! :(
Yana
2016-07-16T00:00:00Z
Pira and her son were waiting to meet me at Aitutaki airport, which isn't unusual on Aitutaki... but Pira was thoughtful from the start. She stopped at a grocery store so I could get a few basics, though she provides fresh fruit, milk, tea, coffee, sugar, salt and pepper, mossie coils, insect spray and soap for guests. The property also has two rain water tanks for guests to access drinking water. The property is on the eastern side of the island overlooking the main lagoon and is pretty much the only accommodation on that side. It's only metres from the water so you can hear the waves lapping as well as watch the tour boats come and go in the distance and see the sunrise. It's a bit further away from Aitutaki's 'down town' than the other accommodation options which are predominantly on the western side of the island, but if you organise a rental scooter or car (which Pira can help you with), then nothing is more than a few minutes away. The bungalow itself is just lovely. Freshly painted, crisp white walls, subtle decoration, comfortable bed, well-equipped kitchenette and a big balcony with outside furniture to sit and take in the great views. It's not airconditioned, but like most of Aitutaki, if there is a breeze, you don't need aircon. The property has a large garden, through which chickens freely roam (again, not unusual for Aitutaki so expect to hear them no matter where you stay), and is a Bluesky wifi hotspot. Pira is a generous and friendly host. As well as helping me with renting a scooter, she managed to get me booked onto one of the lagoon cruise day tours that was originally fully booked but she tried several times and ultimately got me on for the day I wanted. She grew up on Aitutaki so knows a lot about the island to help make your stay an easy one.
Robyn
2016-05-04T00:00:00Z
Pira's place is amazing! We loved the lush gardens around the house and the stunning view to the ocean from the balcony. Pira and her sisters are really nice, warm and helpful people. We will come again!
Violetta
2016-04-27T00:00:00Z
Our stay in Aitutaki was amazing and Pira, our host, was very accommodating, friendly and went out of her way to help us out with anything we required. She organised a scooter for us and called around lagoon cruise companies for us, as well as giving us fresh vegetables from her garden! The bungalow was clean and homely and the view from the balcony and from the garden is one of the best on the island. Would definitely recommend booking at Pira's place!
Natasha
2016-04-20T00:00:00Z
Pira was super friendly and picked us up from the airport, stopping off at local store to get food, as well as having fresh water, milk and fruit in our apartment waiting for us. She helped us book our lagoon cruise and also let me use her motorbike for the duration of our stay, whilst recommending places to visit. The apartment itself is perfect and overlooks the lagoon. Definitely a place to come if you just want to relax and not do much else as the island is extremely small and undeveloped which is good. A visit to Aitutaki village at Ootu beach was our favourite hang out spot on the island for beach and drinks.
Matthew
2016-10-20T00:00:00Z
This is an amazing place, and Pira is a wonderful host who has got it spot on!! Beautiful A frame bungalows, sunrise was incredible! Fresh fruit was given for breakfast and even a special trip to get us Paw Paw and passion fruit from her trees, what a start to the day! Location is beautiful and Pira has a scooter to rent so you can explore the island at your own pace. Would HIGHLY recommend this place, you would not regret it...you will want to stay longer!! Thanks Pira :)
Jess
2016-11-11T00:00:00Z
I have stayed in many Air BnB places through-out all off my travels. This was one of the best. Pira picked me up at the airport, was really kind, and told me everything there is to know & do. She is a great person! And Piras place was amazing. Great studio, great bed, and probably one of the best spots on Aitutaki to have a balcony and view. It was a dream waking up every morning. Pira showed me around, arranged a scooter for me and was very helpful. Piras mother was lovely too and she cooked dinner for me. They gave me unlimited amounts of fruits and vegetables. They were very sweet and I had a great time. Wish I could have stayed longer. If this accomodation is available for the dates you are looking at, just book it. You won't regret it. There is no better place on the island. Great experience.
Benny
2015-11-27T00:00:00Z
Pira was an amazing host to us! She was there with leis to greet us on our arrival at the airport, and she made sure that we had everything we needed throughout our stay. We enjoyed fresh fruit and produce from Aileen's garden each day. The gardens are spectacular! Our kayak trips to 6 of the islands were wonderful. Simple and no frills in the resort sort of way, but this is paradise on earth!
Bobbi
2016-10-29T00:00:00Z
Szoba típusa
Teljes ház/lakás
---
Ingatlan típusa
Bungaló
---
Férőhelyek
2
---
Hálószobák
Aitutaki, Cook Islands, Cook-szigetek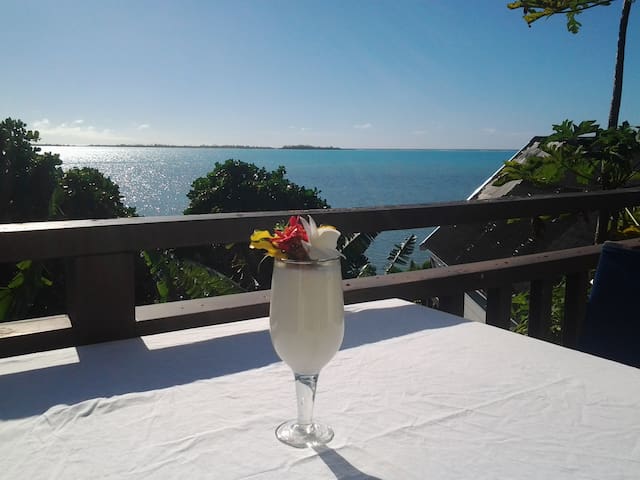 Our small completely self-contained bungalow is modest, simple and spotless. Located in Tautu village overlooking the lagoon, it is on the quiet windward (eastern) side of Aitutaki and yet is still close driving distance to shops and cafes. You'll love our place because of the tranquility and exquisite beauty of your surroundings. Perfect for couples or singles wanting timeout - definitely a must for ecotourists wanting to keep it real! Negotiated rates for longer term stays are available.
The bungalow has full laundry and cooking facilities and has solar heated hot water. We have an abundance of tropical fruit trees - pawpaw, guava, passion fruit, bananas - guests are provided an abundant selection of in season fruits!
Proximity to the lagoon!
If you need rest and relaxation and don't mind being away from touristy spots then you may have found a place that allows you to feed chickens and bake your own banana bread from home grown bananas in your own kitchen. We loved our stay with Dr. Jenny and Dr. Roro.
Darren
2016-12-15T00:00:00Z
Dr Jenny was a fantastic Host, We were welcomed at the airport sharing local knowledge of the island, a tour of the island for orientation highlighting many of the characteristics of such a beautiful location. Arrival refreshments totally unexpected, Pawpaw juice Yummo -The guest cottage bungalow location high up looking over the a remote wharf surrounded by Coconut palms which made pretty sunrise photography and the evening enjoying the milkyway with clear skies no street lights and a lovely breeze. It was magical. The lifestyle of self-sufficient garden of Bananas, PawPaw, Coconuts, arrowroot, tarrow and other seasonal food. The stay was too short, will have to return one day.
Margot
2017-03-27T00:00:00Z
Really friendly hosts and the place was nice and cozy. They were super helpful and they made our stay in Aitutaki wonderful!
Jamila
2017-02-07T00:00:00Z
After a great 9 days in Rarotonga, we had 3 charming nights on Aitutaki. Dr. Jenny's place is exactly as pictured. It's off the tourist track which added to its charm. We were offered fruit from Dr. Jenny's farm, learned to husk coconuts, and were taken on a very personal, interesting, and beautiful lagoon "cruise" on our hosts' boat which we loved. We would highly recommend renting scooters (or a car) - we found Aitutaki to be very very hot, and the breeze when riding our scooters was so refreshing, and we had a lot of fun discovering back roads. Thanks to our stay in a local neighbourhood at Dr. Jenny's, we discovered the heart and charm of the Cook Islands. I'll add that just as we were about to board our plane home from Rarotonga to LA, I discovered I had lost my wallet somewhere in transit from Aitutaki. Dr. Jenny and Roro went over and above to try to track it down and actually found it!!! Completely intact!! Thank you thank you!!!
Anna
2017-03-24T00:00:00Z
Our stay Dr. Jenny was fantastic. The accommodation was perfect and Dr Janny provided everything we needed. She even picked us up at the airport very early in the morning! They were fantastic hosts and incredibly accommodating. It was a fantastic trip!
Katie
2017-03-01T00:00:00Z
Amazing air bnb. Best one we have ever had. We were treated like their personal guests. You definitely have to rent a car or motorbike as you are away from any restaurants. Hosts have some you can rent. Would highly recommend it
Chloe
2017-02-20T00:00:00Z
A beautiful place to stay. Jenny and her husband are lovely, genuine and thoughtful people. We really enjoyed our stay with them in the cute little cottage. The cottage is simple but has everything you need including cooking facilities and a nice cool sea breeze - lovely at night and during the midday heat. We were able to get around the island easily with the rental car. People on Aitutaki are really friendly and laid back and the whole island is pristine clean. also the beaches are just as beautiful as the brochures show! We tasted the really delicious fresh food. Jenny's recommendations were spot on. I recommend Aitutaki for a relaxing holiday in the sun and we especially appreciated being out of the tourist spots and enjoyed the local vibe.
Sarah
2016-10-12T00:00:00Z
Enjoyed the stay
Paul
2016-09-09T00:00:00Z
Szoba típusa
Teljes ház/lakás
---
Ingatlan típusa
Bungaló
---
Férőhelyek
2
---
Hálószobák
CK, Cook-szigetek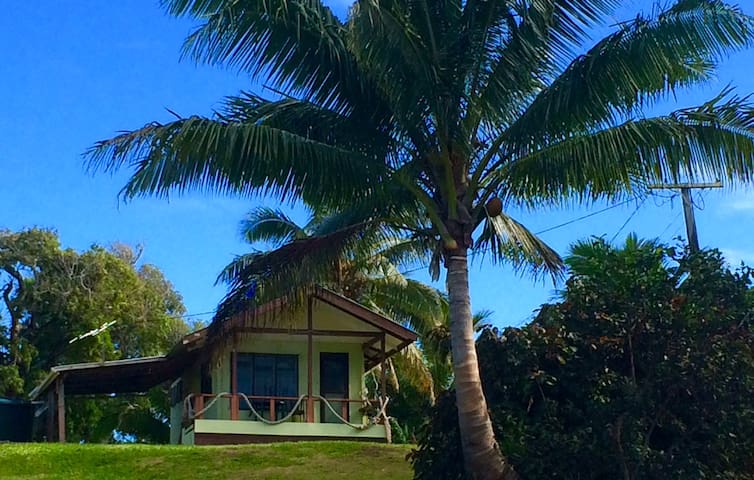 Are you looking for a spacious bungalow situated on private beach, where you have the freedom to make bonfires, go kayaking, snorkelling and make unforgetable memories? Look no further. The bungalow is right on the beach, ideal for couples, solo adventurers, honeymooners or families. Entirely screened, facing the beautiful sunset. You can enjoy two sea kayaks, snorkelling right in front of the Bungalow is an amazing experience and you can make bonfires right on the beach.
A spacious, self catering bungalow, situated on a secluded beach, right before Aitutaki's famous lagoon. Privacy and peace is guaranteed.
What an amazing place we had a fantastic experience right from the airport pickup/dropoff with the lovely Joanna. Accommodation was perfect, well equipped, very quiet and private. Our host Meali was amazing, very helpful and nothing was a problem. A gorgeous spot within walking distance to Cafe's & Restaurants if needed. The weather was amazing. We will definately be back.
Pauline
2016-10-30T00:00:00Z
Great bungalow right on the beach. Its about 2 km down to the closest store and gas station where you can rent a scooter, which is a must for Aitutaki, otherwise you won't enjoy it the the fullest. We have had great time Kayaking around which are available free for their guests, plenty fruits available on the island, mangoes or bananas. If you want someting special go to the fruit market early in the morning they might have wifer selection than afternoon. Pirooki lookout is another must to do. Rely on Bishop cruise which blowes your mind with other islands around the lagoon. If you are not on budget I recommend taking a private water taxi which takes you anywhere and you enjoy the tour without the crowd. Ootu beach is great for swimming and enjoying the sun. Great burgers are at Aitutaki Cafe, if you're looking for a decent dinner book a table at Aitutaki Lagoon and Spa, make sure to come when a show starts. Meali the host is a very welcoming person, you will love it. Take a book with you just in case you get bored, this place is absolutely great for a rest, sleeping, reading, music and plenty fun. Enjoy!
peter
2017-01-25T00:00:00Z
We have just had an amazing week here... what a find. Beautiful location, great facilities kayaks and very new snorkelling gear, comfortable sun loungers and decking furniture. Well equipped with the added bonus of a smoothie maker in the kitchen. Would recommend 'Aitutaki Adventures' for a superb day swimming and snorkelling on the lagoon - lunch food was the best on the Island. Tip - go on a Sunday as Poona was the only tour boat operating so we had the lagoon to ourselves.. Would very much love to come back... Many thanks Soso.
Sally
2017-01-20T00:00:00Z
The location is perfect, simply paradise! But you sould know that there is no drinking water and the nearest shop to get it is twenty minutes away. If you wat to refill free of charge at the water tank, you have to walk an hou and water is really too heavy to carry, which means you need a scooter or a car. Internet available means you can get a sigal and you have to buy it for the time you want it. The tv does not work, but otherwise you will find everything you need for a comfortable stay. As there was nobody there to meet us we did at first not find the washing mashine, did not know where to put the rubbish und most important how to get drinking water. After we got ourselves a car, shopping and getting water was easy. There is a second beach villa next to the one we stay which is a real dump, rubbish in the back yard and glass splinters under the palm trees. Overall we loved staying there, enjoyed the quiet, the stunning view and the very slow way of life. People on the islsnd are friendly and helpful. There are a lot of wild roosters around the house, they will wake you very early.
Karin
2017-02-21T00:00:00Z
The location is great - right on a beautiful beach. Leali who collected me from the airport was very helpful and provided fresh tropical fruit and helped me with hiring a scooter. Also took me to the shops to get my groceries. I lovely experience and I will return. Cheers and thank you.
Andrew
2016-12-28T00:00:00Z
Great location and property! Also there's snorkeling gear and kayaks provided. Very clean and a lot of cookware available. If you rent a scooter it's just a short ride into town if you need a few things from the store. The house is right on the water and you can pick the coconuts from the trees in front. Great stay!!
Mattie
2017-03-07T00:00:00Z
Okoitu Beach Bungalow was beautiful, inside and out! The unit was clean and is located on a beautiful piece of land. The kayaks and snorkel equipment came in handy and we used it almost every day. The water is crystal clear, with fish and coral everywhere! Hermit crabs were not shy, and also we saw the land crabs at night, which were awesome! Kitchen was stocked with just enough utensils to manage and everything worked. The markets/shops have minimal food, mostly canned/boxed items. Luckily we went deep sea fishing with Black Pearl early on, so we ate the fish we caught for lunch/dinner most days. Just had to get creative with side dishes. Meali was very kind and helpful. She had some fresh coconuts waiting for us when we arrived, and helped us get the scooter. Weather was pretty hot most days for us, so the air conditioner was a blessing. Not a lot of air was coming out of it, so I removed the filters and cleaned them, then presto, blowing like brand new! The deck and hammock were fantastic for lounging in the sun/shade when needed. Recommendation for visitors; When booking activities or dining out, everyone always asks where you're staying. It can get a bit frustrating trying to describe as everybody knows everybody and every structure on the island, but nobody knows the name, Okoitu BB. We finally made some progress just saying, the really long pathway next to Etu Moana Villas. Then they'll say, "oh, the two bungalows right on the beach?" That's the one. Also, if nobody told you yet, Aitutaki is covered with Roosters, expect to hear them every 5-20 minutes. It gets pretty humorous.
Dave
2016-12-22T00:00:00Z
Paradise,great private beachfront location.Very well equipped,comfortable vacation bungalow.A hidden gem. Loved the fact that snorkels and kayaks were provided.
loyar
2017-03-02T00:00:00Z
Szoba típusa
Teljes ház/lakás
---
Ingatlan típusa
Bungaló
---
Férőhelyek
3
---
Hálószobák
Amuri, Aitutaki in the Cook Islands, Cook-szigetek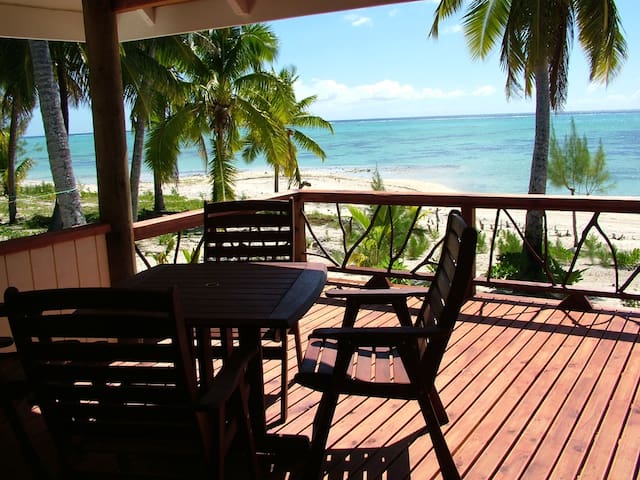 Our place is a beachside bungalow near the Aitutaki lagoon edge, in an unspoilt area of the south western side of the island. With your very own water's edge paradise, you can be certain to have a peaceful and relaxing holiday.
Petero's Place is located on the water's edge, in a tranquil and secluded beautiful spot on the western side of the island. It is perfect for couples or a single person wanting timeout - We provide a good quality place and believe in doing everything we can to make your stay comfortable and memorable. Imagine watching the sunset on the deck with a beer or glass of wine, or cup of tea. Or catching a cruise across to Maina on the yellowboat, or Teking Cruises – 10 seconds walk from Petero's Place.
Petero's Place is located on the western side of the island, and right on the water's edge, in a secluded area. It is seconds away by foot to where you can catch a lagoon cruise, fishing trip or kitesurfing trip to Maina and about 10- 15 minutes walk to town.
Quite place nice and clean, enjoyed my stay here
Stephen
2016-09-24T00:00:00Z
Mat's house is excellent. Mat, Ra, and Pepe made us feel like family. Our trip could be an Airbnb commercial. Mat took us shopping for jewelry, local fruit and made dinner for all of us. Pepe took us out to One Foot Island (a must) on his boat. Twice! The house is very clean, quite and right on the beach. It is not a good swimming beach but it is a 30 second walk to the boats that will take you anywhere you want to go and the sunsets are unbelievable. We would recommend this to anyone who wants a real island experience. It is close to the harbor and town but a scooter (or car) is a must.
Jayme
2017-01-13T00:00:00Z
This is a great little bungalow tucked away on the south end of Aitutaki. The transfer our host arranged worked out beautifully and our driver was enthusiastic and informative. Our host Ra was super positive and went out of her way to make sure that we had a great stay. The location is quiet and somewhat removed from the main "touristy" part of the island. We loved riding our motorbike home at night and hitting the unpaved road before we reached the house. The front porch is perfect for relaxing with a drink (and a provided mosquito coil) and hearing nothing but the sounds of the fish splashing on the reef.
Nora
2017-03-06T00:00:00Z
Un sitio perfecto para desconectar de todo en el paraíso. Lo único que puedo decir de Aitutaki y de Petero's Place es que es el mejor sitio donde pasar unos días inolvidables. Un lugar único a pie de playa en el que saltan las lágrimas cuando lo ves por primera vez y cuando te tienes que marchar. Sin duda repetiría mil veces. Mat y Aukino (su marido) son encantadores, amables y se convertirán seguro en unos buenos amigos en la otra parte del mundo. Si estáis pensando ir a las islas Cook no lo penséis ni un segundo ya que Aitutaki y Petero's Place serán los mejores lugares que podáis encontrar. Merece la pena indudablemente
vicente
2017-03-24T00:00:00Z
The place is awesome....great views, 10 meters away from the beautiful coloured waters edge, clean, welcome fruits...quick drive or walk to towncenter. Aitutaki is brilliant and relaxed. Make sure you join a lagoon cruise...ra and lovina took good care of us while we were there they can organise trips for you....make sure you hire a scooter...can also be organised so its ready when you arrive. There are some roosters around the property...only sometimes they start quiet early. Thanks ra, pepe, lovina and mat for taking care of us. We had a great time and surely coming back one day.
Sebastian
2017-02-20T00:00:00Z
The host canceled this reservation 228 days before arrival. This is an automated posting.
Tamara
2017-03-08T00:00:00Z
Mathildas bungalow was lovely. Right on the water's edge and very secluded. It was just what we needed and a great base for our kiteboarding trip.
Natasha
2016-07-31T00:00:00Z
Thoroughly recommend this place, Mat made a great 10 day trip even better. Will certainly stay again...absolute paradise with great modern touches.
Robbie
2016-08-27T00:00:00Z
Szoba típusa
Teljes ház/lakás
---
Ingatlan típusa
Bungaló
---
Férőhelyek
2
---
Hálószobák
Arutanga, Cook-szigetek
My place is close to Within 1km from the Airport, close to very nice swimming beaches on the lagoon fully air-conditioned King Size Bed in your spacious room with private spacious undercover private dinning area. This Hotel is 100% powered by the sun and even offers 100% electric Nissan Leaf rental cars onsite to further explore this paradise. We offer adding rooms for families, private boat charters with the Hotels own boat and local skipper to explore the wonders of the Aitutaki Lagoon
very comfy quiet king size bed and spacious bathroom
Szoba típusa
Privát szoba
---
Ingatlan típusa
Butikhotel
---
Férőhelyek
2
---
Hálószobák
Aitutaki, Cook-szigetek
Beautifully appointed beachfront bungalows. Each Bungalow is absolute beachfront and well equipped with an open plan kitchenette, lounge and dining area; has a separate bedroom with ensuite and a spacious deck looking out to the lagoon.
Each Bungalow is well equipped with an open plan kitchenette, lounge and dining area and has a large deck facing out to the lagoon. Watch whales play on the outskirts of our reef, see the cheeky trevally's chase the smaller fish on shore and marvel at the stunning beauty of our Aitutaki lagoon. Lay in your hammock with a good book, or simply look up and get lost in the gentle sway of the coconut palms overhead. Come and enjoy the smiles, drumbeats and gentle culture of Aitutaki. We look forward to welcoming you to Paparei Bungalows, Aitutaki - A dream come true...
We spent 5 nights at this wonderful place. The bungalow was perfect for us as a couple and had everything we needed. The view right on the lagoon is just amazing. We loved to relax on the sunbeds and enjoyed the stunning sunsets. Vicki was just a perfect host. She was so caring and helpful with all our questions we had. We highly recommend this place.
Nik
2016-08-21T00:00:00Z
Wonderful place to stay, we enjoyed every single moment. Perfect location, beautiful Sunsets, spotless bungalows and lovely and helpful hosts.
Janina
2016-02-11T00:00:00Z
Don't hesitate. It's a gem. Hosts are wonderful people. Clean & so comfortable. Highly recommend.
Heather
2016-06-30T00:00:00Z
We were made to feel very welcome by Vicki from the moment of our arrival. The bungalow is literally on the shoreline, with only sand and coconut trees between the porch and the water. The bungalow itself is fairly basic. No oven, just a microwave and large electric frypan to cook with. But it's comfortable and suited us fine. You'll need a car or scooter to get around. Vicki is very hospitable and helpful. Our boys loved the location and made friends with some of the local kids. Free (rain)water and unlimited coconuts were a bonus!
Paul
2016-04-14T00:00:00Z
We stayed 8 nights at Paparei Bungalows and didn't want to leave. It's just perfect there and Vicki is a lovely host. Go there=)
Fabian
2017-01-16T00:00:00Z
Wonderful spot in paradise Vicky made us feel right at home she advised on and organised a number of local tours for us Recommended
John
2017-03-28T00:00:00Z
Szoba típusa
Teljes ház/lakás
---
Ingatlan típusa
Bungaló
---
Férőhelyek
2
---
Hálószobák
Aitutaki, Cook-szigetek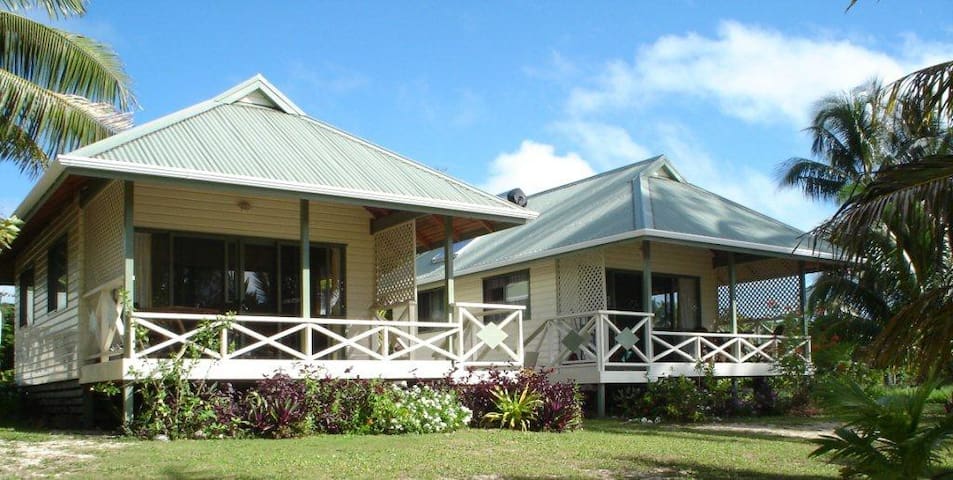 Add meg az időpontokat a teljes ár megtekintéséhez. Felmerülhetnek további költségek illetve adók.