Looking for a nice get away that won't break the bank, and that is close to some of the best of West Virginia? We are on the road to Spruce Knob and just 15 minutes from Seneca Rocks. The cabin has comfortable sleeping for 2 with space for up to 4
This cabin is everything you need for a place to stay white you are enjoying the mountains. There is one private bedroom with a queen bed. If there are more than two in your party there is also sheets and blankets in the closet for the sofa bed. The kitchen area is not a full kitchen. It is a kitchenette. There is a small refrigerator, a microwave, and a hotplate. There are basic cooking and eating utensils provided. There is also an outside fire ring and picnic table for outside eating. There is a park style charcoal grill. Bring your own charcoal.
This cozy cottage was a perfect retreat for me and two little boys--far more fun for us than a hotel. It is clean and new and --importantly--heats up fast (esp for skiers or hikers coming in from the cold). The best part, though is the night sky. It was just stunning (and I'm from New Mexico, so that's saying something!) Try to arrive during daylight hours to make the drive easier. We got there after sundown and Kent was there to greet us with a big smile and friendly welcome.
Lorelei
2016-03-01T00:00:00Z
Unplug, unwind, rest. If you need a civilization detox, then this is the place for you. No Verizon service, no television, no wifi. Just you and God and His creation. You will find respite here.
Nick
2017-01-23T00:00:00Z
We love the cabin! We had a great stay, Kent was very accommodating, and the cabin was very clean and in a wonderful location. Our only issue was we were expecting that there would be a full kitchen, and there is not an oven or a stove top. Only a small hot plate. Overall a very minor issue, we still loved it. Great place!
KC
2017-02-23T00:00:00Z
Muy relajante se los recomindo mucho
Jessica
2016-12-27T00:00:00Z
We had a great experience. Kent was so accommodating. The place was super clean and inviting. We will definitely be back. Thank you Kent, Edna and Rolland.
Marybeth
2016-08-11T00:00:00Z
Everything about this cabin was what we hoped it would be. Quiet, beautiful, clean, bright, peaceful. Kent made sure we had everything we needed upon arrival. Should we ever happen through this part of the country again, we will positively stay in this cabin.
Jocelyn
2016-08-29T00:00:00Z
Our stay at the cabin was quiet, peaceful and beautiful. The cabin was clean and accommodating and in the absolute best location, close to all of the local scenic areas. It was the perfect weekend getaway and we will definitely be back!
Katie
2016-11-07T00:00:00Z
The stay was very enjoyable, and the location is very beautiful. The cabin is a bit smaller than the pictures, but this did not hinder our enjoyment of it in any way.
Violet
2017-01-06T00:00:00Z
Szoba típusa
Teljes ház/lakás
---
Ingatlan típusa
Kisház
---
Férőhelyek
4
---
Hálószobák
Riverton, Nyugat-Virginia 26814, Egyesült Államok
This spacious comfortable home is located in a very private setting. The wraparound porch provides shade in the summer and a place for quiet relaxation. The yard is spacious and great for volleyball, cornhole, horseshoes, badminton , play catch or grilling. You can also enjoy the local wildlife, go hiking, biking, tour local caverns, train rides, bowling, swimming, skiing, tubing, snow boarding and if you dare, zip line. Summer is warm with cool night breezes , amazing star gazing and winter can be cold and snowy. Whatever your preference, you will love it here.
The mountain views, clean air and quiet setting makes this location unique.
It is beautiful here, local people are very friendly and many exciting things to do.
Szoba típusa
Teljes ház/lakás
---
Ingatlan típusa
Ház
---
Férőhelyek
8
---
Hálószobák
Circleville, Nyugat-Virginia 26804, Egyesült Államok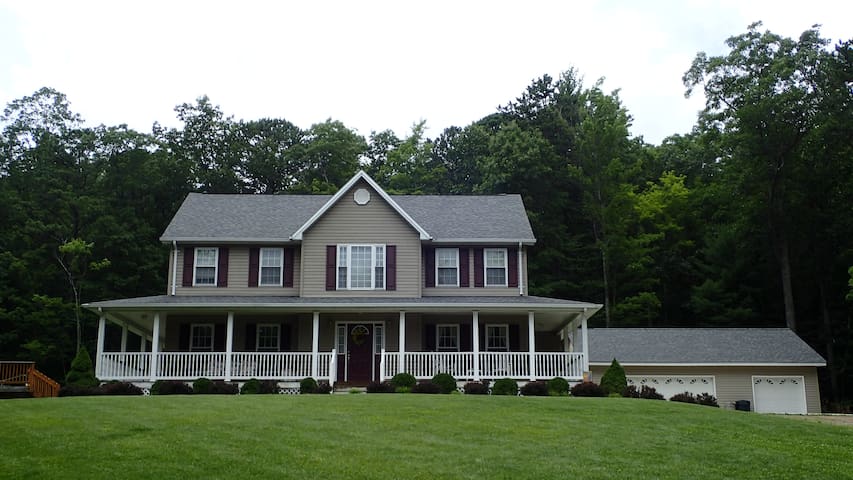 Add meg az időpontokat a teljes ár megtekintéséhez. Felmerülhetnek további költségek illetve adók.