BAR 209 offers wonderful service comprising of 3 double rooms, a twin room, and a single room and is available to anyone on a long or short term basis. All guests can expect a comfortable stay and a breakfast from our bar kitchen. Guests can choose to relax in their rooms or enjoy an evening downstairs in the bar. 15 minutes from some of Scotland's famous landmarks such as the Falkirk Wheel, The Wallace Monument and Stirling Castle. PLEASE NOTE THAT LIVE MUSIC IS PLAYED HERE FRI AND SAT NIGHT
The room was modern and clean. We had a nice stay.
Gideon
2017-01-02T00:00:00Z
I went there for 1 night ! It was a great time there. Slept very fine and enjoyed the breakfast there! :) Thanks for the kindness !
Have
2016-09-29T00:00:00Z
considering everything the stay was ok. a little bit thin walls/doors but that did not bother me at all. clean and tidy rooms/bathrooms. pub downstairs is ok for some pints. wifi was not so great. small mix up with our rooms, which delayed our check in a bit. breakfast was rudimental but ok (they forgot my tea...) i would come back, but only for an overnight stay. for more i would consider stirling i guess.
Dennis
2016-09-25T00:00:00Z
Everything was ok. Fine for one night.
Franziska
2016-09-10T00:00:00Z
Stay was fine will be back.. Airbnb, questions are hard to give a fair assessment wording average to great and fantastic of the opinion you would use great and fantastic in relation to a island paradise in South East Asia. :)
peter
2016-10-20T00:00:00Z
This room is functional. The check-in is quick and easy. The bar can be really noisy if it is karaoke night ;) . The bed was clean but not really comfortable. The Wi-Fi is good and the breakfast too.
Franck
2016-10-22T00:00:00Z
Really nice room and clean sports type bar underneath, about 10 minute drive to the heart of Stirling, which was good. Would recommend to stay here if you have a car.
Nathan
2016-09-13T00:00:00Z
Comme indiqué dans la description, les chambres sont au dessus d'un bar. Et en effet, bruyantes lorsqu'il y a un concert... plus que nous ne l'aurions pensé. Cependant, la chambre est très propre, la salle de bain également. Pratique pour s'arrêter en route, proche de Stirling. Mais ce n'est pas le lieu touristique idéal, la petite ville en elle même n'a que peu d'intérêt. Le petit déjeuner est inclus, ce qui est pratique. Accueil cordial mais communication difficile avec notre anglais approximatif, je pense que les hôtes n'ont pas l'habitude des touristes.
Caroline
2016-10-01T00:00:00Z
Szoba típusa
Privát szoba
---
Ingatlan típusa
Lakás
---
Férőhelyek
2
---
Hálószobák
Denny, Scotland, Egyesült Királyság
Charming bright 2 bedroom flat over 2 levels minutes from Stirling Castle with stunning views of the Castle and The Wallace Monument as well. Our flat has 2 generously sized double bedrooms, one being a loft conversion. Each room has a double bed and the living room has an additional sofa bed. Free WiFi is offered and fully fitted kitchen with all the cooking amenities provided. The flat is ideal for 2 couples or for families. Breakfast goods such as milk and bread will be offered on arrival.
Our flat is on first floor (top) of the house and overlooks Stirling Castle from one side and the Wallace Monument can be seen from the rear. Its ideally located just minutes from the Castle and 10 minutes from the town center. There is free on street parking without any restrictions. Myself or my spouse will great you on your arrival and between us are a multilingual couple and can answer any questions in Spanish, Italian or Greek. We also run a family Mediterranean restaurant in town and all our guests will receive a 25% discount off their bill if they choose to dine with us. We also live very close by and can be reached immediately if needed. As this was recently our family home and our neighbors are dear to us we would appreciate you keeping noise to a minimum after 11:00 pm and to walk about without hard shoes. Please no parties: No pets: No large gatherings: The flat offers generously sized double bedroom over 2 levels. Parents with toddlers may want to consider that as there is an internal staircase to the second upstairs bedroom. There is an additional sofa bed in the sitting room which can accommodate a 5th person if needed. The flat comes with free WiFi and your kitchen will be stocked with everything you'll need to prepare meals and some breakfast goods will be provided upon arrival.
Szoba típusa
Teljes ház/lakás
---
Ingatlan típusa
Lakás
---
Férőhelyek
5
---
Hálószobák
Stirling, Scotland, Egyesült Királyság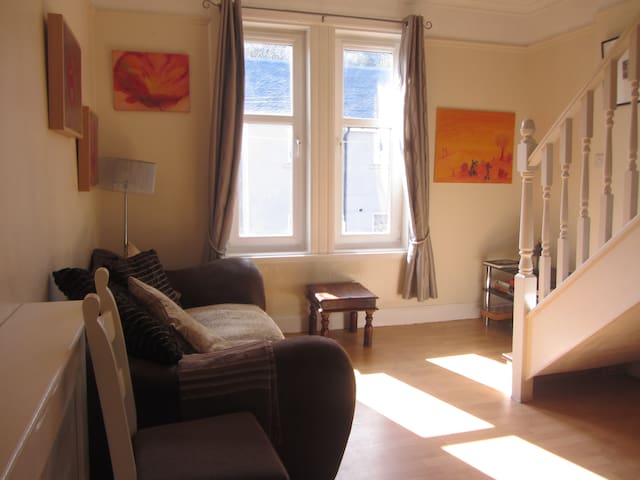 Comfortable one bedroom apartment in a secluded and quiet corner of the historic centre of Stirling. Once the married quarters for officers from the Argyll and Sutherhland Highlanders it is only a few minutes walk from Stirling castle and other attractions. In addition it is close to city centre shops, bars and restaurants and easily accessible from public transport or main roads north and south.
Sitting at the top of castle rock, just below the castle itself the aprtment is set is its own grounds with fantastic views east towards (URL HIDDEN) is comfortably furnished and well equipped for short stays, perfect for couples and small families who want a base to explore Stirling or Central Scotland and the Trossachs. There are great walks around the castle rock from the doorstep of the flat. You are free to enjoy the large garden along with other residents in the property. Nice BBQ area overlooking the town and Wallace monument.
The apartment is known locally as the Married Quarters since, until the 1980s, it was part of the castle and used as accommodation for married officers. You can still see the billet numbers over the main doors. The property is very central but quiet, secluded and friendly. There are some good restaurants within walking distance: The Portcullis beside the castle does a great dinner or The Bothy near the flat does a fantastic breakfast. The oldest pub in Stirling, The Settle Inn, is a friendly and great for a good beer, very lively at the weekend!
Great views of the Wallace monument and castle. Near a good pub and the hosts were very generous with a well stocked kitchen. Perfect place to explore Stirling from.
Will
2017-02-12T00:00:00Z
Leon is such a great person.He picked us up from the train station.He knew we are going with our daughter so he left some toys for her ,which was really nice. We had an amazing stay at his lovely apartment. Thanks a lot!
sabina
2017-02-07T00:00:00Z
We had a wonderful and uncomplicated stay in Stirling, Leon has been more than helpful in any necessary situation. The flat is quit and very lovely decorated with a great view. We have totally fallen in love with Scotland and definitely want to return sometime.
Angela
2016-12-31T00:00:00Z
Great central location and a lovely bijou apartment... Beautiful views of the hills (Storm Doris covered them in snow for our trip)... Quite a steep road to get to it (walking or driving) so might not suit some, however, worth it for the views...
Becki
2017-02-24T00:00:00Z
A perfect place to stay with beautiful views close to shops and public transport and beautiful walks and country side. The shower is super good and the flat is well equipped comfortable and cozy. A great stay :)
Will
2017-02-22T00:00:00Z
This place is very close to the Stirling Castle and has very good view from the lounge window. We booked the stay and checked-in on very short notice (only couple of hours) but the hosts leon and Romana had everything in place for our stay. They took extra effort in making sure we had everything we wanted and provided us with some extra blankets and a baby cot which was not actually advertised. Leon also managed to provide us with a ticket for the castle entry out of goodwill and that was a real surprise to us ! They even stocked up some cereals and fruits for breakfast. Most importantly the place was clean and tidy. I would definitely recommend booking this stay if you plan to visit Stirling. I will return to stirling soon and will stay with this host for sure !
Phani Krishna
2017-03-05T00:00:00Z
Great views, really well equipped kitchen, lots of nice features but also cosy, great for couples of singles
Anna
2017-01-19T00:00:00Z
Really great apartment with fantastic views. Would highly recommend it
Anna
2017-03-16T00:00:00Z
Szoba típusa
Teljes ház/lakás
---
Ingatlan típusa
Lakás
---
Férőhelyek
4
---
Hálószobák
Stirling, Egyesült Királyság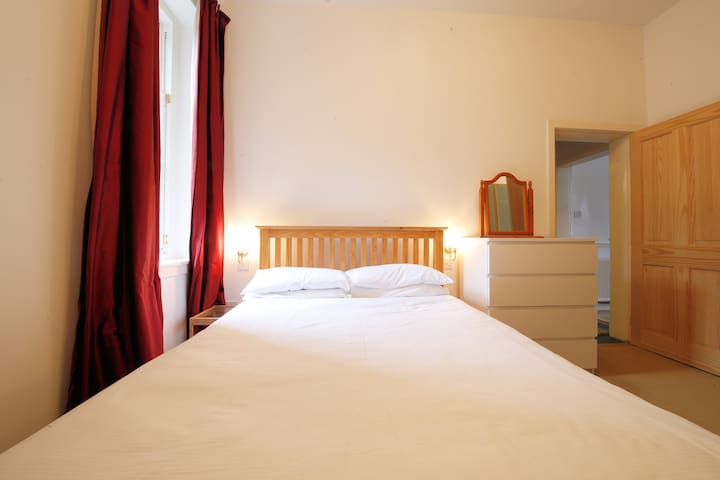 BEST apartment coming back ! Ensuite rent ! Free parking! BEST location of Stirling : 5mins to train station ,bus stop , city center ! shopping mall and restaurant, bars, clubs . ENSUITE bedroom : luxury double bed with your owe bathroom ! Won't be bothered anymore kitchen and living room enjoy your personal time!
It is the NEWEST building in Stirling , STUNNING and FRESH. - Security door - Free parking and bicycle place - Free bikes out train station (enjoy a free afternoon with sunshine and healthy exercises ) - Beautiful room with comfortable carpet BOOK now with available dates !
This is popular location in Stirling city center easy to walk to Stirling castle with stunning view and satisfied living experiences
Szoba típusa
Privát szoba
---
Ingatlan típusa
Lakás
---
Férőhelyek
2
---
Hálószobák
斯特灵, Scotland, Egyesült Királyság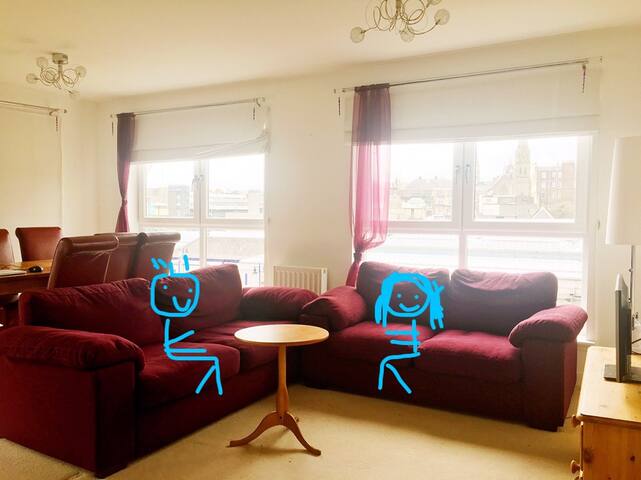 My apartment is a new build with views of Wallace Monument, Stirling Castle and the stunning Ochil Hills. 15 min walk to city centre, 20 min walk to train. The perfect spot to enjoy what Stirling has to offer! *No additional cost for second guest* *Free Parking*
Frank was very helpful to arrange our arrival and make us comfortable at home. We had a good and quiet night at his place with a good breakfast. The flat is located a short drive away from the town centre and the castle. Will recommend to stay at Frank's place!
Cecile
2016-03-27T00:00:00Z
This place is perfect and I'd definitely stay here again
Julia
2017-01-15T00:00:00Z
Frank was a very friendly and welcoming host. He didn't seem to mind at all that we arrived at 10pm after a long drive from Chester. The whole flat was immaculate. Thanks again Frank for a lovely stay!
Hannah
2016-06-19T00:00:00Z
Frank ist ein wirklich netter, offener und ruhiger Host. Wir haben uns sofort willkommen gefühlt. Die Wohnung ist neu, sauber, hell und gemütlich und unser Zimmer war sogar schöner und größer als in der Beschreibung. In der recht neuen Wohngegend sind Geschäfte und Restaurants in der Nähe, in die Stadt kommt man gemütlich in 20 Minuten zu Fuß. Man konnte Frank alles fragen, er war hilfsbereit und offen und wir saßen abends noch ein wenig zusammen. Leider waren wir nur eine Nacht dort, wir wären gerne länger dort geblieben. Parken kann man in der Gegend auch super. Es gab alles was man zum Frühstücken braucht.
Hilli
2016-08-31T00:00:00Z
Frank est très gentil et arrangeant. Son appartement et sa chambre sont très agréables. Je recommande.
Gaëlle
2016-12-31T00:00:00Z
I didn't know the time I would arrive, as I was cycling from Dundee and Frank was in Edinburgh, so he kept in touch to make sure he was home to receive me when I arrive. We didn't have time to talk much, but he received well and made me feel at home. The house is very clean and cosy, and so is the room. I had a very good experience. Highly recommended!
Pedro
2016-05-09T00:00:00Z
We stayed with Frank for 9 days. His apartment is clean and bright, just as the pictures show. The bed is comfortable and the bed is,a good size. We did not have a car and it was an easy walk to the city center and a walkable distance to the train station. Frank is a great host. He made us feel comfortable and was helpful in assisting us as tourists. He went beyond what is expected of a host. We cooked many of our Meals at the apartment and felt comfortable doing so. There is a super store across from the apartment. Frank gets 5 stars and we highly recommend his property when staying in Stirling.
Rod
2016-04-06T00:00:00Z
Frank est un hôte très accueillant et disponible. Il nous a donné de bons conseils pour notre séjour à Stirling. Concernant le logement il correspond parfaitement aux critères. Nous vous recommandons vivement ce logement. Merci encore à Frank !
Quentin
2017-01-21T00:00:00Z
Szoba típusa
Privát szoba
---
Ingatlan típusa
Lakás
---
Férőhelyek
2
---
Hálószobák
Stirling, Stirling, Egyesült Királyság
Our little flat is located right in the heart of the city centre of Stirling. You can walk to all the surrounding coffee shops in 2 minutes and up to the castle in 10 minutes.There are many local restaurants with different food options and a shopping centre. Also lots of walks to do in the nearby area, the best of which lead you to The Wallace Monument and up onto Dumyat in the Ochil hills.
The flat is a clean, bright space, where you can cook, wash laundry and relax in between your time here. You have one set of keys and one person who will be able to attend to your needs in the flat most of the time throughout your stay - his name is Allan. You can cook, using the kettle, oven, microwave or gas cookers and kitchen ornaments as you please. There is a fridge, freezer and a nice table for a romantic meal ;) You can smoke in the bedroom as long as you open the window, we try our best to keep the smell of smoke out, but we don't mind if you do.
The neighbourhood is friendly and calm, you are safe at anytime. The community of Stirling is made up mainly of students, the university of Stirling houses many of it's students in the city centre, however there are people of all ages and backgrounds throughout the town.
Very convenient location - right in the centre of it all! Calum wasn't present during our stay, the communication was nice & easy though. Calum's housemates made us feel very welcome. I would stay at this place again :).
Martina
2017-03-20T00:00:00Z
The host canceled this reservation the day before arrival. This is an automated posting.
Joan
2017-04-02T00:00:00Z
Last-minute cancellation on my part, I'm afraid - I was visiting relatives and in the end they had space for me to stay with them. Thanks very much anyway!
Ged
2017-02-21T00:00:00Z
Enjoyed the stay a lot, Calum and his roommates were excellent hosts.
Saara
2017-02-26T00:00:00Z
Very cosy room. And Calum was a really nice host. Also the location is great for exploring the city. I would stay there again :)
Barbora
2017-04-02T00:00:00Z
Szoba típusa
Privát szoba
---
Ingatlan típusa
Lakás
---
Férőhelyek
2
---
Hálószobák
Stirling, Scotland, Egyesült Királyság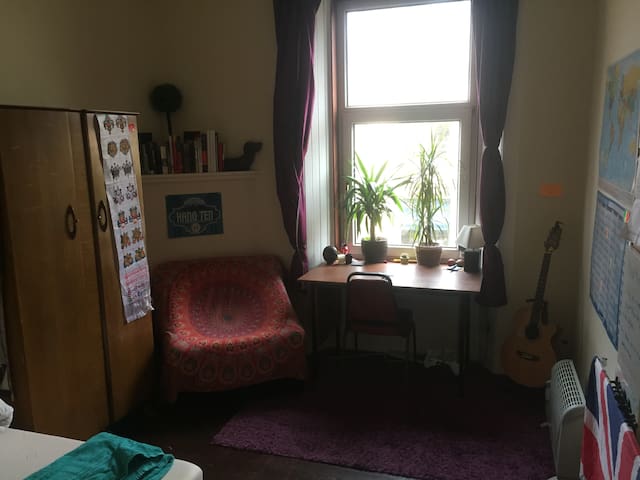 You'll love my place because of the coziness, the views, and the location. My place is good for solo adventurers, business travelers, romantic escapades and furry friends (pets). I would like to mention that this is a really small flat, just to prevent misunderstanding about the size. However Shimmi (our cat) and its coziness makes it absolutely enjoyable. We are 5 minutes walk from the city-center and 1minute walk from the bus stop for university, Bridge of Allan and Callander.
The room is nice and comfortable. The mattress is brand new and you will find everything you will need for an enjoyable stay.
Really nice neighborhood: Tesco supermarket is just 2 minutes walk from the flat and we are surrounded by Chinese, Fish and Chips and other shops as well. Pizza Hut is right in front.
Great location within walking distance to everything.Clean, quiet and comfortable. A good budget option.
Louise
2017-01-30T00:00:00Z
Brigitta and Francesco are very friendly. The house is near the station and it takes only 8 minutes. You can go to city center by walk. They are very good hosts for me!!
Natsuki
2017-03-11T00:00:00Z
The description and pictures are accurate. Francesco was friendly and welcoming.
Milena
2017-02-28T00:00:00Z
Brigitta & Fransico were both very welcoming.
Muhammad
2016-11-01T00:00:00Z
Brigitta and Francesco were fantastic! The bnb is small but perfect for one person. Very close to both the train and bus station, and an easy walking distance to Stirling Castle. They also gave me directions to the nearby town of Callander, which really helped with travel. Overall a great stay, beautiful town. (And Shimmi was a great welcome after a long day)
Adam
2016-11-07T00:00:00Z
As described and good location
Rick
2017-03-03T00:00:00Z
Second time staying here, convenient for my current place of work and the centre too. Shimmi seemed to remember me from last week too!
Mark
2017-01-27T00:00:00Z
I received the usual warm welcome from Shimmi and Francesco. The chocolates were a nice touch! Had a really pleasant stay while I was working in Stirling for a few days. Everything is there you might need. Looking forward to returning!
Mark
2017-02-10T00:00:00Z
Szoba típusa
Privát szoba
---
Ingatlan típusa
Lakás
---
Férőhelyek
2
---
Hálószobák
Stirling, Scotland, Egyesült Királyság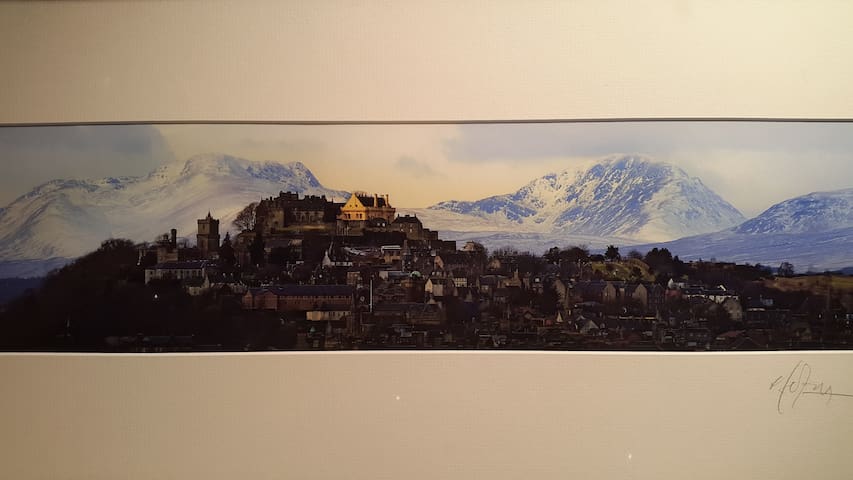 Writer, ten year old and two friendly cats-in-residence welcome you to our lovely Victorian apartment in the pretty village Bridge of Allan, situated outside historic Stirling and within walking distance of the university. Walks, cafes and boutiques locally, or hop on a train to nearby Glasgow or Edinburgh.
Welcome to our large and comfortable apartment in former spa town, Bridge of Allan. We are on the first floor of an impressive Victorian sandstone villa. Access is to the right of the building up some stairs, so unfortunately disabled access may be limited. There is use of a driveway if needed. Breakfast is served in our large sitting/dining room, please see below for details.
Bridge of Allan is a small and pretty town on the outskirts of Stirling city centre and just next to Stirling University. It's home to a few boutique shops, restaurants, take aways and cafes and is set against a pretty backdrop including nearby Dumyat and Wallace Monument (both within walking distance from our home). Walkers will enjoy the nearby woodland, hill (Dumyat) and beautiful university campus. Please ask for tips and routes. Stirling is home to a historic castle with wonderful panoramic views and a pretty old town, as well as shopping mall with the usual high street suspects and a restaurant and nightlife scene befitting its size. We're also in a great position for exploring other parts of Scotland, with easy access to Glasgow and Edinburgh and all they have to offer, and to the more rural north: Stirling is often referred to as 'the gateway to the highlands'.
Stayed here for two nights and instantly felt at home. The room is wonderful and the location is really central. Dani is a great host who is very engaging and welcoming. I would definitely return!
Jag
2017-03-30T00:00:00Z
I've stayed at Dani's place for two weeks while I was looking for a place of my own. Dani has been very helpful, and made me feel at home. The house is in an excellent location close to the University of Stirling, and the room offers countless reading stimuli. I would definitely recommend it!
Giacomo
2017-03-13T00:00:00Z
Dani is a very welcoming host who made us feel at home and made our stay very enjoyable. She shared her facilities in her grand apartment which is part of a large period house.
Steve
2017-02-08T00:00:00Z
Très bon accueil de Dani, sa fille, sans oublier Oreo (son chat), on se sent tout de suite comme à la maison . Nous avons particulièrement appréciés ses talents de cuisinière, ainsi que ses efforts pour que nous pussions communiquer. L'appartement est très bien situé. Nous recommandons pour tous les voyageurs souhaitant séjourner à côté de Stirling.
SOPHIE
2017-03-20T00:00:00Z
Dani is a very friendly and willing to help person , she's got a very clean and comfortable place to stay in a peaceful area,near the uni of Stirling. Also she is a very polite and kind woman. The cats was adorable :) I strongly recommend her place.
Theodoros
2017-02-14T00:00:00Z
It's a beautiful house in a nice neighborhood. Although you have to take the bus if you want to go to the Stirling center, it has a Tesco market and some nice pubs near it. Also it has a bus stop just outside the house. The owner is one of the most helpful and friendly ones you will ever meet.
Kostas
2017-02-16T00:00:00Z
nice host. helpful and friedley. i recommend it :)
Michael
2017-03-16T00:00:00Z
Dani's place is located close to the train station and all local amenities. A helpful guide is provided in the room with tips on where to eat etc. Dani was very welcoming and her place had everything I needed for a comfortable stay. When travelling for business I'm looking for somewhere comfortable at a reasonable price, both qualities were exceeded! I was really happy during my stay and would be happy to recommend Dani's place to anyone.
Mark
2017-02-24T00:00:00Z
Szoba típusa
Privát szoba
---
Ingatlan típusa
Lakás
---
Férőhelyek
2
---
Hálószobák
Bridge of Allan, Scotland, Egyesült Királyság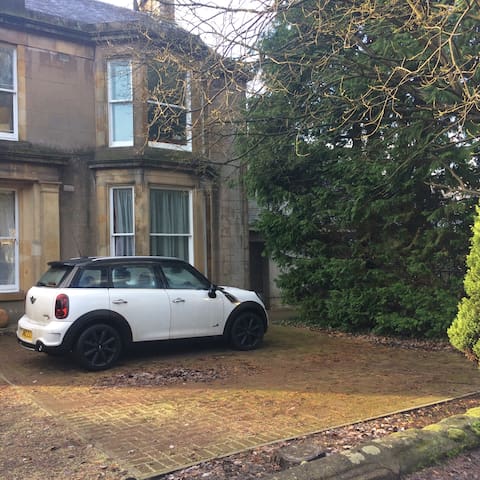 A történelmi lakás egy műemléképület központjában Stirling tekintélyes Allan Park / Kings Park területén, sétatávolságra Stirling Castle, a vonat / busz állomás, éttermek, kocsmák, üzletek, parkok, mozi és a golfpályára.
A lakás tágas, világos és kényelmes; van egy nappali bőr kanapék, hogy lazítson egy fárasztó nap városnézés! WIFI, TV-vel és DVD-lejátszó is biztosított. Az étkező ki a nappali és egy szép kényelmes enni a barátokkal. Jelenleg 3 kétágyas hálószoba, mindegyik dupla ággyal; A hálószoba ugyanazon a szinten, mint a konyha és a nappali / étkező és a másik 2 hálószoba a felső szinten, amely megosztja a fürdőszoba. A fürdőszobában kád, WC és elektromos zuhanyzó. A konyhában elektromos sütő / tűzhely, hűtőszekrény / fagyasztó, mosogatógép, mikrohullámú sütő és a mosógép. Edények, edények, stb szállított 6 fő részére. Ágynemű és törölköző is biztosított. A lakás előnyeit gáz központi fűtés radiátorokkal minden szobában. Az alsó felében a Townhouse Wellbeing Clinic kínál holisztikus és alternatív terápiák masszázs és reflexológia a homeopátia, hipnoterápia, és kényeztesse kezelések. Lásd (URL HIDDEN) további részletekért.
A lakás kellős közepén a Stirling, a tekintélyes AllanPark / Kings Park negyedben, az egyik legrégebbi utcai ház történelmi Georgian tulajdonságok; így nincs szükség egy autót kap körül a várost! Stirling Skócia egyik legnagyobb történelmi városok látványosságok, mint például a középkori Stirling vár és a Argyle szálláshely mindössze 10 perces sétával elérhető. Ez az egyetem város számos látványosság, mint például: The Old Town Jail, Holy Rude Templom, The Smith Művészeti Galéria és Múzeum mellett furcsa árkádsor egy modern bevásárlóközpont és rengeteg étterem, bár és kávézó. A National Wallace Monument és a Battle of Bannockburn látogatóközpont mindössze néhány perc alatt elérhető autóval. A történelmi fürdőváros, Bridge of Allan mellett található a Allan víz folyó csak néhány mérföld távolságra Stirling központtól. Itt van egy sor egyedi üzletek, kávézók, éttermek és bárok mellett néhány lenyűgöző viktoriánus építészet. Stirling fantasztikus szabadidős és sportolási lehetőség fedett és szabadtéri. A Kings Park Golf Club mindössze 10 perc sétával elérhető. Más nagyon könnyen megközelíthető sportok helyben elérhető a tenisz, lovaglás, kerékpározás, lövészet, horgászat, túrázás, síelés, quad. Egy új szabadidő központja 5 perc autóútra fekszik kínál egy hatalmas tömb sporttevékenységek úszás és korcsolyázás a Zumba, spinning, jóga és aerobik. Central Scotland kínál rengeteg látnivalót és sporttevékenységek és Stirling van a tökéletes hely, hogy ezekhez. A Ochil Hills egy túrázók paradicsoma, távolabbi Loch Lomond és a Trossachs Nemzeti Park páratlan gyönyörű táj és a végtelen szabadtéri tevékenységek vízisí és a hegyi kerékpározás a hegyvidéki és a légi zip vezetékes erdei ösvényeken. Stirling biztosít egy nagy központi kiindulópont utazó Edinburgh, Glasgow és Perthshire.
I can't imagine a lovelier place to stay in Stirling. Fiona's flat is charming, spacious, and an easy walk to both the train station and the castle. The space is clean, comfortable, and well appointed; and Fiona was gracious and welcoming.
Jennifer
2017-01-01T00:00:00Z
The location for final flat was fantastic, we could walk in the old town, use the shops and the train station easily. There are cheap places to eat but we self catered. However I would emphasise the shower, I am 5 ft 2 and felt treacle hemmed in as the shower head was right on my head and I could not reach up to dry myself unless I got oit of the bath. Although there was unlimited hot water, with only one toilet 6 baths would be pretty impossible. The bathroom felt very crampt. The flat was furnished cheaply and clearly as a money venture rather than a home. The front room was light but had dusty cheap venetian blinds over original shutters, and a relatively small TV. So great for a reasonable budget stay but not suitable for staying in during the day or a luxury break. Fiona was very friendly and met us and was an hand if we needed her. I would highly recommend staying overnight in Stirling and grabbing some evening views.
Jenny
2016-08-13T00:00:00Z
DEALING with Fiona was easy and smooth, she was there to meet me when she said she would be,all was explained and the house was just as she had said It would be ihave no problem in recommending fionas house and hospitality to every one
Dickie
2016-10-24T00:00:00Z
Everything was fantastic.
Guy
2016-10-15T00:00:00Z
Lovely stay in very convenient well located flat. Very comfortable and ideal for our needs. Made to feel most welcome and highly recommended.
Eddie
2016-05-03T00:00:00Z
My friends and I had a fantastic time at Fiona's place. She made us feel incredibly welcome and was very accommodating with our arrival time. Fiona's place is very comfortable, beautifully decorated and really central. The house is full of character and has everything you need for a decent stay. I would definitely recommend it.
Kate
2016-06-02T00:00:00Z
We really enjoyed staying at this apartment. It was right in the middle of town, just a couple of minutes walk to an M&S supermarket, as well as five minutes to the main bus and train station. Friday and Saturday nights are a little noisier being in the middle of town, but that is to be expected, and it is quiet the rest of the time. The views are lovely. The amenities were clean and comfortable, and everything we needed was on hand - kettle, toaster, microwave, etc - even a dishwasher and washer/drier. Our host was very helpful and easily accessible if we needed anything. Thoroughly recommend this place - all our friends who visited us there also decided to use AirBnb in the future.
Nicki
2016-08-08T00:00:00Z
Fiona was very welcoming. The flat was as described - convenient location and nicely appointed. As Fiona noted, the shower ceiling is low. It was awkward even for people shorter than 6' tall, but otherwise everything was enjoyable.
Craig
2016-07-25T00:00:00Z
Szoba típusa
Teljes ház/lakás
---
Ingatlan típusa
Lakás
---
Férőhelyek
6
---
Hálószobák
Stirling, Stirlingshire, Egyesült Királyság
An immaculate 2 bed apartment located up a quiet lane in Stirling. Property comprises of entrance hall, open plan lounge/kitchen, 2 double bedrooms with master ensuite, family bathroom. Please note the bed configuration varies in these apartments if you have specific requirements, please check before making a reservation.
This rental is for a complete apartment. Bed configuration varies. Please check before booking if you have a specific requirement.
Our apartments are in the very heart of Stirling City centre. It is only minutes walk to all the attractions within the historic City - Stirling Castle, the Old City Jail, Argyll's lodging, Mars Wark and the Church of the Holy Rude. There is also a modern shopping centre as well as the more traditional boutique shops. If you are a first time visitor to Stirling the best way is to take the Stirling Tour Open Top Bus. This has 14 stops along route and will allow you to hop on and off visiting such places like Wallaces Monument and The Bannockburn Heritage centre that are located slightly out of the city centre. Our properties are in a perfect location to base yourself to travel to the rest of central Scotland. Edinburgh and Glasgow are both under 30 miles away and can be reached easily by train or by car. Plenty choice of restaurants within a 5 minute walk
We stayed for a week and had a fantastic trip. The flat was well maintained and in a great location. Gillian was very helpful about everything. Would love to stay again!
Mareeha
2016-07-12T00:00:00Z
We had an amazing stay at Gillian's apartment in Stirling. It was so central and you can easily walk to shops and a huge variety of restaurants. Stirling is such a cosmopolitan city and Gillian's place is perfectly suited to explore the castle, the old town and everything Stirling has to offer. Hidden away there is no noise and we had the most wonderful sleep. We stayed three nights and can't recommend this wonderful apartment highly enough. Book it! You won't be disappointed! Fantastic value for money.
Evie
2016-05-31T00:00:00Z
We had a great time at Gillian's place. The apartment is very nice and clean. We were amazed.
Réka
2016-07-20T00:00:00Z
Gillian was very quick in replying and provided easy detailed directions to assess the flat, which was very comfortable and located close to centre. Recommended.
Pedro
2016-05-23T00:00:00Z
Gillian communicated promptly and the flat was just as advertised. We were very comfortable and being so central in Stirling made the stay great! I'd highly recommend this flat and Gillian.
Tim
2016-12-30T00:00:00Z
Estupendo alojamiento!
Pablo
2016-07-28T00:00:00Z
Perfect location,near the shopping center,supermarket,bank,walk to train station within 10 minutes,nice host,helpful,responsible,efficient,an apartment I will definitely recommend!
茶茶
2016-09-27T00:00:00Z
Szoba típusa
Teljes ház/lakás
---
Ingatlan típusa
Lakás
---
Férőhelyek
4
---
Hálószobák
Stirling, Egyesült Királyság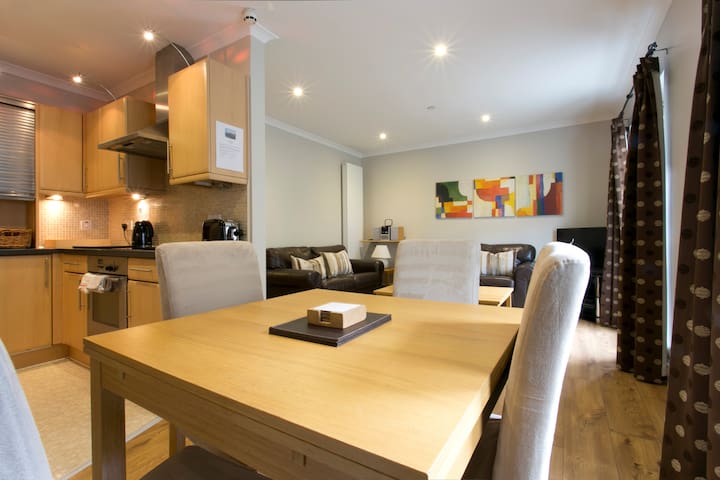 Originally a stable, built 150 years ago it has been transformed into a modern loft apartment to a high standard of finish. The apartment is situated in the centre of Falkirk and close to all local attractions. See our website (URL HIDDEN)
Great flat with an excellent location for access to local shops and restaurants. The flat was very comfortable and clean with all the amenities described in the listing. The heating system was easy to control and kept the flat feeling cozy (which is a major bonus for Scotland in November). The train station is just across the street which was also very convenient. Alan was responsive to any questions or messages and communicated all the details prior to arrival very clearly. Would happily stay here again anytime.
Mary
2016-11-27T00:00:00Z
Lovely attic BNB and centrally located to all amenities and transport in Falkirk. Alan was a great host and we were grateful to him for providing assistance to help us on our arrival. It is located above a cafe so some noise can be expected.
John & Kimmie
2016-08-19T00:00:00Z
Beautiful apartment. Tastefully done. Alan is a very welcoming host. Try the Thai green curry soup in his Cafe! Thank you Alan
Christian
2016-09-16T00:00:00Z
Just a really great place to stay. Beautiful, unique, great location and very well presented accommodation. Alan is a very friendly and extremely helpful. You cannot go wrong with this apartment.
Trevor
2016-10-05T00:00:00Z
Great place! Was a lovely stay
Alexander
2017-02-05T00:00:00Z
Alan's loft is even better than the pictures suggest! Modern, spacious, clean and stylish - the best airbnb we have stayed in. Alan is friendly and helpful. And the location is fantastic set across from a great bar and above a lovely cafe as well as the convenience of being right across the road from the train station. We loved our stay. Thanks so much Alan
Scott
2017-01-15T00:00:00Z
Style and location. Superb loft apartment. Perfect for trips out. Close to train station for Glasgow and Edinburgh. Equally great for visiting relatives. The apartment is spotless and of a fantastic design with lots of great features. The photographs dont do it justice! Alan is a lovely host and extemely helpful. Highly recommended!
Paul
2016-10-01T00:00:00Z
Very central in Falkirk. Would recommend anyone coming to Edinburgh or within the vicinity to stay in this apartment. Nice host, clean apartment. Well done.
Wei Ling
2016-09-19T00:00:00Z
Szoba típusa
Teljes ház/lakás
---
Ingatlan típusa
Lakás
---
Férőhelyek
2
---
Hálószobák
Falkirk, Egyesült Királyság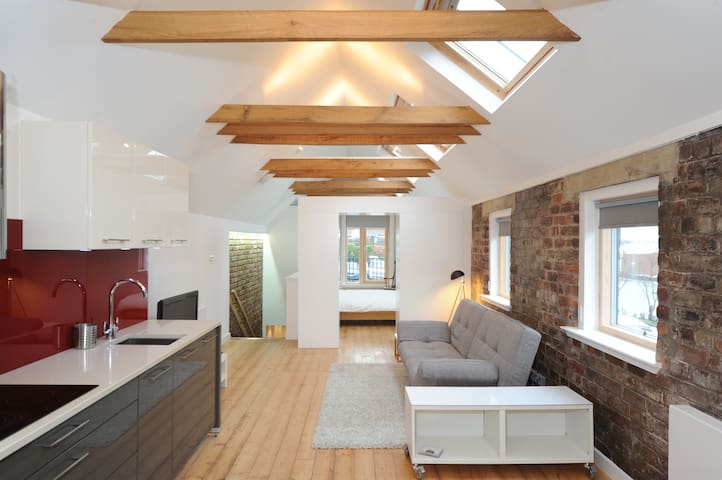 A very large 3 bedroom flat right in the heart of Stirling. It has 2 double bedrooms and one single bedroom with a very large living room with a comfy sofa. It is next to a large shopping centre, and all other amenities and attractions. Only a five minute walk to the train/bus station and from there it's 40 mins by train to Glasgow and 1hour to Edinburgh. Lots of lovely pubs and coffee shops near by.
Great apartment with high ceilings, beautifully decorated rooms and well equipped. Would highly recommend it
Anna
2017-03-30T00:00:00Z
Szoba típusa
Teljes ház/lakás
---
Ingatlan típusa
Lakás
---
Férőhelyek
5
---
Hálószobák
Stirling, Scotland, Egyesült Királyság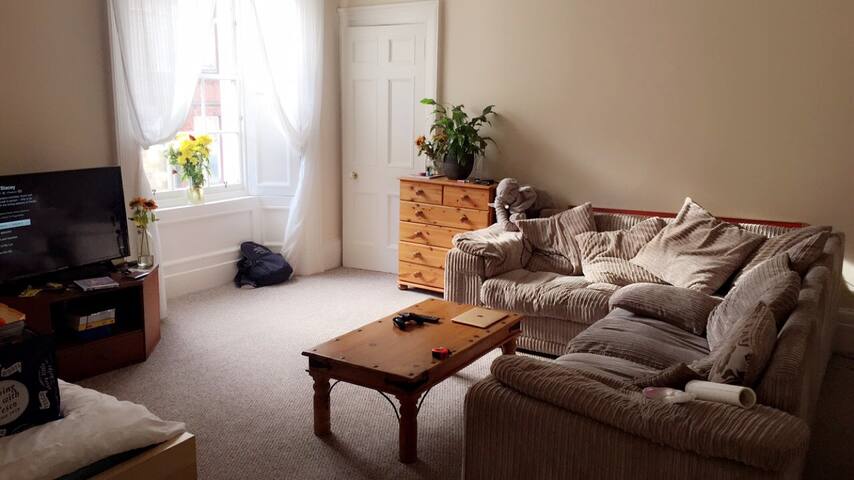 Self catering studio apartment on the upper floor of a welcoming family home, forming part of a traditional stone built farm steading, in a countryside setting, only minutes from the city centre. Just close your door, kick off your shoes and relax!
The Garden View Studio is ideal for one or two people whether on holiday or a business trip. If you're relocating or in between properties the studio offers an ideal short term solution. An attractive space, imaginatively decorated and well furnished with everything you need for a comfortable stay, all off your own private hallway. The bed/sitting room has a double bed, ample storage, hairdryer and comfortable sitting area with flat screen TV. In the bathroom there's a bathtub with overhead shower, shaver point and complimentary toiletries. As well as the cafe style table and chairs, the kitchen facilities include a fridge/freezer, kettle and toaster. Although there is no conventional cooker, the microwave, table top halogen cooker and Ramoska mini oven will ensure you won't be hungry! If you feel the need to iron there is an iron and ironing board. Just close the door and settle into your very own home from home!
A peaceful countryside setting yet just minutes from the vibrant city of Stirling, in the shadow of Stirling Castle with fantastic views of the Trossachs, the steading is conveniently situated for touring, hill walking and exploring the dynamic surroundings. There are castles, outstanding architecture, golf courses, unrivalled scenery, country walks, excellent restaurants and shopping, all within a short distance from the steading. Stirling University campus with its buzzing Arts Centre and beautiful grounds is only ten minutes drive away, where the backdrop of the Ochil Hills completes the picture. Look in your information pack - we'll also be delighted to give our personal recommendations!
Very friendly and welcoming
Tom
2016-09-05T00:00:00Z
Fiona was very welcoming. The apartment was immaculate with everything we needed. Extra touches like home made biscuits were the icing on the cake. We would definitely recommend the apartment to family and friend's.
Jack
2017-04-01T00:00:00Z
We loved our stay!!! It was ideally located and accurately described. It's a gorgeous building/location and decorated beautifully. Fiona was an excellent host. Got back to us very quickly before we arrived and was very welcoming. She had left little touches which really made all the difference (teabags,coffee,milk,bread, butter) and THE most delicious home made short bread!!! She also left a travel cot for our toddler along with blankets, pillow, quilt and a selection of toys and bath toys which was very thoughtful. There really is everything we would have needed there for our stay. We hope to be back for longer on our next visit!!! Would highly recommend!
samantha
2016-08-11T00:00:00Z
This was a working trip, so unfortunately we had little time to get to know the area or take advantage of Fiona's gorgeous garden. Great 30 min walk into town. Compact apartment, with small kitchen as described. Fiona left us cakes (gluten free for me!) and milk and it was great to chat to her and her daughter briefly - pretty amazing family with lots of interesting stories! Thanks for having us
Andrea
2016-06-25T00:00:00Z
Fiona made us feel extremely welcome right from the moment we arrived. She showed us around our accommodation and explained everything we needed to know to make our stay an enjoyable one. Fiona seems to have the balance just right - she manages to run her busy life alongside welcoming guests into her home without compromising either. The accommodation was spotlessly clean and comfortable and we thoroughly enjoyed our stay there!
Liz
2016-08-14T00:00:00Z
Fiona's Studio Apartment is a great place to stay when visiting Stirling. Large comfortable bedroom, nice bathroom and kitchen, and good facilities for self catering In a rural setting, but only a short drive from the Castle and the Centre. Fiona is a great host, friendly and helpful - wished we'd had more time for a few more chats! Definitely on our recommended list for staying near Stirling.
Adrian
2016-09-29T00:00:00Z
Espectacular!! La zona es muy linda con el castillo de Stirling en frente. Fiona es muy atenta, nos ayudo cada vez que le pedimos algun consejo y nos explico todo lo necesario para disfrutar al maximo de la zona. Volveriamos sin dudas!!
Martín
2016-09-08T00:00:00Z
We loved our stay in the apartment. It was bright, super clean and very comfortable, in the country yet close to the city and with wonderful views. Fiona made us feel very welcome. Thank you.
angelika
2016-05-24T00:00:00Z
Szoba típusa
Privát szoba
---
Ingatlan típusa
Lakás
---
Férőhelyek
2
---
Hálószobák
Stirling, Egyesült Királyság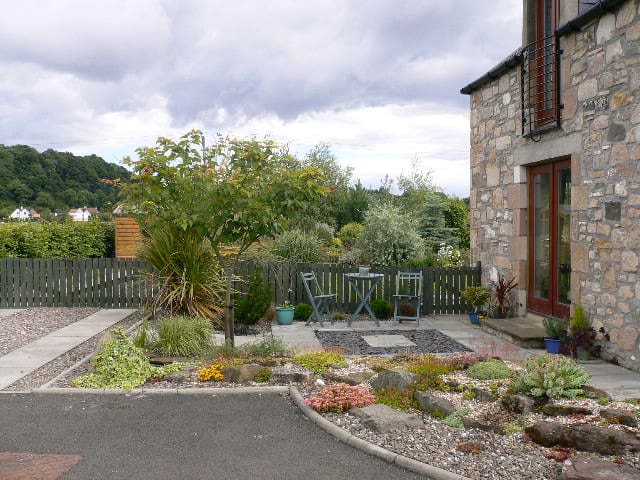 Modern apartment near the heart of Stirling but based in a quiet area. Ideal for one or two couples who want to explore local area or whole of Scotland as it boasts enviable transfer links. Minutes walk from city centre amenities & train station.
Ground floor apartment with two double bedrooms (one en suite), and an open-plan kitchen-living space. 2 bathrooms with showers (1 has a bath). Small veranda.
Although only a five-minute walk from the centre of town, the flat is located in a quiet area. You get all the convenience of city-centre living with none of the noise!
We had a brilliant stay at Robin's flat. It is in a perfect location and has the added bonus of being central but peaceful! I can highly recommend a stay here if you want to explore Stirling and the surrounding area.
Lesley
2016-07-05T00:00:00Z
Robin welcomed me at the scheduled time and reviewed all the appropriate operating procedures. The internet connection was easy, fast speed, and available throughout the apartment through wifi. The apartment is roomy, modern and nicely furnished mostly as illustrated in the photos of the apartment. The living room sofa and chair were different but very comfortable. The kitchen has everything needed for cooking and dining in. The location is in walking distance to most shops and very close to the train station. I never heard neighbors through the walls or upstairs and the street traffic at the back was not bothersome. Robin's apartment is an ideal retreat and I highly recommend it to potential guests.
Stirling
2015-08-28T00:00:00Z
Todo perfecto. Apartamento muy bien equipado y perfectamente situado, a un paso del centro y con sitio para aparcar dentro de las urbanización. Nos atendió su hermana Jenny, muy simpática, comunicativa y que quedó a nuestra disposición por si necesitábamos algo. Recomendable al cien por cien
Benito
2016-07-28T00:00:00Z
La casa era veramente molto bella, arredata in modo elegante pulita e molto vicina al centro città. Il parcheggio privato di fronte l'appartamento è stato la ciliegina sulla torta. Robin è stato davvero disponibile e gentile ( nonostante il nostro considerevole ritardo) e anche per il check out è stato tutto molto semplice e rapido! Siamo stati veramente bene!
francesca
2015-08-31T00:00:00Z
El trato de Robin antes de nuestro arribo y el de la persona que nos recibio fue excelente. La ubicacion, calidad del apartamento en general muy buena. El entorno es genial. Tienes todas las comodidades para 4 personas, salvo dos sillas que es un detalle a mejorar.
Jose Luis
2016-08-29T00:00:00Z
C'est Laura, la fiancé de Robin, qui nous a accueillis. Elle parle parfaitement le français, ce qui pour nous facilite les échanges. L'appartement est très bien situé, 20 min à pied pour aller au château de Stirling, des centres commerciaux ouverts jusqu'à minuit en semaine et 22 heures le WE! La riviėre qui passe derrière l'immeuble. Un appartement spacieux, bien décoré et bien équipé que nous aurions plaisir à occuper à nouveau, d'autant que le parc de Trossachs n'est pas loin...
Florence
2015-08-17T00:00:00Z
We were greeted on arrival by robins lovely fiancé Laura. She was very welcoming from the first moment and showed us around. When i had a question about how to work something she actually immediately refturned to the flat to show me which we really appreciated. When I texted her another enquiry she called me instead of texting which I thought was a great thing to do. The flat is well presented modern and spacious with plenty of natural light flooding in. Location also superb minutes away from the city centre and less than a five minute walk to the train station. We would happily recommend this place to anyone as we also took advantage of the surrounding area and took a three hour stroll to the abbey and onto the wallace monument which offered the most stunning views. We would like to stay if we come to Stirling again. Corrine&Firat
Corrine
2015-06-23T00:00:00Z
This property was a real gem. Located close to the city centre, a supermarket and pins and restaurants. The street had so much character and the property was great for a small family. The host was great to sea with. We would recommend this property to anyone.
Jenny
2016-07-30T00:00:00Z
Szoba típusa
Teljes ház/lakás
---
Ingatlan típusa
Lakás
---
Férőhelyek
4
---
Hálószobák
Stirling, Stirling, Egyesült Királyság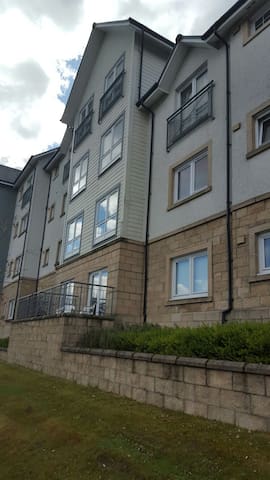 This unique appartment lies right in the heart of Stirling's Old Town and the cobbled streets under Stirling Castle. It is set over the top two floors of a beautiful building designed by the architect John Allan. It has recently been refurbished throughout to a high standard and is in a superb central location in the heart of historic Stirling. It can sleep six within three bedrooms and would suit couples, business travellers, and families. The train station is only a 5min walk away.
Delightful apartment and equally delightful host. Val, from the minute I made the booking, could not have been mor helpful and responsive. The apartment is just beautiful. Some Air BnBs are left in their normal state are don't feel particularly comfortable. Also, the apartment is an historic building which adds to the experience. Val's apartment is the complete opposite and has all the benefits of a hotel but with the charm of an apartment. But the stand out for this apartment is how caring and thoughtful Val is. She left everything you could possibly need much like a hotel might. There was fresh milk, juice, bread, butter, toiletries, etc... And Val was available at your beckon call but in an entirely unobtrusive manner. I cannot recommend this apartment highly enough.
Michael
2017-01-16T00:00:00Z
Gabriela
2016-12-27T00:00:00Z
Our host was very swift in responding to our inquiry and everything was smooth in accessing the flat. The flat itself was great, a cosy and very carefully renovated flat in a beautiful old building and in a very central location, overall we were very happy staying at 1, Bank Street!
charlie
2016-11-04T00:00:00Z
A beautiful place in a beautiful town. Already thinking of our next visit. Thanks Val!
James
2017-03-13T00:00:00Z
Très bon logement pour le week-end. Simple d'accès et confortable
Vincent
2017-01-30T00:00:00Z
Nice \relaxing stay. Great Place
Harish
2017-02-15T00:00:00Z
Val's place is a perfect in every way! The apartment has everything you will need...for cooking, relaxing, it has tour books, board games, movies.....perfect for a family trip away! The apartment is tastefully decorated and the beds are extremely comfortable. 10 out of 10 from us! Thank you!!!
Heather
2017-02-26T00:00:00Z
Szoba típusa
Teljes ház/lakás
---
Ingatlan típusa
Lakás
---
Férőhelyek
6
---
Hálószobák
Stirling, Scotland, Egyesült Királyság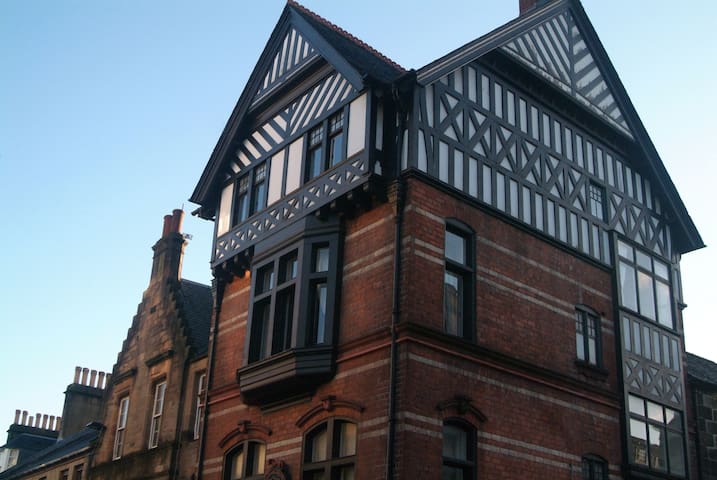 My place is close to the city centre,restaurants and park. You'll love my place because of the location and the garden . My place is good for couples, solo adventurers, and business travellers.
Very large rooms traditionally decorated, warm and lots of hot water.
Quiet and peaceful
Fantastic rooms,great breakfast and incredibly generous host.Cannot recommend enough.
Tracey
2017-02-24T00:00:00Z
I had a wonderful stay with Mary. She was a marvelous host and I can't wait until I have an excuse to come back and visit again! She was very accommodating and kind, and the rooms were beautiful and clean. I had not realized that breakfast was included, but it was a lovely way to start each day!
Ellen
2017-01-22T00:00:00Z
Lovely place, soft beds and delicious breakfast!
Iris
2017-03-01T00:00:00Z
Mary made us feel incredibly welcome and at home. The room is spacious, beautiful and bright with everything one could wish for (including yummy chocolate nibbles). The location is ideal, quiet but within easy walking diatance of the historic centre. The breakfast was delicious with a view out into the lovely garden and we look forward to staying with Mary again.
Mirella
2016-07-31T00:00:00Z
Mary is a very kind and warm-hearted host, who pick us up from the train station and drive us to the bus station without any complains, the room is very clean and the house is such beautiful in Classical English decoration style. It's really worth for £85 per night for 2 persons. She will also prepare the nice breakfast and delicate afternoon tea for you. It's such a dream place to live. Thanks Mary! If I come back I want to stay here again to have a friendly chat with you, as Mary is also a very wise lady.
Yuxuan
2016-08-04T00:00:00Z
What a beautiful house! The room is luxurious and 5 star + ! Mary is a wonderfully warm and welcoming host who puts great effort into making you feel at home.
Bruce
2016-09-25T00:00:00Z
Beautiful, charming and a short walk to city center. Mary is the epitome of a warm and welcoming host. Thanks!
Jason
2017-03-03T00:00:00Z
Lovely, friendly hostess. Nice , comfortable house. Lovely, comfortable bed. Great breakfast. Mary was very knowledgeable about the locality and booked us a taxi. She also provided secure parking for the bike. Highly recommended.
Patricia
2016-08-08T00:00:00Z
Szoba típusa
Privát szoba
---
Ingatlan típusa
Lakás
---
Férőhelyek
2
---
Hálószobák
Stirling, Stirlingshire, Egyesült Királyság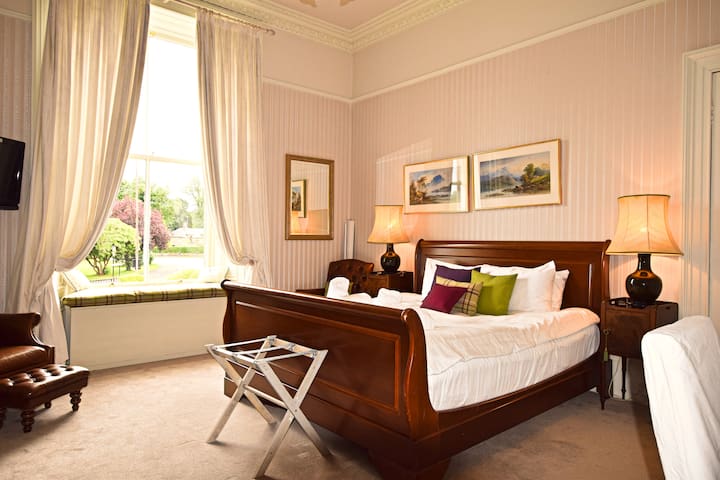 A cosy 2 bedroom apartment in the heart of Stirling. Perfectly situated in a quiet side street between the centre of town and the castle, this welcoming apartment is the perfect base to explore the city and beyond.
A well appointed apartment providing a really comfortable stay with everything you would need. Very close to the town centre and Stirling Castle so well located to explore the city's attractions.
David
2016-09-13T00:00:00Z
This is a great location for enjoying Stirling. 5 minute walk to just about everything- including the castle and restaurants. The living room has plenty of space as does the bedrooms. The bathroom was adequate and Daniel provided some nice bath amenities.
Rich
2016-07-04T00:00:00Z
Excellent location, fantastic apartment,super deal for the money, definetly a 5 star +
Leslie
2016-07-26T00:00:00Z
We had a lovely stay at Daniel's place. It was clean and comfortable and only a few minutes walk from the Hotel, which was the venue for the wedding we attended. The location is close to the shopping centre, restaurants, car park etc. Daniel is a friendly, professional and helpful host and the communication system was excellent.
Sabina
2016-07-12T00:00:00Z
Wir waren für ein paar Tage hier um die Stadt kennen zulernen und ein paar Ausflüge in die Umgebung (Loch Lomond und Cairngorms) zu unternehmen. Die Unterkunft war super. Sehr ruhige Lage, toller Blick auf das Castle und trotzdem zentral genug um alles in der Stadt zu Fuß zu erreichen. Der Parkplatz vor der Tür für den Mietwagen war auch sehr praktisch. Die Wohnung ist geschmackvoll eingerichtet und sehr sauber. So konnten wir auch die Zeit drinnen genießen. Die Kommunikation und Schlüsselübergabe war sehr unkompliziert. Als störend könnte man die Geräusche der Zentralheizung aus der oberen Wohnung empfinden, die in einem der Schlafzimmer zu hören waren. Wir hatten diese Wohnung als Ersatz für eine kleinere Wohnung aus Stirling von Daniel angeboten bekommen, weil es dort Probleme mit der Heizung gab. Für uns ein Glück, da wir so mehr Komfort hatten. Wir würden die Wohnung jederzeit wieder mieten und kommen bestimmt nochmal nach Stirling.
Inga
2016-03-17T00:00:00Z
The apartment is right in the city centre, very close to everything you need. All facilities, and quick response from the host on email.
Sofie
2017-03-21T00:00:00Z
Szoba típusa
Teljes ház/lakás
---
Ingatlan típusa
Lakás
---
Férőhelyek
4
---
Hálószobák
Stirling, Egyesült Királyság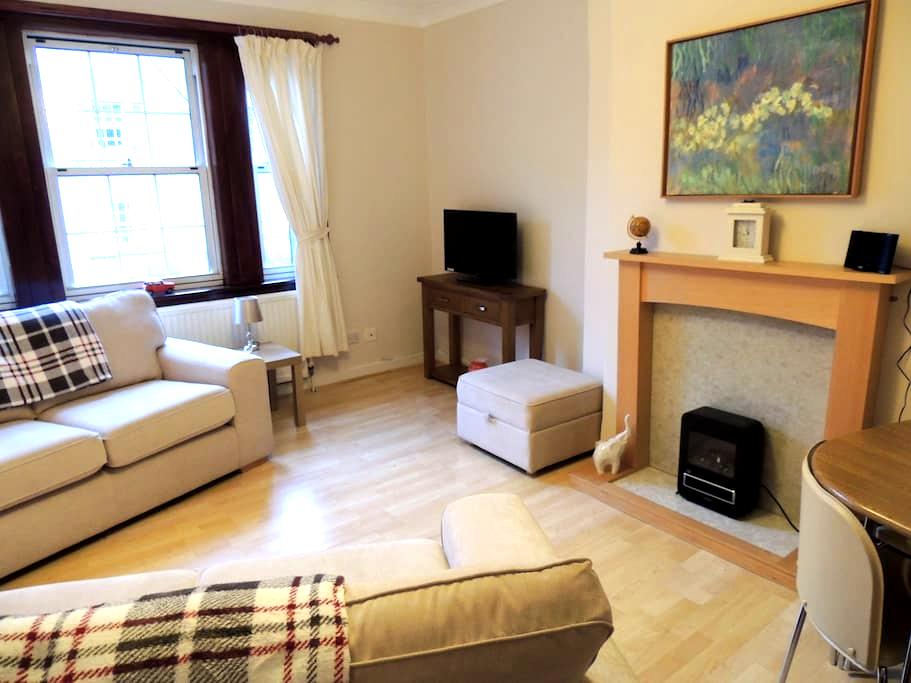 Traditional mews building converted into a modern & secure openplan two bedroomed apartment over two floors. Centrally located in the heart of Stirling City Centre near Stirling Castle, Wallace Monument & Bannockburn Centre. Train & bus Station 10-15 minutes walk.
Luxury two bedroomed spacious masionette, converted from a sandstone mews, the property has all the charm of a traditional building, but with all the modern finishes and fittings of a new home. The property boasts a large open living room/dining room/kitchen on the main level with the first master double bedroom and bathroom. The second of the two bedrooms is on the mezannine level with ensuite shower room and adjoining balcony, (balcony used as a third sleeping area, please note there is no doors to divide the balcony from this bedroom and this arrangement might not suit everyone), the bedroom is open plan and although it's upstairs the adjoining balcony is open over the living area. Please ensure you have a good understanding of the layout as again this might not suit everyone. We can accomodate upto six guests but please also note that our beds are not single, we have 2 kingsized, 1 double and 1 double airbed. Please ensure that you have considered carefully how comfortable people in your party are should they need to share their bed or sleeping space. Key Features: * Entire home * Stunning property set over two floors * Bright open plan reception room * Modern fitted kitchen with washing machine and dishwasher * Sleek modern bathroom and additional shower room * Secure entry building with lit hallway * Fantastic City Centre location * Close to Stirling train station and bus station * City Centre parking space * Wifi & home entertainment
The apartment is situated above a deli cafe & grocery store with a pretty sandstone courtyard, the first bedroom and juilette balcony in the living area have the benefit of this gorgeous view, it's especially lovely in the summer time as the flower baskets are well maintained and you can hear the fragrant mix of laughs, accents and languages as people eat al fresco.
Great location, great value and very welcoming and helpful owners.
Andy
2016-10-15T00:00:00Z
A perfect apartment and perfect location in Stirling. We were very welcomed and well received by the hosts (our contact Louise) who was very keen that we had a good time during our stay in Stirling. We will book this apartment again in the future.
Mats
2016-05-16T00:00:00Z
Hosts provided accurate info on location and entry and so on. The apartment is large and comfortable. Location is excellent. All contact was through emails; we never met the hosts. We enjoyed our stay.
Jim
2016-05-26T00:00:00Z
Absolutely lovely apartment. We all thoroughly enjoyed our stay and hope to be back soon. Great location
Karon
2017-03-06T00:00:00Z
We went for 2 nights while visiting the sights of stirling. The flat is gorgeously laid out and is great for crashing with a tea after a day out walking. Would recommend and would definitely be revisiting
Paula
2016-02-08T00:00:00Z
Nous avons passé un agréable séjour dans cet appartement. Louise et William sont disponibles pour répondre à la moindre question. L'appartement est très bien situé, près du centre ville (parfait pour faire des courses) et pas loin de la gare à pieds. Logement idéal pour une famille de 5 si les enfants sont d'accord pour partager la même chambre.
Séverine
2016-10-27T00:00:00Z
Lived up to expectations and superb location for walking from centre of town. Thoroughly enjoyed our weekend and would highly recommend this to anyone. Great Value!!
Maggie
2016-11-28T00:00:00Z
William and Louise's apartment is lovely; more spacious than we expected from the photos. The location is perfect for restaurants, shops and the castle all of which are in easy walking distance.
Philippa
2016-10-03T00:00:00Z
Szoba típusa
Teljes ház/lakás
---
Ingatlan típusa
Lakás
---
Férőhelyek
6
---
Hálószobák
Stirling, Egyesült Királyság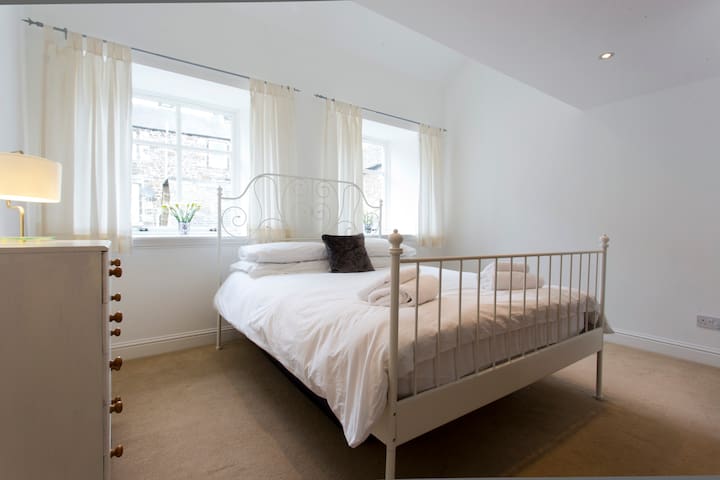 Add meg az időpontokat a teljes ár megtekintéséhez. Felmerülhetnek további költségek illetve adók.