Ideally located 1 bed apartment with off road parking space. Local amenities only a 2 minute walk away. The flat is very close to the city centre (10 mins walk/2 mins bus ride). Please feel free to message with any questions you may have. Thanks, Andrew.
Nice place and Andrew was a great host.
Vladi
2017-02-18T00:00:00Z
Andrew was very welcoming and understanding of our flight arriving 2 hours late - he met us at the place and even installed a couple of heaters to warm up the flat before we arrived! Have only good things to say from our quick trip to Cymru!
Mark
2017-01-02T00:00:00Z
I had a good night in Cardiff. I needed somewhere pretty close to the centre of town, and yes it was very easy to get in on foot in about 15 or 20 mins. Andrew's really friendly, flexible, and quick to answer. For my needs, this place was a good solution.
Thomas
2017-04-02T00:00:00Z
Nice place, good location. Description matched the product
Mike
2017-03-06T00:00:00Z
Thanks for being a great host and for the wine and milk you left. If we get the chance to stay in Cardiff again we would certainly use the flat again!
Dena
2017-02-12T00:00:00Z
The flat is in a good location- about a 10 minute walk in to the centre of Cardiff. There is also a bus stop nearby. It was clean and comfortable, small but had everything we needed and good value for money! I would recommend it !
Una
2017-03-12T00:00:00Z
Great place, a few minutes from the center and the kitchen came fully stocked!
Lana
2017-03-04T00:00:00Z
Wonderful little flat, lovely location! Host was brilliant! Amazing stay
Charlie
2017-03-25T00:00:00Z
Szoba típusa
Teljes ház/lakás
---
Ingatlan típusa
Lakás
---
Férőhelyek
2
---
Hálószobák
Cardiff, Wales, Egyesült Királyság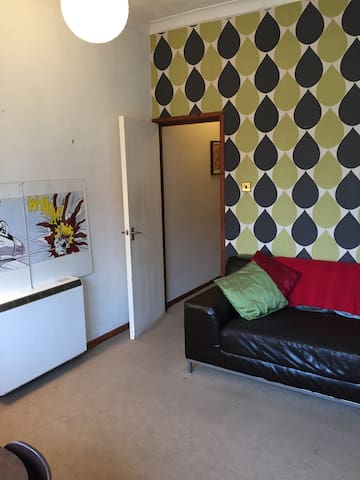 My place is close to the city centre, Cardiff Queen Street Rail Station, public transport, nightlife, Principality Stadium, Cardiff Bay. You'll love my place because of the cosiness, the garden, proximity to city centre and my lovely cat Jenkins. My place is good for couples, solo adventurers, and business travellers.
A very cosy single bedroom flat just to the east of Cardiff City Centre. Although it is a downstairs flat it very much has the feel of a house. Double bed, wooden floor, original fireplace, a decent sized kitchen and a garden with table and chairs out the back. Just off a vibrant shopping street with all the shops to cover basic needs, and a five minute walk from a lovely pub! (The Four Elms) Perfect for a weekend break, city event or business trip. Any questions please don't hesitate to get in touch!
Close to town, pubs and great places to eat. Just round the corner is possibly my favourite Cardiff restaurant "Caban" (which is BYOB)
Very friendly host and Jenkins the cat is adorable!
Taal
2017-01-28T00:00:00Z
Me and my partner had such a relaxed time at Joe's place. Very cozy, pleasant decoration with a lot of personal touch. Place was clean and the house had a pleasant woody smell. Location was perfect for us. Not too far from the centre (so you don't get all the noise), but at the same time really quick to get there, either by bus or just walking. Kitchen is fully equiped. Good for us vegans. Jenkins (the adorable cat) is perfect when you arrive home tired. He just becomes part of your family too. Check in and check out were a breeze. Joe made sure everything was ready before we got there. Would love to stay there again!
Diogo
2017-03-06T00:00:00Z
A very clean and cozy place a short walk to the center of the city. Joe was an excellent host with great communication. Jenkins is adorable and easy going. I would stay again.
Richard
2017-02-06T00:00:00Z
Joe has a great flat. Not a bad walk to the city centre, clean and well decorated, and his cat, Jenkins, was a delight. Check in and out was easy and Joe was responsive when we had a few questions. I would absolutely recommend his place to anyone staying in Cardiff.
Christina
2017-03-11T00:00:00Z
The apartment was a fantastic and cosy base for our trip to Cardiff. The comfy bed and relaxing sofas were only topped by the ever inquisitive addition of Jenkins (our new ginger, feline mate). Clean and well laid out in an easy to get to location, we would happily return to the apartment in the future and hope others can enjoy it as much as we did. Thank you.
Emma
2017-01-22T00:00:00Z
Great communication, easy walk into centre of town and a friendly cat. All you need for a comfortable stay.
Paul
2017-02-12T00:00:00Z
We had a nice stay and the flat was quite homely. The communication was excellent and the cat lovely. :)
Henri
2017-03-26T00:00:00Z
Fantastic communication from Joe, really helpful and welcoming. Great location for exploring Cardiff, short walk to town and good public transport connections. Flat was clean, comfortable and a hole from home. Thank you for a fantastic stay!
Branwen
2016-12-09T00:00:00Z
Szoba típusa
Teljes ház/lakás
---
Ingatlan típusa
Lakás
---
Férőhelyek
2
---
Hálószobák
Cardiff, Wales, Egyesült Királyság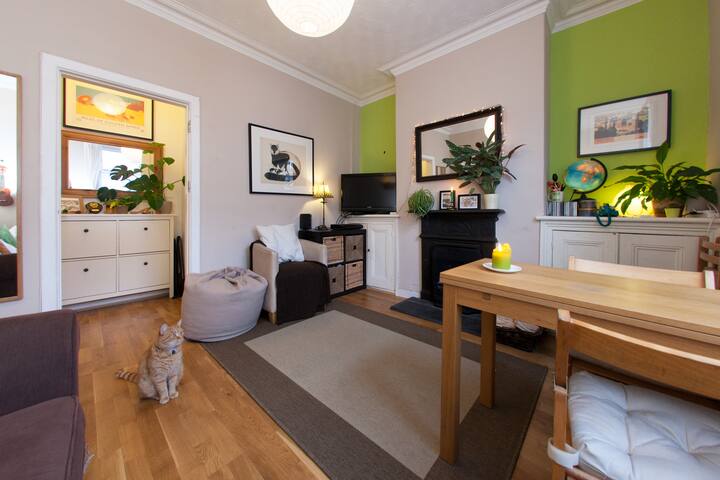 This listing is a good sized double bedroom in a first floor flat, located on one of Cardiffs best streets, unique and popular for its colourful houses and well decorated gardens. The flat is perfect for a couple sharing or an individual and it very much has a homely, country cottage feel to it with wooden floors throughout and a nice sized balcony overlooking the gardens. A relaxing space which is only a stone's throw away from shops and restaurants and a 10 min walk into the city centre.
The flat has 3 bedrooms but I keep 2 closed for personal use and therefore the double bedroom listed is used for guests only. It therefore has plenty of space for your belongings - It has drawers for clothes and an open wardrobe to hang anything up you need. It is newly decorated and the bedframe and mattress are brand new and very comfortable to ensure a good night sleep for anyone. There is a balcony which opens out from the living room which is a complete sun trap with space for a table and chairs or a sun lounger, depending on how you are feeling. I love to sit out in the summer and have breakfast or dinner on the balcony, or just relax in the lounger and read a book. Good sized living room with a comfortable sofa and small table and chairs for dining. The living room steps down to the kitchen which although is a separate room, feels part of the flat and you do not feel lonely doing the cooking or washing up! It is a good sized brightly decorated kitchen with plenty of space for cooking. It does not have a microwave but should have everything else you will need. Good size bathroom with a bath and shower and space to put any toiletries. There will be shampoo, shower gels, soaps and clean towels provided but please bring any specific items you may want. The flat is beautiful, very light, relaxing and homely - I am sure you will love your stay here. This is my home so please take good care of it when you are here. All the neighbours are very quiet but very friendly and I ensure that I am as equally respectful when here on my own or with friends and try not to be too noisy. If the flat is being rented in its entirety then the likelihood is I will not be around in the area. I will however make sure you have everything you need and you can message me with any questions if required. There is a welcome pack here that will show you what you need to know about the house and local area too.
The street itself is very unique and famous in Cardiff for its colourful houses and well decorated gardens. It is located in the popular area of Roath with plenty of great restaurants and bars. Whether you fancy lebanese, indian, sushi, pizza, or a burger there is something for everyone. There is a great vegan vegetarian bar serving cocktails too. The local pub is one of the cities best, serving food and drinks with a large beer garden complete with ping pong and pool table. The city centre is a 10 min walk and the nearest train station the same distance. The Central station is a 25min walk or a short taxi ride.
Szoba típusa
Teljes ház/lakás
---
Ingatlan típusa
Lakás
---
Férőhelyek
2
---
Hálószobák
Cardiff, Wales, Egyesült Királyság
Modern, quiet apartment with fully equipped kitchen, Wifi, TV, and allocated parking space, located just 1 mile from the city centre! Perfect for sole travellers, business people, or groups visiting Cardiff for tourism or for its many sports events! We have other apartments also available in the same building - please message me for details! There is a lift/elevator in the building, and so the whole of the apartment, with the exception of one bedroom, is wheelchair accessible.
This is a stylishly refurbished apartment with new furniture (July 2016)! The apartment consists of one kitchen-lounge-diner, two bedrooms and one bathroom.
The apartment is conveniently located between the popular district of Roath and the City Centre. It 5 minutes walk from the trendy restaurants and shops of Albany Road, Wellfield Road, and City Road, and from the scenic Roath Park. It is 15 minutes walk (less than one mile) from Cardiff town centre and Cardiff University. One secure gated parking space is included with the apartment, and there is free on-street parking available for additional vehicles.
Clean and convenient with comfortable beds.
Julie
2016-09-03T00:00:00Z
We stayed for one week at this apartment. It was very comfortable and convenient, within walking distance of to the city centre. Sabina is a very nice host, and spoke to us in spanish with was very useful!! Five stars !!
Alex rios
2016-10-05T00:00:00Z
The apartment is very nice and clean. Not far from the city center. Sabina is very kind and helpful. The wifi device in the apartment has ran out of data before we arrived but Sabina lend us her phone as a personnal hotspot to replace the wifi device. I highly recommand this place and host.
Marie
2016-09-25T00:00:00Z
Was a brilliant stay, very good communication as we needed a place to stay last minute and she helped us massively! Lovely home to stay in would recommend to anyone
Liam
2016-09-04T00:00:00Z
It's a very beautiful and safe apartment in Cardiff, also very clean and comfortable, walking to City Centre only need 10~15 minutes. And the host Sabina is very helpful and kindness, if I come back to Cardiff, I would book this apartment again! Highly recommended!
Snowy
2016-09-24T00:00:00Z
Lovely stay, very central, walking distance to the centre. We loved that the car parking was secure, however not so suitable for a bigger car likes ours it was a tight squeeze. Sabina was very helpful especially when we managed to lock the keys in the house, she answered even though she was away. Thank you for a lovely stay.
Emily
2017-01-01T00:00:00Z
La casa di Sabina è molto carina accogliente e pulita, riscaldata e funziona tutto bene tanto che non abbiamo mai avuto il bisogno di chiamare. Dista venti minuti a piedi dal centro. Ritornerei
Elisabetta
2016-12-28T00:00:00Z
This is a lovely, modern apartment which is ideal if you want to be close to the city centre. Sabina is a great host, quick communiction and very helpful. They also fitted a babygate especially for our stay, which we really appreciated.
Angharad
2017-02-05T00:00:00Z
Szoba típusa
Teljes ház/lakás
---
Ingatlan típusa
Lakás
---
Férőhelyek
6
---
Hálószobák
Cardiff, Wales, Egyesült Királyság
A whole apartment all to yourself, just a few minutes walk into central cardiff. Includes speedy Wifi, dedicated garage parking, hall space for a couple of bikes, 2 shower rooms, a twin and a double bedroom, large lounge/diner and kitchen. We live nearby, so we're easy to get hold of. Stroll 0.3m for shops, restaurants, cinemas, mini-golf and train station, or 0.8m to the castle, stadium and bowling. We're a short bike ride to the Bay or train trip to the Beach in Penarth :)
This is a large corner apartment in a small block of 26. There are windows on three sides which make it light and bright. We provide all bedding, towels, ironing board & iron, washing machine, and a hairdryer in each room. The kitchen has everything you need to prepare a meal and we are close to a choice of supermarkets.
Our neighbourhood is residential mix. Being right in the city we are very close to three of Cardiff's universities, and there are a number of sixth form international schools nearby too, so we are in a good spot for relatives and friends of international students. The nearby housing is mainly young families, couples, and working graduates sharing accommodation. There are three community play parks nearby for the children who live around here, the council keeps the area quite tidy, the nearby student apartments are immaculate.
Hollie and Ben were warm, organized and very helpful hosts . The flat is sheek, immaculate and close to the city center making it ideal for a city break. Thank you!!
Rachel
2016-07-05T00:00:00Z
Hollie and Ben were so great to work with! The place was just as described with plenty of room for four of us. It was a short walk to central Cardiff - just as we'd hoped. They were extremely responsive when we had a late arrival, and super responsive and understanding of all of our questions. Our whole group would recommend their place and them :)
Megan
2016-11-11T00:00:00Z
Ben and Hollie were great host, their flat contained everything we required. The rooms were very clean and modern. Overall this was one of the best airbnb experiences we've ever had. We would definitely come back if we are in town again.
Nathan
2016-12-07T00:00:00Z
Lovely flat! Very accommodating and friendly hosts! Good location and comfy beds!!
Sioned
2017-03-05T00:00:00Z
Ben & Hollie's flat is exactly what you want for a longer stay in Cardiff rather than a Hotel. It is very organised, modern and has everything you need. The beds are excellent and despite the heating not working it was very warm with the electric radiators that Ben & Hollie had plugged in so it was cosy when we arrived. The location is 10 minutes walk to John Lewis and the town centre. The fact that you can park your car inside the flats secure private parking area is excellent, as Cardiff is quite busy and costly to park. Lifts to your floor and Ben & Hollie live there too and are on hand if you need them. Great place and location.
Rose
2016-12-12T00:00:00Z
We had a fantastic stay at Holly and Ben's apartment! Ben was very easy to communicate with and the facilities in the apartment exceeded our expectations. A very convenient stay for those exploring Cardiff. Ben and Holly are offering absolute value. Would definitely recommend!
Laura
2017-01-12T00:00:00Z
This place is perfect especially for a family trip. It is spacious and accommodates guests of all ages. The little touches (such as games, books, maps, dvds, small towels in addition to normal bath towels etc) shows the detailed thoughts considered by both Hollie and Ben. It is a mere ten minute walk to John Lewis and the main city centre. The apartment also had a parking lot in the secured garage. The apartment has a lift and whilst the inbuilt heating was not functioning, they made sure all rooms had electric heaters which made it very cozy for us. Overall, we were very happy to have stayed and Hollie and Ben's. Thank you for hosting us!
Cassandra
2017-01-06T00:00:00Z
We had a great stay at Hollie and Ben's place over a long weekend. It's within an easy walk of Cardiff and all the shops and restaurants, and the apartment itself has all we could have needed, as well as being beautifully decorated and so comfortable.
Jocelyn
2017-02-19T00:00:00Z
Szoba típusa
Teljes ház/lakás
---
Ingatlan típusa
Lakás
---
Férőhelyek
5
---
Hálószobák
Cardiff, Wales, Egyesült Királyság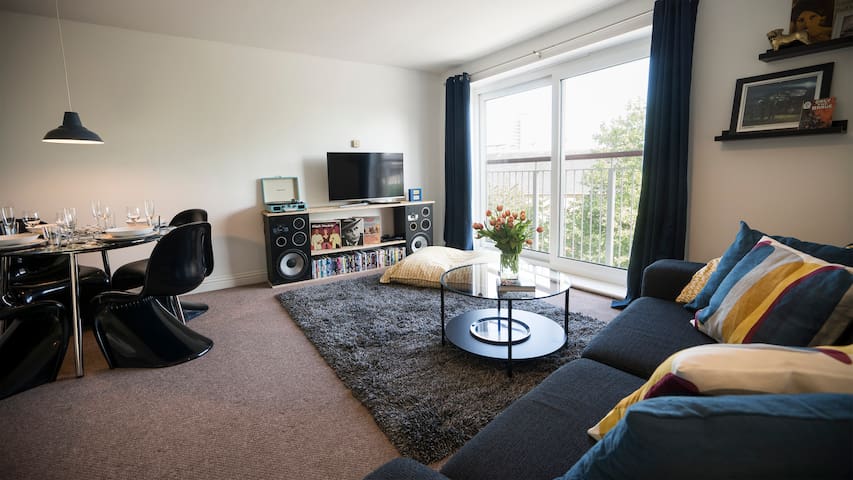 a great big room with garden to rent
Stayed is a very friendly and welcoming host
Patrick
2017-03-11T00:00:00Z
Szoba típusa
Privát szoba
---
Ingatlan típusa
Lakás
---
Férőhelyek
2
---
Hálószobák
Cardiff, Wales, Egyesült Királyság
All our Apartments are Modern, Stylish and spacious! Set in an Ideal location just being a 10 minute walk to the Town Centre and all its amazing attractions! We provide free car parking and free Wi Fi, fresh bed linen and towels provided also. Our 1bedroom apartments have a double bed and a sofa bed so will sleep 4 people and our 2bedroom apartment has a twin room and 1 double bed and a sofa bed which sleeps 6 people. Perfect for City breaks, Business trips, Couples and Families.
Our Apartments are Modern, cosy, clean and fresh!! Central to all local Hot spots. Great location! We have 4 One-bedroom apartments that can sleep 4 people, One double bed and a sofa bed in the living room (bedding can be found in the main wardrobe in bedroom), and we have a 2-bedroom apartment that sleeps 6 people with a twin room, double room and a sofa bed in living room. Its a non smoking building so all guests that smoke will have to go outside. Towels and linen provided, Tea/Coffee/Sugar also provided. You have full access to the whole apartment. I'm happy to help in any way I can, so if you do have a requirements please let us know what they are with plenty of notice given. Thanks.
Roath is a district and community east/north of Cardiff, Roath has two main shopping streets all within walking distance Albany road and Well-field road. Clifton street is a 2min walk where you find a Tesco Extra, local takeaways a chemist, cash points if needed. Newport Rd is a main road where you can find TGI Friday's, Frankie & Bennies, Mac Donalds, Burger King, Costa coffee drive through. Local Supermarkets like Iceland, Morrison's, Aldi's. We are just 15 minutes away from Cardiff Castle and National Museum.
The host canceled this reservation 27 days before arrival. This is an automated posting.
Ben
2016-10-23T00:00:00Z
The host canceled this reservation 179 days before arrival. This is an automated posting.
Sandra
2017-01-14T00:00:00Z
:)
Neah
2017-01-17T00:00:00Z
Excellent. Central location. Ideal.
Lisa
2017-02-14T00:00:00Z
Kelly could not have been more helpful. Great communication, and went above and beyond to help out when I stupidly left my coolbox behind. Great flat, well located. If you are in Cardiff for business, and need a place to stay, I would definitely recommend!
Laura
2017-03-31T00:00:00Z
The host canceled this reservation 3 days before arrival. This is an automated posting.
Greg
2017-01-18T00:00:00Z
Nice well laid out apartment. Light breakfast items provided. Good value for money and walking distance from Cardiff centre.
Joseph
2017-01-13T00:00:00Z
Kelly's place is great value and very comfortable! She was on hand to welcome us despite the late notice of our booking and made us feel very welcome and well looked after! We'd definitely stay here again.
Jared
2016-12-01T00:00:00Z
Szoba típusa
Teljes ház/lakás
---
Ingatlan típusa
Lakás
---
Férőhelyek
4
---
Hálószobák
Cardiff, Wales, Egyesült Királyság
Our comfortable and very central located flat is 10 minutes walking from the city centre and 20 minutes from the Millenium stadium. One bathroom located next to the bedroom,living room very bright with huge windows and a kitchen complete the flat.
Szoba típusa
Privát szoba
---
Ingatlan típusa
Lakás
---
Férőhelyek
2
---
Hálószobák
Cardiff, Wales, Egyesült Királyság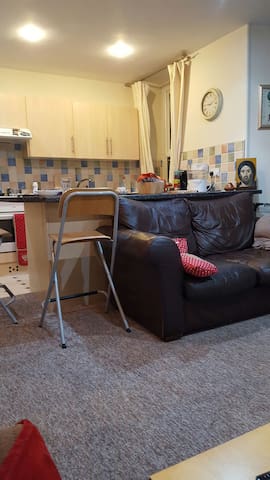 Light and airy double room in a shared apartment. Shared use of the bathroom and lounge/diner/kitchen. The apartment is situated a 10-12 minutes walk from the city centre. Perfect for a city break or to see a show or a sporting event.
Lisa's really lovely and the place is pretty much exactly as it appears on the site. It's easy 15-20min walking distance to the town centre.
Leo
2016-06-13T00:00:00Z
Lisa made us feel like at home. She is really nice and helped us in all possible. The apartment is well located, secure and modern. Wifi was fast and reliable. The room was comfy and very clean. I would highly recommend Lisa and her apartment.
Joao
2016-06-07T00:00:00Z
The host canceled this reservation 12 days before arrival. This is an automated posting.
Lisa
2016-10-23T00:00:00Z
Very welcoming host! We had a great time!
MARGAUX
2016-05-30T00:00:00Z
Lisa is very smart and kind, she helped us in everything, so it was a great time in Wales:) we felt ourselves like at home tips she recommended to us was exactly what we needed. the flat is about 15 minutes to the city center, very comfortable and clean hope to see Lisa again, in Cardiff or Moscow :)
Tanya
2016-07-17T00:00:00Z
Great and comfortable room. Was there with a friend and stayed one night. Host was friendly and helpful. great communication in advance and helpful tips. Worth staying here
Charlotte & Conor
2017-03-11T00:00:00Z
Lisa was very helpful, really appreciated that and we enjoyed our stay with her.
Jodi
2016-07-02T00:00:00Z
Szoba típusa
Privát szoba
---
Ingatlan típusa
Lakás
---
Férőhelyek
2
---
Hálószobák
Cardiff, Egyesült Királyság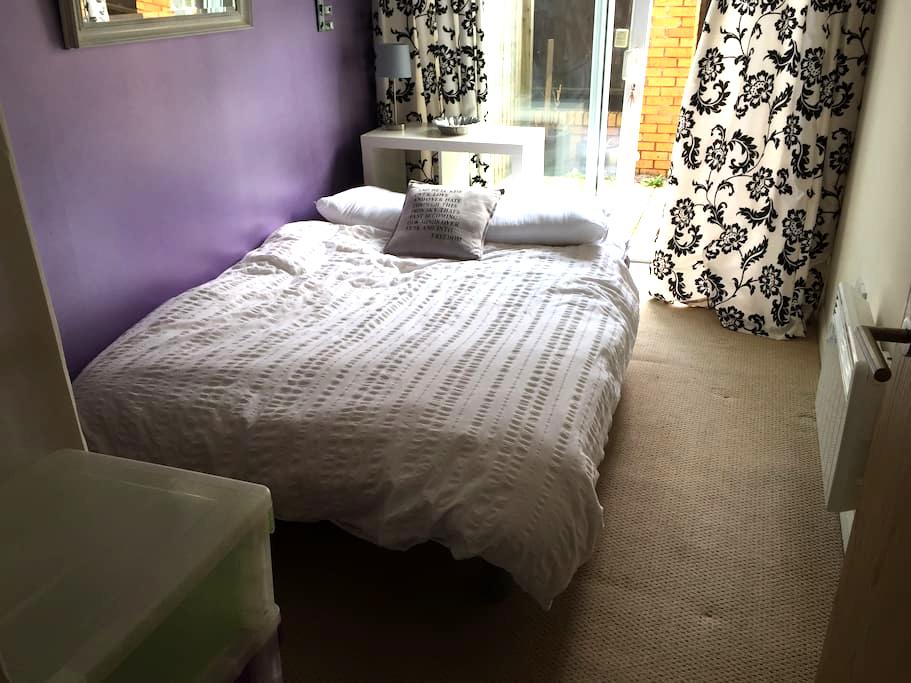 Top floor sun-facing large double room available, with access to your own private bathroom. Situated along direct and frequent bus routes that travel into town (alternatively, city centre is less than a 15 minute walk), Newport, and Cardiff Bay. Nearest train station is approximately 10 minutes walk away.
Sun-facing double room available in a top floor flat which is accessible via a lift or stairs. There will be a set of drawers & a bedside cabinet, a hairdryer, fresh towels, bedding, and a fan accessible in the bedroom. You will have use of your own private bathroom which has a bath/shower. There is private, secure parking available for one vehicle which is only accessible via electric gates.
Szoba típusa
Privát szoba
---
Ingatlan típusa
Lakás
---
Férőhelyek
2
---
Hálószobák
Cardiff, Wales, Egyesült Királyság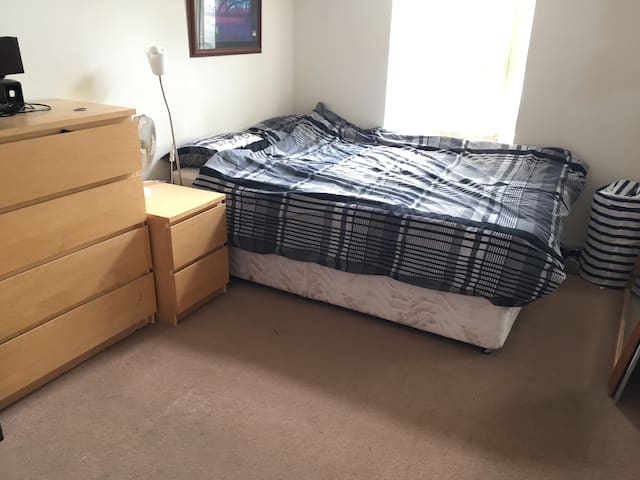 Recently refurbished one-bedroom apartment in converted Edwardian terrace. The apartment is located on the ground floor and consists of an open-plan living/dining/kitchen room, one double bedroom, and a bathroom.
Spacious, recently refurbished one-bedroom apartment in converted Edwardian terrace. The apartment consists of a living/dining room with open plan kitchen, one double bedroom, and a bathroom which is accessible only through the bedroom. The apartment occupies the ground floor. Living Space: The highlight of the living space is a front-facing bay window that floods the room with light. The well-proportioned room is comprised of a two-seater leather sofa that opens up into a three-quarter-sized bed, a dining table with four chairs, and a 32" flatscreen TV with DVD player. The kitchen area has everything you would expect, including a built-in fridge-freezer, hob and oven. Bedroom: The main feature of the bedroom is a beautiful wooden double-bed with a comfortable mattress. There is also a large storage unit, clothes rail and full-length mirror. Bathroom: Has a fully-tiled shower, washing-basin and a heated towel-rail.
Situated in the popular area of Roath the apartment is only a 20-minute walk from Cardiff city centre and Bute Park (beside Cardiff Castle). And a 5-minute walk from Roath Park, Cardiff's most popular Victorian park. It is a 2-minute walk from Albany Road, the main shopping street in the area, complete with amenities such as supermarkets (Tescos, Sainsburys), charity shops, boutique gift shops and lots of cosy coffee-shops.
Great little place and perfect for our stay in Cardiff. Hosts made everything from arriving, leaving, parking and queries very easy and the stay was relaxed and comfortable. Even a few essentials which was a nice touch and would recommend it.
Thirza
2015-10-05T00:00:00Z
We have never stuck a "time to arrive" before that suited the owner...... The neighbourhood was certainly not inviting. The mother of the owner did arrive to let us in and never introduced herself even after we had introduced ourselves. Not really impressed
Shirley
2014-09-15T00:00:00Z
Lara's apartment was lovely - just as described. We were met by Lara's Mum who was extremely welcoming and more than helpful. The place was clean and had everything we needed to allow us to have a comfortable weekend with our daughter who is a student at the University . The flat is located in a quiet street and the neighbours are very considerate of each other and so we had undisturbed sleep every night. This is great value for money, and I would highly recommend a stay here.
Sharon
2016-02-22T00:00:00Z
We were welcomed by a friend of the host who was very pleasant and made sure we understood how to feel at home. The neighbourhood seamed quite, without concern and with close to the city centre.
Adam
2014-09-04T00:00:00Z
Schöne Wohnung in ruhiger, leider etwas dezentraler Lage. Bus, Einkaufsmöglichkeit in der Nähe! Freundlicher Empfang durch die Gastgeberin. Genügend Platz für uns als Paar mit einem Jugendlichen. Leider kein Wifi.
Thomas
2014-07-24T00:00:00Z
We had a wonderful time at this really nice flat in Cardif. Lara's "mum" was great and made us feel right at home by picking us up at the train and making sure we were all tucked in the apartment. What an ideal location - 15 minutes walk to the castle and buses to the wharfs (and BBC/Dr. Who studios). Couldn't be better.
Ian
2014-08-13T00:00:00Z
Lara's place was extremely cosy, it rained a lot when I was in Cardiff and I cycled every day to my office, despite being wet every day I was cosy within minutes of arriving "home". The place is clean and tidy and close to every type of shop you could think of. My fairly late check in time was accommodated without any hassle and I was greeted by Lara's mum Lynda who welcomed me and showed me around with a smile (all I need!) I would certainly use Lara's place again
Neil
2014-10-18T00:00:00Z
We had a great time in this lovely apartment, with all the basics and more (especially: a very nice bed and great bay window). Lara's mum was a great host who even picked us (travelling with a baby) up from the train station! The apartment is in a quiet neighborhood, but very near big shopping streets and parks. We were there for a conference at Cardiff University, and this place was ideal for that. Much better than a hotel.
Sara
2014-05-17T00:00:00Z
Szoba típusa
Teljes ház/lakás
---
Ingatlan típusa
Lakás
---
Férőhelyek
4
---
Hálószobák
Cardiff, Egyesült Királyság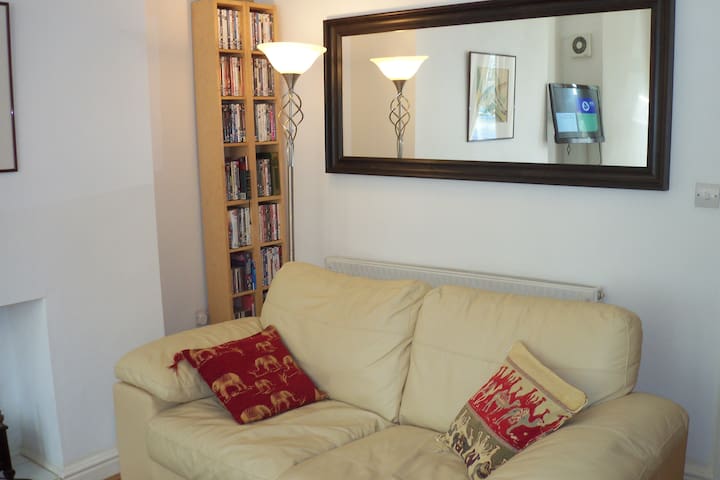 Perfect for Six Nations, champions league or any other events in Cardiff. Large double bedroom and fully equipped kitchen this is your ideal place for a short stay in Cardiff
Spacious 1 bedroom apartment in a converted bank. The property is very close to city Center and has all round access to Cardiff.
The apartment is close to local shops and has good transport links via Cardiff City buses. The nearest train station is Cardiff Queen Street which can be reached by walk within 10 minutes.
Szoba típusa
Teljes ház/lakás
---
Ingatlan típusa
Lakás
---
Férőhelyek
3
---
Hálószobák
Cardiff, Wales, Egyesült Királyság
Spacious ground floor flat in Victorian House 1 mile walk from city centre with one double bedroom, living room with convertible double sofa bed plus separate leather sofa, separate dining room, eat in kitchen and bathroom with bath and shower. Small space outside at rear. Local area of Roath has a beautiful park and plenty of shops, restaurants and bars on your doorstep. Our home will be your home for the Champions League Final weekend.
Szoba típusa
Teljes ház/lakás
---
Ingatlan típusa
Lakás
---
Férőhelyek
4
---
Hálószobák
Cardiff, South Glamorgan, Egyesült Királyság
Located in a top floor apartment with exposed beams and vaulted ceilings, the apartment is excellent for couples and small families. A great location close to the city centre (10-15 minute walk) where you can access... The Principlality Stadium Cardiff Castle Restaurants Shopping (John Lewis, Saint Davids, Queen Street, etc) Cinema Motor Point Arena (Concerts and Shows) Train Stations (Queen Street & Cardiff Central) Roath Park and Albany Road a 5 minute walk away.
Coming soon...bookings from April 2017 onwards. A High Spec, Clean and Modern Penthouse / Loft apartment that will enable you enjoy the delights of Cardiff in Style. Current images are of pictures we took before moving out. We are currently in the process of sourcing the furniture (pictures to come soon), however, these images give you an idea of the space and how it will look. Rooms will include: Kitchen: Dishwasher Oven Electric Ceramic Hob with Extractor Fan Free Standing Fridge Freezer Toaster Kettle Coffee machine Complimentary Tea, Coffee, Sugar, & Dishwasher Tablets. Cutlery & Utensils Open Plan Living Space: Electric Fire Place Dining Table with six chairs Corner Sofa with Pull Out Double Bed (can sleep 2) 32" LCD Television with Freeview DVD Player Complimentary Wi-Fi Bedroom 1 Double Bed (can sleep 2) Dressing Table with chair Built in Wardrobes Bedside Lamp Bedroom 2 Twin Single Beds (can sleep 2 and can be made into Double bed if required) Dressing Table with chair Built in Wardrobes Bedside Lamp Utility Room: Washing Machine Outside Pace: Free Secured Car Parking
Situated a 15 minute walk from Cardiff City Centre and a 5 minute walk from the bustling and popular Albany Road and Roath Park, the apartment is conveniently located near lots of areas of interest. Whether you are visiting the City for a shopping break, watch a show or the rugby, this apartment allows you to enjoy the sites and sounds of Cardiff in luxury.
Szoba típusa
Teljes ház/lakás
---
Ingatlan típusa
Lakás
---
Férőhelyek
6
---
Hálószobák
Cardiff, Wales, Egyesült Királyság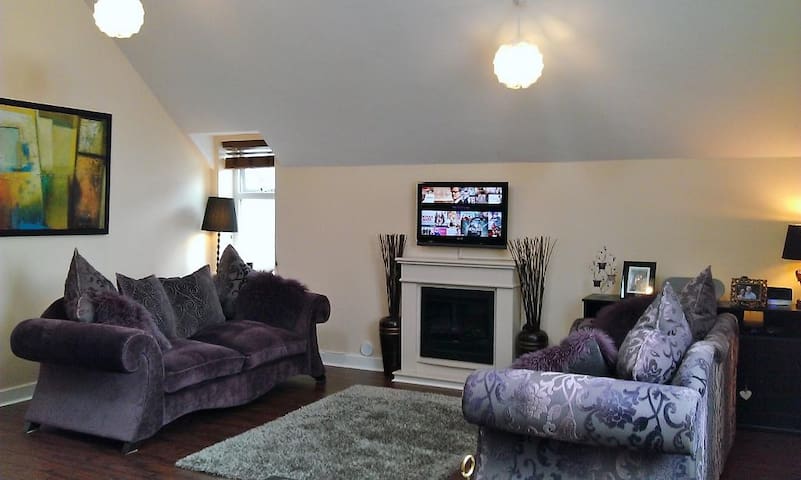 Our modern 1 bed flat is well furnished with complete bedding Ready for you to hit the pillow, unless if your a creature of the night, there are plenty of pubs and bars near by. Fancy some REAL food. City Rd hosts some of the best food outlets around
Modern clean property with spacious open plan lounge spacious bedroom
There are great places to eat on city road, there are a wide range of cuisines to choose from. There's indian "Mirchi", Thai "Thai Basil"and best of all the lebenese "La Shish or Lilos" and to finish it off there's "Kaspas" desert bar yummm
Although fairly basic (as others have said) the flat was fine for a short stay - and great that this is permitted, no minimum length of stay. It was quiet, bed very comfortable, rooms warm (except the bathroom after a cold night). Sid was great with communication - responded very quickly to our booking request, and kept in touch about check in, accommodating our change of time as we had been delayed on our journey to Cardiff. Location suited us as it was near our family, but it would also be good for those wanting to go into the centre.
Rosamund
2016-12-28T00:00:00Z
Nice little flat near the centre of cardiff
Lucy
2017-02-11T00:00:00Z
A nice spot in a lovely terraced street with local shops and pub nearby. The entrance will look great once the scaffolding goes. A well stocked kitchen.
Babs
2017-03-05T00:00:00Z
Sid was very helpful and communication was excellent. The apartment is nice but a little basic and there was quite a strong smell of bleach on the first day which wasn't very pleasant. Overall it was a good stay
Sannan
2016-12-10T00:00:00Z
Sid's place is very conveniently-located for anything happening in Roath. It's basic, and you won't want to spend time hanging out there, but if you're just after a bed for the night it's highly recommended.
Steve
2017-02-19T00:00:00Z
location was easy to find and cafes / bars / etc were just up the road. sid kept in touch as we approached our time of arrival and we did not have to wait long for him to meet us when we arrived. room / apartment has all the basics.
sacha
2016-09-15T00:00:00Z
This is my go to place to stay when I'm in Cardiff. This is my third stay at the flat. It has all the conviences and is close to the city centre. The host was flexible with my arrival and departure times which was a great help to me and also understanding about my last minute change of booking and gave me a refund.
Bhavisha Jai Murari
2016-09-08T00:00:00Z
Sid is a realy nice host. We had a perfect situated flat, very clean and lovely furnitured Apartment. I defnitly would recommend him and his accommodation.
Christoph
2016-05-28T00:00:00Z
Szoba típusa
Teljes ház/lakás
---
Ingatlan típusa
Lakás
---
Férőhelyek
2
---
Hálószobák
Cardiff, South Glamorgan, Egyesült Királyság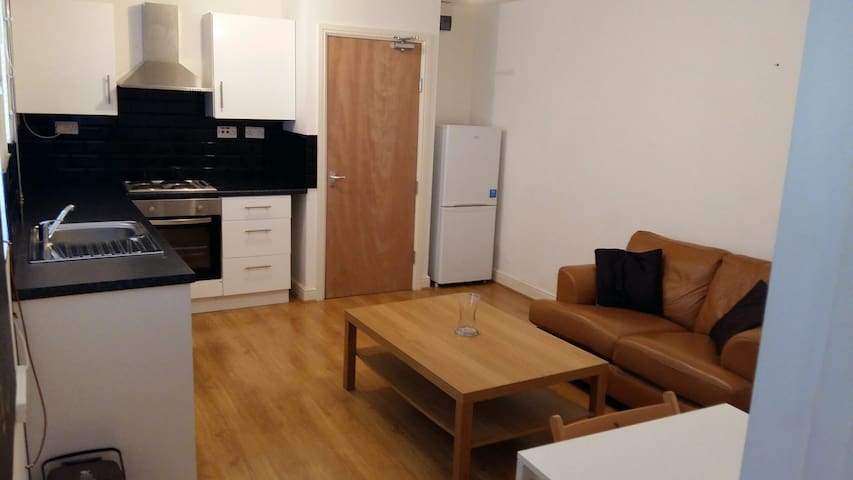 Large and stylish Victorian Flat in the leafy area of Roath in Cardiff. A central location with town being only a 15 minute walk away. Lots of shops, cafes, parks, open spaces and pubs on your doorstep.
The biggest, brightest, most stylish flat you'll find in Cardiff. Set in a Victorian building, the house has 3 flats with mine being exclusively on the top floor. Recently renovated by myself, the flat has a modern arty vibe whilst also keeping traditional features such as the original fireplaces in the bedroom and lounge. The space has exceptionally high ceilings and large rooms which flood with light being a south facing house. It is a huge space based over 2 floors which gives you the feel of being in a house rather than a flat. It is decorated with cool tones where you'll feel instantly relaxed with art works and plants to admire. It is situated in a quiet, leafy neighbourhood where you're guaranteed to get a great nights sleep in the king sized bed. Wifi internet throughout and lots of dvds, books and board games provided for your entertainment.
Roath. A leafy, cosmopolitan and bohemian area, lots of green space whilst being in the city you truly get the best of both worlds. Roath park has the most beautiful open space you'll find in Cardiff with its Botanical gardens and Lake. In the summer you can hire a boat around the lake whilst admiring the park in all its beauty. There are many cafes, restaurants of every cuisine you can think of (yes really!), pubs and independent boutiques in the area which make Roath a unique place to live. It has a central location with town being only a 15 minute walk away.
The welcome was friendly and the flat spacious and bright with stylish, modern décor and comfortable furnishings. Tiffany was easy to communicate with and happy to offer recommendations on local eateries etc. The flat is well located as a base for exploring Cardiff and there is street parking available immediately outside; check you are not in a 'boxed' residents only space. We were visiting the University and it was only a 10-15 minute walk so ideal. We would definitely stay again, many thanks Tiff.
Linda
2016-09-16T00:00:00Z
We only stayed for one night but our stay was wonderful! This is such a lovely property and felt rather special to be in. (It's given me some ideas for my own place). It's close to the city centre yet I can promise you'll have a lovely quiet night sleep. Thanks for making us feel welcome :).
David
2016-09-10T00:00:00Z
The host was away but had organised for her friend to meet us, she was very friendly and gave us the information we needed. Tiff was very good at replying to any questions I had. The apartment was spacious and cosy. Would defiantly stay there again!
Mairi
2016-10-30T00:00:00Z
accueil chaleureux appartement tres calme conforme a la description
Jean-Luc
2016-12-21T00:00:00Z
Tiff was really good at communicating with us and met us on the door step as we arrived. The flat was lovely and increably clean. It was less then £10 taxi to get into the city centre and the area is lovely. Couldn't recommend Tiff and the flat more. Thank you!!
Ollie
2016-07-25T00:00:00Z
We had a lovely stay in Tiff's apartment. Clean, comfortable and great place to stay. Had a nice, quiet night's sleep! I thought it was even nicer than the photos. I used to live in Cardiff so knew the area would be great for getting to the centre and places to eat. Would stay again if I came to Cardiff.
Emily
2016-09-12T00:00:00Z
Beautiful property! Really, really enjoyed our stay here. Fantastic facilities, love the area. Tiffany was really helpful and was in touch all the time, from booking to any queries to check-in. We didn't get to meet Tiffany in purpose but she very kindly made sure her friend Jill was able to meet me to show me the flat and give me the keys. Had a fantastic warm welcome, the flat has everything you need for a great stay in Cardiff. Highly recommended, wish we could have stayed longer! Thank you so much Tiff x
Branwen
2016-10-24T00:00:00Z
Lovely, bright and comfy flat in a great location - walking distance to Cardiff centre with on street parking right outside. Jill greeted us as Tiff wasn't available - smooth check-in and out. Tip: visit the bottle shop just around the corner for a nice ale or bottle of wine.
Emma
2016-11-20T00:00:00Z
Szoba típusa
Teljes ház/lakás
---
Ingatlan típusa
Lakás
---
Férőhelyek
2
---
Hálószobák
Cardiff, UK, Egyesült Királyság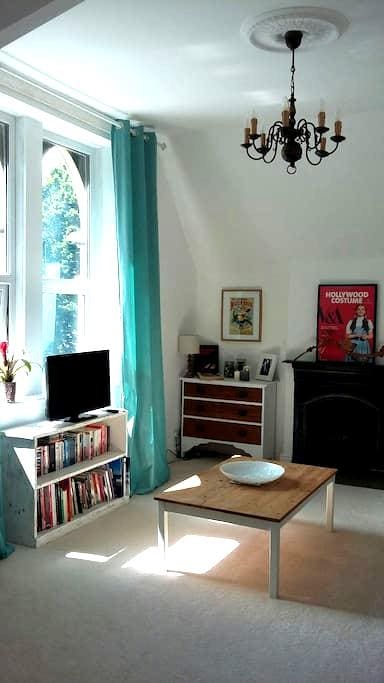 Fully refurbished ground floor 2 bedroom apartment located near central Cardiff. A 5 minute walk down the street will take you to a busy shopping street where you will find everything you need. You are also 5 minutes away from beautiful Roath park, popular with joggers and walkers. Cardiff city centre is only a 15 minute walk away but local transport is on your doorstep. The apartment comprises of 2 double bedrooms and a large living room with a single futon bed.
Great amenities, wonderful pubs and restaurants as well as wide choice of takeaways just a short walk away.
Szoba típusa
Teljes ház/lakás
---
Ingatlan típusa
Lakás
---
Férőhelyek
5
---
Hálószobák
Cardiff, Wales, Egyesült Királyság
Lovely, newly renovated, 2 bedroom flat. 1 double bed, 2 singles Lounge with 2 sofas (can sleep 6) All bedding & towels included. Fully equipped kitchen. 0.6 miles to City Centre 1 mile to Millenium Stadium Close to local amneties
Szoba típusa
Teljes ház/lakás
---
Ingatlan típusa
Lakás
---
Férőhelyek
4
---
Hálószobák
Cardiff, Egyesült Királyság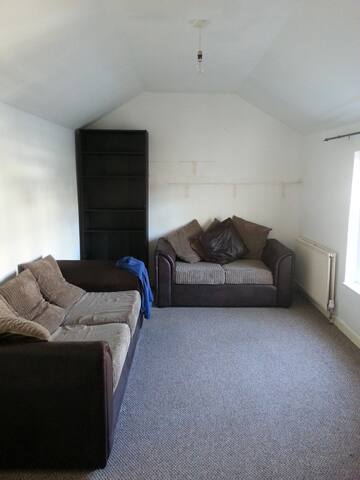 Cardiff - Airbnb
:
Átlagosan

4.61

az összesen

5

csillagból,

304

vendég véleménye alapján
Add meg az időpontokat a teljes ár megtekintéséhez. Felmerülhetnek további költségek illetve adók.