Add meg az időpontokat a teljes ár megtekintéséhez. Felmerülhetnek további költségek illetve adók.
This is a small efficiency apt. Recently renovated, great place to stay if your looking for something private and just for yourself. Big refrigerator, full stove, and microwave. Also has Wireless Internet.
The place is located smack in the middle of town. Right across the street from you is a bakery/pizza location. Down the block is a laundromat and a general store. Close to everything you will need. Only when needed
The place is privet and and you will not be bothered by anyone.
Szoba típusa
Teljes ház/lakás
---
Ingatlan típusa
Lakás
---
Férőhelyek
1
---
Hálószobák
1
Cotulla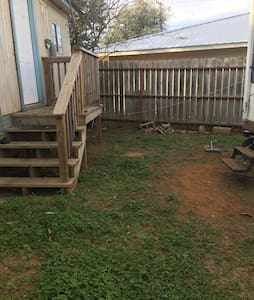 Secluded off the Highway, Quiet with great amenities. On-site exercise room, free washers and dryers, and includes 3 meals per day from Hell Fighter's Kitchen!
Great secluded single occupancy room! Quiet rooms with great air conditioners! Amenities at the location are fabulous, meal service is first class and very filling. Weight/Exercise room, laundry facility (free), dining, patio, pool table, dart board, poker table, theater room, foosball, indoor shuffleboard table. As much as needed
Quiet, no noise, extremely low crime, fenced. Law enforcement resides next door.
Szoba típusa
Privát szoba
---
Ingatlan típusa
Kollégium
---
Férőhelyek
1
---
Hálószobák
1
Cotulla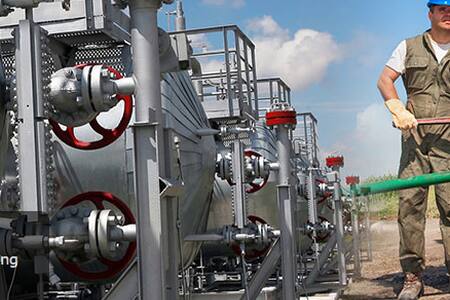 This is a remodeled trailer house in the middle of town. It has a full kitchen two bedrooms two baths. Great privet little spot if your looking to stay somewhere other then Hotels.
Great privet location right in the middle of Cotulla. Close to everything you will need. Only if the guest needs something
Szoba típusa
Teljes ház/lakás
---
Ingatlan típusa
Lakás
---
Férőhelyek
3
---
Hálószobák
1
Cotulla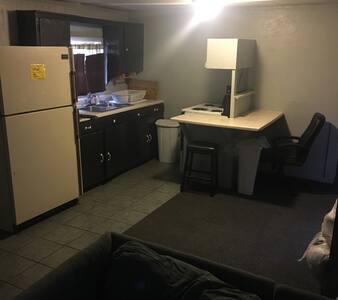 Ahorrar algo de dinero y estancia en un bonito apartamento en una zona residencial tranquila. Apartamento cuenta con conexión Wi-Fi y DirecTV. cocina completa y cuarto de baño con un dormitorio privado que dormir cómodamente hasta 2 personas.
The host canceled this reservation the day before arrival. This is an automated posting.
Jeanne Marie
November 2016
On our was from san Antonio we did a last minute request very late and Mark a ser very fast
Gregorio
September 2016
Mark is an excellent host. He ran out to get towels and washcloths for us and came over immediately when I wasn't able to use the wifi. After that, everything worked perfectly. I was in town for the CARA Pro Bono Project and looking to save money. It's close to the facility and to the Dollar Store and a gym. The bedding is new and the beds are comfortable. The A/C works well which is sooo important in this heat. The stove top works and dishes are provided so I was able to make my own food during the week. Overall, good stay!
April
July 2016
Szoba típusa
Teljes ház/lakás
---
Ingatlan típusa
Lakás
---
Férőhelyek
2
---
Hálószobák
1
Dilley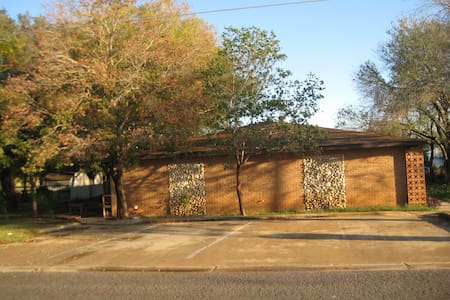 Onze 2 slaapkamers volledig ingerichte woningen met fluisterstille airconditioning, een volledig uitgeruste keuken met een optionele 2 twin-size of queen size kussens en matrassen in elke slaapkamer, een eigen badkamer. Onsite fitness en recreatiecentrum.
If you're staying in Dilley, I literally have no idea why you wouldn't stay here. I was with a group that had many people coming for a week or two at a time, and they had negotiated a "special rate" with the Days Inn. Well I found this place for cheaper, so decided to give it a shot. OMG I was blown away. We didn't only save money, but we also got a gorgeous, spacious house with a full kitchen (complete with cookware and dishes) and W/D. There's also a full chest of drawers and closet in the bedrooms, and a fitness center in the complex. The maintenance guy lives in the complex, and came over in under 5 min when we heard a noise that we couldn't figure out. (Boy did we feel dumb when it turned out to be the ventilation fan that the cleaning lady had turned on LOL.) Oh, and it gets cleaned once a week. Ok, so I guess technically that's worse than a hotel, but who needs their place cleaned every day?
Beckie
January 2016
Had a great stay at Eagle Ford Village. Darla was very hospitable, she lent me additional cook ware during my stay and had a thanksgiving day dinner planned for all the guests there. I'd have no qualms staying there again. It was nicely appointed and very comfortable.
Keith
November 2015
Was volunteering at the Dilley Family Detention Center. The accomodations could not have been better. We had three of us in a two bedroom, we were able to cook daily, and the place was more than we expected.
Joe
December 2016
Szoba típusa
Teljes ház/lakás
---
Ingatlan típusa
Ház
---
Férőhelyek
4
---
Hálószobák
2
Dilley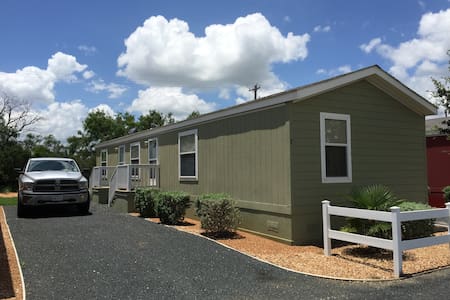 이글 포드 빌리지는 진정한 레크 리 에이션 센터는 피트니스 센터, 포함 완비 한 리조트 스타일의 마을 설정입니다. 필로우 탑 퀸 사이즈 침대, 대형 워크 인 샤워, 워크 인 옷장, 워크 스테이션을 갖춘 우리의 침실 1 개, 전용 욕실, HD (32)는 "TV를 LED.
Premises were clean and quiet, and the units were well appointed. Management was very friendly and accommodating. I would highly recommend as an alternative to a hotel.
Brett
February 2016
Szoba típusa
Privát szoba
---
Ingatlan típusa
Ház
---
Férőhelyek
2
---
Hálószobák
1
Dilley