A következő formátumban add meg az érkezés idejét: éééé.hh.nn.
A következő formátumban add meg a távozás idejét: éééé.hh.nn.
Olyan szálláshelyek, amelyek lefoglalásához nem kell a házigazda jóváhagyására várni.
Add meg az időpontokat a teljes ár megtekintéséhez. Felmerülhetnek további költségek illetve adók.
Idén júliusban és augusztusban kipróbálhatsz 100-at a legkülönbözőbb árfekvésű, legmagasabbra értékelt szálláshelyeink közül, és a helyiekhez hasonlóan élheted meg Sonomát. Az éjjel-nappali bejelentkezésnek, az azonnali foglalásnak és a helyi boroknak és finomságoknak köszönhetően nyugodtan hátradőlhetsz, és élvezheted az utat.
Située au coeur du village, à proximité de tous commerces 2 ch lit 2pers et 1 ch lit 1 personne... possibilité d'ajouter du couchage. 10euros par pers sup Possibilité de cuisiner La maison vous est confiée
Vieille maison rénovée dans l'esprit d'antan... nous avons voulu garder un maximum de la construction initiale. Elle offre vraiment un dépaysement, je suis moi-même du nord. Piscine à 20 min Une petite terrasse où on peut prendre le petit déjeuner, ou bronzer. 30min de Pau et Tarbes - 45 min de Lourdes 2h de Bordeau et de Toulouse 1h30 de la Montagne et de l'océan AU COEUR DE LA REGION A65 Sortie Aire sur L'Adour ou Garlin A64 Sortie Pau - Sortie Tarbes Je peux vous renseigner sur les différentes animations dans la région, Par exemple, demain je vais à la plage vers Bayonne du 13 au 16 sur Pau - Coupe du monde de canoe-kayak avec des animations comme bapteme kayak, et plein d'autres accès payant ... le soir Festival d'eaux vives, concerts gratuit Le 20 visite de l'Abbaye de l'escaladieu avec animation autour du vin avec dégustation du vin de madirant Du 20 au 23 sur Pau - Hestiv'oc
Très joli village au coeur d'une campagne vallonnée Une tour classée aux monuments historiques Le marché le Jeudi matin sous les halles Il faut une voiture ou vélo ou chaussures de randonnées bref transport en commun, il ne faut pas compter dessus Vous pouvez bénéficier de prestations de détente à -25% par exemple le massage aux huiles sur mesure, je suis Masso-Relaxologue Energéticienne
Merci à Magali pour son extraordinaire accueil dans sa charmante maison de Lembeye qui est un très joli village comme je les aime : typique et authentique.
Chantal
September 2015
J'ai passé une agréable semaine dans votre charmante maison. Très bien située et au calme. Je recommande vivement. Merci pour tout et à une prochaine fois.
Noureddine
August 2016
The host canceled this reservation 3 days before arrival. This is an automated posting.
FREDERIC
Szoba típusa
Privát szoba
---
Ingatlan típusa
---
Férőhelyek
1
---
Hálószobák
1
Lembeye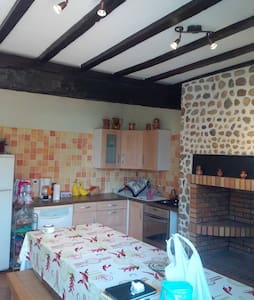 Elle a effectivement tout fait pour un bon accueil et faciliter notre passage dans ce lieu. Elle a veillé à notre confort et à assurer le calme car elle savait que le matin nous aurions besoin de nous reposer après une soirée de mariage.
nicole
September 2016
Szoba típusa
Privát szoba
---
Ingatlan típusa
---
Férőhelyek
2
---
Hálószobák
1
Sévignacq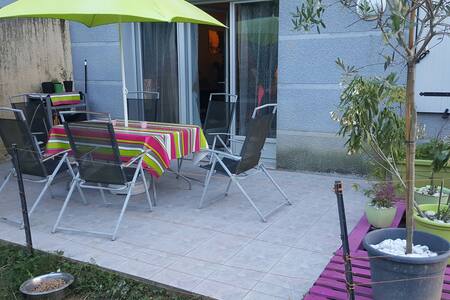 Maison ancienne restaurée en alliant l'ancien et le moderne. Elle est fonctionnelle avec une grande cuisine ouverte. L'immense jardin n'est pas terminé mais vous pourrez profiter de la grande cour pour admirer les montagnes et prendre le temps...
Au rdc, grande salle ouverte avec la cuisine équipée (dont lave-vaisselle, machine à pain, machine à café à dosettes souples), un canapé convertible, des fauteuils confortables et une cheminée, une sdb, les wc, une chambre avec un lit double. En haut, une salle d'eau, une chambre avec 2 lits en 90 et un lit en 120. La restauration a permis d'allier le confort du moderne aux meubles et objets anciens porteurs de l'histoire de la famille. Calme et tranquillité, un cour fermée qui sécurise de la route peu passante. Et la vue sur les Pyrénées... Le village est au cœur du Vic-Bilh en Béarn, au milieu du vignoble de Madiran. Visite des caves, des vignerons, des églises romanes bien conservées, lacs, fontaines aux vertus particulières, balades, la montagne et l'océan à 1h30 de voiture, le Gers et les Landes à 15 minutes. Toutes les pièces de la maison sont accessibles sauf une chambre non encore rénovée et les granges. Grande cour en gravier fermée, grands espaces herbeux et arborés (fruitiers) Je peux vous indiquer des adresses de vignerons, de lieux à visiter. De même, je peux vous renseigner sur la culture occitane qui se vit en Béarn.
Vialer est un tout petit village sans commerce. On y vient chercher le calme ou se retrouver entre amis ou en famille. Des voisins sont de l'autre côté de la route. Proximité de Garlin (15 km) et Lembeye (12 km) pour des moyennes surfaces. Il vaut mieux avoir un véhicule. Voiture obligatoire. Vélo possible si on aime les côtes (relief très vallonné)... L'accès à internet ne peut se faire que par votre smartphone... mais c'est un bon moyen de "déconnecter"... Une taxe de séjour s'applique et n'est pas incluse dans le prix de la nuitée. Elle se monte à 0,50 euro par personne de 18 ans et plus, par nuit. Elle sera à régler au début ou à l'issue du séjour et sera reversée à la communauté des communes.
Nous avons été attendus, suite à un retard dans l'organisation de notre séjour. MH a été très cordiale ainsi que son conjoint. Elle nous a fait visiter l'intégralité de la maison, tout y avait été préparé et installé. L'endroit est superbe et superbement calme, ce que nous recherchions.
Lisa
August 2016
Notre hôtesse nous attendait à notre arrivée à 10 h du matin : jolie nappe en tissu sur la table de cuisine, bouquet de roses multiples en son centre ; tout le nécessaire du petit déjeuner à notre disposition(URL HIDDEN)Toutes les pièces de la maison étaient conformes aux photos : les lits faits entièrement, couvertures et duvets supplémentaires dans les armoires, serviettes de toilette à disposition, électroménager complet. Nous sommes arrivés à dix personnes dans une maison de campagne comme si la propriétaire attendait sa famille pour les vacances : les transats dehors, le terrain libre autour de la maison, le repos et la tranquillité pour tous.
Josiane
July 2016
Accueil très agréable avec boisson offerte par l hôte Maison très agréable avec un bon équipement Hôte très agréable et de très bon conseil
Nathalie
July 2016
Szoba típusa
Teljes ház/lakás
---
Ingatlan típusa
---
Férőhelyek
11
---
Hálószobák
3
Vialer
A truly peaceful haven with panoramic views of the Pyrenees, this comfortable gite retains its old charm while offering all modern conveniences, its own shaded terrace, sparkling pool. Great base to explore the mountains, Pau, Lourdes or just relax
Nestled among ancient oak and chestnut trees at the end of a picturesque valley with a beautiful view of the Pyrenees, the morning birdsong or calls of owls and crickets in the evenings is all that disturbs the peace. The gite is part of what was once the wine 'chai' for this rural property and still retains it's old beams and stone masonry whilst offering all modern conveniences and comforts. It comprises a large sitting/dining area, a small but fully equipped new modern kitchen and a walk in Italian shower in the bathroom. There is not space in the gite for a washing machine but laundry can be done in the main house for a small fee. Guests often comment that this gite is a 'great find' and feels more like a home than a rental property in very serene surroundings. Please see the reviews on Trip Advisor. Gite guests have full use of the pool which is surrounded by parasols and comfortable loungers, a 'summer kitchen' and pool BBQ. Guests normally have the pool all to themselves. With some luck you may even see the soaring kites and other birds of prey floating on the air currents above you and the magnificent Pyrenees in front! There is a double sized lounger which is perfect for stargazing on warm evenings. Privately located away from the main house, the gite is light and airy and with its thick stone walls stays cool even on the warmest days. Tastefully decorated and furnished, it presents a wonderful place from which to explore the surrounding countryside, wineries, local markets, the historic city of Pau or to venture further afield to the mountains, the Basque country, Lourdes, the Atlantic beaches, Biarritz, St Jean de Luz or St Sebastian in Spain, all of which are within a day's journey. The local market town of Lembeye is 10 minutes away by car and offers all amenities. Wine tasting and tours of the wineries and vineyards are offered by many of the vintners. Less strenuous pursuits include frequent brocante/antique fairs and fine dining at several Michelin starred restaurants including Michel Guerard's 3* 'Eugenie les Bains' and its associate restaurant 'La Ferme au Grives', surrounded by its stunning gardens. There are many music festivals during the summer - notably the famed International Jazz Festival at Marciac in August which is only 40 minutes away. For those who wish to relax closer to home there are many lovely wooded walks - the lane in front of the property is on the well known 'Promenade des Orchidees' which abounds with wild orchids in May. A medieval chateau, once frequented by one of the Musketeers and the Knights Templer is just up the hill. Full access to the pool and surrounding gardens The owner is committed to leaving guests in peace but you can be assured of a very warm welcome and to assisting you in any way possible to make your holiday special. Help will always be available to plan trips or advise on restaurants, make reservations or any questions the guests may have.
Wildlife abounds in this unspoiled corner of South West France and is a birdwatcher's paradise. Centrally located in the southern region known for its foie gras, Madiran and Jurancon wines, scenic wooded rolling hills and valleys, mountain views, the pilgrim's trail of St. Jacques de la Compostelle and of course the generous amount of sunshine and warm weather often stretching well into November, there is something for everyone and all within easy reach of no more than 1 1/2 hours for varied day trips. These could include the Pyrenees offering spectacular mountain walks, river rafting, canoing, the largest observatory in Europe atop the 2877m Pic du Midi and the ski resorts La Mongie, Bareges and Gourette to name but a few; Biarritz and St Jean de Luz for shopping and the Atlantic beaches for surfing; the colorful Basque region; St. Sebastian and Honorabia in Spain and Lourdes. The property is only 35 minutes from the beautiful city of Pau with it's historic castle, annual Grand Prix, including racing with vintage cars in May and the 4* Three Day Event in October. Any visit to Pau should begin with a meal or a drink at one of the many restaurants and cafes on the Boulevard des Pyrenees with the majestic Pyrenees in full view. The Armagnac region is within an hour to the north and the Bordeaux wineries can be reached in two hours. How to get here - Flights: Pau - 40 minutes (Air France) Tarbes/Lourdes - 1 hour (Ryan Air) Biarritz - 1 3/4 hours (Ryan Air) Toulouse and Bordeaux - just over 2 hours (Easy Jet - Toulouse is international) All airports serviced by major car hire companies Ferries: Northern Spain - Santander/Bilbao - 4 hours St Malo and Caen - 6 hours Calais/Le Havre - 10 - 12 hours Collection from Pau Airport or Train Station can be arranged but a car is highly recommended whilst here. Other than the owner, the guests in the gite will have the place entirely to themselves. Sheets, bedding and bath towels are provided but guests are asked to bring their own beach towels if possible. The main bed is a large kingsize but there is also a sofa bed in the sitting area if required.
Szoba típusa
Teljes ház/lakás
---
Ingatlan típusa
---
Férőhelyek
2
---
Hálószobák
1
Arricau-Bordes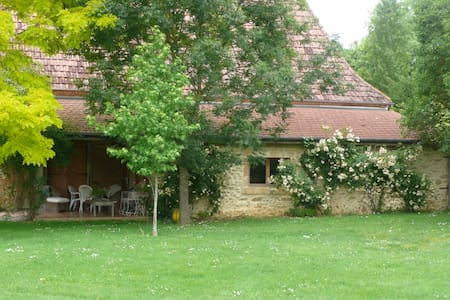 Our home in the countryside yet close to all amenities (5 mins) is warm, welcoming and cozy. We have three cats, and two dogs as well as chickens, rabbits and sheep. Numerous walks in the locality and yet close to tourist attractions (Pau is 15 mins away)... Come and enjoy
We are welcoming and our home is a treasure in he countryside.. Home, kitchen for coffee and cakes, lake, walks on the property. Daily and as desired
Close to Morlaas (5 mins) Close to pau (15 mins), lourdes 20 mins... Mountains one hour and the seaside atlantic is one hour away and med is 3.. Spain is one hour away as well as ski resorts in both france and spain. M Buses half a km away Breakfast is included. Evening meal possible is requested in advance and at an extra cost..
Szoba típusa
Privát szoba
---
Ingatlan típusa
---
Férőhelyek
2
---
Hálószobák
1
Gabaston
Accueil sympathique. Isolé mais nous savions. Rustique, et il manquait pas mal de petites choses utiles a la vie quotidienne, nous avons également souffert du froid ( seulement des chauffages d'appoint ). Et le matin il y avait pas mal de bruit au rez-de-chaussée. La propreté faisait également défaut. La proprio ne nous également pas répondu pour le check-out.
Stevo
June 2016
Très bon accueil, gite spacieux et très calme. Nous avons apprécié la mise à disposition d'une plancha et bien utilisé la terrasse.
Frédéric
August 2016
hôte très avenant,cadre de vie super:merci pour tout
denis
July 2014
Szoba típusa
Teljes ház/lakás
---
Ingatlan típusa
---
Férőhelyek
7
---
Hálószobák
3
Lespielle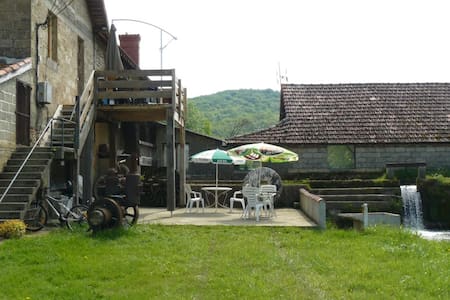 Mignonne petite maison, agréable car très au calme!
Sarah
November 2016
Rust, kalmte en natuur! Dat is wat je nodig hebt op vakantie met twee piepkleine kinderen. (wij toch althans) Korte wandelingen van hier naar daar. Op ontdekking. Zwemmen in het zwembad en schommelen. Vers stokbrood en heerlijke taarten van het bakkertje in Garlain. Je hebt het kasteel van Mascaraas-Heron op 3 minuten wandelafstand. Een razend interessante afwisseling als volwassene (niet geschikt voor kinderen). Alsook de proef-bezoekjes aan de wijngaarden. Wij zijn vervolgens heel erg in de watten gelegd door onze gastvrouw en -heer die ons bij hen thuis uitnodigde voor een gezellige Franse avond met barbecue. Zo leerde ik ook de aperitief wijn van de streek kennen. Voor ons was het een super geslaagde vakantie! Bedankt Ann en Jean-Loup :-) We komen graag terug!
Katrien
August 2016
Séjour parfait pour un WE de novembre un peu pluvieux. Nous y retournerons avec plaisir lors d'une prochaine occasion pour profiter de la véranda, du jardin et des balançoires. Merci à Ann pour sa disponibilité !
Anne-Sophie
November 2016
Szoba típusa
Teljes ház/lakás
---
Ingatlan típusa
---
Férőhelyek
4
---
Hálószobák
2
Mascaraas-haron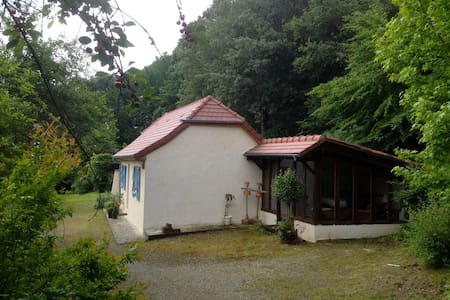 Nous avons passé un séjour dans la maison d'Eric pendant une semaine. La maison est une ancienne grange qui a été restaurée avec goût tout en respectant ses origines. Eric est un hôte très accueillant. La maison met à disposition tout le confort et les équipements nécessaires à un excellent séjour La situation est parfaite pour le calme dans la verdure. La cadre est super sans vis à vis dans la campagne au nord de MORLAAS. Localisation pratique pour visiter la région Excellent séjour dans le Béarn
Bertrand
August 2014
Szoba típusa
Teljes ház/lakás
---
Ingatlan típusa
---
Férőhelyek
6
---
Hálószobák
3
Monassut-Audiracq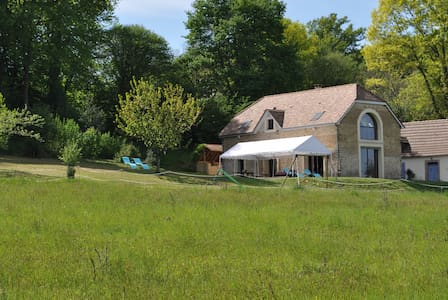 In the countryside of Pau (Bearn), you will enjoy staying in our family house (more than 4 generations of history!) where you can enjoy farniente at the swiming pool, wine or foie gras tasting around, cultural visits of the Roman churches, play golf.
Authenticity of a family house where pictures of grand grand uncle coexists with comfort of a recently restored place. 5 rooms Lounge Dining room Kitchen 2 bathrooms (shower only) + 2 WC We will be happy to share with you places to go and things to do before you come, by mail.
Farms and fields! Center of the village : 200 m Airport and TGV station : 30 km Highway (Garlin) : 10 km
Een heerlijk huis in een prachtige omgeving. Fijne grote tuin en een heerlijk zwembad. Voldoende ruime slaapkamers voor 9 personen en doodstille nachten. Een heerlijke plek om tot rust te komen dus. We hadden geluk met het weer en hebben nagenoeg de hele tijd buiten kunnen zijn. De pingpongtafel en de jeux de boule ballen hebben voor veel vertier gezorgd. De keuken is klein en heeft welliswaar een wasmachine en een afwasmachine, maar is verder zeer eenvoudig geoutilleerd. De zitkamer en de eetkamer zijn niet echt ingericht op een gezelschap van 8-10 personen, zeker niet met kinderen. De eetkamer had dan wel een grote tafel en voldoende stoelen, maar de kwetsbare hoezen maakten dat wij deze kamer alleen gebruikt hebben om spullen neer te leggen. De zitkamer heeft onvoldoende zitruimte om iedereen een confortabele plek te geven en ook hier geldt dat alles zeer kwetsbaar was. Deze kamer hebben we voor de zekerheid maar ongeopend gelaten. De dichtstbijzijnde supermarkt is op 14 km afstand. Op één restaurant na - dat vol zat of dicht was - is er qua horeca in de wijde omtrek niets te beleven. Maar als je komt voor rust en buiten zijn, dan ben je hier absoluut aan het juiste adres.
Vanessa
August 2016
Szoba típusa
Teljes ház/lakás
---
Ingatlan típusa
---
Férőhelyek
10
---
Hálószobák
5
Lannecaube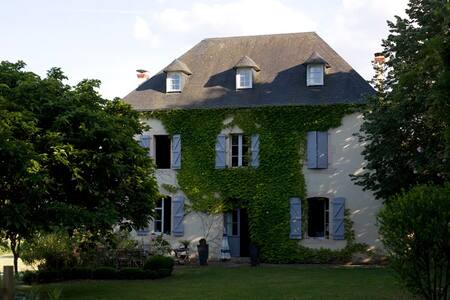 100kms far from Toulouse. Quiet and Comfortable place. Nice for family&children or trekking and bikking. Need to have a car.
Have a look on the website : marienoelle.lavault.free.fr to see description and pictures.
Szoba típusa
Teljes ház/lakás
---
Ingatlan típusa
---
Férőhelyek
6
---
Hálószobák
3
Moncaup