Add meg az időpontokat a teljes ár megtekintéséhez. Felmerülhetnek további költségek illetve adók.
If you are traveling this way, we have a clean, private room available in our guesthouse. We are 2 1/2 hours west of OKC, one hour south of I-40, in the middle of nowhere, but on the way to everywhere! (Dallas, Oklahoma City, Amarillo) washer, dryer
We have a clean,dorm-style accommodation. Bed(s), clean rest room & shower, coin washers and dryers, soda machine, water fountain. We would be glad to meet you an hear about your travels through the USA. We have traveled in Europe and have hosted many travelers at our house. We have had students from Germany, Czech Republic, Slovakia, Ukraine, Russia,Mongolia, Korea, Denmark, UK and the US.
This is a small town of about 400 people. We are 1/2 block East of the school ( 174 students K-12) We have a cafe and store ( but no fuel), post office and quilting store. A true slice of the American Heartland! No public transit in town, Interstate bus station in Vernon, TX, about 12 miles away. Best basic student traveler accommodation in Oklahoma.
Jeff and Rebecca showed so much kindness and made my daughter and me feel like family! Since they didn't have an exchange student right now, we stayed in a bedroom in their home that had bunk beds in it. The bathroom in the outside garage area was very clean and exactly what we needed. Jeff fixed us pancakes and we had tea while visiting with him and Rebecca. Loved hearing of New York, Germany and now their love of the Olustee area. They also gave us great tips on our planned trip to Europe. You will not regret choosing their accommodations and we look forward to coming here again!
Donna
June 2016
This was a great stop for us on our trip out west! It's definitely a very rural area, there is a town with anything you'd need 15 miles away or so. When we booked our stay it showed a pullout couch in the pictures and says 'dorm style' though we got a nice private room in a recently built building with a queen bed, tv, heating/AC, fan, and mini fridge. The bathroom is separated in a nearby building. They were really nice, great conversation, had us in for tea and breakfast. Can't beat the price and all in all a great place :D
Chad & Jackie
December 2016
Jeff and Rebecca were gracious hosts and their space had all the amenities. They even cooked breakfast!
Beth
August 2016
This was my first stay using AirBnB and I liked it very much and I recommend this location to other travelers. Jeff was very sweet and welcoming to my sister and I. We stayed one night and were comfortable during our visit. Thank you Jeff
Marisa
September 2016
I had one of the best stays ever at Jeff & Rebecca's guest house! I spent three days in the Friendly town of Olustee, and got to know several neighbors. It is a great place to stay whether you need one night or one week. Jeff also keeps everything very clean and tidy.
Jason
May 2015
Jeff and Rebecca were very kind and welcoming! I really enjoyed getting to know Jeff. He even made tea when I arrived late at night and made pancakes for me in the morning.
Nathaniel
August 2015
Jeff provided a wonderful experience. This is the perfect place for those looking for a room on their way cross country. Jeff is pleasant and an engaging conversationalist. Ask him about his involvement in the community and his thoughts on education in the area.
Justin
September 2016
Jeff and Rebecca were super hospitable. We loved exploring small town Oklahoma, a place rarely seen by many people. Jeff and Rebecca love to host people and show them their home.
Brianne
July 2016
Szoba típusa
Privát szoba
---
Ingatlan típusa
---
Férőhelyek
4
---
Hálószobák
1
Olustee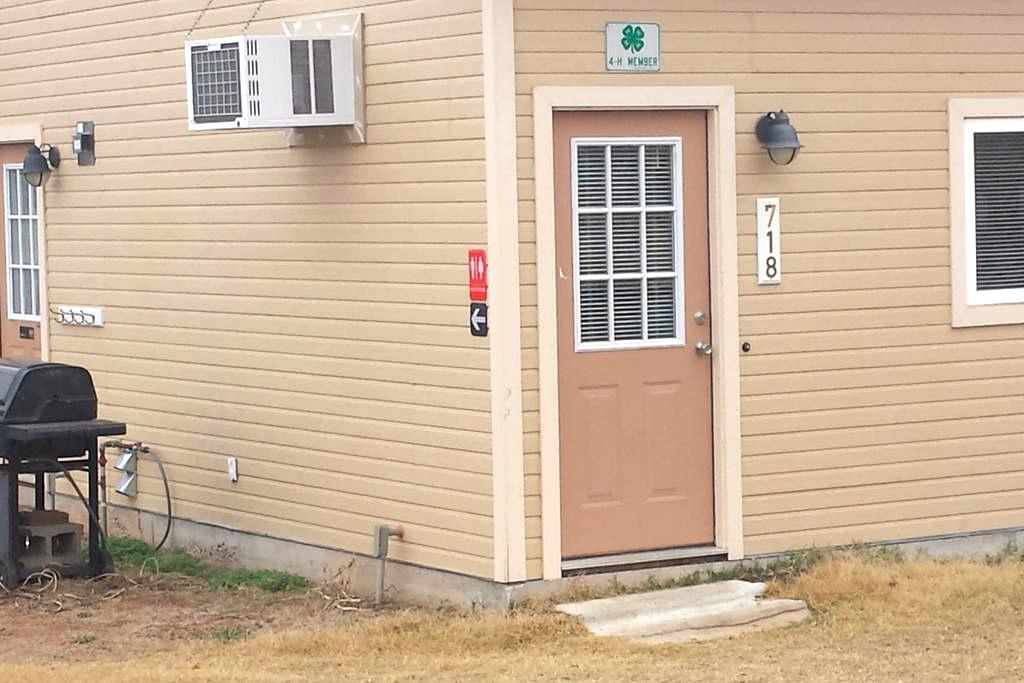 Altus Air Force Base luxury accommodations appointed with beautiful antiques and one of a kind pieces. TDY stays pay local lodging rate. Price is for a spacious private and secure King bedroom with ensuite marble bathroom. A 1200 sqft family suite (up to 6 pax) available upon request. Please ask about special rates when renting up to 5 rooms together, discounts for multiple-night stays, and monthly rates.
We have everything you need for a fun, relaxing, and luxurious stay. Please ask about special requests or specific amenities. All guests enjoy use of the entire house: formal dining room, library and billiards, formal sitting room with 55" flat screen TV, huge gourmet kitchen, and modern laundry facilities. I am available, day and night, to answer any questions or make suggestions on where to eat, what to do.
Walking distance to many boutique shops and cafes on the historic downtown square. Altus Air Force Base is 3 miles away.
this wonderful old home is wonderful it was a pleasure to see all the antiques and woodwork
joy
August 2015
What an amazing, 100 year old, stately home. If you want to experience how the wealthy lived during the early part of the last century, this is it!. Lots of fun and quite a surreal place. Thanks Lesley for all your help.
Michael
May 2015
The host of Fowler House is so thoughtful and accommodating. The home, the rooms and the decor are stellar! What a find in Altus!
Lorelei
June 2015
Lesley was so sweet and helpful; a very accommodating host! She was very communicative and responsive even though she was not on location. Her house is beautiful.
Lydia
November 2015
Szoba típusa
Privát szoba
---
Ingatlan típusa
---
Férőhelyek
2
---
Hálószobák
1
Altus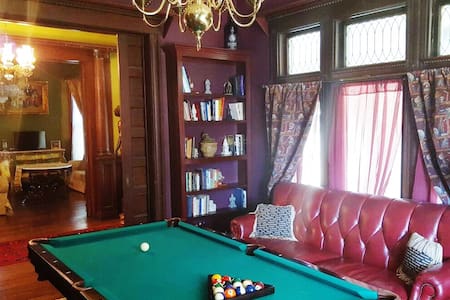 Our newly renovated, charming, antiques-filled cottage w 2-3 bedrooms, living, dining, eat-in kitchen, bath, just a *block* from our courthouse lawn. Central AC/heat keeps you comfy year round. Close to churches, PO, grocery! Walk downtown! 2 night minimum stay. Have the house to yourself!
You'll love our vintage but fully updated with amenities, 1940's charm, 2 dble bed bedrooms and 1 queen bed for 6 guests max, hardwood floors, lovely antiques, washer and dryer, with updated kitchen with wall oven, cooktop, microwave, Keurig, featuring Oklahoma's own Ree Drummond's 'Pioneer Woman' dinnerware and glassware. dishwasher, stainless side by side fridge, more...and retro styling in our bath with new pedestal sink, new subway tile surround in tub /shower enclosure, cool 40s-vibe new black & white hex tile flooring...and location, location, location! Sooo close to all the reasons you've come to visit Frederick! Park at our house and stroll to activities! Fenced grassy back yard with outdoor table/chairs/furniture. You'll let yourself in with our back door lock code and have access to the whole beautiful house, as we are in Frederick only part-time. Frederick is our original hometown and we love it, but jobs and grandkids keep us in our other home city often. We have invested time, effort and love big-time into Frederick, where we grew up (in Mayberry, OK!❤️) and where we now also own a downtown building where we've built a lovely Victorian style loft apartment, which is our own Frederick home when we are there - often. At this Cornerstone Cottage guest house, in addition to comfort, beauty, charm, HVAC, free Wi-Fi, full kitchen, washer and dryer, newly updated bath and cottagey-stylish decor, we also have a storm cellar literally a couple of steps from the back door, so in case of inclement weather, you're good to go! We generally aren't able to be in town full-time. We'll keep the home ready for you, our guests, but you'll let yourself in with our back door pad punch-in digital code and make yourself at home! Do please remember to *always* hit the lock icon on our back door digital lock pad, to lock the cottage each time you leave! We will stay in close touch with you via the Airbnb app, or by any phone numbers we are supplied with. We will text you or communicate online! Thanks for considering us.
Easy, *short* (a half block to a couple of blocks) walking distance to downtown art galleries, Ramona Theatre, Pioneer Heritage Townsite near the Tillman County Courthouse lawn, grocery, Methodist and Baptist churches, post office, Orr Gray Gish funeral home. Great for families in times of loss, alumni classes with reunions, family reunions and more... with ample space for gatherings. Come see! Easy walking distance to all of downtown! Ramona Theatre events, pioneer townsite museum, oyster fry, arts n action weekend, homecoming, reunions, and more! Ample concrete parking area in back for several vehicles! You'll love our cozy antiques-and-roses-filled bedrooms. Ralph Lauren florals dominate one room, while a gorgeous pastoral-design-floral charms in the middle bedroom. In our 2 front bedrooms, we have a double bed in each room, and the 3rd room has a queen sofabed and is separated from our fully updated kitchen/breakfast room by folding privacy screens. This room features a WWll aviator/aeronautics theme...a tip of our hat to Frederick's famous and historic Army Air Field! This room can also be used as a den/secondary living area when the sofa-bed is a sofa...(we have a lovely, roses-filled and roomy front living room open to our dining room as well). Our fully renovated bath is located just off the hallway and steps away from each bedroom. Across the hall from the bath is our utility closet with full washer and dryer.
The Corner Cottage is a very clean, quaint little home that is very comfortable. Paula, the host, is very thoughtful and responsive to your needs. The Cottage is within walking distance to a Supermarket and other downtown stores. Will definitely stay again!
Nikki
November 2016
Good location for our hunting party on a trip to Southwest Oklahoma. Affordable central location in Fredrick.
Richard
January 2017
Szoba típusa
Teljes ház/lakás
---
Ingatlan típusa
---
Férőhelyek
6
---
Hálószobák
3
Frederick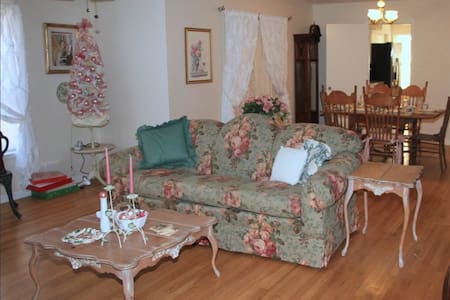 TDY to Altus and want your family to be with you?  This is the place for you!  Designed with a woman's touch, this house provides all the perks of a by-the-room crash pad and you won't have to pay a dime out of pocket for lodging. My place is close to Altus AFB. You'll love my place because of the coziness and the location. My place is good for couples, solo adventurers, business travelers, families (with kids), and furry friends (pets).
Here is what you'll get with your Altus Family Crash Pad: 2 Car garage, Propane BBQ grill, Fenced in yard, 60″ TV in living room with Direct TV, Wireless internet, Keycode entry for front and back door, HE Washer & dryer, All kitchen necessities, Lawncare, and Utilities. The back yard has a children's swing set and little tykes play house. The three rooms inside consist of a master suite with Queen-size bed, a full-size bed in the second bedroom, and a twin-size bed in the third.   There is also a pack-and-play for your really little ones.  All rooms contain bedding, hangars in the closet, laundry baskets, and bath towels are also provided.  The fully stocked custom kitchen is amazing.  HE washer and dryer. The living room has a 60″ TV with DirecTV and the master bedroom has a 42″ TV with DirecTV.  WiFi throughout the house is lightning fast. Unlike the other guys, this Family Crash Pad only costs $60/Night.  Your TDY lodging amount covers everything at this Family Crash Pad and you'll pay absolutely nothing out of pocket to stay here with your family!  This is the same rate Altus lodging charges, so if you choose to stay with us you will not be charged anything more than what you are authorized for your TDY.  A bi-weekly professional cleaning service is provided. After your stay, refer someone to stay at this Family Crash Pad and receive a $100 referral bonus. Check out www.altusTDYhouse.com for more photos and details.
Szoba típusa
Teljes ház/lakás
---
Ingatlan típusa
---
Férőhelyek
5
---
Hálószobák
3
Altus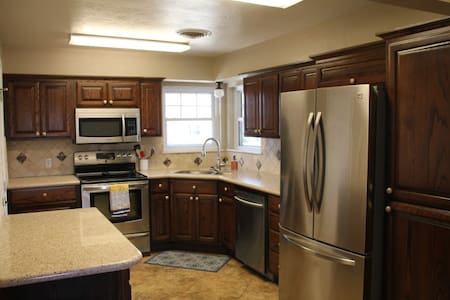 Luxury King size beds with private bathrooms in all 5 bedrooms. Full hot country breakfast provided. Close to shopping and down town square. Full access to entire house including parlor, library/game room, laundry room and full professional kitchen.
Szoba típusa
Privát szoba
---
Ingatlan típusa
---
Férőhelyek
2
---
Hálószobák
1
Altus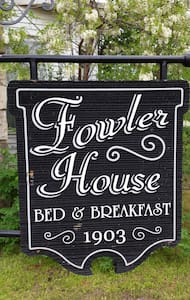 Beautifully restored Queen Anne built in 1903 furnished with period decor and modern upgrades. 4 bedrooms with private bathrooms available. All guests have access to entire house including parlor, library/gameroom, kitchen, dining, and laundry areas.
Relax in the parlor with a good book, browse the library and play a game of pool or sit on the balcony and enjoy the breeze. BBQ patio available for cooking and entertaining. Full professional kitchen fully stocked with everything needed to fix meals if so desired. All areas are accessible to guests with courtesy and opportunity to visit others from around the world. Innkeeper on site is available for assistance when needed and is also a Master Cook and provides full course country breakfasts each morning.
Very large corner lot with wrap around porch and patio areas. Centrally located near the town square with many shops and restaurants nearby. Our mission is to provide guests a home away from home and welcome feedback to help make your stay the most enjoyable time while traveling.
We didn't really know what to expect when we arrived at Fowler House, but we were blown away! While the outside of the home could use a little TLC, the inside is quite beautiful! There are lovely period details everywhere you look. So many nice little nooks for reading and relaxing, a stunning dining room for breakfast, and luxurious bedrooms and bathrooms. We were sorry to have to miss Gerald's cooking in the morning (he had to be out of town), but the gift certificate which was provided to us for breakfast was more than adequate, and we had a delicious meal at the obviously-very-popular restaurant right across the street within easy walking distance. We felt completely pampered, and have already made 2 future reservations. You'll be very happy you chose these accommodations!
James
June 2016
Szoba típusa
Privát szoba
---
Ingatlan típusa
---
Férőhelyek
2
---
Hálószobák
1
Altus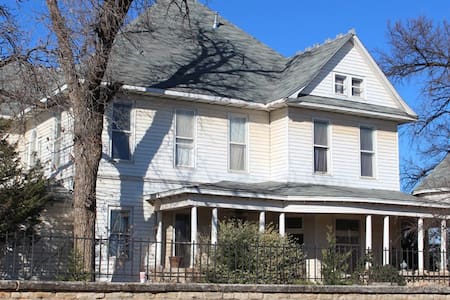 Beautifully restored Queen Anne built in 1903 furnished with period decor and modern upgrades. 4 bedrooms with private bathrooms available. All guests have access to entire house including parlor, library/gameroom, kitchen, dining, and laundry areas.
Relax in the parlor with a good book, browse the library or play a game of pool, sit on the balcony and enjoy the breeze. BBQ patio available for cooking and entertaining. Full professional kitchen fully stocked with kitchenware also available. All common areas are available to all guests with opportunity to meet and visit with others from around the country and the world. Innkeeper on site is available for assistance and is also a Master Cook providing full course country breakfast each morning.
Town square, shopping, unique shops and site seeing all within 5 mile driving distance. Parking is on site Our mission is to provide guests a truly comfortable and enjoyable home away from home. We welcome all feedback to insure the best experience during your travels.
Szoba típusa
Privát szoba
---
Ingatlan típusa
---
Férőhelyek
2
---
Hálószobák
1
Altus