This vintage 1954 trailer is located inside our huge 6,000 sq/ft loft (550 sq meters) in the heart of the Arts District in Downtown LA. Outside the trailer, the loft has shared bathrooms, a shared kitchen, multiple shared living areas, and a backyard
This vintage 1954 travel trailer is a home within a home - located inside our huge 6,000 sq/ft loft (550 sq meters) in the heart of the Arts District in Downtown LA. The trailer basically serves as an extra bedroom, offering a fun and completely unique place to stay next time you're in Los Angeles. The 16 ft trailer is your cozy and private room inside the loft. All of it's original detail has been untouched (except we retrofitted it with a huge king size bed). Outside the trailer, the loft has shared bathrooms (one with a shower/toilet, and one with a bathtub), a shared kitchen, multiple shared living areas, air hockey, an indoor swing, and a magical hidden garden in the back. The space is a real artist loft that was converted from a 1918 factory. It's very clean, but this is not a cookie cutter "hotel" environment. We have workstations, building areas, art material shelves/lockers, and 2 other bedrooms; my business partner (and friend) lives in one of the bedrooms while I live upstairs in a separate loft. Our space is generally quiet, but it is a creative live/work space. This is a great place for fun people who are looking for a more interesting way to stay in LA. We hope you come and visit! (If you are contacting us about a photo, film or music video shoot, the rates with a small crew start at $500)
The Arts District is a super vibrant part of Los Angeles, and we have a lot of bikes you can rent (with a deposit) to explore nearby coffee shops, restaurants, galleries, museums, theaters and other cool stuff in the neighborhood. We are located right next to the LA river between the famous 4th and 6th street bridges where countless films have been shot (from Terminator to Batman). There are often film shoots in our neighborhood because of the unique architecture and old brick buildings. There is also a lot of great street art in the neighborhood, with pieces from Shepard Fairey to JR. Directly on our corner you'll find "Blue Bottle Coffee" and "Zinc" a vegetarian restaurant. One block away is Villains Tavern, known for great live music (5 nights a week). Urth Cafe is just 3 blocks away, and has great food and is open late every day. Church and State, has some of the fanciest dining around - 4 blocks away. Little Tokyo, MoCA, the RedCat, LA Live, and Chinatown are all within biking distance. There are tons of hidden places to explore all around and we love showing people the neighborhood. Despite all of the fancy things that have made this neighborhood so vibrant, it is still largely industrial, so don't be surprised if you don't see SoHo style galleries with Chanel and Marc Jacobs boutiques next door. This is more SoHo in the late 80's... and that's how we like it. :-)
A great experience. Thanks so much for having me, Harley, and making me feel welcome in such a big city. The trailer is really cute and cosy and comfy. The downtown location is great - lots happening, great cafes and bars nearby. Harley is very welcoming. And the warehouse/trailer is a great combination of private for when you're feeling low-key and sociable for when you're keen to hang and chat and meet new people. The back garden was my little oasis and refuge from the city - a lovely place to lie under the shade and replenish energy. All up - this place rocks.
Lauren
2014-07-06T00:00:00Z
Cool place, good communication, great garden. This may have changed since I was there but the Wifi wasn't working well during my stay. But overall a good experience.
Ace
2015-03-06T00:00:00Z
Amazing!!! Would recommend this to everyone. #nailedit
Zackery
2016-01-21T00:00:00Z
We had a fantastic stay at Harley's while staying in the vintage trailer. The bed was super comfy and there is tonnes of storage space in the loft. The loft has so much character, a quirky building with lots of fun things inside. In a great location with a few cafés and restaurants nearby. Great transport links close by too. Union station is a 25 min walk away or a short 10 min bus ride. Bathroom is shared with other Airbnb guests that rent the room out by the trailer so quite a few people passing through - great if you want to meet new people and share travel stories. We had a great time and would love to stay again.
Zara
2014-08-14T00:00:00Z
Our host was very accommodating and easy to deal with. We were alone most of the time, and the space felt like our own. The trailer was clean, the bed was huge and comfortable, it felt like we were in 1959. And that's just the trailer. The loft space was beautiful and massive. I would definitely recommend this place. The location is great. Bars and coffee shops within 2 blocks. Always Sunny In Philadelphia exterior around the corner. If I'm back in Los Angeles anytime soon I would definitely stay again.
Tim
2016-03-08T00:00:00Z
I would add *Magical* vintage trailer! What a lovely place, I slept so well, it was like a vacation in a vacation. Thanks guys.
Amanda
2013-07-03T00:00:00Z
Harley's loft was a surprising little sliver of Elysium in the LA arts district surrounded by beautiful people in an interesting world. Highly recommended.
Sunny
2015-02-05T00:00:00Z
Absolutely best location to stay and amazing creative space, totally chill. Loved it!
Amy
2016-07-12T00:00:00Z
Szoba típusa
Privát szoba
---
Ingatlan típusa
Loftlakás
---
Férőhelyek
2
---
Hálószobák
Los Angeles, Kalifornia, Egyesült Államok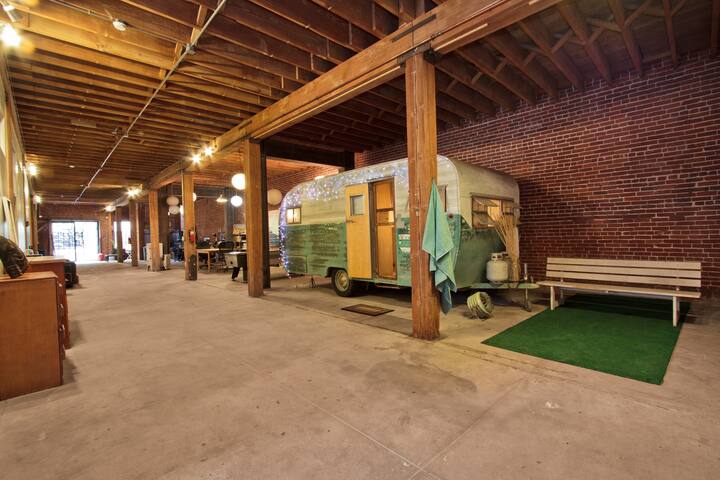 3000 sq ft 2 level loft in the heart of downtown Los Angeles. Walk to metro, bus stops, and all of downtown LA restaurant and nightlife. 3 separate bedrooms, 6 queen size beds, ping pong table, and unique art gallery atmosphere. This space is perfect for fun group of people who are very independent travelers.
ATTN: PARKING & GROUP BOOKINGS Read all listing details for further information about parking & groups. Best area of downtown. Located in a very unique ally called St.Vincent court. Great for fun lovers, artists, and laid back people. Not good for people looking for a Prestine hotel experience. Experienced cool travelers or artist / musician people ONLY. Sleeps 12 very comfortably. Great for entertaining, couples and adventurers. The best location in downtown LA (7th & Broadway) walk to everything. Always clean. New sheets, pillows, and towels plus all the bathroom supplies. Need anything special just ask. Truly Best location in all of downtown. All the bars and hot spots are out the front door Eclectic food court in the ally. Very fun loft with an easygoing host. CLOSE TO STAPLES CENTER & WHOLEFOODS This Space has very cool bar and artsy decor. It has skylights and AC but no windows.. Don't get there and by suprised. Also the ally is awesome and not dangerous. You can smoke in ally or have food at the many Mediterranean restaurants. 2 elevators in building. Unit has a secured parking structure next door. can get up to 5 parking passes. They are $25 each for 24 hours with unlimited in and out privileges. This is your cheapest bet downtown if you want to move your car more then 1 time. Im a young Dj and artist so very laid back. This is an entire home rental. I do not occupy the unit with you. Best location in all of downtown LA Everything is right out front door. -ace hotel -botega louie -spring street bars -7 grand -metro station -LA athletic club WALK TO EVERYTHING metro is 1 block away (red and purple line) uber taxi freeways Available for small parties but no huge events. Meetings and filming are ok. Different rates apply. READ FURTHER 5 parking passes are available for $25 each per day (this includes in and out privileges) You will want these as parking is tough Downtown. Let me know in advance because my other tenants request them. Tourists please research before you travel. Downtown LA is not next to the beach or Disneyland. LA is very big. Please look at a map before booking. *NOTE: You must book the exact number of guests inside the unit regardless if they are sleeping or not. If it is more then 16 people in total please contact me and let me know through the chat box. I want to make your trip enjoyable and need to know everything in advance.
Best location in all of downtown LA Everything is right out front door. -ace hotel -botega louie -spring street bars -7 grand -metro station -LA athletic club WALK TO EVERYTHING
Cool place!
Elizabeth
2016-11-17T00:00:00Z
Really cool spot. Very cozy and well designed.
Andira
2016-11-10T00:00:00Z
Great location and great price. We were a group of young green entrepreneurs (composting) and didn't mind the adventure of staying here with the open loft plan and 1 shared bathroom. We were mostly out at a conference offsite so didn't mind the tradeoff of a windowless space for avoided hotel expenses. Ping pong was a hit. We happened to be here during the worst rainstorm in years, and experienced 2 small leaks. Jen came and replaced the wet bedding right away and brought hand towels and toilet paper. The bathroom is nothing to write home about and sharing 1 presented its challenges but we knew those limits before signing up.
Brenda
2017-01-26T00:00:00Z
Great apartment which was listed accurately and represented correctly in the photos. Would definitely stay again and the staff were very helpful.
Stuart
2016-09-24T00:00:00Z
Great loft. Plenty of space. Really fun, unique place in the heart of DTLA.
Erik
2016-09-26T00:00:00Z
Darrel's loft is amazing. His assistants did an outstanding job communicating with us whenever we needed anything. Although its location is perfect walking distance for so many interesting places, the loft is so fun to be in it's hard to leave! If you and a group of friends or family are heading to LA I definitely recommend staying here. Thank you Darrel!
brian
2016-11-14T00:00:00Z
Had a great stay. Darrel's team was really helpful and nice. The description of the apartment is accurate. Even though there are no windows the place is quite comfortable.
Angela
2016-10-08T00:00:00Z
Great for hosting. The space is pretty cool, very large, and everyone thought it was great.
Andrew
2017-03-26T00:00:00Z
Szoba típusa
Teljes ház/lakás
---
Ingatlan típusa
Lakás
---
Férőhelyek
16
---
Hálószobák
Los Angeles, Kalifornia, Egyesült Államok
Private guest house with private entrance. It is separate from the main house and is reserved for only those who book it - it is not shared with anyone else. The house is central to most attractions - 7 miles east from downtown, 25 miles east from LAX, 20 miles north from Disneyland, 15 miles south from Hollywood, and 20 miles east from Santa Monica. The room has a king bed, twin sofa bed, and it's own bathroom. There is also a small fridge, microwave, and large screen TV.
Guest house is detached from main house and provides guests with full privacy.
Centrally located makes it easy to visit most major attractions. Keep in mind most major attractions are not within the same vicinity and getting there depends on the time and day you travel. Traffic can be unpredictable. However, below are distance in miles for most major attractions for reference: Downtown LA - 7 miles Old town Pasadena - 10 miles Hollywood walk of fame - 15 miles Universal Studios - 17 miles Melrose - 15 miles Santa Monica - 20 miles Disneyland - 20 miles LAX - 25 miles
My wife and I had a great experience at Lupe's. The location was very convenient and easy to navigate from. Street parking was no issue, although you can not park on certain streets on certain days due to street cleaning. The room was very spacious and great. It had AC, a small fridge, microwave, WiFi, TV and an amazingly comfortable bed. The pool and hot tub were great too, especially on hot days. The WIFI was spotty at times, but wasn't an issue. We only briefly met Lupe and her family, and they were very friendly. We would highly recommend Lupe's for a visit.
Sheldon
2016-06-27T00:00:00Z
I loved LUPE's Crib. It looks exactly like the picture. Also the host were very polite. The hot tube and pool were both great. I really recommend this place for anyone wanting to just relax for the night :)
Allan
2016-07-24T00:00:00Z
Lupe made us feel very comfortable, she and her family gave us a lot of privacy. Lupe made herself available and was very proactive checking on us (via e-mail) a couple of times during the week. Accommodation match description. The room is spacious and clean, the bed is comfortable and roomy. The room has a small refrigerator and microwave plus a nice size TV. The neighborhood is very quit at all times of the day. We felt very comfortable and secure during our visit to LA. We highly recommend Lupe's place and certainly will stay in Lupe's place if available during our next visit to LA.
Jose
2015-11-01T00:00:00Z
I really love the room because the bed is so soft!! Also, there is a lot of delicious restaurant nearby that you can easily drive to. The parking space is free and accessible which saves us a lot of troubles. Last but not least, really love the dog
Kunyan
2015-05-24T00:00:00Z
Very nice, clean and quiet separate room was provided from Lupe. She was available by text message whenever I had a question in terms of recommendations for restaurants and where to go!! We never got disturbed by herself or the family as we were away most of the day and we felt like we had our private house... Thank you once again for the privacy which also contributed to our stay which was amazing in LA. Sebastien and his dad.
Sebastien
2015-09-30T00:00:00Z
Everything was perfect. The room was very clean and Lupe had given me all the necessary details to get to her house easily. The house was also very clean. There was a fridge, a table and two chairs plus different towels for the shower. The only thing missing was a small coffee machine or at least a boiler to make some tea. We wish we had met her but unfortunately this didn't happen. So sad as we had chosen Airbnb to get in touch with the people who hired a part of their house. Also, I think that another photo should be chosen to illustrate the place as the one on Airbnb site is Lupe's main house-The place where we stayed is on the other side of the pool so it can't be seen on Lupe's main page. Anyway, a great place to spend a few days, definitely !!!
Cyril
2015-08-21T00:00:00Z
Staying with Lupe in LA was our first Airbnb experience and it exceeded every expectation! The room is in an adorable guest house with the largest most comfortable bed I've ever slept on. It is located in a very nice neighborhood and the property is quite beautiful with both pool and hot tub. My wife and I travel to LA often and we are looking forward to staying with Lupe for many years to come .
Kenneth
2016-01-21T00:00:00Z
We've never met Lupe, but she was very considerate and made everything in order. This private house is a gem during our stay at L.A. Very clean, safe and quite. No difficulty of street parking. Definitely a good choice!
Zihe
2016-01-08T00:00:00Z
Szoba típusa
Privát szoba
---
Ingatlan típusa
Vendégház
---
Férőhelyek
3
---
Hálószobák
Los Angeles, Kalifornia, Egyesült Államok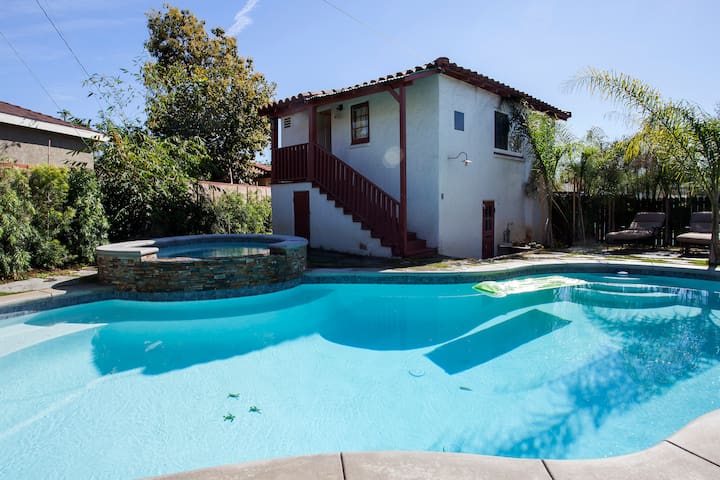 Centrally located to all Southern California attractions. Disneyland, Huntington Beach, Pasadena, Newport Beach, Los Angeles downtown and return to a quiet safe location.
Suburban type area, super safe area nested in the hills. Large lot
Super save and quiet, large property lots.
Great place, matched the pictures. We only met Louie, didn't see the rest of the people in the photographs around. The lights in the shower were really neat!
Alice
2015-08-01T00:00:00Z
Мне с моей дочерью посчастливилось побывать в гостях у Луи! Действительно, ощущали себя почетными гостями в его чудо доме! Не перестаю благодарить Луи за все! Спасибо большое! I was with my daughter was lucky enough to visit on a visit from Louis! Indeed, it felt like honored guests in his house a miracle! I do not cease to thank Louis for everything! Thank you so much!
Gulnara
2015-07-22T00:00:00Z
Very good house!Every one is so nice there. Louie gave us a lot of useful suggestions~~~ The house is very clean!You can feel very comfortable here!!!!!!!!!
ziqi
2015-07-03T00:00:00Z
Nice quiet place. Perfect house and perfect host. Definitely want to come back.
Mathilde
2015-09-24T00:00:00Z
IT DOES NOT GET ANY BET THAN THIS!! This place beats a five star resort by far. First the spectacular view, especially at night from the three story balcony and a full moon. But day or night the pool with a slide and cave and the jacuzzi were breath taking. Lush landscaping, palm trees. The use of the BBQ. The modernized, extra clean bedroom, kitchen and bathroom. Can't forget the disco lighting in the shower. Soft comfortable bed. WiFi and cable. Louie "Was the Best"!!! Plenty of infor and directions ahead of time through texts. Kept the place spotless and smelling wonderful. Louie goes out his way to make it a great visit. It was easy to have a conversation with him but at the same time he will give you privacy. There are other roommates that live there but there are combinations on each door to your room, and the house is spread out so privacy and interaction works out great. You have the use of all the modern conveniences washer/ dryer, water dispenser/ice, coffee maker, pots and pans. It is a resort home. Again Louie appears to take pride in being your host and does an awesome job. About the location, appears to be a beautiful and safe neighborhood. The street West is narrow and windy so try to arrive during the day. But the location over all was convenient and in the middle of four different places we had to be. Can't wait to come back. Especially for the price!!
Rochelle
2015-08-31T00:00:00Z
We loved Nestled in the Hills. It had a very helpful and friendly host, excellent communications, incredible view from the balcony, clean and modern and well maintained accommodations, and a nice kitchen besides. And the price clinched the deal for us.
Wayne
2015-07-23T00:00:00Z
Looking for paradise around LA? Don't look any further. This house is perfect! Clean rooms and a great kitchen. But the pool and the view are breathtaking! The slide, jacuzzi and the poolside are just perfect to stay around for a relaxing day!
Margot
2016-10-08T00:00:00Z
Louie was extremely welcoming and went out of his way to make sure we were taken care of! Everything was extremely accessible. Although his property is rented "hostel-style" with different renters sharing the same floor, there is also a welcome sense of privacy afforded. We were never short of good conversation with the other renters around. The pool and hot tub were welcome features at the end of a long day, and the view is gorgeous! I would definitely recommend staying at Louie's if you will be in the LA area. Word to the wise, though--it is about an hour's drive to anywhere in the city or northern "suburbs"--Malibu, West Hollywood, Calabasas, etc.
Shelby
2016-04-04T00:00:00Z
Szoba típusa
Privát szoba
---
Ingatlan típusa
Ház
---
Férőhelyek
2
---
Hálószobák
La Habra Heights, Kalifornia, Egyesült Államok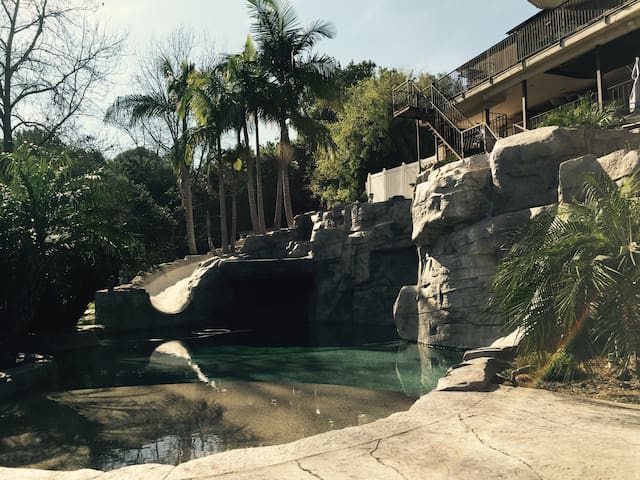 We want you to have a crazy awesome vacation experience when you come to Los Angeles so we have come up with a great BONUS for you. Heck, you don't even have to stay with us to enjoy them! You're just lucky that you found this listing. Read on...
We're celebrating our 1,000th Positive Airbnb Review by giving everyone $15 off their first ride with Uber, which is a new sharing economy "taxi" service that is more like your friend with a car. Here's what you do: 1. Download the Uber App 2. Create an account 3. Enter the code "jaimeh442ue" when you request your first ride. When you book with us, I also give you 2 Booking Bonuses: 1. A 10% discount on your car rental from Hertz 2. FREE access to the Members-Only section of my website which provides you with lots of information for what to do in LA, how to SEE the most and how to SAVE the most money. ------------------------------------------------------------------ The Best Place to Stay in LA: Welcome to your Cozy Cabin in Urban Los Angeles which is a non-smoking cottage that has its own private entrance in back of our main house: a tiny house for you to enjoy. For comfort, your room comes with a double bed, bedside lamp, a closet, a heater, an air conditioner and a dining area with a small table and 2 chairs. For work, the business center comes with a desk, chair, lamp and wired internet as well as recently-upgraded strong wireless internet (wifi). For fun, there is also a loft with 2 twin beds if you don't mind climbing up and down a ladder. We can add an additional twin floor mattress in the bedroom downstairs to sleep up to 5 comfortably. (Linens and towels are also provided for you.) Your Cozy Cabin is in the secluded backyard behind our 5 bedroom, 3 bath house, on a quiet cul de sac in a nice neighborhood. Please note that it is 10 steps to the main house where the 3 shared restrooms, shared kitchen and living room are. The main house is always open to you and may be shared with other guests and/or the owners. The owners live in 1 bedroom which leaves 4 bedrooms for other guests. Get that home-away-from-home experience when you stay with us. Benefits include: ~ Free strong wireless internet throughout the house that even extends to the Cozy Cabin. ~Of course there is always fresh-brewed coffee and an assortment of teas. ~ You get full run of the house and are welcome to cook in the kitchen, use the washer and dryer (soap and dryer sheets provided for you), watch television on the flat panel TV in the living room. ~ Have breakfast or get some sun on the patio. ~ Take a walk to the riverbed. We have a bird sanctuary less than a mile away. MONEY-SAVING TIP: ~ Super Walmart with grocery store is walking distance from the house. As a great money-saving tip, might we suggest that you stop in at the Walmart and stock up on your favorite items on your way to our house. Then, stash your stuff in your designated space in the fridge or just write your name on it with the pens we provide for you. Then you are free to cook to your heart's content (we just ask that you wash any dishes you might use). This is a great way to save money and eat healthier while traveling. ~ Citadel Outlet Mall - We are located less than 5 miles away from Los Angeles County's very own Outlet Shopping Mall, "The Citadel" for the best deals and shopping experience around. There is also easy access by bus from our house as well. ~ Commerce Casino - It is less than 5 miles to the world famous Commerce Casino, best known for its poker tournaments. The Bicycle Casino (the Bike) and Hawaiian Gardens Casino are also less than 10 miles away. A veritable poker player's paradise! ~ SPECIAL INVITATION ~ And last but not least, we invite you to join in a family tradition. When you stay with us you get to make a flag with your name on it for our world map. Plant your flag to represent your home town and become an official member of our international family. If you want to bring a gift for your hosts (we love gifts!) might I suggest some beer from your country? Jaime makes his own beer and we'd love to try your beer and share with you some of what we believe is the best home-brewed beer in Southern California - OURS! Cheers! We have hosted international students for over 10 years and love to share our native Southern California with everyone. We can provide recommendations for all of the best local attractions: Universal Studios, Hollywood, Disneyland, Grand Canyon, Las Vegas, Staples Center, Malibu, all of the local beaches, Rodeo Drive, the Hollywood Sign, the best shopping malls and Outlet Centers, local ski slopes, tennis courts, magnificent golf courses, and much more. We look forward to meeting you and sharing with you what makes living in Southern California in general and Los Angeles specifically, the best place on the planet. Here's a sure-fire way to get a fast approval when you request to stay. Answer these 3 questions: 1. Where will you be coming from? 2. Who will you be traveling with? 3. What will you be doing while you are in town? Rooms are available on a first come, first serve basis. Once you are approved to stay, click the "Book it" button to make payment by credit card and lock in your stay. You will then receive a reservation confirmation which contains the address, instructions for checking in and the link to my special Booking Bonus, "Best Things to do in LA" as a thank you for staying with us. We want your stay in LA to be the best and we look forward to hosting you. Cheers! OTHER PROPERTIES TO CHOOSE FROM We have several properties to choose from, some with hosts on-site and some private vacation rentals where a host is just a phone call away. Take a look at the choices below or go to my profile page where links to all of the properties can be found on the lower left side: https://www.airbnb.com/users/show/1030745 YOUR "CANFORD" HOUSE HOSTS - JAIME and SUE. STAY IN A PRIVATE ROOM IN A SHARED HOUSE: Cozy Cabin - A separate cottage behind the main house with 1 double bed + 2 twin beds in the loft up above. An extra twin mattress can be set up downstairs to sleep up to 5. Book from https://www.airbnb.com/rooms/219533 Harry Potter Room: 2 double Sleigh beds plus a twin bed for up to 5 people to sleep comfortably. Book from http://www.airbnb.com/rooms/209220 Los Angeles Hollywood Room for Rent - 1 Queen bed plus 1 Double bed for up to 4 people to sleep comfortably. Book from http://www.airbnb.com/rooms/219526 Poker Player's Paradise Room - 1 double bed for up to 2 people. Book from https://www.airbnb.com/rooms/1633624 YOUR "BREEZY BUNGALOW" HOSTS - GEORGE AND PATRICIA. STAY IN A PRIVATE CAMPER. HOSTS ARE IN THE MAIN HOUSE. Breezy Bungalow - Camping LA Style - 2 twin beds and 1 full-size futon in a camper. Sleeps up to 4 comfortably. Book from https://www.airbnb.com/rooms/1347170 YOUR "LEMON FARMS" HOSTS - JAIME AND SUE. STAY IN YOUR OWN PRIVATE 2BR/2BA HOUSE. HOSTS ARE OFF SITE BUT JUST A PHONE CALL AWAY. Lemon Farms Private House With View - 4 Queen beds in 2 separate large rooms to sleep up to 8 people comfortably. Book from https://www.airbnb.com/rooms/1260277 Cozy Cottage Duplex For 8 – A duplex (Side A – Bunny Bungalow and Side B – Rabbit Retreat) with 2 double beds and 2 sofa beds to sleep up to 8 people. Also includes 2 full restrooms and 2 kitchens! Book from https://www.airbnb.com/rooms/5479638. Or book each half of the Cozy Cottage individually here: Bunny Bungalow - https://www.airbnb.com/rooms/5550759 Rabbit Retreat - https://www.airbnb.com/rooms/5558823 YOUR "DISNEYLAND PRIVATE APT". HOSTS - JAIME AND SUE. STAY IN YOUR OWN PRIVATE RESORT. HOSTS ARE OFF SITE BUT JUST A PHONE CALL AWAY. Across the street from Disneyland and the Anaheim Convention Center. 2 bedroom, 1 bath apartment with 1 Queen bed, 2 twin beds and 1 sleeper sofa to sleep up to 6 people comfortably. Book from https://www.airbnb.com/rooms/5445319 YOUR "COACHELLA" HOSTS – DARIO AND ALEJANDRA STAY IN A PRIVATE STUDIO WITH PRIVATE BATH. HOSTS ARE ON SITE. Guest House W/ Private Entrance – A studio with a Queen bed, private bathroom and an extra cot for up to 3 people. Book from: https://www.airbnb.com/rooms/6030710
I can´t say anything bad about this accomodation. It is approx. 25 min to downtown from this location. Neighbourhood looks nice and safe compare to others in town. We didn´t talk to Sue much cause we have been in town almost all the time, hovewer when we met her she was very helpful and nice to us. Definitely recomend this accomodation.
Tomáš
2016-09-10T00:00:00Z
Sue and Jaime are amazing hosts. They made us feel at home and gave us great advice on what to do in LA. The cabin was cozy and comfy. If you see this, or any one of their other listings available, jump on it before someone else gets it.
Debbie
2015-09-06T00:00:00Z
Simply Amazing! It was perfect for us 5 girls, and they even provided breakfast which was a good bonus. Also it is very close to a shopping center which is also nice. It is also a private place to stay for a few days. Very worth it, definitely recommend this place!
Emiko
2015-04-12T00:00:00Z
Sue and Jaime are amazing hosts! We feel welcomed the moment we stepped into their house! Everything is just fine! While the ceiling of the upper level of the cozy cabin is a little bit low, it's ok to lie down and have a good night sleep!
Tzu-Heng
2014-12-18T00:00:00Z
Die Wohnung entsprach genau der Beschreibung und war genau die richtige Wahl für unseren LA Trip. (20-25 Minuten zum Walk of Fame). Sue und Jaime waren sehr hilfsbereit und gaben uns tolle Tip während unseres Aufenthalts. Küche, Wohnbereich und die 3 Badezimmer sind für alle Bewohner verfügbar. Unsere Unterkunft konnte per Code geöffnet und verschlossen werden. Wer einmal bei Sue und Jaime wohnt muss auf jeden Fall Jaime's selbstgebrautes Bier probieren. Vielen Dank für einen einmaligen Aufenthalt ...
Florian
2015-03-22T00:00:00Z
It is the best place to stay I feel don't miss this house the host is really friends and she helped us plan our day too the room is all what is thr in the description best place will come and stay once again for sure :)
Fermin Feroshi
2013-10-28T00:00:00Z
The cabin was great! Jaime was so friendly and helpful. He made us feel like we were home. Would definitely stay here again.
Crystal
2015-02-16T00:00:00Z
小木屋超级棒!Sue 人也超好!非常赞
亚晖
2015-08-11T00:00:00Z
Szoba típusa
Privát szoba
---
Ingatlan típusa
Kisház
---
Férőhelyek
5
---
Hálószobák
Pico Rivera, Kalifornia, Egyesült Államok
A private and cozy home. Full size bed with shared bathroom, Clean linens, towels as well as complimentary soap and shampoo provided. Free WiFi. and street parking. You are welcome to leave your luggage in case you arrive early or leave late. From LAX, you can take the Flyaway to the Union Station for $8. From Union Station take gold line train to Pico Aliso, the house is 3 minutes away from the station. Less than a mile from the 5 freeway, 10 freeway, 60 freeway, 101 freeway, and the 710 freeway. A mile away to Starbucks, Yogurtland, Wurstkuche, Pie Hole, Zip Fusion Sushi, Nola's New Orleans, District Korean BBQ, Woori Korean Market, Urth Cafe, Daikokuya Ramen House, Sushi-Gen, Mikawaya Mochi Ice Cream Store, Phillipe's French Dip, Olvera Street, Gill's Indian Cuisine, Weiland Brewery and Restaurant in Little Tokyo. Places to see around are The Japanese American National Museum, Japanese Village, The Art and Fashion District, LA Live, Museum Of Contemporary Arts. Staples Center, LA convention center, LA's historic The Pantry for breakfast that's never closed since it opened (don't have high hopes for the food, but still a spot to visit). Keck Hospital of USC is less than 3 miles away. White Memorial Medical Center is 0.6 miles. ID or Passport is a must upon check in.
zarah is a great host, since day one she and her sons make us feel at home, everything was very clean and it was just like the add, we would be able to use the kitchen wherever we want, near downtown and union station, we definitly recomende her place
Natalia
2016-04-08T00:00:00Z
We had a great stay. The room is very nice and clean, just like the bathroom and the rest of the house. Zarah is a very friendly host. Her tips helped us to get around really well. The house is situated in a quiet and friendly neighbourhood, on a few walking minutes to Pico/Aliso, a metro station that takes you to Union Station (downtown) in less than 5 minutes. During our stay, there were guests in the other room in the house, but we didn't really hear or see them.
Robin
2014-07-26T00:00:00Z
It was great staying at Zarah's place. We got a warm welcome, and she had bought us a bruger from In-N-Out. It was easy to find. We took the Flyaway bus and after that the Gold line metro without any problems. The neighborhood is mostly Latin American and mexican. We could go out in the evening and there was a cheep store nearby. Zarah is a great host and she even to us to the Griddle cafe for pandcakes... they where awesome. Thank you to much Zarah.
Camilla Bendix
2015-08-24T00:00:00Z
Very nice place! very clean and cozy room( much better than the picture showed on the website), public transport near by, very convenience. Zarah are so nice! help us a lot! thank you and recommend your place!
ginny
2013-08-11T00:00:00Z
I think the best word to discribe our stay is...perfect. The house was very clean and save. Zarah and here sons are very nice and friendly. We had a perfect stay. Thank you Zarah! I would always book the room again.
Matthias
2014-10-08T00:00:00Z
Zarah was very helpful and friendly. She gave great tips while we were in los Angeles
Trang
2015-10-22T00:00:00Z
Zarah made us feel very welcomed. She even went out of her way to help us figure out transportation needs. The accommodations were nice and homey. The neighborhood was nice-- a bit of street noise but expected from being so close to downtown!
Andrew
2015-10-08T00:00:00Z
Zarah and her family were welcoming and offered much advice in terms of transportation for the city. The on site parking was very convenient, she even let us park in her garage.
Danilo
2016-05-23T00:00:00Z
Szoba típusa
Privát szoba
---
Ingatlan típusa
Ház
---
Férőhelyek
2
---
Hálószobák
Los Angeles, Kalifornia, Egyesült Államok
New condo, built in 2015. This smaller room is the only bedroom downstairs and is furnished with a futon, mini refrigerator, and a 42" flatscreen with Netflix and DVDs. The futon converts between a couch and a bed. Private access, private bathroom, and washer/dryer available.
Pros: it's the only bedroom downstairs and guests have a separate door to enter/exit, bathroom within the room with softened water, mini refrigerator with freezer, closet and hangers, private access through a side gate, 42" flatscreen with Netflix, DVD player and DVDs, central A/C and heat, guests may use BBQs in the condo's common area, home owners will assist you or respect your privacy as much as you want, whatever you prefer. Cons: it's a bit smaller than average size bedroom (90 sq ft), futon instead of traditional bed (converts between couch and flat bed and taller individuals may feel like it's too short), it's possible to walk to places but I think guests would be better off with their own vehicle or using Uber or Lyft to get around.
The neighborhood is in a great location for visiting the sites around Southern California. Downey is near 4 major freeways. Disneyland, Knott's Berry Farm, beaches, downtown LA, Dodger Stadium, and much more are all within a half hour drive.
Great host! The home was sparkling clean. There was constant communication upon arrival, they worked with my time changes. Really enjoyed my stay here.
toyin
2016-07-04T00:00:00Z
Aqui estuve 4 semanas! y me encanto esta casa! La habitacion tiene una entrada independiente, es pequeña pero comfortable, tiene su baño en suite, todo nuevo y muy limpio. Hay una refrigerador con freezer en la habitacion y subiendo una escalera se accede a la cocina donde he podido cocinar y preparar mis desayunos. Lo unico que mejoraria seria la cama que no es muy comoda... A todo eso se agrega que Richard y su esposa son extremadamente amigables y simpaticos, hemos conversado mezclando ingles y espanol aunque ellos hablan principalmente ingles. Los recomiendo totalmente!!!! Grandes personas!!!
Luis Principe
2017-03-28T00:00:00Z
My stay with Richard was excellent. He is a great host! Since it was the weekend and he wasn't very busy, he was willing to leave his truck in guest parking to hold a parking spot for me until I arrived both nights, which allowed me to park directly across from the entrance to his condo. Street parking was also available and safe, but it was nice to not have to park that far away. I'd give bonus stars for this if it was possible. The weather was wet and cold during my stay, which is rare for that area, but the space heater Richard provided was perfect to keep the bedroom and the bathroom plenty warm. I hope to stay with Richard again when I travel back to the area.
Dean
2017-02-20T00:00:00Z
They were great hosts and provided excellent accommodations. It has everything you need and it was a comfortable stay. Thank you again.
Brenda
2017-01-06T00:00:00Z
The host was very friendly and accommodating in every way. The listing was exactly as described. I was also given my own space for food in the fridge and freezer which was really nice. I had laundry room access, and could use their washing soap etc., I especially liked the town. It was so easy to travel around with very little traffic. It was great plus to have unlimited hispeed wifi, big flatscreen, and many media choices for entertainment. I would definitely recommend staying here, and if I'm back in the area I will try to book a stay here again.
Samuel
2016-08-02T00:00:00Z
Great place to stay. Good internet/amenities like Netflix/Hulu and a very nice bathroom. They were accommodating and helpful and glad I stayed with them for the month between apartments.
Krystle
2017-02-08T00:00:00Z
Szoba típusa
Privát szoba
---
Ingatlan típusa
Sorház
---
Férőhelyek
1
---
Hálószobák
Downey, Kalifornia, Egyesült Államok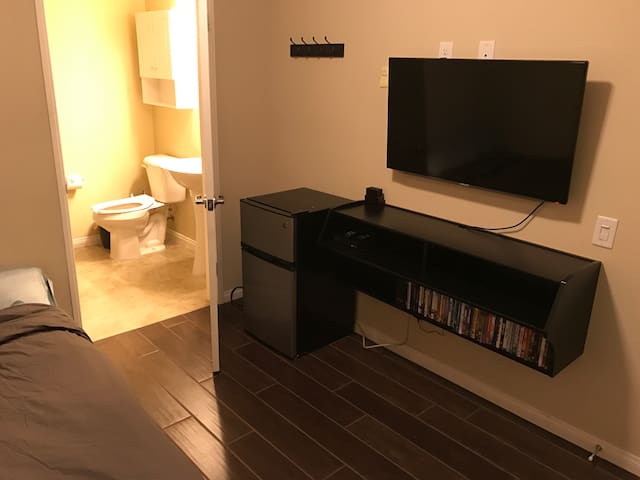 Hi all, renting my unfurnished apartment in luxury building. 1 Free parking space. I can provide an air mattress. Cool building and great space. I'm moving and have a 2 week layover in the lease. I can offer special pricing if you contact me with an offer for the two weeks of 7/25/16-8/06/16. My place is close to DTLA, LA Live, LAX airport, Burbank airport, Highways, Chinatown, Mexicali Taco & Co, highways and more. My place is good for couples, solo adventurers, and business travelers.
Very nice view from the balcony, cool place!
DTLA
Szoba típusa
Teljes ház/lakás
---
Ingatlan típusa
Lakás
---
Férőhelyek
2
---
Hálószobák
Los Angeles, Kalifornia, Egyesült Államok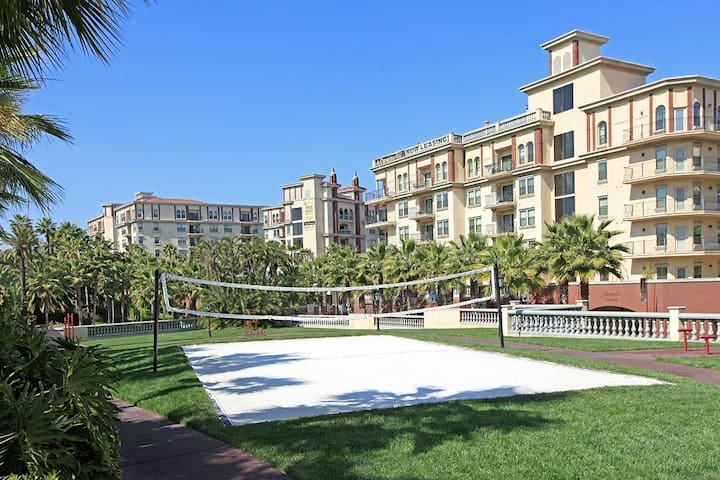 Easy access to a couple freeways (PHONE NUMBER HIDDEN). Next to a nice park, Nice, clean and modern room
Szoba típusa
Privát szoba
---
Ingatlan típusa
Lakás
---
Férőhelyek
1
---
Hálószobák
Downey, Kalifornia, Egyesült Államok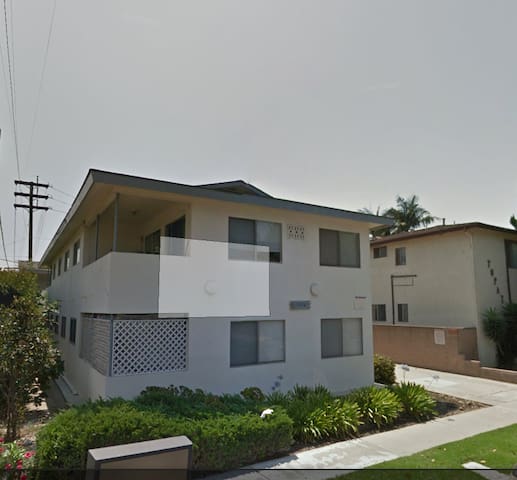 My place is close to restaurants and dining, the beach, family-friendly activities, and public transport. It's just minutes from Disneyland, Knotts Berry Farm, Downtown Los Angeles, Long Beach, Venice Beach, Santa Monica, Beaches Shopping and much more. My place is good for couples, solo adventurers, business travelers, families (with kids), and big groups.
Each bedroom has an individual folding bed.
Property is in a prime location of Downey. With excellent restaurants, from Mexican Cuisine, Greek, Chinese, Fast food and much more.
The host canceled this reservation 58 days before arrival. This is an automated posting.
Ruth
2017-03-22T00:00:00Z
Szoba típusa
Teljes ház/lakás
---
Ingatlan típusa
Ház
---
Férőhelyek
15
---
Hálószobák
Downey, Kalifornia, Egyesült Államok
Beautiful and quiet 4 bedroom 5 bathroom house in Downey, California available for rent. 15 minutes away from Downtown LA, 15 minutes away from Long Beach, 20 minutes away from Disneyland and 20 minutes away from LAX. We offer the master bedroom, bathroom and amenities.
Nevy is incredibly sweet. Very timely responses to every question. The room was quiet, private, clean and spacious.
Heather
2017-01-22T00:00:00Z
Nevy's place was great! It was nice because it was a private entrance so we didn't have to bother anyone when we entered later at night. No problems at all.
Ariel
2017-03-26T00:00:00Z
Nevy is very nice, helpful, and responsive. I enjoyed my stay!
Mason
2017-01-13T00:00:00Z
Good place to stay
Mari
2017-02-12T00:00:00Z
My stay at Nevy's was great. The decor felt like I was staying in a hotel.
loraine
2016-11-13T00:00:00Z
The place was great and very private. The host was very timely in her responses. I really enjoyed my stay there.
Ghazala
2016-12-09T00:00:00Z
Place was beautiful and clean very nice host I would definitely recommend this place very private thank you for a wonderful stay
Kat
2016-11-22T00:00:00Z
Szoba típusa
Privát szoba
---
Ingatlan típusa
Ház
---
Férőhelyek
2
---
Hálószobák
Downey, Kalifornia, Egyesült Államok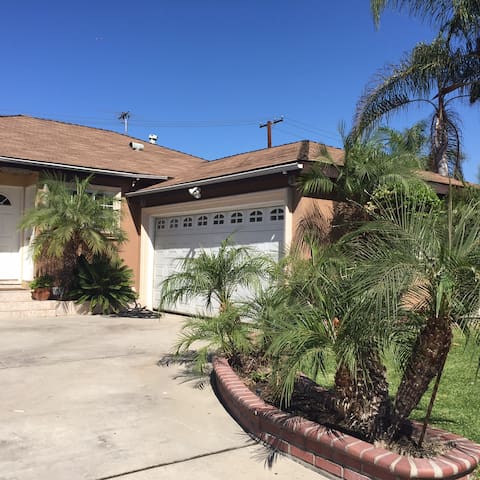 Good Sized private bedroom ideal for 2 guests with a shared bathroom and plenty of available parking. House is located centrally between LA/Hollywood, Orange County and Beaches. Easy access to public transport which has direct access to LAX.
Brand new mattress, sheets and pillows. Fun place to stay with sociable people who can show you around. Please make sure to read the House Rules. My city requires a signed copy to be kept on file during stays. I will email a copy once the reservation is confirmed.
Quiet neighborhood with easy access to stores, fast food, and markets
Matt was a gracious host and provided everything we needed to have a great stay at his home!
Reed
2016-08-16T00:00:00Z
Super clean house. Very quiet for a house that's right off the freeway. Shopping is real close. Matt is a soccer fanatic lol but is also easy to communicate with. Wish I had booked him for the month. The bed is to kill for, very soft. Will stay again if in the area
Nicholas
2016-06-13T00:00:00Z
Matt was awesome! Very welcoming, the room and house was great, very clean, comfy bed. The location is near pretty much everything you need: Shopping, Groceries, Restaurants, Gym, Movie Theater, etc... I was always working during my stay, so wasn't at the house much...but when I was it was always a wonderful experience.
Matthew
2016-10-31T00:00:00Z
We had a really nice stay at Matts' house. It was clean, comfy and looked like on the pictures shown. Matt is a super host who takes good care that everything is perfect. We would definitely recommend Matts' place.
Fabian
2016-08-21T00:00:00Z
I loved this house, location, and Matt the host! Very nice place to stay! Very clean! Close to pretty much everything!
Tyrone
2016-06-19T00:00:00Z
Matt was an awesome host! Very welcoming from the beginning and we had a great time together. If you want you can hang with him whenever, but he is very respectful of your privacy too. We laughed a lot and I'll hope we keep in touch. Thanks Matt! And come visit me in Germany :)
Nadine
2016-10-01T00:00:00Z
Szoba típusa
Privát szoba
---
Ingatlan típusa
Ház
---
Férőhelyek
2
---
Hálószobák
Downey, Kalifornia, Egyesült Államok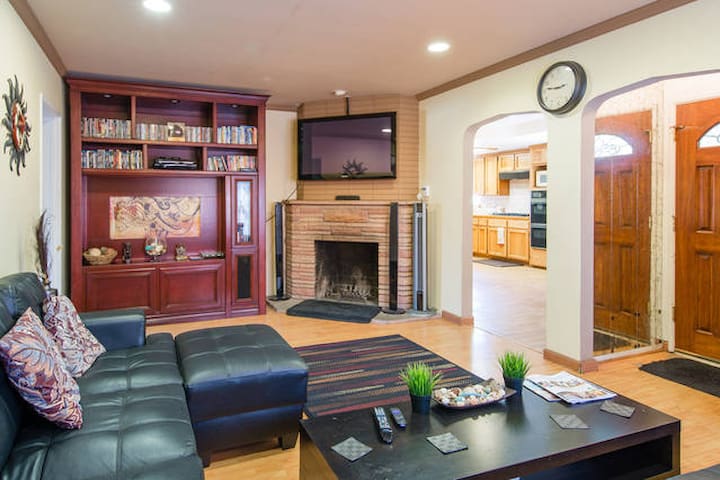 Very nice and up scale studio with a kitchenette, fireplace and walking closet.
beautiful neighborhood
The host canceled this reservation 7 days before arrival. This is an automated posting.
Joel
2017-04-07T00:00:00Z
The host canceled this reservation 14 days before arrival. This is an automated posting.
Eva
2017-04-07T00:00:00Z
Szoba típusa
Privát szoba
---
Ingatlan típusa
Ház
---
Férőhelyek
2
---
Hálószobák
Downey, Kalifornia, Egyesült Államok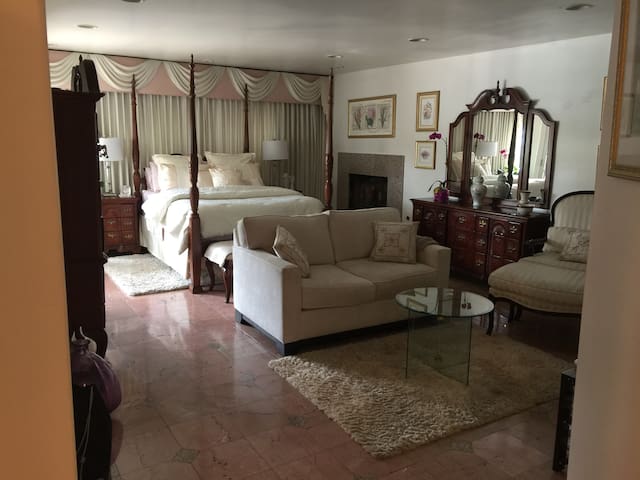 Beautiful vacation get-a-way with private entrance and private pool! Close access to the 5 freeway (12 mi -LA. 16 mi -Disneyland). Fully furnished w/ kitchenette (no oven), refrigerator, microwave, pillow top queen, futon bed & couch. Roll-a-way also available 10% military discount with DD214
This guesthouse is a 1 bedroom space with all the perks. It is detached from main home and has a private entrance. Kitchen is fully equipped apart from an oven (NO OVEN), Full size refrigerator, microwave, coffee pot, Keurig, hot plate, George Foreman grill, and dinnerware. Large bathroom with shower (pool and bath towels included). Cleaning upon arrival and departure. Any additional cleaning can be requested for an extra $30. The bedroom has pillow top queen size bed. The spacious living room has a futon with a foam topper that folds out into a queen size bed and a comfortable couch which can be slept on. A high-quality twin size roll away bed can also be provided. The roll away has a 4 inch memory foam mattress with a gel memory foam topper. It has a sturdy frame and can sleep large adults.
We are located in the beautiful and safe area of North Downey. Driving distance to the most popular spots in Los Angeles and Orange County, including Amusement Parks, Restaurants and Malls. Easy access to the 5 freeway. Guesthouse is Located 12 miles from LA, 15 mi from Disneyland and Knott's Berry Farm, and about 18 mi from the beach.
Couldn't have asked for a better place. The Christmas decorations added a great touch to our stay. Owner was always available and quick to respond. Ideal rental!
Christina
2016-12-16T00:00:00Z
This place was absolutely phenomenal. The house was gorgeous, clean, with plenty of privacy. The pool was really nice, as were the furniture and appliances. Angela was such a kind and gracious host and I absolutely cannot say enough great things about her.
Dustin
2016-06-16T00:00:00Z
This is a beautiful house and has got everything you need. Host is responsive and the place is clean and neat. We enjoyed our stay here!
Kavya
2016-09-04T00:00:00Z
Angela was such a delight to work with, she was quick to respond and was always willing to help in anyways that she could. The house itself was wonderful to stay in. It was in a safe neighborhood and right next to the 5 so we were able to jump on the highway and head to LA or Anaheim in a minute. It was exactly what the group that I was with was looking for, it had the comfy feeling of home, but that feeling of being away with the beautiful pool and hot tub as well as the fire pit. I would definitely recommend the house as well as working with Angela. We had a great time!
Adalberto
2016-07-04T00:00:00Z
Angela's place is great! Private, secluded. She is very prompt in response. Very willing to help if needed. Did not see Angela the whole time we were there. She gave us privacy. Place was super clean. She had everything you would need for the kitchen. She even had snacks and waters and coffee among other supplies . Bathroom had medications and shampoos and towels. Every detail is taken to make your stay as comfortable as possible. 10 stars if I could rate it. Will book again!
Crystal
2017-04-05T00:00:00Z
Downey seems to be a good place to stay to explore LA. We really appreciated its quiet situation after our all-day long visits in LA. The swimming pool was really a luxurious one and Angela's house was full with every little things travelers can need.
Frédéric
2016-07-25T00:00:00Z
What a great place! The pictures were so awesome that I never expected the real thing to live up to them - but it did! And Angela did so much to make us feel welcome - snacks, beautiful decorations, and even a decorated Christmas tree! The neighborhood is quiet and freeway-close. This will be our first choice when we visit southern California in the future!
Karen
2016-12-30T00:00:00Z
My wife and I spent a week here, meeting with our family members in CA. Very spacious home and our grand kids loved being able to run around. It felt like we were at our own home. The host it had set up with a Christmas tree and other decorations, which was a nice touch. She had also provided chocolates and cookies; very thoughtful.
Roger
2016-12-08T00:00:00Z
Szoba típusa
Teljes ház/lakás
---
Ingatlan típusa
Ház
---
Férőhelyek
5
---
Hálószobák
Downey, Kalifornia, Egyesült Államok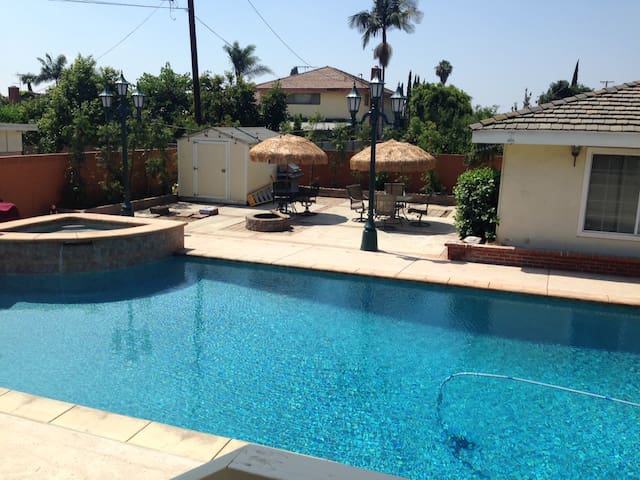 My place is close to family-friendly activities,18 milesDisneyland, 20 miles Universal studios,10miles downtown Los Angeles,21 miles Beverly Hills, 15 miles Long Beach shoreline beach.Bus and metro stop 2 minute walk, Great shopping malls, restaurants, close access to freeways. You'll love my place because of the coziness and the location. My place is good for couples, solo adventurers, and business travelers.
Beautiful newly remodeled designer's model, luxurious very cozy and modern apartment, with everything you will ever need to make your stay comfortable, clean , top quality linens, fully equipped kitchen for all your cooking needs, laundry on site ,free carport parking on a safe,quite, gated building access to fwy's with in few minutes ,2 minute walk to the metro bus stop ,close to all major tourist attractions in S. Cal..bargain price for a 5 star hotel like stay..., like a small villa surroundings.
The host canceled this reservation 80 days before arrival. This is an automated posting.
Annika
2016-10-18T00:00:00Z
Lovely space. Melina was very easy to communicate with and responded quickly. There were some fruit set out for us and the bed was extremely comfortable. Perfect space to stay for a weekend conference. less than an hour from LAX, downtown LA, and Venice Beach.
Katherine
2017-01-29T00:00:00Z
Great place! The apartment is beautifully decorated, the neighborhood is safe and the neighbors are quiet and friendly. The gated parking was also a nice bonus. Melina was easy to get in contact with and responded very quickly. My one and only complaint is the bed-it was hard as a rock! It was so uncomfortable that my gf and I literally slept on the couch all 3 nights. Smh.
Kia
2016-09-26T00:00:00Z
Had a great stay. We loved it
John
2016-09-30T00:00:00Z
The place is very beautiful and very close to main attractions. It's clean, newly renovated and perfect for a small family. It has a complete kitchen and a nice bathroom. Melina was very accommodating to my inquiries and replied promptly. The neighborhood is quiet and neighbors were very helpful. I would highly recommend this place if you would visit LA.
Wyeth-Katherene
2016-10-28T00:00:00Z
Had a great time. Recommend this property. Owner was super nice, have full privacy. Nice cozy one bed apartment. Nicely maintained with all the utilities you may need. 5 star
gaurav
2016-09-23T00:00:00Z
Melina is the best host ever! I'll definitely recommend this apartment at everybody! Thank you Melina
Roberta
2017-01-20T00:00:00Z
Lovely apartment. Nice and quiet for sleeping (rare in So. California). Great for the business traveler.
Ellen
2017-02-24T00:00:00Z
Szoba típusa
Teljes ház/lakás
---
Ingatlan típusa
Lakás
---
Férőhelyek
4
---
Hálószobák
Downey, Kalifornia, Egyesült Államok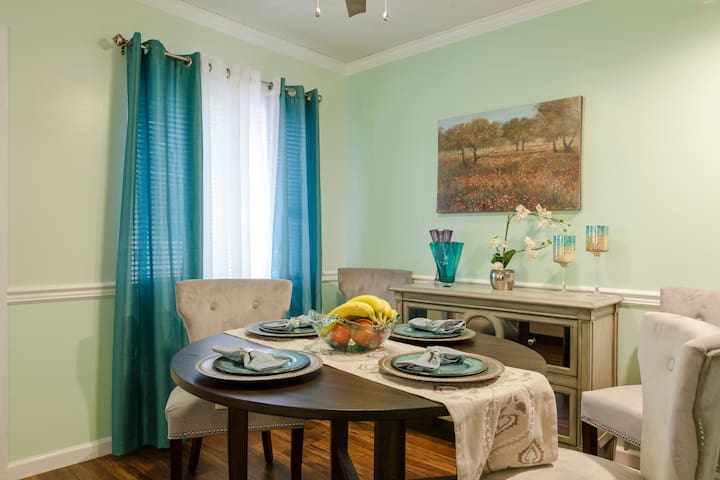 Close to downtown Downey (shopping center, restaurants, bars, museums, etc.) and "Bicycle" Casino in Bell Gardens. 20-25 minutes (depending on traffic) to Los Angeles, Long Beach, Huntington Beach, and more. This is a very cozy home in a quiet neighborhood. Perfect if you're just looking for a place to sleep at night, while you go explore the area during the day. Great for couples, families, and small groups of friends.
Ambiente totalmente familiar y siempre limpio. Pueden solicitar ayuda para cualquier cosa que sea de su interés.
Es un vecindario muy tranquilo y solamente tiene dos calles de acceso, porque todas las demás solamente se comunican entre si pero no directamente a las avenidas.
Excellent place, ma and her husband were very kind and welcoming. Would definitely recommend.
Philippe
2017-02-03T00:00:00Z
A really pleasant, clean and very good stay, very nice people, make me feel like at home. Definitely, I would stay again in other future trip.
Marco
2017-03-03T00:00:00Z
Great stay, they stayed up just to have me check in properly and were very accommodating. The neighborhood is nice and the bed is comfortable. I would most definitely stay here again if I were to swing by the area.
Peter
2016-12-09T00:00:00Z
It's a good place to stay in Los Angeles! Comfy and quiet ! I would stay there again!! Ma is a good host!
Joao Marcelo
2017-01-19T00:00:00Z
Exactly as decribed. I loved my experience.
Takeitha
2017-04-06T00:00:00Z
I stayed for one night in Downey for work and Ma made it very easy for me to do what I need to do and come and go as I please. She is very kind, welcoming, and helpful. Definitely recommend staying there!
Marissa
2017-01-15T00:00:00Z
A beautiful house situated close to freeway across, shopping, and dining. Ma's house was clean and cozy. Both hosts were wonderfully inviting and the bedroom was nicely decorated for a quiet night.
Evan
2017-03-23T00:00:00Z
Very friendly and accommodating. Having a nice place to spend the night made my trip all the better
Michael
2017-03-09T00:00:00Z
Szoba típusa
Privát szoba
---
Ingatlan típusa
Ház
---
Férőhelyek
1
---
Hálószobák
Downey, Kalifornia, Egyesült Államok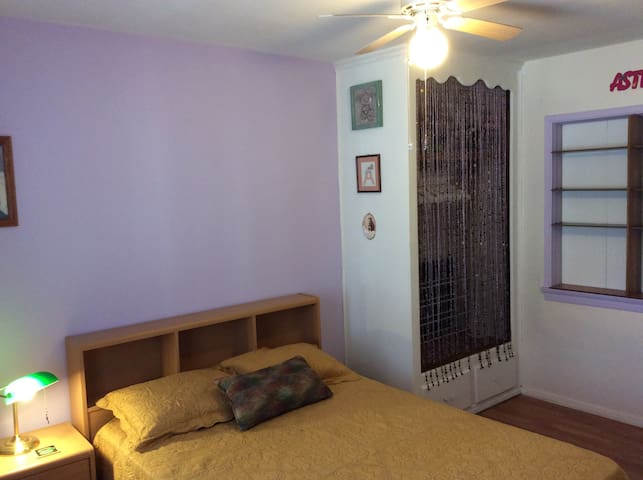 Beautiful home in the heart of Downey. Located in a very quiet neighborhood, Only 30 mins from LAX, 30 mins. from Downtown, 7 minutes from Stonewood Shopping Center, 30 mins. from Disneyland and many restaurants nearby.
I am a single woman who lives with just my furry friend, Coco. It is a very quiet home, great place for a couple to relax and explore the city.
Szoba típusa
Privát szoba
---
Ingatlan típusa
Vendéglakosztály
---
Férőhelyek
2
---
Hálószobák
Downey, Kalifornia, Egyesült Államok
Great location, the room has a twin size bed with full use of apartment including free parking, high speed internet, full use of kitchen and free local gym pass! We are 10 miles to downtown LA, 20 minutes to Disneyland, 25 minutes to Hollywood!
Close to all! We are located close to downtown LA, Hollywood and Disneyland! Quiet residential apartment building with inner courtyard and garden. Onsite laundry is available. Walking distance to many shops and restaurants. Included is a 1 week free pass to a local gym with pool! Yes, I will be present. Traditional residential neighborhood. Close to all major freeways. Many shopping centers and bus lines nearby. Downtown Downey 1/2 mile away with many new restaurants, bakeries, stores and a 24 hour Fresh & Easy. Parking included & $75 airport pick up and drop off available Great location and close to all of LA and Orange County. Downtown LA is 10 miles away. Orange County is 5 miles away. Long Beach is 15 minutes away.
Traditional residential neighborhood. Close to all major freeways. Many shopping centers and bus lines nearby. Downtown Downey 1/2 mile away with many new restaurants, bakeries, stores and a 24 hour Fresh & Easy.
The host canceled this reservation 13 days before arrival. This is an automated posting.
Baden
2015-06-03T00:00:00Z
The host canceled this reservation the day before arrival. This is an automated posting.
Sinan
2016-08-19T00:00:00Z
Overall great experience! It was exactly what I was looking for in a rental- quiet room and nearby the places I needed to be. Chris was very welcoming, gave me a quick orientation to the area, and was very responsive to communication!
Paul
2016-01-16T00:00:00Z
Chris is a wonderful host. He is kind, helpful, and always there for you if you have any questions. The apartment is clean, comfortable, and you have access to all the kitchen use. Parking is convenient. Location is great. Minutes away from groceries, shops, Portos, and multiple hospitals. I am a medical student staying in Downey for a medical rotation, and I was very happy with my experience.
Andy
2016-11-13T00:00:00Z
Comfortable and quiet room as described. Chris was an attentive host. Clean towels were always available. Chris kindly made me delicious meals on occasion. I'd happily recommend others to lodge with Chris if you are staying in the Downey region.
Eric
2014-08-17T00:00:00Z
Excellent host. Apartment is extremely clean and orderly. Best place I have stayed at to date.
Levi
2017-03-13T00:00:00Z
Szoba típusa
Privát szoba
---
Ingatlan típusa
Lakás
---
Férőhelyek
1
---
Hálószobák
Downey, Kalifornia, Egyesült Államok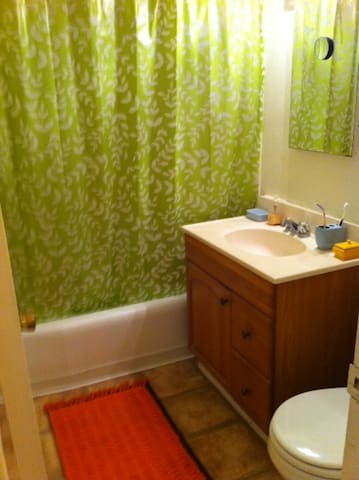 Add meg az időpontokat a teljes ár megtekintéséhez. Felmerülhetnek további költségek illetve adók.