Welcome to Exeter, CA - the gateway to the Sierras! Exeter is 28 miles from the entrance to Sequoia National Park - home of the GIANT Redwoods. Centrally located, our home is within walking distance to downtown Exeter, known for its many beautiful murals & fraught with antique shops, boutiques, and eateries. In our home, you'll have private access to the front part of the house - the game room where you can shoot pool, the mini dining room, a private bath, and bedroom. We hope you enjoy!
Your space makes up the front portion of the house while we will be living in the back half of the house. Our spaces are divided by curtains to give you privacy but should you need us we're just a holler away. Your space includes a private game room, mini dining area, bathroom, and bedroom. In the game room, you can play a round of pool or use the provided board games and cards for a little friendly competition. In the dining area, you'll be provided a Keurig Coffee Maker for daily coffee and tea with all the fixin's. On your table we provide light snacks for your mornings or late night snack attacks. There is a mini fridge where you will find a complementary bottle of wine and beer, water, and extra space for items to keep refrigerated. Lastly, in your dining room you also have a toaster oven and a microwave. Your bathroom has complementary toiletries, a hair dryer, magnifying mirror, and bath/shower combo. The bedroom includes a full size bed, closet to hang clothing, a ceiling fan and table fan should you need it, and extra pillows/blankets. If you need an iron and ironing board, please let us know and we can make sure to leave it in your room. We have a tv that plays dvd's (a collection is provided). Note, a local Redbox location is within a mile.
Jon and Heidi had such a cute home, the space was exactly as described and the little touches (snacks, essentials, cold water just to name a few) made the stay just that much better. The space was roomy, clean as a whistle and attractively decorated. We would definitely give them 5 stars, thumbs up, and super host status :)
angela
2016-07-11T00:00:00Z
We didn't get to meet Jon and Heidi but their place was very cute with small, thoughtful items that made us feel welcome (wine and an assortment of snacks, cookies in the dining area, brochures on nearby national parks, etc.). We enjoyed our stay very much!
Michael
2016-09-05T00:00:00Z
We have always stayed at lovely Airbnbs, but Jon and Heidi went above and beyond as hosts! We were blown away by their hospitality. Their place is exceptionally clean and beautifully decorated, but what made it special was their personal touch. They left notes with recommendations for places to eat and see, as well as homemade cookies on the table and beer in the fridge. My wife and I were there to celebrate our anniversary with a visit to Sequoia National Park, and Jon and Heidi left us a bottle of champagne and a card! It was incredibly thoughtful. We thoroughly enjoyed our chats with them--they are as warm in person as they are on "paper." We would absolutely recommend them to anyone looking for an Airbnb in the area and we will be back when we visit the sequoias again.
Soheil
2016-08-14T00:00:00Z
Jon and Heidi are super welcoming and accommodating. It felt like I had a little place to myself and when I met them, they're me feel very welcome and comfortable. We just relaxed and watched her awesome DVDs all weekend. They add unexpected personal touches to the stay and even offered me some of their awesome-smelling bacon! I highly recommend their place, and encourage you to say hi and meet these very kind people.
Amberly
2017-01-29T00:00:00Z
We had a blast at Jan & Heidi's House! They are super nice and very helpful. An absolute reccommendation! Thank you so much
Daniel
2016-12-30T00:00:00Z
Beautiful space! Friendly, hospitable owners! Fantastic stay overall!
Mike
2017-02-05T00:00:00Z
I had a wonderful stay at Jon and Heidi's place. They are wonderful and warm hosts :-) The place was very clean and quiet place to stay. Heidi responds very quickly to any inquiry about the area and house rules. She is very friendly and welcoming! The place is about 30min drive to the giant sequoia national park entrance so also perfect if you're going to the national park! I would recommend to anybody who is visiting the area!
Meri
2016-08-13T00:00:00Z
Everything at Jon and Heidi's was perfect! Easy checkin, beautiful home, fantastic amenities, and delightful hosts! We will definitely stay there again if we ever go back to Exeter!
Laura
2016-11-11T00:00:00Z
Szoba típusa
Privát szoba
---
Ingatlan típusa
Ház
---
Férőhelyek
2
---
Hálószobák
Exeter, Kalifornia, Egyesült Államok
On the south entrance to Exeter, this historical home offers views of surrounding citrus, foothills and Sierras! There are four rooms. Come see our petting zoo! 2 miles to downtown Exeter, a town filled with murals, restaurants (our own Monet's), apparel and antique shops. Only one hour to Sequoia!
Our guests can enjoy the entire home. We provide breakfast often and mingle with our guests.....over glass of wine, around a campfire or at Monet's, our French restaurant! The property also includes a massage room (you may schedule), full basement with fireplace and pool table and a petting zoo! All to be enjoyed by you!
We were given a warm welcome. The host invited us to join a function she was hosting which was very enjoyable and an opportunity to meet the locals and learn more about the area. Lovely room with the best bed to have a good night's sleep in. Highly recommended.
Ian
2016-12-13T00:00:00Z
We strongly recommendate anyone who is looking for a comfortable and luscious stay in that area.
James
2017-03-28T00:00:00Z
Staying here was nothing but perfect! Jennifer is a great host and is very attentive to her guests. We held an engagement party at the house one of our days there and we could not have asked for a more perfect place to spend time with loved ones. Gorgeous house with amazing views of the snow-capped mountains in the distance. I would recommend this location to anyone!!
Allison
2017-04-02T00:00:00Z
Let me start by saying the house and lands were beautiful and it is close to sequoia national park. The hosts are also very friendly and pleasant. The reason I gave it three stars is because a week or so before we were to stay there I was told that there would be a wedding at the house in the evening in the backyard and kitchen. Also the newlyweds were staying in the master bedroom that night. This resulted in losing one bathroom, one bedroom, and the kitchen. The hosts did make another room out of a non-bedroom for the kids to sleep in. I could have cancelled the reservation but there wasn't a house big enough to host the three families we had so we agreed to this arrangement. The only thing I didn't like about the actual house was the low water pressure. That could have been due to the waterline getting ran over by a wedding guest though.
Russ
2017-03-19T00:00:00Z
The House is just as amazing in real life as it looks in the pictures. The rooms and interior are even prettier! A very special and unique place to stay. Jennifer is a caring and welcoming host and she took care of all of our needs and questions perfectly! Her family is just as lovely. It's a great place to stay for visiting sequoia national park. Highly recommend staying there, a wonderful experience!!!
Sanna
2016-12-30T00:00:00Z
This historic home offers scenic views in a great location, just west of the Sierra foothills, and not far from Lake Kaweah (about 15 minutes away). The beds were comfortable and the home is roomy and spacious. Access to this property and availability for parking is easy. This property has a lot of potential once details have been finalized. We recommend it!
Terry
2017-02-16T00:00:00Z
The host canceled this reservation the day before arrival. This is an automated posting.
Eunyoung
2017-02-18T00:00:00Z
Jennifer's house was one of the best experiences in our long trip around national parks and canyons of the West. Beautifully appointed Plantation-style home was an enormously charming place to stay. Old times charm and serene scenery with orange-tree fields and mountains in view permeated the air. The house was big for 8 people in our party, and we enjoyed every minute being in it. On top of that, Jennifer was such a nice host that we still don't have proper words to describe it. She not only welcomed us in person despite arriving almost at midnight, sent a bottle of wine and oranges, but also arranged tire chains for free. We also enormously enjoyed the evening with wine tasting and live music in her restaurant Monet. We can only envy ourselves for having had the opportunity to experience such a beauty and goodness. Thank you, Dear Jennifer!!
Nida
2017-03-14T00:00:00Z
Szoba típusa
Teljes ház/lakás
---
Ingatlan típusa
Ház
---
Férőhelyek
9
---
Hálószobák
Exeter, Kalifornia, Egyesült Államok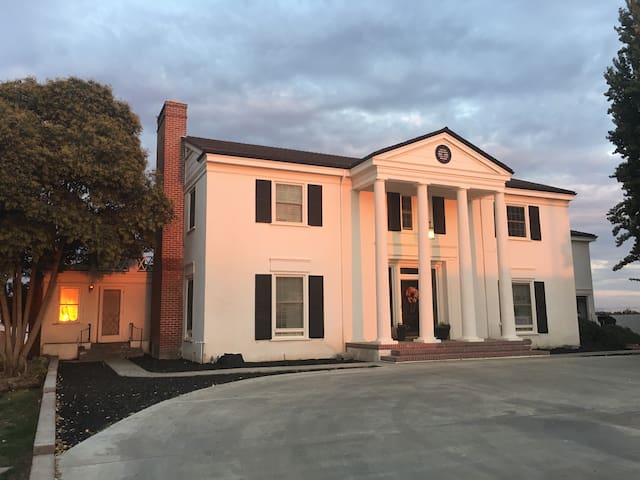 Beautiful horse ranch in Exeter CA at the base of Sequoia and Kings Canyon National Parks and other surrounding cities and close to Visalia and Tulare. Nice big home with 2 private bedrooms and full bath. Use of living space and kitchen! Horseback riding lessons available also.
Beautiful swimming pool and fire pit outside near a running stream.
My experience with David's place was awesome! I stayed for a week while I transitioned into a new house and I was looking for a place where I could wash my clothes, had kitchen privileges, and my own room. The home and location was as advertised plus very clean and tranquil. The room(s) are at opposite ends of the home so I wasn't worried about being too loud if I came home late because of work. I appreciated both my privacy as well as the ability to have interaction with the host. David and Derrick are good people and their hospitality makes for a pleasant experience
Joseph
2017-03-17T00:00:00Z
Beautiful horse ranch!
Mike
2017-03-01T00:00:00Z
I needed a place on somewhat short notice to attend the International Ag Expo in Tulare and found David's place. What a find! The house was lovely, and located in a very agricultural setting - horses out front due to David's world-reknown skills as a horseman, and some prize-winning goats and sheep to the side that his partner Derrick handles as part of a livestock showing circuit for youth 9-19. There are beautiful views of the snow covered mountains in the distance and a pool and fire pit in back. I was only sorry I didn't have more time in the house to appreciate it. I could not have felt more at home. And to add to the charm, there are three sweet-natured dogs who will practically lie down on you for lovies. The kitchen is spacious and well-equipped, and I had space in the fridge for my groceries, so I was able to cook at needed. I could not have asked for more delightful company than David and Derrick. It was a welcome reprieve to leave the hustle and bustle of the trade show to sink into the quiet and calm at David's lovely home. The bed was very comfortable and there is a second bedroom with two twin beds for families with kids. I could imagine this as a great launching pad for trips to Sequoia National Park, which I did not have the time to explore this trip. It also allowed me to attend the show arriving from the east, using back roads so I didn't have any traffic issues, just some fog the first day. Thank you for a relaxing and wonderful experience. If I have any future trips to the area, I'll look here first for a 5-star place to stay.
Mary
2017-02-16T00:00:00Z
Szoba típusa
Privát szoba
---
Ingatlan típusa
Ház
---
Férőhelyek
4
---
Hálószobák
Exeter, Kalifornia, Egyesült Államok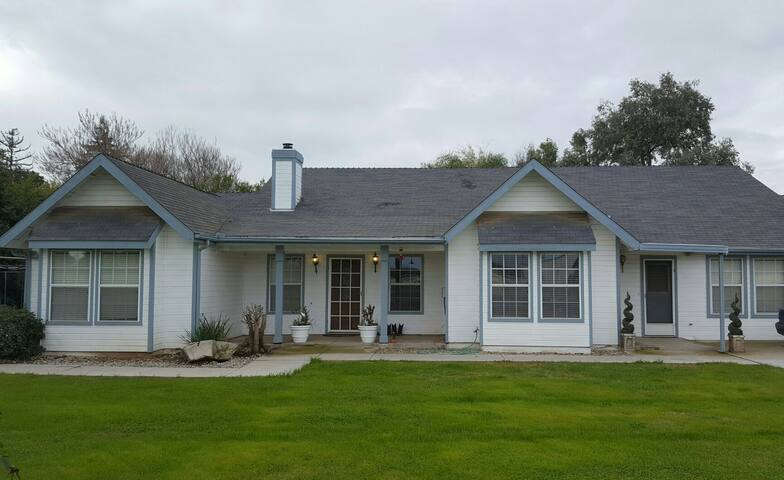 A beautiful room in Exeter, Ca awaits. Close to downtown dining/shopping and near Sequioa National Park. Enjoy complimentary bottled waters, protein bars, fruit, and coffee via the Tassimo coffee maker.
Enjoy your own beautiful private room and bath in our home. Two steps to enter and you'll likely be greeted with jumps and kisses by the sweetest and fluffiest little pup (hypoallergenic Toy Poodle). Lucy is well trained, very friendly and often mistaken for a stuffed animal. There will be snacks, fruit and bottled water provided for you in your room. There is also a coffee bar in the kitchen and a filtered instant hot water faucet to make coffee via a French press. We have a sparkling salt water pool for those hot summer days. You can also enjoy the back patio dining area or chaise chairs to relax.
Our home is in the Park Place neighborhood with its own park, walking distance from the home. It is quiet and has plenty of parking. It is surrounded as most of Exeter is, by orange groves. If you are visiting during the time the orange trees blossoms you'll get the special treat to experience how the whole town smells like orange blossoms. On clear days you can see the High sierras to the East, which are currently covered in snow. It's spectacular.
Szoba típusa
Privát szoba
---
Ingatlan típusa
Ház
---
Férőhelyek
2
---
Hálószobák
Exeter, Kalifornia, Egyesült Államok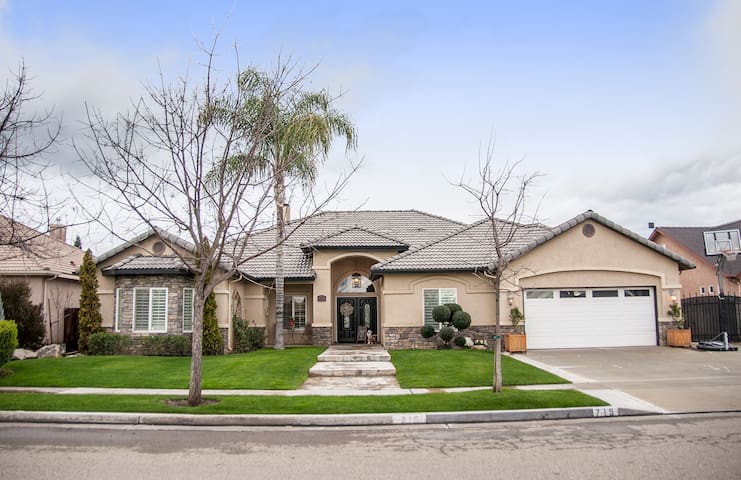 My place is close to Sequoia National Park, Yosemite National Park, beautiful orchards & countryside. You'll love my place because of the relaxing location away from the hustle & bustle. Completely remodeld 1940s bungalow.. My place is good for couples, solo adventurers, and families (with kids).
Szoba típusa
Teljes ház/lakás
---
Ingatlan típusa
Ház
---
Férőhelyek
4
---
Hálószobák
Exeter, Kalifornia, Egyesült Államok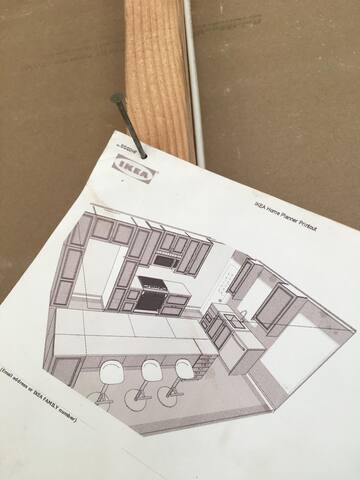 Master bedroom with attached bathroom, extra twin bed, fireplace and small refrigerator
One of the best airbnb I have been to, the host and people living in that beautiful house are so gentle and welcoming. Jennifer restaurant is also very good ! I wish I could have stay longer.
Benjamin
2016-11-12T00:00:00Z
Jennifer, our host, was very helpful and delightful in welcoming us to her "White House." The inside was tastefully decorated for the holidays and a private party was hosted on the first floor. My sister and I were attending a family Christmas gathering a few miles away so the location and accomadations were perfect. Upon our return we were greeted by Terri the caretaker who oversees the home and makes sure everything is running smoothly. Terri quickly escorted us in for a nightcap and introduced us to the others who were celebrating the holiday season. Jennifer, our host, made us feel more like long lost friends other than house guests. Our large room included a working fireplace and an attached bathroom. The bed was extremely comfortable and the comforter kept us cozy all night. Breakfast was prepared by Terri and it was yummy!
Kim
2016-12-18T00:00:00Z
Jennifer was great. Her guests were very nice and accommodating. Gave us a tour of the entire house and was extremely professional and polite. Made sure we were well taken care of and even provided a log for our fireplace in the master bedroom where we stayed for one night. Was very pleased with the overall experience and would stay again in the future.
Vincent
2016-11-26T00:00:00Z
Jennifer's house is exactly as in the photos on the website, the room we stayed in had a very comfy king size bed and plenty of space for our stuff. Before we checked in in the evening, me and my boyfriend we decided to go have dinner at Jennifer's french restaurant based in Exeter as well and called Monet's. The food was super delicious and fine tasting. We highly recommend Jennifer's place to any other travellers who wanna stop by or wanna visit Sequoia National Park or any other nature lover!
Andreea
2017-02-03T00:00:00Z
This place is very cozy. We loved the fireplace! The owner is very friendly and helpful. There were other people staying in the house and it was nice to socialize with them.
Ramin
2016-12-31T00:00:00Z
Jennifer has a great property in a beautiful area of the country. Her home is engulfed in ag land, California and has some really great views. I would recommend this stay if you are wanting to get away from the buzz of city life.
Neale
2017-02-16T00:00:00Z
This house is gorgeous inside and Jennifer has done an incredible job of giving each room a unique feel with antiques, art, and furniture with character. The grounds are also gorgeous, with a pool and a view to the mountains. There's an upstairs balcony that is great for taking in the view. Fun amenities include a record player, multiple fireplaces, a library with a fantastic selection of books, and a finished basement with a pool table and large screen television. The location is very convenient and easy to find - right on 65, a five minute drive (or less) from Exeter. Exeter is a really cute town and the murals are super fun. Jennifer works very hard to accommodate and responds to communication quickly. Sound travels fairly well in the large house, so keep that in mind when booking a single room (as opposed to the entire house). There is a small room with attached bath that is detached from the rest of the house, which is where we stayed. It was great to have the privacy and we didn't hear any sound from the main house.
Anna
2017-02-13T00:00:00Z
We really enjoyed our stay at Jennifer's place. She is very friendly and a great host. We also had dinner at her restaurant in town and it was a great experience!.
John
2017-03-05T00:00:00Z
Szoba típusa
Privát szoba
---
Ingatlan típusa
Ház
---
Férőhelyek
3
---
Hálószobák
Exeter, Kalifornia, Egyesült Államok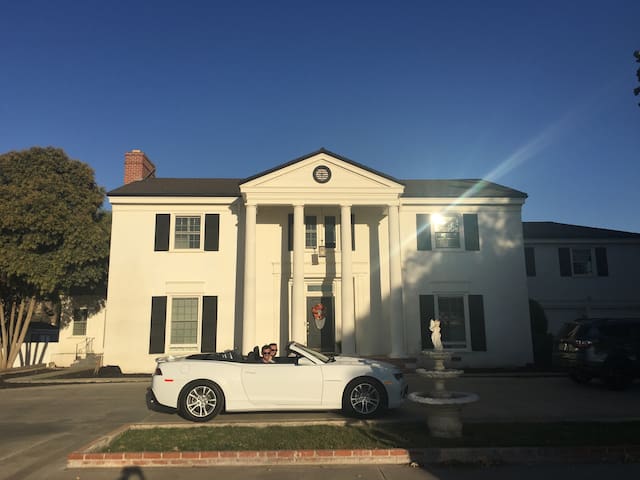 We have beautiful home with three rooms to rent one room queen bed and 2 rooms with 2 twins in each room. indoor fire place, pool, horses and fire pit its peaceful and relaxing but not to far from town 10 min to Visalia, on the way to the Sequoias
We rent the full house 3 bedrooms 1 1/2 baths 2 living rooms kitchen (excluding master room and garage )
Had a fabulous weekend. Great pool for a dip at the end of the day. Spacious and clean house.
Bertine
2014-05-27T00:00:00Z
Very beautiful house with horses! Had an enjoyable stay there!
Jacky
2016-08-11T00:00:00Z
Very nice home and nice location. Our family enjoy the space.
etty
2016-06-25T00:00:00Z
Best experience! Better than we had thought! Todo fue perfecto, la localizacion era mug buena, cerca del pueblo pero apartada de los ruidos. Los animales preciosos y la piscina y el jardín te hacen disfrutar de estar al aire libre. Si volviese por esa zona sin lugar a duda volvería a contar con la amabilidad de Irene, todo un placer.
J&F
2016-04-17T00:00:00Z
The house is large and clean. Irene was very quick to respond. We did not use the pool and such but it seemed clean and well maintained. The property is a working horse farm so city slickers need to be ready for unusual smells. I will stay here again since we visit the area often.
Ralph
2015-10-04T00:00:00Z
Awesome place to stay, well furnished and everything you need is there. Had no issue with checking in and out. Would love to book again for our summer trip. Thanks for accepting our request to stay.
sana
2015-03-29T00:00:00Z
The host canceled this reservation the day before arrival. This is an automated posting.
Fernando
2016-07-17T00:00:00Z
Jose is an amazing guest, though I didn't get to welcome him myself coz I was outta town but we stayed in tough via texts, he is very polite and nice, highly recommend to all hosts.
Pony
2016-05-26T00:00:00Z
Szoba típusa
Teljes ház/lakás
---
Ingatlan típusa
Ház
---
Férőhelyek
6
---
Hálószobák
Exeter, Kalifornia, Egyesült Államok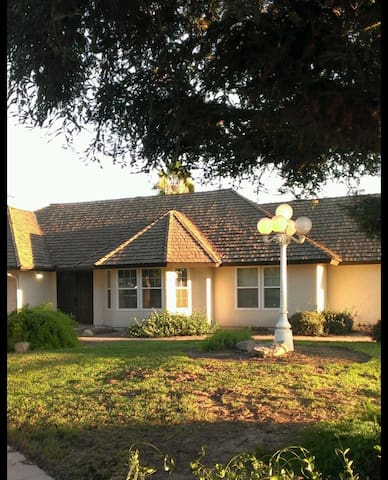 Large private room includes full size bed area, sitting area and private refrigerator and microwave. Private entrance and full bath with shower. Use of kitchen and beautiful pool outdoors. Room located just 20 minutes from Sequoia/Kings Canyon Parks
Private entrance on working horse ranch
Szoba típusa
Privát szoba
---
Ingatlan típusa
Ház
---
Férőhelyek
4
---
Hálószobák
Exeter, Kalifornia, Egyesült Államok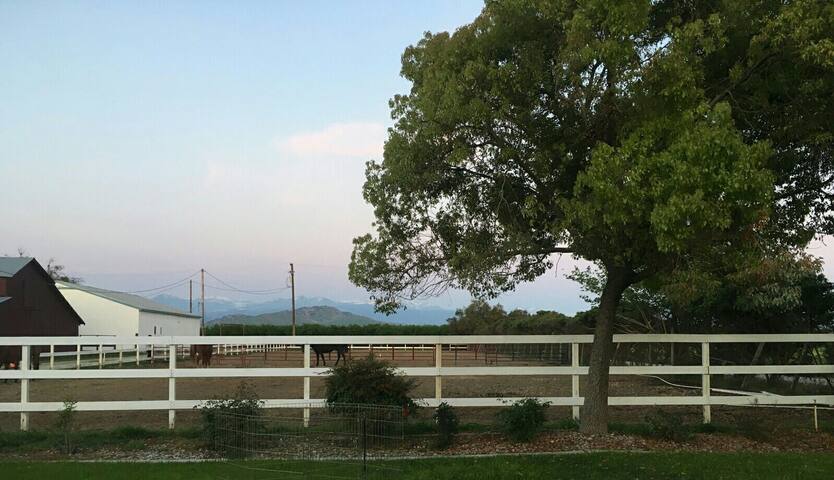 Add meg az időpontokat a teljes ár megtekintéséhez. Felmerülhetnek további költségek illetve adók.