One bedroom apartment - should you be interested in booking only for one person, please contact us. Situated on the historic Via Claudia Augusta, the AlpenRetreat is a renovated 500 year-old former inn and manor house, full of history, character, and magnificent panoramic views. Facilities include: - The inn's traditional "stube" with gorgeous wood paneling and traditional farmers "kachel" oven, provides the perfect setting for relaxing after a day on the slope or after a hike through Alpine forests. -Our bright, cozy rooms are all inspired by the themes and cultures we have come across on our travels, blended tastefully with the traditional Tyrolean style. -We recently turned what was a dusty attic into a bright, sunny, 150m² seminar room. No smoking anywhere inside the house please :) Additional facilities include: -formal dining room -shared kitchen -huge garden with seating areas for relaxing in the sunshine -on-site car park -gas station and little shop in walking distance Extras: -breakfast can be provided -mountain bikes for rent -paraglyder for rent -various types of massages when arranged beforehand Located on two hectares of land surrounded by protected forest, we are a perfect jump-off point for hikes or day trips to visit the many brilliant blue lakes and ancient castles that dot the surrounding area. With countless hiking and mountain biking trails beginning within meters of the house, there is a trail for nearly every level of skill and difficulty. We are also very close to the Zugspitz arena, with a combined total of 30 individual pistes. With pistes above 2500 metres, skiing and snowboarding is assured throughout the season. 45min drive from the German border, 1 ½ hr from Italy and 1 hr from Switzerland. Within 1 hour's drive of Memmingen and Innsbruck airports, 1 ½ hr from Munich airport. All airports with major budget airline connections to/from UK, Spain, Italy, Ireland, Sweden, Portugal and Belgium. 3 train stations within 30 min drive, Garmisch Patenkirchen, Fuessen and Imst/Ö Bus connections from the surrounding cities directly to our doorstep .
The scenery was great. Fernpaß by Reute, Austria and Garmisch, Germany. Was surprised to find this gem of traditional Tyrolean Gästhof and international yoga retreat, near bike and footpaths. Fraser was an attentive and wonderful host. Vegetarian meals and a wonderful and open community feeling. Not a sterile hotel but clean loving, charming and welcoming. I loved it. I will go again. Jim.
James
2016-07-11T00:00:00Z
It was a wonderful location and very calm. The food offered by the host was the best we tasted for many days. The bed was very comfortable. There was a group activity in the main building but we were sufficiently separated that we were able to relax in our own apartment, we had our own entrance to the apartment, not via the main building. The view on the mountains was fantastic from the terrace. I would recommend this location for anyone. Good location, good conversations, good food.
Paul
2016-09-02T00:00:00Z
An absolutley lovely and perfect stay. A real jewel in the Alps, not the typical boring countryside house, but a place to stay with soul. Great room, wonderful food and nice encounters.
Alexander
2015-12-12T00:00:00Z
Fraser and his companion and everyone else at the retreat were wonderful. The second we arrived, we felt like we were visiting our family's home. The spectacular view, the peaceful silence only to be broken by the sound of sheep calls and cow bells was the best way to end... and begin each day.
Elydia
2015-07-07T00:00:00Z
Alles großartig, am besten war das Frühstück (porridge zum reinlegen und leckeres brot!), die yogaklasse (die auch super spontan möglich war) und vor allem: wahnsinnig nette und jederzeit hilfsbereite Gastgeber, die uns vom Wanderweg bis zum innsbruck-tipp oder der yogaschule in Stuttgart eine Menge geholfen haben. Zimmer und Haus sind gemütlich und entsprechen eigentlich genau der Beschreibung, die Landschaft ist schön für jeden der Berge mag - also wir waren nicht zum letzten mal da!
Sid
2015-05-25T00:00:00Z
The staff at AlpenRetreat were welcoming and helpful. They gave us tips on what to do in the area and made sure we were comfortable. The room was spacious and the view out the door was beautiful. Great location for exploring the area. Wonderful yoga classes and friendly welcoming environment. The food was tasty and a great option.
Leah
2016-01-16T00:00:00Z
I stayed one night at Alpen retreat and can recommend it. It is really nice place, clean and welcoming and the surroundings and views are beautiful.
Lucie
2015-06-21T00:00:00Z
Was passing through and was able to stay here last minute. Beautiful area right on a fun hiking trail. Also a few minutes walk from the bus stop so it was very easy for me to travel here. Very quiet and peaceful with extraordinaryly kind staff.
Daniel
2017-04-06T00:00:00Z
Szoba típusa
Privát szoba
---
Ingatlan típusa
Lakás
---
Férőhelyek
2
---
Hálószobák
Nassereith, Tirol, Ausztria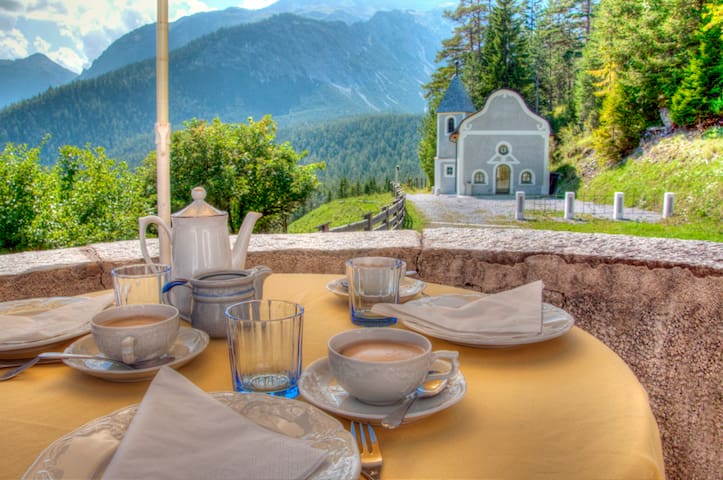 The Birkenhof is located in an exclusive panoramic location quiet, sunny and central, but off the main road. The village center, the gondola, the ski, the public outdoor pool, sports facilities and parks, the public indoor pool (Spa water park and Saun
The host canceled this reservation 4 days before arrival. This is an automated posting.
Fabian
2016-03-01T00:00:00Z
Szoba típusa
Teljes ház/lakás
---
Ingatlan típusa
Lakás
---
Férőhelyek
2
---
Hálószobák
Lermoos, Tirol, Ausztria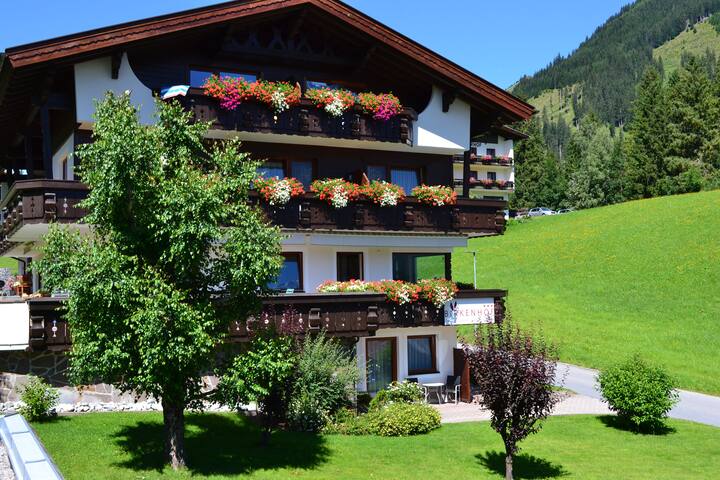 The Birkenhof is located in an exclusive panoramic location quiet, sunny and central, but off the main road. The village center, the gondola, the ski, the public outdoor pool, sports facilities and parks, the public indoor pool (Spa water park and sauna paradise) are only about 1-2 minutes walk from our house. The luxury apartments and rooms in alpine Lifstyle are top quality, modern and comfortably furnished and offer space for the whole family, as a couple or with children.
Unique panoramic location with uninterrupted mountain views and sun terrace. In 1-2 minutes' walk from town center, lifts, ski lifts, ski school, Public indoor pool, outdoor pool, children's playground, restaurants and inns.
Landscaped lawns and clear view of the entire mountain landscape
Die Ferienwohnung hat uns sehr gut gefallen. Wir hatten einen tollen Blick auf die Berge und haben uns sehr wohl gefühlt. Pluspunkt: Wir konnten Frühstück bei Bedarf tageweise dazu buchen. Eine wirklich schöne Unterkunft abseits von Trubel und trotzdem nah zum Ortskern. Der freie Blick auf die Berge war großartig! Definitiv weiter zu empfehlen.
Esther
2015-09-25T00:00:00Z
Everything ok, perfect accomodation. Only between entrance wtih bathroom and bedroom could be door..
Oldřich
2015-09-28T00:00:00Z
Absolutamente perfecta!!!El apartamento es amplisimo, nuevo y tiene todas las comodidades. La vista de las montañas es maravillosa desde todas las habitaciones, simplemente te absorbe. El edificio es precioso: una casa tirolesa de postal. Los valles ofrecen mil actividades de senderismo muy cercanas y la subida al Zugspitz, que ves desde la ventana es impresionante. La atencion de Clemens y su hijo muy atenta. Muy, muy recomendable: nosotros volveremos
Maria Jose
2016-07-24T00:00:00Z
Das Apartment war gemütlich eingerichtet. Die Lage war super, nicht zu nah an der viel befahrenen Hauptstraße und nicht zu weit weg davon. Alles ist gut zu Fuß erreichbar. Das zubuchbare Frühstück war gut, aber es hatte jetzt auch keine Besonderheiten. Aber für uns als Skiurlauber auf jeden Fall ausreichend.
Niklas
2016-03-29T00:00:00Z
Szoba típusa
Teljes ház/lakás
---
Ingatlan típusa
Lakás
---
Férőhelyek
4
---
Hálószobák
Lermoos, Tirol, Ausztria