Se nachází v Myrtos na Krétě kraji, jen 10 m od pláže, Myrtos Mare Suites s terasou a výhledem na moře. Agios Nikolaos je 51 km od hotelu. K ubytování je klimatizovaný a má posezení. K dispozici je také kuchyňský kout, který je vybaven s troubou. Mikrovlnná trouba a kávovar jsou také k dispozici. Ručníky a povlečení jsou poskytovány.
It's a quiet and lovely place, we really enjoyed Mirtos and the proximity with the sea is enjoyable! The negative point is maybe the communication with our host (he was late for our leaving check).
Audrey
2017-04-10T00:00:00Z
Mare Suite is a piece heaven in the earth, imagine wake up with soothing sounds of waves crashing on the beach, open the curtain and see an infinite sea, enjoy the quiet of small seaside village, surrounding of nature with a lot of trekking paths and end the day with a sunset from the balcony. As you can see in the pictures the studio is complete new, well decorted and with all do you need. Dont doubts it, this place is perfect.
Salomón
2017-02-19T00:00:00Z
Szoba típusa
Teljes ház/lakás
---
Ingatlan típusa
Lakás
---
Férőhelyek
2
---
Hálószobák
Neos Mirtos, Görögország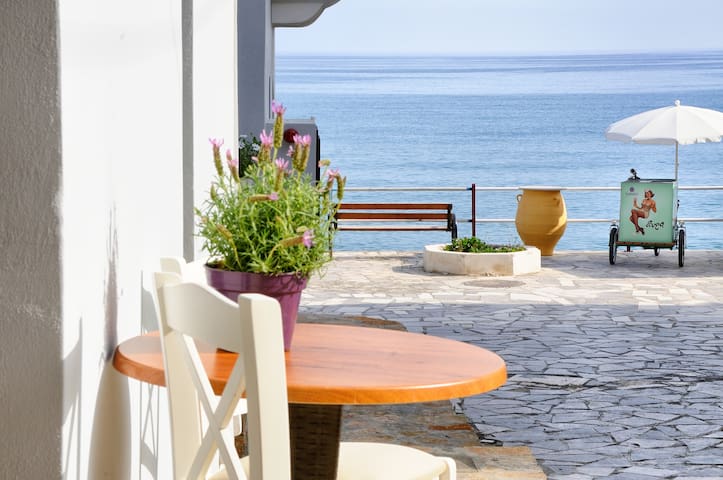 Traditional restaurated Cretan house with cosy swimmingpool, great views on nature, on the edge of small village Gdochia, 5 km from Mirtos. Great location for walking, specially springtime and autumn/winter. The house has three double bedrooms. Suits families with children.
Three double bedrooms, a loungeroom, livingroom and fully equiped kitchen. Large garden with spectaculair view on the olive fields and mountains. Nature around, 40 min walk to sea, pool for kids and cooling, parking place 30m distance.
A small traditional Cretan village, olive fields, view of the sea at a distance of 3 km. A lot of walking possibilities and a gorge in the neighbourhood. Archeological site at a distance of 5 km.
Anke a répondu très rapidement à notre demande et nous a envoyé plusieurs messages d'explications. Anke nous a bien décrit l'endroit et la maison . Roen est d'une extrème gentillesse. L'endroit est très calme et reposant. La maison est très spacieuse avec de bons lits et une grande cuisine très bien aménagée. La décoration est superbe, nous avons écouté de la belle musique et vécu de très belles heures au milieu des cigales et des chats . La vue de la terrasse est époustouflante, cette terrasse est très grande et bien pensée avec des zones d'ombre, elle est très bien fleurie et tout le mobilier dont nous avez besoin. Malgré l'accès surprenant le premier jour, nous sommes tout près de Myrtos encore resté authentique où nous avons trouvé des petits restos comme nous les adorons avec des gens si gentils . Tout cela loin des endroits touristiques. Nous avons envie d'y retourner naturellement et d'y envoyer notre famille et nos amis .
Isabelle
2016-06-16T00:00:00Z
Unsere Woche im April im Haus in Gdochia war toll! Es ist der perfekte Ort für eine ruhige Zeit mitten in der Natur. Es gibt tolle Wanderwege direkt um das Haus herum. Herrlich! Wir haben den Bruder von Anke als Ansprechpartner direkt neben uns wohnen gehabt. Er ist mehr als nur eine gute Seele! Über seine Pflichten als Ansprechpartner hinaus haben wir ihn als sehr netten Mensch in geselligen Runden kennen gelernt. Er hat uns bei Schwierigkeiten mit dem Wifi geholfen und war bei jeglichen Fragen immer erreichbar. Vielen Dank an dieser Stelle nochmal an den immer gut gelaunten Roen. Das Haus ansich ist großzügig, im traditionellen Stil gehalten und wunderschön, mit viel Geschmack eingerichtet. Das einzige Manko, was wir hatten war das zuvor ungewöhnlich nasse Wetter , welches dafür sorgte, dass das Haus feucht war. Die Zimmer ließen sich nicht alle heizen. Deshalb ist es ratsam für einen Aufenthalt im Frühling wärmere Schlafsachen mitzunehmen, da es in der Nacht (ohne Ofen im Zimmer) sehr kalt wird. Im wärmeren Zeiten wird es diese Schwierigkeit mit Sicherheit nicht geben. Das Badezimmer ist in einem Extrahäuschen neben der Terasse. Wir fanden das sehr angenehm. Manchmal gab es nicht so viel warmes Wasser im Bad, das war aber für uns nicht so schlimm. Das 2. der 3 Schlafzimmer ist ebenfalls nur zugänglich über die Terrasse und deshalb vom restlichen Wohnbereich abgetrennt. Ein Traum ist der Blick am Morgen von der Terrasse auf die grünen Wiesen, Berge und das Meer. Wir vermissen diese Atmosphäre schon jetzt sehr und würden jederzeit nochmals in das Haus in Gdochia reisen. Einkaufen kann man wunderbar im nicht weit entfernten Mirtos, ein hübscher und noch nicht zu touristischer Ort an der Küste. Dort gibt es auch günstige und gute Tavernen. Wichtig ist noch, falls man einen Mietwagen gebucht hat, dass man einen Wagen mietet, der auch in steilerem, unbefestigtem Gelände klar kommt. Ansonsten kann die Zufahrt zum Haus ein bisschen aufregend sein :) Wir danken für die gute Zeit! Vielleicht bis nächstes Jahr! Nicole, Rebekka, Rebecca, Salome und Sarah
Sarah
2015-04-06T00:00:00Z
It was really nice stay. Everything was fine - especially the the view and the herbs in the garden...
Julia
2016-11-18T00:00:00Z
It was a truly beautiful place to stay, very relaxing, beautiful views and sunrises and sets. Food for the soul, very nice host who left you to enjoy, and helped you if needed. Very near to Mytos, lovely beaches all around and great fish and other food. Enjoyed so much we would totally recommend for young families such as ours, our three young children loved having fun in the little pool and playing there. Would highly recommend it, you need a hire car. Thank you very much we had a fantastic time and are very grateful xxxxx
Carla
2016-10-09T00:00:00Z
Nice and quiet place Perfect for relax and discover the cretan south est We recommand it
MARYLENE
2017-03-19T00:00:00Z
House Gdochia is located as the name says in Gdochia which is a very small village far away from tourism and noise. The only sound you hear, is the hypnotizing voice of birds, frogs and crickets. You need a car to reach the village. The house itself is a awesome, calm and traditional furnished dream embedded in breathtaking nature with everything you need for a perfect stay. Roen, Ankes brother, lives nearby and rebuilt the house by himself. He gave us good tipps for local non-tourist-spots as for example Tertsa with its wonderful beach (7km) or Mirtos (3km) with its traditional tavernes (low price). We had a pleasent stay and didnt wanna leave at all.
Nadine
2015-05-30T00:00:00Z
Es war wunderschön im Haus von Anne und Roen! Die wunderbare Aussicht über die Berge und das Meer, die Katzen, die auf der Terrasse liegen und uns um die Beine streifen haben nicht nur unsere Kinder entzückt. Und erst die herrlichen frisch gepflückten Orangen und das Olivenöl mit dem Roen uns verwöhnte waren ein Genuss. Das Haus und der Garten sind natürlich und geschmackvoll eingerichtet, ein toller Urlaub.
Eva
2015-05-19T00:00:00Z
It is a very lovely house with a beautiful view! We loved it! Everything was clean and the owner of the house was very friendly and helped us with any question. We will definately come back!
Jule
2015-05-09T00:00:00Z
Szoba típusa
Teljes ház/lakás
---
Ingatlan típusa
Ház
---
Férőhelyek
6
---
Hálószobák
Gdochia, Crete, Görögország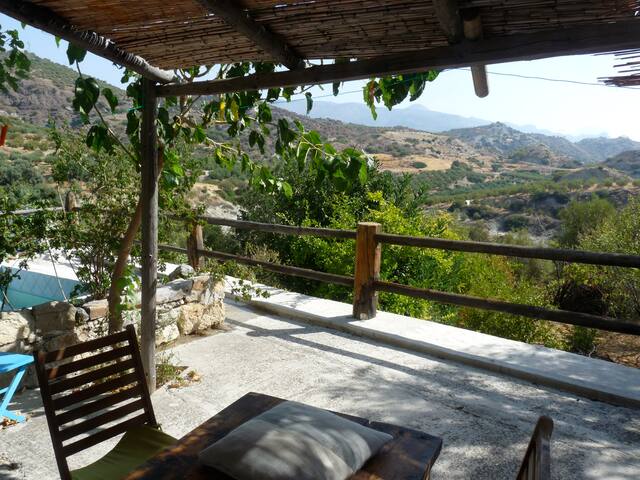 Myrtos Harmony Studio ist ein Split-Level-Studio befindet sich nur 5 Meter vom Strand entfernt von dem traditionellen Dorf Myrtos. Es ist mit Sofa / Bett, Flachbild-TV, A / C und Wi-Fi aus einem Wohnzimmer bestand. Auf der oberen Ebene befindet sich ein Doppelbett mit einem schönen Fensteröffnung, die einen direkten Blick auf das Meer hat. Es gibt auch eine Küchenzeile mit Kühlschrank und Herdplatten sowie ein Bad mit Dusche und kostenlosen Pflegeprodukten.
Myrtos Harmony Studio Split-Level-Studio befindet sich nur 5 Meter vom Strand entfernt von dem traditionellen Dorf Myrtos. Es ist mit Sofa / Bett, Flachbild-TV, A / C und Wi-Fi aus einem Wohnzimmer bestand. Auf der oberen Ebene befindet sich ein Doppelbett mit einem schönen Fensteröffnung, die einen direkten Blick auf das Meer hat. Es gibt auch eine Küchenzeile mit Kühlschrank und Herdplatten sowie ein Bad, Dusche und kostenlosen Pflegeprodukten. Unsere Gäste können auch den ruhigen Garten mit Bestuhlung und Schaukel genießen.
Aktivitäten, die in der Umgebung gehören Radfahren, Angeln und Wandern zu Selekano Wald oder ein Auto mieten und erkunden Sie die historischen Stätten und die Schönheiten von Kreta genießen können. Restaurants (Tavernen) sind ca. 25 m entfernt.
We had a good time at Myrtos Harmony, especially for the kindness of the hosts and of Vasilis. The house overlooks the sea which is only a few steps away. There is also a shared garden at the back if one wants more privacy when there are no neighbours. The apartment is new and clean, maybe a bit small for three adults but good enough for a couple with child.
Rosa
2016-09-17T00:00:00Z
Our stay in Mirtos was great! The apartment is very nice and fully equipped. You can hear the sound of the sea fronm the window, perfect! The owners are friendly and kind. The town itself is perfect for a quiet stay in a very interesting area of the island. Thank you Vasilis!
emanuela
2016-08-13T00:00:00Z
Szoba típusa
Teljes ház/lakás
---
Ingatlan típusa
Lakás
---
Férőhelyek
3
---
Hálószobák
Myrtos, Crete, Görögország
A szobám közel van a mindössze 60 méterre a tengertől, egy nagy strand tiszta vízzel Blue (URL HIDDEN) szupermarket és pékség a 50 metra.Konta (60M) fogja találni vendéglők, éttermek, kávézók és hagyományos kávézók ahol élvezheti a hagyományos ételek és italok, valamint számos kereskedelmi magazia.20 méterre van a múzeum Myrtos és a parttól 1 km található a minószi település sütő tetején.
rested month with a small child , a nice quiet town , great food , and beautiful sea , good hosts , gave a cot for the baby, a good economical option ...
Сергей
2016-08-21T00:00:00Z
Bellissima vacanza, sicuramente torneremo e sicuramente prenoteremo di nuovo a Villa Mare grazie a presto
andrea
2016-10-30T00:00:00Z
Maria was really nice and pleased to meet us, she answered quickly and gave us all the information we need (with a plan). The room was clean and big, with kitchen and a courtyard. However, the place is not really adapted for a family, mostly for young people who is looking for a good price. It smelled a little bit musty.
Léa
2016-06-16T00:00:00Z
Charmante pension au coeur d un magnifique et authentique village. Mobilier un peu désuet et équipement léger, mais sans importance pour nous !
Antoine
2016-07-06T00:00:00Z
Szoba típusa
Teljes ház/lakás
---
Ingatlan típusa
Társasház
---
Férőhelyek
5
---
Hálószobák
Myrtos, Crete, Görögország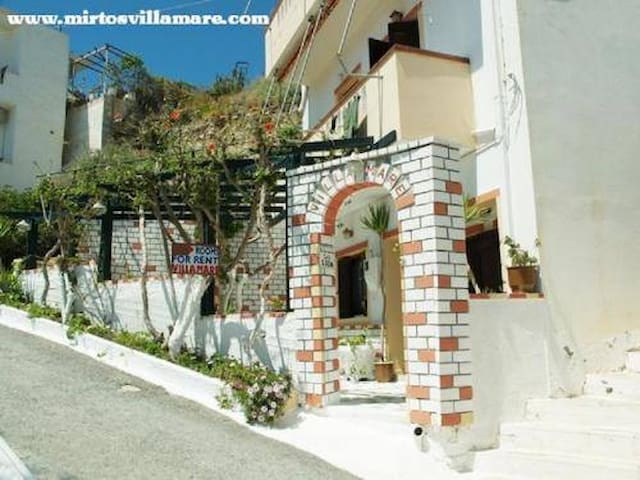 This is a fully renovated 37 m2 apartment literally on the beach. -It is located in the very peaceful village of Tertsa (91km south of Iraklion and 25km west of Ierapetra), in front of which lies a quiet beach. -There are 3 taverns and a small grocery store. -The kitchen is equipped with everything you need. - The bedroom has one double bed and one bunk bed (not really recommended for adults) -Free Wi-Fi -A/C -CAR IS MANDATORY -We expect you to treat the house as it were yours :)
Excellent accueil de Giannis et de sa famille et surtout de Sofia sa charmante grand mère dans un appartement "les pieds dans l'eau" car on saute du balcon (rez de chaussée) sur la plage, nous avons passé un excellent séjour..... il est situé dans un petit village animé mais tranquille le soir, vraiment un endroit sympa pour une famille.
SOPHIE
2016-07-30T00:00:00Z
Accoglienza eccellente e amichevole, con gesti di ospitalità 'familiare' da pare dei parenti del Ospitante, i quali vivono poco lontano. La località è piccolissima, molto tranquilla, la casa direttamente sulla spiaggia. Ospitante disponibile anche in caso di piccoli inconvenienti non di sua competenza
Maurizio
2016-07-17T00:00:00Z
Giannis and family are natural hosts. He was very helpful sending directions before we arrived and quickly answered any questions I had. He met us when we arrived and we were instantly made to feel at home. The apartment is absolutely as described, but the beech view is out of this world. We couldn't believe how beautiful the setting is. The apartment was spotless and was generously stocked with essentials. Gianni's generous, welcoming family are nearby for any problems (there were none) and good advice on the local area. We were warmly sent on our way with pomegranates, basil and jasmine. I couldn't recommend this stay highly enough.
Michael
2016-10-27T00:00:00Z
Meravigliosa esperienza nella piccola ma dotata di tutto casa di Giannis! Accoglienza calda, ospitale di tutta la famiglia , compresa la dolce nonna Sofia che all'alba del giorno della nostra partenza ci ha salutato con tanto affetto. E molto lovely anche Maria la mamma di Giannis. Il piccolo borgo di case e' davvero pittoresco...e la cosa più strepitosa di tutto e' che la casa e' proprio affacciata sul (URL HIDDEN) dorme con il suono delle onde e si resta a bocca aperta alla visione del cielo stellato dal balconcino di casa. Bellissimo soggiorno! Wonderful experience in the small but with everything house of Giannis! Warm welcome of all Giannis' Family ...Also sweet grandmother Sofia that the morning of our departure She said bye bye to us with big affection and still mum Maria She was too lovely with us ...everyday. The small village is picturesque location ....and it s very Wonderful that the house is in the beach in front to the sea. You can sleep with wave's sound and you can admire the stars Sky from lovely house's balcony ! Very nice staying!
Angela
2016-08-29T00:00:00Z
"The Relaxing Beach House" war für uns genau das Richtige. Eine kleine und einmalige Oase direkt auf dem Strand mit ungehinderter Sicht auf das Meer mit seiner sanften Brandung. Das Beach House ist liebevoll und praktisch eingerichtet, alles was man braucht ist da und darf benutzt werden. Tertsa ist ein kleiner puristischer Ort, ideal für Menschen, die das Einfache, Romantische und die Ruhe suchen. Die Leute aus dem Dorf sind offen und geben einem ein gutes Gefühl. Giannis ist in jeder Hinsicht sehr gastfreundlich, verlässlich und unkompliziert. Gerne kommen wir wieder im nächsten Herbst!
Kathrin
2016-10-04T00:00:00Z
Es war großartig: Wohnen inmitten eines winzigen Dörfchens direkt am Strand. Authentisch, mit griechischen Nachbarn, die - genau wie der Vermieter und seine Familie - das Wohl der Gäste dezent aufmerksam im Auge haben, Früchte aus ihrem Garten vorbeibringen und unglaublich freundlich sind. Beschreibung und Fotos entsprechen exakt der Realität. Yannis ist sehr liebenswürdig, bei Bedarf jederzeit auch kurzfristig gut erreichbar, die Absprachen funktionieren zuverlässig. Falls er abwesend ist, übernehmen die Mutter Maria und die Großmutter Empfang und Einweisung bestens. Die Wohnung ist frisch renoviert, hell, sauber und hervorragend ausgestattet (Balkon, Ventilatoren, Klimaanlage, Wäsche, Küchenutensilien, Kaffee, Gewürze, erste Willkommensgetränke und Lebensmittel, Kosmetikartikel, Reinigungsmittel, Notapotheke). Für zwei Personen sind die beiden kleinen Räume optimal, für drei ok., bei einer 4er-Belegung wird es evtl. ein wenig eng. Aus der Wohnungstür tritt man fast direkt auf den ca. 30 m breiten Sandstrand der ca. 1 km langen Bucht. In der einer unmittelbar benachbarten Bucht ist auch FKK-Baden möglich. Das nächste Hotel befindet sich erst im nächstgelegenen Ort 8 km entfernt ;-) Das kleine Tertsa selbst hat drei Tavernen, in denen man hervorragend essen und trinken kann. Wir sind sehr froh, auf der Suche nach einer Unterkunft abseits der für den Tourismus erschlossenen Orte genau diesen urigen gefunden zu haben. Danke!
Silvia
2016-08-12T00:00:00Z
I will remember these holidays always. Giannis and his family were very helpful and attentive. The house is a haven of peace. The location is very quiet, a place to be lost. Three tavernas and a grocery store with all the basis. Some 5 and 20 kms away there are 2 other locations to visit and to get out of the quietness of the place, Myrtos and Ierápetra along the cost. If somebody likes running the coast road to Myrtos is excellent with magnificent views. There are other touristic attractions within the area, however it is necessary to drive very carefully as the roads are narrow with curves. Every time I left Tertsa, I always felt that I wanted to be back at home. As the day starts very early in this part of the world, it is possible to do excursions half a day in the morning and coming back in the afternoon. The beaches at Tertsa are clean and quiet, the waters calm and warm. The inhabitants of the place are all friendly an attentive. but Giannis's family were over the top. All amenities are provided in the house, and some food presents from Giannis and his family. The house has parking space. It is a very familiar and safe place. No doubt I will come back.
Ane
2016-09-27T00:00:00Z
Es war für meinen Mann und mich, sowie unsere 5 u. 7 J. alten Töchter, ein unwhrscheinlich schöner Aufenthalt in Tertsa. Der Ort ist klein und ruhig, die Nachbarn sehr nett, die Tavernen gemütlich. Der Strand ist toll und vom Haus aus kann man den Kindern beim planschen zuschauen. Das kleine gemütliche Häuschen ist top ausgestattet. Jannis und seine Familie sind unfassbar freundlich und hilfsbereit. Ihre Gastfreundschaft ist beispielhaft und hat unseren Urlaub erst zu dem gemacht was er war, nämlich der schönste Urlaub den wir jeh hatten. Mit den allerbesten Wünschen und einem liebevollen Danke, Jensi, Anne, Maja und Karo
Jens
2016-08-18T00:00:00Z
Szoba típusa
Teljes ház/lakás
---
Ingatlan típusa
Ház
---
Férőhelyek
4
---
Hálószobák
Tertsa, Crete, Görögország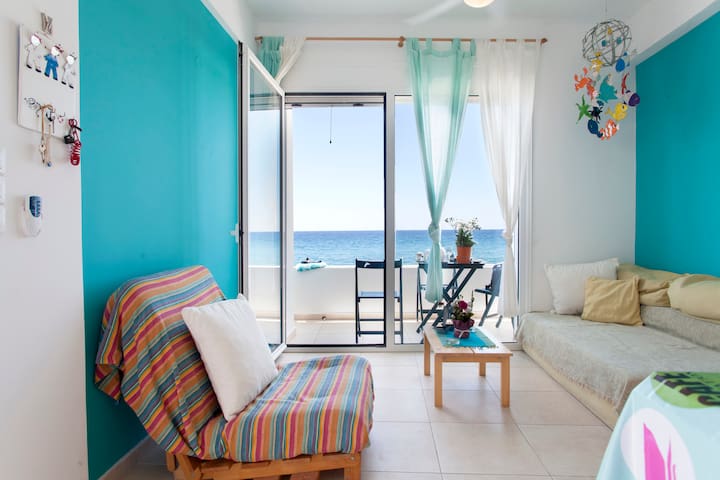 mountain retreat. peace! sea,garden,treks, gorges, nature, friendly villages and free- style swimming! cycling, donkey-animal volunteer and eco gardens............PERMACULTURE NATURAL BUILDING OFF-GRID ......opportunities for long -term projects and nearby pieces of land...
unique opportunity to those who want to 'live-in to their space by returning and being part of planting/building/permcaculture/water (URL HIDDEN) those interested in buying this is a great place to invest in same -thinking (URL HIDDEN) those on holiday.......the car is a must if walking is a less than 1 hour experience.....great place to lose weight- and with deserted beaches , 'all-around tan'!
you will learn even 2 words of greek because they don't speak yours.... friendly and harvesting opportunities possible. building/carpentry always an opportunity to earn your seaside meal for two.... olive olives and more...but that's from November- summer ....CRICKETS! DON'T WORRY AGAINST INCREDIBLY BRIGHT CLEAR SKIES, CLEAR CRYSTAL SEA- CRICKETS JUST SOUND RIGHT......
Szoba típusa
Privát szoba
---
Ingatlan típusa
Ház
---
Férőhelyek
2
---
Hálószobák
Gdochia, Crete, Görögország
Stone built before 1862 with influences of Venetian architecture,in the middle of the Cretan country with no neighbors.Fantastic view of Libyan sea.Curve of Gaea is visible,many paths and herbs around
Szoba típusa
Teljes ház/lakás
---
Ingatlan típusa
Ház
---
Férőhelyek
5
---
Hálószobák
Riza, Crete Region, Görögország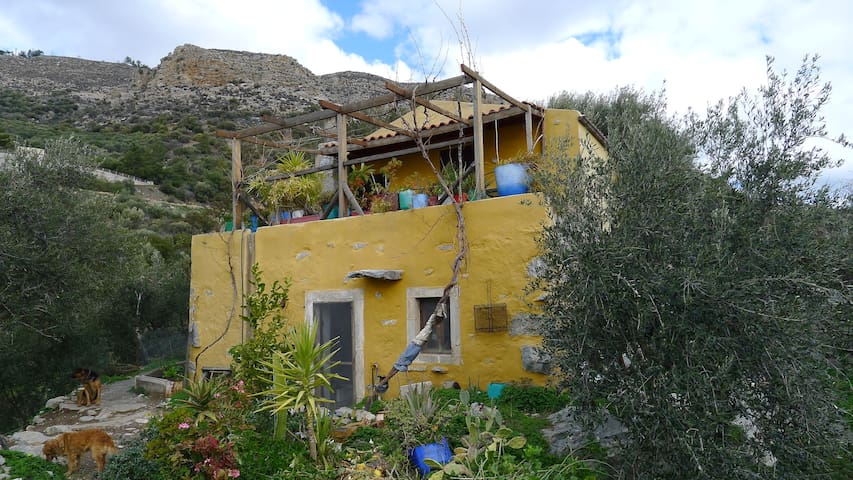 Kateřina Hostel Kréta - Myrtos, je malý penzion se nachází naproti pláže Myrtos (25m), s terasami, taveren, barů a historických památek za rohem. Komplex zahrnuje koupelny, terasy a štědrou pohostinnost.
Nově zrekonstruované pokoje na plážový Myrtos, 30m od pláže s krásným výhledem na moře.
Všechny pokoje jsou umístěny na centrální pláži straně Myrtos v blízkosti kaváren a reastaurants
Terug sinds april was thuis komen. Goed er weer te zijn en alles zoals het was. Eenvoudig maar alles wat nodig is. Prima bed en fijne lokatie met zeezicht en slechts een (forse trap voor een oudere) paar meter van strand en boulevard. Elvira is een lieve en goede gastvrouw die er alles aan doet om je ter wille te zijn. Rustige lokatie in gemoedelijk plaatsje met alle basale voorzieningen. Voor WiFi moet je naar hotel Mirtos, maar daar moet je sowieso naar toe voor je karafaki raki. Hoop volgend jaar weer in dit hostel een tijdje rust te vinden, ook omdat prijsstelling zeer gunstig is.
joep
2016-09-28T00:00:00Z
Charmant, coin magnifique avec vue sur la plage. Serviettes, tout pour cuisiner, et raki inclus! Sautez sur l'occasion ( c'est encore moi, jai réservé une deuxième fois dans la même semaine :) ) Elvira est une excellente hôte, n'hésitez pas à la contacter
Pier Ann
2016-09-11T00:00:00Z
Elvira heeft ons hartelijk welkom geheten . Wij konden de kamer kiezen en we hadden niet goed gekeken of alles aanwezig was en werkte. Het bleek dat de airco het maar heel even deed en dan stopte en er waren dingen stuk en incompleet. Ze bood aan om alles te repareren maar ze zag zelf in dat dat niet gewenst was tijdens ons verblijf en dus kregen we ons geld helemaal terug . Goede afhandeling, heel lief. Voor ons allebei goede oplossing ,had zij de tijd om de boel goed op te knappen.
Hella
2016-09-24T00:00:00Z
Nous somme tombées sur un bijou, tellement que nous avons décidés de rester 3 nuits supplémentaires. Coup de cœur pour Mirtos et pour l'appartement de Elvira qui est tout à fait abordable. Elvira est une super hôte qui nous a accueillies avec une bouteille de raki et qui a passé du temps avec nous afin de nous parler d'endroits à visiter dans les environs. Littéralement à côté de la plage, on s'endort au son des vagues. L'appartement est bien équipé mais nécessite quelques petites réparations, mais n'hésitez pas à écrire à Elvira si quelque chose ne fonctionne pas et ce sera réparé illico. Sincèrement notre meilleure Airbnb à date. N'hésitez pas!
Pier Ann
2016-09-08T00:00:00Z
Elvira was a splendid host. She showed me around the place, the appartment was clean and tidy! Perfect location, access to all areas within walking distance, and the sea is just a few meters from the front door!
Spyros
2014-05-18T00:00:00Z
Great experience! Elvira is a splendid host who makes you feel at home straight away. I really experienced her warm Greek hospitality. I would definately recommend staying here.
Mick
2014-05-19T00:00:00Z
Elvira ist super! Um mir die Anreise zu erleichtern, hat sie mich die halbe Strecke selbst im Auto mitgenommen, da sie ab dort eh unterwegs war. Das Zimmer war sauber und es sind sogar Fliegengitter vorm Fenster. Die Kochnische ist ausreichend ausgestattet. Der Strand ist direkt vor der Tür, einfach nur die Treppe runter. Auch der ist sauber und es gibt genügend Schattenplätzchen, auch ohne Schirm und Liege. Myrtos ist ruhig, aber man kann trotzdem lecker essen oder entspannt einen Kaffee trinken. Nach Ierapetra ist es mit dem Bus ein Katzensprung. Rundum alles gut! Ich komme bestimmt wieder!!
Helga
2016-08-28T00:00:00Z
Elvira was on holiday herself during my arrival but arranged for a friend to let me in and we spoke on the telephone and by text on forehand. I found mirtos a pleasant surprise and the apartment great value for it's price! From the room you can hear the waves wich is marvellous... After that Elvira hosted me herself in her hostel in Agios Nikolaos and that was just as wonderful. Both places are wonderfully located and clean and cosy, and Elvira is a very generous and warm-hearted host. We even went for a beautiful tour together on wich I encountered places that I eould never have found on my own. I am looking forward to returning to both hotels! Thanks Elvira!
Madelief
2016-06-29T00:00:00Z
Szoba típusa
Privát szoba
---
Ingatlan típusa
Szoba reggelivel
---
Férőhelyek
5
---
Hálószobák
Myrtos, Crete, Görögország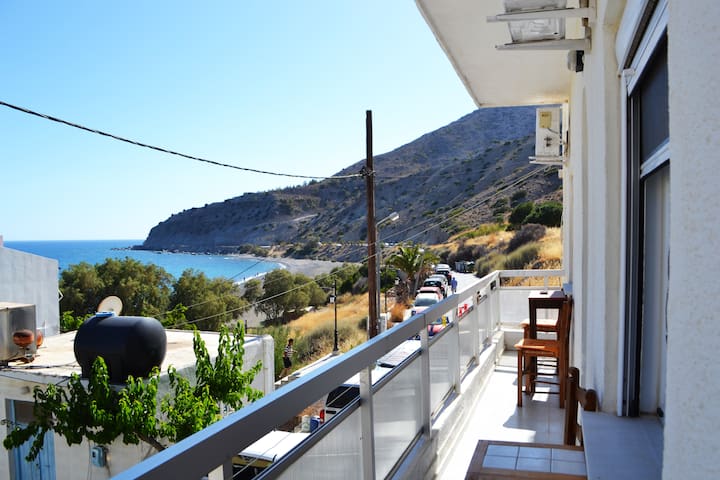 Unser Stroh und Lehmhäuschen liegt am Hang des fruchtbaren Tales von Tertsa, mit Blick auf das Meer. Ein wunderbarer Ort der Harmonie und Entspannung, in der die Einzigartigkeit der Natur als auch die Natürlichkeit des Hauses dazu einlädt, zu sich zu finden. 5 min mit dem Auto und 20 min zu Fuß bis zum weitläufigen Strand von Tertsa und zum kleinen Ort.
Unser Haus ist eventuell nicht für Kinder unter 2 Jahren geeignet. Unser handgebautes Lehmhäuschen befindet sich an einem ganz besonderen Ort der Stille und Natur. Gleichzeitig sind der kleine Ort Tertsa und der weitläufige Strand in erreichbarer Nähe. Doch nicht nur für Menschen, die Besinnung und Rückzug suchen ist dies ein wundervoller Ort, sondern auch für Familien, die den Freiraum und die Natur schätzen. Im unteren Bereich befindet sich die offene Küche mit Wohnraum und über eine Außentreppe gelangt man zum Schlafzimmer ganz aus Holz. Vor dem Schlafzimmer ist eine Holzterrasse mit wundervollem Blick über das Tal und auf das Meer. Vor der Küche ist die teils schattige, teils sonnige Steinterrasse die zum Essen einlädt. Bad und Toilette befinden sich in einem separaten Häuschen gleich nebenan, mit kleiner Badewanne und Waschmaschine die mit Kaltwaschprogramm genutzt werden kann. Zum Häuschen gehört ein Garten mit Beeten in denen man auch Kräuter und Wildpflanzen findet, einige Orangen und Zitronenbäume und die Olivenbäume es Grundstückes. Unser Häuschen ist aus natürlichen Materialien gebaut und besonders bei den Stroh/Lehmwänden haben sich viele freiwillige Helfer von nah und fern beteiligt. Der Lehm ist vom Hang unseres Grundstückes, die Steine der Terrasse von den nahe gelegenen Stränden. Die Stroh und Lehmwände sorgen für eine sehr angenehme Raumtemperatur im Haus, und es ist als "atme" der Raum. Wer das Handgemachte und Künstlerische schätzt wird den Ort und das Haus lieben. Allerdings ist manches noch nicht ganz fertig gestellt, so sind die Steinplatten vor dem Haus noch nicht befestigt und die Fenster verfügen noch nicht über Moskitonetze. Trotz der Einfachheit bietet es den notwendigen Komfort und es ist auch sehr angenehm drinnen zu verweilen und es gibt auch viel Raum zum Toben für Kinder. Ich bitte vor der Bestätigung einer Buchung um ein (Telefon)Gespräch mit den Interessenten.
Obwohl unser Häuschen außerhalb des Dorfes liegt, gibt es einige wenige Nachbarn auch in Sichtnähe. Es sind größtenteils Aussteiger, die sich für ein einfaches Leben außerhalb der Konsumgesellschaft entschieden haben.
Szoba típusa
Teljes ház/lakás
---
Ingatlan típusa
Ház
---
Férőhelyek
4
---
Hálószobák
Tertsa, Crete Region, Görögország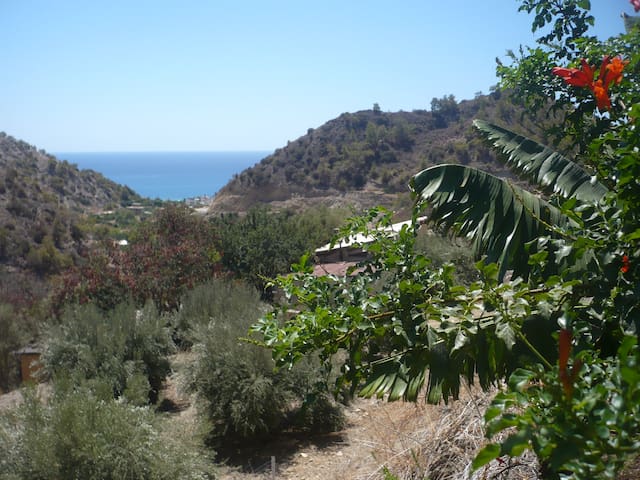 Home Sarakina est une maison de vacances fait avec soin et love.It est situé entre la plage de la belle Mirtos et les gorges uniques Sarakina. Il est construit sur une colline à côté de la vallée de la rivière Mirtos et a donc une vue panoramique sur le paysage fantastique
la maison de Sarakina est flambant neuf, lumineux et aéré en raison de ses grandes ouvertures. Il est 50m² et est composé d'une salle de séjour avec cheminée et canapés-lits qui peuvent accueillir 2-3 personnes, une cuisine entièrement équipée avec table à manger, une chambre confortable séparée avec lit double et une salle de bains avec baignoire. la maison de Sarakina est à seulement 1,5 km de la belle plage de Myrtos!
Staying at Carolina's home was a great pleasure for us! A brandly new house, fully equipped and comfortable with big rooms. Everything inside was absolutely new! The landscape was marvellous offering a view at the sea and the mountains around us. A really serene environment!Afroditi, the owner, was really great!She was so willing to give us all information needed before we ask for it! A very nice and helpful lady. She made us feel at home from the very first moment. Wish we could stay longer.....But we will be back. It is a promise! Thank you Afroditi, keep up the good work :-)
Addie
2016-07-26T00:00:00Z
Le logement est spacieux et flambant neuf. La décoration est de très bon goût et les grandes fenêtres, qui occupent presque deux murs entiers, vous offrent une très belle vue sur les montagne et la mer (au loin). Ces mêmes fenêtre apportent aussi de la chaleur quand le soleil tape dessus, même stores fermés, mais comme les pièces sont climatisées, ce n'est pas un problème. Vous bénéficiez d'une terrasse et d'un balcon, ce qui permet d'être dehors quel que soit l'orientation du soleil. L'équipement est presque complet (un micro-onde serait apprécié pour les voyageurs de passage que nous sommes, mais à l'inverse vous disposez d'une machine à laver, ce qui est très pratique)(URL HIDDEN)Le logement est très calme, mais il est actuellement le seul fini sur un ensemble de quatre. Il n'est pas dit qu'il sera toujours aussi calme quand tous les logements seront occupés. Pas beaucoup de défauts si ce n'est le lit qui grince beaucoup et les guêpes qui peuvent être particulièrement envahissantes, nous obligeant parfois à manger dedans. Bref, une bonne adresse pour ceux qui veulent séjourner dans les environs de Mirtos.
Laurent
2016-08-21T00:00:00Z
Wir hatten einen sehr schönen Urlaub in diesem Ferienhaus. Vielen Dank an Afroditi, dass sie uns den Kühlschrank vor der Ankunft aufgefüllt hat und auch für die Zwischenreinigung des Hauses nach ein paar Tagen. Für uns war die etwas abgeschiedene Lage des Hauses perfekt. Bis nach Myrtos sind es etwa 3 km. Die Sarakina-Schlucht (sehr zu empfehlende Wanderung) ist direkt vom Haus zu Fuss gut zu erreichen. Um das Haus herum befinden sich noch 3 andere Häuser, die aber während wir dort waren, wenig benutzt wurden.
Martin
2016-10-19T00:00:00Z
Séjour agréable. Bon accueil
Virginie
2016-08-16T00:00:00Z
Szoba típusa
Teljes ház/lakás
---
Ingatlan típusa
Ház
---
Férőhelyek
5
---
Hálószobák
Lasithi, Crete, Görögország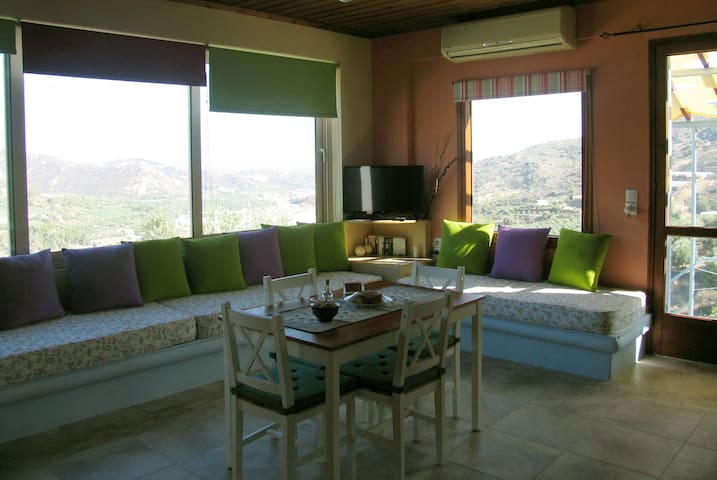 The house is located a few footsteps from the beach.
Fully renovated 45 m2 apartment next to the beach. - It's located in the very peaceful village of Tertsa (80km south of Heraklion and 25km west of Ierapetra), in the front of a quiet beach. -There are 3 Taverns and a small mini market - The kitchen is fully equipped - The bedroom has one bunk bed and 2 single beds. - Free Wifi - CAR IS MANDATORY - We expect you to treat the house as it were yours.
The neighborhood has a friendly atmosphere.
Kiki's place is amazing. Thank you so much for this wonderful experience while staying in your great accommodation and your beautiful small village called Tertsa. I was traveling with a friend and before we went to stay at Kiki's place my phone broke, but people in Crete were really nice in helping us getting to Tertsa where Kiki was already waiting for us. So everything worked out well. (Thanks again!) More important however is Kiki and her apartment which I recommend to anyone who is looking for a wonderful and peaceful holiday experience. It is exactly as it looks like in the pictures (only few steps away from the sea!!) and I would say you can stay with a friend, partner, a group of people or even on your own :) It is very clean and offers everything you need... so if you want to cook and eat there, you easily can, even though I highly recommend to try the taverns in this village. I believe they are all open in the summer. Now it was rather quiet and yet each person we met, made us feel welcome. So all in all a fantastic experience. We would definitely like to come back :)
Alexandra
2017-01-16T00:00:00Z
Szoba típusa
Teljes ház/lakás
---
Ingatlan típusa
Lakás
---
Férőhelyek
4
---
Hálószobák
Tertsa, Kreta, Görögország
Steinhäuser, wurden im Jahr 2011 an den Rändern von Myrtos Dorf gebaut und bestand aus drei Steinvillen. Sie haben einen spektakulären Blick auf die Ebene grünen mit Oliven- und Orangenbäumen. Sie sind etwa 500 m von Myrtos 'Strand und bieten einen ruhigen Aufenthalt in den Komfort eines autonomen neu gebaut und komplett eingerichtete Villa.
Szoba típusa
Teljes ház/lakás
---
Ingatlan típusa
Ház
---
Férőhelyek
5
---
Hálószobák
Kopanes, Görögország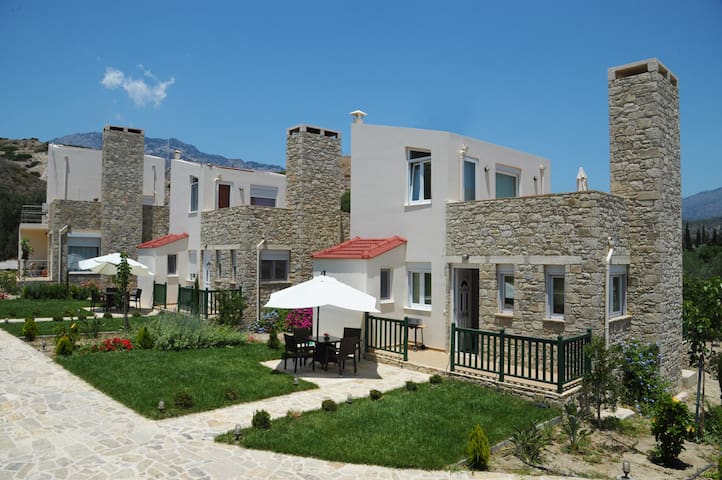 Můj pokoj byl v blízkosti pláže. Zamilujete si své místo v důsledku umístění, v atmosféře, lidem, okolí i exteriéru. Můj pokoj je vhodný pro páry, rodiny (s dětmi) a chlupaté kamarády (domácí zvířata).
Velmi kompletní a dobře udržovaný, malý komplex skládající se z několika jednotek, z nichž každá má 2 velké 3-pokojové apartmány pro 2 až 5 osob a prostorný 4-pokojový rodinný dům až pro 7 osob, částečně obklopen krásnou zahradou. Vzhledem k vyššímu umístění Villa Aliki, naši hosté mohou vychutnat nádherný výhled na moře, nádherné hory a vesnice Mirtos. Obchodů, restaurací, promenády a pláže je asi 150 až 250 metrů přes svého druhu oslí cestě. Po asfaltové silnici, vzdálenost k různým zařízením, asi 400 metrů. Domy mají příjemné barevné obývací pokoj s posezením, kde se případně mohou být přidány další tábor lůžko pro 5. (7) osoby. V kuchyni je prostorný a zdobí se například je k dispozici: mikrovlnná trouba, 4-polohový sporák (nebo keramické varné desky), trouba, kávovar, rychlovarná konvice, dvojité dveře chladničky (mrazicí a chladicí) a vybavení (také Senseo káva k dispozici zařízení!) , Navíc, dvě ložnice a koupelna se sprchovým koutem, umyvadlem a WC.
Szoba típusa
Teljes ház/lakás
---
Ingatlan típusa
Lakás
---
Férőhelyek
4
---
Hálószobák
Lasithi, Görögország
Το διαμέρισμα είναι γεμάτο από "θάλασσα γεύσεις". Βρίσκεται στον πρώτο όροφο και βεράντα με το ξύλινο πάτωμα περιοχή χαλάρωσης έχει θέα στη θάλασσα και τον κήπο. Έχει ένα διπλό ανατομικό κρεβάτι, πλήρως εξοπλισμένη κουζίνα, Wi-Fi, κλιματισμό, τηλεόραση, νέο λουτρό
Szoba típusa
Teljes ház/lakás
---
Ingatlan típusa
Lakás
---
Férőhelyek
2
---
Hálószobák
Myrtos, Crete, Görögország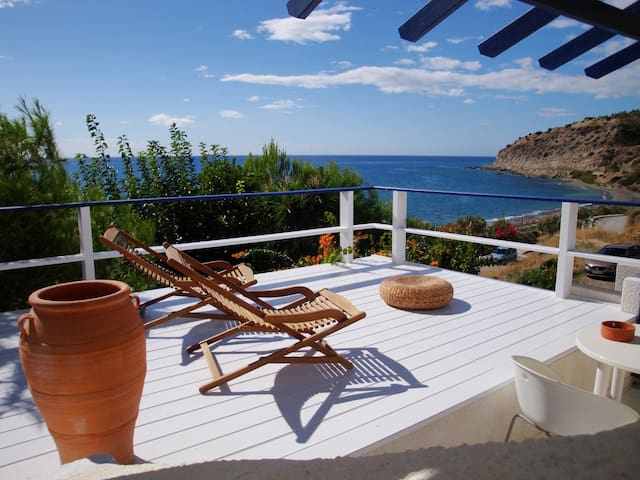 Το όμορφο διαμέρισμα στο γραφικό παραλιακό χωριό Μύρτις είναι το ιδανικό μέρος για όσους αναζητούν χαλάρωση και επιχειρηματική περιπατητές. Ή μίξεις σας και τα δύο! Για την όμορφη παραλία απέχει μόλις λίγα βήματα από το διαμέρισμα, μπορείτε να πάτε για μια βουτιά πριν από το πρωινό! Μπορείτε να απολαύσετε γεύματα στη μεγάλη βεράντα με θέα στη θάλασσα και τα βουνά!
Sophie Το σπίτι είναι επιπλωμένο με μεγάλη προσοχή στη λεπτομέρεια! Θέλουμε σας αισθάνεται μαζί μας!
Σε ένα ήσυχο περιβάλλον, ιδανικό για χαλάρωση! ;-)
Szoba típusa
Teljes ház/lakás
---
Ingatlan típusa
Lakás
---
Férőhelyek
4
---
Hálószobák
Myrtos, Crete Region, Görögország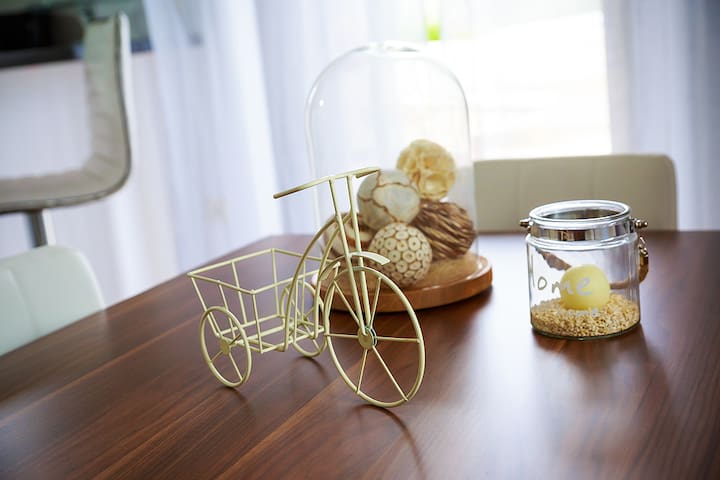 Brand new, 45m² open plan apartment with large outdoor alfresco dining area and panoramic views of the sea and Tertsa's lush sub-tropical valley. Quiet, comfortable, homey and with distinctive details in it's design makes this a perfect place for every dreamer and everyone looking for a place to unwind. A 5 minute walk leads you via the picturesque little church to the village of Tertsa where you can find everything you need for your home away from home. And of course the beach!
From the church of St George, where you can park your vehicle, a small pathway will take you uphill to your apartment. Our dream house gives you 45 m2 of living space. Open plan kitchen, dining / living room and bedroom, bathroom and large patio *Kitchen: Ample counterspace and large sink and practical storage. Fridge, Convection hob, Oven, Coffee maker, Water bioler, Toaster and everything needed to prepare and enjoy a delicious meal. *The outdoor patio is extra large and perfect for al-fresco dining. It is equiped with patio furniture and decorated with flowers and shows you a 180 degree panorama of the valley. *The dining / living room offers a stunning view of the sea and the village. *The bedroom is separated from the living room by a gorgeous bamboo privacy screen. The bedroom has large closets with space for all your clothing items and suitcases. Bedsheet and covers are provided. *Ample bathroom space with Shower. Bathroom towels and necessities are provided.
Tertsa is a tiny village hidden in a beachside valley on the island of Crete. It is a haven for those that seek true retreat from the fast paced modern world. Off the usual tourist trail, Tertsa's lush valley and beachfront location offer the best of Crete; living in harmony with nature, generous hospitality, a slow paced lifestyle and the shining mediterranean sea. Located on the Southern East Coast of the island, the surrounding Dikti mountain range shelters the small valley from the cold North wind making Tertsa one of the warmest places in Greece (and Europe) during the winter months with average temperatures of 10 to 20C. This unique protection creates a subtropical microclimate and extremely fertile land. Not only do the local farms flourish here, but tropical fruits including bananas, papaya and passion fruit, unusual to Europe, thrive in Tertsa valley. Its secluded location and cherished Cretan authenticity, has made Tertsa a renowned beach destination for the local island dwellers to escape the tourist crowds in the summer. The hidden gem has also gained notoriety for it's reputation as a welcome haven to alternative lifestyle seekers. In the 1970s and 80s, when young men with long hair were often apprehended by the police simply to have their hair cut off, Tertsa welcomed Greeks and foreigners alike, who were in search of a simple life, living in harmony with the land and away from modern societal construct. Many of these "hippies" still happily call Tertsa their home, and now their children's home. The tiny village is made up of less than 70 residents, has three tavernas and one mini-market. Visitors and residents alike will tell you there's definitely something magic in the air here. The valley's fertile land and the village's warming atmosphere offer more than just the perfect place for a peaceful pause. Surrounded by fresh food and medicinal herbs growing from the land, greeted with warm smiles, and soaking up the Mediterranean sun, anyone visiting Tertsa is promised healing, restoration and tranquility.
Szoba típusa
Teljes ház/lakás
---
Ingatlan típusa
Ház
---
Férőhelyek
4
---
Hálószobák
Tertsa, Crete Region, Görögország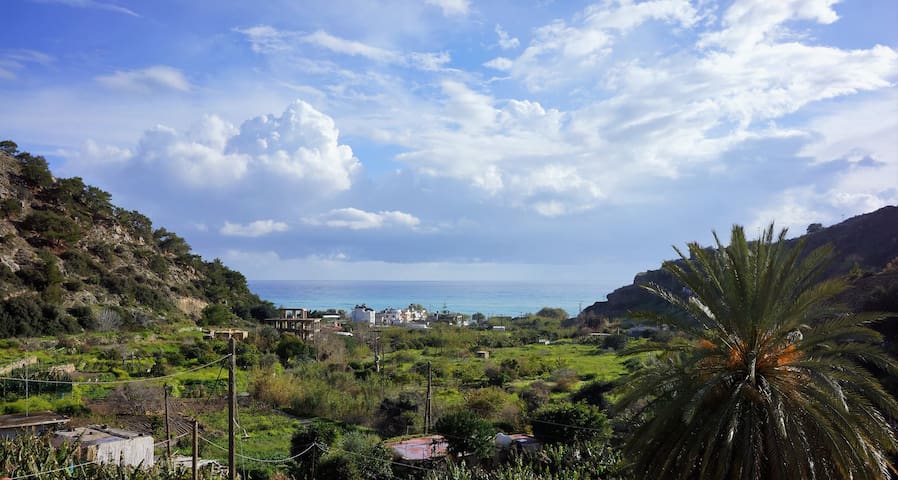 Cette maison très luxueux et calme est très impressionnant. Profitez de la vie ici dans le calme et la détente dans la nature crétoise.
L'appartement existe d'un grand salon avec cuisine ouverte. L'appartement dispose de deux chambres avec un lit double dans une chambre et deux lits simples dans l'autre chambre. Il dispose d'une salle de bains de luxe très. La villa dispose d'un balcon tout autour de aa énorme roofterrace qui est très agréable pour les bains de soleil ou d'un événement pendant la journée et la nuit, vous pouvez regarder les étoiles à partir d'ici.
Szoba típusa
Teljes ház/lakás
---
Ingatlan típusa
Lakás
---
Férőhelyek
4
---
Hálószobák
Lasithi, Crete, Görögország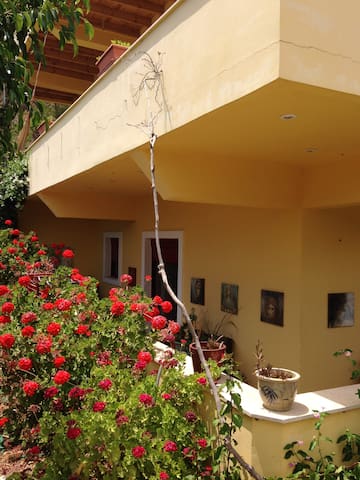 The free-standing house "Casa Sykorodiá" is located at 400m (5-minute-walk) from the beach, 3 restaurants and a mini-market. You will love our place because of its unique, panoramic location (25m above sea-level) with its fantastic view over the Libyan Sea and the lush-green Tertsa valley. The house has a very cosy, light-flooded and loft-like character. You stay amidst Crete's powerful nature, far from big tourism and still at the edge of a charming little village.
The tap water is generally safe and drinkable. Still, even locals often use bottled water. Guests with a car can find high quality spring water in the nearby mountains (as in Kato Simi, about 16 km north-west, a 20l-water-container is at hand). The neighbors can provide further information. As the wastewater goes directly into the ground (which is the only option in this region), being reused for irrigation, we kindly but vividly ask our guests to use exclusively natural products and cosmetics in the kitchen, shower and bathroom. The house is largely protected with mosquito nets, therefore most windows and veranda doors can stay open during hot weather which results in a very comfortable room temperature. But please make sure to close the windows and to lock the door whenever you leave the house, not least because of the cats who will eat everything they consider edible, which is not necessarily what you might consider suitable for cats... Please NEVER let cats enter the house and don't feed them (or if you do it anyway, then far away from the house)! At present, it is additionally possible to pitch a tent in the garden pit below the house.
Tertsa is certainly not a tourism hotspot. About 30 locals live here throughout the year, further there are a few studios for rent. At the beach, you can find 3 restaurants which all have their own specialities to offer. During the weekends, local visitors from the nearby cities and villages come to enjoy the quiet and huge beach and the locally famous restaurants. The beach is very long, and if you bother to walk a few steps you can be sure to have a spot on your own. If you walk past the big rock at the western side of the village, there is plenty of space (and further rocks with again further beaches behind), and both tourists and locals happen to stripp everything off to dive into the blue Libyan Sea.
Szoba típusa
Teljes ház/lakás
---
Ingatlan típusa
Ház
---
Férőhelyek
4
---
Hálószobák
Tertsa, Crete Region, Görögország
Add meg az időpontokat a teljes ár megtekintéséhez. Felmerülhetnek további költségek illetve adók.