Add meg az időpontokat a teljes ár megtekintéséhez. Felmerülhetnek további költségek illetve adók.
Located just out of Port Alsworth, AK our cabin is the perfect retreat into Lake Clark National Park. Stay in our private rental cabin and enjoy lake views, fish from the front door and feel like you are in wilderness Alaska. A little note. We seem to be having issues with AirBnB changing the availability dates on us and also changing our prices. Please contact us to confirm dates and prices. Thank you for your understanding while we sort this out!
Newly rebuilt! Take advantage of our special 2017 rates! Our fully furnished cabin is the perfect gateway to your Lake Clark National Park Adventure. Huge windows overlook Lake Clark, the Tanalian River and long Bristol Bay sunsets. Watch salmon jumping while drinking your morning coffee, kayak right from the front yard or fish at the river just a few steps away. This fully furnished cabin includes a full kitchen, bedroom with queen bed and a twin Trundle bed in the living room sleeps 2. The cabin is plumbed for running water with on demand hot water so you can enjoy a hot shower at the end of the day. Toilet is a private outhouse located onsite. Full access to the entire building, yard and 40 acres of private old growth forest that includes historical landmarks from our family and Lake Clark's history. We are onsite and located a short 5 minute walk away. Call us with the local landline or come see our home, campground and other guest services. Assistance from the air taxi is available with a heads-up on your arrival. This cabin is located on our 40 acres of private property that was originally our great-grandmothers and where our grandmother Katie was born. The cabin is a remodel of our Grandma Katie's cabin. Stay with us and experience some of Lake Clark's history and culture.
Located on our 40 acres of private property at the mouth of the Tanalian River, and just 10 steps from Lake Clark National Park. Access is by an ATV/walking trail. During most summer months crossing a footbridge to access town is required. This cabin is located just out of town and all access is across our private property. This means you are removed from the busyness of Port Alsworth. Aircraft parking is available, please contact us for more info. Kayaks, motor boats and a water taxi are available through our company, Tulchina Adventures. Kayaks/motor boat can be parked at the cabin for your convenience. Port Alsworth is accessed by a 10 minute walk through our private forested trail system. Everything is accessible by foot. We will assist you on your arrival and departure. This is the best location in town. Located about a 1/2 mile from Port Alsworth and surround by private forest you feel like you are truly away. Wondering about food? We can assist you in arranging an expeditor to do your grocery shopping and deliver it the local air taxi for a small fee. It's really that easy. We can also arrange for you to eat meals at one of the local lodges, and there is a local restaurant open on Saturdays.
Amazing location! Lakeside as advertised. There was a great little stream next to us that entered into the lake and the view from our cabin was amazing. Beth was a great host and took care of us the entire trip and made sure we had everything we needed. We would highly recommend staying at her lakeside cabin. The only regret is that we didn't stay longer.
Bryan
August 2016
Szoba típusa
Teljes ház/lakás
---
Ingatlan típusa
Kisház
---
Férőhelyek
4
---
Hálószobák
1
Port Alsworth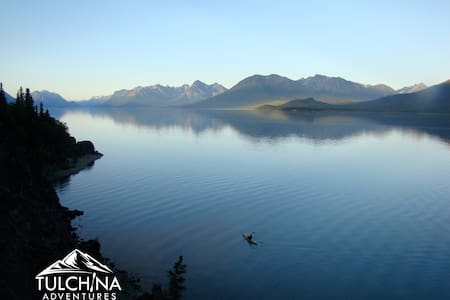 The General Lodge is Lake Clark's premier Adventure Lodge. Whether it's world-class Alaska fishing, adventure, hunting, or just simply a chance to get away from it all, The General will lodge you, feed you and outfit your needs.
Szoba típusa
Privát szoba
---
Ingatlan típusa
Szoba reggelivel
---
Férőhelyek
2
---
Hálószobák
1
Port Alsworth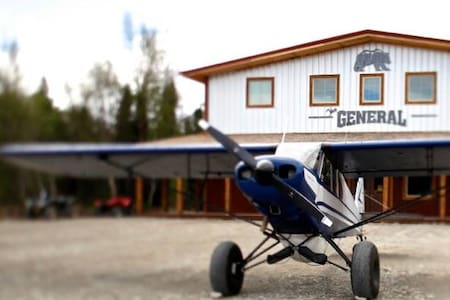 Alaskan All Inclusive Adventure Vacations Chulitna Lodge is 180 miles west from the nearest road (Anchorage) with fly-in access only. Our Mission: to share a love for responsible exploration of our worlds most remote locations.
We offer very comfortable 'bush luxury' accommodations at a very reasonable price. Your stay includes all meals and drinks. We have excellent guides and provide fly-out service for hiking, boating, fishing, hunting, and some of the most spectacular photography around. Chulitna Lodge also hosts an artist's residency program where 2-3 artists per summer are invited to live on the property and utilize our extensive shops to fulfill their visions from 6-12 weeks. More info and pictures can be found on Steve's facebook, as well as his website, which can't be listed here, but is simply (the three w's) followed by his name (stevesilber) followed by c-o-m. (We offer lower pricing through airbnb than on our own site) Kayaks, Paddle Boards, Hiking, Beach Walks, Wood-Fired Sauna, Gourmet Meals, Boats, Fishing, Climbing, Ice Climbing, Pack Rafting Chulitna Lodge is a full-service vacation. All gourmet meals, and drinks are included in the price. As well, naturalist hikes and beach walks are included.
There are many Alaskan Lodges, but few that can compare in authenticity. Chulitna has been around since 1932, and though modern amenities have been added, none of the rustic charm has been removed. There is no road for 180 miles, but we do have a few boats, motor, jet, and paddle. Airplanes rides are available as well.
Szoba típusa
Privát szoba
---
Ingatlan típusa
Kisház
---
Férőhelyek
16
---
Hálószobák
1
Port Alsworth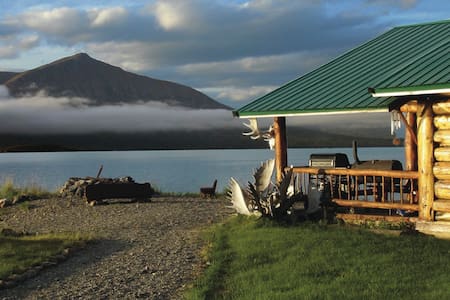 Pobyt v našem Port Alsworth, Alaska tábořiště pro váš Lake Clark národní park divočiny dobrodružství. Náš malý luxusní tábořiště má chaty 10'x12 's pevnou podlahou, komáří vsítil stěn a jasným zastřešení, aby vás v suchu a bez chyb.
Luxusní kemp u jeho 'nejlepší. S našimi komára vsítil stěn a jasným zastřešení máte pocit, že jste na Aljašce poušti, aniž by byl vystaven vlivům. Někteří hosté mohou vybrat nastavit stan uvnitř, ale většina prostě hodit dolů spací podložku. Přineste si vlastní camping pad / stan nebo pronajmout od nás. Space zahrnuje táborové židle, palivové dřevo, pitná voda, medvěd-proof skladování potravin, kůlna a solární sprcha (ne váš průměrný solární sprcha). Plný přístup k našim soukromým 40 akrů prales obklopených Lake Clark National Park. Strávit relaxační večer kolem ohniště nebo si vychutnat západ slunce procházku na pláž. Jsme na místě a jsou k dispozici po odpovídající denní dobu. Pokud jsou opatření provedena v předstihu můžeme být kyvadlová doprava z aerotaxi k dispozici. Máme 2 Karelský medvědí pes (Oofta a Neli), kteří mají rádi táborníky a učiním z vás část své rodiny. Jejich úkolem je, aby nás i vás chrání před medvědy.
Lake Clark National Park Visitor Center je krátké 5 minut chůze od hotelu. Turistické trasy pro přístup k Kontrashibuna Lake / Falls a Tanalian Mountain jsou v okruhu 1 míle. 5 minut pěšky dolů našem soukromém cestu pro přístup na pláž a úžasné rybaření na řece Tanalian. Během hodně z léta musíte přejít lávku přístupu na naše tábořiště. Všechny Port Alsworth a okamžitých turistických stezek jsou snadno dostupné pěšky. Půjčujeme kajaky, campingové vybavení a motorové čluny. Kromě toho provozujeme vodní taxi a mají vzdálené kempů umístěných kolem jezera Clark. Zeptejte se nás o vytvoření zájezd. Podívejte se na naši společnost Tulchina dobrodružství pro více informací.
Szoba típusa
Közös szoba
---
Ingatlan típusa
Kunyhó
---
Férőhelyek
4
---
Hálószobák
1
Port Alsworth