Add meg az időpontokat a teljes ár megtekintéséhez. Felmerülhetnek további költségek illetve adók.
Modern large open space living with sweeping views of the Litani River, Lake Qaraoun and surrounding mountains, villages. Relax and enjoy the view of the beautiful Beqaa Valley. Other apartments available
Spacious living area and a large balcony to soak up the views I will be waiting for you on arrival and will be available by phone the duration of your stay. I am always happy to help in any way possible
Ain Zebde is located 70km from Beirut, situated just over 1000 metres on the fertile lands of the West Bekaa Valley. The Name Ain Zebde (Butter Spring) comes from the many slow flowing fresh water springs in the village 'soft as butter'. Your apartment is on the outskirts of the village center which has all the goods and services one would expect. There are numerous fresh, affordable restaurants in the surrounding villages and there are some just down the road! The Valley is home to some of Lebanon's most famous vineyards and wineries like Chateau Kefraya, Chateau Ksara, Chateau Musar, Massaya and many more - you would have driven past the wineries just before Ain Zebde. Most vineyards do tours of the estate above and below the ground, in caves. Ancient ruins are dotted all over Lebanon, Baalbek is 1.5 hours drive from your apartment. There are buses daily travelling from/to Beirut, also a daily taxi (service). Transportation can be arranged for you, including hire car, bus and taxi, from anywhere in Lebanon
Szoba típusa
Teljes ház/lakás
---
Ingatlan típusa
Lakás
---
Férőhelyek
6
---
Hálószobák
2
Ain Zebde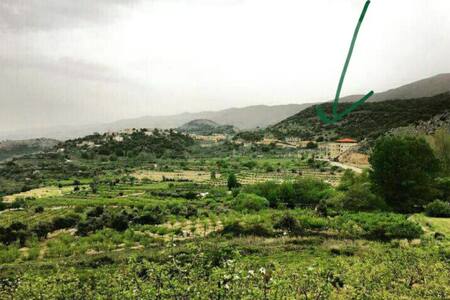 Modern large open spacious living with natural view of surrounding mountains.
Spacious living area and a large balcony to soak up the views I will be waiting for you on arrival and will be available by phone the duration of your stay. I am always happy to help in any way possible
Ain Zebde is located 70km from Beirut, situated just over 1000 metres on the fertile lands of the West Bekaa Valley. The Name Ain Zebde (Butter Spring) comes from the many slow flowing fresh water springs in the village 'soft as butter'. Your apartment is on the outskirts of the village center which has all the goods and services one would expect. There are numerous fresh, affordable restaurants in the surrounding villages and there are some just down the road! The Valley is home to some of Lebanon's most famous vineyards and wineries like Chateau Kefraya, Chateau Ksara, Chateau Musar, Massaya and many more - you would have driven past the wineries just before Ain Zebde. Most vineyards do tours of the estate above and below the ground, in caves. - Several vineyards are minutes drive from the apartment Ancient ruins are dotted all over Lebanon, including many ruins in the local vacinity. Baalbek is 1.5 hours drive from your apartment. There are buses daily travelling from/to Beirut, also a daily taxi (service). Transportation can be arranged for you, including hire car, bus and taxi, from anywhere in Lebanon
Szoba típusa
Teljes ház/lakás
---
Ingatlan típusa
Lakás
---
Férőhelyek
4
---
Hálószobák
2
Ain Zebde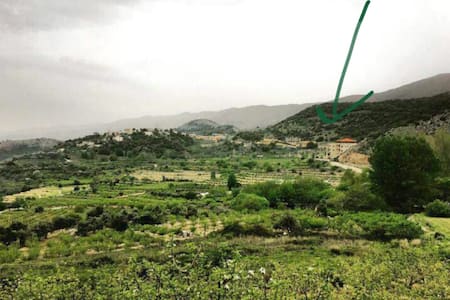 Modern large open space living with sweeping views of the Litani River, Lake Qaraoun and surrounding mountains, villages. Relax and enjoy the view of the beautiful Beqaa Valley. Other apartments available
Spacious living area and a large balcony to soak up the views I will be waiting for you on arrival and will be available by phone the duration of your stay. I am always happy to help in any way possible
Ain Zebde is located 70km from Beirut, situated just over 1000 metres on the fertile lands of the West Bekaa Valley. The Name Ain Zebde (Butter Spring) comes from the many slow flowing fresh water springs in the village 'soft as butter'. Your apartment is on the outskirts of the village center which has all the goods and services one would expect. There are numerous fresh, affordable restaurants in the surrounding villages and there are some just down the road! The Valley is home to some of Lebanon's most famous vineyards and wineries like Chateau Kefraya, Chateau Ksara, Chateau Musar, Massaya and many more - you would have driven past the wineries just before Ain Zebde. Most vineyards do tours of the estate above and below the ground, in caves. Ancient ruins are dotted all over Lebanon, Baalbek is 1.5 hours drive from your apartment. There are buses daily travelling from/to Beirut, also a daily taxi (service). Transportation can be arranged for you, including hire car, bus and taxi, from anywhere in Lebanon
Szoba típusa
Teljes ház/lakás
---
Ingatlan típusa
Lakás
---
Férőhelyek
3
---
Hálószobák
1
Ain Zebde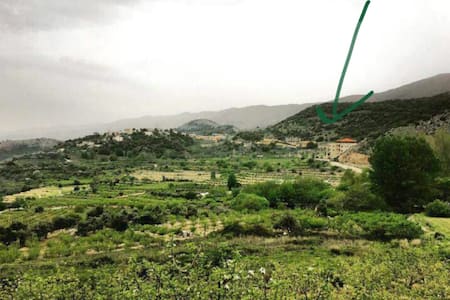 New serviced apartments with breathtaking panoramic views of the West Bekaa Valley Other apartments available. Please contact me
You will be staying an a brand new boutique apartment complex I will meet you on arrival to give you your keys, after which I will always be a phone call away
Ain Zebde is located 70km from Beirut, situated just over 1000 metres on the fertile lands of the West Bekaa Valley. The Name Ain Zebde (Butter Spring) comes from the many slow flowing fresh water springs in the village 'soft as butter'. Your apartment is on the outskirts of the village center which has all the goods and services one would expect. There are numerous fresh, affordable restaurants in the surrounding villages and there are some just down the road! The Valley is home to some of Lebanon's most famous vineyards and wineries like Chateau Kefraya, Chateau Ksara, Chateau Musar, Massaya and many more - you would have driven past the wineries just before Ain Zebde. Most vineyards do tours of the estate above and below the ground, in caves. - Several vineyards are minutes drive from the apartment Ancient ruins are dotted all over Lebanon, including many ruins in the local vacinity. Baalbek is 1.5 hours drive from your apartment. There are buses daily travelling from/to Beirut, also a daily taxi (service). Transportation can be arranged for you, including hire car, bus and taxi, from anywhere in Lebanon Other apartments with different bedding configurations available. Please enquire
Szoba típusa
Teljes ház/lakás
---
Ingatlan típusa
Lakás
---
Férőhelyek
2
---
Hálószobák
1
Ain Zebde