Hibiscus Hale Lani ist ein Oceanfront-Einheit, die eine Vogelperspektive auf den Pazifik bietet. Diese zweite stöckige Einheit bietet einen atemberaubenden Blick auf'Aliomanu Strand. Die Zeder Innenraum ist mit reich mahagoniBoden im gesamten ergänzt.
Beautiful location! Your deck looks right down on the water. Well equipped kitchen. Essie was very responsive to questions we had while we were here.
Dennis
2017-02-06T00:00:00Z
Great location and quiet. Perfect for a relaxing vacation.
Jonathan
2017-01-18T00:00:00Z
A tree lined residential road along the ocean takes you to a sweet destination. We enjoyed splendid moments, with the music of the ocean, relaxing into the views of the sea and the mountains. A nice destination for anyone who seeks more of a solitude away from the more active locations. Yet, a short drive takes you anywhere on the island. We had a comfortable stay and enjoyed our morning walks on the quiet beach.
Katherine
2016-12-23T00:00:00Z
The views from the Hibiscus Lani are simply stunning. There really aren't many words to describe how it feels to wake up in the morning to the beautiful panoramic view of the oceanside that this location provides. We adored this place and everything it provided. It is located sea-side on the east side off the main road, providing privacy from the everyday hustle and bustle. We enjoyed our stay and would stay here again.
Anthony
2016-08-02T00:00:00Z
Beautiful view on the ocean and the vegetation around is great. Host Essie was makeing sure that we had everithing we needed for our vacation. Mahalo!
Raymond
2017-04-10T00:00:00Z
My wife and I loved our 7 night stay at the Hibiscus Hale Lani. Essie was a great host. Upon arrival, she greeted us warmly with fresh fruits and answered any questions we had. The unit was very clean and well maintained. Amenities are exactly as described. Location was amazing, literally steps from the water. The strip of beach behind the property is basically a private beach. Drive into Kapaa is only about 10-15 minutes, close enough for convenience and far enough to be away from the busy town area. All in all, this was a perfect vacation and we can't wait to go back. Mahalo Essie!
Danny
2016-10-19T00:00:00Z
ON THE WATER- you cannot beat the location. Actually at an ideal part of the island to explore, smack dab center between north and south. Open windows and floorplan, great deck. 100% perfection for relaxation. One of the best beach locations I have ever stayed in. Every time we came in at the end of day, the sounds of ocean crashing and the beautiful sunrises is a perfect place to rest the soul. EXPECTATIONS: this isn't a 5 star resort! Older appliances, windows, and a few bugs around. This is the garden island and this spot is literally ON THE WATER. Expect that! But the place is kept clean and maintained enough. Expect 3 star on that end. SUGGESTION! New beds and linens! There are 2 full size beds in the unit, making it ok to be able to accommodate a family of 4 or 2 intimate couples. Tried both the beds in the unit and they were back breakers for me unfortunately, and my feet were hanging over (I'm 6'1, 215lbs). And the linens could certainly use higher quality. OVERALL, LOVED our stay. This place truly has some 5 star potential with some upgrades to the bedding situation. Put a nice queen sized bed with some high quality linens and this place is a can't miss spot!
REN
2017-04-01T00:00:00Z
Unbelievable view from the bed in the common area, watch the clouds roll by, and enjoy your coffee on the lanai in peace and quiet. This location is a bit away from town, so it's a wonderful place to stargaze on a clear night. Basic amenities, but complete with what you need.
Esther
2016-12-19T00:00:00Z
Szoba típusa
Teljes ház/lakás
---
Ingatlan típusa
Ház
---
Férőhelyek
2
---
Hálószobák
Anahola, Hawaii, Egyesült Államok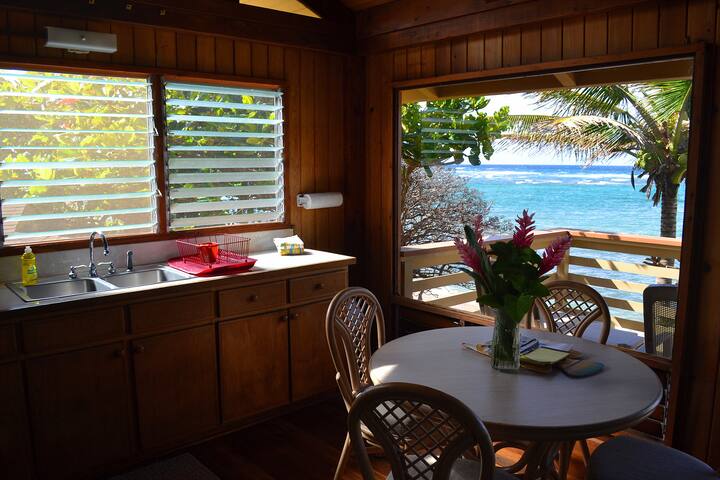 Eine sehr schöne, komfortable und private modernes Haus auf 3 Morgen. Ruhige & romantische, ein perfekter Ort zum Entspannen und genießen!
Dieses saubere, offene, ist privates Refugium zentral gelegen auf einem schönen, üppig gestalteten 3-Morgen-Bio-Bauernhof mit reichlich bunten Anpflanzungen von einheimischen Obst und Gemüse. Das Haus verfügt über eine moderne up-to-date Küche und Geräte. Es ist leicht, hell und hat eine wunderbare offene Atmosphäre. Sie werden auch auf der Tempurpedic Queen-Size-Bett schlafen. Am Abend beobachten Sie die Sonne hinter Kalalea gesetzt, die "Resting Göttin ', von der Veranda. Wenn die Bedingungen stimmen - Regenbogen gibt es zuhauf! Diese ehemalige Ananasplantage ist eine kurze Strecke von der Stadt Anahola und auf dem Weg zur Hanalei befindet. Fünf schöne, Weltklasse-Strände sind innerhalb von 3-10 Minuten zu fahren.
Check-in nach 15.00 Uhr CHECK OUT 11.00 Uhr UNABHÄNGIGER STORNIERUNGEN ENDREINIGUNG - $ 95 EXTRA PERSON NACH 2 PEOPLE- $ 25 Kaution - $ 250
A wonderful place! Amazing surroundings, tasty avocados, great space.
James
2016-11-15T00:00:00Z
What a beautiful place!!!! Secluded, beautifully decorated, and on an amazing piece of property. We are so sad we can only stay one night. Would definitely stayed longer if we could. Sherry was so friendly and warm. Gave us a little tour of the property with all the fruit and nut trees. Leaving with mangos, avocados, coconuts and more! So amazing. Thank you!!!!
nicolette
2016-07-04T00:00:00Z
This was a fantastic place and experience- truly amazing! Far away from all of the crowded resorts, it was peaceful, serene, beautiful and relaxing.... Incredible fresh fruit, veggies, and herbs on property and gorgeous, quiet beaches nearby- perfect! I highly recommend this property- we use Airbnb a lot and travel frequently and this is definitely one of my favorites. Hosts are helpful, flexible, and accommodating- can not think of a single negative thing to say about our stay!
Jennie
2016-07-22T00:00:00Z
The house was a welcome, relaxing retreat in Kauai. It was a quiet, beautiful home to chill.
Ruth
2016-10-17T00:00:00Z
What a wonderful place! We couldn't have asked for a warmer welcome from Sherry, the caretaker, or a more restful and delightful stay. We loved waking up each morning to the view of the Sleeping Giant mountain and the sound of birds (not just the chickens - who were mercifully fainter near our 'home' in Anahola than they seemed to be elsewhere). The house was super well appointed, with beach towels, coolers, beach chairs, some flippers for swimming, piles of guidebooks on the area, Netflix, some DVDs, some games, a small library of fiction (in case you were really waiting to finish 'Infinite Jest' on that Kauai trip), etc. We found the location to be great - well located between our main destinations of Tunnels Beach for snorkeling and Kok'e state park and we enjoyed the luxury of privacy and such beautiful surroundings. We hope to be back!
Cathleen
2016-08-13T00:00:00Z
Lovely house and we really enjoyed it. Sherry welcomed us kindly and explained everything. Very comfortable place to return to on a very special island. View of mountains outside. Stuff for beach provided- house has everything and was very clean and pleasant. Would definitely return and recommend.
Erika
2017-03-17T00:00:00Z
Awesome house, even better in person. The yards are amazing. Located on a great part of the island for anyone unsure of where to stay on Kauai. Hope to return soon!
charlie
2017-02-05T00:00:00Z
Overall fantastic!
Jill
2017-01-05T00:00:00Z
Szoba típusa
Teljes ház/lakás
---
Ingatlan típusa
Ház
---
Férőhelyek
3
---
Hálószobák
Anahola, Hawaii, Egyesült Államok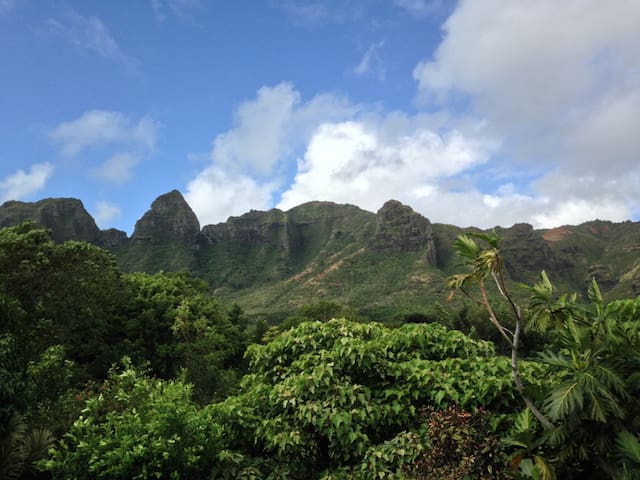 Unsere schöne Anahola Haus ist offen für Sie! Ihr privates Schlafzimmer ist sehr abgelegen und ruhig mit einer eigenen Veranda und angrenzendem Badezimmer. Ob Sie Polihale State Park besuchen, wandern die Kalalau Trail entlang der Na Pali Küste oder genießen Sie Waimea Canyon, wird dieser Raum geben Sie einen süßen Heimatbasis und einen erholsamen Schlaf gute Nacht den Spaß an der schönen Garden Island zu maximieren. Die Schönheit von Kaua'i erwartet Sie und die Aloha-Energie beginnt hier!
Aloha und Willkommen! Unser Haus ist dein Haus. Begleiten Sie uns in unserem schönen, geräumigen Haus zu entspannen und ernährt werden. Ihr privates Schlafzimmer verfügt über einen begehbaren Kleiderschrank und teilt sich ein Queen-Size-Bett machen Ihre Nächte bleiben hier einladend und komfortabel. Ihr Schlafzimmer verfügt über ein angrenzendes eigenes Bad eine große Badewanne für tiefe Entspannung mit. Es gibt viele zusätzliche Badezimmerausstattung und Leckereien zur Verfügung. Das Wohnzimmer und die große Rücken Lanai Anteil komfortable Sitzgelegenheiten zum Entspannen und die üppige grüne Umgebung und die Geräusche der Wellen genießen. Oder wenn Privatsphäre ist das, was Sie suchen, erleben Sie die Umgebung auf eigene Schlafzimmer der private Veranda. Genießen Sie eine ausgestattete Küche mit allen Utensilien für die Vorbereitung und jede Mahlzeit zu genießen. Es gibt eine Waschmaschine und Trocknen, wo Sie Ihre Kleidung reinigen. Das Haus ist hell, heiter und mit Aloha für einen erholsamen und / oder abenteuerlich Aufenthalt gefüllt. Genießen Sie Ihren Kaua'i bleiben! Fühlen Sie sich wie zu Hause fühlen und die Aloha Energie hier genau richtig! Bis bald!
Wir sind auf der Ostseite von Kaua'i in einer sehr günstigen Lage befindet, wo man andere berühmte Kaua'i Attraktionen mit einer kurzen Fahrt Norden oder Süden genießen können. Unsere Nachbarschaft ist sehr ländlich und teilt sich eine ruhige, komfortable, sichere Umgebung in der Nähe Zugang zum Strand.
The space was perfect!!! So clean and so much room. We had our own bathroom and porch. Magdalene was very helpful and accommodating! The house is located in a very quiet and peaceful area, but not to far of a drive to nice beaches, hikes, and restaurants. We would definitely stay here again if on Kauai!
Debany
2016-10-11T00:00:00Z
It was a wonderful time staying at Magdalene's home. Magdalene gave us a very warm-hearted welcome and gave us THE information we needed to explore the island. We really loved her home and if we have had more time we would have spent more time in the beautiful house with a really big garden which is located in a quiet and peaceful area, but not to far to explore the whole island. Our recommendation for this lodging: 100 %
Maria
2016-12-09T00:00:00Z
I had an excellent stay in this beautiful home enveloped by nature. Room and bathroom were huge, super clean and well decorated.Hosts were accommodating, clearly communicated and suggested sights worth exploring. I highly recommend Magdalene's place. It was a true refuge:-)
Angel
2017-02-27T00:00:00Z
Magdalene's place is perfect for those looking to slow down and enjoy the quiet power of Anahola. While I was here, I watched the full moon rise over their back patio, looking over gorgeous land to the ocean. I would reccomend their warm, inviting, clean, conscious home! I especially appreciated the private room with its own bathroom, the open air feel of their house and the natural light.
Alana
2017-01-16T00:00:00Z
Magdalene's a great host, the place is beautiful and in a convinient location. Highly recommended
Wim
2017-02-17T00:00:00Z
Calm, peaceful, quiet, beautiful, and spiritually restful. If that describes what you desire, you've found a home.
Morton L
2017-03-28T00:00:00Z
Very beautiful property in a very rural setting. Magdalene was accommodating with our late arrival due to a 4-hour flight delay. Our expectations of a quiet setting (room is situated just outside the kitchen/office, there was more household noise than expected) and bed comfort are the reasons for the rating given.
Jennie
2017-03-12T00:00:00Z
Pictures of the place don't make justice of the place. You will wake up every morning with a sweet birds concert, at night crickets. Property has an amazing huge garden at the back of the house. Room is big and comfortable. Magdalene was kind enough to provide toothpaste, shampoo, and body cream if forgotten. My only suggestion would be to follow her instructions when you arrive considering that navigators are not always trustworthy in the island. Thanks Magdalene for your kindness.
Magarita
2017-04-08T00:00:00Z
Szoba típusa
Privát szoba
---
Ingatlan típusa
Ház
---
Férőhelyek
2
---
Hálószobák
Anahola, Hawaii, Egyesült Államok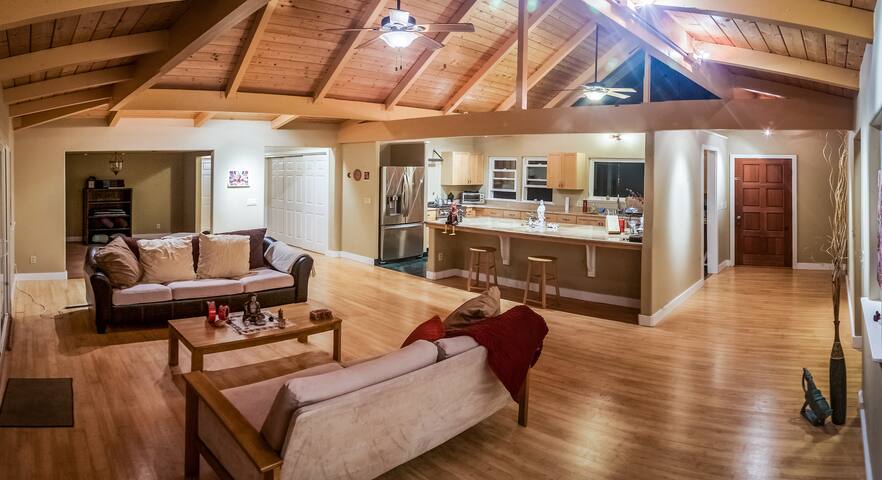 Extrêmement privé, entouré dans la beauté luxuriante, niché sous une majestueuse chaîne de montagnes, situé au centre et à 5 minutes pour vider les plages de sable blanc en voiture. A l'intérieur, ca, le style propre, confortable, très confortable et très île.
Totalement maison privée, stand alone construit sur mesure privé 1/2 acre, fruits tropicaux et de fleurs nichées sous Cordillera Kalalea. Brrr ac. 5 minutes en voiture à Anahola Bay w / plages de sable blanc, le surf et swimming.Close Whalers de magasin général, bureau de poste, marché fermier, stand de fruits et hamburger Ono Char. Sur la route de l'aéroport à la maison est un centre commercial à Kapaa w / Safeway (ouvert 24 heures), magasin d'aliments naturels papayes, et beaucoup d'endroits à manger et une boutique. A l'intérieur, une baignoire, une cuisine complète, salut. DOCUP. wi-fi, télévision par câble, DVD blue ray, des tonnes de films, planchers de bois, beaucoup de portes et fenêtres, ventilateurs de plafond et une véranda fraîche avec laveuse et sécheuse. Construit par les propriétaires avec amour c'est un nid d'amour de lune de miel très privé! Spécialisée dans 25 min. N. de l'aéroport de Lihue, 25 min. N. Hanalei et mondialement célèbre, (fin de route) côte Napali w / randonnée et le kayak. 15 min. Kapaa avec beaucoup de magasins, des restaurants et une classe mondiale vélo, marche sentier en bord de mer. Nous vous fournissons tous vos besoins de plage. Chaises, serviettes, tuba, boogie boards, etc.) Vos hôtes sont 20 résidents de l'année avec beaucoup d'Aloha et les connaissances locales à partager. 5 nuits min., 2 personnes max., 125 frais de nettoyage, 300 dépôt de garantie remboursable, 150,00 par nuit. Le Cottage cool est unique parce que vous êtes à la fin d'une petite route de campagne sur 1/2 acres luxuriante, sous une montagne majestueuse, entourée de beauté, soutenir la guérison, la relaxation et l'aventure! Ceci est un vrai nighborhood rural avec les sons de coqs, des poules, des oiseaux, des chevaux et des toutous. Lorsque le monde extérieur est tumultueux aller à l'intérieur, mettez ac et détendez-vous dans votre propre bulle fraîche heureux! Une voiture de location est un must ici, le bus est même pas proche de notre route. S'il vous plaît savons que nous vendons notre propriété et nous pouvons demander à l'avance avec une bonne bouteille de vin pour nous permettre une projection de temps.
Die Lage ist perfekt, zentral, so dass Sie alle Seiten der Insel leicht erkunden können. Rural mit Tierlauten. Hunde, Hähne, Hühner mähen. Singvögel singen süße Lieder!
Thanks Jill for the wonderful stay. We had a great time, centrally located for access around the Island and Jill has thought of everything to make it a pleasant experience. We loved Anahola beach too, just down the road. It was a nice temperature not to use the a/c at night and the dogs only disturbed us a couple of nights (it was full moon). the a/c would have drowned them out but we were 't use to the noise of those units. Thanks again for the stay!
Nichola
2016-07-24T00:00:00Z
Great little cottage conveniently located 15 minutes from Kaapa and 20ish from Princeville where there are plenty of restaurants and places to buy groceries. The AC kept us cool during our stay (we're from Oregon so Hawaii's 'winter' was still pretty warm to us!). Jill provided a nice welcome basket with breakfast stuff as well as boogie boards, beach chairs, snorkels, flippers and a cooler, so thoughtful! There was also bug spray provided which helped fight off the island mosquitos. The dog and rooster calls didn't bother us at all, the AC and fans blotted out the noise at night. A great home base for exploring the island!
Nathalie
2015-11-17T00:00:00Z
Very nice and clean place to stay. We did like the location very much and it was an excellent base from where to explore the island. Very happy to have a washing machine and dryer as well. Unfortunately the barking of the dogs was rather unpleasant and made it difficult to sleep. Everything such as snorkel gear, beach towels etc. was provided and much appreciated. ALOHA
Cornelia
2016-11-28T00:00:00Z
Cute place great location! Was an excellent home base for our honeymoon. Close proximity to the north shore, hiking, dining, etc... Kitchen is stocked with necessities and the studio was nice and clean when we arrived. Note that it is definitely a cottage in the jungle. So be sure to use your bug spray if you're hanging outside and use the noise machine if you're a light sleeper.
Jessica
2016-05-08T00:00:00Z
The hosts made us feel very welcomed. I had difficulty navigating the neighborhood roads (don't go with the GPS on this one, like they say) but Jill was very kind and went out of her way to help us find the cottage. Location was amazing. Not in a busy or touristy area at all. It is between the north shore, and the happening towns of Kapa'a and Wailua, so we felt like we had easy access to a lot of what Kauai offered (20+ min drive each way... normal for Kauai driving). The driveway leading to the cottage has an amazing mountain view. The neighborhood is peaceful, with an occasional barking dog in the distance or crowing rooster, but my wife and I slept great. The privacy of the cottage is one of the best things about it--a wall of vegetation lines the property and from most angles, I'm sure no one could see into it from the outside. The hosts provide the most extravagant amenities in the cottage that were so helpful for us--swimming accessories, bathroom items, kitchen furnishings. We really enjoyed getting some groceries and coming back to the cottage in the evenings to make dinners. Highly highly recommended!
Carl
2015-08-13T00:00:00Z
My wife and I thoroughly enjoyed our stay at the Healing Cottage! The amenities provided make the place very comfortable and homie, and the cottage is very private, with a dedicated driveway and a perimeter of thick vegetation. The location was perfect, a short drive from plenty of Kaua'i destinations, including Anahola Beach. The dogs and roosters in the neighborhood were a little noisy, but nothing the fan/AC couldn't drown out at night. I can't recommend the cottage enough. We would absolutely stay again.
Ryan
2015-11-23T00:00:00Z
Jill greeted us personally and so warmly. She left us a lovely welcome package including local fresh fruit. Her cottage is just perfect. The location is ideal. The space is private with a breathtaking view. We had all the information we needed for everything in the cottage. Snorkeling gear, laundry, AC, fans, boogie boards, guide books... nothing here is overlooked. On our first trip to this island, I was hesitant not to book a place walking distance to the beach. Fear not! You'll have the private, secluded escape here you will not have at any condo. The beach is close. So close. We enjoyed a few late mornings just lounging at "home". My partner had to work a few hours each day so I can assure you, if you need, the wireless is speedy. Thank you, Jill! We had an epic, romantic trip thanks in huge part to your beautiful home.
Sarah
2015-09-21T00:00:00Z
This Kauai cottage is awesome! We loved the place. Private with great mountain view. Jill and Craig were great hosts-very friendly. They helped us with trip/restaurant questions and made every effort to make our stay enjoyable with little notes and suggestions about the cottage. It was nice to have WiFi and a full kitchen to cook up meals.
Tim
2015-03-06T00:00:00Z
Szoba típusa
Teljes ház/lakás
---
Ingatlan típusa
Ház
---
Férőhelyek
2
---
Hálószobák
Anahola, Hawaii, Egyesült Államok
Wir kümmern sich um alle Ihre Bedürfnisse von Transport zum und vom Flughafen, Frühstück, Mittagessen und Abendessen für Sie von unserem Küchenchef zubereitet. Wir haben auch private Touren rund um die Insel von den Stränden zu den Wasserfällen und Kajak zu erstaunlichen Wanderwegen wir alles tun, dazwischen. Erlauben Sie uns bitte Ihre Upgrade-Aktivitäten wie Hubschrauber, Na Pali Coast Bootsfahrten und Hawaiian Luau ist zu arrangieren. Wir sehen uns bald für ein wunderbares Abenteuer!
Das Haus ist ideal für große Gruppen jeweils anderen Unternehmens zu genießen. Günstig Kauais Nordufer mit einfachen Zugang zu den schönsten Sehenswürdigkeiten in der Nähe befindet mich auf. Dieser Ort ist ideal für einen romantischen Ausflug oder für Alleinreisende, die die Natur in einer sicheren Umgebung erleben wollen.
Da dies ein All-Inclusive-Paket Gehäuse ist Ihre "Nachbarschaft" ist die gesamte Insel Kauai. Sie werden sehen, und mehr Dinge zu tun, mit uns als möglich selbst. Sehr wenig Zeit tatsächlich in der Wohnung außer zum Schlafen und erleben feines Essen von unserem Küchenchef ausgegeben werden. Jeden Tag werden wir früh los sein Abenteuer auf der ganzen Insel. Es sei denn natürlich wollen Sie nach Hause zu bleiben und sich zu entspannen, während der Rest der Gruppe die Insel erkundet.
John's place was perfect. We had à little trouble finding the place but he did everything he could to fix it and it made us feel important to him. Wich is great customer service!
Claudie
2014-12-26T00:00:00Z
Aw John was such a wonderful host! He even gave us dinner and fruit when we came late at night! His wife is very sweet, and all cats and other animals are. He was very helpful and I wish we would stay longer. The view from the house is amazing! The stars are magnificent at night and the room itself is so cozy and nice! It was wonderful to be there!
Elena
2014-06-20T00:00:00Z
John was the perfect host. Beside giving us a place to stay, he gave to us snorkeling gear and even gave us a surfing lessons. Beautiful views from window. Highly recommended!
Aleksander
2014-10-26T00:00:00Z
I highly recommend this gem of a place on Kauai! The location is quiet and private, with gorgeous mountain views from the front porch. Everything was very tidy and tastefully arranged, and we felt completely at home. We were staying in the apartment with the kitchenette, and it was perfect for us! We made the reservation before this was changed to an all-inclusive listing, so we were doing meals on our own, but the kitchenette was everything we needed to put together simple meals if we didn't feel like eating out. Chris (the head tour guide) went above and beyond for us-- our flight into Lihue was delayed and we didn't get to Anahola until midnight, but he was there to meet us and make sure we had everything we needed to get settled in. He also included us on one of the waterfall tours that is featured as part of the all-inclusive package. It was an amazing experience, definitely a highlight of our trip! He showed us trails and scenic spots that we never would have found on our own. He also took pictures and videos for us that he sent us afterwards. He was extremely knowledgeable about Kauai in general and was able to answer any questions we had about the area or the plant life. If you want an insider's scoop on what to do in Kauai, he will definitely give it to you!
Anna
2016-09-07T00:00:00Z
We had a great time in Kaua'i at John's place. This accommodation is perfectly located for day trips around the island and suits to young people. John is very helpful and friendly. Thank you, Adrian & Danièle P.S. We enjoyed a lot the daily fresh fruits from John's farm.
Danièle
2015-03-27T00:00:00Z
Wow! Where to begin. My parents and I made a split second, impulse decision to finally visit Hawaii. We searched for an adventurous family trip and stumbled upon this incredible, all-inclusive listing in the beautiful Garden Isle of Kauai. Included was a personal chef and personal tour guide. Immediately we thought this offer was too good to let down, so we booked it - unaware of how INCREDIBLE our decision was. Besides our breathtaking private Hawaiian retreat (a beautiful, spacious home with incredible mountain views on one side and the turquoise, shimmering Pacific ocean on the other) we were warmly welcomed by Chris - our adventurous, friendly, funny and knowledgeable tour guide - and Thaan - our down to earth, caring INCREDIBLE chef. Despite our vacation only being 6 nights, each day was packed with adventure and exploration. Each location that we visited was perfect for our abilities - we were once joined by an adventurous little girl and other times adults of various ages. Whether it was cliff jumping, swimming with Hawaii's endangered giant sea turtles, relaxing in Queen's bath, hiking the Napali coast, exploring the jungle to discover secret waterfalls, snorkeling with the wide assortment of tropical multi-colored sea life, walking to a beach with friendly goats (Woody and Molly), rope swinging into private swimming ponds, eating wild jungle flowers, sunbathing in privacy on a "traditional" Hawaiian cove, savoring refreshing shaved ice, viewing the Grand Canyon of the Isle (more breathtaking than the actual Grand Canyon), exploring the filming locations of Jurassic Park or adventuring with some of the kindest people, then Chris' tours with Our Beautiful Rock are for you! Now to the FOOD: Besides always having a smile on her face and kindness in her heart, Thaan (our private chef) is truly one of the best - if not THE best - chef we have ever met. Coming from 3 people that love food and try all types of cuisines that is saying a lot. Every morning we awoke to the smell of bacon, eggs, fresh fruit (from the garden) and coffee. It is truly shocking how every single dish that Thaan creates is so delicious. Our family, being big fans of Thai food, can safely say that Thaan prepared the best Thai food that we have ever had. (Be sure to ask for Thai iced tea if you want to try the best drink in the world) One morning we mentioned we liked Mexican food and for dinner we had basically a Mexican fiesta! You name it, Thaan can make it. During both breakfast and dinner (lunch was to-go while hiking / adventuring), we talked and laughed with Thaan and Chris. Although we entered this incredible adventure not knowing each other, after 7 days we departed as friends. THANK YOU CHRIS! THANK YOU THAAN! THANK YOU!
Nils
2016-08-23T00:00:00Z
My husband and I loved the room because it included a kitchenette (and all the tools we needed), a washroom and a balcony with a great view. Everything was clean and there was lots of room for our luggage. We had booked prior to the listing becoming all inclusive, but Chris generously included us on a day trip that would be part of the all inclusive package. We saw waterfalls and went to a turtle cave. Chris had snorkelling gear for us and my husband was delighted to use it and see turtles and fish. He also took us for the best shave ice on the islands. We rented a car and could reach anywhere on the island within an hour. There were beaches within 10 minutes of driving.
Alana
2016-07-14T00:00:00Z
Great place, a paradise on earth. Small apartment opened with everything needed air. Conveniently located between the north shore and the south shore. With a beautiful beach a 2 minute drive John was very careful, we've missed anything. I will return tomorrow morning;)
Steeve
2014-09-03T00:00:00Z
Szoba típusa
Teljes ház/lakás
---
Ingatlan típusa
Ház
---
Férőhelyek
10
---
Hálószobák
Anahola, Hawaii, Egyesült Államok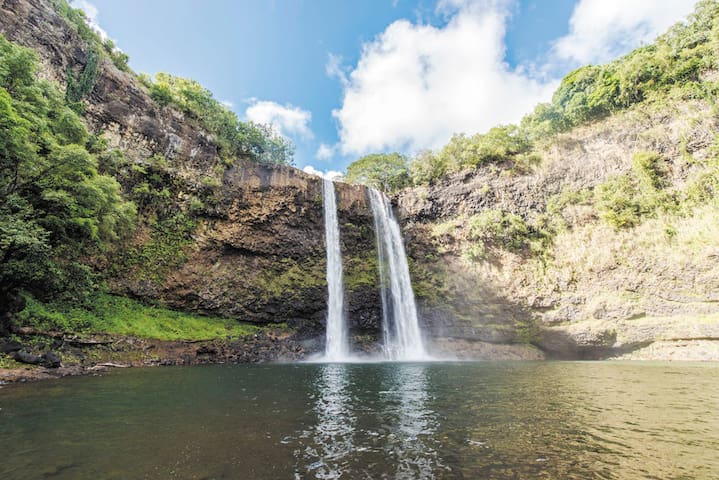 Unser 1 zm Haus ist nur wenige Schritte vom Aliomanu Beach. Privater Hof in ländlich bedeutet einen ruhigen Aufenthalt jenseits der Hektik des touristischen Gebieten. In zentraler Lage am East Kauai mit kurzem Ausflug (15-20min) nach Kapaa, Kilauea und Prince. Genießen..
Für etwa den gleichen Preis unserer Hochzeitsreise Hütte eine gemütliche Lage in Strandnähe mit einem Gefühl der Privatsphäre bietet kann man einfach nicht in einem Touristenhotel zu bekommen. Die Honeymoon Cottage ist ein Ein-Schlafzimmer (Queen-Size-Bett) Versteck Haus mit seinem eigenen privaten Garten und Zugang zum Strand zu Aliomanu Bay in Kauai. Wir befinden uns in einer ländlichen Gegend gelegen, aber nur 15 Minuten (Fahrzeit) von Kapaa, Kilauea und 20 Minuten Prince Annehmlichkeiten oder einem gesunden Fuß (ca. 20 Minuten) zu Anahola Restaurants, Post und General Store. Zur Ausstattung gehört: Beiläufig Küche (w / 2-Flammen-Kochfeld, Mikrowelle, Toaster & Toastern, in voller Größe Kühlschrank), Wohnzimmer, Essecke, Grill auf Lanai, Kabel-TV, Waschmaschine / Trockner und Deckenventilatoren. HINWEIS: Internet, Wireless LAN und unbegrenzter Orts- und Fern (nach USA, Kanada und Mexiko) Aufruf sind jetzt enthalten. Tragbares A / C bei 10 $ / Tag verfügbar ist (Strom sehr hoch ist hier), aber oft nicht erforderlich, da kühle Brise häufig bläst, aber manchmal und vor allem, wenn Sie Probleme beim Atmen haben, wenn die Brise langsam, die A / C wäre ratsam. Wie weit zum Strand? 35-40 Schritte je nachdem, wie groß Ihren Schritt. Es gibt einen privaten Weg von der Hütte zu Aliomanu Beach. Der Strand ist von einem Korallenriff geschützt, aus etwa 50 Metern entfernt. Keine großen Wellen kommen in den Badebereich. Bei Ebbe können Sie die Gezeiten-Pools oder zu Fuß auf den Riff im seichten Wasser untersuchen, wenn es tiefe Plätze zu schwimmen. Für meinen Geschmack ist das Wasser etwas kühl in den Wintermonaten, aber ich sehe die Menschen aus dem Wasser das ganze Jahr über genießen. Obwohl ein Auto für die Erkundung der Insel auf eigene Faust groß sein würde, werden wir Sie gerne am Flughafen ($ 30 / pro Strecke) abholen oder geben Sie eine von mehreren Führungen unserer schönen Insel (Fahr @ $ 20 / Stunde oder in der Nachbarschaft kostenlos zu Fuß) Besuchen Sie: http: (URL HIDDEN) für weitere Bilder Blumen, Obst, Wein, Computer in Bildern dargestellt sind ein Vorschlag, die gekauft / gemietet werden können. Preise auf Anfrage. Beachten Sie, unsere netten Häuschen kein Luxushotel mit 24-Stunden Zimmerservice ist. Es liegt in einer ländlichen und manchmal feuchten tropischen Umgebung. Wenn diese Informationen, die Sie betrifft ... uns Fragen stellen. Hinweis: Eine Nichtraucher-Anlage. Reinigungsgebühr: $ 130 Preis pro Nacht beinhaltet staatliche Steuern (13.41%). Unsere Anlage wurde von der Grafschaft Kauai, # 5069 genehmigt. Backup 24/7 Telefon: (PHONE NUMBER HIDDEN).
Unsere Nachbarschaft ist mit vielen blühenden und Obstbäumen ländliche. Wir haben wilde Hühner, manchmal Kaninchen und Gänse. Manchmal hat man den Zustand Vogel, Nene und vom Aussterben bedrohte Hawaiian Moorhen zu sehen. Kong Lagune ist nur einen Steinwurf entfernt mit Kaulquappen, Tilapia, Elritzen, Garnelen und Moorhen ist. Natürlich vergessen Sie nicht, das Meer nur mit Gezeiten-Pools Schritte entfernt zu erkunden.
We had the best two weeks ever! Dave and Deana were very kind and were available whenever we needed help with anything. We also were allowed such privacy that we felt like we were the only people on the whole block. The cottage is very private with a very cute yard that is perfect for private suntanning and breakfast, lunches, and dinners on the patio table. The plumaria tree in the yard smells so amazing! It was great watching the flowers build up on the ground throughout our stay. We took a nice tour with Dave of the properties in the area that are home to various fruit trees! He was very kind and gave us more fruit than we could eat! Overall, it was a wonderful time and would recommend this cottage for not only honeymoons but a great getaway for two! We will defiantly be returning in the future!
Adam
2012-08-27T00:00:00Z
The Honeymoon Cottage is a truly lovely place. It's spacious, private and has most amenities one needs. The direct access to the (mostly private) beach is a big big plus! The location is also perfect, it's quiet yet a great home base to explore the island - half an hour from Hanalei, half an our from Lihue. I totally recommend staying at this cute cottage and would gladly stay here again if I ever visit Kauai again (which I hope I will!)
Aniek
2016-09-09T00:00:00Z
Wonderful, spacious cottage less than a 1/2 block from the ocean. Very peaceful (except for roosters!). We definitely enjoyed our stay. You will too!
Debbie
2016-08-27T00:00:00Z
The cottage was amazing and the location made for an easy honeymoon. We loved the north shore so being close to it was nice. The beach out side of the cottage was amazing. Dave was a wealth of information and we also highly recommend the walk and tour with him. Everything was perfect. Best vacation ever!
Laura
2015-07-08T00:00:00Z
Dave & Deana are awesome, friendly and super helpful! The house is beautifully situated close to the beach and in front of the stunning, and amazing energy of Anahola Mountain. I highly recommend staying in the sweet honeymoon cottage. You will hear the ocean, and smell the flowers while eating breakfast :)
Laura
2011-12-01T00:00:00Z
I really loved staying in this cozy little home. It was exactly as advertised. I think other renters have described it aptly so I'll just give you what I thought were the highlights. Pros: * Located in a quiet residential area away from other tourists. * Just a short walk around the big house to a lovely secluded beach. * Great snorkeling in your own 'back yard'. * Feels like home away from home. * Nice bathroom with roomy shower plus washer and dryer! * Well equipped kitchen (for a rental) with a decent knife set. * Very comfortable bed! * Nature's alarm clock doesn't let you sleep your vacation away. * Helpful notes in just the right places meant I never had to ask! * Gracious hosts who are there if you need them, not if you don't. Cons...and these are quite minor in my opinion: * Living room furniture is not very comfy. * Path from parking to front door is not well lit at night. * No A/C. House can get rather humid after a big rain and the A/C would help dry it out quickly. Otherwise, the fans are more than adequate to keep it comfy.
Brenna
2016-01-03T00:00:00Z
The location of the cottage was awesome. Just steps from your almost private beach with lots of nature around. Daves tour was really really nice. It could get a little humid inside but the fans did a good job. It's a tropical location so you should expect some mosquitos and bugs.
Julia
2016-09-19T00:00:00Z
Deana and Dave"s Cottage was fantastic! It was perfectly located on Kauai for exploring the Island. The house is bigger in person than it looks in pictures and we really enjoyed the close, nearly empty beach. The multiple windows allow lovely breezes and the house has everything you could want. I borrowed a mask and flippers for snorkeling which was a wonderful perk. The kitchen is casual, two burners, but we easily managed to cook a few very good meals. The lanai is perfect for morning sun and very private. Treat yourself to your own house instead of some lame hotel for the same, and even better price! We are definitely going to return~
Brenda
2011-06-23T00:00:00Z
Szoba típusa
Teljes ház/lakás
---
Ingatlan típusa
Ház
---
Férőhelyek
3
---
Hálószobák
Anahola, Hawaii, Egyesült Államok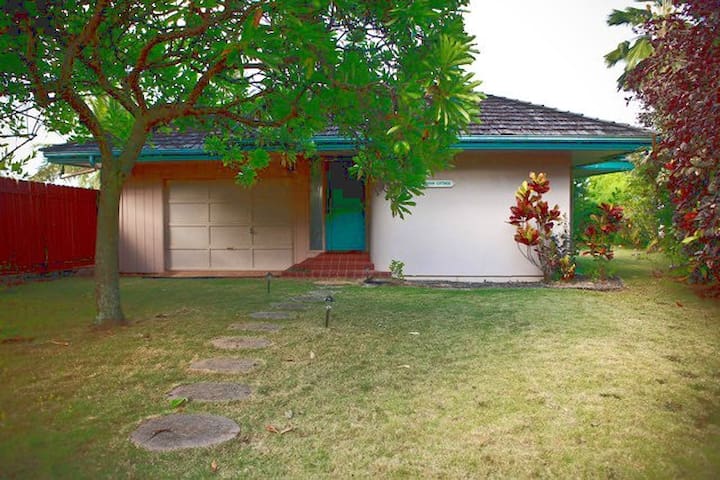 Unser Haus ist zu Anahola Bay und Anahola Marktplatz schließen. Sie lieben unsere Heimat lieben wegen der großen Garten, Außenkamin, üppigem Grün und nur wenige Schritte vom Strand entfernt! Toller Ort für Familien (mit Kindern) und Gruppen, aber auch ideal für ein paar Paare oder Freunde, die einen erholsamen Urlaub wünschen.
This place was great! It was perfect for our week long stay in Kauai. The house is on a big piece of property with a great backyard for bbqing, a campfire and hanging out. There was a canopy with an awesome patio furniture set up as well. The house is super close to a somewhat private beautiful beach that never got busy. You can snorkel, float, lay out and surf on the beach. The kitchen was great for cooking meals and everyone's bedrooms were close but still private. Two of the bedrooms have air conditioners and the rest of the house had fans to keep cool on the hot days/nights. The house was a great place to come home to after spending the day outside. I had a chance to meet Darren and he was super friendly, accommodating. I would def stay here again. Just some helpful advice for anybody staying at this place: - there is a kayak, three surf boards, snorkel gear, a boogie board and a SUP board. really awesome. there are some other water gear that we didn't use. -the kitchen does not come stocked with spices except Salt and Pepper. It did come with sponges, cleaning supplies, garbage bags, dish soap, and a full kitchen of pots, pants, dishes, silverware, cups etc. - there is a coffee maker but no filters. - there are initial rolls of toilet paper but for long term stays you need to bring/buy your own. - cable tv and wifi
Sam
2016-11-07T00:00:00Z
This house was a sweet home away from home during our visit to Kauai. Although there is no ocean view, you can hear the ocean, which is just a 2 minute walk away. Anahola beach is fun for walking and swimming (though the surf was rough while we were there) and there is a great stream nearby that you can kayak. It's also a locals beach, so its fun to see the kids surfing when they get out of school. Very conveniently located near Kapaa (10 minutes away) and Princeville/Hanalei (30 minutes) for dinner. There is room for 8 people to sleep, but I think that would be a bit tight. For just my husband and me, it was extremely spacious! We felt really at home and enjoyed our visit. Thanks Darren!
Amy
2017-02-03T00:00:00Z
Szoba típusa
Teljes ház/lakás
---
Ingatlan típusa
Ház
---
Férőhelyek
10
---
Hálószobák
Anahola, Hawaii, Egyesült Államok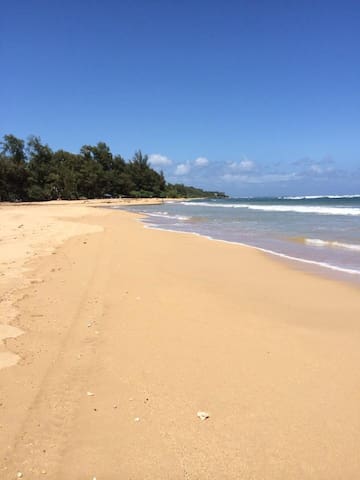 Kauai Bliss Cottage sulla spiaggia! posizione fronte mare Classic su tranquillo, lussureggiante e tropicale Aliomanu Bay. Proprio sulla spiaggia! Nuotare e fare snorkeling in loco. ORA CON ARIA CONDIZIONATA Nuovo frigorifero! Lavatrice e Dyer nei locali
Il piano di sopra e di sotto, non sono unificati.
Our host was very accommodating and there were ample instructions on use of the house. The view of the ocean is stunning and we loved the constant breeze that kept us cool. There was plenty of room for our family and the kitchen had all the appliances, pots and pans etc. we needed. Anahola is a great central location for accessing different parts of the island.
Betsy
2016-10-29T00:00:00Z
Perfect quiet location off the main highway and right on the beach! We loved the bright, beachy vibe of the interior as so much of the accommodation in Hawaii feels dated. The kitchen was well equipped with oils and spices for cooking and the cleaner even left some treats like coffee and chocolate to get us started. Plenty of bath and beach towels provided. We also loved that the house was on the east coast of Kauai just a few minutes drive to Kapaa and Anahola which both feel like local towns, without the resorty condos - lots of cute stores and food trucks. Also convenient to explore the north and south shores of the island and an easy 30 mins to the airport. On the weekend the beach is uncrowded with a few local fishermen spear fishing or families hanging out. We saw a monk seal while taking a morning walk along the beach and a whale breaching while having breakfast on the terrace. The bay right off the back yard is calm and beautiful for a swim, which we did each morning before breakfast. Such a lovely way to wake up. There are 3 bedrooms with 2 bedrooms on the lower level - the lower and upper levels are not connected by an interior staircase. As we stayed on the upper level only it was not an issue.
Li-Ann
2016-02-28T00:00:00Z
Everything was great
Steve
2016-11-17T00:00:00Z
Our family of four, parents and two adult children, loved our stay at Beachfront Aliomanu Bay, Anahola! We thoroughly enjoyed the open concept and spaciousness of the upstairs. The children had the downstairs bedrooms. After days exploring the island or walking the beach, it was delightful to return and relax on the lanai listening to the surf. We could sleep with the sliding doors open to enjoy the tropical breezes. The open kitchen enabled us to cook or pick up a meal (Chicken in a Barrel - YUM!) and enjoy it on the lanai. We experienced a full moon reflecting on the ocean while we were there; lovely beyond words. Kauai is beautiful and we did a lot of driving around exploring the island. We drove north past Princeville to the Napali Coast where we hiked the Kalalau Trail (rather, PART of the trail) - a highpoint of the trip. We booked with Jack Harter Helicopter tours - amazing - perhaps THE highpoint of the trip! We enjoyed a delicious meal at Verde - food and service was excellent. We loved eating from the food trucks in Wailua, or was it Kapaa? Our guidebook, The Ultimate Kauai Guidebook: Kauai Revealed, gave excellent advice - can't recommend it highly enough. Shops in Wailua and Kapaa were fun to brouse. The neighborhood was lovely and very friendly to us. We learned from one gentleman who had lived there is whole life, about his kamquats and "Don't Touch Me" flowers. It is a lovely spot and we would return in a flash. Thank you, Theron!
Valerie
2016-02-24T00:00:00Z
Wir hatten eine super Zeit in Anahola. Die Unterkunft ist ideal gelegen für Ausflüge, die Nord- und die Südseite der Insel sind schnell per Auto erreichbar. Die Lage direkt am Strand ist perfekt und auf Kauai wegen der vielen Klippen nicht of zu finden. Es ist sehr ruhig, die Nachbaren, die wir angetroffen haben waren sehr freundlich und hilfbereit. Die Ausstattung ist zweckmässig. Eine hilfreiche Info für zukünftige Gäste: Für die Person, die im linken Zimmer im UG übernachtet, gibt es zwei Möglichkeiten, die Toiletten zu benutzen, bei beiden muss man aber nach draussen. Entweder über die Aussentreppe in den oberen Stock oder ins andere Zimmer im UG, dort ist die Toilette jedoch direkt neben dem Bett. Für uns war das kein Problem, aber es ist gewöhnungsbedürftig. Die Unterkunft ist zwar ziemlich teuer, jedoch verhältnismässig wenn man es mit den Preisen allgemein auf der Insel vergleicht. Und die Lage allein entschädigt für alles. Wir würden wieder kommen.
Sarah
2016-10-14T00:00:00Z
We've stayed over Christmas/New Year in four different Airbnb's across Oahu, Big Island and Kauai. This property had the most idyllic location - right on the beach. Nice garden, big terrace for breakfast in the morning. And perfect for the New Year fireworks on the beach - we did our own small one with the kids. Just keep in mind three things - Kauai tends to be more expensive than the other islands - It's on the beach and with it comes nature - also into the house. That's just normal - The rooms are spread over two floors, and the lower floor rooms are 'tight', i.e., little space to open your suitcase and leave it open. Whereas upstairs has plenty of space. But if you are looking for a nice rustic place on the beach - this is your place to go. Mahalo
Berthold
2017-01-02T00:00:00Z
Location-location-location. This place is right on the beach! Up at sunrise each morning walking the beach and seeing lots of wildlife including a huge monk seal who stayed for 2 days and sea turtles. A bit windy due to Nov. rains which did not spoil our vacation. The upstairs portion is a huge room with adequate cooking supplies and eating area where we celebrated Thanksgiving with family. No dishwasher but we did it the old fashioned way and a great time to visit with family and catch up on grandkids activities. Good internet connections. Compared to the upstairs, the bedrooms downstairs are smaller but a microwave and coffeemaker are nice amenities. Met great neighbors and scored points beachcombing and cleaning up the debris after the night storms. Had a great time and close to Kapaa and north shore.
Charlotte
2016-12-02T00:00:00Z
The Anahola neighborhood is a truly local spot. Dont miss the King Kong Acai Bowl from the Shave Ice stand in the Anahola baptist Church parking lot!! Make a habit of Duane's Ono Char Burger and their Marionberry milkshake all a 20min walk to the main highway from the beach House!! In the evenings local fisherman are right out on Aliomanu Beach with their nets while you look on from the beach chairs. Truly unforgettable location, the calm yet steady waves break perfectly to the left and right of the home's backyard ocean. The home was cleaned right before we arrived and it fit a large family of different ages with plenty of space for everyone to have privacy. As others have mentioned, this is a rugged beach house, but right on the water. No frills and the bathroom needs to be renovated.
Erica
2016-07-07T00:00:00Z
Szoba típusa
Teljes ház/lakás
---
Ingatlan típusa
Ház
---
Férőhelyek
8
---
Hálószobák
Anahola, Hawaii, Egyesült Államok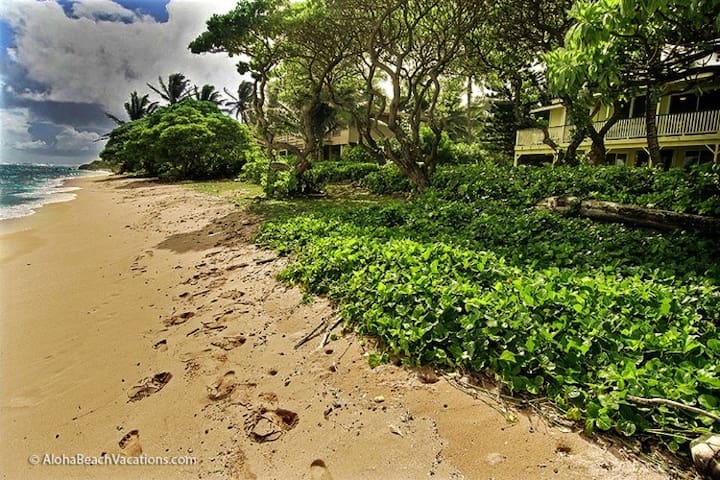 Bevorzugte Auswahl hide-a-way für Abgeschiedenheit und doch zentral auf der Insel.
Nur wenige Schritte entfernt, der weiße Sandstrand lockt von diesem wunderbaren Haus. Bestehend aus 4 Schlafzimmer, 2 mit Meerblick plus Dachboden und 3 Bäder. Voll ausgestattet mit Fernseher, CD-Player, Fax, Gartenmöbel, Grill und vielen Extras ausgestattet. 3 König, 1 Königin und 1 Futon. Alle Zimmer sind klimatisiert. Schlafen 10.
We really enjoyed our stay at the BOND house. The ocean-front location is amazing! Incredible views from both inside and outside of the house. Lots of outdoor living areas (covered deck downstairs and 2 porches on the second floor). The beach isn't huge but certainly sufficient for walking along at any time other than high tide. The neighborhood is quiet and very peaceful. There is a 15-20 min drive to the nearest town but not unreasonable for the slower paced, remote nature of Kauai. There is plenty of vegetation around the house providing adequate privacy. The house is well equipped with linens, beach towels and beach gear including chairs, a cooler, and fins/ snorkels/ toys for the kids. The house is well stocked. All the basic kitchen amenities are provided and in good shape. The gas grill worked well and in much better condition than I'm used to seeing at beach houses. There was plenty of laundry detergent, dishwashing liquid, soap, cleaning supplies, etc. The furnishings and interior are not new but certainly adequate and everything was in good working order. We found the host to be very attentive. They were prompt and professional with all of our inquiries. The only problem we had was with the coffee maker but within hours of alerting them we had a brand new one delivered to the house. Would definitely recommend the house and wouldn't hesitate to book again!
David
2017-03-12T00:00:00Z
The ocean view is beautiful! 4 bedrooms with 5 queen-king size beds were very comfy. 2-3 person Jacuzzi very nice! Kitchen utensils were fully stocked. Electric stove. There was some scuba and beach supplies available to borrow. The large cooler was perfect for our day trips. There's not much in this town, but 10-15 min drive away. There is a reef about 100 yards out. The depth is about 3 feet over stone, but there are more open areas to snorkel. Neighbors kayaked or swam out there daily. The neighbors 2nd floor balcony overlook the back yard, but it wasn't a problem. Ono's burgers on the main highway before turning on the dead end road leading to the house has really good grilled burgers! The small convenience store has your basics, including booze and sushi! You'll have to head in town for more. Very peaceful and relaxing place. Note, aparently it is common to not have AC in Kauai. Although there is no central A/C unit, there are individual swap coolers in each room. My mom was sick one day and this helped. Once you open up the windows it cools off quickly. Some additional baby gates are needed to ensure a baby doesn't go down the stairs, up the stairs, or fall down into the kitchen (like mine did while I was cooking). There was one child gate we found, but it didn't latch on to anything based on it's design. But I imagine there aren't many people traveling with babies....which limits your participation in many activities, including getting on a boat tour. This rental company has this really cool and useful app. I highly recommend them. The entire process was smooth and straight forward. Thanks!
Michael
2017-01-17T00:00:00Z
The overall experience was great! I was staying here for 6 nights with my family and we all LOVE this house. The house is very clean and the bedroom is spacious. As you can see from the pictures, you can get ocean view from all the bedroom which is amazing! There were all sorts of snorkeling/swimming equipment available in the house and also a hot tub. Due to flight arrival/departure time, I have requested an early check in and also a late check out and the management approves the requests which makes our stay even more pleasant and convenient. The only thing I wanted to pointed out is that house is not as new as what's in the picture but it's quite comfy and clean.
Brot
2016-11-07T00:00:00Z
Beautiful & well stocked house. Spacious with many rooms. Every room has an ocean view. Felt very clean and in a great location with access to both the north shore activities & the south area. We saw the sunset every morning and it was a delight! The only reason I gave it 4/5 stars is because we feel the photos are a little deceitful. There is no easy beach access unlike what the photos imply. The sea is choppy and the slippery stairs end with crashing waves not the sand. This made the beach 10 times less useful for us with small children.
Tomer
2016-10-11T00:00:00Z
My entire experience from start to finish was fantastic. Rental company was responsive, price was treasonable - would highly recommend. Me and my family had a wonderful week.
Judy
2017-03-26T00:00:00Z
Szoba típusa
Teljes ház/lakás
---
Ingatlan típusa
Ház
---
Férőhelyek
10
---
Hálószobák
Anahola, Hawaii, Egyesült Államok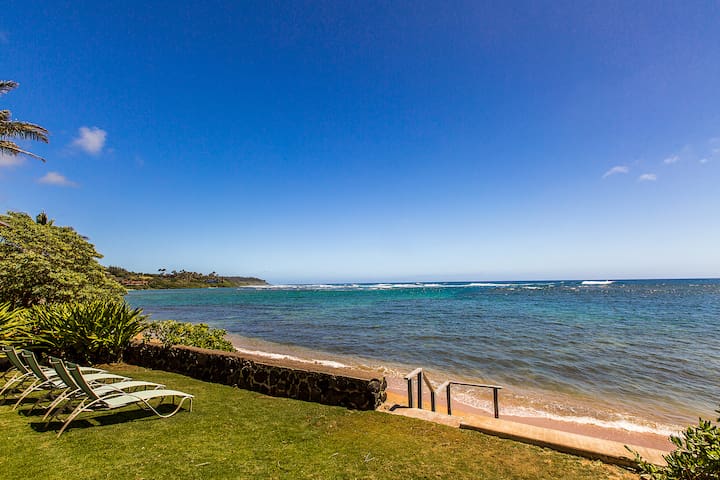 The house and land was absolutely beautiful! Lisa was very responsive on any inquiries we had and in a timely manner. The house contained basically everything you could need including cookware, utensils, spices, and even beach chairs and beach activities. My dad loved that their was so much natural lighting plus outdoor space. We all loved how you could see the sunrise through our sliding glass bedroom doors. Beautiful space in a great neighborhood. We were told by most locals that the beach the house is located is one of the best snorkeling spots on the island. Would love to stay here again when we return to the island!
Courtney
2016-09-24T00:00:00Z
Szoba típusa
Teljes ház/lakás
---
Ingatlan típusa
Ház
---
Férőhelyek
6
---
Hálószobák
Anahola, Hawaii, Egyesült Államok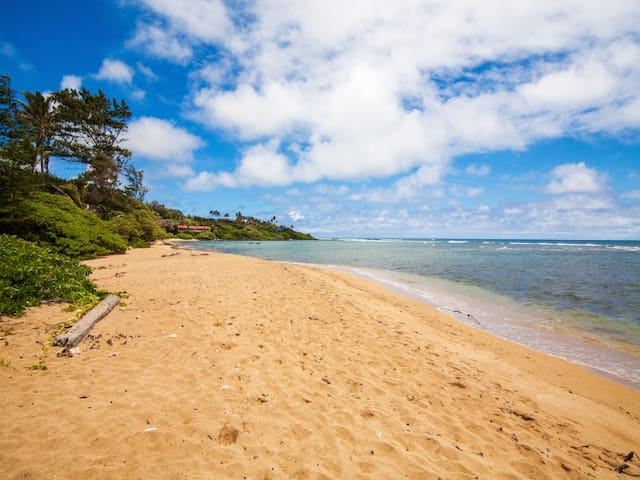 Vamos cuidar de todas as suas necessidades de transporte de e para o aeroporto, pequeno-almoço, almoço e jantar cozido para você pelo nosso Chef Executivo. Temos também excursões privadas em toda a ilha das praias às cachoeiras e passeios de caiaque para trilhas incríveis que fazer tudo mais. Por favor, permita-nos para organizar todas as suas atividades atualizados como helicópteros, passeios de barco Na Pali Coast e Hawaiian Luau do. Vê-lo em breve para uma aventura maravilhosa!
A casa é perfeita para grandes grupos para desfrutar a companhia do outro. Convenientemente localizado na costa norte de Kauai, com fácil acesso a todos os mais belos pontos de interesse. Este local é perfeito para uma escapadela romântica ou para o viajante individual que querem experimentar a natureza em um ambiente seguro e seguro.
Porque este é um pacote habitacional all inclusive seu "Bairro" é toda a ilha de Kauai. Você vai ver e fazer mais coisas com a gente do que possível por si mesmo. Muito pouco tempo será realmente gasto na casa, exceto para dormir e experimentar refeições requintadas do nosso chef. Todos os dias vamos acordar cedo ir em aventuras em toda a ilha. A menos é claro que você quer ficar em casa e relaxar enquanto o resto do grupo explora a ilha.
The Bamboo Cabin was exactly what we were looking for - very clean, in a great location, and at a great price. The property has fruit trees (mangos, papayas) and Dave is kind enough to share. Dave was an exceptional host, the property is great, and I wish we could find a place like this for every trip we take. You won't find a better value in Kauai.
libbie
2013-10-12T00:00:00Z
Absolutely great- both the Bamboo Cabin and Dave. If the cabin sounds like your type of place, book it immediately! You will not be sorry. Anahola was a great location to base our visit to Kauai. The beaches within walking distance from the farm really are beautiful and secluded and the perfect place to watch sunrise. Nearby Kapa'a (4 miles away) has all the shopping and dining options you need- and the north shore is within easy striking distance. Dave's "free self-guided" waterfall adventure/cliff scramble was a highlight of our trip. Enjoyed walking out to pick fresh lettuce, basil, hot peppers and carrots from the garden. And the fresh eggs from the hens. Mahalo for the week in paradise.
Thom
2014-04-12T00:00:00Z
Our stay at Dave's was quaint and cozy, and the Bamboo Cabin was exactly what we needed! Dave was very attentive with any requests and accommodating of our needs. There is a full list of gear that can be rented and hikes were offered while were there too. The location is right off the highway so it was easy to operate from as a home base. There is a good sized fridge so we were able to stock up at Costco and eat and prepare meals here rather than spend money elsewhere The bed was SUPER COMFY and the giant fan made sleeping bearable in the heat. The biggest problem we had was the mosquitoes since we had been staying the Kapaa and Lihue they hadn't bothered us in town, but this is a bit more rural so bring some bug spray. Being on a farm gave us access to fruits and vegetables and the goats were very exciting and the piggies were so cute. If you're looking for a secluded, slightly rural posh camping experience, this is it!
Alissa
2013-09-13T00:00:00Z
Our stay with Dave was only for one night and we ended up staying in a different accommodation so, unfortunately, can't provide feedback on the bamboo cottage which looked delightful.
Paulina
2014-02-21T00:00:00Z
We originally booked the Bamboo cabin but there was a double booking so we were moved to the room with a view. The bed was comfortable and it had everything you would need for a place to crash, but not a place to hang out at. It is one room, with a bed, shower, toilet and small kitchen, with no walls. So you can lay in bed and see the shower/toilet (there is a movable privacy screen...). It would be great for one person. There is some road noise as well but it didn't bother us. The property is great, love the animals. Dave was awesome, he let us borrow a day pack and was always friendly when we saw him. This is a basic accommodation for a good price, perfect for budget travel for the explorer. The location was good to explore the Island. Thanks for everything Dave!
nicole
2014-03-29T00:00:00Z
The Bamboo Cabin was all I had hoped it would be. There was plenty of privacy but I adored the company of the piggies, goats, and chickens. Dave and the guests staying at the other cabin were always polite but never intrusive. The cabin had all the amenities I found myself needing (hand soap, dish soap with scrubber, basic dishes, beach towels, bath towels, etc). The cabin also has wireless, which was a big plus. I had a lovely stay and should I ever make it back to Kauai, will definitely be staying in this gem. Note that it can be a bit tough to find for the first time, especially if it's dark out, but Dave talked me through the whole thing and it was second nature after that.
Marlena
2014-04-05T00:00:00Z
The reservation was canceled 34 days before arrival. This is an automated posting.
Kathryn
2014-07-10T00:00:00Z
BOOK NOW! What a wonderful way to experience Kaua'i! Dave's place provides just the perfect amount of hospitality and privacy to make sure you feel comfortable.The location is central, so it is convenient to explore either the North/South side of the island. Also, it is only a 15 minute walk to a beautiful secluded beach! My boyfriend and I stayed at the Bamboo Cabin for 6 nights. It is equipped with a full kitchen (all appliances: coffee/coffee maker, blender,microwave, burner, etc.) a flat screen tv, free wifi and a comfy queen sized bed. The bathroom has a compost toilet, which functions just fine to suit your needs! The outside shower has hot water and is a beautiful experience under the moonlight. Next, we moved into the Coconut Cottage for 3 nights which was quite an upgrade. The cottage is two stories (also with a full kitchen + a bbq pit). It is beautifully decorated and makes your whole stay a little more magical. Perfect for relaxing and winding down after a long day exploring the island. Both places were very comfortable, not to mention EXCEPTIONALLY CLEAN. Dave is a fantastic host leaving "farm goodies" at our cabin for fresh omelette breakfasts in the morning. And that's not all, Dave even brought us on an adventure to an unbelievable waterfall. The waterfall was clearly "off the beaten" path and a perfect way to discover the island without sacrificing to the tourist trap. I was unable to book the cabin for our entire stay and therefore had the experience of staying at two other airbnb locations on the island which did not come close to comparison. I HIGHLY recommend staying on this farm. It by far exceeds the best accommodations for the price as well as one of the friendliest host I've met! What a beautiful way to experience such a beautiful island! Mahalo!
Megan
2014-03-18T00:00:00Z
Szoba típusa
Teljes ház/lakás
---
Ingatlan típusa
Ház
---
Férőhelyek
10
---
Hálószobák
Anahola, Hawaii, Egyesült Államok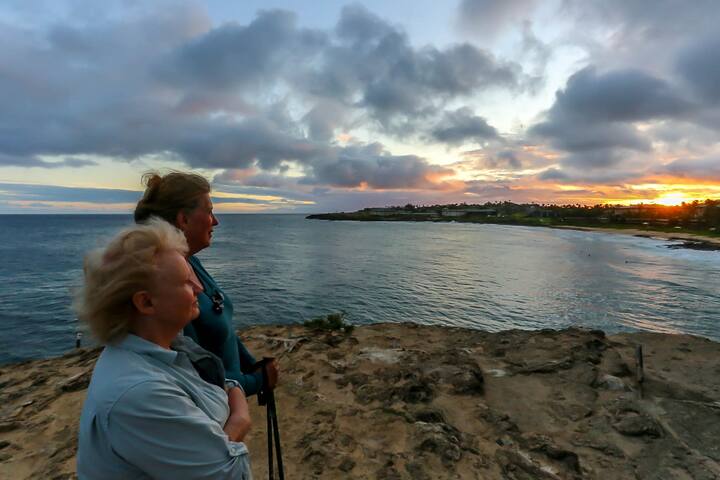 Das Strandhaus hat neue Französisch Türen aus der Küche zu einem Sitzbereich im Freien mit mehreren schönen Tischen und Stühlen für reichlich Sitzgelegenheiten heraustreten. Passatwinde kommen durch die vorderen Schlafzimmer, die auch Französisch Türen führen zu einem großen Rasenfläche hat. Wenn es das Ritz auf diesem Grundstück sind würden Sie für diesen Standort in den Tausenden pro Nacht bezahlen. Und Sie würden immer noch nicht die Privatsphäre, die Sie hier haben. Genießen Sie 200 plus Füße von Meer Fassade mit atemberaubendem Blick. Welche dieser Standort sehr einzigartig macht. Die Bergseite Dieses Haus grenzt 49 Acres Land Erhaltung erlauben die meisten ultimative Privatsphäre. Ein Ort, um neu zu entfachen Romantik unter einem Sternenhimmel oder einfach nur den richtigen Ort für einen vergnüglichen Familienurlaub für alle. Wenn dies ein Luxus-Haus wäre, würde die Rate für die meisten Personen.Dieses unerschwinglich ist kein 5-Sterne-Hotel, aber eine 5-Sterne-Plus Lage mit Privatsphäre erhalten Sie nicht in einem Hotel. Dieser Ort ist ein begehrter Urlaubsort für viele unserer Einheimischen. Man stelle mich vor allen Inseln im Pazifik mit dort zahlreichen Stränden, Hollywood wählte Kauai Gilligans Insel auf Moloaa Bay, und auf diese sehr Eigenschaft für die ersten paar Episoden zu filmen. Andere Filme gedreht auf Kauai sind Jurassic Park, Fluch der Karibik, Blue Hawaii, 6 Tage 7 Nächte, Jäger des verlorenen Bogen, Südpazifik, Jarasic Park, The Decendents die Liste geht weiter. Dieser Garten Insel bietet einen atemberaubenden Blick auf die üppigen tropischen Bergen, schöne Wasserfälle und ein Smaragd Meer. Dieser besondere Ort weckt Ihren Geist und hält Sie Ruhe gefangen, wo Erinnerungen für immer in deinem Herzen geätzt werden. Wirklich ein Diamant unter den Perlen! WIE ZUM Hause zu bekommen: Verlassen Sie den Flughafen. biegen Sie rechts an der Haltestelle Licht, geht Nordosten in Richtung Prince vorbei Kapaa Stadt, wo Sie einkaufen Gas Essen und Restaurants Kapaa nur 25 Menuett Laufwerk finden. Weiter nach Norden hält wachsam Meile Markierungen auf der Seite der Straße, sieht für Meile Markierung 16 Uhr für Abschalt weniger als eine Meile von der Kaffee- / Smoothie steht. Nehmen Sie seine sehr hart beachten Kaffeestand in der Nacht zu sehen. Biegen Sie rechts ab in Richtung auf Moloaa Bay auf Koolau Straße hinunter. Es ist eine kurvige Straße ca. 1 Meile finden Sie Moloaa Road. Biegen Sie rechts auf Moloaa Rd. weiterhin noch 1 Meile bis Sie ein Schild auf der rechten Seite, die keine Steckdose sagt weiter in der Straße auf die Gabel rechts durch the.gate gehen und nach 2 Häuser weiter und über die kleine Brücke ihr wird ein verschlossenes Tor sein. Rufen Sie Jude ((PHONE NUMBER HIDDEN) od(PHONE NUMBER HIDDEN) oder Jeanette ((PHONE NUMBER HIDDEN) oder E-Mail (EMAIL HIDDEN) für Combo sowohl das Gate und die Zahl Lock-Box den Schlüssel zu dem Haus zu bekommen Laßt uns Ihre Ankunftszeit und wir werden Ihnen zur Verfügung stehen, dort zu helfen, wenn nötig. beachten Sie auch nicht alle Handys vorbei am molooa Kaffee arbeiten stehen an der Autobahn auf. Nur ein paar Schritte die Einfahrt hinunter und über die Brücke auf der rechten Seite sehen Sie eine abgesperrte Gebiet ohne übertretendes Zeichen bitte die grüne Deck und Picknick beachten Bereich Privateigentum ist. Nur noch ein paar Schritte Vergangenheit, dass Sie einen Weg mit Protokollen sagen "Zugang zum Strand Marten HOUSE" ausgekleidet mit Kokosnüssen sehen. Fahren Sie hier bis zum Strand zu gelangen. Die Aussicht ist viel vorteilhafter von der Klippe Hintern das Schnorcheln ist groß und Boggie Internat ist so viel Spaß. Boards und Snorkelgang vorgesehen. Bitte Spülen Sie alle SAND mit Schlauch vor dem Betreten des Hauses ab. abzuspülen auch alle Sportgeräte bitte, bevor es in das Haus zu bringen. Wenn Sie die Feuerstelle zu verwenden, entschied sich sein bitte vorsichtig und löschen alle Flammen Es wäre eine große Hilfe für den Reiniger, wenn Sie eine Ladung Handtücher tun konnte, bevor Sie verlassen, wenn Sie eine große Gruppe haben, das wäre toll. wenn Sie irgendwelche Verbesserungsvorschläge haben s Pleas E-Mail an Juden direkt an (EMAIL HIDDEN) Wir würden uns freuen, von Ihnen zu hören. Wenn Sie möchten, eine super Bewertung durch airbnb lassen, die große auch sein würde. Wir hoffen, dass Sie Ihren Aufenthalt genießen und kommen nächstes Jahr wieder. Planen Sie im Voraus für Ihren nächsten Urlaub.
Nur ein paar Häuser in dem Hang eingebettet und nur wenige Häuser am Meer in der Bucht machen es sehr ruhig und sehr hübsch in der Nacht zu suchen.
Szoba típusa
Teljes ház/lakás
---
Ingatlan típusa
Ház
---
Férőhelyek
10
---
Hálószobák
Anahola, Hawaii, Egyesült Államok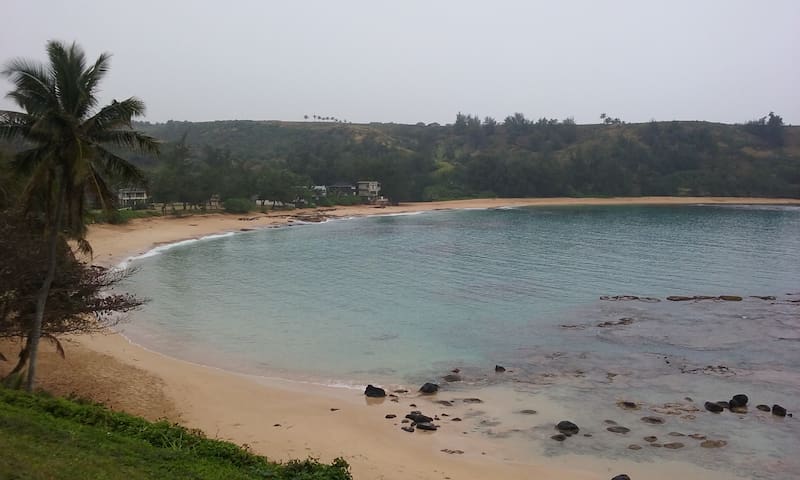 Szoba típusa
Teljes ház/lakás
---
Ingatlan típusa
Ház
---
Férőhelyek
8
---
Hálószobák
Anahola, Hawaii, Egyesült Államok
Our little piece of heaven is nestled above the quaint little town of Kapaa. It's in a rural neighborhood which provides for a true Hawaiian experience. Kealia Beach is just down the hill (a 15-minute walk) where you will find a paved walking bath that goes on for miles. Kapaa has great shopping, restaurants, and grocery stores.
*Queen size comfortable bed *Air conditioning In room *Private bath (across from guest room) *Covered Parking *Laundry facilities for $5.00 (soap & dryer sheets) *Well stocked kitchen (Room for your things in refrigerator) *Access to all areas except Master suite *Television (We have DVD's of movies filmed on Kauai) *Beach Towels and coolers for you to borrow *Guide Books for you use
Jan is amazing! She was super friendly and welcomed us in like we were part of her family :)
Lindsay
2016-12-02T00:00:00Z
Jan was very kind and accommodating - we had 3 people and she got out a pull-out bed so that we would be very comfortable even though we had camping gear.
Adrienne
2017-02-21T00:00:00Z
Jan is completely lovely - friendly, welcoming, and kind - and it's a charming house to stay in. Quiet and comfortable, but not too far from the town and the beach.
Kathryn
2017-02-24T00:00:00Z
Jan is a very lovely and positive person. We absolutely recommend to stay at her home. There's a room and a private bathroom you can use. We loved to talk with her in the evening. She cares about everything to have a great stay. She told us about hikes and places we didn't even know about. She even baked cookies for us we could take with us to our flight back. We already miss her and wish her all the best. U won't regret to choose her home and her family. We would always come back! J&D
Dennis
2017-02-11T00:00:00Z
Very friendly place to stay, very comfortable, very quiet!
Mekenzie
2017-03-28T00:00:00Z
Jan and Kenny were great hosts. The house was super close to the beach and all of the little shops. They made us feel very comfortable and welcome in their home. We had a great time and would definitely do it again.
Dustin
2017-03-08T00:00:00Z
Our stay with Jan and Kenny was absolutely fantastic! The communication before our trip was very prompt and easy. We arrived late on island, and Jan made our check in super easy and smooth. In the morning, she offered to hold our extra luggage for us while we hiked Napali coast. She made us a yummy green smoothie when she found out that we were health nuts. She even let us use her laundry to clean our clothes after our hiking trip. Jan is amazing and a wonderful host - a great woman to get to know! And the bed was comfortable for two, and the bedroom and bathroom were very clean, with easy access to the kitchen and family room as well. Great place to stay for not much money!
Ben
2017-02-05T00:00:00Z
Jan was such a warm and generous host. Her home is very inviting and peaceful. She is centrally located to attractions in Kapa'a: snorkel and bike rental, trendy shops and more. We unfortunately had to put in a few hours of work and having access to her home office space was ideal. Private bathroom and fridge space was great. Staying with Jan felt like staying with friends. On our last day she made us her favorite veggie smoothie.
Patricia
2017-02-28T00:00:00Z
Szoba típusa
Privát szoba
---
Ingatlan típusa
Ház
---
Férőhelyek
2
---
Hálószobák
Kapaa, Hawaii, Egyesült Államok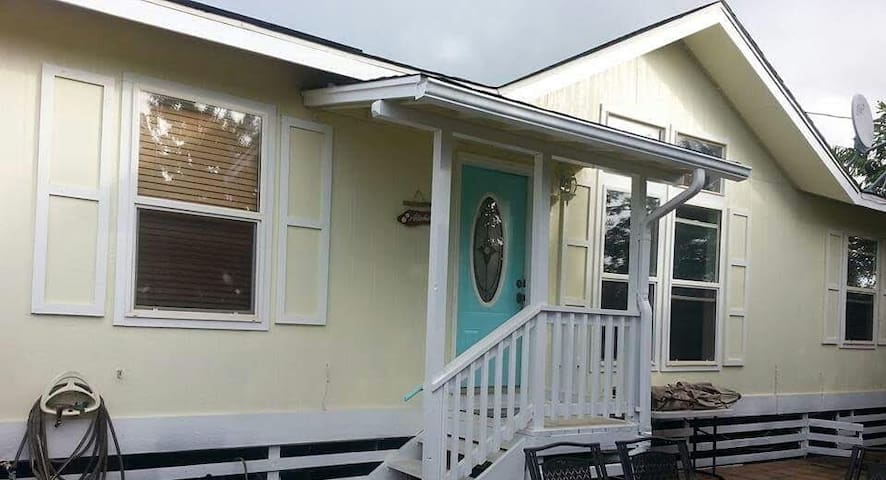 Enjoy a private room with comfy queen-size bed in country home near beach! Great location near airport, bus, beach, river, Kapaa town, waterfalls, hikes, food, shops & more! Host Lauren manages many listings ensuring great AirBnB experience! No added fees!
Discover Kauai from the heart of one of the most beautiful places on Earth. The setting is just fantastic in this special piece of property with lush views of the garden and tropical fruit trees. This is a two-story house and this listing is upstairs. There is a full kitchen with fridge, microwave, toaster oven, stove and cooking utensils. The common areas get cleaned regularly with all your clean linens provided. And we never add-on hidden fees like cleaning, second guest, etc. :-) Your host Lauren manages multiple other listings so book confidently knowing you'll receive a great guest experience. This listing is for a private room with a queen size comfortable bed, desk, nightstand, reading lamp and closet.
It is STUNNING! This is a great location only 15-20 minutes north of the airport and centrally located to explore the island. Tons of beautiful beaches, surfing, snorkeling, paddle boarding, shopping, restaurants and so much more! We're in the best area of the island though I'm probably biased!
Awesome! Highly recommended!!!
BeccaJane
2016-09-24T00:00:00Z
Maybe Kapaa is just expensive but I expected better hygiene for the price I was paying. May also be related to a transition in cleaning lady since my first morning there I met the new cleaning lady. I only stayed for two days so I cannot speak to how representative my experience was, nor can I compare it to another experience on Kauai. I had heard bad things about the hostel in town but next time would investigate a little more before booking. The place was very difficult to find, especially at night, and the instructions for arriving were a little confusing. Make sure you ask ahead of time which room you're in. I did not see it anywhere in the instructions sent through Airbnb.
Scott
2016-08-26T00:00:00Z
Everything went as I expected. The place was very clean and the location was very quiet, just what i've wanted. DIY check in/out was a fantastic thing!
Marc
2016-11-07T00:00:00Z
Nice place, good location. Comfortable bed.
Angela
2016-11-12T00:00:00Z
Thank you for your excellent communication
Clark
2017-03-24T00:00:00Z
Lauren's room for rent was exactly as described. We arrived around midnight after getting off our flight, doing a little grocery shopping at the local Safeway and stopping at Big Wave Daves for a cocktail. The room was clean upon arrival, clean bedding available. Check in was fully described and went very smooth. Shower was warm and relaxing. Ran into 3 other house mates that were very quiet and respectful. We wi definitely stay here again. We only stayed one night due to time constraints. Thank you Lauren!
Salve
2017-01-26T00:00:00Z
This place had everything needed and no more
sarah
2016-10-10T00:00:00Z
The BnB was good. Very professionally done all around. As advertised, there were no frills that we saw, but there were no problems either. The directions to the place were perfect and it was easy to find our sheets and towels. We were only there one night and did not try the kitchen, but it appeared clean and quite functional. There were no problems with the bathroom sharing. The whole house seemed clean, the other guests were quiet, and our only problem was with the noisy roosters. On the other hand, this was not a surprise.
Ed
2017-03-17T00:00:00Z
Szoba típusa
Privát szoba
---
Ingatlan típusa
Ház
---
Férőhelyek
2
---
Hálószobák
Kapaa, Hawaii, Egyesült Államok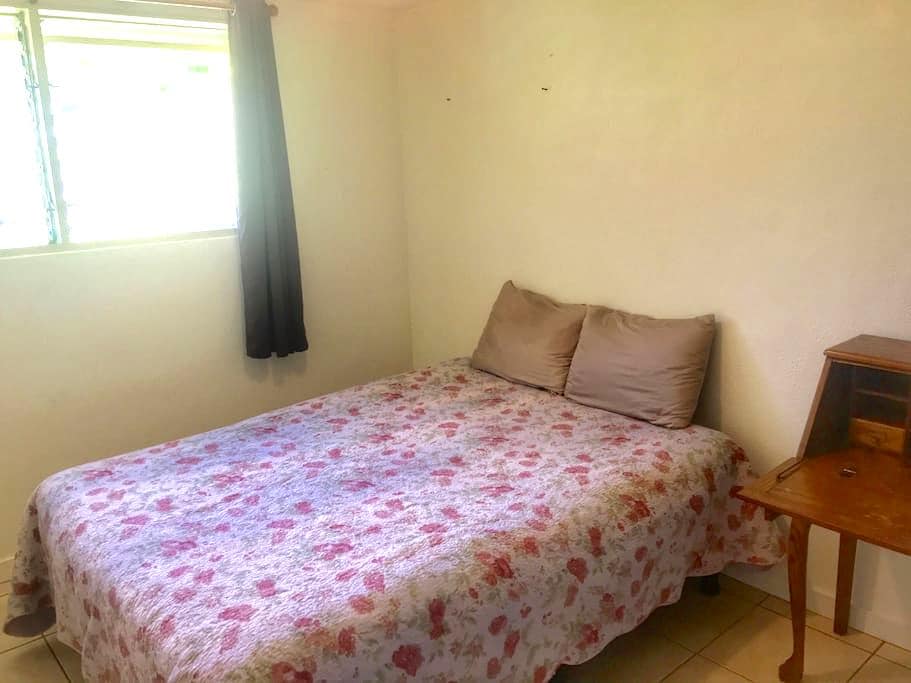 Add meg az időpontokat a teljes ár megtekintéséhez. Felmerülhetnek további költségek illetve adók.