Cozy country cottage for 2. Private, simple, quiet...natural. The property is located beneath a Scenic Point and offers smoking views of the west side coastline. Equipped with basic necessities, cable TV and WIFI and Queen sized bed. Spacious lanai!
**IMPORTANT UPDATE 1-2 night stays are welcome if booked 30 days before date and if available. MAUI - if you are going to Maui please see our ad. Cottage MAXIMUM capacity is 2 persons (a child at any age is a person). DESCRIPTION Located in the ultimate country setting, this comfortably rustic OCEAN VIEW cottage is situated on a private gated property with breathtaking VIEWS of ranch land and a 60 mile unobstructed VIEW of coastline. The cottage is located above the main house ( see photos)!!!Tranquil and quiet, only those that appreciate magnificent sweeping VIEWS, wide open spaces and starry nights need inquire. Weather allowing. The cottage is ideally set between Hawi and Kamuela (Waimea) on the drier part of beautifully scenic Kohala Mountain Road (hwy 250). Return to the comfort and coziness of the cottage after a day of exploration. The cool elevation is refreshing and the expansive OCEAN VIEWS are unforgettable. A great place to reflect over the days journeys; plan tomorrows adventures or simply write, paint, meditate, yoga or indulge in a great book. Perfect for low-impact, less is more type of traveler. COTTAGE SIZE AND CAPACITY - Clean, cozy and prepped for simplicity, efficiency and comfort. Cottage MAXIMUM capacity: 2 persons (a child at any age is a person) Cottage size: 236 sq feet under roof PLUS 345 sq foot lanai. Built on a slope and the large lanai (deck) is 20 feet high off the ground. Makes for amazing VIEWS- but not suitable for guests with height issues or problems climbing up and down stairs. See photos. AMENITIES - Assorted toiletries - Beach and bath towels - Electric studio fridge - Propane stove/oven - Rice cooker - Coffee maker/coffee grinder - Blender - Microwave - Toaster - Utensils, cups, plates, etc. - Hair dryer - Portable electric heater - BBQ ( at hosts home) - Wireless broadband internet(slow, but works) - Satellite TV *home phone not available *Sink located on large lanai *Shower only PRIVACY. We are the only ones here. FUN TOYS: Beach equipment (beach chairs, boogie boards, umbrella, cooler, 2 man Kayak, NO snorkel gear) available for use. LOCATION: easy access to world class beaches, hiking, restaurants, golf, spa and anywhere else you would love to discover! Vehicle required to explore the Island. DRIVING DISTANCES: 1 hour North from Kona airport, 1.5 hours from Hilo airport. -15 minutes to thriving Waimea town for shopping, restaurants, hospital, banking - 25 minutes to world class beaches, golf, spa and resorts - 30 minutes to local country towns of Hawi and Kapaa - 3 hours from Volcano - Hiking, both near and far - Need a car. 4 WHEEL drive not necessary IMPORTANT NOTES: - Cottage MAXIMUM capacity is 2 persons (a child at any age is a person). - Located at 3500 ft elevation, temperature ranges around 55 degrees during winter months to mid 80's most of year. It can be cool and like most of the Island, the tradewinds can be stiff. Although we are on the drier part of the Island, it does rain from time to time. Very refreshing, cozy and beautiful! - Cottage is on water catchment and DELICIOUS for drinking right out of the tap. It is triple filtered, recently tested and exceeds the county standards. - Smoking is allowed outside -- not in cottage. Located in drier environment, must be fire conscious and water conservative (but comfortable!) Welcome to the Big Island - you will love exploring here! Incredible Ocean Views in a private neighborhood, quiet setting. Peace, Quiet, Privacy and Tranquility. Interaction with Guests Sometimes we meet guests, sometimes we don't due to conflicting work and your vacation schedule. The cottage is all yours so settle in and make it home. There are many guide books for you to use. Other Things to Note: Animals on property.
Located above the main house ( see photos) is our cottage. We are the only ones on property. The nearest neighbor is a half mile away. DO NOT book with us if you want to stay in a place without neighbors. Again, our home is beneath the cottage. See photos!!! Cottage is located above our home. It is private and separate from main home.
Facile à trouver grâce aux indications fournies, hôtes discrets, équipement conforme à la description, bien situé pour rayonner dans la partie nord de l'île (très belle), lit confortable. A noter que le logement se trouve à 1000m d'altitude tout de même, il peut faire quelques degrés en moins, mais la couette est chaude et il y a des couvertures supplémentaires. Je recommande vivement.
Clément
2017-01-04T00:00:00Z
Perfect place to get away! Super quiet place with amazing views. Nice simple cottage with everything you need! Will definitely be back again.
Jeremy
2017-03-21T00:00:00Z
Adorable cottage nestled into the side of the mountain. The lanai was a beautiful place to reconnect with my family. It was unreal
Martha
2017-01-15T00:00:00Z
Awesome. place. Maile is awesome. Talked to host and some of her family. they were super friendly and helpful. view is absolutely gorgeous. Was hard to find but is a great place to stay away from everything. beautiful flowers all over the place. met some horses and was barked at by the dog on our way out. lol. great place.
Laurence
2017-03-06T00:00:00Z
Beautiful! Refreshing!!
Lisa
2017-03-12T00:00:00Z
Traumhafter Ausblick über einen großen Teil der Küste mitten in der Farm zwischen grünen Wiesen, für alles war gesorgt》kleine Marmeladen, Tee, Kaffee sogar Shampoo, Zahnpasta, after Sun, die nächste Stadt war in 15 Minuten bergab zu erreichen.Die Kommunikation hat über Airbnb einwandfrei geklappt, allerdings hätten wir uns ein kurzes Hallo oder Tschüss gewünscht da wir jeden Tag am Haupthaus vorbei gegangen sind.Alles in allem eine gute Unterkunft!
Ellen
2017-03-26T00:00:00Z
A true slice of Heaven! One of the most beautiful areas on the Island and the property had one of the very best views! The cabin's large deck is the place to have breakfast and relax in the morning and at sunset while gazing out to the ocean...and then again at night to take in the incredible stars! Maile was a very responsive, diligent host. I felt very lucky to have the opportunity to stay in such a beautiful spot on a private family's property.
Lisa
2017-03-18T00:00:00Z
This place is amazing. A little cabin perched in the trees with the most incredible view of the west coast. Truly indescribable! We were lucky enough to catch an insane sunset the one night we stayed. Communication and directions were very clear and our hosts were very friendly. Would love to come back.
Alison
2016-12-13T00:00:00Z
Szoba típusa
Teljes ház/lakás
---
Ingatlan típusa
Kisház
---
Férőhelyek
2
---
Hálószobák
Waimea, Hawaii, Egyesült Államok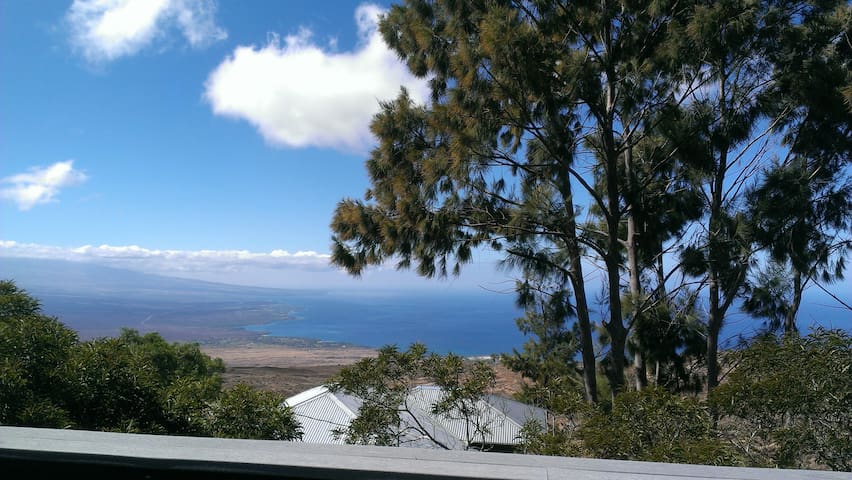 Add meg az időpontokat a teljes ár megtekintéséhez. Felmerülhetnek további költségek illetve adók.