Napos és tágas szoba strand lakás közel Villajoyosa, Alicante és Benidorm. Közvetlen hozzáférés a nagy terasz kilátással a tengerre. Saját fürdőszoba. Teljes hozzáférés a konyha és a nappali.
5 perc sétára a fő strandtól. 5 perc sétára a fenyőerdő a különböző utak a gyaloglás vagy a kerékpározás, és a kis öblök kövekkel és kristálytiszta víz. Különböző éttermek és üzletek a közelben.
Gyönyörű strand területén, a fenyvesek, kisebb hegyek, sziklák és öblök. Tökéletes kerékpározás vagy séta, vagy egyszerűen csak élvezi a strand és a Földközi-tenger. Rengeteg étterem és bár sétára a lakásban. Gyógyszertár és szupermarket és bevásárlóközpont.
Szoba típusa
Privát szoba
---
Ingatlan típusa
Lakás
---
Férőhelyek
2
---
Hálószobák
La Vila Joiosa, Comunidad Valenciana, Spanyolország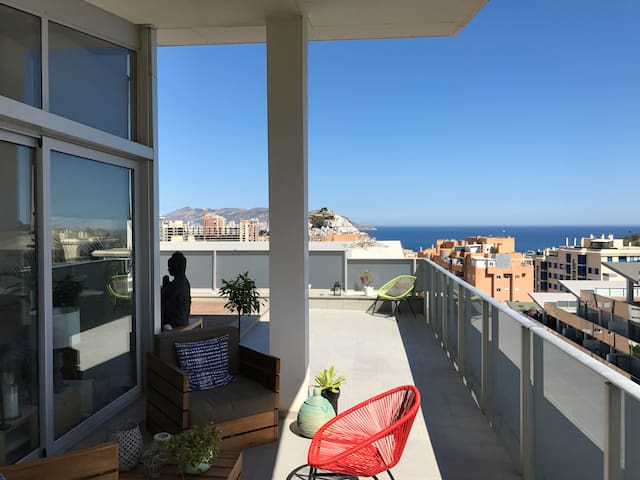 Min lille leilighet på 40 kvm ligger i Gamlebyen, kun 200 meter fra stranda, nær sentrum og spisesteder. Trivelig stemningen og befolkning. Free wifi i eller utenfor kulturhuset som er nærmeste nabo. Nøkkel utleverer av nabo Visi etter avtale gjennom meg.
De smale gatene i Gamlebyen, den vakre sandstranda og hyggelig lokalbefolkning.
This apartment is in the heart of Vilajoyosa, and is very close to the beach and the tram station. It has a lovely homely feel to it with a well equipped kitchen and a comfy lounge with a view over the ravine. We had a great stay here and would definitely recommend it. Thank you Marit.
Sandra
2016-12-31T00:00:00Z
Un vivienda muy buen cituado, limpio y lindo
Thomas
2017-04-01T00:00:00Z
The place is right in the middle of the casco antiguo, the old fishermen houses. The beach, as well as necesary provisions like shops for daily needs and ATM's are very close. The 'piso' is equipped with everything during your stay. However, -without having been known by the owner- the internet is received from the Centro Juventud, which is aside. This is hardly working. The owner was very adequate in responding and finding solutions for that. On the distance she managed to find a helpful neighbor, who provided her internet by giving her password. So, at irregular times there is internet. Beside you can go from 10:00 till 21:50 to the public building next door, which is open on the first ans second floor to anyone who wants to use it. Overthere the internet is reliable. Unfortunately there was a need on constant internet, as there was a search for work and houses. If you are not in that need, it is a very good place to rent
Teun
2017-02-28T00:00:00Z
What an awesome place - we really enjoyed our stay. Marit's place is in amazing historical center, very close to the beach. The place itself is clean and cozy - 100% recommended!
Viktor
2016-10-02T00:00:00Z
Szoba típusa
Teljes ház/lakás
---
Ingatlan típusa
Lakás
---
Férőhelyek
4
---
Hálószobák
La Vila Joiosa/Villajoyosa, Comunidad Valenciana, Spanyolország
Appartement en première ligne avec un balcon à la française, une vue exceptionnelle et d'une cour intérieure privée Charmant appartement situé dans la première ligne de la plage, dans la vieille ville de Villajoyosa, très proche de tous les restaurants et autres services
L'appartement se trouve dans la partie calme de la plage. Cet appartement bien équipé dispose d'un balcon français donnant sur la magnifique plage et la mer. Il dispose d'une chambre double, une salle de bain avec douche / baignoire, un salon et une cuisine ouverte équipée avec appareils électriques modernes. Le mobilier de l'appartement a été soigneusement choisi pour accueillir les clients d'une manière spacieux et relaxant. La cour intérieure, avec accès de la cuisine et de la salle de séjour, est très lumineux et spacieux. Il a une table ronde pour 4-6 personnes, des chaises et un parasol. Le bâtiment est neuf, fait dans le style ancien, et dispose d'un ascenseur et d'un lieu de stockage pour certains articles de plage. Il y a un parking souterrain en face de l'immeuble ou un parking gratuit à seulement quelques mètres à la fin de la plage. Les vues fantastiques sur la mer Méditerranée et la paix de la cour intérieure, rend cet appartement unique dans la région. Recommandé pour les couples ou un couple avec 1-2 enfants.
L'appartement est situé dans le quartier des maisons colorées des pêcheurs.
My stay was excellent; was was welcomed, kept informed and taken care of. And left alone, as needed. ;-)
Eric
2016-05-15T00:00:00Z
Super séjour, Carmen et Kiko sont très gentils et disponibles si nécessaire. Les photos représentent bien le logement. On serait bien resté plus longtemps, nous reviendrons c'est une certitude.
Alexia
2016-09-09T00:00:00Z
Апартаменты очень уютные. Есть все:посудомойка,стиральная машинка и кондиционер.Так же все необходимое для мытья посуды,губки,тряпки, моющее средство для посудомойки и для стиральной машинки.Это очень удобно не надо сразу бежать в магазин и покупать все для дома. Рядом отличный пляж с пологим входом в море,очень удобно для детей. Порадовало,что есть интернет. Отдыхали с двумя детьми,которые спали на раскладном диване.Так что хоть апартаменты не большие,но в них может разместиться и 4 человека. Город Виллахойосса оказался очень уютным и милым.
(EMAIL HIDDEN)
2016-07-29T00:00:00Z
Szoba típusa
Teljes ház/lakás
---
Ingatlan típusa
Lakás
---
Férőhelyek
3
---
Hálószobák
Villajoyosa, Comunidad Valenciana, Spanyolország
De studio is op de tweede verdieping in een historisch oud pandje (een gekleurd huisje waar Villajoyosa bekend om staat) op 20 seconden van het strand. De boulevard met terrasjes en restaurantjes zijn om de hoek. Het openbaar vervoer (treintje) is op 15 minuten lopen. De luchthaven van Alicante is op 35 minuten rijden. Geniet van de sfeer, de zee en het strand en het fijne warme klimaat, een van de meest zonnige delen van Spanje vanwege de achtergelegen bergen die alles tegenhouden.
Het is een lichte ruimte voorzien van 2 bedden, een keukentje met voorzieningen en een badkamer met douche
De studio is in het oude centrum gelegen, midden tussen alle gekleurde huisjes. Aan de zijstraatje van de boulevard
El apartamento está muy bien, bien situado, zona de playa y ocio. El único inconveniente fue que la tv no dispone de conexión a la antena y no se puede ver. Por lo demás una estancia genial, y trato inmejorable
Maria
2016-08-28T00:00:00Z
Rob estuvo muy atento a todas mis dudas antes de nuestra llegada. Las fotos no hacen justicia al encanto del estudio, muy cuidado, muy limpio. La zona muy tranquila.
Guadalupe
2016-09-15T00:00:00Z
Szoba típusa
Teljes ház/lakás
---
Ingatlan típusa
Lakás
---
Férőhelyek
2
---
Hálószobák
La Vila Joiosa/Villajoyosa, Comunidad Valenciana, Spanyolország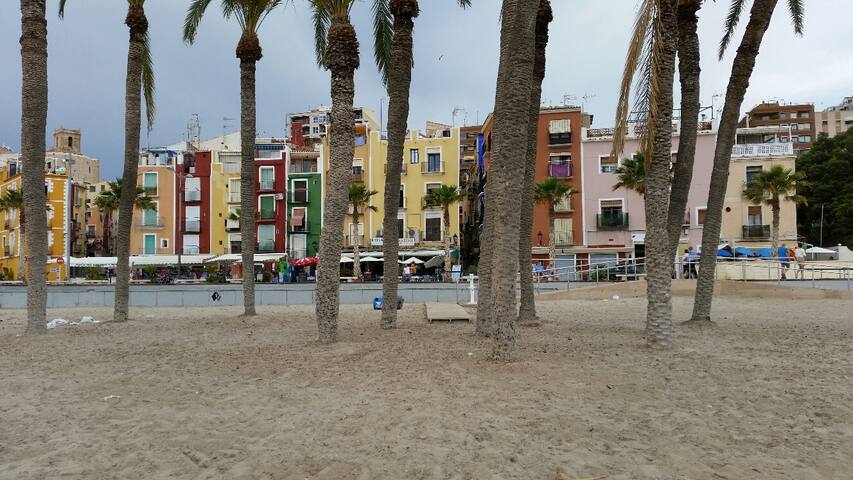 Our cozy duplex offers a great ocean view and maximum comfort, very sunny, very quiet and close to supermarket, is located just minutes from the beach center, you can enjoy a magnificent walk along the beach of Villajoyosa ..
Szoba típusa
Teljes ház/lakás
---
Ingatlan típusa
Lakás
---
Férőhelyek
4
---
Hálószobák
La Vila Joiosa, Comunidad Valenciana, Spanyolország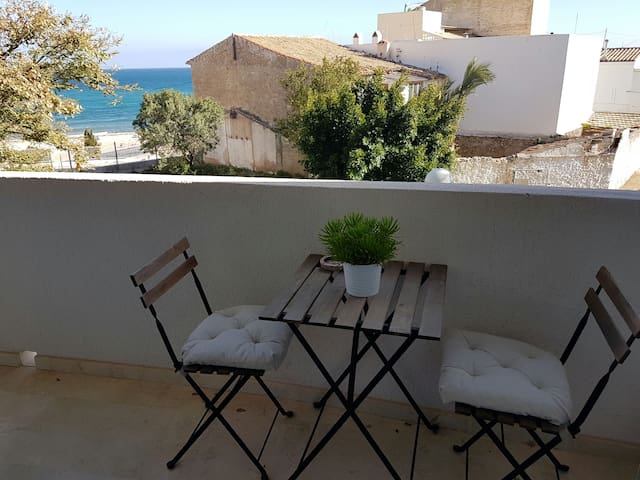 Dies ist eine schöne Wohnung in einem echten ruhigen Gegend ganz in der Nähe der Stadt Villajoyosa. Es hat eine fantastische Terrasse mit herrlichem Blick auf das Meer und die Berge. Es verfügt über Sat-TV, Klimaanlage und alle Anforderungen ein paar tolle Tage zu haben. Es ist perfekt mit vier Strände zu Fuß erreichbar und nicht weit von Benidorm (12 km) und Alicante (25 km).
Die Aussicht und die Lage. Die Wohnung befindet sich an einem schönen Ort an der Costa Blanca
Es befindet sich in unmittelbarer Nähe eines 5-Sterne-Hotel und es ist in einer ruhigen Gegend, kann man das Meer von den meisten Zimmern der Wohnung sehen, und es verfügt über eine 50 m² große Terrasse, wo Sie Sonnenbäder nehmen oder einen schönen genießen Abendessen.
Javier nous a très bien accueilli (explications détaillées, conseils etc...). L'appartement est très moderne avec une vue magnifique sur la mer. La terrasse sur le toit est exceptionnelle. L'appartement est tout équipé. Javier a répondu à toutes nos questions et ses conseils étaient précieux. Excellente suprise en arrivant: Le wifi était disponible dans l'appartement ! J'ai passé des vacances formidables !
Kevin
2016-08-29T00:00:00Z
We had a wonderful holiday at Javier's apartment , the picture's do not really do it justice, it is beautifully decorated and the space is fabulous especially the outside space (we are a family of four) . The beds are very comfortable and the apartment very well equipped, we really loved it. The quiet location was just what we were after and as well as the local beaches (Bea Nou being our favourite) we visited Alicante, Benidorm and Villajoyosa all easily accessible by tram. We were keen to walk this holiday so the location was perfect but you may want to hire a car if you are not up for this as it is a good 30min walk to the town centre of Villajoyosa. We had lovely weather but one grey day we visited the Spa at the local 5 star hotel which was fantastic (bring your own water, snacks though as none provided). Javier was a really lovely host, communication was great and he kindly picked us up form the tram stop when we arrived , a really nice guy. We will be back sometime for sure!
Claire
2016-10-22T00:00:00Z
La casa muchísimo mejor que en las fotos, una decoracion exquisita y una terraza enorme con vistas impresionantes. No se puede mejorar! Muy cerca de varias playas, un entorno muy tranquilo, perfecto para venir con pareja o con amigos.
Angel
2016-07-29T00:00:00Z
Todo correcto
Eva
2016-07-11T00:00:00Z
We thought the apartment was first class. Javier was an exceptional host and gave us lots of information on restaurants and the surrounding area. The apartment was well equipped and has a lovely roof terrace with a great view of the sea. Highly recommended and we will go back.
Melanie
2016-09-20T00:00:00Z
La zona del alojamiento es muy tranquila, ideal para descansar. El apartamento es muy bonito, decorado con mucho gusto. Geniales atardeceres en la piscina. Es recomendable tener coche. Las playas de Bol Nou y Paraíso tienen un agua preciosa. También nos gustó mucho la playa de arena de Villajoyosa.
Maria
2016-08-11T00:00:00Z
We had a fantastic time staying at Javier's apartment in Vilajoyosa. He was a brilliant host showing us the area and helping to hook us up with a rent a car! There is a lovely small beach 10 minutes walk from the apartment, with Vilajoyosa beach not too far also. We visited nearby Altea and Alicante which was great. The apartment is stunning and gave us the perfect place to relax, we will be back! Thanks
Catherine
2016-07-22T00:00:00Z
Szoba típusa
Teljes ház/lakás
---
Ingatlan típusa
Lakás
---
Férőhelyek
4
---
Hálószobák
Villajoyosa, Comunidad Valenciana, Spanyolország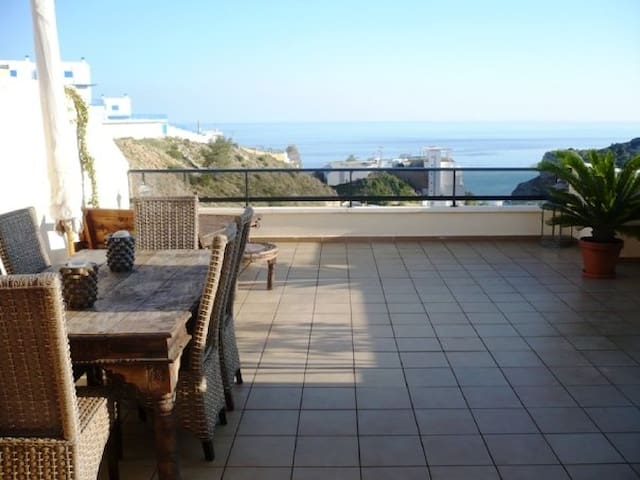 Tæt på havet og pæne stier til fods. Grønne og rolige omgivelser. Ingen trin eller trapper
Den vally Paraiso er en del af kommunen Villajoyosa, i den sydlige ende. Vores gade, urb.Jon Rok, løber under bakken med tårnet, glider nedad til stranden. Det er en "blindgyde" vej, meget rolig og beskyttet mod trafik.
Vores gade er meget charmerende. De fleste af naboerne bor her permanent, og vi alle kender hinanden og er venner. Vores lejlighed er den eneste Airbnb flad, så vi bruger til at fortælle naboerne, når vi forventer nye gæster, så skal du være velkommen til at sige hej og få en snak med dem, når du passerer på gaden.
Чудесный отдых)))!!!!!Хозяйка очень гостеприимная ))) В квартире все есть для комфортного отдыха))Пляж замечательный идти( от квартиры до моря около 5 минут) в будние дни почти пустынный))) Рядом есть небольшой продуктовый магазин и несколько ресторанчиков.В ообщем нам очень понравилось ,обязательно приедем к ней еще))))
Elena
2016-07-17T00:00:00Z
We had a great time in Reidun's charming apartment. The place is bigger then the picture's show. We had friends over and stayed with four adults, and that fitted easily! The view from the terrace overlooking the see and the sunset in the evening is wonderful. You can walk to the beach in a view minutes and to the lovely village in about 15 minutes. The upstairs neighbour Brad was very friendly and helpful and gave us the adres of the best restaurants in town for our Christmas dinners: Casa Elordi and La Teula Negra. We will come again. Hasta la vista!
Floortje
2016-12-26T00:00:00Z
My husband and I really liked Reidan's house. It has everything you need for a good holiday : comfortable beds , good dishes in the kitchen and a beautiful view of the sea and the mountains. It is about a 5-minute walk from one of the beaches.
Olga
2016-06-06T00:00:00Z
Great place, in a quiet neighbourhood, I enjoyed my stay. Reidun is very friendly and helpful, always available and providing useful information about the area. Recommended!
Jasper
2016-10-16T00:00:00Z
En enkel, men grei leilighet. Veldig lytt, særlig en del trafikkstøy og hundebjeffing om kveldene. Litt lite kjøkkenutstyr, og når vi ventet besøk måtte vi låne kaffekopper av en nabo. Det var også litt kattepiss-lukt utenfor. Vi satt likevel ute og nøt frokost med fin utsikt mot havet i det fjerne. Reidun var dessuten svært fleksibel, og når vi trengte å leie en ekstra natt på sparket, gikk det i orden uten problemer.
Marit
2016-11-22T00:00:00Z
Casa naranja is really a cute, comfy place. Very clean, well equipped (even with enough small lamps), and with nice details like candles to brighten your evenings on the spacious terrace that will make you stay - with its wide view on to the ocean which is accessible through a small private pathway - just three minutes to walk. Really a nice hideaway - with good public transportation and the lively town of Villajoyosa close by. Muchissimas gracias Reidun!
Charlotte
2017-02-25T00:00:00Z
I enjoyed staying at Reiduns house very much, the view from the terrace is wonderful! Reidun was very reliable, helpful and the house is cosy and perfect for 2 or even 4 persons. Located 3 minutes from a quiet and very beautiful beach an 10 minutes walk to the city center. Die Wohnung ist perfekt für 2-4 Personen, super Preis-Leistungsverhältnis mit wunderschönem Ausblick aufs Meer von der Sonnenterrasse! Direkt an einem ruhigen und wunderschönen Strand gelegen, 10 Minuten zu Fuss zur Stadt oder zum großen Supermarkt Mercadona. Reidun ist sehr zuverlässig und hilfsbereit. Gerne wieder.
Kathrin Lucia
2017-03-15T00:00:00Z
We really enjoy our stay in Casa Naranja. Quite, cozy and green surroundings. We could use lemons from lemon trees near the house. Perfect location for those who wants to be farther from the city center noises and so on. It is 10 minutes walk to supermarket where you could also buy a fresh seafood. And to the city center it is only 15 minutes walk. There are sandy beach in city center, but all our leisure time we enjoyed in the nearby charming pebble beach (only 2 minutes from apartments). In apartment we have everything for comfortable vacation. We definitely recommend this appartment and also we want to come back again in the future.
Diana
2016-09-02T00:00:00Z
Szoba típusa
Teljes ház/lakás
---
Ingatlan típusa
Ház
---
Férőhelyek
4
---
Hálószobák
Villajoyosa, Valencia, Spanyolország
Villajoyosa is a privileged place on the coast with wonderful beaches attached to a beautiful mountain area. City fishing tradition and chocolatier, it offers a rich cuisine and a pleasant coastal environment We are a couple with 25 years of experience in the tourism sector, key collection, we can give you the information you need about the supply of both sports / theater / dining / leisure and nature baixa marina.
Nice brand new, bright and beautiful views of the sea, port and beach ... with excellent location 5 minutes from downtown on foot apartment, 5 minutes from a beautiful sandy beach
a quiet 5 minutes from the best restaurants, and a beautiful sandy beach area with walking access to markets, shops and places of interest.
Fantastic spacious apartment in a great location. The host is very attentive with great range of items to make the stay more comfortable. Location of apartment is brilliantly positioned between the beach and the town.
Antony
2016-10-30T00:00:00Z
We had a very nice stay at this apartment. It is a new and bright apartment with new furniture. We liked everything and felt like at home. Here are some of the plus points: - great sea view - location not far from the sea and from the center of the town - well equipped with towels and other necessities - has a dishwasher and a washing machine and a large fridge The host, Carmela, was very nice and we got all the information we needed before and during our stay. Thank you very much for a very enjoyable stay!
Juerg, Oxana & Henry
2016-10-04T00:00:00Z
Una experiencia para repetir sin duda.
Carlos
2016-08-08T00:00:00Z
The accommodation and staff were more than expectation. We were warmly welcomed by the host Carmela. She gave us all the information we needed. It was clean and nicely cleaned. Very spacious room and fresh. There was a full kitchen equipment if you want to cook for yourself. The beach was just 200 m below the apartment. We sat and ate our breakfast with stunning views from the balcony every day. It's very peaceful and the apartment were isulated. Worth recommending. We'll com again next time.
Josefine Chau
2016-08-15T00:00:00Z
Fantastisk beliggenhed. Enestående udsigt til havet og få meter fra stranden. Få meter til cafeer og spisesteder ved strandpromonaden. lækker lejlighed og utrolig hyggelig vært!
Ashi
2016-10-18T00:00:00Z
Nos ha encantado Villajoyosa, un pueblo muy tranquilo y con playas muy bonitas. El apartamento tiene muy buenas vistas y dispone de todos los comforts necesarios para disfrutar de unas vacaciones 10! repetiremos seguramente
Gabriella
2016-09-04T00:00:00Z
Ha sido una experiencia maravillosa. Recomiendo este apartamento que está lleno de detalles agradables y con una anfitriona ejemplar. Carmela ha estado pendiente en todo momento de nuestra llegada, de si necesitábamos algo y de hacernos sentir como en nuestra propia casa. El apartamento está dotado de todo lo necesario, con muy buenas calidades y muy limpio. La ubicación muy buena, las instalaciones mejor aún de lo que se aprecia en las fotos, y a un paso de la playa. Si volvemos a Villajoyosa, no dudaremos en volver a él. Gracias por todo Carmela!
Miren
2016-09-11T00:00:00Z
Szoba típusa
Teljes ház/lakás
---
Ingatlan típusa
Lakás
---
Férőhelyek
6
---
Hálószobák
Villajoyosa, Comunidad Valenciana, Spanyolország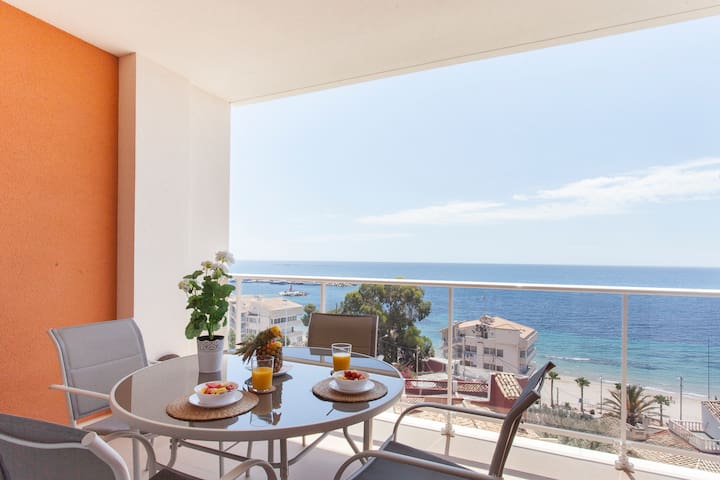 Tres dormitoris casa de luxe a la platja Aquesta casa de nova construcció està situat dins de la comunitat tancada La Vila Paradís a la Vila Joiosa Sud. La propietat consta de tres dormitoris (dos en planta baixa i un dormitori principal de dalt), una gran terrassa amb piscina d'hidromassatge, dues dutxes / WC, una cuina exclusiva, una sala de bugaderia i una sala d'estar amb una dinnertable per a un màxim de 8 persones. S'inclou aparcament cobert. un nivell molt alt i llest per mudar-se i gaudir primeres vacances de classe.
Llits: tres llits dobles aswell com dos estàndard de l'hotel es pleguen llits estan disponibles. Quart de rentat: Laundryamachine i assecadora. Cuina: Rentaplats, forn, estufa, nevera, congelador tota Bosch. fabricant de Melitta Caputxí. TV: 52 polzades amb més de 20 canals Jacuzzi: seients 4-5 persones Garatge: possibilitat aparcar 97 aquesta sota sostre situat entre els dos principals edificis d'apartaments. A pocs passos de la casa.
Tres restaurants de la platja durant highseason Petrolstation (Carrefour Express) propera petit supermercat Dos restaurants permanents
Szoba típusa
Teljes ház/lakás
---
Ingatlan típusa
Ház
---
Férőhelyek
6
---
Hálószobák
Villajoyosa, Comunidad Valenciana, Spanyolország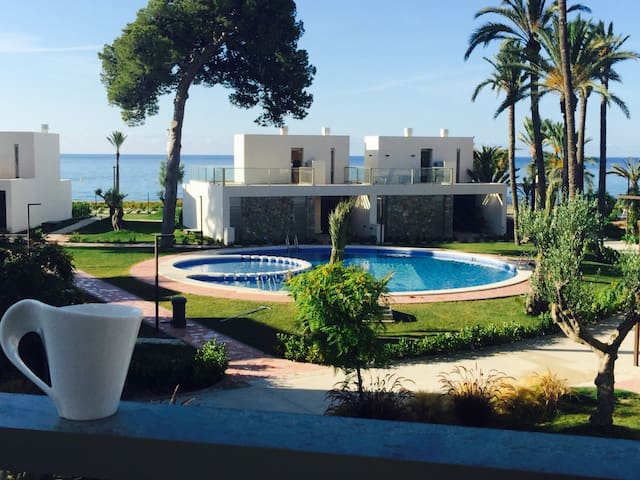 Petit hôtel de charme dans la vieille ville de Villajoyosa, à quelques mètres du centre et de la plage toute la cuisine de la ville. Avec un décor exquis et tout le confort d'un hôtel moderne.
Szoba típusa
Privát szoba
---
Ingatlan típusa
Szoba reggelivel
---
Férőhelyek
2
---
Hálószobák
Villajoyosa, Comunidad Valenciana, Spanyolország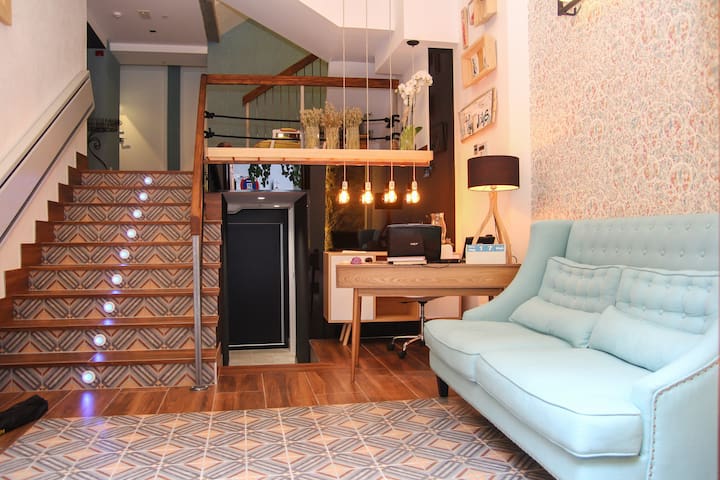 Sobreático céntrico, a 100m de la playa, recién renovado, con una terraza de 25m2 con pérgola y mobiliario de exterior. Las mejores vistas de la ciudad a la playa y la puesta de sol. Con iluminación natural todo el día y sonido relajante de la mar.
Sobreático recien reformado de 50m2 con 25m2 de terraza, céntrico a 100m de la playa y con las mejores vistas. 2 habitaciones, cocina y salón comedor con todas las comodidades (aire acondicionado, tv, lavavajillas, lavadora...). No tiene señal de WIFI
En la zona más céntrica de la ciudad, rodeada de todo tipo de servicios (restaurantes, tiendas, gasolineras, cines, servicios médicos, playas, paradas de autobús, tren y taxi)
Прекрасное место! В реальности лучше, чем на фото. Вид с террасы захватывающий, можно часами сидеть и смотреть на море и рыбацкие корабли, которые к вечеру возвращаются в порт. В аппартаментах есть все необходимое, и даже больше, чем надо. Очень уютно! По приезду нас ждал сюрприз от Луиса - вино и местный шоколад- было приятно! ТВ мы включили только 1 раз, когда шел дождь и был сильный ветер. С такой террасой не нужен ни ТВ, ни интернет! Спасибо огромное! Muchos gracias, Luis!
Kasia
2016-10-02T00:00:00Z
We really liked our stay at the apartment of Luis and his family. We had a lovely welcome with a nice bottle of wine and some food, even for our baby. Luis did everything to make our stay wonderful including arranging all kind of babystuff so we didn't have to take those with us. Especially his kindness is something you don't experience everywhere. I would really recommend staying at this place!!! It also has a stunning view, even better than on the pictures. So Luis and family, thanks again!!!
Eline
2016-08-06T00:00:00Z
Estuvimos 8 dias en el atico cuatro personas. El apartamento es tal y como se puede apreciar en las fotos de la descripcion. Luis es un magnifico anfitrion, estuvo pendiente de todo y nos facilitó mucho la estancia. La ubicación inmejorable el apartamento se encuentra en pleno centro del pueblo, muy cerca de bares, restaurantes y la playa centro. Muy recomendable nosotros repetiremos seguro. Mil gracias Luís
Sergio
2016-08-15T00:00:00Z
Luis var en fantastisk vert. Han var veldig hyggelig, serviceinnstilt, alltid tilgjengelig og bidro med tips for aktiviteter, restauranter etc. Leiligheten var perfekt for en familie på 4 og våre barn satt veldig pris på lekene som var tilgjengelig. Bildene er representative for hvordan leiligheten faktisk ser ut. Det høres noe lyd fra en heissjakt, men vi opplevde ikke dette som sjenerende.
Andreas
2016-10-23T00:00:00Z
Todo perfecto y según las fotos,Luis en todo momento ofreciéndose para cualquier cosa y en la casa muy detallista con los huéspedes,recomendable 100X100
Ivan
2016-06-20T00:00:00Z
Somos tres amigas que queríamos pasar un fin de semana tranquilo en la playa y realmente lo hemos conseguido. Nos ha encantado y hemos disfrutado mucho la estancia en la casa. Las fotos la describen tal y como es y las vistas son excelentes. La ubicación es muy buena tanto respecto a la playa como a la zona de bares y centro. Gran culpa de esta agradable estancia la tiene Luis, es un anfitrión muy atento, detallista y siempre pendiente de poder ayudarte con cualquier cosa. Nos ofreció consejos muy útiles: dónde aparcar, donde comer, qué visitar... En fin, seguro que volveremos.
Maria Teresa
2016-08-30T00:00:00Z
Luis amazing host! Very nice and polite, always ready to help, always connected, said a lot of useful and even brought toys for our daughter)) The apartment itself is very comfortable, clean and well appointed and equipped with everything you need, with a huge roof terrace with incredible views of thesea, ideal for family lunches and romantic dinners in the sunset) On the terrace there are comfortable chairs and a sofa, and even the grill! The apartment has an excellent location, very close to the sea with an excellent sandy beach, the old town, shops and cafes. In a 10-minute walk from the tram stop, providing access to nearby towns. Luis, thank you very much for everything! We loved your home and your family, we hope to meet again!
Anna
2016-09-07T00:00:00Z
The appartment was exelent and perfect for our family. Close to the beach and a fabulous view over the city snd the ovean. The host was very friendly and helpful in every way. All in all a perfect stay for us.
Trond
2016-07-26T00:00:00Z
Szoba típusa
Teljes ház/lakás
---
Ingatlan típusa
Lakás
---
Férőhelyek
4
---
Hálószobák
La Vila Joiosa/Villajoyosa, Comunidad Valenciana, Spanyolország
Unser charmantes Studio mitten im Herzen der historischen Altstadt von Villajoyosa, 30 Meter von einem blauen Flagge goldenen Strand mit fantastischen Restaurants und wirklich kühlen Cocktail-Bars. Die Dachterrasse ist fantastisch, groß und mit Blick auf den Strand, Altstadt und Schloss. 2-4 Personen. Hauptsitz.
Es geht nur um die Lage - so nah am schönen Sandstrand, der man die Wellen hören können, wenn Sie morgens aufwachen! Innen ist es sauber, ordentlich und traditional.while Grund bietet es alles, was Sie für einen Strandleben Pause brauchen. Es verfügt über eine neu eingerichtete Küche mit Wasch machine.all Betten neu Ende 2014. Die große Dachterrasse bietet Blick auf den Strand als mit Tisch, Stühlen, Sonnenliegen und Sonnenschirm versehen ist. Die Wohnung ist ideal für ein Paar, 4 ist ein Squeeze und verwendet sowohl das ausziehbares Sofa und die mez Doppelbett Anordnung, die für Kinder besser geeignet ist. Das Äußere wurde im Jahr 2016 und die unteren Wohnungen und Treppen sind komplett renoviert schön neu verputzt und gestrichen. Nahverkehrszug und Straßenbahnnetz und einen einfachen Zugang zu den wichtigsten Straßennetz macht Villajoyosa eine schöne Lage zu erkunden aus.
Так близко к прекрасному пляжу, что вы можете услышать волны, когда вы просыпаетесь утром!, Villajoyosa красивая деревни, с богатой историей и типично испанскими .Это не турист ад, но причудливое место на берег моря с фантастическими ресторанами и барами и синий флаг пляж, который никогда не упакован.
This flat was very good located just 100 m from a wonderful beach. Village is very special and romantic. Flat was little small for 3 persons good for 2. The special build bed its good for kids. Kitchen is small but good enough to make small dinners. Our host John was very helping and kind. A little suggestion is that work on the welcome feeling in the flat. We felt little dirty and put some money in new bed clothes. Dont forget all this kind of houses is very small but this is the living in this part of the city. Middle of everything and nice restaurants. Magnus/ Brigi
Magnus
2016-08-02T00:00:00Z
Well if you read the description for the apartment one could say "charming flat, clean, perfect location, … " sounds like 90% of the AirBnb descriptions, but I'd like to point out for this apartment it is not the standard commercial rubbish, it is more like British understatement. ;) To be honest the apartment exceeded our expectations by far. I don't want to bore you with facts you could already read in the description or you could see on the photos. So I will focus on two points which are not already written. First the hospitality of John and Annalisa, they have always an open ear for you and you could call them any time (one thing we had hardly to use because everything worked perfect) and they know Villajoyosa so they have a lot of handy tips about where to park your car, to shop, to eat and so on. The second thing maybe a bit special but if you are a rock climber or hiker like we three were. Forget about Finestrat and colourful Hostels, this is the place to be. The drive time to Sella and Guadalest is due to the better road the same (or even shorter) and in the evening you are not stuck in a remote village. In Villajoyosa you have the beach, real shopping possibilities, quaint bars and restaurants but it is still far away from mass tourism and kept it original charm. So in total, this apartment was one of our best choices for this holyday and we could fully recommend it. Have I mentioned the roof terrace? Priceless!! Thank you John and Annalisa!
Elena
2016-05-17T00:00:00Z
The host canceled this reservation 15 days before arrival. This is an automated posting.
Pablo
2015-07-30T00:00:00Z
John и Лиза предоставили нам уютную квартиру с превосходным патио на крыше с великолепным видом на море!John and Lisa gave us a cozy apartment with a superb rooftop patio with great views of the sea !
Polina & Vasilii
2016-07-29T00:00:00Z
Super beliggenhed og terrasse - dejlig feriebolig til 2. Vi nød det - også selv om vi havde datteren med nogle dag, vejret var skønt og Villa Joyosa er en dejlig mindre ferieby. Meget rolig hyggelig, rolig - i alt fald udenfor sæsonen ;)
Mette
2016-10-18T00:00:00Z
I loved this studio, it was perfect for me as I was travelling solo, but would also suit a couple. Very comfortable, modern and secure with the added bonus of being about 10 meters from the beach and restaurants. Ideal for a beach getaway. The private rooftop is a sun catcher and is great to get away from the crowds and relax. John and Lisa were incredibly helpful, I'd highly recommend this to accommodation to any one.
Beth
2015-08-15T00:00:00Z
We (family of four) had lovely days in this apartment in this beautiful city. The host gave us the information we needed before we left and gave us a great follow up after/under stay. The picture gives a very good description of the apartment and we loved evenings on the roof terrace with a nice view over the sea. The sofa bed was very good to sleep in and the kids loved the "roof bed". The location is very close to the beach and all the restaurants.
May-Britt
2015-07-09T00:00:00Z
Great little flat, thank you very much. Nicely furnished in a simple uncluttered way, with lovely terrace, close to the beach in this lovely seaside town. We had a lovely time here and would definitely come again.
Andrew
2016-10-03T00:00:00Z
Szoba típusa
Teljes ház/lakás
---
Ingatlan típusa
Lakás
---
Férőhelyek
3
---
Hálószobák
Villajoyosa, Costa Blanca ,, Spanyolország
Appartement dans l'urbanisation fermée, la construction nouvelle qualité, 2 chambres, salle de bains, salon, cuisine et galerie. Entièrement équipée, terrasse avec 14m, vue sur la mer, wifi, portier, interphone, surveillance vidéo, l'orientation est, avec une bonne ventilation naturelle brise, piscine avec éclairage de nuit et maître nageur, aire de jeux, garage privé pour voiture. A côté de camping, plage à 100m., Port, centre commercial, hôpital, un train de la côte, arrêt de bus, promenade (barres).
appartement spacieux, bien équipé, avec ascenseur (soleil du matin sur la terrasse), très bien aéré avec la brise de mer naturelle, fraîche en été (nuits avec un bon sommeil), idéal urbanisation tranquille pour se reposer, avec toutes les mesures de protection et de sécurité.
Camping, bar de la plage et de la plage à 100m. magasin d'alimentation sur la même rue. À côté du port de pêche et de plaisance (zone de bars et restaurants). Près de la gare de la côte (Alicante-Denia), arrêt de bus. Aéroport à 40 km par l'autoroute AP7. Situé entre l'hôpital central et la zone commerciale de la Marina Baja. Linda avec le parc naturel des terres et sous-marin de la « plage Raco-nudiste ». 5 minutes en voiture du centre de Gran Benidorm.
Szoba típusa
Teljes ház/lakás
---
Ingatlan típusa
Lakás
---
Férőhelyek
4
---
Hálószobák
Villajoyosa, Comunidad Valenciana, Spanyolország
Dieses 103 Jahre alte Haus, im historischen Zentrum der Altstadt gelegen, im Jahr 2015 renoviert verfügt über einen offenen Wohn-Ess-Küchenbereich, 2 Schlafzimmer, ein großes Bad und einen Innenhof. Schlüsselübergabe: Es gibt einen Safe neben der Tür mit den Hausschlüssel im Inneren. Der Zugangscode wird zur Verfügung gestellt. Ein informatives Paket wird per E-Mail mit der Bestätigung der Buchung gesendet. ** MONATS Buchungen können ENTSTEHEN IN Abrechenbare (ca. 120 €) **
Die Lounge-Küche-Esszimmer ist mit handverlesenen Möbeln eingerichtet, den Raum ein modernes und doch traditionell spanische Atmosphäre zu geben. Beide Schlafzimmer sind Doppelzimmer, das Bad mit einem komfortablen 120x80 Dusche sehr groß ist. Unsere kleine Sonnenterrasse ist perfekt für einen Kaffee am Morgen.
Die Altstadt von Villajoyosa ist das einzige alte Wohngegend an der Costa Blanca. Es gibt ein großes Gefühl der Gemeinschaft und in den Sommermonaten die Bewohner der Altstadt in einem der Plätze für das Abendessen und Wein als eine große Familie zu sammeln.
Very nice and cosy groundfloor appartment in the old town of Villajoyosa. Very well equiped, clean, good WiFi. Near the beach, shops, restaurants. And unique, with a small patio. And also nice was the early check in with the key safe. Also very nice was the availibility of tea, coffee, shampoo, showergel, washingpowder for the washingmachine, etc. We have had a super stay.
Bianca
2017-01-12T00:00:00Z
Excelente apartamento en un sitio increible y que merece mucho la pena visitar
victor
2017-01-05T00:00:00Z
La casa esta muy bien. Esta cerca de la playa. Tiene una cocina y un baño nuevos. Lo único que para salir al baño tienes k pasar por un patio interior desde la habitación. Todo lo demás genial. El pueblo es muy bonito y la playa esta genial. Volveremos a repetir.
Alba
2016-07-25T00:00:00Z
The host canceled this reservation 31 days before arrival. This is an automated posting.
David
2016-07-12T00:00:00Z
We loved staying in the apartment. It Was nice and clean, with everything we needed. the bed Was good. The bathroom Was modern, and we loved that there Was a washingmashine. The boken stil Was perfect for the nice flat. And Hermes Was a wery helpful host.
May
2016-11-01T00:00:00Z
Das Appartment ist perfekt ausgestattet: 3 Räume mit je einer Klimaanlage, Wifi, TV etc. Es ist wohltuend sauber und sehr gepflegt. Die Lage ist prima: In ein paar Minuten durch die wunderschöne kleine Altstadt ist man am Strand, im Zentrum von Villajoyosa, am Markt, im Supermercado ... alles bestens zu Fuß zu erreichen. Alles in Allem ein sehr schönes Appartment. Hermes ist sehr freundlich, kommunikativ und kooperativ! Ein toller Gastgeber! Sehr Empfehlenswert! Danke!
Johanna
2016-09-09T00:00:00Z
Even though we haven't met the host in person, we'd say he's nice and easy going! We were allowed to check in early to leave our luggage at the apartment. One day before departure we decided that we wanted stay one extra night. That went really smooth! The apartment was great! It was furnished very cosy and it had everything we needed. The layout of the apartment was interesting and gave it a unique touch. We loved our stay!
lotus
2016-09-13T00:00:00Z
The house is in the old part of Villajoyosa and its extremly cute! I really enjoyed staying at this house. It has everything you need and its cozy. It's located very close to the beach and there are quite a few shops, bars and restaurants nearby. To reach the bathroom you need to cross the patio (which is a bit cold in winter) and the boiler with hot water for showering is a bit small. Apart from that everything was fantastic.
chantal
2016-12-27T00:00:00Z
Szoba típusa
Teljes ház/lakás
---
Ingatlan típusa
Lakás
---
Férőhelyek
5
---
Hálószobák
Villajoyosa, Comunidad Valenciana, Spanyolország
Pizarro 13 tous les invités sont les bienvenus et comme ils sont à la maison. Nouveau bâtiment, dans le centre de Villajoyosa et 300 m. de la plage. récemment décoré avec de nouveaux meubles, en prenant soin de la conception de détail, salon fantastique avec TV. 50 « et une cuisine entièrement équipée, et un bar à café Dolce Gusto, terrasse avec table et chaises où vous pouvez fumer, trois chambres, une suite chambre double, un lit double et un jumeau.
13 Pizarro choisissez comme vos vacances est un succès. L'appartement dispose de la climatisation et pompe à chaleur centrale, calfeutrant tout reste à plat Merci de ne pas fumer, afin que nous puissions garder une atmosphère fraîche et agréable.
13 Pizarro est au centre de Villajoyosa et donc près n'importe où, peut marcher, vous avez tout à portée de main,
Szoba típusa
Teljes ház/lakás
---
Ingatlan típusa
Lakás
---
Férőhelyek
6
---
Hálószobák
La Vila Joiosa, Comunidad Valenciana, Spanyolország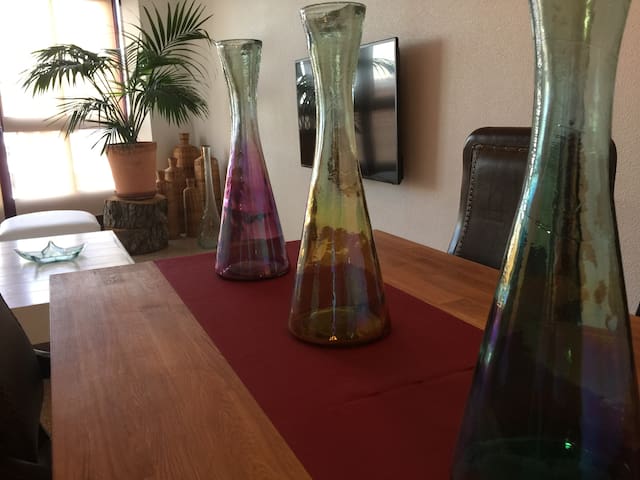 Szoba típusa
Teljes ház/lakás
---
Ingatlan típusa
Lakás
---
Férőhelyek
2
---
Hálószobák
Villajoyosa, Comunidad Valenciana, Spanyolország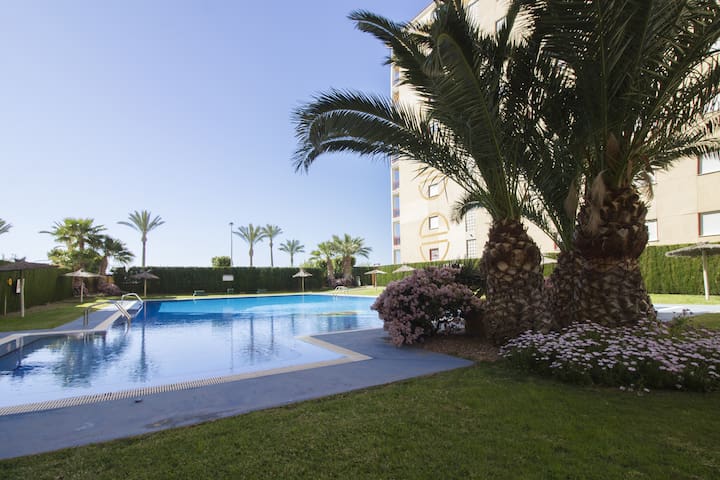 A szobám alkalmas párok, solo kalandorok, az üzleti utazók és a családok (gyerekekkel).
Szoba típusa
Teljes ház/lakás
---
Ingatlan típusa
Lakás
---
Férőhelyek
4
---
Hálószobák
La Vila Joiosa, Comunidad Valenciana, Spanyolország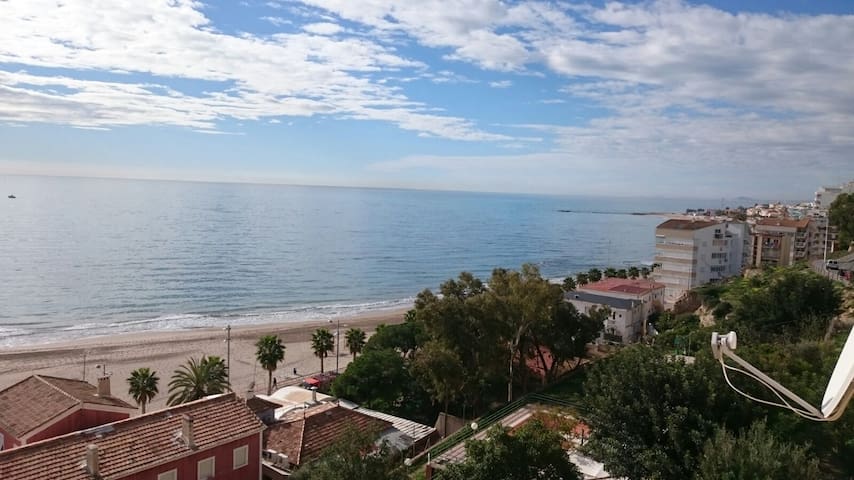 Villa mit Garten, Parkplatz und Grill fünf Minuten vom Strand von Paradise in Villajoyosa (Alicante). Sie werden dieses Haus lieben, weil es neben dem Strand, es hat eine tolle Aussicht und ist gut angebunden. Sie haben genug Zeit, um die Natur mit Ihrer Familie Raum zu genießen. Ganz in der Nähe von Benidorm, Terra Mitica, Altea und Guadalest. Es gibt einen Zug Haltestelle fünf Minuten zu Fuß, die Sie zum Zentrum von Alicante und Benidorm verbindet.
Todo esta muy bien!!! Muy recomendable...
NATALIYA
2016-10-16T00:00:00Z
Muy recomendable para ir en familia, un sitio tranquilo y cerca de la playa. Lo mejor de la casa el jardín, pasamos un fin de semana genial. La anfitriona muy agradable que nos facilitó mucho la estancia.
vanesa
2017-01-01T00:00:00Z
Our family of 6 people from 2 year and up to 60 years had a very nice stay at Ana's place for 3 days. Ana is a nice and helpful hostess. The location of the house was nice and quiet and with a nice garden. Our little boy enjoyed to play outside. It was quite close to the sea. We can recomand to stay at Ana's place. Regards from Marit Ø.Øye and her family.
Marit Øder
2017-03-26T00:00:00Z
Szoba típusa
Teljes ház/lakás
---
Ingatlan típusa
Ház
---
Férőhelyek
6
---
Hálószobák
La Vila Joiosa, Comunidad Valenciana, Spanyolország
Add meg az időpontokat a teljes ár megtekintéséhez. Felmerülhetnek további költségek illetve adók.