Private stand alone bungalow w/ Netflix, Kuerig, kitchen, small fridge, toaster, 1 queen bed, sofa sleeper couch, close to LAX, El Segundo, Hermosa beach (1 mile), 15 min to ManhattanBeach, 1 block to Redondo pier, 2 1/2 blocks 2 Beach, Starbucks, Trader Joe's. 1 blk 2 Wholefoods, Tv, highspeed wifi. 3 min to Portofino & Shade hotel. Close to coffee shops. MAY Mother/Daughter Promo: Get Pedi/Mani Mother's Day!
Kitchen: microwave coffee pot w/timer (please request) Kuerig (please only use water provided-do not use tap -it will break machine) drink glasses wine glasses plates/bowls/silverware popcorn bowl (popcorn provided) toaster smoothie bullet stove fridge paper towels some snacks provided breakfast graze basket (ie breakfast bars, etc) french press pans/pot pasta drainer small picnic basket w/ wine glasses and plates, and table cloth House: Sleeper sofa w/ memory foam Queen size bed w/ memory foam topper, duvet & down comforter down pillows/extra pillows tv/dvd blue tooth speaker (Jam) hangers (wood) Amazon tablet w/ Pandora/Spotify heaters air conditioner small closet house coats chess set/monopoly/playing cards bikes 2 heaters heating blanket movie library Please note that I have had a small family of 3 but the sleeper sofa does take up most of the room when open as it is a small space. This is best suited for 1 or 2 people since I put a queen size bed. Please ask about child sleeper. Bath: towels soap shampoo hair dryer ceramic flat iron ceramic iron hair curling rod iron/ironing board Beach items: table & chairs blankets volleyball (please request) frisbee pop up tent beach towels 5 minutes to Hermosa Pier and 30 minutes bike ride to Manhattan beach. We are across the street (1 1/2 blocks from Redondo Pier). We are also close to Palos Verdes and San Vicente. 10 minutes drive to Manhattan Beach. Ask about bike rental promo. We live walking distance to Redondo Pier (close to bars, Cheesecake Factory) and Hermosa Pier. To get to pier, go right outside gate and cross street and walk left 1 block til you see park/ocean and walk down to pier and head left to go to beach. There's plenty of convenient shopping & shops close (2 blocks). Just go outside gate and go left two blocks to Wholefoods, Riteaid, Smashburger, Pure Barre, Panda Express, Beauty Supply Store, Starbucks, Kirari West Bakery, and 5 minutes to Trader Joe's (Riveria Village). Polly's on The Pier and Tammy's are great breakfast places but the closest is Barney's and they serve breakfast all day. It's also a safe neighborhood and police station is close by. *Note: starting Feb , I will have an extra room in the front house with private entrance/own bath. Has full size bed, small fridge, and Kuerig coffee machine. Bath is outside room. We do enjoy hosting happy hour/appetizers every now and then - feel free to join us and ask about Sunday Suppers at Hostaria Piave - the best Italian restaurant in Redondo Beach. Sunday Suppers are $45 per person for a 4 course meal (includes appetizers and dessert). 2 Blocks from Shopping Center: Wholefoods Riteaid (closes at midnight) Ritas Custard Ice cream Subway Panda Express SmashBurger Pitcher House Sports Bar Nail Salon Massage Envy Post Office -UPS Beauty Supply Pizza Dickey's BBQ Bagel Shop Pure Barre Pilates Fresh Brothers European Wax Note: we don't have a gym here on the property but there are gyms close by Please ask about corporate housing. Events: Interested in running in the 5k/10k Redondo Beach race Feb 5th (Super Bowl Sunday). Ask for more details for let me know if your'e interested in signing up - Feb 5th Superbowl Sunday! All runners will receive a custom race shirt Custom awards will be presented to the top three male & female finishers in each category Michelob Ultra Post Race Hospitality Area Live music Costume Contest, Presented by King Harbor Association
Élünk sétára Redondo Pier (a bárok, Cheesecake Factory) és Hermosa Pier. Közel Terranea Resort / Palos Verdes / San Vicente (25 perc). Ahhoz, hogy mólón, menj jobbra külső kaput és kereszt utcán, és gyalog balra 1 blokk til látod park / óceán, és menjen le mólón és a fej balra menni a strand. Rengeteg kényelmes vásárlási és üzletek közelében (2 blokk). Csak menj kapun, és menj balra két blokk Wholefoods, Riteaid, Smashburger Pure Barre, Panda Express, Szépségápolási cikkek, Starbucks, Kirari West Bakery, és 5 perc alatt Trader Joe (Riveria Village). Polly a mólón és Tammy remek reggeli helyen, de a legközelebb a Barney és reggelit minden nap. Ez is egy biztonságos környéken, és rendőrségre a közelben van. Közel könyvtár, UPS bolt, Pure Barre.
Angela was an awesome host! She provided more than we could have possibly expected. The place was clean and super cute. Loved the outdoor space to hang and relax. Looking forward to staying with Angela again in the future!
Renee
2015-10-06T00:00:00Z
My friend and I stayed five nights at Angela's lovely and homelike place.Angela is a very nice host, she took us to a Japanese restaurant to taste yammy ramen and also gave us some recommendations where to go around the city. She prepared some snacks and drinks,we were relaxed and enjoyed to stay her place. Have a lot of fun with Angela, thanks. I would like to stay at her place if I have a chance travel to LA next time.
Angela
2015-09-22T00:00:00Z
Such an amazing place to stay and Angela was the best host! She really went above and beyond to make us feel welcome and comfortable. The cottage is adorable and in a perfect location. We used the beach cruisers and went on a few bike rides to the different piers. Highly recommend Angela and her place. We would absolutely return if in the LA are!
Bri
2016-03-20T00:00:00Z
The bungalow is realy nice and it looks like in the photos. The location is great, very close to the beach. Angela is an excellent host, everything was perfect to have a nice time there.
Osvaldo
2016-02-26T00:00:00Z
Angela is a fantastic host who went above and beyond to make sure that we had a great time at Redondo. She made us feel very welcome on arrival and explained everything about the bungalow. She highlighted local areas to eat and drink and offered the use of bikes to get around. She also invited us to spend July 4th with her and her friends and provided a great bbq. The bungalow was exactly as described in the pictures and the location is perfect for exploring Redondo and Hermosa Beach. In addition, an uber ride is very affordable into downtown LA (around $30). Overall we had an excellent time in Redondo and Angela was a fantastic host. We will definitely stay here again. Thanks Angela!
Chris
2016-07-07T00:00:00Z
This is hands down the best Airbnb we've ever stayed at. My boyfriend and I stayed at Angela's for 3 nights and didn't want to leave. The bungalow was impeccably clean and she provided snacks and beverages to make us feel welcome. The bed was SO comfortable - we slept so well! We enjoyed the outside space almost as much as we did inside the bungalow. There is a fantastic patio that gets great sunlight throughout the day. The orange tree just added to the charm! The location is fantastic and we were able to easily travel as far north as Santa Monica and down to Palos Verdes. Angela provided great recommendations for restaurants in the Redondo Beach area - all of them were outstanding. We will absolutely stay with Angela if we are ever back in the area.
Michelle
2016-05-09T00:00:00Z
Angela was a very kind host with a cozy bungalow that was a pleasure to stay in. The patio is a lovely place to recharge, especially when you're surprised with warm cinnamon rolls in the morning. Angela provided a variety of refreshments and snacks for us which were perfect for a night cap at the end of a day of sightseeing or a cup of tea or coffee to start the day. Her welcome was warm and her cottage an ideal retreat from the bustle of a busy day.
Adela
2015-11-29T00:00:00Z
This place was amazing! One of the best AirBnB's I've stayed in. The home was lovely as pictured, everything was clean and impeccably decorated. Angela took extra care to stock the kitchen with everything you could ever need- offering plenty of snacks and beverages which was a pleasant surprise. Parking on-site was easy and provided, and it was just a quick walk to Redondo pier with the beach nearby as well. Great location, quiet neighborhood, and overall would highly recommend both Angela for being an amazing host, and her home!
Emily
2017-01-17T00:00:00Z
Szoba típusa
Teljes ház/lakás
---
Ingatlan típusa
Bungaló
---
Férőhelyek
2
---
Hálószobák
Redondo Beach, Kalifornia, Egyesült Államok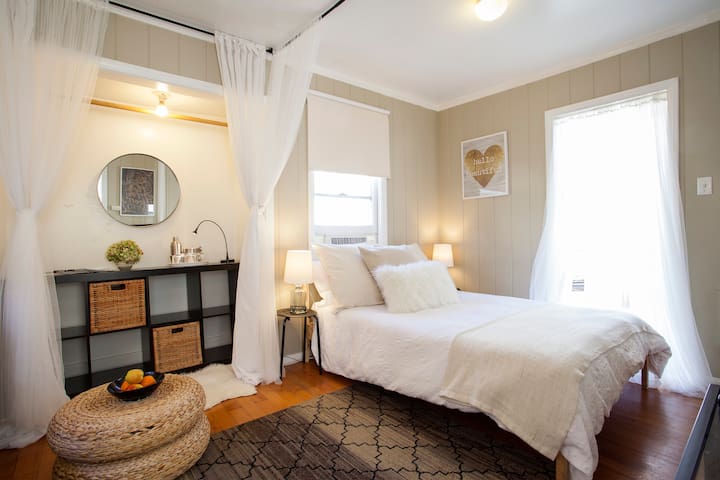 A különterem (teljes méretű ágy, szekrény, wifi) és egy fürdőszoba kizárólagos használatra 3bedroom / 2,5 fürdőszobás családi ház. Konyha, nappali, egy szép terasz, plusz egy grill, szintén az Ön rendelkezésére. Közel a Manhattan Beach és Hermosa Beach.
Otthonunk egy szép, kényelmes 3 szobás 2 1/2 fürdő. Lesz saját privát szoba egy nagy sebességű vezeték nélküli internet, saját fürdőszoba, és friss ágynemű, a hozzáférést a konyha, nappali, egy gyönyörű terasz ész citromfa, plusz egy kisebb, grill, szintén az Ön rendelkezésére. Ön is használja a mosó-és szárítógép. Megjegyzés: Van két macska (az összes vendég, hogy lehet allergiás). Ingyenes parkolási lehetőség áll rendelkezésre Vanderbilt Ln. A gyerekek nagyon hasznosak - van egy 5 éves fiú magunkat. Mi lehet az utazási ágy a gyermek. Azt nem bánom, a kis kedvencek, de ez kell állapodni először. Mi található egy 20 perces biciklizés / 7 min. vezetni a Manhattan Beach és Hermosa Beach, és a 15 perc. meghajtó (5,8 mérföld) LAX. Airport megközelíthető busszal # 8 (1,50 $), Über ($ 14), repülőtéri transzfer ($ 16) vagy Taxi ($ 31). Van azonnali hozzáférést biztosít a Pacific Coast Highway és a városi buszok. A rakpartok, strandok, üzletek, éttermek, valamint a kikötő, vitorlás és a szál csak néhány percre található. Felveheti velünk a kapcsolatot az angol, spanyol, lengyel, francia és portugál. A férjem, Maciek, saját kísérleti engedélyek így lehetőség van arra, hogy repülni vele körül LA (imádunk repülő vasárnap brunches Catalina Island). Mi segítünk bármilyen információ tekintetében vendég LA vagy más részein az ország.
Ez egy csendes környéken található egy 40 perc séta / 7 perc autóútra a Manhattan Beach és Hermosa Beach. A környéken számtalan szabadtéri tevékenységek, sőt mi legismertebb ide röplabda. Csodálatos Palos Verdes Peninsula szomszédban vannak túra- és kerékpáros, golf és bálnák. Van rengeteg kölcsönzés Redondo és Hermosa ahol kajakot, lapát táblák, és ne felejtsük el, vitorlázás ... semmit a vízzel kapcsolatos. Sok dolgom van.
It was cozy and comfortable to stay in Under Lemontree. The house has good interior and clean room. We slept really well! Thank you. :)
Heesu
2015-07-07T00:00:00Z
Anna & Maciek are the best! Their home is very cozy & kept clean. Safe location & I love the vibes of their place. This was my first time staying in California (also using Airbnb) & I'd definitely come back to stay with them again. Love the lemon tree!
Breana
2016-02-22T00:00:00Z
Anna nous a accueillies. Elle nous a montré notre chambre et expliqué ce que nous devions savoir. Leur fils nous a accueilli avec un certain enthousiasme rafraîchissant. Maciek a été très sympathique et accueillant, nous avons pu discuter un peu avec lui, lorsque nous nous sommes croisés. La maison est bien, la chambre très bien, dans un quartier résidentiel paisible de Redondo Beach, l'un des coins les plus sympas de Los Angeles.
Audrey
2016-09-01T00:00:00Z
Anna and Maciej's place was amazing- our room was just as described and the rest of the house was just lovely. We even got to meet their little boy- he was very cute! Our hosts were very friendly and were very happy to chat. The place was close to an incredible beach and some shops too. This was our first ever airbnb and we really loved it.
Margaret
2015-11-15T00:00:00Z
This was the first experience of meeting the host and it was very nice. Anna was accommodating and made us feel very relaxed. We were not sure how it would feel to be in some bodies home. Apart from that everything was fine, access to kitchen, own bathroom and lounge, comfortable bedroom, easy parking. What more can one ask for?
Madhu
2014-12-03T00:00:00Z
We stayd for two nights and foubd everything as expected. We didn't really see much of Anna and Maciek, but they where helpfull in any way. The beautiful home is best visited by car, but the bus station is also close and we managed pretty well with the local transportation. The nice hosts and The neighbourhood are worth a visit!
Helen
2014-09-24T00:00:00Z
RAS, logement très propre et joliment agencé. Tout était parfait!
Chloé
2016-08-08T00:00:00Z
Close to the beach. Area has most things close by, however if you're wanting to visit Hollywood Blvd etc its costly to get too, best thing to do is hire a car. Room was relatively big and had separate bathroom however probably not suitable if your young and want to have late nights as owners have a very young son. We felt guilty coming back from a days of exploring as we tiptoe around because we didn't want to wake up the little boy, we didn't see much of Anna but Maciek was quite helpful and very friendly.
Sylwia
2016-10-28T00:00:00Z
Szoba típusa
Privát szoba
---
Ingatlan típusa
Ház
---
Férőhelyek
2
---
Hálószobák
Redondo Beach, Kalifornia, Egyesült Államok
Enjoy the privacy of our Petite guest house with independent access, quiet, with lots of light. private bathroom, kitchenette with appliance and refrigerator spacious closet space, access to laundry room and free Wi-Fi We Speak French, Portuguese, Spanish ,free parking 24/7 on the drive way or street ,also we did added a convenient lap top table and a comfortable chair for those who like to work while enjoying the solitude and privacy of our place We really try to make you experience great
Located at Torrance next to Redondo Beach, Palos verdes , Hermosa beach , Manhattan beach ,Redondo Beach Pier(whale watching and boat fishing ,also where you find the best sea food market (live lobster etc :)Bask kitchen kone coffee and much more The Riviera Village area is well known for restaurants, small stores ,farmer's Market, trader joe's and of course 10 minutes to the great Del Amo shopping mall ,movie theaters, high end stores and restaurants A lot to choose 15 minutes to Hermosa Beach and Manhattan Beach Palos Verdes and 30 minutes to Venice Beach and a just 45 minute drive up the Coast to Malibu or South to long Beach Huntington Beach etc . Take the beach bus from Riviera Village to Hermosa Beach, Manhattan Beach ,30 min to LAX. also a 10 minutes bike ride to Torrance Beach, very clean beach with beautiful views of the Pacific Coast line. If you're on the sand you can see all the beaches up to Santa Monica! 10 minutes walk from EF International Language School. Our Petite guest house can host 2 people comfortable. Very private and cozy with open views. Big Patio area for relaxing, enjoy the ocean breeze and beautiful open views of Palos Verde Hill under the blue sky. Most of all, have fun, enjoy our Sunny home Location ! Great quiet Location (Newly remodeled bathroom LOOKS GREAT )This guest house we believe is as little hidden treasure, added a laptop table and comfortable chair for those who enjoy to work on a quiet place Do not forget to visit the spy store on the intl boardwalk (redondo pier) thank you
Quiet friendly and plain of fresh breeze from the ocean Beautifully Sunny California Very secure Area,farmers market,theaters,Vons,trader joe's,smart&final,etc restaurants etc............ we are very centralized ,but we are on a quite enjoyable area
They were FABULOUS!!! So welcoming, GREAT communication and very comfortable location. Perfect for my purpose, it looks like the pictures, cozy, perfectly equipped and treated like family. The snacks were great, especially after lots of travel. I recommend! :)
Cynthia
2017-01-04T00:00:00Z
Comfortable room and quite neighborhood. We love the snacks. The small kitchen in room and washer and dryer is great for stay of over 3 days. Thanks a lot.
Qi
2015-01-02T00:00:00Z
We arrived later than expected and was greeted by Eloisa. Eloisa pointed out that there were extra amenities that was an unexpected bonus that we enjoyed. Everything about the room was excellent.
Lap
2016-08-18T00:00:00Z
Great place, clean and quiet and private and safe. Jean Pierre and Eloisa were accessible if I needed them, which I did not because everything was perfect. Five Stars!
Harriet
2015-05-18T00:00:00Z
Very nice guest house; had everything I needed to make my visit with my son enjoyable and a short walk to the beach!
Skip
2015-11-03T00:00:00Z
Petite chambre avec kitchinette et douche, indépendant de la maison ; petit mais suffisant, très bien et propre. Quelques gourmandises dans le frigidaire, c'est très sympa! À retenir !
Patrick
2017-02-09T00:00:00Z
Very accommodating. Felt like home with several amenities available. Safe neighborhood. Great location. Minutes from beach. Total privacy. Thoroughly enjoyed our stay.
Katrina
2015-07-05T00:00:00Z
This was my second stay at Jean Pierre & Eloisa's guesthouse. Again I had a great time. They were super-accommodating, the place is super-clean and well appointed. Everything is just as you'd expect based on the pictures and reviews -- no unpleasant surprises whatsoever. And they're genuinely nice people, which makes all the difference in the world. A couple of tips for other guests: 1. There's plenty of free parking very near the entrance to the beach, which is just a few minutes away by car. I especially like the well shaded parking lot at Palos Verdes & Catalina. There's also tons of street parking on Camino de la Costa, Ave I, Ave H, etc. I don't understand why people line up to enter the paid parking lot on Esplanade, with so much free parking available only a block away! 2. On hot afternoons, the Redondo Beach Public Library is a great place to hang out (303 Pacific Coast Hwy.). It's a lovely, quiet, air conditioned library with free parking and free wireless internet.
Alan
2014-06-24T00:00:00Z
Szoba típusa
Teljes ház/lakás
---
Ingatlan típusa
Ház
---
Férőhelyek
2
---
Hálószobák
Torrance, Kalifornia, Egyesült Államok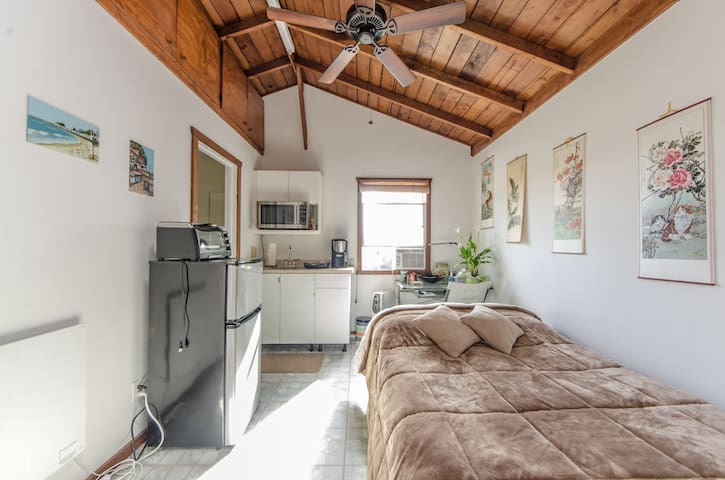 Beautifully decorated & spacious room (330sq. ft.), 2 beds with memory foam toppers, seating area, full bathroom, mini fridge, microwave and private entrance with your own key in a very safe building; Centrally located, just 15 minutes away from LAX and the beach.
Enjoyable stay. Clean and convenient location.
Betty
2016-05-02T00:00:00Z
Very nice home. Rosario is a very friendly person
Tianpeng
2016-02-26T00:00:00Z
Rosario is a really nice person. She was waiting for us when we arrived, tired from the Airport. She has been very helpfull then even if it has been less easier after that as she was xell occupied by her job. The location is pretty good to relax and see LA.
Philippe
2016-08-04T00:00:00Z
房东很好 半夜了还等我们 离机场很近 有两个可以睡两个人的床 因为我们到的很晚走得很早 房间里的设施都没使用 如果在洛杉矶过渡一晚是不错的选择
QIONGLU
2016-07-09T00:00:00Z
It was easy to find and everything was super clean. Very good value for your money. Rosario was very sweet and welcoming. Hawthorne was very different than my small town in Ohio so, being able to meet her made me feel more secure. Very happy with my experience!
Kensley
2016-07-10T00:00:00Z
It's very comfortable place to stay in Los Angeles. Rosario is very welcome and nice. There's everything in the room including soft beds, shampoo, coffee... The parking is ok (even through Rosario's car is crashed... She spare a room for us to park there) Nice room and nice Rosario!
Li
2016-03-29T00:00:00Z
Es war alles genau wie in Inserat beschrieben und sehr sauber. Die Gegend ist recht einfach, dafür aber nicht weit vom Flughafen bzw.den Autovermietungen. Was bei später Ankunft super ist. Rosario hieß uns herzlich willkommen.Sie und Ihre Musst ist sehr nett. Wir würden dort jederzeit wieder übernachten.
Birgit
2016-10-17T00:00:00Z
Thanks for the great stay. We really like the room, it was clean and nice. We enjoyed the beautiful weather of LA.
Neaz
2016-03-06T00:00:00Z
Szoba típusa
Privát szoba
---
Ingatlan típusa
Társasház
---
Férőhelyek
4
---
Hálószobák
Hawthorne, Kalifornia, Egyesült Államok
Üdvözöljük a hangulatos házat :) Ha tetszik a személyes tér, csendes környéken, ingyenes parkolás, 15-20 perc autóútra LAX, 10 perc, a strand, hatalmas bevásárlóközpont, 30-35 perc a Belváros, Disneyland, Universal Studios, gyalog az élelmiszer-központ, élelmiszerbolt, ez a ház illik hozzád!
这间舒适的房子坐落在一个安静,清洁,安全的居住区,光线充足,配有免费停车场,仅2分钟步行到一个漂亮的公园,为您锻炼和在阳光下放松。步行到超市如Target和的Ralphs。大号床都为你:) 客人可以在后院打篮球和拳击。 WIFI,Netflix和洗衣店都是免费的。 私人客房浴室由一个马桶和淋浴的。提供所有必要的盥洗用品和毛巾。随意问,如果你需要什么。 厨房功能齐全,包括烤箱,冰箱,微波炉,搅拌机,咖啡壶和免费的绿茶炉灶!
Ez Gardena házat Los Angeles megyei szépen helyezkedik el egy csendes lakóövezetben, könnyű teli, utcai parkoló áll rendelkezésre, biztonságos és ingyenes. A vendégek egy privát fürdőszoba. Közel a strand városok Manhattan Beach, Hermosa Beach és Redondo Beach. Közel 105, 405 és 110 autópályákon.
Very good experience. Clean room and bath, easy street parking. Ling responded very quickly.
Udo
2016-07-14T00:00:00Z
Ling is soooooo nice and fun! She is willing to provide everything I needed, and gave me advice about the local spots. Living here is peaceful, this place locates at a quiet neighborhood. Lots of street parking so don't be worried about that. Briefly saying, I really had a wonderful experience here!
Chia-Ying
2015-03-15T00:00:00Z
Ling communicated with me immediately. As soon as I walked into her very clean home she was there to hand me the key. The house is in a very quiet residential neighborhood. It took me 20 minutes to drive to Long Beach and 20 minutes to drive to Torrance.
Cheryl
2017-02-04T00:00:00Z
Great place
Zach
2017-01-29T00:00:00Z
Her place was very comfortable and she was very accommodating to my needs last minute. I slept like a baby. Great stay! Will do again! Thanks Ling!
Joanna
2017-02-02T00:00:00Z
Terrific location. Close to the airport and where I was working in Downtown LA. Communication & hospitality was A+.
Marc
2017-03-02T00:00:00Z
很好的房間,感謝!
HANGQING
2017-02-09T00:00:00Z
Was a cold/austere and dim lit experience. Does not match the photo in terms of atmosphere. RE: Neighborhood, you would need a car to get to decent places versus walking. Price is reasonable, but you get what you pay for I guess
Dave
2017-01-20T00:00:00Z
Szoba típusa
Privát szoba
---
Ingatlan típusa
Ház
---
Férőhelyek
1
---
Hálószobák
Gardena, Kalifornia, Egyesült Államok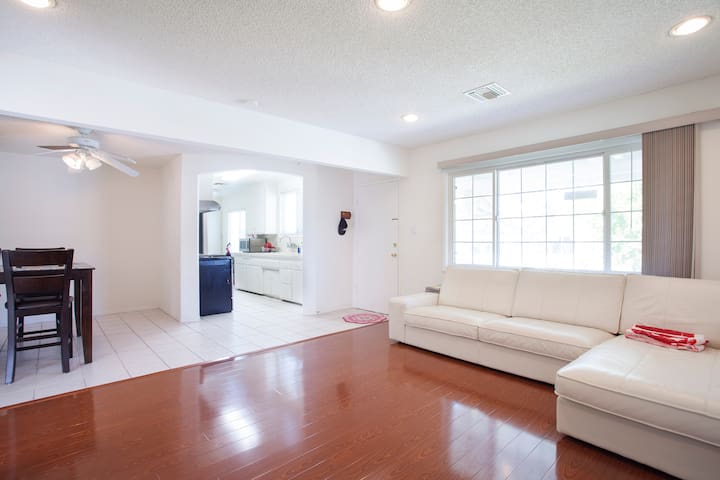 Spacious private room, with private bathroom and parking space, located 4.5 miles from LAX. Room comes with mini fridge stocked with water and soft drinks, microwave and study desk. Snacks, Shampoo, conditioner, lotion, towels, q tips, toothpaste, toothbrush, soap, body wash, hairdryer, iron and wifi are all provided.
Private bathroom with mini fridge, microwave, study desk and balcony. TV with Netflix. Please note other rooms are airbnb as well. Please do not book if you do not feel comfortable with other guests.
We are across from SpaceX and Tesla, and within walking distance to bus stop. Conveniently located to freeway access for 105/405 freeways 6 miles from Manhattan Beach 6 miles from South Bay Galleria Mall 7 miles from Hermosa Beach Pier 8 miles from Redondo Beach Pier 11 miles from Beverly Center 12 miles from Venice Beach 12 miles from UCLA 13 miles from Santa Monica 23 miles from Universal Studios 29 miles from Disneyland Please note we are across from Hawthorne airport, so you may experience aircraft noise, from small planes and helicopters
This was my first Airbnb experience and Nina's room lived up to all expectations. The King bed was very comfortable and the room and attached bath were very clean and inviting. I would highly recommend Nina's accommodations for future travelers. I had a very early flight out of LAX and needed a ride via Uber which was a breeze from Nina's location. A nice touch was the free mini fridge in the room and coffee available even at 3:30 in the morning! I will be back!
David
2015-09-30T00:00:00Z
We really enjoyed staying with Nina, the room was amazing, extremely comfortable and convenient being close to the airport. Thank you for a grey experience Nina! :)
Leah
2016-01-23T00:00:00Z
Really enjoy the time staying in this house. Ten minutes' drive to LA airport. Highly recommended!
cherry
2016-02-07T00:00:00Z
The room is so clean and pretty!!
Chihiro
2017-03-27T00:00:00Z
Nina's place was beautiful! Comfortable and clean, exactly as described. We came a little late but she was still able to greet us when we got there. Clear instructions and very welcoming!
An
2015-12-12T00:00:00Z
It was our first Airbnb experience, and it nice. Nina is very quick in her response time and checked on us if we found everything ok and gave us clear details on the parking etc. The room was private with a small balcony. We were there only for a day so couldn't get to know more about the host, but nevertheless it was a memorable stay.
swetha
2016-11-29T00:00:00Z
I paid $78 for an overnight stay. The place is clean. Nina is friendly. The lyft rate to Lax is about $20 each way, so I paid about $120 for the night. Most airport hotels charges $200. So I saved $80 and had a good night sleep. Some downside: road noise. Ants. Clogged bathtube while showering. No amenities, you bring slipper, toothbrush, cup, everything.
Yuquan
2016-06-01T00:00:00Z
it was our first time on air bnb and nina was such a awsome, nice and great host :D thank you so much for all (our navi dos'nt work, so we can come back to her- she helps us like a friend not a host) hope to see you soon in your juice bar in LA - we really really recommend your accommodation, your hospitality was fantastic! lena & chris :)
Magdalena
2016-06-07T00:00:00Z
Szoba típusa
Privát szoba
---
Ingatlan típusa
Ház
---
Férőhelyek
2
---
Hálószobák
Hawthorne, Kalifornia, Egyesült Államok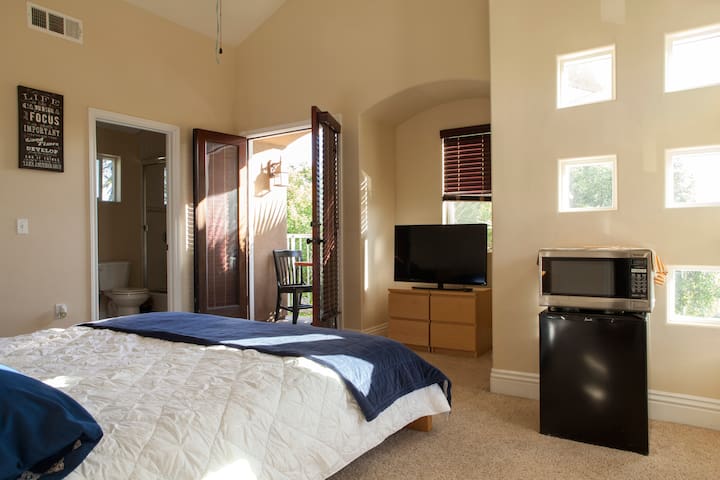 2 bed/2 bath, a few miles from LAX, 1/2 mile from beach! swim pool. some airplane noise, but prime location to everything. 2 queen beds (sleeps 4), and comfy sofa (sleeps 1) ...min. 2 nts.
5 STAR rating by all past guests! walk to beach. close to lax swimming pool, jacuzzi safe, easily accessible to ocean. swimming pool, jacuzzi safe, easily accessible to ocean. swimming pool, jacuzzi safe, easily accessible to ocean. swimming pool, jacuzzi safe, easily accessible to ocean. swimming pool, jacuzzi safe, easily accessible to ocean.
safe, easily accessible to ocean.
Our stay at Blaine's condo was awesome! His business partner, Rob, met us at check in and gave us the full tour. There are lots of extra linens available for guest use, and there's a giant box of snacks waiting for you in the kitchen! The place it great-- super clean, nice "beach" vibe. Pool/Jacuzzi area are really nice! The coffee table is a fish tank- it's the coolest thing! The entire condo is a really nice living space. We didn't use the kitchen too much, but one thing I did miss was a coffee pot. The one downside to this place is that since you're so close to the airport, the jet noise can be very disruptive at times. Obviously it quiets down later into the night, but during the day if you have the windows open, the planes are really loud. Thanks again for letting us stay, Blaine! We would definitely stay again.
Rachel
2016-02-15T00:00:00Z
Blaine is a great Airbnb host! He was super communicative and flexible during my stay and early check-in request. The condo is great, very clean and spacious, and Blaine is a very organized person which makes for an easy stay. I would definitely recommend his condo for anyone looking to stay close to the South Bay area and/or airport!
Kristin
2016-07-25T00:00:00Z
The host canceled this reservation 3 days before arrival. This is an automated posting.
Ayman
2015-06-20T00:00:00Z
Excelente experiencia , el Condo fabuloso . Muy buen servicio y atencion de Blaine y de Robin . Muchas gracias.
Maria Patricia
2015-07-06T00:00:00Z
We had a great time - great accommodations with an awesome location close to a lot of attractions. The airport is loud, so if you are sensitive to noise, bring some ear plugs. We also really enjoyed the pool! Thank you for being a great host!
Melida
2015-07-27T00:00:00Z
Wir wurden sehr freundlich empfangen. Die Anlage hat uns sehr gut gefallen, eine wunderschöne Poollandschaft. Die Wohnung war auf 2 Etagen. Unten war ein Gäste-WC, Küche und Wohnzimmer, oben 2 Schlafzimmer. Zwischen den Schlafzimmern war das Badezimmer. Alles war richtig wohnlich eingerichtet, echt empfehlenswert. Das Einzige, das uns gestört hat, war die Nähe zum Flughafen. Man konnte die Flugzeuge starten hören und sehen.
Kubilay
2016-08-03T00:00:00Z
Our group of 5 had a lot of fun here overall and the condo is pretty nice. The condo community is quiet and all of our neighbors were very nice. LAX being so close is kind of annoying but my ears started tuning out the planes to the point I didn't notice after being there for a little bit. There is no AC so very hot weather could be a problem. The beach is about 5 minutes away. There are a lot of industrial buildings in the area which ruin the aesthetic a little but don't let that scare you away if your just looking for a good home base between exploring the nearby areas. Just a few minute drive to popular beaches like Venice or Manhattan beach. The host was helpful and always available if we needed something. Overall this place is pretty good but has a few downsides, if your looking for a cheaper option but still close to the beach it will definitely get the job done.
Sam
2016-08-22T00:00:00Z
Absolutely perfect. The guy was really super nice, helped me out with everything. The place was beautiful too
Billy
2016-07-18T00:00:00Z
Szoba típusa
Teljes ház/lakás
---
Ingatlan típusa
Lakás
---
Férőhelyek
5
---
Hálószobák
Manhattan Beach, Kalifornia, Egyesült Államok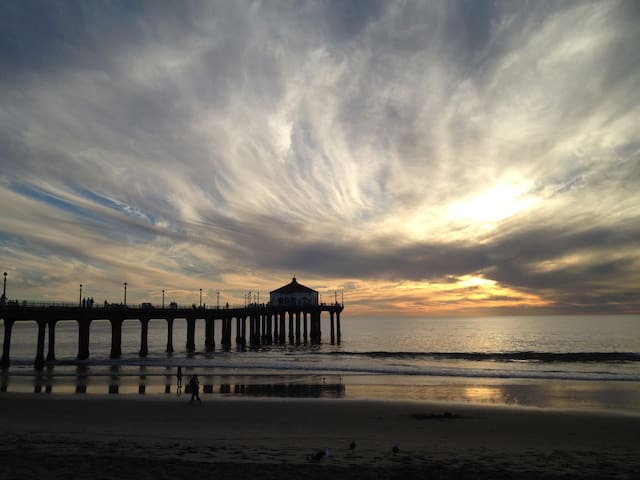 My cozy Pottery Barn beach chic style 3-bedroom home has a furnished room just for you! The queen bed comfortably fits two. Enjoy a spacious kitchen and free laundry, 3 miles from Hermosa/Manhattan Beach, and easy access to 405 fwy.
My space is quiet, peaceful, and great for a getaway/vacation if you want to be near the beach without paying beach prices. The house gets lots of light, and is a great place during the day for getting work done. I have a writing room with a long table and bench, a chalkboard wall, a corkboard, and dry erase board. It's a great creative space to think and work. The kitchen table is also a great place to get work done. The house is three bedrooms, and there is the possibility of another airbnb guest staying in one of the additional rooms, but I will always notify you if they are checking in during your stay.
House is approximately .5 miles from the Galleria Mall and AMC movie theater. Taco Bell, Numero Uno Pizza, and Boston Market are walking distance. Subway sandwiches, Chase Bank, Round Table Pizza, and 24 Hour Fitness are two decent blocks away. Ralph's Supermarket is approximately one mile away. Manhattan Beach and Hermosa Beach are about 3 miles west.
This place is very pretty, very clean, and Heather provides everything you need to feel welcome and comfortable. Awesome experience! Will definitely book with her the next time I'm in the area.
Linda
2016-08-16T00:00:00Z
The location of the house is perfect. Heather and Phil are great hosts. Very welcoming. The room is very nice and comfortable. And I found a new best friend with Scout. :) Thanks Heather, Phil and Scout! I would love to stay here again on my next trip to the US.
Mari Anne
2016-05-02T00:00:00Z
It's great about convenience kitchen room and warm tips on table.also comfortable bedroom.
Monica
2016-11-19T00:00:00Z
We hadden een fantastische tijd bij Heather. Het is een vredig huis. Het is heel rustig, al zit je midden in LA. We mochten wasmachine/droger en fietsen gebruiken. We hebben een heerlijke tocht naar en langs Hermosa beach gemaakt! Heather heeft een heel lieve hond die het heel gezellig vindt dat je er bent, daar moet je wel van houden! Bed was HEERLIJK.
Ineke
2016-07-19T00:00:00Z
Heather texted me back regarding my inquiries with in-depth details whenever possible, most often within minutes! Very hospitable and nice, so is her dog :) Their house is located at a peaceful neighborhood with walking distance to grocery stores. Overall, I had a great stay at Heather's place.
Linan
2016-06-06T00:00:00Z
Heather was an amazing host. She was very welcoming as was her dog Scout :-) Her house was beautiful and she was always helpful. We will definitely stay there again if we are back in Manhattan Beach! Highly recommended
Morgan
2016-05-16T00:00:00Z
Heather was very accommodating, she took the time to make sure we had everything we needed. Her space was comfortable and welcoming. We truly enjoyed our stay!
Keena
2016-10-16T00:00:00Z
Heather is very friendly and so is Scout. I enjoyed the time we had at her air bnb
Erin
2017-02-20T00:00:00Z
Szoba típusa
Privát szoba
---
Ingatlan típusa
Ház
---
Férőhelyek
2
---
Hálószobák
Lawndale, Kalifornia, Egyesült Államok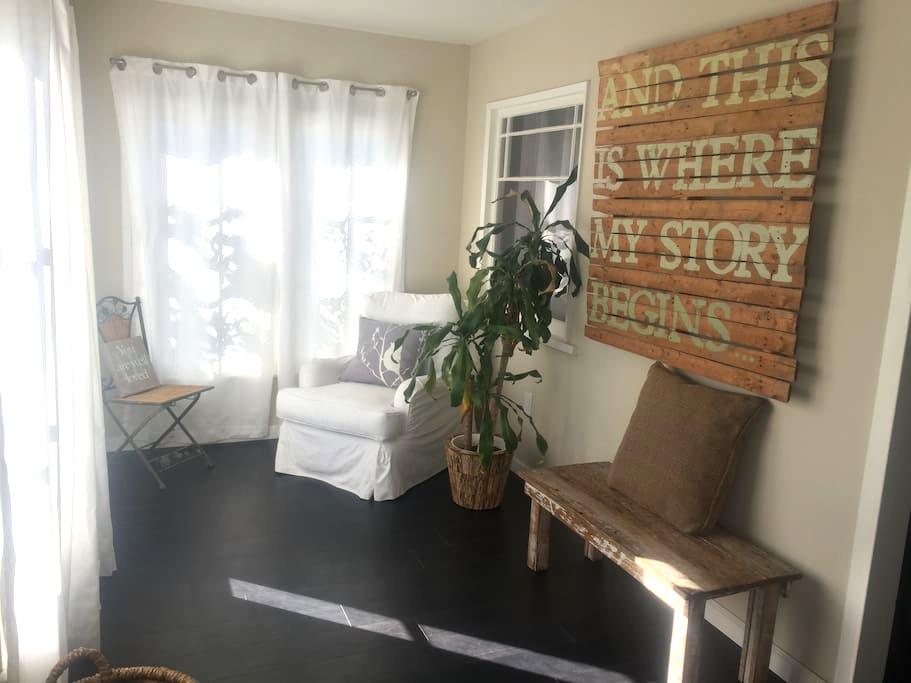 You'll love my place because of the outdoor space, the quiet neighborhood and comfy bed. Plenty of room to relax and a backyard pool to enjoy during your visit. A private entrance makes for a safe comfy experience. My place is good for couples, solo adventurers and business traveler.
Modern, clean, bright and airy 1 bedroom with its own Private entrance. Has a Walk in closet with plenty of hanging space. Room is furnished with a refrigerator, Keurig Coffee maker, microwave, dresser and a Queen size bed. Also, has it's own private bathroom with shower, commode and vanity. Daily essentials will be provided.
My neighborhood is quiet and located in the heart of the South Bay. Very culturally diverse, and close to historic icons such as Hollywood, Santa Monica, Long Beach and Palos Verdes. I am close to all major interstates and local Shopping Centers. LAX is less then 15 Min away. Plenty of Nightlife activities and safe environment.
Extended our stay with, Doug, can't fault his place. Perfect.
Tom
2016-09-16T00:00:00Z
Bien décrit, quartier calme, quartier familial, proche de toutes commodités. Doug était soucieux de notre bien être. Doug nous a apporté le petit-déjeuner chaque jour il a utilisé un service à café différent. Nous comptons sur lui pour nous envoyer les photos de sa décoration Halloween. Toujours de bon conseils pour les visites.
Souad
2016-09-30T00:00:00Z
I spent 5 nights here with my friend and I must say that it was truly a great experience. The room is spacious, the bathroom is really clean and the shower is one of a kind. I was so impressed about the set up of this house. There is also a pool surrounded by a very scenic garden with luscious plants. He had a warm personality and was an amazing host!
Ashley
2016-08-12T00:00:00Z
Made me feel super welcon and at home.
Heather
2016-10-21T00:00:00Z
I loved staying at Doug's home. He showed us wonderful hospitality and gave us great recommedations on places to visit. Doug is very knowledgeable with the city of LA and can answer all questions you have. Not to mention the awesome shower in the bathroom! :)
Marcos
2017-03-14T00:00:00Z
My husband had a wonderful experience at Doug's place--which is really more of a private apartment, consisting of a gorgeous bedroom and private bath, that is attached to his home but comes with a private entrance. Doug put a lot of thought into the design of the room and private bath. It's a generous amount of space, beautifully decorated and very well outfitted with amenities. The check-in process was trouble-free (which is very important), and the entire stay was very enjoyable. Doug's place is located smack dab in the middle of the South Bay area--close to everything--but situated in a quiet area that makes it a perfect oasis. A terrific alternative to a hotel. Thank you, Doug.
Juanita
2016-12-06T00:00:00Z
Great place, clean and comfortable. The host was always available for contact
Felipe
2017-01-08T00:00:00Z
I had a very pleasant stay. The room was clean and private. It also had a private washroom with towels and other things provided. The internet was very fast and there was a TV next to the bed. The room had a coffee maker, microwave, and mini-fridge as well! The bed was extremely comfy. I really enjoyed my stay and would definitely go back!! Thank you Doug!!
Hosam
2016-12-24T00:00:00Z
Szoba típusa
Privát szoba
---
Ingatlan típusa
Ház
---
Férőhelyek
2
---
Hálószobák
Lawndale, Kalifornia, Egyesült Államok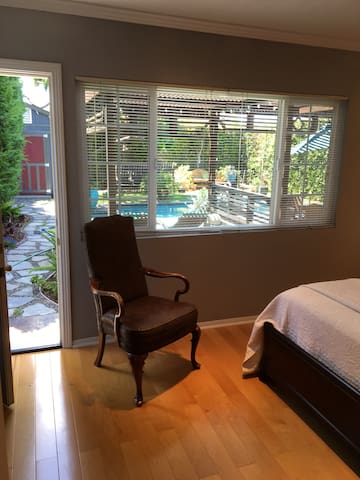 Enjoy a private bed & your own bathroom in this recently renovated townhome 3 miles to the beach. Feel free and use my large kitchen to prepare meals. I have 1 adorable cat who wanders in and out though I keep the place clean.
Enjoy a private bedroom & your own bathroom in this recently renovated townhome located 3 miles to the beach. Views of LA from your bedroom on clearer days :)
Lawndale is about 3 miles to the beach and a 10 - 15 minute drive to LAX. It's a nice place to unwind, away from the hustle and bustle. Really close to the 405, 110 and 105 freeways. Walking distance from my home, you will find a few places to get a quick bite, a couple of bars, a dry cleaner, and the South Bay Galleria is just a few blocks away.
Alyssa was a great host. Her house is very clean and comfortable with all the amenities and a really adorable cat who loves to play with us. The room got great lighting and beautiful view of Los Angeles. It's very breezy during the day thanks to the two big windows. The private bathroom is very clean too. Alyssa was helpful and thoughtful as a host. When she planned a party on one of the days during our stay, she let us know way ahead to make sure it is ok with us and even offered a refund. The neighborhood has a couple of restaurants and 711 in walkable distance and a mall very near by. There is also a little park 10 min away, very convenient for a walk!
Evie
2017-03-19T00:00:00Z
Definitely recommend. The host kindly provided us with an extra spare room without any charge.
Tang
2016-12-22T00:00:00Z
i so loved stating at alyssa's place! it was just perfect. highly recommended. would come back anytime.
Clara
2016-12-12T00:00:00Z
Alyssa is very nice and her cat is extremely friendly. I really appreciate her for letting me and my kitty stay at her place during our transfer in LA. Her house is pretty close to LAX, which is very convenient, and the room is pretty clean and tidy. Overall it is a great experience, would recommend it to my friend if they wanna visit LA.
Cenxin
2016-09-17T00:00:00Z
Easy checkin. Alyssa texted me photos of everything so there was no confusion. The room was as expected and the neighborhood quiet.
Armando
2016-05-20T00:00:00Z
Great location, close to all you need.
Uriel
2016-10-08T00:00:00Z
This my first time using Airbnd and based off my experience with Alyssa, I will definitely use it again. Alyssa was patient with me, very hospitable, and has a beautiful home. Thanks for having me!
Amina
2015-12-19T00:00:00Z
I had such a great stay at Alyssa's place that I extended it for an additional 2 weeks. Alyssa is a great host, very informative and made me feel very welcomed right off the bat. She baked banana bread (my favorite) and even took me out to a great local spot. Alyssa's townhouse is located in a quiet residential neighborhood and is just as bright and airy as described and photographed. I highly recommend her place and would definitely stay there again.
Andrine
2016-01-30T00:00:00Z
Szoba típusa
Privát szoba
---
Ingatlan típusa
Ház
---
Férőhelyek
2
---
Hálószobák
Lawndale, Kalifornia, Egyesült Államok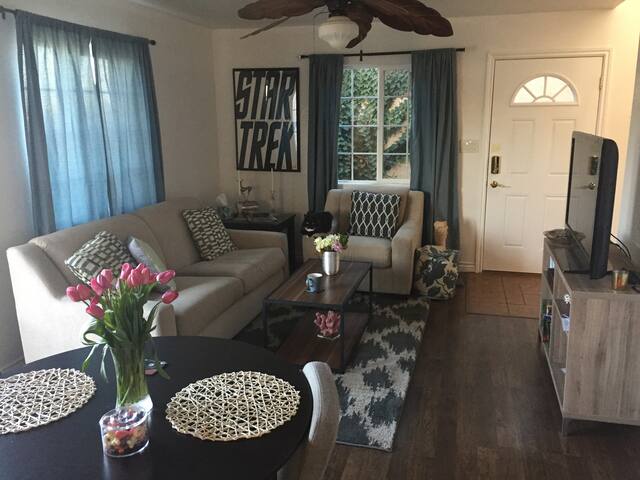 Cozy- csomag, amely mintegy 800 sq ft. Saját bejárat és parkoló. Kérjük, olvassa el figyelmesen szolgáltatásként félreértések elkerülése végett :) * Nincs konyha hozzáférés
A tér egy jogi permited mellett / kiterjesztése mellett a fő házban. Lesz még a saját külön bejáratú, és 2 parkolóhely, saját funished terasz BBQ hozzáférést. Ne aggódj, nem fogunk bump egymásnak éjszaka;)
Lawndale, más néven "A szív a South Bay." Közel két előkelő bevásárlóközpontok (~ 2 mérföld távolságban), 6,7 mérföldre a LAX, 13 mérföldre a Downtown LA, 40 perc alatt Disneyland és 2 órára a San Diego SeaWorld. Rengeteg móka helyi étkezőhelyeken, alkalmi tengerparti étkezés előkelő éttermek, mind 15 percen belül a csomag. Ezért gondoljuk, a helyszín jó? Változatos környék tele kultúra Közel a strand és autópályán. Fine dining több étkezési pár percre van! Rengeteg bevásárló központok. Csak kérni tőlünk;)
it was pleasure to meet your house and we were aweing all the time for such a lovely house. Never seen a such beautiful house. Roomy cozy very private while accommodating our requests very flexibly
Eric
2015-12-02T00:00:00Z
Do you have multiple tabs open for different airbnb listings? Close them and book here. You won't be disappointed, I promise. This place is everything you want from an airbnb listing and more!
Myrissa
2017-01-08T00:00:00Z
Enjoyed our stay here. Niva responds promptly to messages. The space was very clean. The shower was the bomb!! Niva was very thoughtful and provided complementary snacks and water. Private parking with remote. Great place! I would definitely recommend!!!
Dami
2017-01-07T00:00:00Z
Thanks for having us niva! Great place. Would love to stay here again!
Charles
2015-11-29T00:00:00Z
Comfortable neighborhood and setting, right off of the expressway. Very easy to find. Great place to take a load off as we had just gotten off of a cruise and also were married that day. Thank you Niva for the snacks,waters, and understanding that I needed to check out later than we discussed due to a change in flights. Great shower downstairs and all around very nice spot. We will return when in the area again. Thank you for everything Niva! FIRST AirBNB experience and we will use this service again also. Highly recommend this place!
Michael
2015-11-15T00:00:00Z
Very nicely decorated and seriously comfortable! The bathroom was amazing. Niva was a great host, she gave us anything we needed and even mailed my girlfriends glasses when we forgot them!
Trevor
2016-06-06T00:00:00Z
Niva was an amazing host , she is so friendly and goes above and beyond for her guest. This is the 2nd time staying there and it gets better and better. I would highly recommend staying here. The location was great for my trip.
Abby
2016-10-24T00:00:00Z
Niva was incredibly accommodating with me when I had a last minute change to the reservation. I really appreciated her quick response. the house was beautifully decorated and absolutely perfect! For my first experience with Airbnb, I was truly impressed. The bar has been set high. Thanks again for a wonderful stay.
Lisa
2016-10-06T00:00:00Z
Szoba típusa
Teljes ház/lakás
---
Ingatlan típusa
Ház
---
Férőhelyek
4
---
Hálószobák
Lawndale, Kalifornia, Egyesült Államok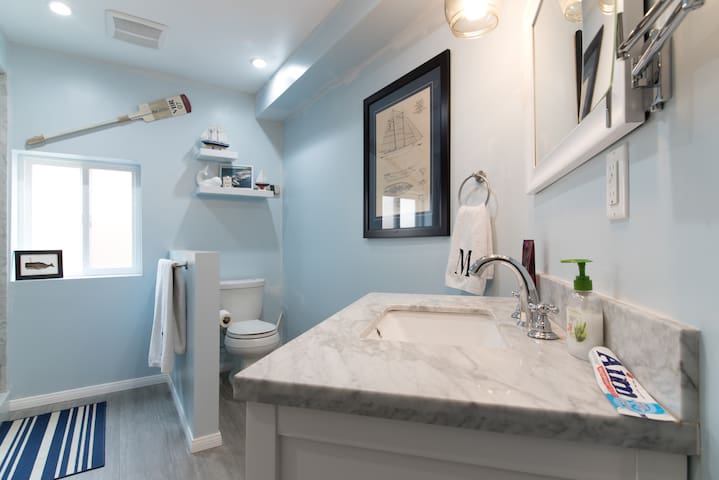 2 twin bed
The price can't be beat for the accommodation that Mohammed provides. Mohammed was very helpful and greeted us when we arrived. We would stay again if in the area.
Janet
2017-03-18T00:00:00Z
The host is polite and respectful. The house was very clean, cleaner than expected. The bathroom is really nice. He lets you use he kitchen. If you like a quiet location this is the perfect spot.
Farida
2017-03-06T00:00:00Z
Best you can get for the money. Very good place in a quiet neighborhood. 5/5
Mikko
2017-04-03T00:00:00Z
Very clean and spacious
Sam
2017-03-09T00:00:00Z
Great quiet place to stay!
Brenda
2017-02-12T00:00:00Z
I would totally recomend, he is very responsive and he is always concern about our time to arrive, I lost my flight and he tried to help me the best way he can. I would recommend
sergio eduardo assad seabra lebre
2017-03-26T00:00:00Z
asa muito boa e confortável. Estacionamento na rua é bem complicado.
Alan
2017-03-17T00:00:00Z
Cheap and is close to the airport and harmosa beach, where all the la la land experience is located
Su Hyung
2017-03-14T00:00:00Z
Szoba típusa
Privát szoba
---
Ingatlan típusa
Ház
---
Férőhelyek
3
---
Hálószobák
Lawndale, Kalifornia, Egyesült Államok
Secured Gated Building Located in the City of Hawthorne, Close to the LAX Airport and Beach Cities. It's a 3rd floor apartment overlooking the neighborhood with fresh cool Ocean Breezes (5 Miles from beach) and view of Sunsets that goes on for miles. My apartment is 20 minutes from the LAX Airport, Beach Cities, Shopping and Restaurants. I like the room for the west facing view, Privacy, TV, Wii Fi, high quality 30 inch tall Air Bed. It's an easy going atmosphere for easy going people only!
I do have an exotic bird (Macaw) as a pet. He is 26 years old, I have had him since 92. Most people enjoy the encounter with him.
The neighborhood is a mixture of houses and apartment buildings.
Great stay! He was available and very nice and generous. Would stay again.
Randyn
2016-09-13T00:00:00Z
Good experience. Host and his macaw parrot were generous hosts. Would stay there again.
Chris
2016-08-20T00:00:00Z
Larry was very nice and comfortably to talk with. The house is only for someone who looks for staying simple in night.
My
2017-03-02T00:00:00Z
Nice private room. Access to bathroom, kitchen. Close to restaurants & very central. Pretty bird in house!
Alonso
2017-03-11T00:00:00Z
Great place and Larry is a nice and friendly guy!
Rafa
2017-01-18T00:00:00Z
I did not have an enjoyable stay. The place was dirty, there were bugs in the bathroom, it smelled of urine, and the bed was not as described. I would never stay here again.
Monica
2017-03-27T00:00:00Z
Larry was very welcoming and very nice. Perfect for a quick stay.
Merwan
2017-03-23T00:00:00Z
Affordable. Quiet. Private. Laid back. Larry is a very nice guy and he'll help you out any way he can in accordance with your needs.
Alex
2017-01-12T00:00:00Z
Szoba típusa
Privát szoba
---
Ingatlan típusa
Lakás
---
Férőhelyek
2
---
Hálószobák
Hawthorne, Kalifornia, Egyesült Államok
Lovely apartment, near LAX airport, beaches and shopping. Clean and modern appliances. Nice furniture and cozy beds. Centrally located and easy access to freeways. Close to shopping, groceries, restaurants and bus stops. The apartment is located in the second floor and we live in the ground floor with two dogs. We shared the open space parking with the dental office next to us in one well maintained and secured building . The parking space is free and enclosed with a big brown gate.
House was very comfortable and spacious. You can walk down the street and find about anything from restaurants to shopping centers. Check- in was very easy and convenient. Just be mindful that you share the building with a dentist building.
Karen
2017-03-28T00:00:00Z
Szoba típusa
Teljes ház/lakás
---
Ingatlan típusa
Lakás
---
Férőhelyek
4
---
Hálószobák
Lawndale, Kalifornia, Egyesült Államok
Cozy and clean house, newly renovated, all new appliances and furnitures. Near LAX airport and 4 miles to beaches.
Fully renovated four bedroom two bath house. The house can comfortably occupy 6 person with a maximum of 8 persons. All new furniture , all new appliances , including dishwasher, laundry area. Few blocks to bus stops. The property is 10 minutes to LAX; 3 miles to Manhattan Beach and other nearby beaches. It is near shopping centers restaurants,and groceries. Property is "Centrally located !!"
Very safe and quite neighborhood.
Bing is an excellent host! She went out of her way to see that everything was very clean and that we were happy with our stay. The house was very well stocked. Bing even gave us a complimentary fruit basket and bottled waters. I would definitely stay here again.
Joshua
2016-02-16T00:00:00Z
Everything was amazing I love the house and the service.... I really recommend is closed to freeways stores and beach
Karina
2016-09-05T00:00:00Z
This place was great! Very spacious, plenty of room for 8 of us. Very clean and comfortable. Would love to stay here again!
Rolena
2016-03-06T00:00:00Z
This location is fantastic. Very easy to get everywhere and very convenient to the beach and the airport. Bing is a fabulous host. The house was exceptionally clean and very well maintained. The neighborhood was very quiet and nice. We really appreciated the water and snacks provided as well as the coffee. The kitchen was well appointed with the basic necessities and made it easy for us to have dinner together and enjoy each other's stories. The beds and bedrooms were very comfortable and relaxing. The furniture was great. We loved being able to put our feet up and watch a movie after a long day. We can't wait to book this space again!!!
Mendi
2016-06-13T00:00:00Z
We really love to stay in Bing's house. There are total 4 rooms and three rooms have twin bed. The room is clean, wifi is fast, kitchen facilities is running well. When we went back to Bing's house after business trip, we feels relax and like our own home. Especially Bing is really nice host and help me to call Taxi and response very quickly. We are highly recommend to be Bing's house.
HAIYAN
2015-06-17T00:00:00Z
The host made us feel welcome by having snacks and sodas and water readily available for us. Before we arrived we received an informative email about entry code, accessing WiFi and laundry. Loved the outside patio and small yard!
Mary
2016-08-18T00:00:00Z
We had a great time at Bing's residence, we had a problem with communicating when we arrived, but was due to technology, not Bing's fault at all. The house was perfect for my friends and I. Unfortunately we did not cook because of late nights and early mornings we just used it to sleep and shower, we were in luck because there was an in-n-out burger 2 minutes away. I would stay again.
Darin
2016-07-06T00:00:00Z
Perfect location, easy access to freeways, groceries, beach and Disneyland.
Karan
2017-03-13T00:00:00Z
Szoba típusa
Teljes ház/lakás
---
Ingatlan típusa
Ház
---
Férőhelyek
8
---
Hálószobák
Lawndale, Kalifornia, Egyesült Államok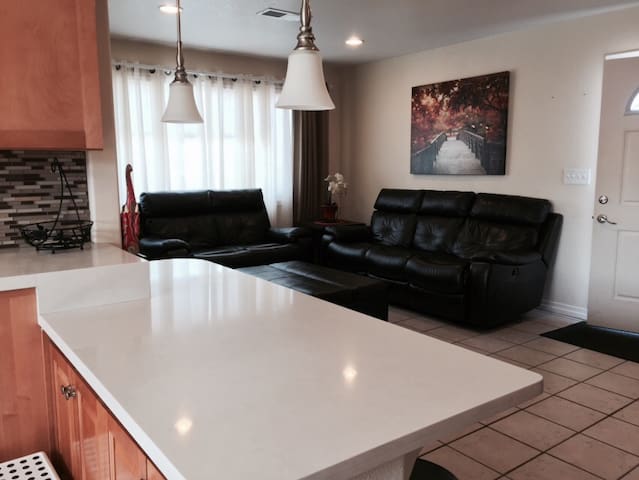 Private one bedroom tiny house. Comfortably fits two. Located near the 405 fwy, 10mins to hermosa beach and pier, 10 mins to Redondo beach, 2mins from AMC movie theatre, five star restaurants, 10 mins Del Amo Mall. Park within walking distance.
Lauren provided everything needed! Adorable guesthouse the place was very clean & cozy we loved it!!! She was always available and checked on us regularly we stayed a month. Great location it was in a safe quiet neighborhood not far from Beach, walking distance to the mall!!! Just lovely!!
Lisa
2017-03-17T00:00:00Z
Lauren's house is really cozy, and the bedroom's layout looked a lot like a bedroom I used to have when I was younger, so it really felt like home to me. I only needed a comfortable place to chill and sleep at night since my trip was to explore LA, and her place is exactly that. Lauren also checks up on you and replies to you in a quickly manner. I would definitely come back to stay with Lauren when I ever come back!
Elaine
2017-04-02T00:00:00Z
Let me start to say Lauren is AMAZING ! She is attentive and caring and easy to talk to.( also her husband Eugene is cool and nice) The neighborhood is chill and safe. You'll be able to park everywhere. Finally ... The house is : Super clean Smells amazing Bed is comfy Bathroom well prepared with everything It is really a cozy home away from home.
Wassim
2017-03-24T00:00:00Z
Szoba típusa
Teljes ház/lakás
---
Ingatlan típusa
Ház
---
Férőhelyek
2
---
Hálószobák
Lawndale, Kalifornia, Egyesült Államok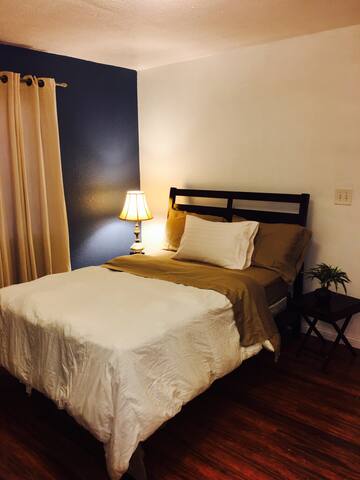 Recently remodeled one bedroom comfortably fits 2 with kitchenette, separate bath, closet, and amenities. Private entrance. Upgraded WIFI. 5 minutes from LAX, beaches and businesses. Easy walk to "Mayberry"-style town. Beautiful ocean views.
Newly remodeled space specially designed with the feel of a hotel or B&B on lower level of main house. Private entrance with easy in and out access. Accommodates 1 or 2 guests easily. Kitchenette with small fridge, microwave, single cup coffee, plus TV, upgraded WiFi. Separate bathroom with shampoo, soap, blow dryer. Walk in closet area. Ceiling fan. Free parking space in front of garage.
We love living at the end of a peaceful, safe, friendly street facing the ocean. Gorgeous sunset views every day and mild climate year round. We enjoy strolling a short distance to the "Mayberry" style town and sampling a wide range of fine restaurants, including bistros, sushi, Italian, Mexican, "Rock 'N Brews" (owned by KISS member Gene Simmons), plus the El Segundo Brewery Tap Room. The town hosts fun events, including street fairs, and 4th of July parade. We're close to a walking path used by joggers and dog walkers with beautiful views of the coastline above an industrial area and tension wires. Most days you can see Catalina Island and hear barking seals. We love it! A short distance to major shopping venues (including Macy's; Apple Store; Whole Foods Market; Cost Plus World Market; Best Buy; Pottery Barn; J. Crew; Banana Republic; H & M; Walgreens; Ralphs; Trader Joes; CVS).
I loved this space! It was beautiful and clean, everything that I needed was already there including and heater for the cold night and coffee in the morning. Would definitely stay there again.
Mary
2017-01-15T00:00:00Z
We enjoyed our stay here! The bed was cozy and the location was great. Steve and Stacie were available whenever we needed anything. We also enjoyed that they had the NBA channel. If we ever come back to SoCal we will book this place again.
Samantha
2016-11-21T00:00:00Z
This space was perfect for two people, super comfortable bed, clean, and loved that you could open the top of the door for some fresh air. We loved it! And also loved that half way through our stay they refreshed our towels :)
Jessica
2016-09-25T00:00:00Z
We had a fantastic, if brief, stay at Steve's charming spot in El Segundo. All our interactions were very accommodating and super-prompt with thorough information and friendly correspondence. The studio itself is lovely: very clean, well-appointed, and comfy, with a feather-top bed and DirectTV. As a former resident of El Segundo, I love the neighborhood, as it's quiet, friendly, so close to LAX, and just a short walk to the restaurants on Main Street. We would definitely stay here again, without any hesitation! Thanks, Steve and Stacy, for a great stay.
Rick & Maggie
2015-01-11T00:00:00Z
We had a fantastic time at Steve's place in El Segundo. Steve was extremely helpful and met us to give us a rundown of the studio and some suggestions even though we got in very late. He was even courteous enough to give us a ride in to town to pick up a few things. The studio itself was great, perfect for two people. It's it's a very nice neighborhood and not a far walk from town or the beach. The only problem I had there was poor cellular and WiFi signal so if you need to get any work done or call an Uber you may need to plan ahead. Even still Steve offered to let us use the patio near the main house so that we could get a better WiFi signal. I would highly recommend staying here and I definitely plan to stay here again!
Aiman
2015-03-13T00:00:00Z
I had a great experience staying at the condo. It's well located and very clean. I used Uber to get in and out of the studio, and that was very easy.
Ben
2015-07-25T00:00:00Z
This place is great! My favorite part is that the trail that overlooks the Pacific is steps outside the door. Next time I'll bring my running shoes. I will stay here again. The location is perfect, the room has everything needed, and the bed is a dream.
Bree
2016-02-06T00:00:00Z
Tivemos dias muito agradáveis durante nossa estadia. O Steve me enviou todas as orientações e não tive problemas quando cheguei no local. O bairro é bem tranquilo, perto do aeroporto e praias e o local é bem limpo e organizado. A única observação que não há janela, apenas a porta, o que torna o local não muito arejado.
Alexandre
2016-09-30T00:00:00Z
Szoba típusa
Teljes ház/lakás
---
Ingatlan típusa
Ház
---
Férőhelyek
2
---
Hálószobák
El Segundo, Kalifornia, Egyesült Államok
My guests will enjoy this very spacious en suite Master bedroom/bathroom with a medium sized office nook and large flat screen TV included within the suite. Bright, airy and cheery, you are less than a mile from the major freeways, less than 10 minutes from LAX and some of the most beautiful Southern California beaches. Also you are within a half hour's drive to Disneyland and Universal Studios. Great shopping and eateries nearby. I'm local to everything!
This is a second floor unit, Inside the office area is a microwave and coffee maker so if you have office work to do, you may want to heat up a little something to eat while you do. Free wifi access.
Karen's place was great! It had a private bath and a very comfortable bed. Karen and her boyfriend were also very kind and generous, they made me breakfast one of the mornings and shared fajitas with me one of the evenings – both were very delicious! The location was a short Lyft ride away from my conference location and the serene setting of their complex defiantly helped me relax in the evening. If I come back to the area for another conference, I'm defiantly going to try and stay with them again! Highly recommend, A+!
Amy
2017-03-22T00:00:00Z
Szoba típusa
Privát szoba
---
Ingatlan típusa
Lakás
---
Férőhelyek
2
---
Hálószobák
Lawndale, Kalifornia, Egyesült Államok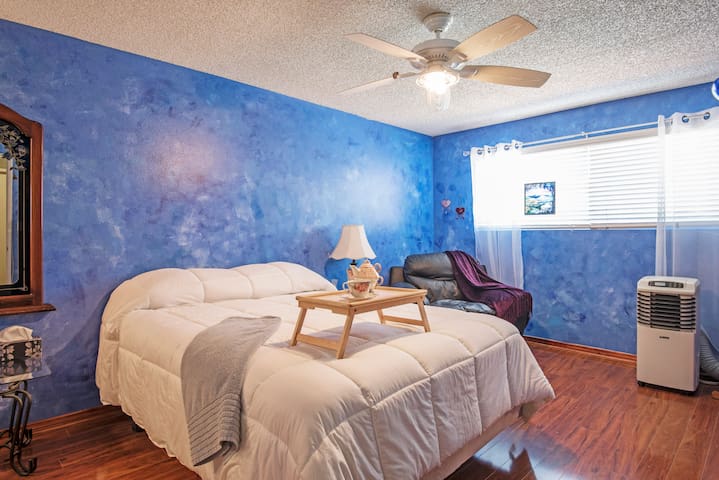 Add meg az időpontokat a teljes ár megtekintéséhez. Felmerülhetnek további költségek illetve adók.