Add meg az időpontokat a teljes ár megtekintéséhez. Felmerülhetnek további költségek illetve adók.
Take in true Delta hospitality in this charming cottage located in the heart of Greenwood. Right across the street from Little Red Park, walking distance to downtown, Yazoo River & Yazoo River Trails, this home is ideal for visitors craving a taste of the Delta.
Guests will have access to the entire home, backyard and patio. There are 2 bedrooms that can sleep 2 people and a really comfortable couch! As often as needed!
The Northeast Greenwood neighborhood is full tree lined streets, friendly neighbors, and is a wonderful place to run, walk or bike. You will need your own form of transportation around the Delta. If you plan on a night out with some cocktails, let me know and I can arrange some transportation. (Additional costs will incur.) I do have a dog and cat. The dog will not be at the house during your stay.Banks, the cat, comes and goes to the laundry room. If you're a cat fan, open door and let her hang out; if not, just keep laundry room door closed. She'll be outside more than inside, regardless!
We had such a great time at brantleys! Her home is so cute. It's about a mile from the alluvian, Viking, antique stores, etc. The home is in a great location and really felt like home! Communication was great and we have nothing negative to report! House was clean, checking in/getting in was hassle free. Bed was comfortable and check out was easy. The instructions left for us when we got there were very informative. Her outdoor cat was adorable! Price per night was reasonable. We overall had a great time!
Rachael
September 2016
The term "charming" accurately describes this beautifully decorated home, which is full of southern character. It is easy to find in an interesting, quiet neighborhood. Brantley has thoughtfully prepared a detailed description of her home and the surrounding area along with suggestions for dining and local activities. Also, she provides brochures with the added bonus of a surprise to take home. She quickly responded to emails and answered questions before and after we arrived. The beds are comfortable, the kitchen and bath are well-stocked, and the furnishings are delightful. As a native delta girl myself, I promise you will have a dose of southern hospitality at its best if you stay here. It is a hidden gem, which will not remain a secret for long!
Paula
July 2016
Everything was great and accurate! Great home!
Michael
December 2016
Brantley's home was fantastic and we thoroughly enjoyed our stay. The home was very clean, in a great neighborhood and Brantley was in communication with us the whole time. We would definitely stay there again!
Jason
October 2016
This home is a perfect location for everything Greenwood. It is decorated wonderfully and so much more comfortable then staying in a hotel.
Esther
January 2017
Wow! Just WOW!!! Brantley's home is so appealing, comfortable and relaxing. Four of us stayed there while participating in Greenwood's Bikes, Blues & Bayous Cycling event! The check in and check out was absolutely hassle free! I highly recommend you stay here!
Douglas
August 2016
The house was perfect for our trip to visit family! Exactly what we needed, beautifully decorated, and in a great location!
Aryn
September 2016
The most restful weekend I have had in months, a wonderful experience a Brantley's home! Extremely clean, thoroughly organized and everything laid out for the most delightful experience.
Bill
July 2016
Szoba típusa
Teljes ház/lakás
---
Ingatlan típusa
---
Férőhelyek
4
---
Hálószobák
2
Greenwood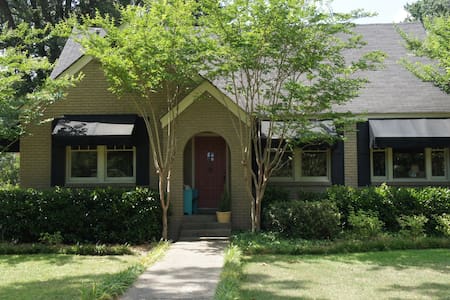 Enjoy your stay in this charming 1920's cottage, located in the historic town of Canton, MS. Canton is famous for it's bi-annual flea market, being the movie capital of the state of MS and for it's Christmas festivities on the historic square.
Historic quaint and charming home in beautiful Canton, MS. Sleeps 8 The entire house includes: Full kitchen 2 full bathrooms 3 bedrooms sun porch wrap around front porch café style back porch breakfast room dining room living room sitting parlor flat screen television's high speed internet Direct TV washer and dryer on property [ ask for details] Will welcome you when you arrive. Available when ever you need me. Other than that I want you to feel at home without any bothers.
Beautiful historic charm in a quaint and safe neighborhood. The Corner House is conveniently located within walking distance from Canton's Historic Court House square, restaurants, churches, grocery store, library, pharmacy and shopping.
Such a lovely and spacious home! We arrived the week before Christmas and the house was beautifully decorated for the holidays! There was a nice collection of children's books that my children enjoyed reading before bed. We loved the vintage touches throughout the house and being able to play the piano was a real treat! Downtown was beautifully lit with Christmas decorations, horse and carriages and a small train. Thank you for the wonderful visit!
Elizabeth
December 2016
Susie and her Corner House were great! The house with its antiques was just a fabulous place to stay - perfect. Susie is a wonderful host. The house was ready for us. Our arrival was later than expected, but Susie had the lights and A/C on for us. It was a cozy, comfortable, and very unique place to stay.
Shirley
June 2016
The host canceled this reservation 117 days before arrival. This is an automated posting.
Catherine
This house was full of history and character and really roomy. I stayed with two young children who loved it. We ended up needing to stay an extra day at the last minute and Susie was very accommodating. I would definitely recommend the home and would stay there again.
Laura
August 2015
A delight staying at The Corner House. Suzie was a great host, and the place was as described: charming older home, fully appointed. Much more spacious than I expected. Would be a great option for a larger party. And appreciated the dog-friendly atmosphere. Recommend!
Susan
July 2016
Excellent, such a beautiful house, had wine and cheers waiting and even helped shuttle us with our bikes. Blocks from town too!
Iris
April 2015
We loved the house. It was beautiful. It was in a good location and I'd recommend to stay there. If I am ever in the area again it's my first choice to stay. Jeff
Jeff
April 2016
Charming home that was very cozy and had everything we needed available! We enjoyed every room in the house. Thank you for allowing us a comfortable place to visit and share meals with our family and friends. It was good to meet Charlie and the next door neighbor. Hopefully next time we can meet Susie in person!
Pam
February 2016
Szoba típusa
Teljes ház/lakás
---
Ingatlan típusa
---
Férőhelyek
6
---
Hálószobák
3
Canton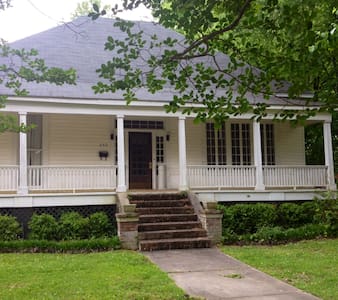 Ttaffic is very convenient to live. Furniture with very good livr.
Szoba típusa
Teljes ház/lakás
---
Ingatlan típusa
---
Férőhelyek
4
---
Hálószobák
1
Yazoo City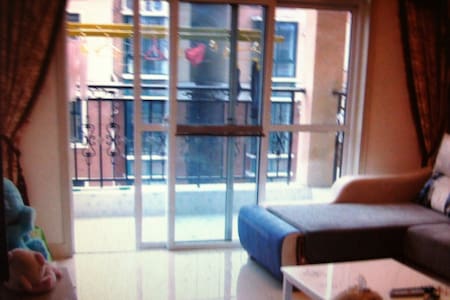 2 bedroom, 2 bath home to share with fellow lovers of travel. Heart of historical downtown: Restaurants, shopping, library, courthouse, groceries, live music, Amtrak stop, and a museum are within a 15 minute walk. Can give great area tips!
This was one of the best AirBnB I've been to. Maybe we've been lucky and Lisa liked us, but she was incredible, welcoming us with a good bottle of wine ! The rooms were absolutely amazing, beautifuly decorated, spotless, and I would have been happy to stay there for a couple of months ! We will be happy to come back probably next year if the place is not crowded with tourists from all over the world...
Florent
May 2015
Szoba típusa
Privát szoba
---
Ingatlan típusa
---
Férőhelyek
4
---
Hálószobák
1
Yazoo City