My place is close to restaurants and dining and nightlife. You'll love my place because of the people, the ambiance, the outdoors space, and the location.
Patriciafaye was very welcoming, had wonderful stories to tell and respected our privacy. The downstairs living area was comfortable, clean and cozy. The location is in a residential neighborhood very close to downtown and Lindfield College.
Ann
2017-04-10T00:00:00Z
Patriciafaye is the perfect AirBnb host. She's a wonderful, kind person and offers you breakfast each morning. You get the whole downstairs to her house and it is clean and spacious. I would recommend this spot to everyone and would also say it's worth talking to and getting to know Patriciafaye. She's great!
Rob
2017-04-02T00:00:00Z
Thanks for the nice stay patriciafaye
Kolani
2017-03-19T00:00:00Z
Patriciafaye is a very welcoming host. My plans changed a couple times and she seemed pretty flexible. The space is comfortable and just what I needed at the right price.
Neal
2017-03-28T00:00:00Z
Patriciafaye is a very kind and accommodating host, she will offer to make you breakfast! There was plenty of parking across the street. We had the entire downstairs of the house to ourselves and would definitely book this Airbnb for another visit.
Emma
2017-02-19T00:00:00Z
Absolutely wonderful stay, Patricia makes you feel right and home!
Josh
2017-02-22T00:00:00Z
We loved staying at Patriciafaye's place! We had the whole floor to ourselves, and the bedroom and bathroom were very clean and comfortable. And Patriciafaye is so nice—we'll definitely come back next time we're in the area!
Christopher
2016-11-26T00:00:00Z
Patriciafaye greeted me the moment I closed the door to my car and walked up the stairs to her house. The guests have a downstairs room with ample space in a hallway that resembles more of a living room, with a bathroom and shower attached. It's a very cozy space. Lovely place to sleep while listening the rain fall. Most of all, Patriciafaye is a person who's lived a fascinating life, lived in other countries, and loves talking about wide ranging human experiences with passion and sensitivity.
Stephen
2016-10-16T00:00:00Z
Szoba típusa
Privát szoba
---
Ingatlan típusa
Sorház
---
Férőhelyek
2
---
Hálószobák
McMinnville, Oregon, Egyesült Államok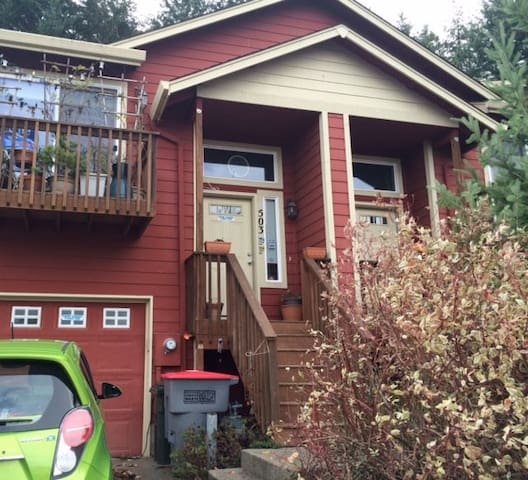 The open floor plan, natural light, modern amenities, and attention to detail will provide a comfortable and welcoming home for guests. 5 minutes to Downtown McMinnville, 10 minutes to Carlton, 1 hr to Portland, and 1 hr to lovely coastal cities. In the middle of everything you'll want to see for your stay in Oregon! Comfortable queen bed in master, 2 twin beds in 2nd bedroom. Garage, laundry room, coffee maker w/ coffee, cable, internet, 2 tv's, dvd player. Clean, fresh, and comfortable!
This bungalow is super-clean, modern and fresh. Everything I needed was right there, and the space was inviting. Don't let the word Bungalow mislead - it is a sizable house with tons of natural light. Very nice indeed!
Sean
2017-02-10T00:00:00Z
Such a great place! Would totally stay here again. The little touches like fresh Half and Half in the fridge really made us feel at home. Thanks Allison!
Robert
2016-12-19T00:00:00Z
Allison was very accommodating. She was easy to work with and greeted me and walked me through the house to show me where everything was. She even put coffee creamer in the fridge to make sure I had it for the next morning. She was very thoughtful and made me feel at home.
Leya
2016-01-29T00:00:00Z
The house was very new and perfect for four adults. We spent the weekend doing some wine tasting, and the house was close to wineries in town, and all over the valley. Allison lives very close and was very flexible with the arrival time. The counter tops and gas stove are amazing! We made breakfast and dinner there without a problem. Great place!
Reynah
2015-11-15T00:00:00Z
Allison's place was great! I came here for my girlfriend's birthday. The house looks even better in person and the decor is on point. The kitchen is well stocked if you plan to cook and everything was super clean. Allison was always very responsive and it was a great experience. Also pretty close to some great wine tasting spots.
Alex
2015-11-22T00:00:00Z
ABSOLUTELY fabulous! This home is beautiful, comfortable, luxurious and overall just fantastic. It was spotlessly clean, great towels, sheets, mattresses (even the flooring), pillows, garage parking, extra comforts, etc. We cooked our meals there and I appreciated that I didn't have to go buy spices, paper towels, coffee filters and other necessities. We always stay in hotels when we are in town and never again if I can help it! ;-) Thank you Allison!
B.M.
2016-01-03T00:00:00Z
The host canceled this reservation 16 days before arrival. This is an automated posting.
Rebecca
2016-08-24T00:00:00Z
Allison's place was absolutely perfect. Clean, well decorated, absolutely wonderful!
Jennifer
2017-02-20T00:00:00Z
Szoba típusa
Teljes ház/lakás
---
Ingatlan típusa
Ház
---
Férőhelyek
4
---
Hálószobák
McMinnville, Oregon, Egyesült Államok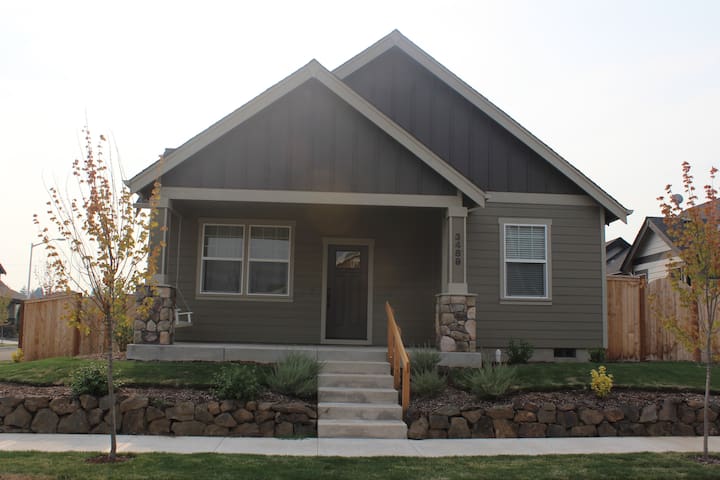 Our spacious cottage sits behind our house on a quarter-acre yard, surrounded by trees, including a beautiful redwood. This cottage is the perfect place to unwind. Our quiet neighborhood is only one mile from historic downtown McMinnville. Need recommendations on a great place to eat or wine taste? We'll point you in the right direction. Guests from all backgrounds are welcome. Contact us if you have more then 2 people in your party - we may be able to accommodate parties of 3.
The cottage has a keyless code entry. The bathroom has a standing shower with plenty of storage room. The queen bed (memory foam) sleeps two and the sofa pulls out into a bed. The smart TV is setup with Netflix so all of our guests can catch up on their favorite shows. Our kitchenette has a French press, tea kettle, hot plate and mini fridge. Wine bottle opener included. :) We stock the kitchen with coffee from Flag & Wire, a local coffee shop and treats for local shops.
We are two blocks from Michelbook Golf Course and 1 mile from charming downtown. We are also minutes away from coffee shops, grocery stores, and lots of restaurants.
Great place to stay! Lisa had amazing communication before, during, and after our stay. Staying here mitigated any stresses we would have had on our relaxing stay in wine country.
Ryan
2017-04-02T00:00:00Z
Szoba típusa
Teljes ház/lakás
---
Ingatlan típusa
Hozzáépített otthon
---
Férőhelyek
2
---
Hálószobák
McMinnville, Oregon, Egyesült Államok
Enjoy world class Oregon wine in this charming 1926 2+ bedroom, 1 bath home. Beautiful wood floors throughout and sun filled rooms compliment this unique classic beauty. Just a 5 minute walk to historic and quaint downtown McMinnville with fabulous restaurants, shops, tasting rooms and events. Close to Lindfield College and the IPNC (International Pinot Conference). Sip coffee in the morning or wine into the evenings on the front porch or enjoy a good book by the fire on chilly nights
The house is a short 5 block walk to the historic downtown
Loved McMinnville! The home is walking distance to great restaurants and brewery. The outside patio was so relaxing and the home is beautiful and charming with fantastic beds. Charming decor and the fireplace was the perfect evening place to chill!
PENNY
2017-03-26T00:00:00Z
Beautiful old world charm house. The click on fireplace made the room cozy. Very spacious and had all the amenities. Very close to downtown and neighboring wineries. Definitely would stay here again.
Susan
2017-02-13T00:00:00Z
We had a wonderful stay at Leah's house in McMinville. It is beautifully furnished and restored. Everything you could possibly need is thoughtfully provided. The comfort of her guests seems to be Leah's primary goal. She even emailed after our stay, offering to send a forgotten item.
Joan
2016-08-23T00:00:00Z
Amazing location just a couple of quick blocks away from the tasting rooms, restaurants, coffee shops, etc of McMinnville! We stayed at MAC house for a weekend of wine tasting and hiking around the valley and it was absolutely the perfect home base. The house is adorable and comfortably fit both couples, and we loved it so much that we brought a bottle of wine home and spent one early evening sitting around the outdoor fire pit instead of going out to more tasting rooms! We enjoyed every minute and highly recommend MAC house to anyone visiting willamette valley!
Annie
2017-03-13T00:00:00Z
Great stay in Mcminnville! The MAC house is very charming and is in a perfect location to explore everything that Mcmimmville has to offer. We would definitely stay there again.
Jason
2017-04-09T00:00:00Z
Such a lovely home! The beds were super comfy and the house was immaculate. Leah made sure we had everything we needed. Very close to town. Great time!
Melisa
2016-12-23T00:00:00Z
Leah was great to work with - great communication and very friendly. The house is very cute, clean and well maintained, and is only a couple of blocks from the main downtown streets and great wine tastings! Had a great stay and would highly recommend Leah's place to anyone visiting McMinville!
Greg
2016-08-16T00:00:00Z
Mac House was terrific. Cozy, charming, and really close to downtown. Leah was sure to make us comfortable. Super!
Lisa
2016-10-30T00:00:00Z
Szoba típusa
Teljes ház/lakás
---
Ingatlan típusa
Ház
---
Férőhelyek
5
---
Hálószobák
McMinnville, Oregon, Egyesült Államok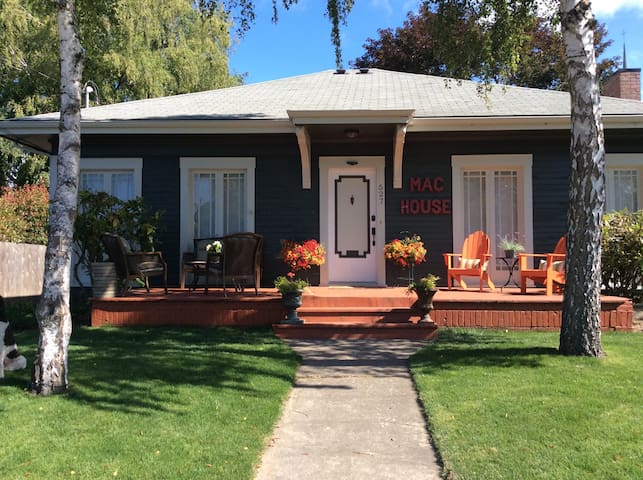 Enjoy our fully finished basement will sleep 4 comfortably. Short walk to famous down town 3rd ST. where you can experience great food wine, and shopping
Szoba típusa
Privát szoba
---
Ingatlan típusa
Vendéglakosztály
---
Férőhelyek
4
---
Hálószobák
McMinnville, Oregon, Egyesült Államok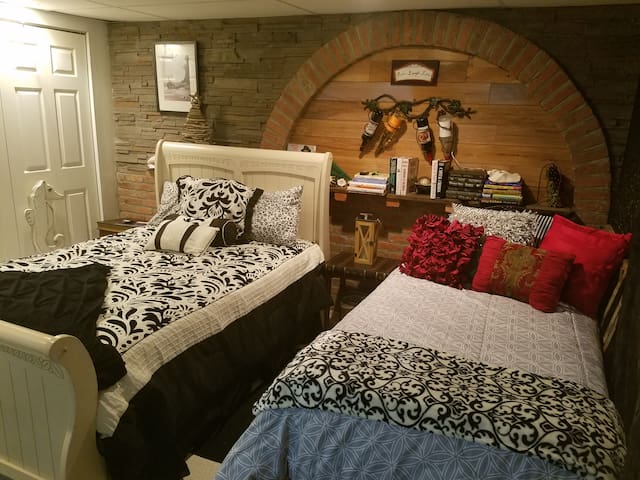 This spacious & luxurious King suite w/ private bonus room on the edge of town has a beautiful view of the Coast Range Mnts. The space sleeps 4 w/ AirComfort sleeper sofa in bonus room. Enjoy a relaxing morning w/ continental breakfast in the nook.
This space is clean and luxurious. The King bed is very comfy. The queen sleeper sofa is a high end comfortable mattress. You will find this space comfortable, beautiful and the view of the fields and coast range mountains is pastoral and serene.
Across the street from the house is a greenway and walking path that travels across town. Guests can walk, run, bike or roller blade their way to McMinnville's downtown. Our city is wonderful! Whether you enjoy shopping, dining, wine tasting, micro brews or just hanging out in a coffee shop, you'll love McMinnville and the surrounding area! McMinnville is a wonderful small city. Half way between Portland and the Pacific Coast it's in the heart of Oregon wine country. It is the home to the "Spruce Goose"built by Howard Hughes and made famous in the movie "The Aviator." Within 2 hours drive of McMinnville there are five distinct ecosystems great for exploring and hiking.
The accommodations were even nicer than we anticipated, even with our high expectations from reading reviews. Bill made checkin a breeze and even showed up later with yogurt and fresh fruit to complement our already nice line-up of breakfast items. The neighborhood is safe and an easy drive to many wineries. We were in town for a vineyard wedding and felt very fortunate to have such lovely accommodations. I was meeting an old friend and the two of us had plenty of room to spread out. In fact, we turned down several opportunities to do other things just so we could enjoy the apartment a little more. We were very comfortable and wished we could stay longer.
Amy
2015-08-02T00:00:00Z
After reading previous reviews, there is nothing more to add. The experience was perfect for us, and we couldn't have been more comfortable. Thank you, Bill, for being flexible, and for being a wonderful host.
Susan
2014-07-14T00:00:00Z
My stay at Bill's AirBnB home could not have been easier! He was very clear with communicating directions, had a parking spot for me, gaining access, etc. He also was kind enough to answer all my questions within minutes of emailing! The rooms - yes: TWO ROOMS - were immaculate, yet inviting. I was only there for one night but made good use of the lounge area for a little after hours TV viewing then slept like a rock and the comfy bed. I especially enjoyed having morning coffee from the Keurig and a quick bite of cereal (he graciously provides continental breakfast items). Was able to catch up and chat with Bill in the morning and told him that I would like to stay again in the future - and most definitely more than one night if i have the time. Bill - Thank you for being a fantastic host! (ps. thanks for the toothpaste too! :)
Holden
2016-01-31T00:00:00Z
Bill was very responsive to our questions. The space is very comfortable, clean and roomy with all of the amenities listed in the description. We would definitely stay here again. Bill provided great recommendations for restaraunts and wineries. In room coffee and breakfast items are a very nice touch.
Jane
2016-10-23T00:00:00Z
Everything was great! Bill was an excellent host and had everything we needed, including a little continental breakfast in the room. It's a large space with a bedroom, living room, kitchenette area, and en suite bathroom with double sinks. The space was clean and had everything we needed for our two night stay. It's a perfect location for exploring wine country and is about a 5-10 minute drive into downtown McMinnville. Bill was super helpful and gave us great recommendations of where to visit. There's also a walking/running/biking trail right out front that was very convenient for getting some exercise in before wine tasting all day. I would highly recommend staying here!
Leanna
2015-07-18T00:00:00Z
Bill was a welcoming, gracious host. All of our communications with him were pleasant. His home is in a quiet, very pleasant neighborhood a bit out of town but not inconvenient, and is good for walking. Bill's suite is beautifully furnished and well- equipped, including a good desk area and setup for breakfast. Yogurts in the small frig, cereals, coffee & tea, fruits, nice dinnerware. The King bed is very comfortable; the bedroom is spacious. Big windows overlook the back yard and open fields beyond. We really enjoyed all the comforts of staying with Bill and can highly recommend his place to stay in McMinnville.
Anne
2016-02-24T00:00:00Z
This is the place to stay in Mcminnville, period. Bill is very supportive and every detail of your stay is so well organized, you won't have any unanswered questions about your space and how it works. We stayed for 3 nights and it was a great space for us to rest in.
Clay
2014-10-22T00:00:00Z
Bill was very friendly, the space is 2 spacious rooms, very comfortable and home like, food in the fridge for us, everything we could possibly need. Great very quiet neighborhood as well. we loved it!
Sandy
2016-08-26T00:00:00Z
Szoba típusa
Privát szoba
---
Ingatlan típusa
Szoba reggelivel
---
Férőhelyek
4
---
Hálószobák
McMinnville, Oregon, Egyesült Államok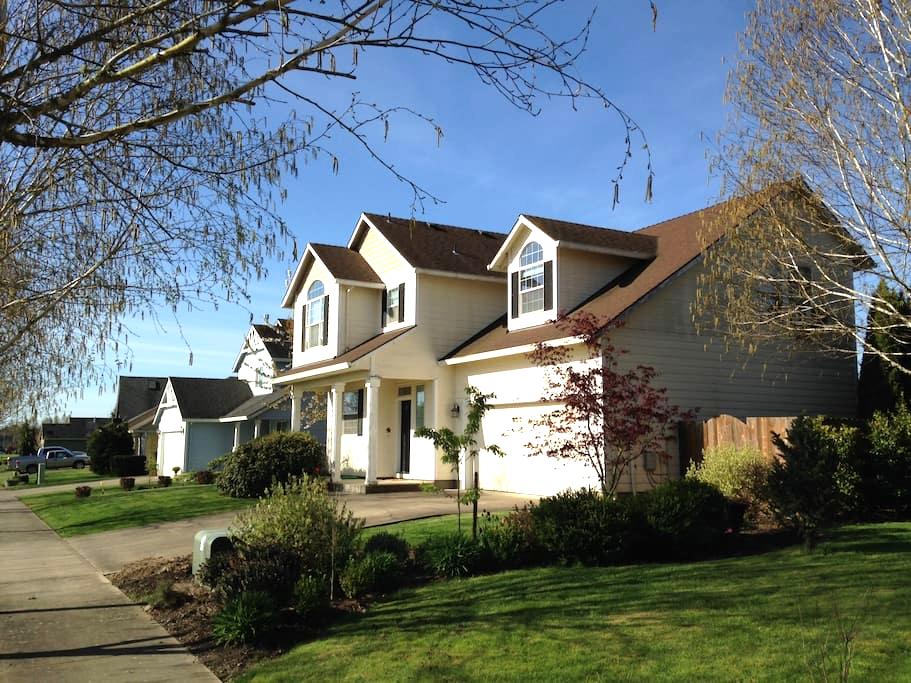 Located in a quiet neighborhood in the heart of wine country, a mile from downtown McMinnville & shops, close to galleries, wineries, great restaurants, Linfield College, George Fox University, Evergreen Space Museum, and Bayou Golf Course.
Bedroom, bathroom, dining/living/kitchen
The room was beautiful, cozy wonderful neighborhood. Joanne welcomed us and made us feel right at home.
Kyra
2016-10-23T00:00:00Z
Joanne is a wonderful host and has prepared a delightful room for her guests. With a private entrance with my own key I was very comfortable getting up and out very early on my first morning there to participate in the Cycle Oregon Joy Ride. The home is in a nice safe neighborhood just a short drive to the downtown shops and restaurants. I will stay there again. Thank you!
Marisa
2016-06-13T00:00:00Z
I stayed at Joanne's cozy room to attend a wedding. This is the perfect quiet spot outside of town, which is within a walking distance. Joanne is a great hostess. I had a great stay.
Thomas
2016-07-26T00:00:00Z
Joanne was really sweet and her room was clean and cozy . I was very happy with my stay . (: thank you
Martha
2016-05-22T00:00:00Z
Very sweet space, nice and quiet with a private entrance. Joanne was easy to communicate with and responsive to any requests. Would love to stay again when I return to the area. Thank you Joanne!
jacqueline
2016-07-19T00:00:00Z
I booked this place for a fellow traveller. Her comments has been privately conveyed to the host. I certainly wish the owner had more trust in the occupiers and could be more flexible over key arrangements. I have a neighbour there who offered to pick up the key before he went to the airport to pick us, but we were turned down. In the end, we had to cut short our outlet shopping - the plane delay already cut short the shopping trip - because we did not want to cause any inconvenience her by varying the time further.
Eugene
2016-12-02T00:00:00Z
Needed a quiet place while attending a course, stayed at Joannes for a month. This is a great place, nice and quiet, close to amenities. Definitely recommend to anyone staying in McMinnville!
CHRISTOPHER
2016-09-06T00:00:00Z
This was a quiet and clean place to stay. You have your own bath and entrance, which I prefer. Joanne saw me off when I left and was very pleasant to visit with. There isn't a desk to work at if you're a business traveler. Not a problem, just worth noting for those of us who get the laptop out on every stay. I recommend this place.
Joe
2017-03-13T00:00:00Z
Szoba típusa
Privát szoba
---
Ingatlan típusa
Ház
---
Férőhelyek
2
---
Hálószobák
McMinnville, Oregon, Egyesült Államok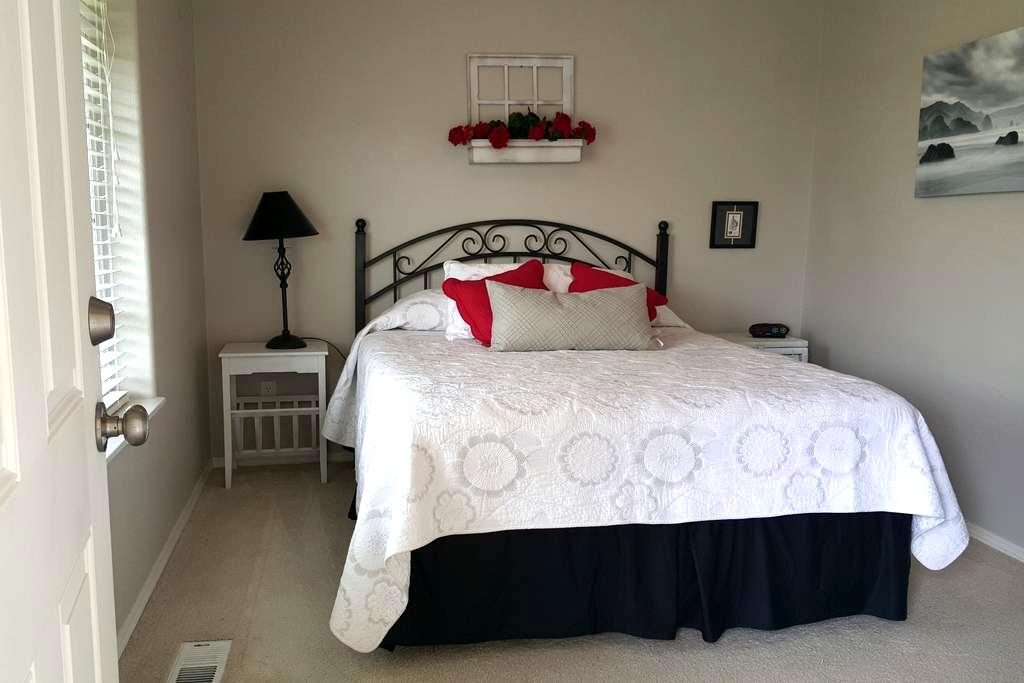 Stay in our Victorian home in McMinnville and enjoy an abundance of living space, updated amenities, and a great central location. You'll have the restaurants and shops of downtown McMinnville nearby, plus endless vineyards to visit in the surrounding wine country just outside of town. Inside this two-story home, beautiful woodwork and traditional furnishings create a classic, inviting feel. Includes a full kitchen, laundry, Wifi, cable TV, and A/C.
This victorian house can accommodate up to 10 people when both units are available. Please check both units A and B for availability and book together. Make sure to let us know if you book both units so that the door that separates the 2 units can be opened.
This building is in the heart of downtown.
Szoba típusa
Teljes ház/lakás
---
Ingatlan típusa
Ház
---
Férőhelyek
5
---
Hálószobák
McMinnville, Oregon, Egyesült Államok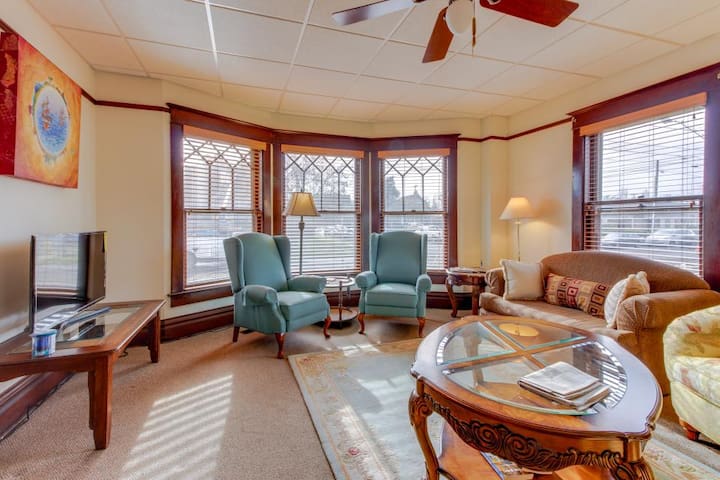 Beautiful, remodeled cottage in the heart of the Willamette Valley wine country. The cottage is minutes from downtown McMinnville, less than an hour from Portland and the Coast and surrounded by the valley's 500 wineries. McMinnville was voted America's 2nd Best Main Street with 34 restaurants, 17 wineries and 7 breweries.
The cottage is perfect for a romantic weekend or a week exploring the Valley. It is perfect for two, but will accommodate a family of three.
The cottage is within walking distance of downtown McMinnville, one hour from Portland and the Oregon Coast. Best of all, the cottage is within minutes of many of the 500+ Willamette Valley wineries.
The house is cozy and adorably set up. So many details done to make it feel warm and inviting. Kevin was hospitable and takes pride in his place. We will definitely come again.
Judy
2017-03-04T00:00:00Z
Cozy house. Beautifully done. Great location to wineries and food!
Brooke
2017-03-24T00:00:00Z
Great little college close to downtown McMinnville. Cute neighborhood, very walkable to downtown restaurants and Granary District wineries. House is in great condition and the host is very communicative. This is a great place to stay.
Derek
2017-03-14T00:00:00Z
The cottage was spotless and comfortable. We never saw anyone, but the printed directions pretty much covered everything. Kevin recommended a few local restaurants which we tried and liked, particularly Nick's Italian café! Nice place to stay in Mc Minnville.
chris
2017-03-27T00:00:00Z
A very warm comfy and romantic setting. Thank you for your hospitality in opening your home. We would absolutely recommend a stay.
Steve
2017-04-09T00:00:00Z
Szoba típusa
Teljes ház/lakás
---
Ingatlan típusa
Ház
---
Férőhelyek
2
---
Hálószobák
McMinnville, Oregon, Egyesült Államok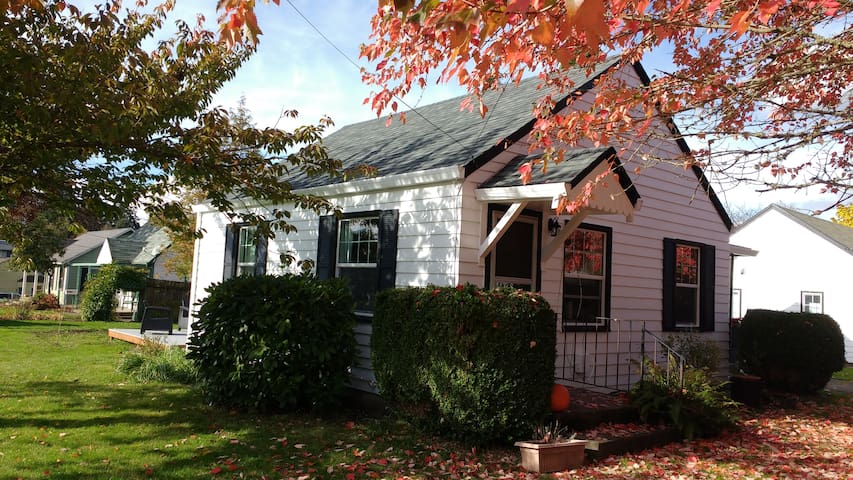 A luxurious residency awaits. Our 103 year old Craftsman has a newer addition of a grand Master Suite. Our neighborhood is in a quite corner of downtown McMinnville, and your suite sits well off the road.
This luxurious master suite connects to our historical craftsman home. The separate entrance provides for a restful retreat in a luxurious setting. Inside you will find: a spacious air conditioned room, elegant bedding on a plush king-sized bed, a light-filled bath with a walk-in shower, a sideboard, microwave, refrigerator, a faux fireplace/heater, a 32 inch TV with cable, wifi access, all to encourage a good night's sleep. We provide a few breakfast items for your first night's stay, and a Kuerig.
Out neighborhood is quiet yet shops, wineries, and coffee shops are within 10-15 minutes walk. Across the street is a small private gym for which you can call and make reservations for use. We are 10 blocks from the center of downtown. Our neighborhood is in transition, with many socioeconomic levels coexisting and growing. Our craftsman is 103 years old and renovated, but there are many classics around us struggling for rebirth! I have observed that McMinnville, or "Mac," as we call it, is much like the boom towns of the gold rush days; the growth is rapid, transitions are inevitable, and opportunity is around every corner.
Shelly was a great host--we wound up talking about book publishing (an interest for both of us). Her husband was super-friendly. They invited me to share a family day with them (I had a conflict)...and some evenings the sound of piano and a lovely voice wafted through the connecting door. Nice!
Richard
2014-08-31T00:00:00Z
Shelley's place was perfect! Lots of room and every amenity we could think of. We stayed two nights in late April and spent that time biking around McMinnville and the surrounding area touring wineries and the adorable downtown just a short walk away. Shelley was great about communicating with us about anything we might need and suggested several things to do in the area. Would absolutely stay again! Protip: the Crescent Cafe downtown is an absolute must stop.
Dave
2015-05-02T00:00:00Z
Nice private room with private entrance. This was really a good set-up for business travel. Easy walking to downtown brews and wines (10 blocks). Clean and all amenities were there as stated.
Sue and Dan
2016-07-10T00:00:00Z
The hosts were very welcoming and made me feel comfortable.
Angela
2016-08-01T00:00:00Z
This accommodation was a wonderful suite with a comfortable king bed, great lighting, fast WiFi, and a cute little sofa/TV corner. Clean and well-lit, it had a separate entrance. Shelley was a very friendly host.
LAURA
2015-03-25T00:00:00Z
Mark & Shelley provided a very warm welcome. The picture doesn't do the room justice. It's lovely. Has a sitting area, table and chairs, dishes, microwave, refrigerator, Keurig with a variety of drink options, and fruit, oatmeal and milk provided for breakfast. Walk-in closet with dresser off the bathroom is also very nice. They even allow you to use their laundry and kitchen. We stayed 4 nights and definitely feel it was a bargain. The front and back yards are oriented to BBQing and eating al fresco. Gardening is not their forte but with so many other pluses it is easy to overlook. Don't be worried about the train tracks close by. We never heard or saw a train!
Teresa
2016-08-08T00:00:00Z
This was our first experience on Airbnb and hostess Shelley hit it out of the ballpark. What a lovely place! Spacious and super clean. Vaulted ceilings, plantation shutters, walk-in closet. Thanks for the fresh oranges. Highly recommend.
Susan
2015-05-31T00:00:00Z
Home away from home best describes our stay. Brielle's place provided everything we needed. We had our privacy, I felt safe and comfortable.
Jers
2016-11-25T00:00:00Z
Szoba típusa
Privát szoba
---
Ingatlan típusa
Szoba reggelivel
---
Férőhelyek
2
---
Hálószobák
McMinnville, Oregon, Egyesült Államok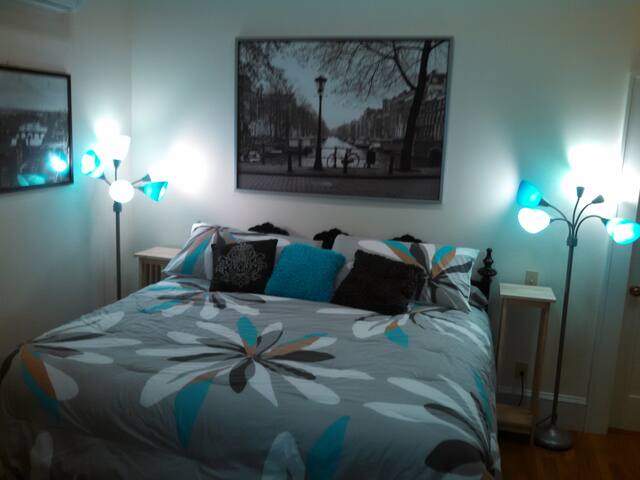 Stay in our cozy cottage in the heart of charming McMinnville, OR. Wine Country Sunshine is within walking distance of one of the top main streets in America. Just a stones throw away from restaurants, nightlife, family-friendly activities, breweries, wine tasting, and shopping. Wine Country Sunshine is great for couples, solo adventurers, and business travelers.
1940s cottage with a large backyard and patio. Perfect for a weekend getaway to Oregon's famous wine country and McMinnville's award winning restaurants. Brand new queen size bed in the bedroom. Full kitchen and bathroom (with a clawfoot tub).
This house is close to everything: 1/2 mile walk to 3rd Street (downtown) and 5 blocks (1/2 mile) to the Granary District (Grain Station Brewery and several wineries). We have award winning restaurants and wineries within minutes. There are public tennis courts a few blocks away and a growler fill/taproom approximately 2 blocks away. Easy access to all that McMinnville and Yamhill County has to offer.
The property is as advertised and pictured. Communication was prompt, information provided was thorough and there are thoughtful touches to be discovered upon arrival. It's an 8 block walk to the center of McMinnville. The neighborhood is quiet and neighboring shops are easily accessed. If you want to avoid the few hotels that serve this city, this property gives you room, self catering opportunities, and a chance to relax. The proprietors are models of communication and thoughtfulness. A much enjoyed visit.
William
2017-01-22T00:00:00Z
As described, easy to find, and within walking distance of 3rd St downtown. Communication was clear and timely!
Siena
2017-03-12T00:00:00Z
This is a really cute home located in a great area. Walking distance to downtown where there are some amazing restaurants and fun tap houses and wine bars. The house is cute and clean with plenty of room for a couple. No TV but who needs one when you are in Mac? Nice back yard too.
Sean
2017-01-06T00:00:00Z
Great binder, cozy furnishings.
Brittney
2016-08-28T00:00:00Z
The house is super cute and a very short walk to many restaurants and tasting rooms. We enjoyed our stay. Courtney was also very responsive.
Laura
2016-08-22T00:00:00Z
The home is minimalist but tasteful and comfortable. The bed was really comfortable. Having a washer and dryer was great! It's conveniently located within walking distance to downtown. Courtney and Jennifer were very responsive to any questions we had prior to and during our visit. There's a sweet, quiet, private back yard with an apple and fig tree.
Marlene
2016-08-06T00:00:00Z
Courtney was quick to respond to any questions that I had. Can't beat the location if you're staying in McMinnville because it's close to 3rd St. and Linfield College. Nice safe neighborhood and you can't beat it that it's a full house, not a shared room. I would stay there again.
Mark
2016-10-31T00:00:00Z
Cute and cozy, exactly as described. Looks like Courtney & Jennifer are in the process of fixing up this bungalow. They've done a nice job with the inside. The outside could use some work, but I imagine that will come with time - the backyard has a ton of potential but it's a little overgrown at the moment. Great location in McMinnville in a quiet residential area, with a 5ish min walk to 3rd st., and easy access to all the wineries in the area. Communication with Courtney was easy and check-in was a breeze with the lock box. Would definitely stay here again next time we're in town.
Jarrett
2016-08-31T00:00:00Z
Szoba típusa
Teljes ház/lakás
---
Ingatlan típusa
Ház
---
Férőhelyek
3
---
Hálószobák
McMinnville, Oregon, Egyesült Államok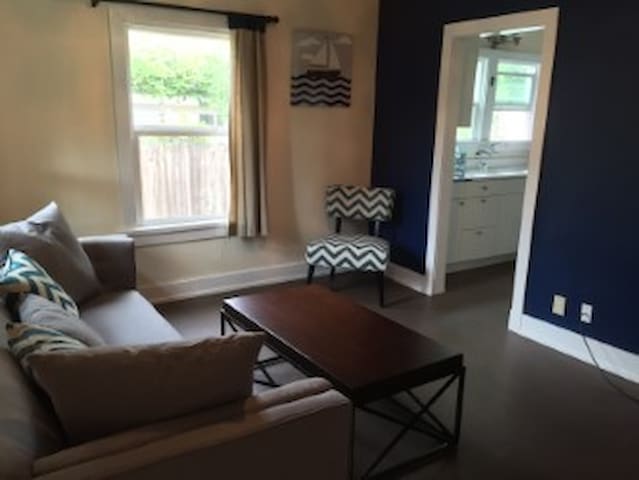 What we are hearing the most from our guests: "We wished we had stayed longer!" Private Entry - New 2nd story loft in McMinnville. Immaculate and beautiful space. Easy walk to Linfield and downtown, where great food, wine and beer await! If you are traveling with your pet, our well appointed studio apartment is PET FRIENDLY with a professional pet sitter on site to care for your dog when you leave! Additional fees apply **
Come Aloft and enjoy the fresh comfortable space with lots of light. New appliances for light breakfast and coffee. Very inviting and new cal/king bed. Large bathroom with heated tile floors and over sized shower. Cable TV and internet. Traveling with your pup? Professional Pet Sitter on site! Fully fenced yard is available for your pet along with supervision while you are out. UNLESS KENNELED or prearranged with me, no dog may be left unattended.
A-loft on Vine is a pleasant walk to Linfield and also downtown McMinnville. We are a 5 minute walk to Linfield and 10 minutes to our vibrant 3rd St. Our neighborhood is tucked up to the northeast of the college and abuts the Yamhill River. (no access) Quiet, treed, dead-end street. Close enough to town, but feels removed.
We stayed at A Loft for our 4th wedding anniversary. We got in and there was a spot saved for us to park and check in was easy. The loft was warm and inviting with even fresh water left for our dogs. We enjoyed the fresh eggs from their own chickens and other snacks provided. The bed was so comfortable with high end sheets and towels. It is about a 20 min walk to the downtown. There are lots of wonderful places to eat and a lot offer take-out (we ate at Gem Creol and Pura Vida) which we enjoyed since we had our dogs with us. All the pictures are very accurate to real place. The shower is amazing. The loft is beautiful and we will definitely stay again. We would love to come back when the weather is nicer to enjoy the beautiful deck off the loft.
Jacquelyn
2017-03-05T00:00:00Z
I REALLY enjoyed my stay at "a loft on vine". Terry and Lisa are acceptional hosts and they went above and beyond to make sure that I was comfortable and had everything that I needed during my stay. The loft was VERY clean and well appointed and I slept like a log in the comfy king sized bed. The kitchenette was stocked with everything you'd need to whip up a light breakfast, including coffee, tea, cream, butter and fresh eggs from their chickens! Yum! The neighborhood felt very safe and it's just a 5 min drive to restaurants, a great park and shopping. If you're traveling with your dog in tow, Lisa happens to run a full service dog sitting business out of their home. She is VERY good with animals and has extensive knowledge about dog behavior and how to integrate them into a new environment. I used the service a few times during my stay and I'll be leaving my dog with her for a week in December. Overall, I would highly recommend staying at Lisa & Terry's place, it's a lovely space and they are wonderful people!
Shannon
2016-11-23T00:00:00Z
Terry and Lisa's loft is exactly what my wife and I were looking for during our getaway weekend to McMinnville: It's a perfect size for a couple, thoughtfully appointed, and has a great deck to boot. Check-in and check-out couldn't be easier. The neighborhood is quiet and off the beaten path but still a comfortable stroll to 3rd Street if you're a walker.
Nate
2017-03-12T00:00:00Z
We couldn't have asked for a better mini-honeymoon place to stay. Wonderful amenities and kind and thoughtful hosts.
Sabrina
2017-01-02T00:00:00Z
The loft was beautiful and it was an easy 10 min walk to SE 3rd street. The loft had everything we needed for a quiet weekend getaway.
jeremy
2016-11-13T00:00:00Z
Everything was perfect and exactly as described.
Christina
2017-02-06T00:00:00Z
This place was amazing! It was clean, easy to get in and out of, close to downtown. Complementary coffee, tea, even eggs from their chickens.
Jackie
2016-12-09T00:00:00Z
Terry and Lisa's place is incredible. Was perfect for us! Thank you so much for hosting us :)
Tim
2017-04-09T00:00:00Z
Szoba típusa
Teljes ház/lakás
---
Ingatlan típusa
Loftlakás
---
Férőhelyek
2
---
Hálószobák
McMinnville, Oregon, Egyesült Államok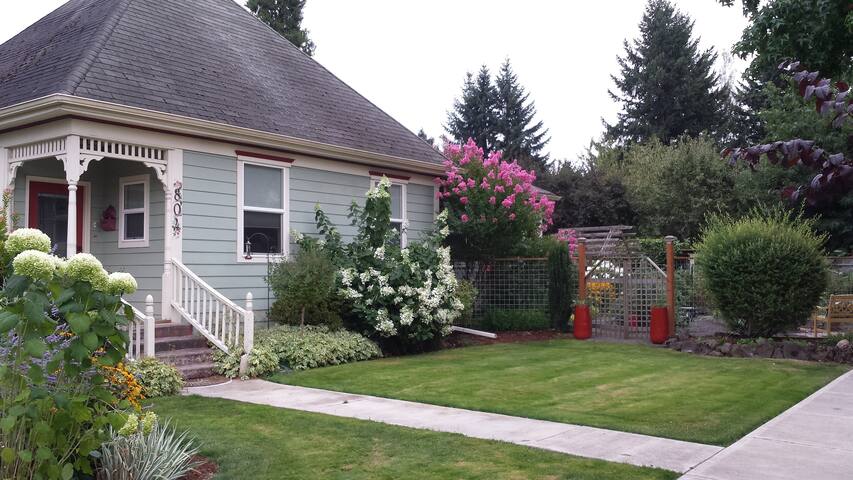 Built in 1924 with loads of character, white picket fence, porch swing, yard and gardens. 1/2 mile to downtown 3rd Street and a few blocks from Linfield College. The jumping off point to Oregon Wine Country. I have a housemate August through March. The bed is a futon, comfortable for most, but I want to be up front as some people don't find it firm enough.
I truly love my home, because of its old bones. However, the floor boards and doors creak and it has its quirks. Your bedroom looks over the backyard and garden, with windows facing east and south. Really nice light!
Just a few blocks from Linfield College and a half mile to 3rd Street and the wonderful downtown.
Erin welcomed me into her home and made me feel right at home straight away. She is a truly kind and friendly host living in a very cosy place. This was an awesome experience.
Alix
2016-08-04T00:00:00Z
I felt welcome the moment I met Erin, the neighborhood is close to all the great things McMinnville has to offer, I walked and rode my bike.
Barb
2016-06-04T00:00:00Z
Very nice place, lots of space, Erin was great communicating. Definitely recommend!
Troy
2016-06-29T00:00:00Z
My friend Sandra and I headed to McMinville for a graduation at Linfield College. Erin was very responsive and had the room ready for us when we arrived. We did not interact with her that much because we were busy with our own itinerary but we did feel welcome. There was a problem with the key lock but we got that resolved the next day. The house is right next to Linfield college (3-5 minute walk). We also had lots of winery brochures that Erin had in our room and we went wine tasting at Thistle in Dundee. Highly recommend that winery! Overall good experience at the Jolly Inn.
Anna
2016-05-31T00:00:00Z
Erin was a very helpful and generous host. She was there to meet me when I got there and made me feel at home right away. Her house is lovely. Has tons of charm and very comfortable. The room I was in was perfect for me. I slept really well. The shower was also really good and that makes all the difference to me. Good shower and good wifi and I am happy! Location was perfect. Close to downtown and tons of parking. Would highly recommend Erin's place.
Tracy
2016-06-11T00:00:00Z
A lovely room, with privacy and a quiet neighborhood couldn't be more perfect to really unwind and enjoy what McMinnville and the Oregon Wine Country have to offer. Thanks Erin.
Phil
2017-04-08T00:00:00Z
Greet location. Beautiful older home with nice, old wood beams and floor boards that speak to you.
Cameron
2016-12-30T00:00:00Z
Erin is the best and the house is great. You'll have a wonderful time at the Joly Inn.
Alix
2017-01-12T00:00:00Z
Szoba típusa
Privát szoba
---
Ingatlan típusa
Ház
---
Férőhelyek
2
---
Hálószobák
McMinnville, Oregon, Egyesült Államok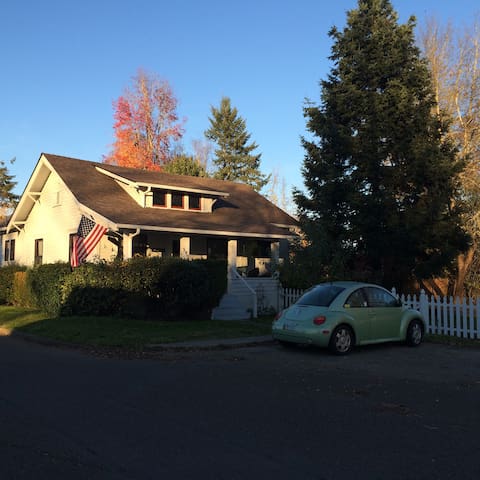 Just a mile drive from downtown 3rd Street, one of Oregon's trendiest neighborhoods with its variety of restaurants, wine tasting rooms, boutiques and rooftop bars. You'll love our clean, rustic farm house with antiques, reading nooks, and comfy couches. Time to drink tea and relax. Welcome to Granny's House!
The home was easy to find and in a great location within the town. This is a beautiful home that one could see that this family has put lots of care and attention to making it a lovely home. It was spotless. Alyssa was friendly and made sure that I had everything I needed to make my stay comfortable. I'd definitely stay there again.
Judith
2016-09-11T00:00:00Z
I ran into some problems with the lock and alarm system and Alyssa was immediately responsive to me. She left personalized notes in the home for me and coffee and tea. Her home is very clean and comfortable. I would definitely recommend it when in visiting McMinnville.
Lauren
2016-09-26T00:00:00Z
Alyssa was very communicative with us before we arrived, and clearly devoted a lot of care and energy into making our stay comfortable and pleasant. She provided us with clear instructions about everything and even left us a welcome gift basket, including tomatoes from the garden. The house is clearly well loved and very well kept, a true gem. We were extremely pleased with the whole delightful experience and definitely recommend Alyssa!
Becky
2016-09-05T00:00:00Z
The hosts were lovely people and very friendly. Their home is adorable, BUT they are NOT ready to be hosts in airbnb. No one was there when we arrived, but we were given the code. It wasn't clear at first which room was ours. We asked for a private bath, and were told ours would have two pieces, but the shower was in the shared bath. However, the two piece was on the main floor and the bedroom on the second. They said we could use the upstairs, but they ended up using it everyday. We had to wait until they left for work to use it. For a cleaning fee, no garbage was emptied ( our room or bath), we made our own bed and used the same towels all week. The bedroom door doesn't have a lock and no TV. The bathroom is shared with the hosts and also has no lock. We left a day early after my husband walked in on the host on the toilet. We were told they'd be gone by 8am. As a side note, we weren't informed of the shared bath until our money was accepted and we were confirmed. The second 'b' was skimpy at best. There were a couple of packs of instant oatmeal and fruit in our welcome basket. We were told we could help ourselves to anything in the fridge, but there was no regular milk, no cream for coffee etc. The wall between their room and ours was so thin that we had to listen to his snoring. And with no tv to muffle the sound, we found we came in very late and didn't see little time there as possible. They would do well to address these issues before renting again. Thanks Rosemary Thiessen
Rosemary
2016-10-07T00:00:00Z
This farmhouse room was every bit as advertised. Clean, safe, and comfortable with a whole lot to offer I wish I could have stayed longer. The house was very nicely kept, updated and maintained its traditional charm. The bed was very comfortable and cozy. I would definitely stay here again on my next trip to wine country.
Jana
2016-09-27T00:00:00Z
There were great signs and notes to and in our room and a welcome basket. Location was great. It was just as we thought it would be.
Wendy
2016-10-02T00:00:00Z
A sweet little spot in McMinnville. Alyssa was great, even checking with me to make sure I was able to get in ok since I arrived pretty late. I felt very welcomed and taken care of. The bed was quite comfortable and cozy. Lots of nice little touches like a handwritten note to welcome me and a basket of snacks waiting in the room. The garden is beautiful and I was sad that I didn't have the time to enjoy it this trip. Overall a lovely experience!
Amy
2016-09-18T00:00:00Z
This is a wonderful place to stay. It's a 1920s two-story house that's been completely updated very comfortable. Alyssa was great to work with, communicated well and was a gracious host. I would definitely recommend this for anyone staying in McMinnville.
Robert
2016-09-22T00:00:00Z
Szoba típusa
Privát szoba
---
Ingatlan típusa
Ház
---
Férőhelyek
3
---
Hálószobák
McMinnville, Oregon, Egyesült Államok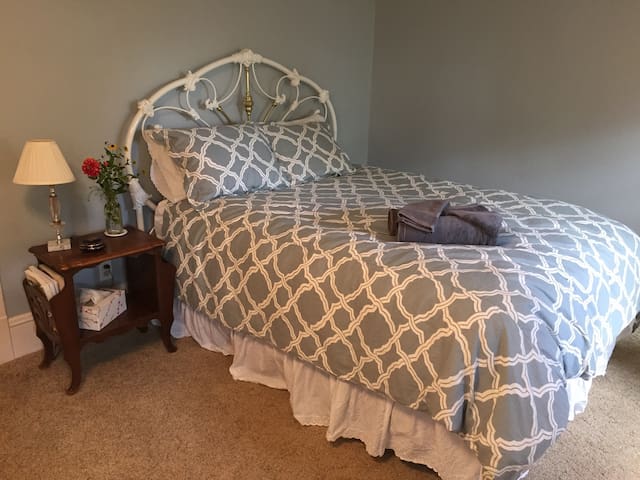 Nestled in the heart of the Granary district, in a quiet and comfortable neighborhood just blocks away from historic downtown, this 1929 Spanish revival bungalow was completely remodeled in 2014. Classic architectural features were preserved.
Inspired by Spanish architecture with arched windows and doorways we carefully remodeled and modernized the bungalow. The kitchen is equipped with all new stainless steel appliances, new cupboards and full size refrigerator. The rounded turret space in the kitchen contains a sunny breakfast table while the adjoining dining area has a table that seats 6 comfortably. The living room features arched leaded glass windows and a beautifully patterned oak floor. An armoire contains the TV.
The house is located in a quiet neighborhood just blocks away from fine dining options, casual pubs, and many wine tasting rooms.
Jean's bungalow was a wonderful home-base for visiting the vineyards and enjoying the amazing views in Willamette Valley. The town of McMinnville has unbelievable dining options, and the bungalow was a quick walk into town but at the same tucked away on a lovely, quiet neighborhood street. There were two of us, and the home felt very cozy and warm. We loved the gas stove, the radio in the living room and the bed and sofa were very comfortable. Jean and Don were great hosts, and they invited us to spend an evening at their home, watching the sunset and tasting wines before dinner. This is the best way to experience the valley! We will be back for sure.
Susan
2016-10-12T00:00:00Z
From start to finish this rental experience was perfect. The house was very clean and we all feel in love with the house and the Town of McMinnville. It was obvious that the owners took every step to ensure we enjoyed our stay. I would rent this unit again.
Mark
2016-07-12T00:00:00Z
Wow! If I were able to give more than 5 stars, I would. This beautiful home was everything I could've wanted for an extended stay. Jean was so very accommodating, flexible and a joy to deal with. Both she and her husband went out of their way to make us feel welcome. There was nothing we wanted for, as everything you could want was provided. The house was exceptionally clean and inviting. The location was a short walk from downtown in a quiet neighborhood. If you need a wonderful place to sty in McMinnville, this is it!
Cat
2016-12-02T00:00:00Z
Where to begin! This place was everything Jean said it would be and more. From the start, Jean was very communicative and helpful. In fact, there was roadwork in the neighborhood during our stay and Jean let me know ahead of time an alternate route. When we arrived, there was a wonderful bottle of wine, some chocolates, sparkling water, and a whole handful of suggestions for places to go in McMinnville. Truly above and beyond! The house was very clean and comfortable. We were so excited to find a deck of cards and a cribbage board. It is little things like this that set Jean's place apart from everywhere else. The house is fully stocked with everything you may need to cook, plenty of dishes and glassware. There were plenty of towels for us to use as well. The house is a short 5-10 minute walk from downtown McMinnville (visit the R. Stuart tasting room if you have a chance, it's great!). Linfield college is a short 5 minute drive away. So needless to say, the location is fantastic for visiting wine country.
Brian
2016-08-01T00:00:00Z
We had a wonderful stay at Jean's home. The house was incredibly unique, the backyard felt private and large and inside was everything we needed. Even better, it was a short walk to downtown McMinnville. I would highly recommend this home.
Lauren
2016-05-31T00:00:00Z
Jean and Don were fabulous. The extra special steps, they took to make it comfortable, was very thoughtful. They had a delicious bottle of wine and chocolates. The home was absolutely lovely. They did a tremendous job on this home. I loved it. We enjoyed one dinner in the back yard, just relaxing in the beautiful garden. It was a wonderful place to stay. I highly recommend this home.
Gayle
2016-05-09T00:00:00Z
We thorough enjoyed our stay. The house is lovely and just as pictured. Very convenient to downtown, and a great place to either use as a base for wine tasting or relax in the back yard! Super comfortable for 2-4 people, and fully stocked should you choose to cook. We highly recommend Jean's house!
Myra
2016-07-03T00:00:00Z
Szoba típusa
Teljes ház/lakás
---
Ingatlan típusa
Ház
---
Férőhelyek
4
---
Hálószobák
McMinnville, Oregon, Egyesült Államok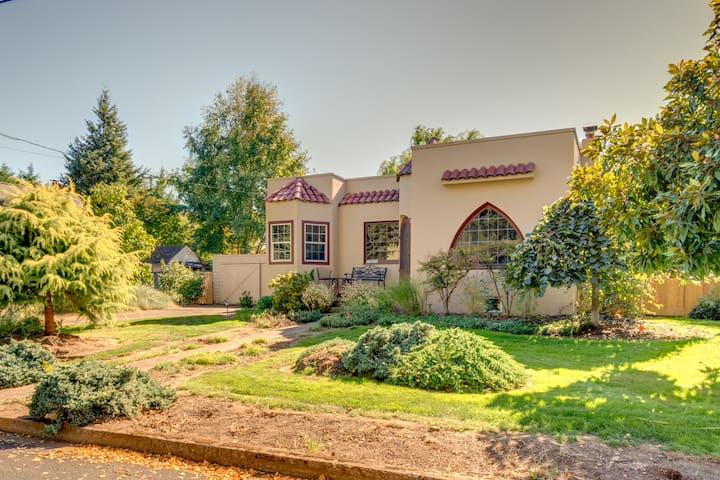 Our place is located in a quiet, peaceful location surrounded with beautiful views and lots of hiking and biking opportunities. It is set up for couples and 5 miles from downtown McMinnville..
A quiet, private retreat on a hill with view of Yamhill County wine country. Separate studio apt completely remodeled with new king bed, complete new kitchen, WiFi, TV. Sparkling clean and beautifully decorated. View is fantastic and lots of sitting places to enjoy it. Several miles of private hiking areas and a great county road for biking. Close to historic downtown McMinnville famous for it's fine dining.
Perfect place to stay. We went to a wedding at young berg winery. A short 5 minute drive. Clean, comfortable space, hosts are super friendly, delicious breakfast. Thank you Molly and Jim!
Nancy
2016-08-20T00:00:00Z
We had a wonderful stay at the very charming cottage in the woods. Beautiful views of forrest and meadow. It had everything we could have ever wanted. Molly spoiled us with fresh quiche and other goodies. We hike the trails through the woods. We enjoyed every minute. Thank you!
Janet
2016-10-02T00:00:00Z
Jim and Molly met us upon arrival and were the most gracious of hosts. The facility was clean and neat. The surrounding woods were beautiful with the ability to sit on the nearby gazebo enjoy the views with a nice glass of wine made our stay simply priceless.
Dave
2016-06-28T00:00:00Z
This place is a gem! Molly and Jim were wonderful hosts. They achieved just the right balance between making sure we felt welcome and comfortable and giving us our space to enjoy a relaxing stay. Molly greeted us with some treats when we arrived and stocked the kitchenette with an array of breakfast items. The studio was also well-stocked with all the essentials and more. The location was picturesque and peaceful. We enjoyed a quiet walk along the nature trail on their property. It was an easy 10-15 minute drive to downtown McMinnville, and even closer to some of the area's beautiful wine country. We attended a wedding at Youngberg Hill Estate (URL HIDDEN) and the drive was less than 5 minutes. This is definitely a place to visit... and revisit!
Lindsey
2016-07-10T00:00:00Z
We had a lovely stay at Molly and Jims. The property exceeded our expectations and we hope to stay again sometime in the near future!
Veronica
2016-07-25T00:00:00Z
The host canceled this reservation 45 days before arrival. This is an automated posting.
Kevin
2016-10-11T00:00:00Z
As we drove in, our hosts walked out to greet us with homemade blueberry muffins, blueberries, cherries, and a frittata to be heated for breakfast the next morning. They were extremely cordial, considerate and informative. The cottage was immaculate, far better equipped than any B&B we have stayed in, with a well-stocked refrigerator. The B&B overlooks a beautiful meadow and hills on one side and beautiful forest with a walking trail on the other side. We know of no way they could improve the B&B and we would stay there again in a minute.
Leland
2016-07-04T00:00:00Z
The welcoming woods were fantastic. A comfortable and pleasant place to stay, and the private nature walk on the property was an unexpected extra treat. We wished we had been staying in town for longer than one night
Jocelyn
2016-09-05T00:00:00Z
Szoba típusa
Teljes ház/lakás
---
Ingatlan típusa
Szoba reggelivel
---
Férőhelyek
2
---
Hálószobák
McMinnville, Oregon, Egyesült Államok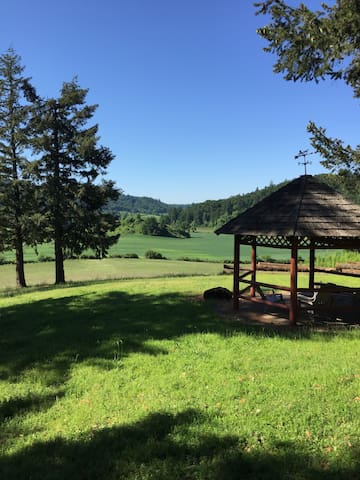 Our cozy studio cottage offers an affordable comfort in a great neighborhood within walking distance to historic Third Street in McMinnville. The cottage overlooks a large private yard and garden with BBQ, fire pit and plenty of room to relax.
Our cottage is located in a quiet neighborhood in McMinnville. It takes 10 minutes to walk into town, pool, library, or city park. It comfortably sleeps two people. The cottage faces into a large private backyard.
We live in an older neighborhood in McMinnville. It is a good place to have children, close to school and town.
My stay at Connie's cottage was fantastic. The cottage was clean, adorable, and perfect for a weekend stay. I also appreciated the small touches such as shampoo/conditioner/body wash that she had available.
Nicole
2015-09-21T00:00:00Z
Wonderful spot; private with lovely garden. Perfect location and comfy bed! Would highly recommend to anyone who wants to stay in McMinnville.
Karen
2016-07-31T00:00:00Z
What a delightful stay! Wonderful hosts, darling cottage, and a backyard I would have loved to have enjoyed (had it not been a rainy weekend!) The perfect spot to be on a lovely weekend trip to McMinnville. Thank you Connie!
Andrea
2016-05-16T00:00:00Z
Connie was very welcoming. The space was nice, clean, as advertised etc. and I really enjoyed relaxing there for three nights. Downtown and it's coffee shops, restaurants, farmers market ,breweries and wineries is only a short walk. I ran the streets, swam at the pool and rode my bike in the vineyards, and would happily go back and do it all again!
Matt
2014-07-19T00:00:00Z
Lights on; door open as we arrived when she was not there.
Karen
2016-11-13T00:00:00Z
What a gorgeous cottage! The perfect base to explore the delights of the stunning surrounding wine regions. Connie and Marc have created a little cosy haven which we just loved. It's in a great, quiet location just a few short minutes stroll from the lovely restaurants etc of downtown McMinnville. We were very sorry not to be Connie, our paths didn't cross, but her husband Marc was charming and very helpful - we'd love to stay again.
rosamund
2015-09-05T00:00:00Z
Connie was great about communication leading up to the check-in process and greeted us at the door of the Cottage. She was pleasant and friendly while giving us a rundown on the amenities of the cottage. My wife and I were in town for the Linfield Homecoming weekend and this was a perfect little place for the two of us. The bed was comfy, it was quiet and peaceful and the whole studio cottage was very welcoming.
Andy
2016-10-03T00:00:00Z
We loved our stay at Connie's cottage. Great location, and incredibly helpful and friendly host. We would definitely stay here again the next time we're in Willamette Valley!
Liz
2016-07-25T00:00:00Z
Szoba típusa
Teljes ház/lakás
---
Ingatlan típusa
Ház
---
Férőhelyek
2
---
Hálószobák
McMinnville, Oregon, Egyesült Államok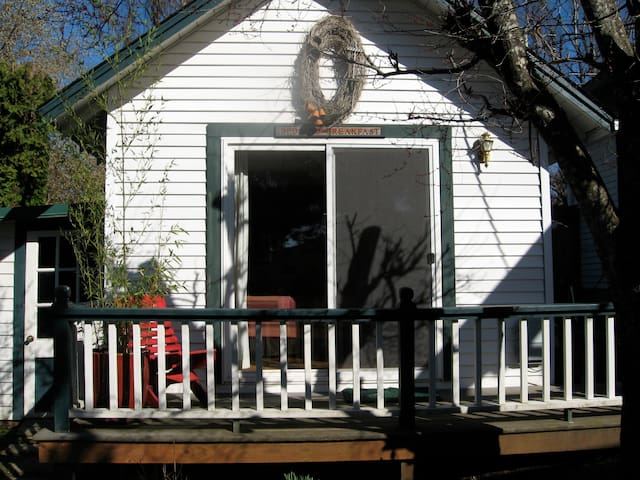 This house has all the character of a 110 year old house with many charming comforts to make your stay in wine country lovely and memorable.
We are a young family bringing back the charm of our lovely 1909 craftsman home. Located only two blocks off of main street in one of the oldest neighborhoods in McMinnville, our three bedroom and two full bathroom home is perfect for a family vacation (the largest playground in town is just across the street) or for a couple's getaway (you can easily walk to some of the best restaurants and bars in the whole valley). Our house sleeps 6 people in real beds and 6 more in unconventional beds. We have 3 bedrooms: The large upstairs bedroom has one queen size bed with a full size click-clack sofa bed. The sofa clicks down into a firm sleeping surface the size of a full size bed. Great for two smaller people or one person. The smaller upstairs bedroom has one full size bed and another click clack sofa that fold down to a firm double bed size sleeping surface. The downstairs bedroom has one queen size bed and a small table and chair. We have a queen size Aerobed air mattress that we can set up in the living room to make enough beds for 2 more. The house sleeps 10 easily but 12 if you don't mind being a little cozy. The kitchen has a Bosch electric range and is fully stocked. We have two bathrooms. The main bathroom has a walk in shower with two shower heads. The upstairs bathroom has a claw foot tub and a short shower head. We provide linens, soap, shampoo and conditioner. We have a Smart TV that can access Netflix. A few things that we don't have are TV stations/cable and a landline phone. I'm sorry for the inconvenience, but we don't seem to miss them. It makes for a quiet and relaxing home! We do have internet access for our guests. We do charge a $30 additional fee per dog. Please let me know if you plan to bring your furry friend and I'll put the dog bed out:) The back yard has a large koi pond, lovely maple trees, a small garden, and fire pit. There is a Weber gas grill and a large table for outdoor meals. It's the perfect backyard for a summer evening. Off street parking available for two cars. Our home is centrally located in McMinnville. We are across the street from the McMinnville Chamber of Commerce and two blocks from our treasured downtown on 3rd st. 3rd st has a large variety of great restaurants and some nice nooks for a drink. The Bitter Monk is a tastefully done taproom on 3rd and Cowls that has an extensive beer list. Nick's Backroom is a great place to stop in for a glass of wine and a small plate. Access to Nick's Backroom is down the alley off of Evans st. between 4th and 3rd. It is part of Nicks Italian Cafe. The Library, aquatic center, and City Park are just across a parking lot from us. 10-15 minute walk to Linfield's campus and location for IPNC (International Pinot Noir Celebration). `
Our favorite thing about the neighborhood is how close we are to downtown. We often stroll downtown after dinner for a late night cocktail at Thistle or a scoop of icecream at Serendipity.
We had a wonderful weekend. We were in Oregon for graduation weekend from Oregon state university. McMinnville was about 45 min from corvallis, the Portland airport and also the Oregon coast. The house was comfortable and so cute! We loved it and will hopefully be back to explore some more of Oregon, thank you Brielle for a great weekend
Lynne
2014-06-17T00:00:00Z
The house has great character and is in a fabulous location. Parking was easy. The wi-fi was fantastic and we enjoyed being able to watch our Netflix shows. Restaurants/diners/cafes are within easy walking distance. Wildwood Cafe makes an excellent breakfast. We would stay here again.
Rena
2017-01-14T00:00:00Z
The house is really perfect for a family trip. We had kids and grandkids in and out. The parks, library and local shops and restaurants were a huge benefit. Beds are comfy, kitchen is fun to cook in, backyard is great for an early evening get together. We'd come back again. Brielle is easy to work with.
Kellian
2017-04-06T00:00:00Z
We really loved being within walking distance of all the downtown shops and restaurants. The home was comfortable, cool and spacious.
harriett
2015-09-21T00:00:00Z
Great house for a retreat with friends. The house is comfortable, kitchen is well stocked and the decor is delightful.
Tina
2017-03-26T00:00:00Z
Look no further! This Maple and Thorn house is perfect for a stay in McMinnville. My husband and 3 month old recently stayed and enjoyed the comforts of this lovely home. We were able to have morning runs through town then walk to coffee or breakfast places. It was comfortable, well decorated and very clean with modern updates. Brielle is extremely friendly and helpful. She was always quick to reply to my questions and checked on us during our stay. I would love to stay here again and highly recommend this to you, enjoy!
Erin
2016-03-07T00:00:00Z
Great Location and Brielle made the experience awesome and welcoming. She answered all questions we had and the fact that she welcomed dogs was and extreme plus. The backyard with the fire pit and koi pond was made staying home during the evening a relaxing one. About a 5 to 10 minute walk to the main action of McMinnville and about 2 seconds to the park, which was great for the dogs. We would highly recommend!
Carlo
2016-01-03T00:00:00Z
We were very excited to stay there based on the photos and location. When we arrived it was even better than we expected. It was filled with vintage charm and all of the modern conveniences you need. It reminded us a lot of our home and was clean and comfortable. They had everything we needed to cook meals at the house. The location can't be beat if you're looking for something in town. It's very quiet for being so close to a busy street and in the heart of McMinnville. On our last night we realized there was a very nice community center with an indoor pool just across the street - great if you have kids. There is also a beautiful park less than a block away that we didn't get a chance to explore. This is only one reason to book our next stay. The fenced backyard was great for our dog. The only negative some people may find is that there isn't cable. I loved it! I don't know why anyone would want to stay in and watch TV when you can explore McMinnville, discovery great wine, and play games or visit with friends or family in the open living room/dining room area. We are definitely come back!
Larisa
2014-11-23T00:00:00Z
Szoba típusa
Teljes ház/lakás
---
Ingatlan típusa
Ház
---
Férőhelyek
12
---
Hálószobák
McMinnville, Oregon, Egyesült Államok
McMinnville - Airbnb
:
Átlagosan

4.94

az összesen

5

csillagból,

481

vendég véleménye alapján
Add meg az időpontokat a teljes ár megtekintéséhez. Felmerülhetnek további költségek illetve adók.