Jane was a wonderful host! Everything was clean and welcoming! The farm where it is located is absolutely beautiful!
Ian
2016-11-21T00:00:00Z
Jane's place was beautiful! The scenery, the peace and quiet, the gorgeous horses, I only wish we could've stayed longer. The apartment was welcoming and comfortable, beds were cozy and inviting, everything was perfect. We will definitely be back!
Mandy
2017-03-19T00:00:00Z
Jane and Bob were excellent hosts. The apartment was even more beautiful in person. If I ever come back that way I will be sure to give Jane a call.
Michelle
2016-09-05T00:00:00Z
Nice and clean place! Very nice family, thank you for having us.
John
2016-09-25T00:00:00Z
Jane's barn apt was a great place to stay for my fiancé and I while traveling for the holidays. The apt is on the left side of a working barn. You can even see the horses inside from the upstairs bedrooms. Jane had everything ready and even provided a bottle a wine and cookies. 2 notes to future guests: 1. The bedrooms have a twin bed each. 2. The farm hands started coming in and working in the barn at about 4:30am, so if you're a light sleeper maybe have some ear plugs? The noise woke up my fiancé, but I didn't notice. I wish we were able to stay longer and explore the farm, but we were just needing a break from the road.
Erin
2016-12-29T00:00:00Z
Bob and Jane's barnyard apartment is just wonderful. It's delightfully decorated with western decor, very comfortable and fully equipped with a kitchen, wifi, and a lot of extras. Bob and Jane thought everything and made us feel welcome and part of their farm family. The barnyard staff were also very friendly. Overall we had a memorable trip and we will surely be back soon to stay here again.
Lisa
2016-11-18T00:00:00Z
Szoba típusa
Teljes ház/lakás
---
Ingatlan típusa
Lakás
---
Férőhelyek
5
---
Hálószobák
Olive Hill, Kentucky, Egyesült Államok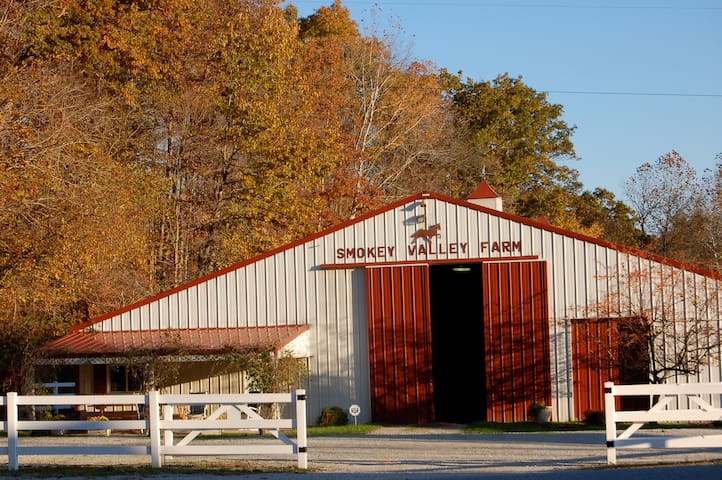 Studio apt una camera da letto
The place was definitely cozy and warm. Marylou was quite responsive over the phone when her place was slightly hard to find and had her son sent over to get is a couple miles away from her abode. There were good snacks. The separate guest accommodation was clean however there were a few shortcomings I would like to note for which I wouldn't exactly call it value for Money. There was no internet from what was suggested through the filter. The bed had a nice spring mattress (apart from minor squeaking noises). The place was overall clean but there was no garbage can to be found anywhere. Overall It's a good choice to stop by if your passing through Olive Hill Lentucky
Usama
2016-12-11T00:00:00Z
Marylou was extremely cordial and helpful. She pointed out places we could visit in the area, gave us a brief history of her farm, and provided us with an abundance of snacks and food. The location was peaceful and lovely. It was the perfect place to stop on our trip from Pittsburgh to southwestern Kentucky.
Mike
2016-09-09T00:00:00Z
This is a cozy little place in the scenic hills of Kentucky. As we were there for some family business it was a good place to come back to and relax in the peace and quietude of the country. Everyone was very helpful with whatever we needed. All in all it is a good place if you are looking for peace and quiet.
Kris
2017-01-24T00:00:00Z
A lovely, cozy place in a lovely, beautiful setting, with a lovely, attentive hostess! Marylou was extremely communicative and accommodating. I also met her most courteous and gracious grandson who even carried my bags into the house. The drive from the highway was particularly lovely. Very relaxing, quite accommodations with everything and more than I needed. I hope to stay here again when visiting the area. It was perfect for my kayaking trip to the Grayson Lake area.
Lisa G.
2016-10-30T00:00:00Z
It was an alright place to stay overnight while passing through town. Unfortunately it only had one small space heater; no heat otherwise.
Anna
2017-01-29T00:00:00Z
Szoba típusa
Privát szoba
---
Ingatlan típusa
Lakás
---
Férőhelyek
2
---
Hálószobák
Olive Hill, Kentucky, Egyesült Államok
Add meg az időpontokat a teljes ár megtekintéséhez. Felmerülhetnek további költségek illetve adók.