Der Raum besteht aus einem geräumigen, komfortablen Zimmer mit separater Küche mit Essbereich und ein eigenes Bad und Außenterrasse. Das Schlafzimmer ist mit Schrank ausgestattet, um Ihre Kleidung und speichern Taschen aufhängen. Ein Whirlpool steht Ihnen nach Vorkehrungen zur Verfügung.
Das 2-Zimmer plus Bad Studio ist Teil eines Einfamilienhauses. Mein Mann und ich leben im Hauptteil des Hauses, das Studio verfügt über einen separaten, eigenen Eingang, der über die Rückseite des Hauses zugegriffen wird. Das Gerät besteht aus einer Küche / Essbereich, geräumiges Schlafzimmer mit Doppelbett und eigenem Bad Zur Ausstattung gehören: Whirpoolwanne Handtuchwärmer Voll ausgestattete Küche
Mori Punkt sowie andere große Wander- und Radwege sind zu Fuß erreichbar oder nur eine kurze Autofahrt entfernt. Pacifica hat mehrere gute Restaurants: Moonraker, Surfspot, Puerto 27 und Salada Beach Cafe, Dinosaurier Vietnamese Sandwiches einige unserer Favoriten sind. Oceana Markt, ein paar Antiquitätenläden, Schmuck, Kaffee, Yoga, Fitness-Studio und nicht zuletzt Sharp Park Golfplatz sind alle leicht zu Fuß zu erreichen.
Accueil parfait. Confort sur place au delà de la description. Adresse à recommander.
Jean-Jacques
2016-09-12T00:00:00Z
What a lovely and comfortable setting! Annemie was a wonderful host helping us feel right at home. A place to return to!
Carol
2016-05-25T00:00:00Z
super host! Nice location for beach, downtown, paloalto..! Easy to park. Really clean and cozy.(the most important part) and spacious. Everything was just perfect. I would definitely stay annemies's house again!
jong sook
2017-01-18T00:00:00Z
This was a fantastic stay. The home is clean and beautiful. Annemie was a wonderful host who made sure we had all we needed. Only a minute walk to the beach, absolutely wonderful!
Chris
2016-01-25T00:00:00Z
My friend and I had a GREAT time staying here. We woke up every morning and made breakfast with the things that were left for us (eggs, oatmeal, coffee, croissants) which was super sweet of Annemie. And then walked to the ocean, the view was beautiful! We went hiking as well. We went to San Fran via uber which wasn't bad at all! It was about a 20-25 ride and only cost about $15-$17 depending on the time. We also enjoyed the hot tub! We would definitely stay here again!
Cassy
2016-11-06T00:00:00Z
Annemie and Kevin were great hosts. The communication was always great. Their apartment was well-decorated and super clean. It felt like a little piece of home to us. A few places for having breakfast are at walking-distance, although Annemie left us a few goodies to prepare our own breakfast-which can be easily done in the well equipped kitchen. The best part was being so close to the ocean, which one can even hear when lying in the comfy bed with the windows open. We would definetely love to stay here again.
Franziska
2016-06-04T00:00:00Z
(URL HIDDEN) always.
Vicki
2017-01-06T00:00:00Z
Definitely recommend for an awesome, relaxing Oceanside experience
Steve
2017-02-12T00:00:00Z
Szoba típusa
Teljes ház/lakás
---
Ingatlan típusa
Ház
---
Férőhelyek
2
---
Hálószobák
Pacifica, Kalifornia, Egyesült Államok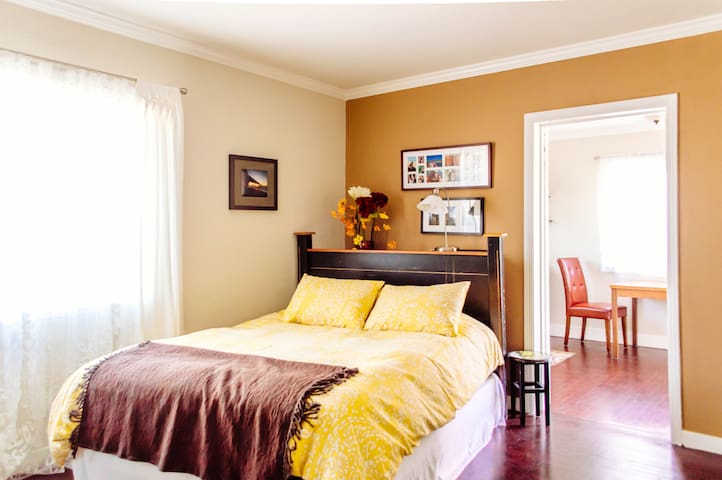 Kommen Sie unsere saubere und komfortable Villa in der Toskana mit Blick auf den Pazifischen Ozean genießen! Sie werden vollständig von der Natur umgeben sein. Wake up, um den Gesang der Vögel, Hasen-Hopping, roten Falken Schwanz hochfliegend und Hirsche schlendert. Setzen Sie sich auf die Terrasse und den Sonnenuntergang zu beobachten oder zu Fuß aus der Tür für eine Wanderung !! Nur 20 Minuten nach SF.
Unsere Wohnung ist ein von einer Art in der malerischen Küstenstadt Pacifica. Es verfügt über alle modernen Annehmlichkeiten, die Sie brauchen, um Ihren Aufenthalt wunderbar zu machen! Es wird 4 in Betten, zwei Königinnen aufzunehmen (wenn Sie eine 5. und 6. Person haben haben wir eine Königin zur Verfügung Luftmatratze). Es gibt viel Freiraum zum Abhängen. Große eigene Küche für alle Ihre Bedürfnisse Kochen mit einer Tabelle, die sechs oder mehr Sitze. Das Bad ist geräumig, modern und immer sauber! Der beste Teil ist die große Veranda, die über dem Pazifischen Ozean blickt! Ein toller Ort zum am Ende des Tages den Sonnenuntergang zu genießen! Die Wohnung ist Garten-Ebene, so dass keine Treppen. Wir sind behindertengerecht.
Unsere Nachbarschaft befindet sich nur 15 Minuten vom Flughafen San Francisco, 10 Minuten Fahrt zu BART befindet (Bay Area Rapid Transit, mit dem Sie auf SF in 20 min erhalten wird) und nur 20 Minuten Fahrt zum Zentrum von San Francisco (je nach Verkehr ). Es ist ruhig und gelassen mit nichts als sanften Hügeln und Meer, wohin man schaut und es gibt nur einen angrenzenden Nachbarn. Es gibt eine wunderbare kleine Gourmet-Supermarkt nur auf der Straße sowie die Salada Café, die frischen Saft macht, Kaffee, Gebäck und ein reichhaltiges Frühstück und Lunch-Menü .... LECKER! Oder gehen Sie zu einem alten Familien Restaurant Nicks, die ein preisgekröntes Krabben-Sandwich serviert YUM! Linda Mar Beach ist ein Spaß und sicheres Surfen und Schwimmen Strand nur 10 Minuten entfernt. Kopf nach unten Highway 1 zu erkunden andere Städte wie Half Moon Bay, berühmten Strand Brettweg in Santa Cruz, Monterey, Carmel, um nur einige zu nennen.
This was an ideal location - adorable low-key community, convenient to San Francisco, stunning ocean and mountain views. The home itself is modern, clean, and furnished with absolutely everything you might need. The private entrance and patio really make it your own. Mars was so friendly and easy to communicate with, and her dining recommendations were great. Perfect spot!
diane
2016-04-17T00:00:00Z
This gorgeous, brand new guest apartment in the coastal city of Pacifica, south of San Francisco, is such a find. Not only is it more affordable than any SF hotel room, but infinitely more spacious and nicer. When we arrived late after a long day of driving up from LA in holiday traffic, we literally gasped at how nice everything was! The apartment is spotlessly clean, with a lovely bathroom and huge kitchen plus the largest TV set we have ever seen. The beds are comfy and it is blissfully quiet up there. The location at the end of the street, nestled next to the hillside, and the ocean views, were also breathtaking. You can drive into San Francisco in just 20 minutes or so, and if you know how dense the building mass in the city is, you will appreciate the space in Pacifica even more. :) We only got to meet the lovely Mars when we were leaving, as she had been away dealing with a family funeral, but she and her husband (who we kept missing due to our late hours!) communicated with us throughout our stay and were very welcoming. We hope to be back for longer next time!
Elisabeth
2014-07-10T00:00:00Z
Great Experience in Pacifica! Beautiful location. Literally highest house in that part of pacifica. Great Ocean views and location to head into San Francisco or down to Santa Cruz. Pacifica itself is nice cozy town, with good food and laid back feel. Perfect for our family of four, with two young children. Our apartment was spotless, modern, with all the amenities (Washer Dryer, full kitchen, full cable tv selection and Wifi). Mars and her family were very warm hosts and attentive to our needs. I plan on staying again some day.
Bryan
2014-07-24T00:00:00Z
I had a wonderful relaxing stay at the villa. Everything was exactly as described and very comfortable. Thank you for everything Mars!
Michelle
2014-07-25T00:00:00Z
This place was exactly how it looked in the pictures and was an excellent place for us to stay in while visiting the area for the 2 nights. Mars was super helpful and really friendly. Had everything we needed and the place was well furnished and had a top notch finish. You will need a car if you are staying here which we did but Mars was super and would definitely stay again. Thanks Mars.
Gary
2016-07-02T00:00:00Z
we absolutely loved the place, just like the pictures show. Mars was very kind and helpful with things to do. We were in a nice quiet area. Our dog also enjoyed the surroundings. We will definitely look into going back. Love the beach and the close by hiking trails.
Anna
2015-04-19T00:00:00Z
We had a great experience and would definitely repeat. The house is close to SF, the airport, all of the peninsula in general... And yet you are completely removed from the bustle. Listing was accurate. Neighborhood safe and quite. Mars made our late arrival as easy as if we arrived at a normal time.
Marisel
2016-06-07T00:00:00Z
Mars greeted me with a warm smile as I pulled up! She was very informative about the area and seems to love to have us as her guest! After she let us in, our experience was completely private, fun, and just like in the pictures. The place in my humble opinion is the best bang for your buck you can buy. The beds were comfy, the room was huge and very modern and clean. Words can't really describe the place, you are just going to have to book it and find out for your self! :) Thanks again to Mars for sharing her lovely home! Will strongly recommend any of my friends traveling through to stay here!
David
2016-07-27T00:00:00Z
Szoba típusa
Teljes ház/lakás
---
Ingatlan típusa
Lakás
---
Férőhelyek
6
---
Hálószobák
Pacifica, Kalifornia, Egyesült Államok
Den smukke Guest House & Jacuzzi er skridt væk fra promenaden til Pacifica State strand, Berømte Fishing Pier, Mori punkt Vandreture forsøg, golfbanen & nær ved restauranter. Super let og hurtig pendler til San Francisco og SFO.
Dens en nice størrelse suite (værelse, badeværelse, egen indgang) med masser af skuffe og skabsplads. Dens meget ren med smukke strøelse og møbler. Gratis flaske lækker rødvin. :) Nyd af jacuzzien eller se bølgerne! Også to flasker gratis vand.
Ren luft, masser af parkeringspladser, havet og bjergene, vandreture, bekvemmelighed. Fiskeri, Surfing, Golf, etc ... Pacifica får mere end sin andel af tåge i sommeren, og det gør en fremvisning på andre tidspunkter også. Men da vi er på havet niveau, vi har en tendens til oftest være "under tågen ', selv når det ser ud.
The hosts provided a nice bottle of red wine and chocolates for our arrival. The room was very clean, nicely decorated, and just as advertised. The ocean is right across the rarely used street and parking was easy. The neighborhood is nice and friendly. We were given detailed instructions how to check in so there was no confusion.
Laureen
2016-04-15T00:00:00Z
Incredible hosts and such a beautiful location - one really couldn't ask for more! Howard really goes above and beyond to be a great host, providing excellent recommendations for the area, letting us know he's available if there's anything we need, but all without incringing on our privacy. I would highly recommend this listing to anyone looking for a get-away.
Erica
2015-05-22T00:00:00Z
I rented this place for my son and his wife on the evening they got married. Here's what my son had to say about it. It's a VERY cute spot. Loved the modern & clean feel, comfortable bed & pillows, nice shower. The hot tub if three steps from the door and there's a power hot air blower in the bathroom which you can be grateful for on those chilly mornings! Step outside and you're walking on the beach. Coffee shop less than a block away and the Pacifica pier makes for interesting morning surf watching. Howard was very accommodating. We told him we'd love to come back often, possibly every six months or so.
Tommy
2015-05-18T00:00:00Z
The ocean front house was great. We enjoyed the space and hottub. The house is across the street from the ocean and couldn't be more convenient. The pier and a small coffee shop are right there. Howard was very friendly and accommodating. We will definitely be back!
Paul
2015-04-13T00:00:00Z
Everything was great! The location the hosts and the place itself were perfect! I would definitely recommend this place to anyone. Look forward to staying here again in the future!
Matt
2015-07-16T00:00:00Z
Beautiful location steps from the ocean & pier. Howard is a gracious host. Nice to find a bottle of wine & bottled water upon arrival.Very private "casita". We will be back!
philip
2015-04-06T00:00:00Z
The stay was wonderful. We love the privacy and quietness. Unit was very clean,included everything we needed. My husband and i enjoyed the walks on the beach. Cheng & Howard were able to accomodate our very late check-in and early check-out times. We checked out some of the cafe and bakeries Cheng & Howard recommended. Thanks for the suggestions! The pastries were yummy!
Mary
2015-08-25T00:00:00Z
We were looking for a place close to the airport after a busy fun filled vacation in San Francisco. We only stayed one night and it was perfect. The room was clean and beautiful. A complimentary bottle of wine along with a walk on the pier across the street was just what we needed to unwind and prepare for our journey home. Sleeping with the window open and the sounds of the surf was the icing on the cake. Thanks for a perfect end to a great vacation.
Alicia
2015-06-30T00:00:00Z
Szoba típusa
Privát szoba
---
Ingatlan típusa
Ház
---
Férőhelyek
3
---
Hálószobák
Pacifica, Kalifornia, Egyesült Államok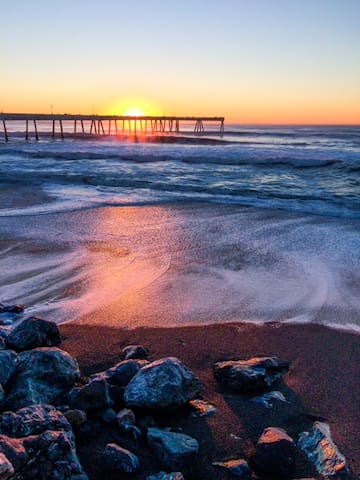 Schöne, gemütliche In-Law-Suite mit eigenem separatem Eingang. Geräumig, ruhig, sauber und neu eingerichtet. Kein Meerblick von der Einheit, sondern buchstäblich Schritte zu Sharp Park Beach. Kurzer Weg zum Mori Punkt Trails, Pacifica Fishing Pier und Sharp Park Golf Course. Bleiben Sie mit uns und lassen Sie die Klänge des Ozeans Ihren Geist beruhigen.
Privatwohnung in unserem Haus am Meer mit separatem Eingang. Einheit verfügt über ein Schlafzimmer mit einem sehr komfortablen Doppelbett und ein geräumiges Wohnzimmer mit HD-TV, DVD-Player, elektrischer Kamin und eigenem Bad. Einheit umfasst auch Mikrowelle, Kühlschrank und kostenlosem Kaffee, Tee und Wasser. Es gibt auch einen ruhigen Sitzecke im Hinterhof. Ausreichend kostenlose Parkplätze.
Tolle Lage für eine duale Erfahrung auf dem San Francisco besucht haben! Bleiben Sie auf dem Ozean und nehmen täglich Ausflüge zu den Sehenswürdigkeiten von San Francisco zu besuchen. Das Hotel liegt in einer malerischen, ruhigen und sicheren Meer Nachbarschaft und bietet eine entspannte "home away from home" für Urlauber und Geschäftsreisende. Hören Sie die Wellen und genießen Sie atemberaubende Sonnenuntergänge, das Meer und die Berge. Schritte zum Strand, Angeln Pier, Wanderwege und in der Nähe Golfplatz und Restaurants.
This little private suite was like a "home away from home" - my husband and I felt very comfortable. It was very cute, clean and quiet. The beach was amazing to see and hear each day. There is also a very beautiful hike with amazing views. It is also close to San Francisco. The neighborhood is quiet as well, with easy parking.
Marley
2016-11-10T00:00:00Z
The apartment was beautiful and spacious. The pictures didn't do it justice. The amazing ocean view and close proximity to Mori Point as well as the short distance to San Fran made the stay convenient. Dave was an amazing host. He provided some ideas for things to do in the city, brought over warm scones, and made us feel completely comfortable. I would return to Dave's place if I find myself back in Pacifica.
Elizabeth
2016-08-01T00:00:00Z
Wonderful stay.
Kurt
2016-06-06T00:00:00Z
Dave & Socorro were perfect hosts, and the living space was absolutely wonderful. It was obvious they had thought through everything a guest would want or need. They even went above and beyond expectations numerous times -- bringing food, and medicine when my wife wasn't feeling well, giving us free tickets to the local movie theater, stuff like that. It was a comfortably private space for us on the lower level, with their living space on the second floor. Also, we are glad we had a rental (URL HIDDEN) a 15-40 minute drive to some fantastic attractions in the Bay area. Very doable, and traffic was not near as bad as I thought it might be.
Dustin
2016-07-24T00:00:00Z
Dave and Socorro were excellent hosts, they go above and beyond! This was by far the best Airbnb experience, they have set the bar very high! We agree with the past reviews wishing we could have spent more time just getting to know them. Their home was a vacation in itself. If you're in San Francisco you have to stay with them!
Courtney
2016-08-03T00:00:00Z
The place is absolutely amazing. Steps from the beach which is so clean and breathtaking. The trail to the point is fantastic. Everything in rooms was clean and just what we needed. A very spacious living room area. I highly recommend and will definitely stay there again!
Maureen
2016-03-23T00:00:00Z
We got to our destination and simply called Soccoro and she met us out front, Big smile,Very friendly. My first impression of the living room had to be the great new smell,and artistic lighting. My wife and I got cozy and just sat in the Lazy Boy couch and chair listening to the ocean. After dinner at Moonraker we enjoyed the T V and faux fireplace, Very nice. The sound of the waves crashing made for a great night of sleep.I like hot tea and my wife likes coffee both were provided and perfect for the occasion. We are planning another anniversary here next year.
Joe
2016-04-10T00:00:00Z
Hands down, this is they place to stay when visiting San Francisco! We stayed in downtown after our stay in Pacifica and it was loud, small and just doesn't have that same "home" feeling as Dave and Sacorro's place. I will only stay here in the future if we're lucky enough to travel when they have availability.
Laura + Chris
2016-09-17T00:00:00Z
Szoba típusa
Teljes ház/lakás
---
Ingatlan típusa
Ház
---
Férőhelyek
2
---
Hálószobák
Pacifica, Kalifornia, Egyesült Államok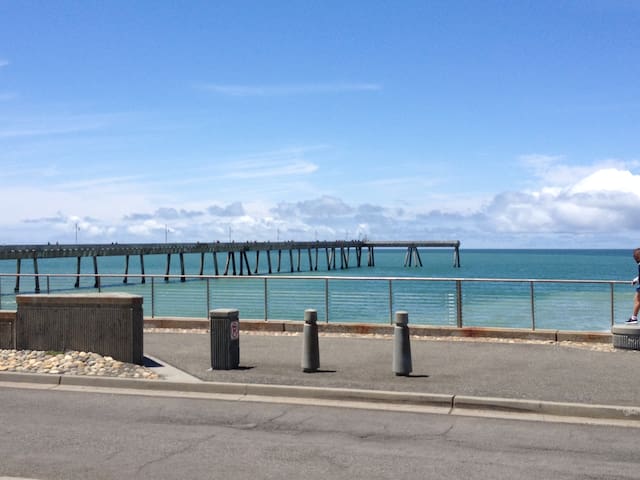 3间卧室2间浴室1040平方英尺单家独户的房子3舒适的大床。 免费设施: 洗衣机和烘干机,燃气灶,冰箱,烧烤炉,微波炉,洗碗机,热水器,康卡斯特高速无线网络连接,木壁炉等。 位置: 从旧金山国际机场15英里远 从旧金山10英里远 距离半月湾海滩10英里远 5分钟步行到Safeway公司,星巴克,爱色丽艾滋病,BOA,地铁。 10分钟步行到Pacifica的州立海滩
Good
jie ren
2016-08-09T00:00:00Z
I communicated with the host a few times and he was very accommodating. The house is very lovely. All rooms were clean and nicely decorated. The house has 3 little areas in backyard that were inviting, full with flowers and comfortable outdoor furniture. The kitchen was stuffed with all cooking supplies (like sugar, oil, spices, coffee, hot chocolate, etc.) that I did not even expect to find. The house is located a few minutes from the Linda Mar beach and in the walking distance from the shopping plaza with Safeway. Everybody in my party was impressed with the house. We had completely enjoyable stay.
Ella
2016-10-22T00:00:00Z
The house was clean and very convenient to the City. It served as a great base location for us to explore San Francisco, as well as take a drive down the coast. The neighborhood was full of well-maintained homes. Overall, we'd love to stay at Man's place again the next time we travel to the Bay Area and recommend others consider it as an option.
Richard
2017-03-12T00:00:00Z
Accommodations and location were exceptional. Grocery store & restaurants closeby.
Cindy
2016-10-10T00:00:00Z
My overall experience was amazing the house is well kept and presentable. My trip was booked as last minute trip to San Francisco, but what was available was out of budget or booked already. So we settle for this location and it turned out to be great. Pacifica is a great little city 20 min out of San Francisco.
Cesar
2016-10-03T00:00:00Z
Man was an excellent host! He's very friendly and easy to communicate via email & phone. The house itself was clean and organized. Had all the amenities we need and more - complete kitchenware, dryer & washer machine, bbq grill & equipments, etc. We truly enjoyed our one week stay at Man's place and it felt like home! Big rooms and living/dining space, it fits 5 of us comfortably. Location wise it's 20 minutes from SF, and there's a plaza where some restaurants, Ross, and safeway are within walking distance. Plenty of parking at night, which is a huge plus compare to the city. Would definitely recommend Man's place!!
Alice
2016-09-09T00:00:00Z
Great location, walking distance to grocery stores and starbucks!
Bobbie
2016-09-18T00:00:00Z
Mr. Man, Thank you so much for everything! We totally enjoyed our stay here in the San Francisco area and your house was a perfect setting for us to relax and enjoy! You thought of everything! Our accommodations were perfect & we apprec iate you being an airbnb host! BTW, I was recommended to Airbnb by my daughter who travels a lot. This was my first experience renting a home and it was great! Thanks to your attention to little details we didn't have to go out to buy extra toiletries or paper goods! The extra amenities you added in the restrooms & kitchen were greatly appreciated. I will surely pass on this wonderful experience to all my friends and family! Thanks again! to all my friends!
Myrna
2017-03-17T00:00:00Z
Szoba típusa
Teljes ház/lakás
---
Ingatlan típusa
Ház
---
Férőhelyek
6
---
Hálószobák
Pacifica, Kalifornia, Egyesült Államok
In-law Studio mit eigenem Deck von atemberaubenden Bergen umgeben. 15 Minuten SFO und eine kurze Fahrt nach San Francisco. Dieses ruhige Apartment verfügt über unzählige Wanderwege und Strände in der Nähe. Das Studio befindet sich im unteren Stock unseres Hauses. Es ist über einen eigenen Eingang an der Außenseite des Hauses abgerufen. Der Zugriff auf das Studio über eine Treppe hinunter zum Garten hinter dem Haus, gefolgt von Schritten bis zum privaten Deck. Ideal für Paare, Solo-Abenteurer und Geschäftsreisende.
The place is gorgeous and the view is amazing. Cute little place that exceeded our expectations! Highly recommend.
Ruslan
2017-03-12T00:00:00Z
Faye and Grsnts place was just perfect. The room was clean and had everything we needed. Faye was very friendly and welcoming. The location is nice and close to SF, Half Moon Bay and convenient to the airport. We were very happy with everything.
Jodi
2016-09-03T00:00:00Z
Faye and Grants home was very clean. Great for an overnight stay.
Eugene
2017-03-13T00:00:00Z
Faye and Grants place is a great spot just a short ride from plenty of attractions. A nice quiet studio with an absolutely incredible view.
Cary
2017-02-12T00:00:00Z
Nice and quiet stay out of the city with lots of outdoor activities close by.
Mark
2017-02-08T00:00:00Z
Faye was very friendly and welcoming. The room was spacious, quiet and neat. We enjoyed our stay and would return on another visit.
Michele
2016-08-22T00:00:00Z
Great place to stay! We loved the morning view and the accommodations were perfectly described! The hosts' responded quickly to all my dumb questions.
Abe
2017-03-19T00:00:00Z
This was the perfect scenic and quiet place to stay for a night. Close to SFO but feels like a world away thanks to the beautiful views. Pacifica has a great selection of cute restaurants too. The room itself was clean and comfortable. I'd definitely stay here again!
Ava
2017-02-19T00:00:00Z
Szoba típusa
Teljes ház/lakás
---
Ingatlan típusa
Lakás
---
Férőhelyek
2
---
Hálószobák
Pacifica, Kalifornia, Egyesült Államok
Modern room & loft with private entrance. Private space & free parking. Easy access to highway 101 & 280, SF (16 minutes) and SFO airport (6 minutes).
This is a cozy attached unit: loft room (upstairs/downstairs), bathroom, and tiny hallway. You have your own PRIVATE ENTRANCE in a single family house situated on a cul-de-sac street. Private bathroom is attached to loft room. For full privacy and quietness, there is a door that separates the entire unit from the main house. All the walls and ceilings are insulated with eco-friendly green materials for living comfort (including improved soundproofing quality). No smokers and no pets live in the house. Our house and yards are regularly cleaned by professional service providers.
The location is VERY CLOSE to highway 101 and 280 that naturally lead you to San Francisco, Stanford campus/Palo Alto, Cupertino, and San Jose, with scenic drives of your choice. BART and Caltrain stations are within 1.5 miles (or 2.4 kilometers) in walking distance. Please check the locations posted on the Guidebook. 25-minute ride for BART train to Union Square of SF. Two shopping places are nearby, Tanforan Mall and Bayhill Shopping Center, where you can find many restaurants and stores. 9-minute walk to Bayhill Shopping Center (CVS/pharmacy store, Starbucks, Peet's Coffee & Tea, Mollie Stone's grocery store/supermarket, and some restaurants inside). YouTube headquarters is located next to Bayhill Shopping Center. 10-minute walk. 15-minute walk (3-minute drive) to downtown San Bruno (on San Mateo Avenue).
Steve was a wonderful host. He accommodated my late arrival with no issues. The space was cozy, clean, and unique. Steve implemented as many energy saving ideas to make the space as green as possible. The bed was very comfortable!!! Excellent listing!
Pamela
2016-07-23T00:00:00Z
Steve is a great host, who takes pride in his loft. He explained everything perfectly and provided us a helpful map to get to amenities.
Angus
2016-01-07T00:00:00Z
Steve made me feel very welcome. He explained everything very clearly and was very enthusiastic and helpful!
Sarah
2016-04-07T00:00:00Z
Steve was a very good host, for he was very informative, helpful, and nice. The place was exactly how the images portrayed it, and it definitely gave off a welcoming vibe.
Daniel
2016-12-11T00:00:00Z
Steve was a great communicator and host. He was having the front driveway repaved uring my visit but kept me informed throughout and suggested some places to park He was the host with the most, feeding me with his wife's banana bread and fruit during me stay It was nice to have a separate access to the property and I made use of the fridge during my stay. The bed was comfortable but as stated in the description, the bedroom is up a ladder, so, it won't be ideal for those with mobility issues It's located a short drive from SFO airport and San Bruno BART, where you can park for cheap and take BART into San Francisco. There are malls, shopping, multiple food choices, supermarkets and a cinema nearby but you will need a car
Yee Gan
2016-06-27T00:00:00Z
Our stay with Steve was great. He was very understanding, flexible without arrival and hospitable. His loft was super comfortable and made for a great place to relax after long days of driving or seeing the city. I hope all my air b&b experiences are as good as this one.
Natalie
2016-03-27T00:00:00Z
Steve's place is cute and modern. Overall good value; would have said great if it weren't for the few hiccups in communication and amenities. We had difficulty reaching Steve on two occasions, and the bathroom soap was empty when we arrived and we didn't feel that the bed and towels were very comfortable. But these are rather nit-picky issues and we do feel that it was a convenient stay for us, only a 9-minute Uber ride from SFO.
Janna
2017-03-28T00:00:00Z
Wonderful experience! The place is clean and Steve was very informative. He even leaves snacks!
Mona
2016-02-02T00:00:00Z
Szoba típusa
Privát szoba
---
Ingatlan típusa
Ház
---
Férőhelyek
2
---
Hálószobák
San Bruno, Kalifornia, Egyesült Államok
Gartenzimmer mit Bad in einem ruhigen Viertel, drei Blocks zu Rockaway Beach. Sie hören die Wellen Meer am Strand in der Nacht abstürzt. Es ist toll! Nur 20 Minuten nach SFO, 10 min zu BART, 20 min in die Innenstadt SF und San Mateo.
Der Raum Wenn Sie die Natur und träumte von leben am Meer lieben, dann werden Sie diesen Raum lieben. Es ist ein Zimmer in einem schönen zweistöckigen 3br / 2ba Haus in Rockaway Beach. Das Gartenzimmer verfügt über ein komfortables Doppelbett und kommt mit seiner eigenen Terrasse und Blick auf den Hang. Sie teilen sich ein Bad mit einer Person. Haus kommt mit Ober- und Unterdeck, Waschmaschine / Trockner, große Küche, großes Wohnzimmer, Dachfenster, Parkettboden, Kamin, Grill und eingerichtet. Blick auf den Ozean. Sie teilen sich das Haus mit anderen Mitbewohner aus Indien, Kolumbien und den USA in den 20er und 30er Jahren - Wir alle arbeiten oder zur Schule gehen. Es gibt ein paar, die upstais und eine einzelne Person lebt, die im Erdgeschoss wohnt. So duing der Woche halten wir eine Routine Zeitplan von 8.00 bis 17.00 Uhr. In der Nacht sammeln wir gemeinsam essen wann Pläne erarbeiten. Es ist eine echte Gemeinschaft. Sie werden Platz für Ihr Essen im Obergeschoss Kühlschrank und Kleiderschrank sowie im Erdgeschoss Kühlschrank. Viel Platz.
Die Nachbarschaft ist ruhig, ruhig und schön. Sehr natürliche Umgebung in der Nähe zum Strand und Wanderwege rund um Wandern. Sehen und hören Sie die Natur aus dem Garten Raum passieren.
We really felt at home in Arturo's place. The room is really spacious and comfy with a beautiful front porch and the bathroom is right next door. Everything is extremely clean and up-to-date and there is generally a really good vibe in the house. More importantly, Arturo is an incredibly friendly, warm and genuine host; we spent quite some time chatting to him and his housemates who are also really friendly and interesting. We consider ourselves very lucky to have found this gem in Pacifica and were we to travel around the Bay Area again, we wouldn't hesitate to book this place again. Trust me on this one: if the location does it, book it! You won't regret it.
Alessandro
2016-07-08T00:00:00Z
So glad we chose Pacifica over Outer Sunset, or anywhere else in the area. Soul replenished! My girlfriend and I stayed here for a couple months and we both really fell in love with everything. These guys couldn't have been more courteous and accommodating, and yes the listing is just as it's advertised. We slept great on the futon (perfectly firm and comfy but not hard). The place was clean, and really a great joy to work out of remotely. There's a full desk and monitor that can be used if need be. Half the time I worked from the back deck or in the bedroom with a great sense of privacy, watching either hawks hover up ahead or studying hummingbirds that buzzed by all while hearing the ocean when the tide was right. If Airbnb allows this link to stay up, you can see some photos from our time there, and they can tell some of the story for me. (URL HIDDEN) Otherwise it was everything I could have dreamed of. I could seriously spend the rest of my life living near Rockaway Beach or any other part of Pacifica (a mini paradise LITERALLY 15 mins. drive from San Fran). Key points: The house is spacious; the kitchen has everything a chef could want at hand (just be sure to replace any spices you finish); In the garage there's free weights, a pull up bar, a treadmill, punching bag; Very kind locals and neighbors; Spectacular views; Silence, flora and fauna surrounding the whole town; Challenging and beautiful biking and hiking trails; Amazing local BBQ, multiple easy good food options within walking distance; Two excellent grocery stores nearby. Too much to mention, but it's all great. You're two blocks from the beach where you can go fishing, see whales, dolphins, seals, sea lions, and countless other beauty. Also there are great options if you want to explore nearby for food and entertainment. If you want to head out a little further, be sure to check out Via Uno for authentic Italian pizza, India Beach, and Hop Dogma over by Half Moon Bay. FYI, there's a great sunset lookout that I cleared the path to one day on the other side of Fassler Ave, across from Sea Bowl. It took 2 hours of carefully clearing poison oak, to re-open a 4 foot wide path so you only have to walk one block to enjoy wide ocean views at any time :)
Kevin and Laura
2015-08-04T00:00:00Z
Arturo is one of the best and most hospitable hosts I've had with Airbnb! I definitely recommend staying in his place; the place is super clean and it's located at a unique position with respect to the ocean. Arturo offered us food, helped us find great places in San Francisco, and more importantly made us feel absolutely at home. I will, for sure, go back to his place if I'm staying in the San Francisco bay area :)
Hadi
2016-07-13T00:00:00Z
Arturo & his roommate Damanbir were both very welcoming & great hosts that made me feel right at home. We all seemed to have a lot in common & pretty similar hours so it really couldn't have gone better. It's a great room at a great location & my only wish is that I could have stayed longer. Really, I appreciate that I was able to at least spend one week here.
Ed
2015-03-30T00:00:00Z
This was--by far--my best Airbnb experience to date ;) and I count myself extremely lucky to have found the place and the host at such short notice. Arturo was a wonderfully friendly and welcoming host, including me in the social activities he had already had planned. The room was comfortable, and because California was unseasonably chilly, Arturo offered me a couple sweaters. The food and the company he shared were also wonderful. I'm very glad to have stayed here, and highly recommend the place to anyone.
Patti
2015-04-07T00:00:00Z
Arturo's place was super cozy! The area of Pacifica itself is very homey, and has a lot of cute restaurants. Arturo was overly hospitable- our first night there we got in very late and he even offered us some of the BBQ he had just cooked!! Bed was very comfy, everything was clean and tidy. My boyfriend and I loved or stay. Only suggestion I would make if staying here is renting a car- Uber got kind of pricey!! Thanks Arturo for an awesome stay!!
Gabby
2016-06-30T00:00:00Z
Beautiful room with great energy, very private and comfortable. Short walk from the beach. Arturo and Damanbir were extremely accommodating and welcoming - would highly recommend staying here! Beautiful ocean view from the kitchen where we enjoyed great food, wine, music, and conversation together.
Susie
2015-03-06T00:00:00Z
It was perfect. Arturo and Sara and Damanbir was very humble and nice. If i go to SF again I will definitely apply to Arturo. My first US trip of SF was really nice because of them. My English skill is not good so that i can not explain exactly but i really recommend to other people. Thank you Arturo,Sara,Damanbir! :)
웅선
2016-07-23T00:00:00Z
Szoba típusa
Privát szoba
---
Ingatlan típusa
Ház
---
Férőhelyek
2
---
Hálószobák
Pacifica, Kalifornia, Egyesült Államok
여기에 버스 정류장 근처 샌프란시스코 공항 근처. 하나의 모험가를위한 공동 の 부엌과 화장실이있다, 편안한 침대, 아름다운 장식이 있기 때문에 당신은 여기를 사랑합니다.
Lucy was welcoming and the accommodation provided a first rate experience.
Tina
2016-11-06T00:00:00Z
was my first time with Airbnb Lucy was a great host quiet neighborhood plenty of parking nice rooms I'll be staying with her anytime I come to SF
Russel
2016-10-16T00:00:00Z
Lucy's place was quiet and cozy with a very comfortable bed. Lucy is a wonderful host who is kind and willing to help and assist. She responds right away with any questions you have. She takes care of her guests well.
Wesley
2017-01-25T00:00:00Z
Stayed at Lucy's place for 12 days, had a really good time! Lucy was one of the best host I have encountered so far on Airbnb, very easy communication and great hospitality. Would recommend this place to all travelers!
Yang
2017-03-10T00:00:00Z
Above and beyond exemplary service.
Chris
2016-12-31T00:00:00Z
I love it so much!!!
Jacqueline
2017-02-02T00:00:00Z
Lucy is the best host! It's clean and adorable.
Jacqueline
2016-12-09T00:00:00Z
Lucy is a wonderful host! Great space beautiful views by the ocean
Jacqueline
2016-11-03T00:00:00Z
Szoba típusa
Privát szoba
---
Ingatlan típusa
Szoba reggelivel
---
Férőhelyek
1
---
Hálószobák
Pacifica, Kalifornia, Egyesült Államok
Mein Platz ist in der Nähe tolle Aussicht, der Strand und die großen Stadt San Francisco. Mein Platz ist gut für Paare, Solo-Abenteurer, Geschäftsreisende und Familien (mit Kindern). Dies ist eine Rechtseinheit mit eigenem Eingang. Die Rechtseinheit bietet Platz für zwei Personen in einem Doppelbett in seinem Haupt-Schlafzimmer, ein Futon für einen Erwachsenen oder zwei Kinder in ihrem Wohnzimmer, Arbeits Kühlschrank, Herd, Mikrowelle, Waschmaschine, Trockner, Esstisch und Küchenutensilien. Grund begrenzt Kabel-TV enthalten. Bad mit Wanne und Dusche.
Had a really nice stay, area was peaceful and the view of the mountains was more than we could have ever asked for. Everything was provided for and I had a really good night's sleep. Would stay here again!
Wasim
2016-09-19T00:00:00Z
Very quiet Cul-De-Sac unit with a fantastic view of Pacifica. The side entrance is very private and cozy. The home is perched on a hill with flowers and such.. we actually saw 5 little deer walk through just outside the back fence.. very cool!! Really quite, really clean and very cozy! Peter was a breeze to communicate with. Highly Recommended!
Larry
2017-03-02T00:00:00Z
Great stay! Nice view and great location.
Sydney
2017-03-15T00:00:00Z
This is a lovely and comfortable space. It was perfect for the two of us and close to everything we needed -- groceries, drug store, coffee, late-night food -- and especially the ocean. The kitchen was well equipped; I cooked meals for us each day. The best part for me was a washer/dryer right in the apartment. We couldn't ask for a better space or host.
Carol
2017-02-21T00:00:00Z
We enjoyed our stay. Appreciated the furnishings (and decor!) of the apartment. We did not have need to use kitchen but it looked to be equipped with all the basics. Nice towels and bedding. We have stayed at the hotels in Pacifica -- this apartment is much more pleasant!
Mary
2017-03-06T00:00:00Z
Great little place for what we were looking for.
Ben
2016-10-21T00:00:00Z
Extremely clean and quiet, with all the amenities you could ask for,...even has a washer and dryer! Near the beach and walking trails. The perfect Pacifica rental! The Host communicated well and was flexible about check in. I would definitely stay here again!
Peter
2016-09-15T00:00:00Z
The in-law apartment was beautiful and well maintained. Other than a sticky gate (it seemed to swell at the foot because of the rain), the unit was almost perfect. Peter was a great host, in that we did not see him or feel smothered. We were able to come and go as we pleased, and he was more than accommodating when a friend from the old neighborhood joined us for one of the three nights. Because the in-law apartment is attached to Peter's house, we did hear some noise, but nothing disturbing or out of the ordinary. The unit has a full size stove, microwave, and refrigerator. It also has a washer/dryer unit, as well as pretty reliable internet service. The view from the back porch is spectacular; it appears that chairs and a table are available for use during the nicer months. Parking was available, but the unit is in a residential neighborhood so you may have to park a few houses away. We'd stay here again without hesitation! And for first time users of AirBnB, we were very pleased and satisfied with the overall experience.
Doreen
2016-10-17T00:00:00Z
Szoba típusa
Teljes ház/lakás
---
Ingatlan típusa
Vendégház
---
Férőhelyek
3
---
Hálószobák
Pacifica, Kalifornia, Egyesült Államok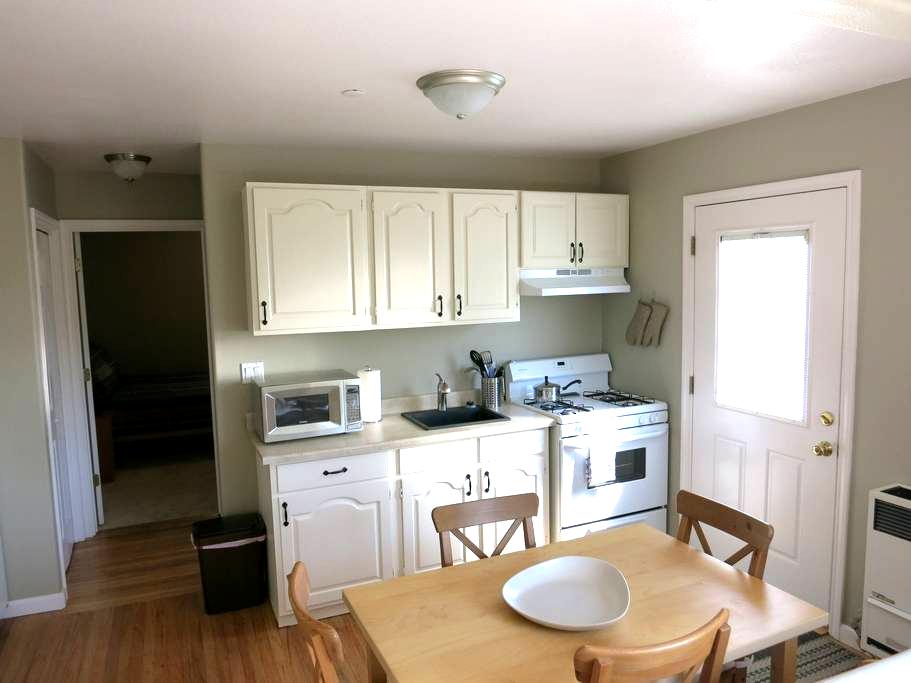 我们擦玻璃圣佩德罗家是迷人的景色和轻松的气氛美丽的撤退。我们有圣弗兰海岸线50英里的景色。所有照片均从家里面拍摄,意见甚至亲自更好!这间顶楼的家将睡觉2+的人。 2分钟海滩,杂货店,餐馆 - 气 - 银行 - 药房 - 酒吧,咖啡等。 15分钟到SFO国际机场和旧金山市中心 25分钟硅V-伯克利索萨利托,易纳帕。 电动电车行李。
我们擦玻璃圣佩德罗家是迷人的景色和轻松的气氛美丽的撤退。我们有圣弗兰海岸线50英里的景色。所有照片均从家里面拍摄,意见甚至亲自更好!这间顶楼的家将睡觉2+的人。 2分钟海滩,杂货店,餐馆 - 气 - 银行 - 药房 - 酒吧,咖啡等。 15分钟到SFO国际机场和旧金山市中心 25分钟硅V-伯克利索萨利托,易纳帕。 电动电车行李。 我们擦玻璃圣佩德罗家有沿着旧金山的海岸线,海滩山沿海山 - 跨太平洋远洋运输,划船,冲浪,赏鲸 - 蜜蜂分群鱼客机,鹈鹕,海鸥,鹅学校最壮观的旧金山景色-Hawks - 罗宾斯,蜂鸟,鸬鹚,燕,翠鸟,麻雀,黑鹂,甚至假日届旧金山烟花从擦玻璃圣佩德罗夜景看到。 我们的大视野甲板和玻璃前和大侧窗提供的所有Farallones和海岸和旧金山的海滩擦玻璃圣佩德罗湾和海湾地区都能够提供无与伦比的令人眼花缭乱的浩瀚美景。 从宁静的夏天海洋到肆虐的冬季风暴进行大规模的海浪拍击的岬角,海湾和洛斯卡沃斯,有在世界上比较擦玻璃圣佩德罗几个地方。 我们的撤退回家的诱惑让很多人不希望自己的逗留期间离开由于季节性凉爽的海风,清新的曲调,以及这个"依偎港"的一个冬季风暴温暖的舒适感。 对于如此众多,自然环境的视觉命令景观兴奋地对未来的规划和梦想,冒险和成就的完成创造性思维和生动的回顾。你不会需要一个"思想帽"这里...这个家是其中之一。 我国电动电车承载你所有的食品和行李上下楼梯很多从车库到家里的山坡上。电车就位于旁边的楼梯。它可以同时处理均上涨,甚至下跌了约150磅,不超载电车甚至下坡是很重要的。 3个完整的行李箱都150磅,请注意不要超载电车。 电车是关键在底部和楼梯的上面两个操作;安全密钥必须手动开启电车沿其轨道运行的整个时间。键是在组合编码的钥匙箱和钥匙开关是运行电车英寸的距离是关键是链接到它的箱子,以免丢失。 使电车时,上坡和底部使电车下坡时,以便在"站"停止电车是在上面是很重要的;虽然电车是电子设置了自动停止。 该电电车实际上是建立这整个非常私人住宅涌上街头以上,并继续忠实地服务了近30年的居民的需求。楼梯非常多,可能是一个问题,对于一些客人,并应与经理承诺租用之前进行讨论。所有者是在他70年代(因为一直其他居民),他们都没有问题,上上下下楼梯天数或数次。随时欢迎与我们联络。是的一个人的电车是在作品中。年轻人和中年人似乎漫步向上和向下像享受"小菜一碟"。进入家里,看到的意见,删除了楼梯的任何想法。 有迹象表明,照亮了整个楼梯和所有降落和光开关位于楼梯入口在车库底部,以及在你将住在单元楼梯灯,洪水和灯笼。明确的指示和电车按键开关和楼梯灯的开关的图片将通过电子邮件发送给你...也将天然气热水器的图片和说明。 加热器是非常快速和有效。 停车场:我们有车道停车在街上车库前。 1空间专用于这个阁楼。有可能超过1空间可以被安排是可用的。可以有多达300个车位(伴有明显的停车位);否则,街道左侧横跨5个空楼很多,而且几乎总是有停车场有或沿着我们的路线更进一步。 免费的洗衣机和烘干机可供选择:位于洗衣凉亭在邻近的上电车站的房子的后面。你可以有你随身携带了衣物的主入口大门,或通过内部楼梯下到2门说出去这壁龛。不含去污剂应是可用的。 还有谁可通过电话来帮助我们几个。一个是土生土长的旧金山人,同时开/关的Pacifica的居民,直到永远。 所以手机#的是: (PHONE NUMBER HIDDEN) 总觉得欢迎来电上午10:00在早晨起床后和晚上旧金山时区晚上八时前。 擦玻璃圣佩德罗佩德罗点原来的西班牙语单词是前者,而仍然是一个质朴,古朴,渔村,新的现代化加州的家。相邻的琳达·月(西班牙语:美丽的大海)谷是所有朝鲜蓟和布鲁塞尔豆芽农场早在二战,现在"卧室社区",从而所有的购物和餐饮等设施。 A必须在山脚下看到的是超过100岁的渔码头和坡道为经典的海鲂今天仍在使用的渔民和潜水员(想想珍宝蟹,鲑鱼,鲈鱼,鲍鱼,许多种类的岩石鳕鱼,海顽童,凤尾鱼,长鳍金枪鱼,蛤和贻贝)。 再有就是冲浪,冲浪身体,脱脂登机,风筝冲浪,风帆冲浪,SUP或站起来用桨比赛的男女各年龄段一起冲浪。 徒步旅行是佩德罗点的后院,特别受欢迎沿现已关闭,被称为魔鬼的幻灯片前高速公路#1部分。 这里在我们下面的海滩,其中西班牙探险家加斯帕尔·德缺失的Portola蒙特利湾后发现了旧金山湾。这是正常的人错过了旧金山湾航行的权利过去金门入口湾。 Portola公司挂靠马上我们的海滩和徒步到山脊之上,发现了世界上最重要的海湾之一,带来的创始我们伟大的世界旧金山市,原名芳草地,她的边远县市和标志性建筑,如我们擦玻璃圣佩德罗(圣佩德罗点)和我们的Farallones湾(西班牙语:克利夫斯)同名的近海岩石岛屿。 与发现仍然在旧金山附近的弟弟和妹妹领域技术,科学和健康方面的事情。 而你在商店为更多的餐馆和要做的事情比你能想象...开始与我们家的意见发现。 如果你没有自己的车呢,从theSFO机场租车给你最好避开尤其是买菜附近。但UBER和出租车的和SamTrans(圣马特奥过境)总线和BART(湾区捷运);都会让你在任何地方到这里,或从这里开始。 走在佩德罗点附近被认为是一个安静舒适的步行安全与24/7意见。走在我们长期宽阔的沙滩或海岬的活力和健康。 上述电电车实际上是建立这整个非常私人住宅涌上街头以上,并继续忠实地服务于这个家庭的居民的需求。楼梯非常多,可能是一个问题,对于一些客人,并应与经理承诺租用之前进行讨论。所有者是在他70年代(因为一直其他居民),并没有问题上上下下楼梯天数或数次。随时欢迎与我们联络。是的一个人的电车是在作品中。 我们很幸运地1~2分钟,许多餐馆,大杂货店(Safeway的店),咖啡厅,Ace五金,冲浪店,Radio Shack的,罗斯店,3家银行(富国银行是在西夫韦商店开放直到每天而是更早晚上7点在周末),和加油站。 虽然我们只有15分钟,SFO机场和同样到市中心的SF;纳帕谷是再向北;和普林斯顿由海(10分钟),半月湾(15分钟),圣克鲁斯(1小时)都南高速公路上的1号就在山脚下。硅谷是通过高速公路的#(PHONE NUMBER HIDDEN)分钟,由旧金山机场#101。
擦玻璃圣佩德罗佩德罗点原来的西班牙语单词是前者,而仍然是一个质朴,古朴,渔村,新的现代化加州的家。相邻的琳达·月(西班牙语:美丽的大海)谷是所有朝鲜蓟和布鲁塞尔豆芽农场早在二战,现在"卧室社区",从而所有的购物和餐饮等设施。 A必须在山脚下看到的是超过100岁的渔码头和坡道为经典的海鲂今天仍在使用的渔民和潜水员(想想珍宝蟹,鲑鱼,鲈鱼,鲍鱼,许多种类的岩石鳕鱼,海顽童,凤尾鱼,长鳍金枪鱼,蛤和贻贝)。 再有就是冲浪,冲浪身体,脱脂登机,风筝冲浪,风帆冲浪,SUP或站起来用桨比赛的男女各年龄段一起冲浪。 徒步旅行是佩德罗点的后院,特别受欢迎沿现已关闭,被称为魔鬼的幻灯片前高速公路#1部分。 这里在我们下面的海滩,其中西班牙探险家加斯帕尔·德缺失的Portola蒙特利湾后发现了旧金山湾。这是正常的人错过了旧金山湾航行的权利过去金门入口湾。 Portola公司挂靠马上我们的海滩和徒步到山脊之上,发现了世界上最重要的海湾之一,带来的创始我们伟大的世界旧金山市,原名芳草地,她的边远县市和标志性建筑,如我们擦玻璃圣佩德罗(圣佩德罗点)和我们的Farallones湾(西班牙语:克利夫斯)同名的近海岩石岛屿。 与发现仍然在旧金山附近的弟弟和妹妹领域技术,科学和健康方面的事情。 而你在商店为更多的餐馆和要做的事情比你能想象...开始与我们家的意见发现。
What a stunning view! Holy cow. Even in inclement weather, the view is mesmerizing. The apartment is very comfortable and has everything you need to cook up a nice meal. The bathroom, not in the photos, is a good size with 5' wide vanity, a shower/tub combo. The tram used to move heavy items up to the penthouse apartment is VERY helpful and kind of fun to operate! The hosts, Jay and Angel, are wonderfully kind & quick to offer help anytime you need it.
Donna
2017-02-08T00:00:00Z
Stunning views, great communication with the host.
Peter
2017-03-13T00:00:00Z
great place
Beate
2017-03-29T00:00:00Z
One of the most unique and relaxing stays I've had on AirBnB. Highly recommended. Can't wait to come back.
Brian
2017-01-01T00:00:00Z
Jay's home is the highest point in Pacifica and the views from the balcony were nothing less than stunning. Great location.
Sheila
2017-03-18T00:00:00Z
Amazing hidden gem wth phenomenal view just less than a hour from the hustle and bustle SF. The place is serene, and we couldn't be happier to spend a birthday weekend here.
Bowen
2017-03-05T00:00:00Z
Had a great stay. Everything was as described. Beautiful view, prompt and helpful host.
Joshua
2017-03-11T00:00:00Z
GREAT VIEW, awesome communication, and nice setup for easy check-in/check-out.
William
2017-03-24T00:00:00Z
Szoba típusa
Teljes ház/lakás
---
Ingatlan típusa
Ház
---
Férőhelyek
2
---
Hálószobák
Pacifica, Kalifornia, Egyesült Államok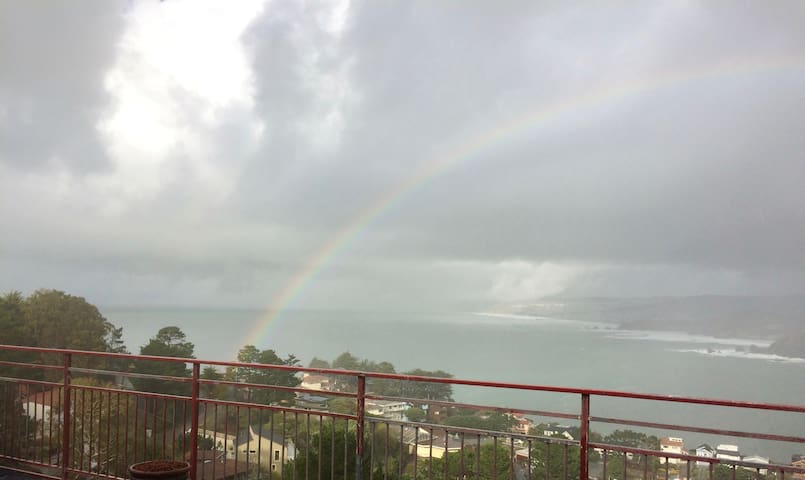 Our stay at Chris's place was fantastic. The apt is directly across from the beach which made it great for morning walks and jogs. Chris was very helpful and easily accessible for questions. The apt was in good shape and we enjoyed our privacy. I would certainly stay here again and recommend it to others wanting to go whale watching.
Clarence
2016-06-28T00:00:00Z
Lovely place with a nice view of Pacifia beach. If you visit San Francisco or are on the Pacific Coastal Highway roadtrip, Chris' place is a perfect stop for a good night sleep. Chris made everything easy for you to check in and have great suggestion on food and cafe around the area.
Norah
2016-06-18T00:00:00Z
Had a great stay at Chris's. Clean, simple, very well-located spot by the ocean. Would love to go back!
Sandeep
2016-08-06T00:00:00Z
The host canceled this reservation 27 days before arrival. This is an automated posting.
李
2016-07-20T00:00:00Z
Even though Chris was not around during our stay, he was available if needed by phone and email and left detailed info about Pacifica. Also, he had a friend who was very helpful on location. Location was right by waterfront and the trails were excellent for running, hiking, walking. Thanks for a great place to stay in the Bay Area!
Karen
2016-08-20T00:00:00Z
Chris's place was in a good location right next to the beach. Great little trail was perfect for a morning walk and provided an excellent view of the pacific. The room was modest but exactly what we were looking for- a great price, good location, and very kind, accommodating host. I would strongly recommend staying here. Check in and out was no hassle and Chris was quick to respond to any message/question sent.
Richard
2016-06-17T00:00:00Z
Staying here was the best part of our trip that we even stayed an extra day. The location was amazing. Very quiet, calm, and relaxing. The best part was being able to hear the waves crash at night before sleeping and waking up. If I ever think about going towards this area again I am for sure looking this place up!
Nicole
2016-08-10T00:00:00Z
Szoba típusa
Privát szoba
---
Ingatlan típusa
Társasház
---
Férőhelyek
2
---
Hálószobák
Pacifica, Kalifornia, Egyesült Államok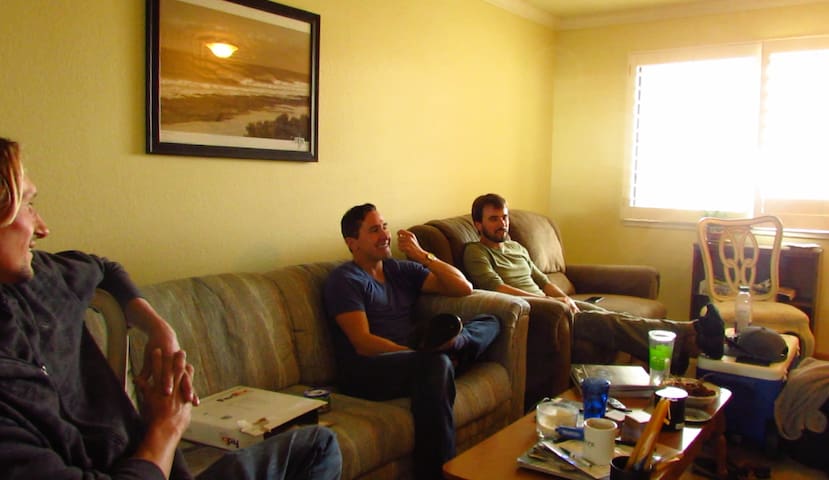 在理想的佩德罗点海滨之一的一类定制的海滨别墅。从整个单元,日本大浴缸,老式铸铁暖气和厨师的厨房大海的美景一览无余。风景秀丽的短步行到当地的餐馆,酒吧,杂货店和公共交通。沿海远足和自行车道的里程。 15分钟到SFO和旧金山市中心。立即获得历史性HWY 1。
租这种手工制作的的码头边级别,坐落于有盖甲板面积和通往海滩的海水完全自定义的海滨别墅(上面一层也可租用。)坐落在亲密江滨社区,这个房子和周围的紧密编织的邻居是对中部海岸,因为1930年的活跃原来只有商业捕鱼接入部分。历史悠久,客人还可以体验一种感觉旧天为大码头的部分地区仍然受到近75年前创办了社区原有的家庭用于钓鱼和冲浪。房子本身的同时尊重社会的历史和该地区的独特风味,经过精心和精心装修。有复古黄铜配件与整个原软木地板,手工凿成的滩岩列,落地窗,开放的横梁天花板,威尼斯贴满墙壁,厨师的海盗炉,大理石台面和可爱的老式橱柜的厨房。客人可以享受的气息从日式浴缸服用海岸景色。休息在舒适的大床,依偎旁边的一个铸铁壁炉使之成为一个真正难忘的经历。
佩德罗点是Pacifica的最独特,最可取的社区,以及来自证券及期货条例SF市区海岸的最好的秘密只有15分之一。该社区是由惊人的,坚固耐用和未受污染的加州海岸环抱,风景秀丽的海滨驱动器,许多大型的海滩和海岸的远足径英里。佩德罗点,依偎高耸的桉树和海浪与它的香艳与自然的设置之间是一定要留下深刻的印象。步行距离到5个不同的餐厅/酒吧,购物中心瓦特/杂货店和商店,公共交通与巴特,新魔界的滑动步道系统,铺就沿海走道及其他各种上涨的连接。漫步到也不-Cal的冲浪店那里有冲浪课程,纸板和潜水衣出租可用。也可选择附近的桨登机,海上皮划艇,钓鱼包机,山地自行车和骑马。短短几分钟沿着海岸驾车的客人可以在望后石码头发现半月湾和古朴的海港小镇可爱。该地区拥有新鲜捕获的鱼类和螃蟹,当地的酒吧和餐厅,新鲜的海鲜,桨板出租,蜿蜒铺就的沿海走道家著名的特立独行的冲浪比赛。
This was an amazing place to stay-- just exactly what we wanted-- romantic, unique, right on the water, comfortable in every way and extremely relaxing. We will never forget the beautiful night on the docks, cooking on the fabulous stove, sitting by the fire. It is a one of a kind spot to be able to relax or celebrate. Jim and Tania were extremely responsive and made the whole experience perfect! can't recommend it enough, and can't wait to return.
Esme
2016-03-16T00:00:00Z
We loved Jim's beach home! My wife and I brought our daughter here for a quick getaway and couldn't be happier. Jim and his property manager Karin were gracious and communicative, the space is beautiful, and the location is breathtaking. We wish we could bottle the feeling of waking up each morning with the sound of the waves just outside. Highly recommended!
Jamil and Landon
2016-08-24T00:00:00Z
This place is special and beautiful. The host was responsive and attended to any needs we had. I would highly recommend Jims place.
Leeann
2016-09-09T00:00:00Z
This is a absolutely stunning spot. We truly enjoyed ourselves. The sound of the waves was so soothing. We loved it. The bathtub looking out to the sea is sublime.
Shiloh
2016-11-16T00:00:00Z
We hated to leave! It was such a restful, peaceful place. We enjoyed watching the surfers who began arriving at sunrise & lingered until sunset.
Corrine
2016-11-21T00:00:00Z
Jim's beachhouse was stunning: beautifully designed to pack so much into a relatively small space, and every aspect of it comfortable. Set on the water's edge on a beautiful surf beach, I couldn't ask for a better place to unwind for a couple of days. Jim was easy to contact through airbnb, and kept in touch throughout. The property manager, Tania, was also easy to contact if needed. Thoroughly recommend this place for a luxurious getaway close to San Fran but away from the bustle.
Scott
2016-04-03T00:00:00Z
Dreamlike! Arrived late, but host made it work. Just beyond beautiful and one of kind! Short walk from parking to house access and small community is tranquil with all your eating and shopping needs just a minute away. Phenomenal!
Jeremy
2016-09-16T00:00:00Z
The Pedro Point Boat House is a hidden gem, just outside San Fran. We were able to sight-see all day in the city and drive out to the boat house in less than 15 minutes (and the trip along SR1 provided some beautiful views)! We were able to relax, grab dinner and listen to the waves at night and drink coffee and watch the surfers from the outdoor bed in the morning. Unique home and great spot!
Emily
2016-12-28T00:00:00Z
Szoba típusa
Teljes ház/lakás
---
Ingatlan típusa
Egyéb
---
Férőhelyek
4
---
Hálószobák
Pacifica, Kalifornia, Egyesült Államok
Krásná soukromí v 3BR doma v Pacifica. Dům je těsně pod míle od pláže, snadno se dostat do San Francisco (25 minut), 15 minut jízdy od Half Moon Bay, nebo ideálním místem pro pobyt v Pacifica. Bez inteligence Coffee & Tea!
Užijte si svůj pobyt v našem krásném bohémské doma! Máme tři ložnice domů, s velkým obývacím pokojem, kuchyní a dvorek. Máte svůj vlastní pokoj, televize s kabelem, stejně jako Netflix, Hulu, atd koupelnou zásobenou produkty Aveda, ale sdílí s manželem a I.
Jen několik minut od San Francisca, Pacifica je skrytý, kuriózní, žeberní město. Jste jen 0,7 mil od Linda Mar Beach, skvělé surfování místě! Udělejte si procházku podél Pacifica Pier, kde byste mohli mít štěstí a vidět lahvová-nose delfíni hrají ve vlnách podél lachtanů. V nedaleké vzdálenosti, můžete chytit výtok vody z projíždějícího Humpback nebo šedé velryby. The Surf Spot je skvělým místem pro večeři s živou hudbou na terase a denní úst zalévání specialit. Sjíždět známou Highway 1 na Half Moon Bay, pouhých 25 minut jízdy. Zastavit na Samův Chowder House některých humra rolích! Užívání výlet dolů Highway 1 vás dále zavede do Santa Cruz, méně než dvě hodiny pryč. Navštěvovat neslavný Mystery Spot, kde každý objekt vzdoruje gravitaci. Pokračujte na Santa Cruz Beach dřevěný a jezdit na slavnou obří naběračku! Dva hodiny jízdy po 1 se dostanete do krásné pobřežních měst Monterey Carmel. Strávit den v Monterey Bay Aquarium, nebo dělat 17 mil disk v Carmelu, prohlédnout slavnou osamělý cypřiš a oblázkové pláže.
Clean towels, clean bedroom, easy check in and one perfect location. Drive south down highway 1 or north into San Francisco. Either way you are in a great location. The High Tide cafe across the highway is perfect for breakfast in the morning. Sam was wonderful host, we would totally stay here again!
Josh
2017-04-04T00:00:00Z
Very comfortable night in Samantha's home. The place is clean and the bed very comfortable, even for a giant like me! We were a couple of hours late in arriving from the airport but Samantha was very relaxed about it. No problem in finding her place at all, very convenient stop off on a Pacific Coast road trip. Thanks again Samantha and thanks for the great tips for where to stop on the road south.
Will
2017-02-16T00:00:00Z
Nous avons passé une agréable soirée avec Samantha et Aaron, c'était un plaisir de les rencontrer. La chambre correspond parfaitement à la description. Nous recommandons ces hôtes sans hésiter !
Adeline
2017-04-12T00:00:00Z
Very nice stay in Pacifica. The room and house were very clean. The hosts were out of town so I had the whole apartment to myself, but they were very prompt in communicating. Would definitely recommend.
Devon
2017-01-15T00:00:00Z
The place was great and cozy. Awesome communication and Sam was very accommodating!
Leah
2017-02-20T00:00:00Z
Amazing place to stay! The reviews below say it all!
John
2017-01-18T00:00:00Z
Clean and nice bedroom with a very comfortable bed. Easy to find. Could have used a small lamp by the bed for reading. The overhead was very bright. Bathroom is shared with the occupants, I believe.
Antonia Marina
2017-02-18T00:00:00Z
Samantha was an excellent host. Very kind and accommodating
Andrew
2017-01-11T00:00:00Z
Szoba típusa
Privát szoba
---
Ingatlan típusa
Ház
---
Férőhelyek
2
---
Hálószobák
Pacifica, Kalifornia, Egyesült Államok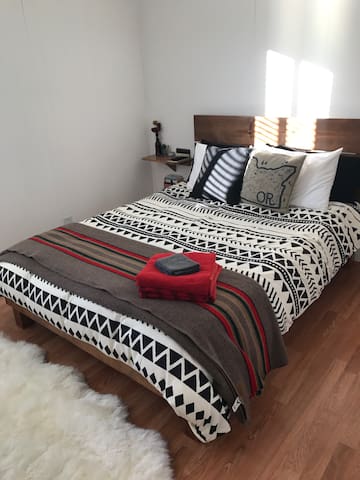 MÄRZ SP 85 $! Studio Größe Zimmer w / private eingeben & Bad (Dusche und 2 Waschbecken) Zu Fuß zum Strand, Pier, Geschäfte, restaurants.Offstreet Parkplatz, Mikrowelle & refrig. Schöne Hof w / firepit, Koi-Teich und Brunnen, Kohle / Gas-Grill, Snacks, Kaffee / Tee zur Verfügung gestellt. 7min zu BART, 12 mi nach SFO, Bushaltestelle auf der anderen Straßen. 2. Bett ist die Luft zu sprengen Matratze Gästebewertungen GREAT sind wir gewidmet sind, Ihren Aufenthalt perfekt zu machen. Das Anwesen befindet sich neben dem Recycling yard.There MANCHMAL frühen Morgen Lärm. nur ein bemerkt Lärm.
Nichtraucher
In den lokalen Pier, Strand, Restaurants und Einkaufsmöglichkeiten in der schönen Strand Gemeinde von Pacifica zu Fuß erreichbar. Sharp Park öffentlichen Golfplatz liebevoll als "armen Mannes Pebble Beach" mit Panoramablick auf das Meer befindet sich in einem Viertel Meile von Host-Haus entfernt.
Steve is a wonderful host and even offered to drive us to SF when we had car trouble. It was December then we were there, but the setting would be perfect for beach goers in the summer. There is one thing not accurately described on the airbnb site...there are no windows.
Aleeca
2015-12-22T00:00:00Z
Stay with Steve and Ulysses is a great experience. We received very warm welcome from Ulysses when we check in. He patiently walked through the applications of their house. The house is full of happy surprises and thoughtful arrangements. The whole place functioned excellently and we enjoyed our stay a looooot!
磊
2016-04-27T00:00:00Z
Absolutely wonderful host. Always available for suggestions of things to do around the area and advice on getting from place to place. Really nice room and environment - couldn't have asked for any better!
Victoria
2016-08-04T00:00:00Z
Steve was a very kind host and knowledgeable about the area. My friends and I enjoyed the decor and the garden. The coy pond with the turtles especially! If you are travelling to the bay area and would like to be near the beach as well as only a hop and a skip from San Francisco, this is the place for you.
Dustin
2016-09-29T00:00:00Z
Steve's place was one of our favorite in our week long trip to san Fran. He was so welcoming and made it very comfortable to stay there. The room had everything we could ask for and more. It had a private bathroom, comfortable bed, cable, wifi, fridge, microwave and coffee to name a few. There was some construction noise in the morning but he provided ear plugs if it was too bothersome. Since the bed was so comfortable the noise didn't bother us at all and we fell right back to sleep. The location is right next to the beach and close to shops and restaurants. Steve provided us with some amazing recommendations of the area. He even offered to pick us up if we had too much to drink which we thought was such a sincere gesture. Our Surprise brownies were delicious and was perfect after a day in san fan. I would definitely recommend staying at Steve's and I hope to stay here again when visiting the bay area.
Vanessa
2015-10-27T00:00:00Z
Steve is the perfect host. Such a nice person , helpfull in every need we had. His house is cozy and the room with bath was like a suite. Good position in quiet Pacifica but close to the bart metro connecting with San Francisco
Michele
2015-09-30T00:00:00Z
Our hosts were superb, couldn't been nicer..We were a little worried because it was our first time using this service..The room and bath was private, spacious, very clean, very homey...Steve added little extras like fresh cut flowers in the room, snacks along with coffee and bottled water. They have a lovely patio with fire pit and pond with turtles and fish..They also have an adorable little dog that is also sweet.We would most definitely stay here again.
Lisa
2016-03-03T00:00:00Z
Steve was waiting for us at the door when we arrived, and gave us a short tour of his home before showing us the private room. It was beautifully decorated, very clean, and full of extra amenities. He had snacks, bottled water, a fan (for when it got hot) and gave us tips to access the beach and to find food for dinner. He even brought us some extra brownies he made that were excellent!
Jimmy
2015-08-02T00:00:00Z
Szoba típusa
Privát szoba
---
Ingatlan típusa
Ház
---
Férőhelyek
3
---
Hálószobák
Pacifica, Kalifornia, Egyesült Államok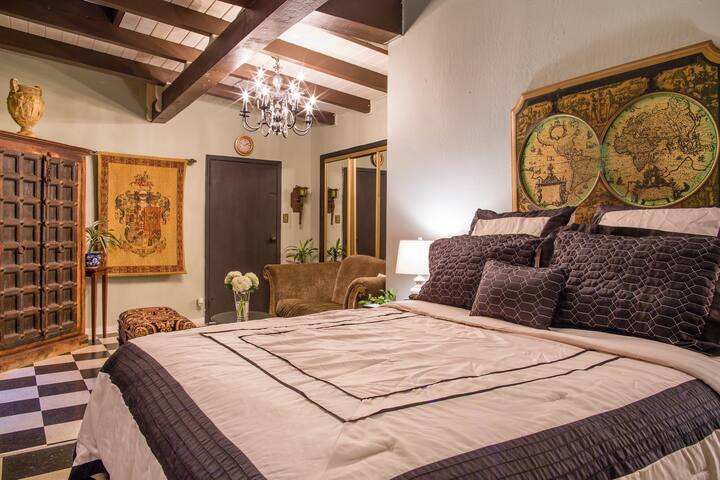 Ma maison est dans un quartier calme et en centre-ville avec vue sur l'océan. Je le garder propre et avoir tout ce dont vous avez besoin pour créer une maison loin de la maison pendant que vous êtes ici.
Il y a une chambre avec un matelas en mousse queen et un bureau qui peut être converti en une deuxième chambre avec un matelas d'air queen. Le matelas d'air est idéal pour un adulte ou deux enfants. La cuisine est équipée avec des articles de petit-déjeuner de base ainsi que tous les ustensiles de cuisine dont vous aurez besoin. Les deux seuls appareils que vous ne trouverez pas sont un micro-ondes et lave-vaisselle. Je possède un téléviseur avec un câble de base et Apple TV avec Netflix et Hulu. Vous pouvez aussi parcourir ma collection de DVD ou se défier à un jeu de société!
Il y a une épicerie à moins d'un mile de distance, ainsi que plusieurs autres options à proximité. Vous aurez de nombreuses options de restauration dans un lecteur de 10 minutes. Yelp est une excellente ressource pour les recommandations et je peux fournir une liste de mes endroits préférés. Pacifica a de belles plages et des sentiers pédestres / de randonnée. Si vous cherchez à se lancer dans San Francisco, vous pouvez être dans la ville en 30-45 minutes!
Szoba típusa
Teljes ház/lakás
---
Ingatlan típusa
Ház
---
Férőhelyek
3
---
Hálószobák
Pacifica, Kalifornia, Egyesült Államok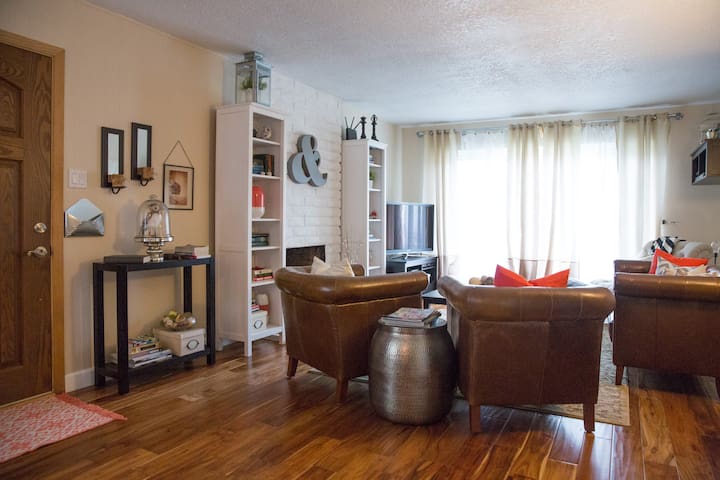 Das Haus ist von 15 bis 20 Minuten von San Francisco und 5-10 der Ozean (Pacifica State Beach) mit dem Auto. 3 Schlafzimmer, 2 Bäder, ein Schlafsofa und ein Bett als Sofa verwendet werden, sind verfügbar mit gemeinsamer Küche und Bad und Wohnbereich mit Esszimmer, Wohnzimmer, und unser geliebtes Hinterhof. Zwei Fernseher im Wohn- und, Wi-Fi, Videospielkonsole, Schreibtisch, WLAN-Drucker, Bose, Sonos und Acoustic Research Wi-Fi-Sound-Systeme, und kostenlose Parkplätze. Wir werden von 1 bis 5 Betten je nach Saison zur Verfügung zu stellen.
In Bezug auf das Zimmer des kleinen Jungen: Es bietet Platz für zwei Personen. Wenn Sie weitere Gäste kommen vorbei, so können sie das Bett im Wohnzimmer nutzen zu schlafen. Es gibt keinen Fernseher in den Zimmern, aber man kann immer TV im Wohnzimmer zu sehen. Das Bad wird geteilt. Regeln Anwendung: kümmern sich um den Ort wie es Ihnen gehören würde und Ihre Gastgeber respektieren.
Pacifica ist eine bequeme und zur Erde Platz, fast ein Viertel von SF. Unser Platz liegt am Rande von Westview und Fairmont entfernt. Fairmont, wo Highway 1 beginnt seine spektakuläre Abfahrt entlang der Küste. Diese Gemeinschaft, gebaut vor allem von Entwickler Henry Doelger, zeigt einige der besten Aussichten in der Stadt. Die Nachbarschaft ist von einem großen Einkaufszentrum an der Kreuzung von Highway 1 und Highway 35 auf Hickey Boulevard serviert und ist mit zwei ausgezeichneten Spielplatz Parks gesegnet. Wir sind in weniger als 10 Minuten von Stränden (zu Fuß und Fahrrad zu erreichen) und der berühmten Highway 1 werden Sie von den besten Stränden der Westküste zu einigen bringen.
Cath was very accommodating and made sure we had everything we needed even though we got in super late, lovely house, clean and residential.
Star
2017-03-22T00:00:00Z
This was a charming place, not far off the first exit into Pacifica (coming in from the North). For what I needed -- a place to stay while attending a conference in San Francisco -- it was perfect. The hosts even gave me a spare key so I could let myself in late at night. And I loved their cats! Noah especially (the little Russian blue) is super friendly, as were both of the hosts. :)
John
2017-04-09T00:00:00Z
Cath was very hospitable and made our stay very easy. She recommended a local Burmese restaurant for dinner. I would also recommend the Burma Cafe for any other future.
Charlie
2017-03-30T00:00:00Z
This was the best experience over all airb&b I had before....Kevin and Marie are so nice and kind people, very friendly and polite ...they welcomed us as their own family. Their house is clean and comfortable to stay in. Thank you guys so much))
Olena
2017-03-05T00:00:00Z
Kevin and Marie's place was great, it was really comfortable and clean, also great location and close to San Francisco. Kevin and Marie were great hosts, very friendly and super funny, definitely would recommend!
Jose
2017-03-11T00:00:00Z
Kevin and Marie welcomed me into this wonderful home. Super hospitalic, friendly, and warm energy in this home. It's been an absolutely pleasure crossing paths with Kevin, Marie, Cath, and Kah-Lel! Would love to do some nights here again for sure!
Casey
2017-02-24T00:00:00Z
It was an amazing, wonderful and absolutely unique experience. This is the reason why you want to do airbnb. Marie and Cath are wonderful hosts with a big heart. We felt part of the family during the time of our stay. Everyone not staying here is missing out on a great time. There we highly recommend staying here. Thank you for everything.
Andreas
2017-04-02T00:00:00Z
A great value for the money. You won't only get what you pay for, but a whole lot more. Kevin and Marie are fabulous hosts, very hospitable, friendly, and sweet. The entire household had a very positive vibe and energy to it. This is a must book around the SFO area, which btw, is less than 15 minutes away from the airport by car. Pacifica is still the Bay Areas/NorCals best kept secret.
Ed
2017-03-14T00:00:00Z
Szoba típusa
Privát szoba
---
Ingatlan típusa
Ház
---
Férőhelyek
2
---
Hálószobák
Pacifica, Kalifornia, Egyesült Államok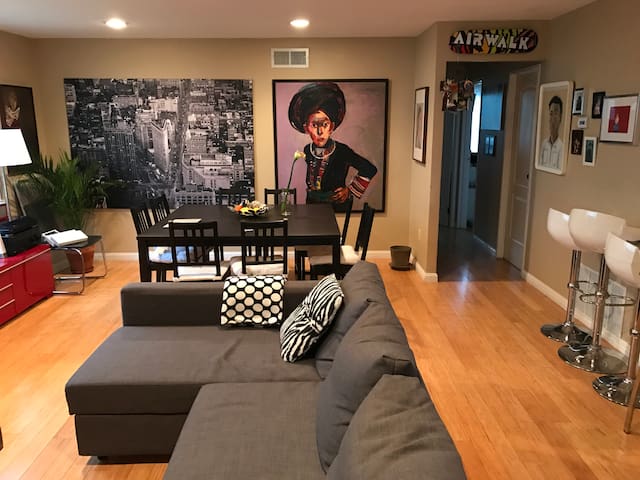 Schön renoviert 1930 teilweise Meer und Bergblick Haus in ruhiger Pacifica. Zu Fuß zum Pacifica Pier, Strand, Restaurants (mexikanisch, peruanisch, Thai). ~ 20 Minuten nach San Francisco. Voll ausgestattete Küche, großes, modernes Bad, Queen-und Einzelbetten.
Schönes, gemütliches, ruhiges Haus. Alle Annehmlichkeiten aktualisiert. Komfortable Doppelbett in einem Schlafzimmer und ein Einzelbett im anderen Schlafzimmer. Sehr großes Bad. Einfaches Parken in Einfahrt oder auf der Straße. Pleasant Blick auf das Meer und die Berge.
Schöne Aussicht auf eine ruhige Straße. Am Ende der Straße ist Pacifica berühmten Sams Castle. In der Nähe liegt das nette Salada Cafe mit super Frühstück. Auch in der Nähe befinden sich Restaurants mexikanisch, peruanisch, Thai-Küche und ein Pizza-Restaurant und serviert. Die Pacifica Pier und Strand ist nur den Berg hinunter, eine schöne 10 Minuten zu Fuß vom Haus entfernt. Der Pier bietet gute Surfen, wenn die Bedingungen stimmen. Es gibt ein öffentliches Schwimmbad 2 Blocks entfernt, Jean E. Brink Pool.
Our stay at the Pacifica house was perfect. The house was very clean and comfortable, great bathroom and shower, quiet neighborhood and close to our son. Also close to stores and shops. The washer and dryer in the garage came in handy. We walked to the beach and Mori Point everyday. Our host Jeff was easy to contract and responded immediately to our questions. I would definitely stay there again.
Christine
2016-07-12T00:00:00Z
Jeff's house is great: - the inside is neat, new and very practical, - tasteful decoration and furnitures, - the house is in a very quiet neighborhood, in a very accessible city close to San Francisco. Jeff was helpful when we needed him and provided us suggestions of "things to do in the area". We stayed 3 nights in Jeff's house. It clearly helped making our first stay in the San Francisco area a memorable experience. We highly recommend this place. I personally would love to stay there when I come back in the area.
Eddye
2016-05-23T00:00:00Z
We stayed for 4 nights in Jeffrey's beautiful house with 3 persons. It was comfortable and spacy. Everything was available for a pleasant stay. It was the first time for us to visit San Francisco. The airport was 20 min away. Also San Francisco is 20 minutes by car. It was wonderful to sit in the garden in the springsun. We felt very welcome in Jeffrey's house. We can recommend it to everybody.
Sandra
2016-04-18T00:00:00Z
The listing was as described and was very clean and cozy. It was nice to be able to escape the chaos of the city in this quiet neighborhood! The beach was minutes away and downtown San Francisco was a short 15 minute drive. Jeff provided us with everything we needed to make our stay comfortable.
Stefani
2016-03-16T00:00:00Z
This was our third stay at Jeff's house, as before we found the house clean comfortable. The house is a short walk to my son's apartment so it is very convenient for my husband and me. We also enjoy the beautiful area of Pacifica with its many areas to hike and an easy walk to the ocean and pier. We are looking forward to our next visit to Pacifica.
Christine
2017-01-16T00:00:00Z
Staying at Jeffrey's place in Pacifica was everything we could have hoped for. Comfy beds, Netflix on the TV, lovely views, easy access to the city, gorgeous breakfasts at the Salada Beach Cafe, walks along the front, up the pier and down to the Moonraker restaurant in Rockaway for a sunset dinner. Although this was a work trip, with an easy 20 min drive to get to central San Francisco the real highlight was seeing pods of Humpback wales venting and breaching just off the pier. Amazing. Thank you Jeffrey.
Richard
2016-06-27T00:00:00Z
Great house, perfect for 2 people to stay a few days and travel either north or south in the Bay Area. Easy to find, comfortable housing, easy to contact Jeffrey in case of any issues.
Charles
2016-10-16T00:00:00Z
Staying in Jeffrey's Pacifica home was like being welcomed into the home of a good friend. Warm. Inviting. Thoughtfully appointed and cared for. A lovely hummingbird feeder enchants and you can see the ocean from the living room! I would stay here again when visiting Pacifica.
Renée
2016-01-25T00:00:00Z
Szoba típusa
Teljes ház/lakás
---
Ingatlan típusa
Ház
---
Férőhelyek
3
---
Hálószobák
Pacifica, Kalifornia, Egyesült Államok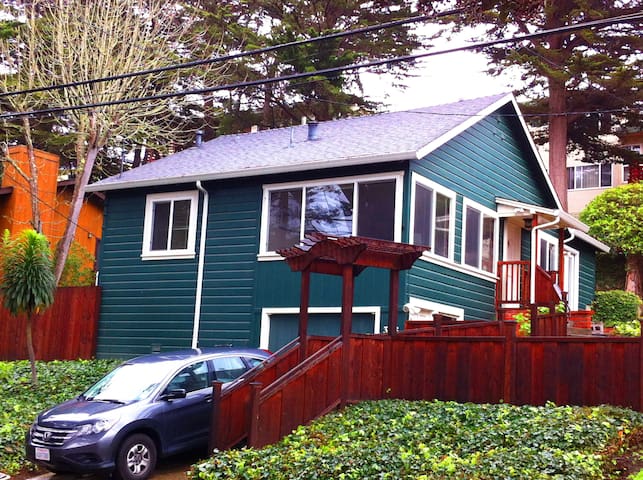 Add meg az időpontokat a teljes ár megtekintéséhez. Felmerülhetnek további költségek illetve adók.