Large 380 SF guest cottage in tropical yard with 40-ft. pool, excellent for swimming laps. Ceiling fan, track lights, queen bed, double sofa bed, single daybed, air conditioning and heating, 40 in. HDTV swivels, screened corner windows, table and chairs, rolling hammock on metal frame.
Table and chairs, coffeemaker and teamaker, microwave oven, full bathroom with lighted shower, wood blinds,
The neighborhood is filled with large royal, areca, and coconut palm trees, Australian pines, and other tropical flowering plants. Wild parrots nest in trees within one block of the house and can be seen flying at sunset.
Amazing trip. The yard was absolutely beautiful. The pictures doesn't do the place justice. The hosts Don and Della were amazing. Glad I chose this place I will be back in Miami and I sure hope that this will place is available when I come back. All I can say is if you plan on staying in Miami you won't regret staying here.
CALEB
2016-07-18T00:00:00Z
My friend and I went to Miami for a concert, Don was very nice and understandable since day 1, he helped us in everything that we needed. The Cottage is comfortable and prepare with everything so you can have the best experience. Very flexible and there is a pool !!!!!!!!! I loved that is a separate entrance so I didn't have to bother. Loved it so much that I'm already planing to come back with my husband to spend a weekend there with my doggies. Thank you Don!!!
Jessicka
2016-06-28T00:00:00Z
Although we only stayed one night (I now see why they're always booked!) our hosts went above and beyond. The communication was clear and consistent and they even sent us an update on when we could come by, which was earlier than the posted check in time. We were given a long list of what to see, do, and where to go for all the best places and experiences in Miami while we waited to check in. We were greeted by Don with clean and fully stocked amenities. The place is very comfortable and homey and I look forward to going back next time! Thank you guys!
Nathaly
2016-08-16T00:00:00Z
Don og Della tok oss i mot med åpne armer. De gjorde alt for at vi skulle ha det fint, Don inviterte oss med på en tur rundt i Miami. De svarte på alle spørsmål vi hadde og var til god hjelp på både hvilke restauranter og severdigheter man må få med seg i Florida. Når datteren vår fikk feber, sørget Don for at vi kom oss på rett sykehus med en gang. (Alt gikk bra) Gjestehuset slo all forventning, dette var helt fantastisk. Vi bodde i 3 uker med en baby på 7 måneder. Vi fikk også besøk av besteforeldre i 10 dager uten problem. Vi hadde alt vi trengte, selv om det ikke er kjøkken er det en micro, vannkoker, kaffetrakter og et kjøleskap til å oppbevare litt mat og drikke. (Noe Don og Della sørget for at var fullt med diverse småretter og diverse kalde drikker til en hver tid) Vi fikk full hotell opplevelse uten å være på hotell. Nabolaget var utrolig koselig, 3 minutters gå avstand fra Don og Della var vi i rundkjøringen hvor man finner alt fra starbuks, sushi, greske, amerikanske restauranter mm. Det var en matbutikk med utrolig godt utvalg som vi benyttet oss mye av. Så om man bare vil ligge ved bassenget en dag er ikke det noe problem. Du finner alt du trenger i gå avstand. Nabolaget var trygt, vi gikk mange turer med vognen og alle hilser og slår av en prat. Vi gikk også til restauranter på kvelden og det var ikke noe problem. Don og Della gjorde virkelig vår opplevelse av Miami til noe unikt. Vi spiste middager sammen og fikk nye venner for livet! Vi grillet og brukte bålpannen på kvelden. Bassenget er utrolig deilig å svømme i, til og med vår lille datter elsket å bade! (Don sørger for at bassenget er rent og hygenisk til en hver tid) Dette stedet anbefales på det varmeste! Vi garanterer en flott ferie ved å bo hos Don og Della! Neste gang vi skal til Miami drar vi uten tvil tilbake hit! Så tusen takk for 3 fantastiske uker, vi savner dere allerede :) Klem Anette & Håkon!
anette
2016-03-08T00:00:00Z
Don & Della are simply amazing people with one of the best cottages in Miami area. Their hospitality is out of this world! We very much enjoyed the pool and BBQ in the evening. Don even taught Koleen how to drive stick! Amazing people with an amazing place. We will definitely come back again real soon!
Hrayr
2016-05-07T00:00:00Z
My three friends and I stayed with Don and Della for 4 nights and they were fantastic hosts. We arrived late in the evening and there were snacks and drinks available. Whenever Don was available he gave us a ride wherever we needed to go and even showed us around a few areas of Miami. The accommodation itself was clean, comfortable and in a great location. If we are every in Miami again we would definitely stay here again!
Calum
2016-05-30T00:00:00Z
Great!
Joshua
2016-09-13T00:00:00Z
Staying here was a real pleasure. Don was great for suggesting things to do in the area. The yard was lush and verdant. The cottage provided a private place we could relax after our adventures.
Aaron
2016-10-06T00:00:00Z
Szoba típusa
Teljes ház/lakás
---
Ingatlan típusa
Ház
---
Férőhelyek
4
---
Hálószobák
Miami Springs, Florida, Egyesült Államok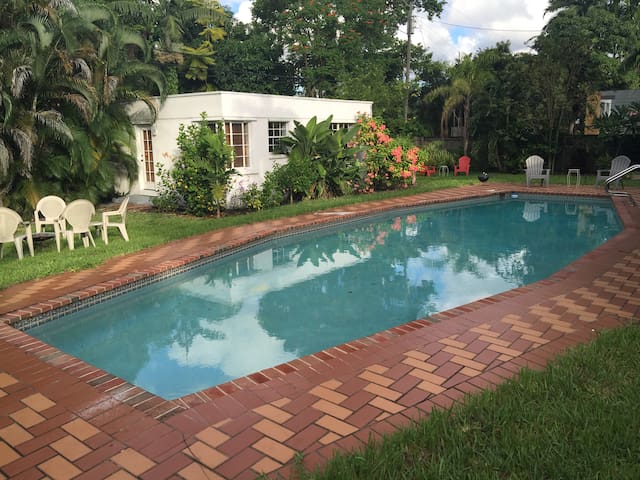 Fantastic one bedroom with shared bath just a few miles away from Miami International Airport! New construction, fabulous stocked kitchen, free WiFi and hip high end furnishings make this a perfect spot!
Fantastic one bedroom with shared bath just a few miles away from Miami International Airport! New construction, fabulous stocked kitchen, free wifi and hip high end furnishings make this a perfect spot!
If you're fine with not sleeping in the centre of Miami, Geraldine's place is perfect value for money. The place contains three seperate houses, which are completely equal. Everything is modern and inviting. The bedroom is comfortable. The shared kitchen and living room are very stylish and also well-equipped. Adrian, the housekeeper, gives you every info about keys, equipment, internet, house rules, and so on. Just make sure you get your head round the transportation. With Uber, I paid about 12 $ per ride into or from the centre.
Lukas
2017-02-02T00:00:00Z
Pictures were very accurate. House was very clean and modern. All amenities that I needed were provided. Communication was very good. Located in a somewhat dodgy area.
Ming
2016-09-24T00:00:00Z
This place was gorgeous amazing space, clean friendly staff adrien and fully equipped with everything you needed. It's a little out of the ways for food but nothing an Uber can't fix, felt like I was right at home without the bother of a hotel check in and out just cool chill spot. I loved it.
Fatimah
2017-01-28T00:00:00Z
Je n'ai jamais rencontré Géraldine. Elle a été très serviable et Adrian a été adorable. Il m'a emmenée faire des courses et a été toujours agréable. La maison n'est pas très bien insonorisée, donc attendez-vous à être réveillé dès que quelqu'un utilise le micro-ondes.
Marine
2016-12-22T00:00:00Z
Very clean and house manager is also available if needed
Conisha
2017-03-13T00:00:00Z
Nos alojamos 3 noches , todo bien, la edificación es nueva, la cocina muy bien equipada, servicio de lavandería y secadora, estacionamiento amplio, muy buena limpieza habitación amplia y confortable anfitrión de la casa muy atento, . Pocos baños para la cantidad de habitaciones , la ubicación no es muy buena cómo salir a caminar y conocer los alrededores , al llegar la manilla no estaba funcionando , la cual se tuvo que esperar una a dos horas para solucionar el tema. En general nuestra estadía fue de buena experiencia.
Ricardo Esteban
2017-03-19T00:00:00Z
The place is just as described. A spacious and clean room, and although shared, a very clean and nice bathroom. Close to the airport, 15 mins from Wynwood, and a little ways from downtown and South Beach, Ubers readily abound. Adrian is a wonderful host. Patient, pleasant and readily available should any issues arise. I would definitely recommend to friends visiting Miami. :)
Aisha
2016-12-05T00:00:00Z
Felt like we were staying in a Real World house super close to Wynwood which I would highly recommend checking out!! Very modern and so much art to check out and see and also amazing places to eat at!!! Check out Coyo, Panther coffee, & the wynwood diner!!!! Felt safe staying there even though it was in Hialeah with the security cameras and code accessed bolted door! It's about 10-15 mins Uber ride to BayFront Park/Biscayne Ave depending on traffic! Super close to the airport! Probably a 20 min drive to ocean drive/south beach! Would stay here again and recommend staying here if you are looking for a nice place to stay for the price!!!!
Jon
2017-03-27T00:00:00Z
Szoba típusa
Privát szoba
---
Ingatlan típusa
Ház
---
Férőhelyek
2
---
Hálószobák
Miami, Florida, Egyesült Államok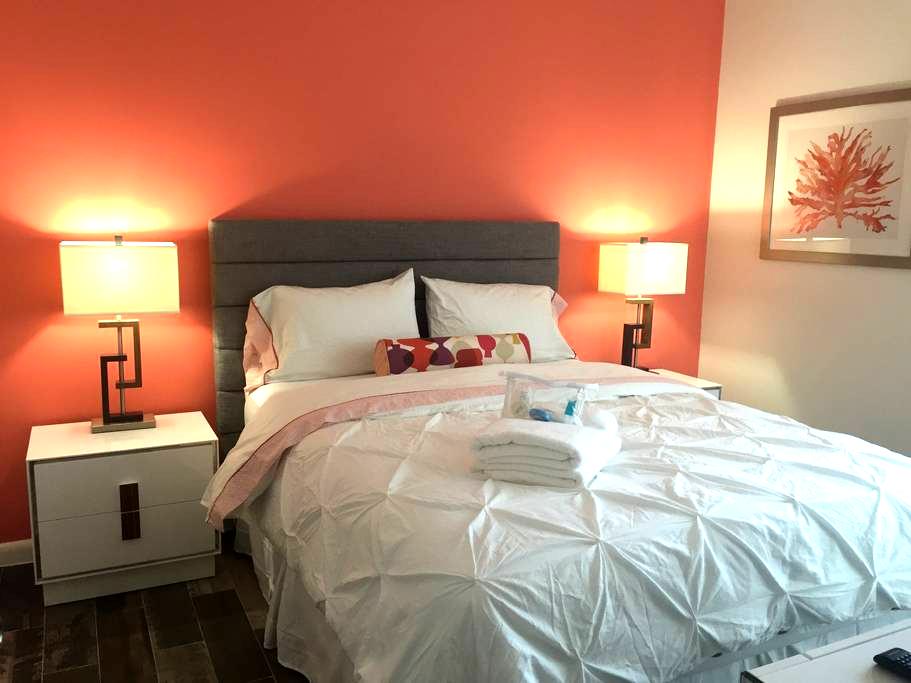 Two beds private couzy room w/ share bathroom for Airbnb hosts. No pets allowed. 15 minutes driving to Airport. Bronswill metromower station 8 walking blocks. Go inside Airport.
Lugar limpo, agradável, sem barulho, super hospitaleiros e atenciosos!! Podem confiar e garantir sua estadia com eles! Me senti em casa!
Michelle
2017-01-30T00:00:00Z
Great price for Miami, close enough to most things. Jorge is helpful, friendly and accommodating, and the process couldn't be easier. Not a great neighborhood, but you get what you pay for!
Ajay
2017-03-04T00:00:00Z
Jorge was a nice and accommodating host. It's a simple bedroom with with two beds, small table and nightstand. The bedroom and bathroom were clean. We had no complaints. They were available for any questions or suggestions. We had a nice stay with Jorge.
Natalie
2017-03-11T00:00:00Z
Jorge un Excelente Anfitrion, siempre pendiente de las cosas que necesitas. Recomendado!!
Gutemberg
2017-02-14T00:00:00Z
Jorge's place fits the traveler experience
Gipsy
2017-03-02T00:00:00Z
Nice to be here twice.
章良
2016-12-20T00:00:00Z
Muy buena experiencia La familia de Jorge muy amables La habitación muy limpia Y agradable
Augustin
2017-03-21T00:00:00Z
Jorge est un hôte exceptionnel
Helene
2017-02-10T00:00:00Z
Szoba típusa
Privát szoba
---
Ingatlan típusa
Ház
---
Férőhelyek
2
---
Hálószobák
Miami, Florida, US, Florida, Egyesült Államok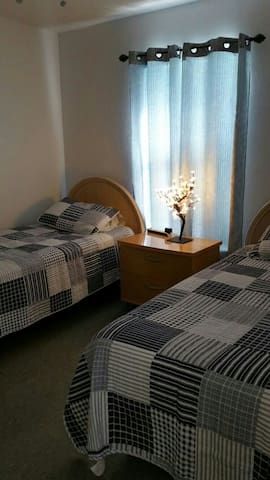 Couch is located in the piano room with partial privacy . The couch measures 67" by 38". Very close to the airport so you will hear airport activity. Bring earplugs if you are a light sleeper. Free parking!
Thais is an amazing host. I enjoyed my very short stay a lot. Thais picked me up and brought me back to the airport. Her home is very beautiful, comfortable and very clean. Thank you for everything. Greetings from Germany
Luna
2016-01-16T00:00:00Z
Thais was great! Very accommodating as I booked right before I boarded the plane. She was super sweet and her place is awesome. The only issue was that some of the other guest woke up really early, and let's just say they didn't use their inside voices.
kelly
2016-12-02T00:00:00Z
This was my first experience with airbnb and I was not sure what to expect. A busy professional female traveling for work, I needed a clean, comfortable, safe and quiet place to rest after work. My expectations were met and exceeded.Thais is a gracious hostess, and the house is very clean and quiet. I was very happy I chose to stay at this location.
Tatyana
2017-01-19T00:00:00Z
This was my second time at Thais's beautiful and welcoming home. Comfortable and relaxing, got a lot of much needed rest.
Tatyana
2017-02-17T00:00:00Z
Already my second stay with Thais. The check-in is always very well organized. Lovely little garden. Great new luxury shower. Only max.10 minutes from the airport via taxi for 17 U$. Her place is as usual always super clean and tidy.
Daniela
2017-03-29T00:00:00Z
I flew to MIA from LAX overnight and had a 14 hour layover in Miami. I reached out to Thais early the morning I landed, looking for a place to crash for the day and get some rest before my long flight to Brazil. She quickly responded and was so hospitable and accommodating! Her place was extremely neat and clean, and close to the airport. Would definitely recommend to anyone looking for a cozy place (and friendly host)!
Jack
2016-11-18T00:00:00Z
It was really clean and big house. Very good place to stay!
Moses
2017-01-29T00:00:00Z
Super zentrale Lage am Flughafen. Genügend Parkplätze vor dem Haus. Die Ausstattung ist richtig gut und Thais ist sehr nett und kennt sich gut aus in Miami. Sehr zu empfehlen!! Viele Dank!
Fabian
2017-01-25T00:00:00Z
Szoba típusa
Közös szoba
---
Ingatlan típusa
Ház
---
Férőhelyek
1
---
Hálószobák
Miami Springs, Florida, Egyesült Államok
Private apartment. Don't need to share with strangers, never have to meet anyone. Lock box key. Private apt with bathroom. Fridge/Freezer. Temperpidic mattress. Flat screen tv with cable U-Verse, leather couch. WIFI fast speed. Very central, 5 mins to Miami International Airport, 18 to Wynwood, 20 to Beach, 20 to Coral gables. You can walk to grocery store & many restaurants. My place is good for couples, solo adventurers, and business travelers.
There will be fruit and water bottles when you arrive :) Supermarket: Milam's Markets, 80 Curtiss Pkwy, Miami, FL 33166 Laundry: Zaceta Coins Laundry Inc, 254 Westward Dr, Miami Springs, FL 33166 (bring your own soap) Swimming Pool: Miami Springs Public Pool, 1401 Westward Dr, Miami Springs, FL (PHONE NUMBER HIDDEN)$ for non-residents, closes one hour around mid-day. Bar: Tom's NFL, 5001 NW 36th St, Miami Springs, FL 33166, Busy sport bar with many locals and tasty 'pub' food & draft beer. Sit-down restaurant: Siamo Italian Restaurant, 307 N Royal Poinciana Blvd, Miami Springs, FL 33166. Good wine selection and great pizzas! Transport: Uber! South Beach about $18, Little Havana $10 for example.
Muy tranquilo el lugar, super comodo y la atención muy linda por parte de Diane.
Jose
2016-11-20T00:00:00Z
This Airbnb was perfect and exactly what I needed. Neat as a pin, very clean and the owner is an absolute sweetheart. The bed was comfy and I could tell the bedding had been freshly laundered- it smelled very fresh and clean. In addition to the bed, the room has a couch, large TV, free wifi, mini fridge and microwave. Nice and fresh towels in the bathroom. One large window overlooks her beautiful pool and the other overlooks a gorgeous private garden. The area is very nice and safe. Diane was fantastic and very welcoming. I cannot recommend it enough and have already booked a future stay. I hope this room is available for all my trips to Miami!
Desi
2016-12-04T00:00:00Z
Thank you for a lovely trip!
MARLIESE
2016-12-11T00:00:00Z
Departamento cerca del aeropuerto, de facil acceso, se puede estacionar en la puerta. Barrio muy tranquilo.
Romina
2017-02-17T00:00:00Z
We booked Diane's to be close to the airport, but Diane was just lovely. We felt very comfortable and safe staying there. I enjoyed all of the ballet decorations, too!
Kristy
2017-03-20T00:00:00Z
Muy linda casa y muy lindo vecindario. Diane es una excelente anfitriona. Estuvimos muy cómodos. Muy recomendable
Maximiliano
2017-04-04T00:00:00Z
Kamer zoals omschreven. Erg smal bed. Er is geen keuken 2 mokken en een mes. Op de patio staan 2 metalen stoeltjes waar je niet op kunt zitten. Verder geen stoelen aanwezig. Leuk voor 1 nacht als je moet vliegen
elle
2017-01-25T00:00:00Z
Diane's place was perfect for us! We loved the private entrance, and the flowers outside were so fragrant that it made me smile when walking out of the house. The neighborhood is cute, lots of choices for a place to eat. Very close to the airport (but too close). The place was clean and Diane was there to let us in. Check in/out was a breeze. There's a full size bed, and a love seat for your convenience. Also the mini fridge and microwave were exactly what we needed to warm up leftovers from the authentic Mexican food we had from down the street. :) Would definitely recommend.
Angie
2016-12-05T00:00:00Z
Szoba típusa
Teljes ház/lakás
---
Ingatlan típusa
Vendégház
---
Férőhelyek
2
---
Hálószobák
Miami Springs, Florida, Egyesült Államok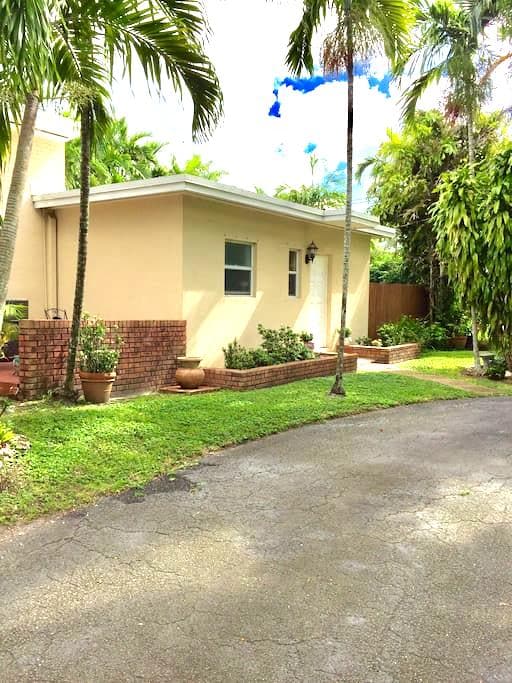 ÚJ átalakított. Hangulatos, privát bejárat, biztonságos kapu, WIFI, 50inchTV, Full Kitchen. Tökéletes családi nyaralás. 5perc a repülőtértől, 15perc a South Beach & sok más. Foglalja pontos vendégek számát. Gyermekek 1YR idősebb számít extra vendég. NAGYON TISZTA. Szakszerűen tisztítani után minden vendég! Akciós ár is az elmúlt min utazási amikor már kihasználatlanság bizonyos Sun / H CSAK (Korlátozott idő)
# A gyors jóváhagyását, kérje a megfelelő számú személy # Hangulatos, Safe, magántulajdonban Kapuzott. A gyerekek már elköltözött Kaliforniába, és így a teljes 2. emelet e szép otthon az Ön számára. Keresi a felelős felnőtt / Family élvezni ezt a helyet. Ha keres párt ház, kérjük, keressen máshol. Biztonságos és központi elhelyezkedésű Home. 5-20mins re, amire szükség van a Miami / Ft Lauderdale területén. - Miami Airport (5perc) - Ft Lauderdale Airport (25mins) - South Beach (18mins) - Kókusz ligetek / Merrick Park (15perc) - Malls (Dadeland, Dolphin, Aventura) 20 perc - Outlet Shopping (Sawgrass Mills) 30 perc - Éttermek (5perc-on 20 percig) - Fast Food (5perc) - Gas Station (5perc) - Bolt (5perc) - Cél / Walmart (15perc) Lesz teljes 2. emeletén Home. 1. emelet foglalhatja el a szüleim (Henry és Connie). Ezek valóban nagyon cool időseknek. Beszélnek angol / spanyol / kínai. Úgy megy az edzőterembe mindennapi és enni szuper egészséges. Imádni fogod őket. Azért vagyunk itt, hogy segítsen élvezni a látogatást. Kérjük, ossza meg velünk, hogy mit kell, és mi megpróbáljuk a lehető legjobban kielégítse az Ön kényelmét. Autóbérlés van a legnagyobb esélye a szerzés körül Dél-Floridában. Tömegközlekedés nem megbízható. Ugyanakkor jó néhány vendég irányított autóbusz közlekedés, minden probléma nélkül. Vegyük észre, hogy már csak OTA TV csatornák. Nyugodtan, hogy a saját laptop és a HDMI nézni Netflix vagy bármilyen más digitális média. Van nagy sebességű internet. Nincs kábel csatornákat. Kérjük, ossza meg velünk, hogy te és a természet a tartózkodás. Ez segíteni fog nekünk, hogy többet magáról. Azt akarjuk, hogy biztosítani tudjuk a legjobb otthon illik az Ön és barátai. Bármilyen kérdése van, ne habozzon feltenni.
Der Gastgeber - Connie - hat uns bereits am Vormittag empfangen, obwohl das offizielle Check-in um 15.00 Uhr ist. Es wurde alles erklärt und das Appartement stand uns bereits ab 10.00 Uhr zur Verfügung. Das Appartement war auch genau wie in der Beschreibung. Connie und ihr Mann, sie wohnen im unteren Teil des Hauses, waren jederzeit erreichbar und kümmerten sich um alles was anlag. Wir hatten nichts zu reklamieren, sie standen aber immer für eine Auskunft parat. Von der Unterkunft sind es nur 10 min. mit dem Auto bis zum Flughafen. Einkaufen kann man in unmittelbarer Nähe. Autobuslinie zur Metrorail (U-Bahn) ist 100 Meter entfernt. Und mit der Metrorail ist man in 20 min. in der Stadt und am Hafen. Mit dieser Metrorail kommt man auch schnell zum Flughafen. Ich wurde das Appartement bei einem Miami Besuch wieder nehmen, da es günstig war und die Vermieter sehr nett und zuvorkommend sind.
Andreas
2016-05-11T00:00:00Z
La casa es muy bonita, muy limpia y espaciosa. La atención es muy buena y sobretodo hay mucha privacidad.
Johanna
2015-08-21T00:00:00Z
Los anfitriones siempre estuvieron predispuestos a darnos soluciones, el departamento al ocuparlo estaba " inmaculado " . La zona: Ventaja: muy próximo al aeropuerto. Desventajas: el gallo del vecino lo próximo al ferrocarril y el paso a nivel donde cada vez que pasa suena la bocina, haciendo difícil conciliar y mantener el descanso nocturno.
Horacio
2016-03-20T00:00:00Z
Connie and Henry were wonderful hosts! They made us feel so welcome and even helped us push our car into the driveway when it wouldn't start. Connie did a load of laundry for us toward the end of the week, which was so helpful. My new husband and I were staying with Connie on our honeymoon, so we appreciated that as well as being friendly and welcoming she and her husband also gave us our space. The apartment was lovely, spacious, clean, and private. We were very happy to find a blender in the kitchen to make smoothies for breakfast! The neighborhood is great, too, we were able to go for runs on quiet back roads. Thank you for your hospitality Connie and Henry!
Caitlin
2016-03-12T00:00:00Z
Very nice place with great hosts. Our stay was very smooth thanks to Connie and Earnie. The place was exactly as advertised: clean, spacious, easy access, near to the airport and everything met our needs!
Yuk
2015-12-01T00:00:00Z
We were graciously met by Ernie and Connie, they welcomed us at their home and showed us the very tidy and spacious apartment. It had two bedrooms, plenty of room in each, well furnished. Our stay exceeded our expectations. All of our needs were very kindly met by Connie. It was money well spent on a very wonderful experience. We most certainly would recommend staying at this rental. We intend to do so again!
Diana
2015-07-08T00:00:00Z
Great nice family that makes feel you like home! Safe area very close to Miami airport. We'll come back and we will repeat the house for sure if avaible! Very friendly people!!!
Guillem
2015-03-05T00:00:00Z
This was the first time I used Airbnb, and Connie made it a pleasant experience. She was very helpful in every aspect, and went out of her way to ensure our stay was great. The house was very clean and just as the post had shown. I would definitely recommend others to stay here.
Scott
2016-05-30T00:00:00Z
Szoba típusa
Teljes ház/lakás
---
Ingatlan típusa
Ház
---
Férőhelyek
6
---
Hálószobák
Miami, Florida, Egyesült Államok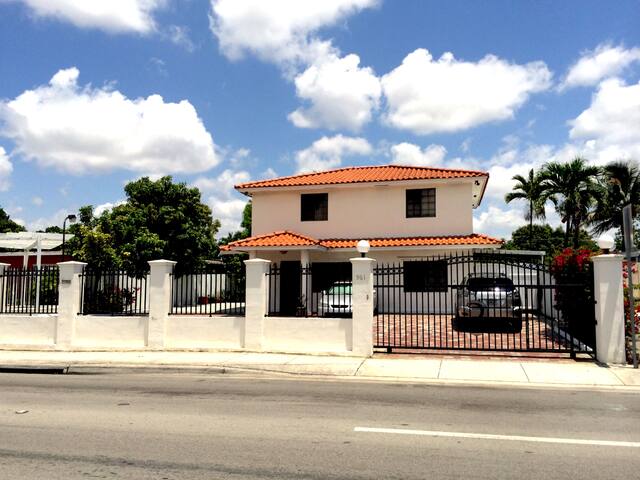 Separate cottage behind home in Mia Springs, King bed/Bath/Frig/Microwave/Parking. Enjoy the sunshine, our neighborhood & easy ride to downtown or beaches in 15-20 min. Take Blue Cab from MIA $14. Enjoy the city and come home to relax and recharge.
This private little cottage is great to come home to after enjoying the life Miami and the Beaches have to offer. A king size 4 poster bed and modern bathroom provides a comfortable space for two. It includes a A/C, small frig, microwave and wifi. A veranda with eastern exposure is a great place to sip a beverage and enjoy some sun, shade or stars.
A secret neighborhood hidden within Miami to call home while you enjoy our city. It's near the airport, but not in the flight path, with local shopping, a grocery store, a variety of restaurants and a Starbucks nearby.
Our host George and Barbara made us feel right at home. There separate studio cottage was clean and the neighborhood was upscale with well kept yards and homes. Their home is close to the Miami airport but we were not bothered by the airport noise from plane engines. The Miami Springs golf course is just a few blocks away and is beyond beautiful.
Laurent
2015-01-11T00:00:00Z
George and Barbara were great hosts, very friendly and informative about the local area. We had just come off a week cruise in the Caribbean and this was the perfect place to rest just before flying to the airport. Definitely recommend staying here when you are in Miami
Jon
2015-03-16T00:00:00Z
Their places was great! It was super clean and has all the amenities you would need except a tv, which you don't need on vacation anyway ;) their place isn't in the best location however it is only 1.7 miles to the airport so to me that was worth it. Still in a cute quiet neighborhood, just the surrounding areas are a real taste of Miami. I would stay here again for a short travel to the airport!
Heidi
2016-08-01T00:00:00Z
This was a wonderful place. George and Barbara are great host. I got there late and George was there to greet. Barbara came by early in the morning as my flight was at 830. Definitely plan on staying there again.
Veronica
2016-01-07T00:00:00Z
Barbara et George sont des gens formidables. Le studio est irréprochable (propre et de qualité). Le lit est un King Size. L'aéroport est à 5 minutes. Les avions ne nous ont pas dérangés. Nous recommandons à tout le monde ce Cottage !
Christophe
2015-01-27T00:00:00Z
George and Barbara are warm, friendly hosts whose Miami Springs cottage served as a great base of operations for a recent family visit. The comfortable cottage is located in this beautiful and historic section of Miami-Dade, pretty well situated to accessing all of South Florida. If you stay here, please do walk or drive around the Springs to enjoy this treasure of "old Miami" style homes. My husband and I will definitely consider staying here again in the future.
Allan
2015-02-01T00:00:00Z
George y Barbara fueron unos increíbles anfitriones! Todo estuvo perfecto. Además fueron muy amables. El lugar era justo lo que estábamos buscando, baño privado, walking closet, una mini heladera y microondas. Por problemas con nuestro vuelo nos recibieron a las 3:00 de la mañana. Además es muy barato trasladarse desde el lugar a Wynwood y South Beach, siempre que usen un Uber. La verdad es que queremos agradecer la hospitalidad de George & Barbara que estuvieron pendientes que todo estuviese bien.
Jorge
2015-12-29T00:00:00Z
Highly recommended. This was my first shot at using AirBNB and will not be my last. Try taking a stroll around the neighborhood. It's lovely. I wish I grew up in a suburb like this one - perhaps it's better that I didn't. I'd be spoiled!
James
2016-07-30T00:00:00Z
Szoba típusa
Teljes ház/lakás
---
Ingatlan típusa
Lakás
---
Férőhelyek
2
---
Hálószobák
Miami Springs, Florida, Egyesült Államok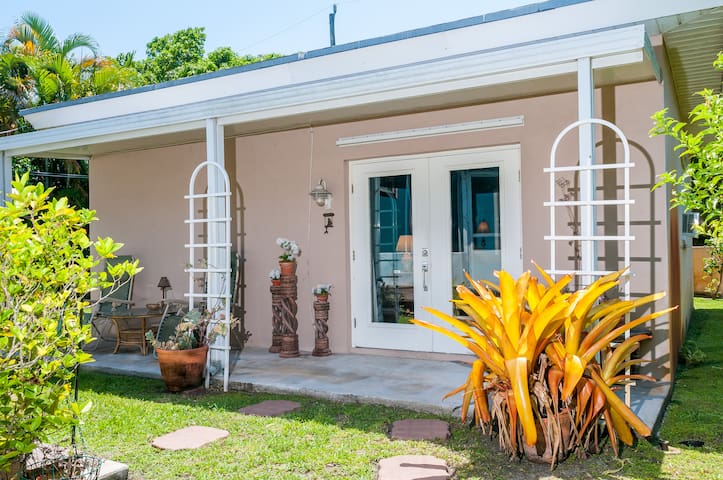 Just minutes from Miami International Airport. Complimentary airport pick-up (subject to availability). Our fully furnished bedroom with private bath is located in the beautiful and quiet residential neighbourhood of Miami Springs just 5 miles (15 minutes) north of Miami International Airport. Includes fridge, microwave, coffee maker, toaster, kettle, TV, wifi, closet, private entrance, access to washer/dryer. See "Other things to note" for instructions regarding the complimentary pick-up.
Bedroom is 19 x 10 feet. Bathroom is 10 x 3.5 feet. Full-size bed (54 x 75 ins). Independent in-room air conditioner. Parking space with private entrance. TV, wireless internet, fridge, microwave, toaster, electric kettle, tableware, basic breakfast supplies and bathroom amenities.
The City of Miami Springs was founded in 1926 by aviation pioneer, inventor and land developer Glenn H. Curtiss. The 2.9-square-mile, triangular-shaped city grew along with aviation and became the favorite community for people employed by airlines and related businesses. Located "in the heart of it all," Miami Springs is bordered by Miami International Airport and the City of Hialeah. As the City became engulfed by the growth of Miami-Dade County, it remained a desirable "bedroom community" because of its small-town flavor, great location and family-oriented civic amenities, including parks, racquetball and tennis courts, golf course, municipal pool and new community center and theater. Hometown to 14,000 residents, Miami Springs is mostly single-family dwellings and limited apartments, with a historic downtown area with a Starbucks, supermarket, Thai, Italian, Mexican and Cuban restaurants and small retail stores.
This was our FIRST Airbnb. What a pleasant introduction to the program. Miryam and Martin were the quintessential hosts - engaging, entertaining, knowledgeable and friendly, their comfortable home is in a quiet woodsy setting so close to the airport. We were on our way to Peru and were beside ourselves to find that Miryam is a native Peruvian. Her interest and advice was so valuable. Martin is a guide for Road Scholars on trips to Cuba. All in all, it is difficult to imagine better representatives for this burgeoning service. Thank you so much.
David
2015-02-13T00:00:00Z
The room is excellent - the space, the bed, the bathroom, the TV. Everything was perfect for my my one night stay. Myrian is very lovely and helpful and unfortunately I couldn't meet Martin because he was traveling. It's the right place to stay when you go to Miami.
Cesar
2015-02-06T00:00:00Z
My wife and I arrived at the Martins' at about 11:30am and was warmly welcomed by Miryam who showed us to our room. The room was neat, pleasant and ideal for a couple or a single person. The location was ideal and close to most points of interest in Miami and surrounding towns. We would definitely stay there again and highly recommend it. We would like to thank Miryam for his amazing hospitality.
Joe & Charl
2015-03-04T00:00:00Z
They welcomed us very well. Martin was very supportive. He guided us about places to visit in Miami. Room was very clean and surroundings were very calm. Unfortunately we couldn't meet Miryam on this trip, would love to come again and meet both of them.
Nikhil
2016-04-26T00:00:00Z
(Unfortunately) i was here for only one night. Martin wasn't there, but Miryam was so friendly! The hospitality is great, and the room has more than anyone could need. Tea, fruit, breakfast, a nice bed, parking space in front of the door.. Perfect. :-) And if you want some information on nice places to go to, there's much information available, they will help you out. I can advise this please to everyone!
Bas
2016-01-31T00:00:00Z
Great host, Miryam and Martin prepared breakfast for me, milk, juice, bread and fruit. Very nice and cozy place to stay
Ping
2016-07-08T00:00:00Z
This was just what I needed: a clean, safe, pleasant place to sleep near the airport. Flat fee cab there $17; host will pick you up or take to back to airport for less than that.
Gilah
2016-03-04T00:00:00Z
We arrived late from the aitport anf got a good night sleep here before leaving early in the morning. Miryam and Martin are very friendly and welcoming. Thank you!
Sahand
2016-12-15T00:00:00Z
Szoba típusa
Privát szoba
---
Ingatlan típusa
Ház
---
Férőhelyek
2
---
Hálószobák
Miami Springs, Florida, Egyesült Államok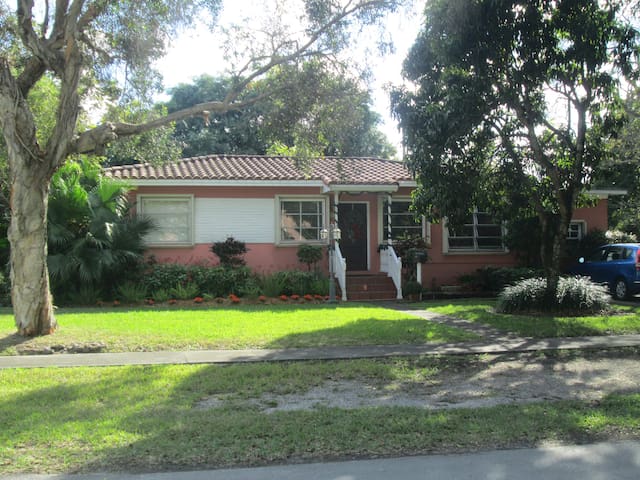 Private & relaxing guesthouse located in the heart of Miami, 15 minutes to beach/attractions Across the street from Miami Springs Golf Course & close to MIA Private pool for guests with outdoor bar for cooking out Fridge/freezer & Washer/Dryer
Cable TV included with all movie channels and sports package Lots of space, indoors and out Outdoor kitchenette/bar
Had a great time at Marcy and Diego's place. What a beautiful property they have!!
Lorenzo
2015-09-12T00:00:00Z
From the moment of booking all the way to the last few minutes of our stay Marcy was beyond amazing! Host more like a super friend!!!! She made us feel soooooo welcome and comfortable a total delight. She smiles ear to ear it's contagious! She give you your space and you don't even know she's there unless you have a questions which she responds in seconds and has great information for sight seeing! Her daughter is a sweet heart as well. It's 15-17mins ish away from SoBe so although some may that's not in the heart of all the action by ocean dr I say it didn't matter what so ever because we had a home away from home and could not wait to sleep in our comfy plush king sized bed. Every room is air conditioned, you will sleep like a baby. Let's talk about the actual place or more like the house I will buy if it ever goes on the market! Haha let me know! Haha Let's just say I didn't want to leave, it has everything you could possibly need on a vacation washer dryer, cooking utensils pots pans, induction stove, coffee maker everything!!!!! Even beach chairs! This house was amazing!!! Marcy was even gracious enough to extend our check out time 3 1/2 hours since her next guests were not going to come til 5pm. She said don't feel rushed take your time. So what did we do we took full advantage I got my last tanning minutes in by her gorgeous pool and took a dip and soaked in the sun. She is a phenomenal host and I will most def stay again!!!! Thank you Marcy!!! From your friends from Wisconsin!!!! Monica , Angelina, papa Georgio ❤️
Monica
2016-07-19T00:00:00Z
Marcy was incredibly kind and welcoming. They respected our privacy and offered a wonderful experience. Their pool and place was awesome. Id recommend this place to anyone.
Merrick
2015-08-05T00:00:00Z
Die Unterkunft entspricht der Beschreibung in allen Punkten. Es ist ein angenehmer Ort, um einige Tage zu entspannen. Im Haus ist es sehr ruhig, auch die drei Hunde haben wir nicht bemerkt. Marcy ist sehr nett und hilfsbereit.
Alexandra
2016-04-01T00:00:00Z
Nous avons été accueilli par marcy comme des princes La qualité de notre séjour est vraiment plus que ce que nous espérions Tout est parfait mais tout Si nous repassons sur miami nous reviendrons chez marcy et Diego Car la bouillabaisse que nous à cuisiner Diego est bien plus Bonne que celle de Marseille Je vous conseille ce petit coin idyllique voir de paradis que miami Merci 1000 fois de ces merveilleuses vacances passés à vos côtés Marie ,Pascal et Laurie
Marie
2016-10-05T00:00:00Z
Que dire que notre super séjour chez Marcy et Diego 2 hôtes à la hauteur de notre attente un cottage magnifique au calme et reposant dans un cadre idyllique Tout à été parfais la bouillabaisse de Diego l'accueil et le sourire de Marcy Leurs chiens trop beau enfin on est parti triste de chez eux mais nous savons désormais que si nous repassons à Miami c'est sur que nous passerons chez eux les voir Merci encore pour tout Marie, Pascal et Laurie
Marie
2016-10-09T00:00:00Z
Marcy was so welcoming and friendly. The listing represented the property and was super clean. The neighborhood was so cool too. We arrived a few minutes early and Marcy was totally cool. She also let us know how to get to the neighborhood shopping square where there is an awesome local grocer. The pool and courtyard is exceptional. Marcy was a great hostess who was there if needed, but totally allowed us privacy while we were there. Would definitely stay there again!
Angelia
2016-04-29T00:00:00Z
Marcy's place was clean, spacious and at a very good location (close to the airport). And Marcy was such a welcoming host that she tried her best to make ourselves at home. She even welcomed us to go swimming in her pool at any time. We would definitely stay again!
Chuan
2015-05-24T00:00:00Z
Szoba típusa
Teljes ház/lakás
---
Ingatlan típusa
Bungaló
---
Férőhelyek
4
---
Hálószobák
Miami Springs, Florida, Egyesült Államok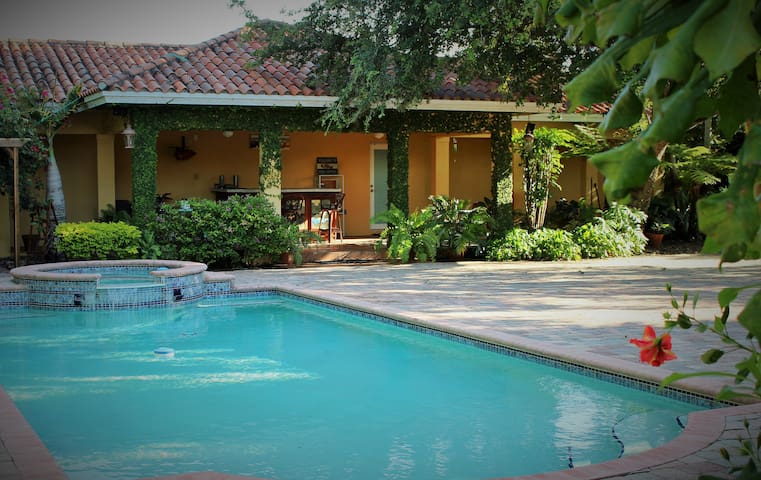 Perfect for layovers and good public transportation options for getting into the city and beaches. You will not find a closer place to the airport.
Perfect for travelers who are looking for a quiet and safe place to sleep, really close Miami International Airport, making it ideal for a layover. Metro station is almost a 10 minute walk. If I'm available I can offer you a ride or pick you up if its very late. We can host 2 guests comfortably, however we can host as many as 4 guests if you don't mind sleeping on an airbed or couch. This place is ideal for people who want a safe and clean place to sleep or relax before going to the airport or want to explore the city. The main thing we focus on is value, we try to make our guests feel welcomed, we offer light breakfast, I am more than happy to pick you up from the airport if I am home or give you a ride to get something to eat nearby. The area is good, but there isn't much that is walking distance as it is a residential area, there is a market nearby where you can buy food to cook here. The Miami airport station is almost 10 minutes away walking and from there you can take a bus to Miami Beach-$2.65 and will take 20-35 minutes depending on traffic and where you are going. You can also catch the train to downtown in about 15 minutes. The train can also take you to Coconut Grove, and Brickell if you want to check out some areas not in Miami Beach, it goes to South Miami, University of Miami, and up to Dadeland Mall of you want to go shopping. So there are many options for people who aren't driving. And if its late, then most likely I can pick you up. If you are driving that is fine too, parking outside, as I said its safe, I park outside.
The best thing about the neighborhood (aside from safety) is how close we are to the train/bus station. Less than 10 minutes walking, from there you can take a bus or train to anywhere in the city or take a quick and free shuttle train into the main airport terminal. Aside from the station there isn't too much within walking distance, however I can offer you a ride to a nearby area to get something to eat or buy basic things you may need.
We absolutely loved Arthur's grandma. She is the sweetest, most welcoming little woman and we would definitely stay with her again :)
twana
2016-10-25T00:00:00Z
Localizado quase ao lado do aeroporto de Miami, casa simples mas muito confortável.Cama excelente, ar condicionado e um otimo chuveiro quente. Alem disso o mais importante é a amabilidade, carinho e atenção por todos da casa. Arthur, é uma pessoa super cordial e sempre preocupado em dar todo auxilio possivel ao turista, o mesmo vale para sua querida mãe e claro, para sua avózinha que é uma pessoa encantadora, simplesmente um doce de pessoa. Todos os dias preparava um café da manha delicioso para nós. Recomento fortemente este local, ainda mais se você for brasileiro, pois esta família é simplesmente maravilhosa, e merecem todo nosso respeito e admiração.
Alexandre
2016-06-13T00:00:00Z
Wir waren für 3 Nächte bei Artur. Sein Großmutter war sooooo lieb. Vielen Vielen Dank Aida.
Wael
2015-05-25T00:00:00Z
I only stayed here for one night, as I was only passing through Miami and needed a place close to the airport. Arthur's place is about as close as you can get to the airport. The room and house are very nice, clean and comfortable. The airport is a 5 minute ride on the shuttle train and there are buses going to various places (including South Beach) a block away. The house is in a family neighborhood and felt very safe, the room is a bargain and Arthur and his grandmother are cool, friendly people.
Sean
2014-12-23T00:00:00Z
It was very nice to spend time in Arthur's house. He and his family are very kind, his grandmother even made breakfast for me and walked with me to the airport :)
Cynthia
2014-09-08T00:00:00Z
This place was perfect for me and my girlfriend as we had a car reservation in the airport next morning. Our flight got delayed and we didn't arrive in MIA until midnight. When we got to Arthur's house after a 5 minute uber ride, Arthur's mom welcomed us. They were very welcoming and flexible and even made us breakfast the next morning. They really just wanted to help and make us feel as good as possible. All in all a good experience that I definitely would recommend to others!
Claus
2015-04-05T00:00:00Z
My second stay at Arthur's home and it is like my home away from home. Spent some time with most of the family, walked the neighborhood and had a restful nights sleep. What else could you ask for. Nothing. On top of it had another nice breakfast and conversation in the morning. A+ coffee, too. Thank you all. See you next month.
Kier
2016-02-25T00:00:00Z
It was a nice stay, very welcoming and very close to the MIA airport. I would recommend the stay.
Hector
2017-03-22T00:00:00Z
Szoba típusa
Privát szoba
---
Ingatlan típusa
Ház
---
Férőhelyek
4
---
Hálószobák
Miami, Florida, Egyesült Államok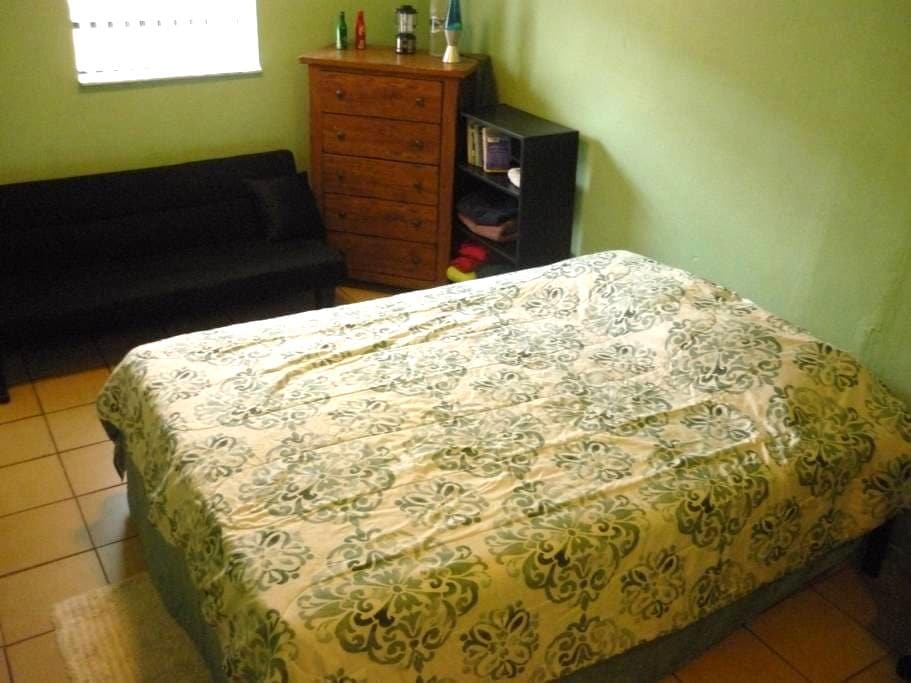 Ez egy közös teret, van négy ágyak száma kollégiumi szobában Ez Coed kollégiumi szobában így olyan környezetet. Kávé és tea tartalmazza. Ingyen wifi. Kábel TV. Nekünk van érme mosoda. Ha elfelejtette a törülközőt meg lehet vásárolni egyet nekem $ 5. A check in Im otthon a legtöbb időt, ha kell én intézkedik magával. Érkezés után 15:00 és kijelentkezés 12:00
Ez Coed kollégiumi szobában így olyan környezetet. Kávé és tea tartalmazza. Ingyen wifi. Kábel TV. Nekünk van érme mosoda. Ha elfelejtette a törülközőt meg lehet vásárolni egyet nekem $ 5. A check in Im otthon a legtöbb időt, ha kell én intézkedik magával. Érkezés után 15:00 és kijelentkezés 12:00
Good place for the budget minded.
Calvin
2017-01-30T00:00:00Z
I unfortunately did not get to stay at Jj's place because my flight was rerouted due to bad weather.
Arun Tejasvi
2017-01-10T00:00:00Z
This is as advertised - dorm style living. 6 bunk beds in two rooms with a single bath, access to a large living area and kitchen. Bring ear plugs, be considerate of others in the room, and if you can't climb to the top bunk let JJ know. It is a great inexpensive place to sleep in Miami area.
Randall
2017-03-31T00:00:00Z
The rooms are not private. We were deceived by the listing description and pictures and ended up in a room with 11 other people. If you don't mind that, then stay there, it's a great deal. Just be aware ahead of time of what you are signing up for.
Andy
2017-03-13T00:00:00Z
This was My first AirBnB experience and it was great! JJ was super hospitable. Definitly recommend staying here if you're ever in Miami! JJ for Pres, 2020!
Kenneth
2017-02-03T00:00:00Z
I spent one night for an overnight flight and found Jj to be very hospitable. He was understanding when I came in late due to my luggage being lost. We had great conversations about photography and he suggested places to visit for my night out and even woke up early to say goodbye. I would definitely recommend him to anyone.
Anil
2016-12-25T00:00:00Z
It was nice for a night.
Jaime
2017-03-09T00:00:00Z
have a real outlook on hosting an airbnb one of the best I have stayed at
cedric
2017-01-23T00:00:00Z
Szoba típusa
Közös szoba
---
Ingatlan típusa
Kollégium
---
Férőhelyek
2
---
Hálószobák
Miami, Florida, Egyesült Államok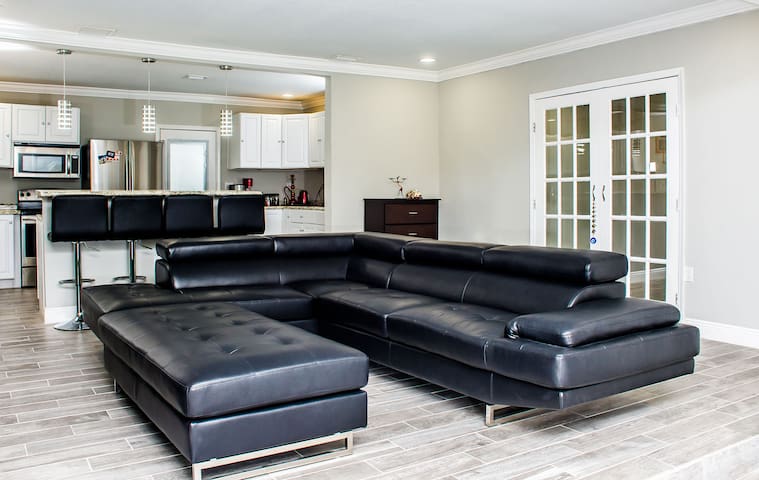 Beautiful studio with private entrance, and independent lock box if you want to check in yourself. Very close to the airport, a small water park and a city golf course across the street. Magic City Casino 7 minutes walking. Rental car and train station 5-10 minutes walk. Very centrally located with 2 minutes access to the express ways for faster connection to everything you want to see and visit in Miami.
Brand new renovated small studio with everything you need to have a great stay in Miami( No kitchen though). 2 bicycles for free also. Amazon prime and video prime. Queen bed with clean towels and linens. Even though is the closest deal to the airport, the place is close to pretty much everywhere you would like to go and visit in Miami. Restaurants and stores nearby. Downtown 8-10 minutes drive, South beach (PHONE NUMBER HIDDEN) expressway 1 minute.
Airport, rental car, Magic city casino very close. Water and baseball park crossing the street. Golf field also crossing the street. Downtown is 10 minutes drive. South beach around 15-18 minutes drive. Coral Gables 10-12 minutes.
Szoba típusa
Teljes ház/lakás
---
Ingatlan típusa
Hozzáépített otthon
---
Férőhelyek
2
---
Hálószobák
Miami, Florida, Egyesült Államok
Private room near MIA airport. Guest will share bathroom & small common area with microwave & full size frig. Great for the budget traveler. If you find another place available for less, send me link and I will try to price match, thanks.
Large room with plenty of space. You will be sharing a bathroom and small common area with microwave and Full size frig.
Miami Springs is centrally located near Miami International Airport, major highways including I-95, City of Hialeah, City of Doral and City of Miami.
Everything was as described and even better! nice area so close to the airport. very professional and satisfying on to the point arrangement by Gloria... A recommendation for everybody who travels on a low budget level & looks for something nice!
Christoph
2015-10-15T00:00:00Z
It was great to stay 2 nights in this room, has 2 comfortable beds, a good freezer, microwave and a stove, you can cook by yourself. Everything clean and smell good. Good localization by the airport. I do recommend this room! :)
Roan
2015-05-23T00:00:00Z
She was able to switch the date for me last minute and that was great. But for a girl and a older lady (my aunt) who is not use to seeing lizards , it was way to many lizards in front of the entrance & after calling her phone for 20 mins we finally was able to get the lizards to move from the steps so that we can enter. The room was nice and clean & the wifi worked wonderfully but the bathroom was totally not worth the stay . It was over 15 nets in the shower with me causing me to have to take a 3 minute shower & causing my aunt to not even use the bathroom the whole while we was there. Beside the bathroom the house was nice.
Tyra
2016-05-22T00:00:00Z
It was awesome!!
Myeongseok
2015-04-02T00:00:00Z
Pretty good. Clean and a good host. Could've been a bigger kitchen.
Alex
2016-09-18T00:00:00Z
super! Besoin d'une chambre au dernier moment Gloria m'a répondu très vite et fourni toutes les infos. Arrivée sur place chambre identique à l'annonce, très proche et silencieux. Je recommande sans hésitation :) Encore merci.
Maddy
2016-06-15T00:00:00Z
The room was very clean and I felt comfortable. The neighborhood is safe. I would recommend anyone to book this room.
K Sebastan
2016-12-01T00:00:00Z
Overall everything was good, no problems with anything else but unfortunately we were bothered by bed bugs. We had to inform the host, she might not know. She responded quickly but make sure of clearing this before checking in.
Hemanshi
2017-03-31T00:00:00Z
Szoba típusa
Privát szoba
---
Ingatlan típusa
Ház
---
Férőhelyek
4
---
Hálószobák
Miami Springs, Florida, Egyesült Államok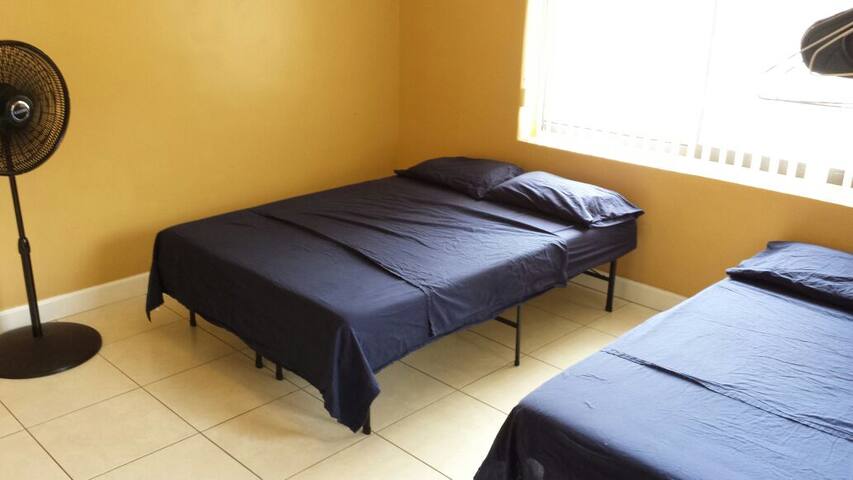 Beautiful, newly remodeled studio with privacy. Private entrance, 2 full sized beds. Microwave & Mini-Fridge. Welcome snacks . All toiletries, clean white towels, hair dryer, fast WIFI. 42" Flat screen 4k TV. This is the Closest Airbnb to the airport (3 min drive), 12 min walk to Airport Car Rental Center and the Metrorail Station. Perfect for layovers as well as longer stays. Great neighborhood! 15-20 min away from most Miami attractions.
The studio has a mini-fridge and microwave; this studio used to be the master bedroom with master bathroom inside the room. The studio has two super comfortable, full sized mattresses. One bed hides underneath the other one when not in use. Table, cups, plates and disposable silverware is provided, as well as clean towels, hairdryer and toiletries such as new soap bar, shampoo and conditioner. WiFi signal is great since router is right across the hallway. 42" smart flat screen TV has 70+ local HD channels plus free Netflix, Amazon Prime and other streaming services. Plenty of outdoor parking space up front. The house has palm trees in the front and you come in through the palm tree lined back yard. You may also use the back yard to sit and relax (guests only). You will find some snacks on your arrival....... Click on "about this home" to see a detailed description.
This is a very nice and safe neighborhood, many of our neighbors own yachts and keep them here, since all the houses across the road are water front homes. The neighborhood is secluded and many police officers, such as our next door neighbor, live in the area. Other than being so close to the airport and Metrorail station, the house is 2 blocks away from a Golf Course and 10 blocks away from the Grapelands (mini) Water Park. 1 mile away from a strip mall with a Kmart, Winn Dixie, Walgreen's, Burger King, McDonald's, Wendy's, Taco Bell, KFC, Pollo Tropical, etc... many of them open until very late or even 24 hours. Click on the guidebook for a local map.
I had such a great experience using Jose & Tania's apartment. Everything was exactly as described and felt really welcomed. The proximity to the airport was very convenient and we were really surprised by all the amenities they offered us. We were only there for a quick sleep to recover after traveling all day and left early the next morning to continue our trip home. I only wished we could've stayed longer to really appreciate all the work the host has put into this beautiful place. I recommend this place to anyone looking to stay in Miami!
Johanna
2016-05-07T00:00:00Z
Amazing house and couple! I really recommend you to book Jose&Tania's room if you drive to Miami! It's so valuable with such a private space, including clean room, bath room, free parking, courtyard,laundry, fridge, hot drinks, even delicious snacks. The host are very kind and nice, so easily to get along with. Jose has driven us to the airport at early 5:00am to catch our flight. Thank you so much, Jose and Tania! We wish you all the best, and you earn it!
Autumn
2016-05-12T00:00:00Z
I booked the room one night before my stay and got a response within minutes. My husband and I were really lucky we found the room of Jose and Tania. 5 star place for sure. They were so nice to us and the place looked very great. Own entrance to the room, own bathroom, fridge and microwave. Better then many nice hotels I've stayed. We got a ride from and to the hotel from Tania and arrived within minutes. We got welcome snacks and drinks as wel as breakfast in the morning. We've never had this great service. They will bring you around the neighborhood if they are available. The location was nice. There is a shopping place 15 minutes walking from the house. There are a couple of eateries there and also a K-Mart, Walgreens etc. Whenever I need an airbnb place in Miami this will be my first pick. Thank you so much for your hospitality both Tania and Jose. Greetings from Shirley and Raymond from Suriname
Shirley
2015-09-28T00:00:00Z
Tania and Jose were awesome! They had a very clean and nice room with two beds and a nice bathroom. The enterance was separate and the breakfast in the morning was great! I would recommend anyone to stay here!
Sherry
2015-09-14T00:00:00Z
Tania made us feel very comfortable . If we ever needed anything she responded quickly . The listing is very accurate !
Jocelyn
2016-03-22T00:00:00Z
An excellent first time experience. Room has separate entrance from the house. Very clean and well maintained room and bathroom. Jose and Tania were most helpful and hospitable. Thank you both for your hospitality. Giving you a 100 percent pass mark!!!!.
omolara
2015-09-21T00:00:00Z
Jose & Tania are really nice people. The house is warm and clean. This is a really nice experience for me.
JUNYU
2016-01-06T00:00:00Z
2nd time staying with Jose and Tania and it was as perfect as the first time. They are exceptionally helpful an d very, very accommodating. Both times now they're opened up their home early so we could drop off our luggage so we wouldn't have to carry it around Miami.
Jessica
2016-04-05T00:00:00Z
Szoba típusa
Teljes ház/lakás
---
Ingatlan típusa
Ház
---
Férőhelyek
4
---
Hálószobák
Miami, Florida, Egyesült Államok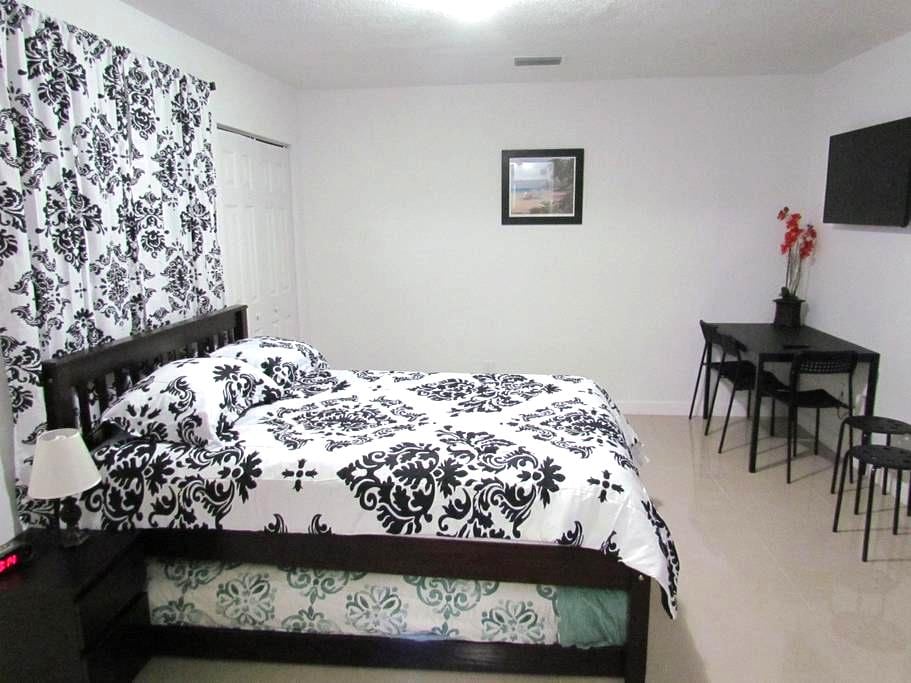 Relax and re-charge in this unique home with a resort like feel. Built around the pool, every room has a view that reminds you you are on vacation. The home is centrally located in a quiet community within the Miami metropolitan area.
The property features indoor/outdoor living, with sliding glass doors that open completely to the pool. Lush landscaping surrounds the property, and an outdoor barbecue area and dining table complete the vacation setting. Retreat to one of three well appointed bedrooms - the master features a king size bed, the second features a queen size bed, and the third features two twin beds. The dining area has an eight foot counter height table perfect for large groups. The kitchen is fully equipped with stainless steel, state of the art appliances. New washer and dryer in the laundry closet.
Miami Springs is a quiet oasis in the center of the Miami metropolitan area. There is a grocery store, convenience store, bakery, and several restaurants within walking distance. There is a bike/walking path, tennis courts, golf course, and library also within walking distance.
House was impeccable! It was also perfect for my father who was in a wheelchair. Pool was amazing and was lighting up different colors. The only bad thing I have to say is that the "hot tub" was not hot, but in fact its a spa tub, which means it doesn't heat up but still shoots bubbles. Evelyn responded to all question in a timely manner which I really appreciated. In all I highly recommend this house for families.
Michael
2017-01-20T00:00:00Z
Great stay. Very comfortable. Great host.
TJ
2017-01-30T00:00:00Z
Evelyn has a pretty house. Everything was as described. I wish I could take care advantage of the pool. Beautiful home. I recommended %100.
Carlos
2017-03-26T00:00:00Z
Beautiful and clean house in Miami Springs. Walking distance to a cool neighborhood. Evelyn was a great host. Thank you!
Rob
2016-12-24T00:00:00Z
This is a very nice home, nice and clean. Updated appliances, comfortable beds, nice pool, close to shopping and pretty close (25 min drive) to the Hard Rock Stadium for the Football games.
Gerry
2017-01-02T00:00:00Z
This property was perfect for our group of 6. Very quiet neighborhood conveniently close to the airport
Morgan
2017-03-19T00:00:00Z
Es una casa muy acogedora por lo que sientes como estar en casa, tiene todo lo indispensable y sus ambientes la hace tan especial, esta muy bien ubicada en un residencial muy tranquilo. Evelyn nuestra anfitriona siempre estuvo pendiente de nuestra estadía, esto te hace sentirte muy cómodo ya que tienes a quien acudir si necesitas algo, y ella lo hace sentir de esa manera.
Erick
2016-12-31T00:00:00Z
It's a lovely home, check in was easy, great communication with the host, highly recommend staying here
Delson
2017-04-02T00:00:00Z
Szoba típusa
Teljes ház/lakás
---
Ingatlan típusa
Ház
---
Férőhelyek
6
---
Hálószobák
Miami Springs, Florida, Egyesült Államok
32" Sea Ray Yacht located in the heart of Miami on the Miami River. Minutes away from downtown Miami, the AAA arena, south beach, bayside market place and Wynwood art district. Just a half mile down the river there are 5 star restaurants such as Sea Salt and Pepper, Casablanca sea food restaurant and garcias which are some Miamis best and most extravagant restaurants that include beautiful views of the Miami skyline. Night tours of the river are also available on the yacht for a small extra fee.
Private yacht for your own pleasure with lots of Amenities. Comfortable beds with always fresh sheets and a very clean bathroom. The boat has a flat screen tv with DVD player and stereo. Plenty of electrical outlets. Great top deck to sun tan on. Super comfortable lounge area out back with BBQ grill and lots of seating. Refrigerator stocked with bottled water. Fishing rods and snorkeling gear onboard.
Nice restaurants great shopping and night life. Centrally located
Lucy and Juan were amazing, the yatch was just as described, very clean and cozy! Close to restaurants and nightlife. Slept under the moonlight and woke up to a beautiful sunset literally on the water. I definitely can't wait to go back and stay at their place again. Thanks Juan and Lucy :)
Emy
2017-04-08T00:00:00Z
Szoba típusa
Teljes ház/lakás
---
Ingatlan típusa
Hajó
---
Férőhelyek
4
---
Hálószobák
Miami, Florida, Egyesült Államok
Large room with independent private access. The room is attached to a house located near the airport, and close to everything. Perfect for couples, business travelers, and adventurers, and equipped with everything you need during your stay.
The space is a room attached to a family home, however it has an independent private entrance. The room has wooden floors, a mini refrigerator, a microwave oven, and a desk with a lamp. You will have your own parking spot in the driveway if you ever need it.
Miami Springs is a beautiful, and very safe suburb smack in the middle of Miami. We are very close to the airport, minutes away from downtown Miami, Wynwood, Midtown, Brickell, and even the beach.
Jolie petite chambre pour deux personnes
Clément
2017-03-28T00:00:00Z
Gloria is in top of every single detail, great host in a very quiet neighborhood. Definitely will stay with Gloria when we have a new chance to go to Miami. Thanks for the warm hospitality.
Jorge
2017-03-07T00:00:00Z
Great Value, Comfortable Room, Goos size bathroom, bed is comfy , good linens, Wfi works well. Very nice host .
Camille
2017-02-03T00:00:00Z
Gloria home is PERFECT...clean,comfortable bed, cable(that we didn't watch because we was enjoying our life in Miami lol) she lives close to everything that you would be looking for from the beach to the mall. Gloria is very professional and sweet. Communication was great. She made my me and my boyfriend first AIRBNB stay awesome...definitely will book her again
Atrice
2017-03-20T00:00:00Z
very welcoming and reached out to me to ensure I was comfortable
russ
2016-12-09T00:00:00Z
Staying with Gloria was a joy! What stood out most was her hospitality and attention to anything we might need. The location was also great and centrally located making a trip to anywhere in Miami easy including less than a 5 minute trip to the airport. Will definitely be looking to stay here in the future.
Omar
2016-12-18T00:00:00Z
Gloria is a wonderful host. She is very helpful and has constant communication with her guests. The airbnb is only a $8- $15 Uber ride to South Beach or Wynwood. Perfect little studio with private entrance. Had a great stay!
Rodney
2017-01-29T00:00:00Z
Happy to recommend!! Gloria and her family are very friendly and helpfull. The place is beautiful and clean and its situated in nice and calm neighborhood. If you thinking about vacation in Miami, Glorias studio is your first choice. Everything was perfect!!!
Lucie
2017-01-15T00:00:00Z
Szoba típusa
Teljes ház/lakás
---
Ingatlan típusa
Egyéb
---
Férőhelyek
2
---
Hálószobák
Miami Springs, Florida, Egyesült Államok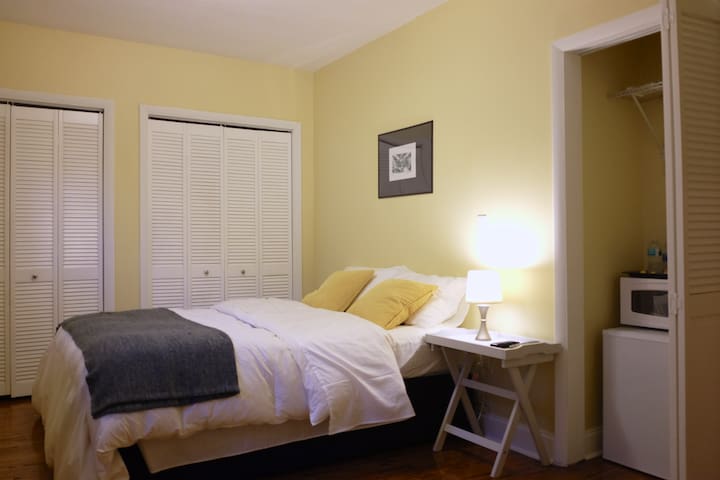 My place is close to airport, public transportation. You'll love my place because of the decor, everything is brand new, the ambiance. My place is good for couples, solo adventurers, and business travelers.
Adrian's just Ossom!! The house is as beautiful as it looks like. I already extended my stay for another month so you can just imagine how great it would be :)
Leena
2016-09-28T00:00:00Z
He is a really helpful host.
Robert
2016-07-09T00:00:00Z
Really clean and brand new apartment, the kitchen and living space are brilliant and everything worked as it should, the bed was comfy too. Only draw back is the location, you can't really walk around there at night I don't think, but fine if you have a car.
Anthony
2016-10-20T00:00:00Z
The place is big, clean...easy to get to other places from this place.
Suhel
2016-11-30T00:00:00Z
Very welcoming
Nalleli
2016-07-13T00:00:00Z
My first time to Miami and I wasn't sure of what area to chose but this is a good area. I was ok with it cause I have a rental and there is Uber and Lyft around as well. But this is a bomb layout and very comfortable and clean. Modern updated decor which attracted me. Adrian is a wonderful host very attentative and helpful. I will def be back to stay here once I return to Miami. First air b n b experience too and I am very pleased....
Brittney
2017-03-04T00:00:00Z
Adrian was an amazing host. It felt like we were with family and his home felt like my home for the week I was there. I'll recommend his Airbnb to everyone and is gladly stay there again
Péta
2016-08-04T00:00:00Z
Adrian was very hands-on and attentive. He communicates effectively especially since it was a last minute booking. Upon arrival, he met us at the door and showed us around. He explained all the house rules thoroughly and made sure we felt at home. The room and the house itself matched the photos exactly. It was a great experience. Definitely a place I will book again in the future when I visit Miami again.
Tara
2016-11-06T00:00:00Z
Szoba típusa
Privát szoba
---
Ingatlan típusa
Ház
---
Férőhelyek
2
---
Hálószobák
Miami, Florida, Egyesült Államok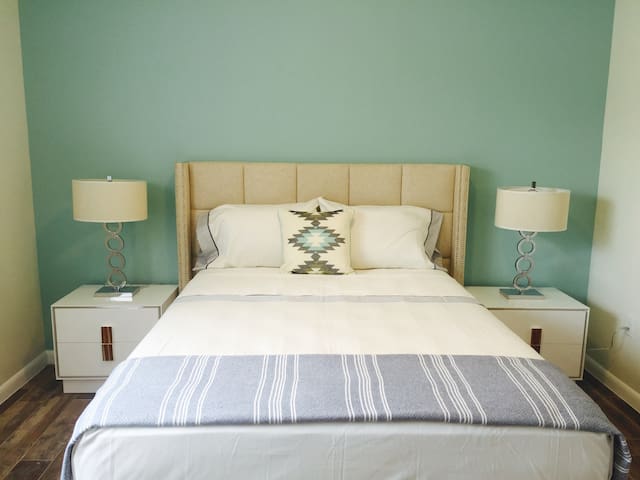 Hialeah - Airbnb
:
Átlagosan

4.81

az összesen

5

csillagból,

1794

vendég véleménye alapján
Add meg az időpontokat a teljes ár megtekintéséhez. Felmerülhetnek további költségek illetve adók.