A következő formátumban add meg az érkezés idejét: éééé.hh.nn.
A következő formátumban add meg a távozás idejét: éééé.hh.nn.
Olyan szálláshelyek, amelyek lefoglalásához nem kell a házigazda jóváhagyására várni.
Add meg az időpontokat a teljes ár megtekintéséhez. Felmerülhetnek további költségek illetve adók.
Idén júliusban és augusztusban kipróbálhatsz 100-at a legkülönbözőbb árfekvésű, legmagasabbra értékelt szálláshelyeink közül, és a helyiekhez hasonlóan élheted meg Sonomát. Az éjjel-nappali bejelentkezésnek, az azonnali foglalásnak és a helyi boroknak és finomságoknak köszönhetően nyugodtan hátradőlhetsz, és élvezheted az utat.
We love the peace and serenity of this location near the Canadian River. The light on the canyon walls is different every season. We have tried to make our Guest House as comfortable as possible for anyone who stays.
We have a 10,000 acre ranch of which we are offering our guest house and about 1,500 acres for your enjoyment. The Canadian River runs through our Canyon property. You will enjoy the serenity of the canyon, river and wildlife, all while having the comforts of home. The location is remote while being one minute from Highway 120 that runs through our ranch. This is an ideal spot for those who are longing for real off the grid serenity. It's also an ideal overnight stay for travelers from Texas going to ski resorts or other New Mexico destinations. Hikers and fisherman enjoy this area as well. Nature and wildlife lovers should enjoy their stay. Sorry we can't accommodate hunters as we don't allow hunting on the property. Guests have access to a full kitchen, living room, dining area, three bedrooms and two bathrooms. Outdoors you will be surrounded by plenty of open space as well as the view of canyon walls. You can walk or run along the river and hike to your heart's content. Or you can just sit outside in the yard, build a fire in the fire pit and sit around the fire. We are located one hour from Las Vegas, New Mexico, two hours from Santa Fe and 2 1/2 hours from Taos. Please bring your evening entertainment with you. Reading, music or Netflix steaming on an iPad or laptop are some of the things guests have enjoyed. You can always catch up on work if you are so inclined. The river varies it's color and flow seasonally. There are generally some good fishing and swimming holes from late spring through early fall. We (the hosts) or our employee will greet you and give a tour of the house. We will also give information on the area of the ranch to which you will have access. You can communicate with us via wireless Internet as there is no phone in the house and no cell phone signal in the canyon. Texting and email will be our main source of connection with you .
Our ranch is large and surrounded by other large ranches, so we are indeed off the grid. The quiet privacy and beauty is what we love about our ranch. We do have wildlife though sightings are rare. There is no TV or phone service in the house. So come prepared with a smart phone, tablet or computer for communication with the outside world as we do have wireless Internet. It's a wonderful and romantic location but not for the faint of heart. Any vehicle should be fine. It is rare that a four-wheel-drive is needed unless it is an unusually deep snowfall. The photos of the exterior show a fireplace, but it was eliminated in the remodel. Also, there is a small country grocery store 15 minutes from the house (closed Sundays) But, it is pretty limited in its' offerings. So, please bring full food provisions for the duration of your stay. The kitchen has everything you need to prepare meals . We will provide coffee and some other basic staples like salt, pepper and sugar. Again, be reminded there is no cell service in the canyon and no phone in the house. Wireless Internet is the form of communication from the house. A short drive up Highway 120 may enable those of you who have AT&T or T-Mobile to get a cell signal. However you may have to drive a couple of miles to reach the signal. There is no smoking inside the house. No pets allowed. No hunting. No partying.
Wow. Just wow. Highly, highly recommend! Shirley communicated very well prior to our visit and Gilbert was so very kind, polite and helpful. Oh! But this place! You just can't imagine how beautiful and peaceful it is without experiencing it for yourself. The canyon is a hidden gem. And the home has every high end amenity you could want. Wish we could have stayed longer.
Brenda
November 2016
We absolutely loved our stay in this beautiful home. It was surrounded by canyons and sits by the river. The views are ones you expect to see in a resort magazine. Shirley and Ted were very inviting and friendly. We were only able to stay 1 night but we would love to make a family trip for the weekend. There is plenty of room to get comfortable and it is a great escape from the world as it is nestled down in the Canyon. This stay has surpassed any hotel stay I have every had and I would highly recommend it.
Falon
April 2016
Very modern accommodations. Remote location. Wide open land. Lots to explore. Very comfortable. Love the no television aspect.
Tonya
November 2016
This home is a hidden gem. It may be a little out of the way, yet it is absolutely worth it. You are surrounded by canyon walls and a small river that are simply gorgeous. The home itself is well decorated, modern, and has everything you need to have a serene getaway. This stay exceeded our expectations in every way. I look forward to coming back in the warmer months.
Gil
January 2017
Our experience may not be that good, but my host Shirley and her husband gave us great help and the house is so good that beyond imagination. We were on the road and came really late around 11 p.m. Since the house is literally in a canyon and it is the only house in the canyon, it is really hard to be found. Besides, there is no signal. Shirley and her husband wait us till 11 p.m. so that to lead us to the house. They are very responsible. And the house is really beautiful. Clean and neat. There is campfire outside the house which my dad said he would come back again for the campfire. Campfire in a canyon all alone!! Well, it wasn't a great experience for us but this place is worth to go.
Raoul
May 2016
We could not be more pleased with our stay at the beautiful guest house. The house is a perfect place to stay. The private property is one of the most incredible places in nature that We have ever been able to access. The privacy can not be matched. We hope to return soon.
KEVIN
September 2016
Wagon Mound… Not very descriptive, just a village you might pass through to get there. This is actually a comfortable house dwarfed by the Canadian river canyon. The outside appearance might be a little rustic but don't be fooled. A lawn surrounds the home, covered parking keeps your car cool. Inside you are greeted with original art, air-conditioning, and beautiful bathrooms with soft water. Granite counter tops, hardwood floors, quality furnishings, and comfortable beds make this a luxurious place to stay. In the evening, gather around the fire pit, cook on the open fire and watch the sunlight play on the 360 degree view of the canyon cliffs. Gather around the birds-eye maple dining table for cards with the family. Walks along the Canadian River lead you through a lush river bottom with trees for shade. The banks suggest fish lurking under the overhanging grass. All this backed by the immensity of the canyon walls. Your completely private wilderness. This place was totally a ten.
Michael
June 2016
This was our second time renting the Ranch Guest House from Shirley and both times have had a wonderful experience.
Cahleen
November 2016
Szoba típusa
Teljes ház/lakás
---
Ingatlan típusa
---
Férőhelyek
6
---
Hálószobák
3
Wagon Mound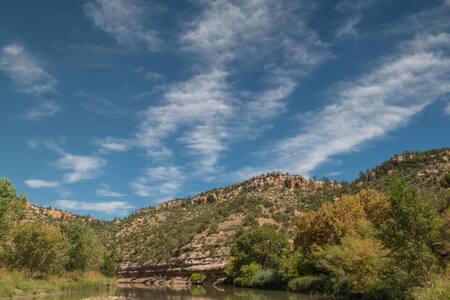 Fully furnished and newly remodeled!!!! Very comfortable and clean, fully stocked kitchen, Large outdoor covered patio with outdoor furniture and BBQ gas grill. Pull through U-shape driveway, covered parking, fenced in yard.
Completely enjoyed our stay, especially since our stay was super last minute, but our host was amazingly accommodating to our situation. I highly recommend both of Beate's properties and will continue to book with Beate, thank you for allowing us to enjoy your properties!
RAUL
August 2016
Beate's place was very clean, modern and serene. There's a large two or three car covered area for parking. The washer and dryer are nice for long stays and the kitchen has everything needed to cook to your hearts content. The satellite TV and internet are an added bonus for such a remote area. I highly recommend visiting Las Vegas, NM which is about an hour away for hiking and hot springs. The hike up to the mesa behind the house is also fun for exploring.
Joey
December 2016
The house was spotlessly clean and beautifully decorated. Very comfortable with everything one could need. Excellent communication from Beate, and had no trouble finding the house despite the remote location. Thanks!
Cathy
September 2015
The place was better than we expected especially for a lake house, very clean with new renovations. Loved the decor and style of the place. The house was stocked with everything we could need from shampoo to ice. Another perk, we had access to a camp area on the water for fishing and swimming without having to pay the day pass fee. Beate greeted us after we got settled in the first night and was very nice, as if we already knew each other. We will definitely be staying there again.
Jordan
June 2016
Great place, everything as described! Super clean and comfortable! Will stay again in the future! Very nice person to deal with!
Randy
July 2016
Thank you so much for letting me stay in your home. Great spot, right on the lake. Loved the personality throughout the space. I will look to book again when I am in the area.
Charles
December 2015
Manufactured 2-BR home was clean and tidy and felt very recently updated. Amenities were inclusive (wifi was a plus). Beate's quick response to any question was appreciated. We enjoyed exploring this remote area, the drive is quite beautiful. We had deer visitors every day!
Jeff
November 2016
Szoba típusa
Teljes ház/lakás
---
Ingatlan típusa
---
Férőhelyek
4
---
Hálószobák
2
Conchas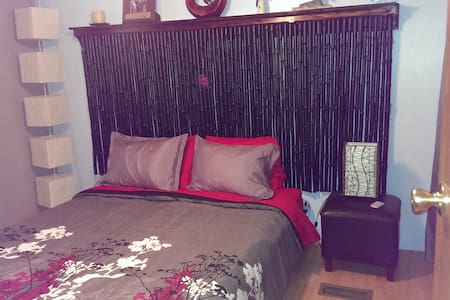 My place is close to Conchas Lake the 2nd largest lake and best kept secret in New Mexico. My place is good for couples, solo adventurers, and families (with kids).
Szoba típusa
Teljes ház/lakás
---
Ingatlan típusa
---
Férőhelyek
8
---
Hálószobák
3
Conchas