We have a very luminous 4 bedroom-house in a secured and very nice compound. We have guards, gardeners and housekeeper. Located in town, near the main bus station and surrounded by small shops to get basic stuff and food
We are 2 friends (females) living in this house and we have 2 available bedrooms
she is a beautiful and kind girl. she helped us to arrive her home as safe and fast. I bothered her many questions and requires but she answered kindly and gave me fast feedbacks. Her house is very quiet and nice. I'll suppose her house to anyone who visits Mbeya at first time. One night in her house was the special experience in my Tanzania' tour. I appreciate her kind again.
Jinee
2016-07-19T00:00:00Z
Line is amazing! Made us feel at home and responded to all my questions on time. Thanks Line
Rachael
2016-08-19T00:00:00Z
One of my best Airbnb experience. Thanks Line for being such a great host
Ramana
2017-03-16T00:00:00Z
예약후부터 도착전까지 세심하게 챙겨주고 많은 질문에도 친절하게 답변해주었어요. 공항과 기차역에서 가는 방법과 택시마중까지 도와주었고 새벽에 안전하게 버스터미널까지 갈수 있도록 콜택시까지 불러주었어요. 매우 친절하고 아름다운 호스트였어요. 잊지 못 할것같네요. 음베야에 가실 일이 있다면 추천합니다.
Jinee
2016-07-18T00:00:00Z
This is the best place you could imagine in the green hills of Mbeya with a nice garden and view. Line is a great host, very helpful and easygoing. It's a place feeling home.The house is fantastic with nice furniture and decoration. The center of town is easily reachable by feet. Just perfect!
Sven
2017-02-12T00:00:00Z
Great place, wonderful outdoor space and terrace, great view. Close to nearby shops, safe compound. It was super staying with you and Jasmine - thanks for your hospitality and grilled chicken tip! We had a good time in Mbeya and it was great staying with you and sharing your home. Thanks!!
ctuijn
2017-02-24T00:00:00Z
Unser Aufenthalt in Mbeya war wirklich super durch diese schöne Unterkunft. Das Haus ist groß und total nett eingerichtet, das Gästezimmer ist geräumig und sauber, uns fehlte es an nichts. Im Vorhinein hat Line schon immer auf alle Fragen super schnell geantwortet und uns auch bei den Ankommensschwierigkeiten sehr geholfen. Wir haben uns insgesamt sehr willkommen und wohl gefühlt. Thanks again Line, for hosting us and helping in every possible way, even if you were so busy at work. We enjoyed our time and felt very welcome. Cheers to the other two guys, the three Germans. :)
Amelie
2016-12-17T00:00:00Z
Szoba típusa
Privát szoba
---
Ingatlan típusa
Ház
---
Férőhelyek
2
---
Hálószobák
Mbeya, Mbeya, Tanzánia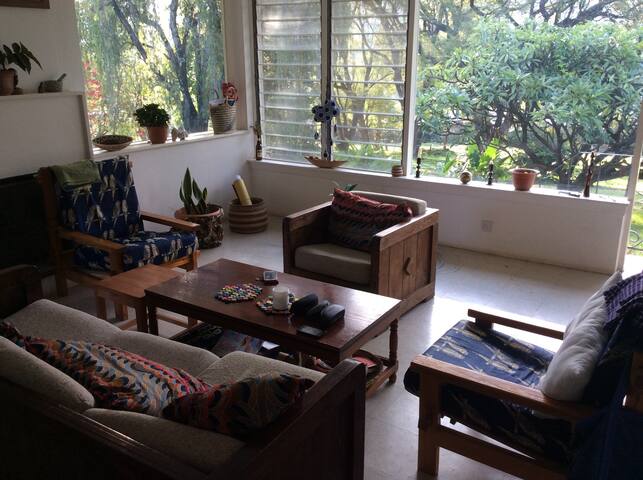 We are situated 10min walk from the center of Mbeya Town. Enjoy a clean room, hot shower, birds chirping outside, fresh air from Loleza Mountain and sounds of Mbeya, while enjoying Lunji Coffee in the garden or veranda or doing a safari/horse ride.
You will have a room to yourself and share a bathroom with a guest/s from a joining room.
House was great. Amazing hospitality. My regards to your entire family Amelia. You people made it feel like home
Ramana
2017-04-04T00:00:00Z
Amelia is a wonderful host. A cup of tea the moment I arrived. She prepared dinner and breakfast was gorgeous (with fresh ground coffee). The house is huge and I had a lovely room. She gave great assistance with my onward journey and even went to the trouble of making phone calls for me. I can highly recommend Amelia's.
Paul
2016-07-21T00:00:00Z
I have spent two nights with Amelia and her sister, the house is beutifull and located in on the green hills next to town. The house is clean, the food is great and the hosts are simply incredible. If you hit Mbeya for any reason don't have any doubts and stay there!
Giulia
2015-09-04T00:00:00Z
Nice place to stay in Mbeya! Maybe somehow difficult to find if you don't know where it is (since there are not really streetnames/zipcodes in Mbeya), but if you have a good driver it will be fine! I had some problems to get to this place, since my driver didnt show up, but luckily there were people around to help me. What I loved about staying at Amelia's place is the opportunity to share dinner with her and her sister (the food tastes amazing!), since it gives a nice opportunity to meet your host. The accomodation was fine, nice room and everything you will need during your stay (including mosquito net). There is a big living room where you can relax, which is nice, so you dont have to spend all your time in your room. There are three dogs on the property, all very friendly.
Elza
2017-02-14T00:00:00Z
Such a fantastic place! The location is wonderful with beautiful views of the mountains as you have a delicious breaky in the morning (provided by the wonderful hosts). Amelia went above and beyond in organising great trips to the crater, coffee lodge and Kitulo NP. Also don't miss the opportunity to visit their cafe down the road - best food in Mbeya! :D
Kate
2017-03-15T00:00:00Z
Amelia was a great and attentive host. She was very patient with us booking last minute and arriving late. The room was clean, the breakfast generous with lots of home made goodies and produce. Definitely recommend!
Arif
2016-01-11T00:00:00Z
Amelia has been amazing. We kept in touch via airbnb before my arrival and he has always been available and helpful throughout my stay. He was the perfect host you could ever imagine. I will definetely come back at his place for my next stay in Mbeya!
Giulia
2015-09-05T00:00:00Z
Exceptional stay. We stayed for two nights and felt really welcome. Amelie was super in giving insights of the region, advise on what to see and very helpful in arranging practicalities. The rooms were clean, comfortable and we felt safe. Special points for good mosquito nets. Highly recommended!
Mikko
2015-08-21T00:00:00Z
Szoba típusa
Teljes ház/lakás
---
Ingatlan típusa
Szoba reggelivel
---
Férőhelyek
7
---
Hálószobák
Mbeya, Mbeya, Tanzánia
My place is good for couples, solo adventurers, business travelers, and big groups.
We offer full board without incremental of cost,but also we offer the kitchen for the guest who wish to cook by themselves!
They are local ordinary people where you can have an opportunity to learn local people of mbeya culture...
Szoba típusa
Privát szoba
---
Ingatlan típusa
Ház
---
Férőhelyek
6
---
Hálószobák
Mbeya, Mbeya, Tanzánia
Comfortable home conveniently located just out of mbeya town. We have a spacious living room, back porch, and nice modern kitchen (or as modern as you can find in Mbeya)! Property has 24/7 security, guard dogs, and parking is available. All are welcome, message me if you have any questions!
Szoba típusa
Privát szoba
---
Ingatlan típusa
Ház
---
Férőhelyek
2
---
Hálószobák
Mbeya, Mbeya, Tanzánia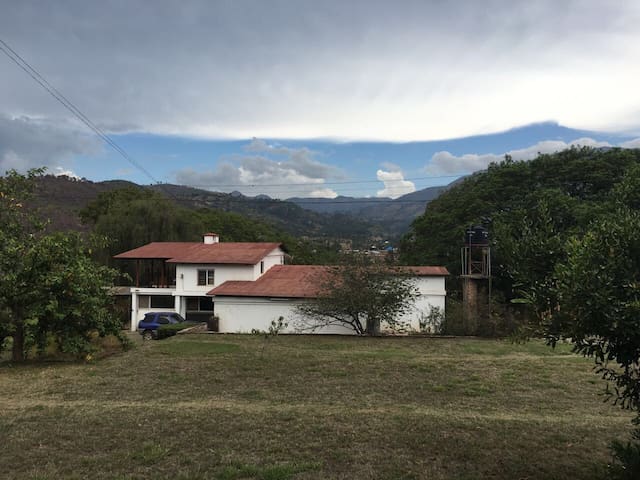 Add meg az időpontokat a teljes ár megtekintéséhez. Felmerülhetnek további költségek illetve adók.