A következő formátumban add meg az érkezés idejét: éééé.hh.nn.
A következő formátumban add meg a távozás idejét: éééé.hh.nn.
Olyan szálláshelyek, amelyek lefoglalásához nem kell a házigazda jóváhagyására várni.
6 Hirdetés
· Smithfield Plains
6 Hirdetés
· Smithfield Plains
Add meg az időpontokat a teljes ár megtekintéséhez. Felmerülhetnek további költségek illetve adók.
Idén júliusban és augusztusban kipróbálhatsz 100-at a legkülönbözőbb árfekvésű, legmagasabbra értékelt szálláshelyeink közül, és a helyiekhez hasonlóan élheted meg Sonomát. Az éjjel-nappali bejelentkezésnek, az azonnali foglalásnak és a helyi boroknak és finomságoknak köszönhetően nyugodtan hátradőlhetsz, és élvezheted az utat.
My place is close to Public transport, Shops, Access to Barossa. You'll love my place because of the neighbourhood, large House, Space, Pay TV, WiFi. I'm friendly but can give you space if you need. House is clean and tidy and only 5years old. My place is good for couples, solo adventurers, and business travellers. I have a friendly cat that stays outside most of the day.
Guests get a double bed in a lovely bedroom within a large house in a quiet area. Guests are welcome to bring their own breakfast, lunch dinner and use house facilities to prepare them. Cereal, tea/coffee is included in stay if required. Guests have access to whole house except my own bedroom and ensuite. Foxtel Pay TV and wifi (within reason) is included. Access to main bathroom including shower and bath and a separate toilet. I work full time but contactable most times by phone. I'm out often and occasionally away on weekends.
House is located in a quiet neighbourhood surrounded by newish houses. A bus service operates to the main shopping centre. There are take away and dine in places close by including McDonalds, Indian, Asian, Italian etc. I have a young friendly cat. She stays out most of the day but can be inside.
Szoba típusa
Privát szoba
---
Ingatlan típusa
---
Férőhelyek
2
---
Hálószobák
1
Munno Para West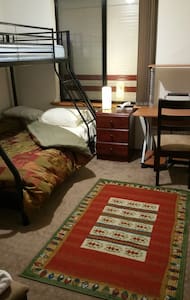 THE ROOM ACCOMMODATES 2 ADULTS.. QUEENBED. PLUS A CHILDS COT IF NEEDED... ITS MODEST INCLUDES INTERNET.. BATHROOM IS SHARED WITH OWNER AN SON..KITCHEN AN FRIDGE SHARED.. DOG FRIENDLY ..WASHING MACHINE SHARED.... (URL HIDDEN) USE.
QUEEN BED .. PORTA COT.. PET FRIENDLY.. ACCESS TO KITCHEN,BATHROOM, LAUNDRY, INTERNET
HAS PARKS ALL AROUND .. QUIET STREET.. 50 METRES WALK FOR BUS TO CITY.. 15 MIN WALK TO MAJOR SHOPPING COMPLEX AN TRAINS..LOCAL SHOPS 500 METERS WALK TAKE AWAY PIZZA AN CHICKEN SHOP POST OFFICE NEWSAGENT AN SUPERMARKET..
We had a good time in Ness's house, she was really helpful for our visits, she knows Adelaide very well ! Very quiet area, having your own car is preferable. Thank you Ness !
Marion
September 2016
Great place very welcoming and cozy... I enjoyed every minute of it. Quiet street, big backyard with friendly dog !!:-) Vanessa is great host, she provided everything I needed... I would definately come back again :-) sad it was just for 4 nights
Zuzana
February 2016
We felt welcome right from our arrival, great location, clean and tidy, we definitely recommend staying with Ness, and will be booking again if we're ever back in Adelaide. (Definitely go to the wildlife park nearby, amazing!)
Karl
August 2016
Had a fantastic time at Vanessa's house and with her family. Super fun and friendly home atmosphere. Would definitely stay here again!
Jake
March 2016
Lovely stay with Vanessa, her son and cat and dog, they are all very welcoming and great to be around. The bed is comfortable and place has everything you need with shops only 5min walk/1min drive away. Its also just 30min drive to Barossa Valley wine region. Loved the visit and hope to stay again when Im in Adelaide.
Gracie
November 2015
It is an enjoyable stay.
Leo
February 2016
Our stay was really nice. Thanks to Vanessa for her friendliness, advices and suggestion for Adelaide trip. Definitely stay here if we visit Adelaide again
Van
April 2016
Felt comfortable and relaxed
Don
August 2016
Szoba típusa
Privát szoba
---
Ingatlan típusa
---
Férőhelyek
2
---
Hálószobák
1
Elizabeth Park
Large studio room separate to house for ultimate privacy. Quiet suburban neighborhood. Sleeping room for up to 6 people and 2 couches, inbuilt bar, heating & air conditioning, TV and media centre.
Very large studio style room. Access to main house for kitchen, bathroom, laundry at all times. Side gate for entry/exit to street and car at all hours. Friendly and welcoming.
Quiet suburban neighborhood. Close to bus stop which will take you to shops or train line. House has a small dog. May bark but will never bite.
Good landlord. Good house ~ dog is cute :)
Jia-Jhen
August 2016
Great Airbnb! Erron's place was perfect, big enought for four people, TV (with a lot of movies), comfy couch, and fridge. It was a studio appart from the house. Kitchen and bathroom in his house but easy access. We didnt spend à lot of time with Erron but only because we were often outside but he was kind and help us. It takes 40min to be in the cbd by car
Hadrien
July 2016
Wonderful little apartment with all the privacy you would like to have. Especially liked the roku box and access to Netflix!
Markus
November 2016
Erron's Place is cheap and cheerful. We were more than comfortable and as a host Error was more than helpful. Thanks for having us!
Clara
September 2016
It is a nice house, the dog is cute.
Pui Ying Alice
August 2016
Only stayed one night, arriving late and having to leave early in the morning. Everything went great Erron made us and our dogs feel welcome from start to end.
Philip
August 2016
We had a comfortable stay at Erron 's place. There was no hassle checking in and out. Although the studio did not have its own kitchen, laundry area and toilet, we were given full access to those at the main house a few steps away which was great. Great wifi, really appreciate that.
Yan Kit
September 2016
Erron was a very gracious host. Would highly recommend his accommodation. This was my second stay. Dog Jessie is a charmer.The area is quiet and you can come and go at will and not worry about anyone. Erron is there when needed but not in the way. Adelaide is easy to get to with very little traffic.
Angela
August 2016
Szoba típusa
Privát szoba
---
Ingatlan típusa
---
Férőhelyek
6
---
Hálószobák
1
Craigmore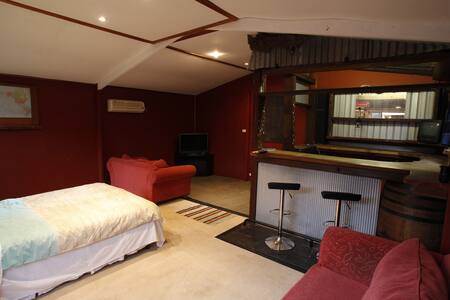 Spacious house flanked with lush greenery, right around the corner from the city centre, and right next to a small park. Well-stocked kitchen. Partitioned bathroom and shower. Fantastic if you're a fan of fresh air and convenience.
Szoba típusa
Privát szoba
---
Ingatlan típusa
---
Férőhelyek
1
---
Hálószobák
1
Elizabeth East