A beautiful, private lower level living space in a central location for either Hamilton or Niagara Region attractions. Close to highway, wine country, Niagara Falls/casino, Fifty Point Park marina, etc... This 1 bedroom apartment is situated on a private landscaped acre complete with various outdoor seating areas and pool area. Full kitchen, BBQ available as well. Couples, solo adventurers, and business travelers welcome. Dog friendly and pet sitting service available for a nominal fee.
Situated close to highway access, yet in the country and minutes from great restaurants and shopping, at the start of wine country makes my place unique. Enjoy the Bruce trail, lake Ontario, or just plain relax in your country surroundings. Walking trails are close by.
Erma was really great. Beautiful quiet property with a great private basement suite. And to add to its charm a lovely wood (now natural gas) stove to crest a honey cabin feel. Great stay and if you're nice she'll treat you to some delicious homemade muffins ;)
Melissa
2016-10-27T00:00:00Z
What an excellent experience staying at Erma's. She was such a lovely host. This location was ideal for our visit to both Niagra and Toronto! We would definitely return to this location. Erma was so gracious towards our dog staying and that made this a wonderful spot to stay. She even offered for us to use her backyard to play with the pups, although there are some nice dog parks around too. She made us homemade jam which was the BEST jam I've ever had, and she even made us banana mufffins which were so DELICIOUS!! Highly recommended airbnb spot!
Abigail
2017-02-05T00:00:00Z
My husband and I stayed for 2 nights, the place is very clean and cozy. We arrive very late Friday night and Erma was still very kind and patient and made us feel at home. We were Very happy with our stay and definitely recommend it to others!
Sultana
2016-10-09T00:00:00Z
Erma was a gracious host and it was everything promised.
Jennifer
2016-11-19T00:00:00Z
My boyfriend and I stayed at this location with our dog. We were amazed by the cleanliness and size of the apartment. The house has a large fenced in back yard, wonderful for travelers with dogs. The neighbourhood is quiet and more situated in the country, but Hamilton is less than a fifteen minute drive away. The bedroom has a large closet, wardrobe and a queen sized bed. The bedroom is a very comfortable living space. The living space has a comfortable couch with a fireplace to keep warm. There is a smart tv for any needs such as Netflix, alongside Satellite television. The dining area is large enough to eat and move about comfortably. The kitchen is equipped with necessary appliances, as well as stuff such as a toaster, microwave, kettle, and a Keurig. It was stocked with dishes and pots and pans. Overall, the space was immediately live in ready and it was a wonderful experience. I would recommend this location to travelers with and without dogs. We experienced the apartment on a long term stay (30+ days) and did not encounter any issues. The host gave us our space if needed, but was kind enough to invite us to spend time with her and offer some homemade desserts. Whether you're staying a few days or a month, this place is definitely a must stay.
Kayla
2017-04-01T00:00:00Z
Erma was a great and gracious host. The place is about 45 minutes from Niagara Falls in a more rural setting surrounded by farmland. It is also about an hour from Toronto. The space was comfortable and clean. I would highly recommend this place if you want to visit Niagara Fall and Toronto.
william
2016-10-16T00:00:00Z
Erma is a wonderful host. She met us despite our late arrival, was very friendly, quick to answer texts as well as emails and always ready to answer any questions or help with anything you might need. She even made us some delicious muffins. Her place was vey safe and easy to find. She is located in the beautiful country side with winery's near by. I wouldn't think twice before booking her place again.
Joel
2016-11-06T00:00:00Z
Erma was very welcoming. Her communication was great and she made a great first experience for us
Bryant
2017-01-01T00:00:00Z
Szoba típusa
Teljes ház/lakás
---
Ingatlan típusa
Lakás
---
Férőhelyek
2
---
Hálószobák
Smithville, Ontario, Kanada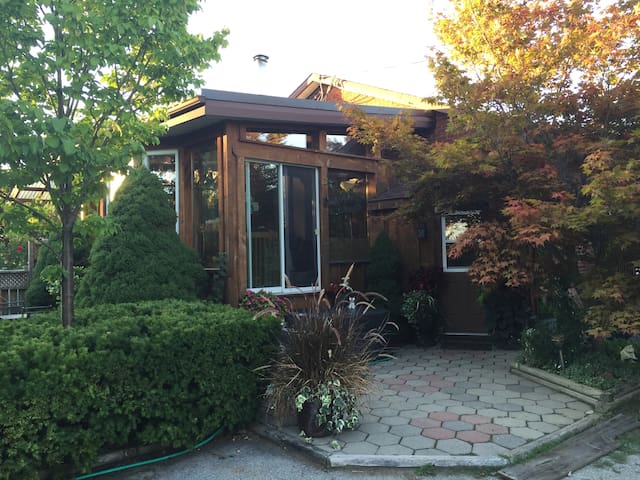 Our home is in the quiet town of Smithville, surrounded by family homes and farmland. There is one large master bedroom with a queen bed and one smaller bedroom with a single bed. The open concept living area is furnished and ready to enjoy.
What you're considering is the private, lower level of a raised bungalow. It has a full kitchen, 2 bedrooms, bathroom and an open common area with large TV, fireplace, leather couches and dining room table. It's a nice neighbourhood full of friendly people and is within walking distance of both country and town. We can accommodate 2-3 people easily or more at your request.
We are about 40 minutes from Niagara Falls and the American border. Smithville is small but there are a number of good restaurants in town including Chinese, Pizza and pub grub. The grocery store is nearby and we're happy to provide self-serve coffee and a light breakfast.
A lovely little basement apartment that is both close to major attractions and provides a little quiet getaway from the busyness of the attractions. Everything was as described and very clean. We greatly appreciated the breakfast essentials that were provided. Having air conditioning was also helpful, given the hot summer weather. Scott & Sylvia were great at providing information and responding to questions. Communication was excellent.
Carole
2016-07-25T00:00:00Z
Great apartment in a quiet subdivision. Good location for weekend getaway to Niagara Falls region. Scott and Sylvia made the extra effort to make our stay comfortable.
Aaron
2016-08-15T00:00:00Z
Scott & Sylvia's place was perfect to discover Niagara's falls. There were everything we needed and their tips were really useful. We would highly recommend staying at their place.
Carole & Thibaud
2015-08-27T00:00:00Z
From arriving in this lovely clean apartment to leaving for my next destination, Sylvia and Scott were helpful, up beat and thoughtful. Arriving into a clean dust free environment was a dream! In the fridge were little bits and bobs to get started so I didn't have to go shopping right away. The apartment was quiet just how I like it and the decor tasteful and muted. Bedding fresh and the beds comfortable. The bathroom was tiled and easy to keep and an abundance of hot water for showering or having a bath in the morning. The neighborhood was very friendly and never did I feel I was intruding. Scott even brought out umbrellas on a rainy day for us. This couple are respectful of your privacy but on hand if you need to ask anything. Thank you guys for a lovely stay! Just lovely!! Jeanette
Jeanette
2015-08-23T00:00:00Z
Awesome place to stay, it's nice and quite area, you can sleep in peace after having long day. Would recommend to stay here again :)
Vim
2016-07-27T00:00:00Z
Nice place to stay with good access to Niagara region or Toronto, perfect for 3-4 people
Alexander
2015-07-06T00:00:00Z
A very lovely experience. The check in flexibility was wonderful, the apartment very clean and pleasant, and though we didn't much cross paths Scott was very accommodating when we did. Excellent value, though location certainly better suited to those with a vehicle; we encountered hiccups trying to catch a cab to and from a local winery (through no fault of the hosts, of course!). Overall a great experience - definitely recommend.
Leigha
2016-08-21T00:00:00Z
We had such a great time! Everything+ was provided. Exceptional accommodations and exquisite space and area! We truly enjoyed our time, and enjoyed getting to know the area surrounding Smithville. Scott and Sylvia welcomed us with smiles upon arrival and were responsive and easy to contact as needed. They left fresh flowers and a personal welcome note for our stay. We were offered fresh tomatoes from their garden. There were a plethora of beaches, waterfalls and parks within short driving distance. They were even kind enough to ship shoes back to us that we left behind. HDMI and VGA connections were available for connecting a laptop to stream movies for an evening in. Thank you Scott and Sylvia for a most excellent stay for our second anniversary!
Sarah
2015-08-25T00:00:00Z
Szoba típusa
Teljes ház/lakás
---
Ingatlan típusa
Ház
---
Férőhelyek
4
---
Hálószobák
Smithville, Ontario, Kanada
王后床的老松树的景色了。从这里你可以听到一对黄昏从二十谷飞大雕鸮的。漂亮的黑色窗帘意味着你将不得不打开闹钟或你会睡的日子了! 主卫生间是私人或取决于其他人是否已预订夜猫子间共享。它是在同一楼层赠品,横跨着陆。 我们有2间卧室,可容纳5更多的人。悬崖室和夜猫子室。
我们在二谷和尼亚加拉悬崖,联合国教科文组织世界遗产有2分钟的车程。布鲁斯径,加拿大最长和最古老的连续小径沿着悬崖的边缘运行。我愿意驾车踏青他们加息的开始,让他们可以徒步到他们的汽车,并在一天结束时乘车返回。 距离尼亚加拉大瀑布20分钟,约旦村2分钟。在这一领域比加拿大的其他部分更多的酒厂。 我们都在二十七里河,有一个自行车,独木舟,皮划艇,甚至龙舟租赁码头仅下降了草莓农场的道路。你可以划到港酒庄,码头,然后按照木雕,指导你前进的道路他们的酒厂!
The property is absolutely gorgeous. Cedar, the dog is as sweet as can be. The bed was cozy and comfortable and the room was immaculate. The house is filled with fun and quirky antiques and toys. I would highly recommend this place for bird/tree enthusiasts. My partner and I are more of the 'sit, have a glass of wine and relax' types so we won't likely be returning to Carla's gorgeous home but if you love to learn and explore, this is the place for you. She makes a mean pot of coffee (in a good way) and she served up a delicious array of home made preserves with yogurt, fresh honey and fruit. The main course of bacon and eggs was less than perfect but I would imagine that serving breakfast for 6 people at once can be overwhelming.
Chantale
2014-06-09T00:00:00Z
We enjoyed our stay at Bonnybank B&B! We had only a short time in the Niagara region and Carla helped us make the most of it. Through her stories and information about the falls and everything around, we got a good feel for the region and were able to choose what to do. Her breakfast was delicious, especially the fresh peaches with the yoghurt and fennel seeds! The house is beautiful and located in a very natural and peaceful setting. Recommended!
Rob
2015-09-23T00:00:00Z
My daughter and I stayed at Bonnybanks for three nights while we attended a conference at Brock University. Carla was very pleasant and helpful, and breakfast was delicious! The house is very clean, but homey - clearly lived in, with a wonderful collection of quirky objects, which is greatl after lots of anonymous hotels, and the garden is a delight. A highlight was watching the birds come to feed at a feeder just outside the dining room window. We'll be back!
Kate
2014-05-31T00:00:00Z
We really enjoyed our one-night stay at Bonnybank b&b. We stayed in the Red Squirrel room, which was very quiet and comfortable. Breakfast was delicious and Carla was a very helpful host.
Emily
2014-10-19T00:00:00Z
Carla was a wonderful host! Her house is very charming and is filled with history and local knowledge. Her BnB was also the perfect distance for a stopover between Grimsby and St.Catherines, as we were on our bikes. In the evening we ate at 'In on the Twenty', with was a ten minute bike ride away into Jordan, the nearby village, (4 minutes by car). The next morning I woke up and practiced yoga in her perfectly manicured front yard where you can listen to the sound of the running water nearby and all calls from all of the birds! The breakfast she provided was a perfect start to our day. We sat outside for our coffee and had a lovely meal of fresh and local eggs and toast, as well as local honey with yogurt and fruit (we are vegetarians). I would highly recommend the Bonnybank B&B for all travelling to this area!
Nicole
2015-05-17T00:00:00Z
Bonnybank was perfect. Comfy room, amazing location, and Carla was a fantastic host. We would definitely go again. Highly recommended!
Jared
2012-05-21T00:00:00Z
Carla and her Bonnybank BNB is the best place to stay for a couple looking to explore the Niagrara region. First, Carla is very welcoming and wanting to make you feel at home. Second, she is well-known in the area and knows many local places to visit tailored to your whims and wishes. We visited the Falls, the Beach, and a winery. Bonnybank offers a trip to France without leaving North America and so much more. Carla's breakfasts are absolutely delicious and include **coffee**, juice, or tea. Best BNB in the area!
Blake
2014-07-06T00:00:00Z
Carla was a wonderful hostess.bed was comfortable breakfast was fantastic (and my commentary to the person who said she didn't provide enough bacon --you must be an incredible piglet because we had more bacon than anyone could ever eat) she's a very sweet person and after being served lovely fresh strawberries and peaches with yogurt and honey which I thought was the breakfast-she then went very far out of her way to make sure eggs were cooked to our liking and every comfort was addressed.(especially since I later found out she is a vegetarian but more than willing to accommodate meat eaters taste). House is very charming naturalist retreat nestled in a vineyard arealots of interesting Antiques and wonderful pieces.would definitely stay there again when I'm traveling through the area.
Tamara
2014-08-26T00:00:00Z
Szoba típusa
Privát szoba
---
Ingatlan típusa
Szoba reggelivel
---
Férőhelyek
2
---
Hálószobák
Jordan Station, 1, Kanada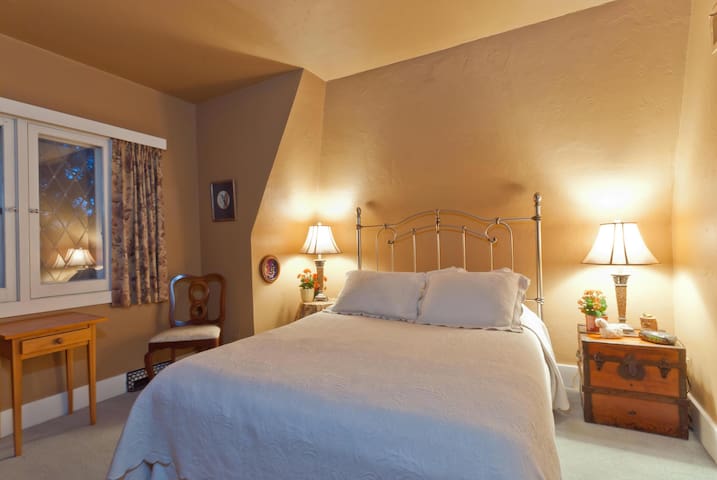 Bu sevimli rustik bir oda kabin kraliçe yatak rahatça 2 kişi konaklayabilir. Sessiz ve şarap ülkenin kalbinde güzel bir ortamda temiz. 5 şarap yürüme. kapınıza Bruce Trail. Nevresim ve havlu dahil değildir. sağlanan bir elektrik, su ısıtıcısı, ısı, ve tuvalet kağıdı var. buzdolabı veya pişirme cihazı, şu anda mevcuttur.
A poca distancia de 5 bodegas diferentes, así, pista de Bruce en su puerta. Gran cuarto de baño. El calor y el a / c para las noches frías o los días calurosos. Mascota amigable. Muy experto anfitrión puede proporcionar una excelente información sobre la zona. zona tranquila, perfecta para una escapada romántica.
En el corazón de la región vinícola. Un bello entorno en un entorno campestre. Sin embargo, menos de 1 km del centro de la ciudad. El acceso a la tienda de comestibles, lcbo, pubs, todo a su puerta.
Joe was very accommodating and went above & beyond to enhance our experience at his cabin. It was a quaint, peaceful getaway.
Deneen
2017-03-14T00:00:00Z
Small: so perfect for the lonely wanderer. Lots of natural light during the day. Toasty warm in the evening with the heater. I had a wonderful time.
Parker
2017-03-28T00:00:00Z
We had a great stay at the cabin! It was clean, quiet, and the heater kept us warm throughout the night! Would recommend staying here! Thanks for having us, Joe!
Becky
2016-11-05T00:00:00Z
Our stay at Joe's Place was great! It was nice, clean and super quiet. It was nice to hear the birds and to see the stars...We don't get that a lot living in Toronto. Joe's place is super close to everything - restaurants, wineries and shops. Also, really close to hiking - you have the Bruce Trail literally at your doorstep and super close to Ball's Falls conservation area, along with a host of other conservation areas in that region. The Pub in town had great food and we also really enjoyed Sheila's Diner, which had very simple, comfort foods and at a really great price. I mean, we had two full breakfasts with bottomless coffee and tea for about $16. You can't beat that price and it was good. Overall, we had a nice time. Thanks Joe!
Liz
2017-04-02T00:00:00Z
Very cozy & we enjoyed many of the nearby wineries. We went to the town nearby to grab some food and it was dark in the surrounding area, we didn't need a flashlight but it definitely helped to have one. Nice little getaway!
Connie-Rose
2017-03-26T00:00:00Z
What an awesome spot for a little adventure. After a long dog walk in the morning, we looked up somewhere to go for breakfast, saw De La Terre Bakery 1.7 km away and set out for another long dog walk. Pretty big cabin for what we were expecting, and nicely kept. Thanks so much, Joe!
tara
2016-11-13T00:00:00Z
Joe's place is very cozy and nice! I was there in a very cold wkd and was cool. Joe was very helpful and gave to us a very nice tip to go to a maple syrup farm. Walks in the forest was good too. Make sure don't go to Sheila's diner, we had breakfast there and it was terrible! The city is cool and have lots of things to do!
Amanda
2017-03-05T00:00:00Z
Thanks for the hospitality! The cabin was clean, neat and uncluttered. We enjoyed the lighted trees during the evening!
Kristine
2016-10-30T00:00:00Z
Szoba típusa
Teljes ház/lakás
---
Ingatlan típusa
Lakás
---
Férőhelyek
2
---
Hálószobák
Lincoln, Ontario, Kanada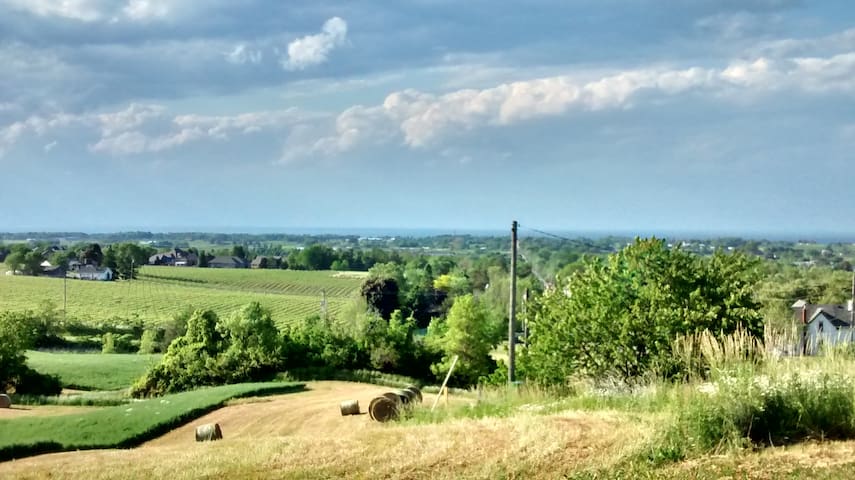 Situé dans le hameau de Campden dans le pays du vin de Niagara. Nous sommes au-dessus du banc Beamsville à quelques minutes de Jordan Village et bien d'autres vignobles. Conduire, vélo ou à pied de vignobles tels que Vineland Estates, Vienni & Tawse. Environ 30 minutes en voiture de caves NOTL et Niagara Falls.
Ce gîte indépendant a été récemment rénové et offre une intimité de la maison principale. Il a le chauffage électrique en courant alternatif en été. Le foyer électrique offre une ambiance chaleureuse. Détendez-vous, un verre de vin ou de bière froide sur votre terrasse qui est équipée d'un barbecue au propane. Profitez de votre café du matin errant dans notre serre pérenne ou nourrir les chiens chevaux, des chèvres, des lapins, des poulets ou des canards. L'espace va dormir 4, deux sur le lit queen et deux sur le canapé-lit. Si vous avez un petit enfant, nous avons un pack n play et poussette disponibles. Si vous voyagez dans la région et la location d'une voiture, nous avons aussi un siège d'auto pour bébé et enfant disponible pour une utilisation - tout gratuitement!
Le hameau de Campden contient environ 65 maisons. Il y a une distance magasin général de marche du chalet. Les villages voisins de Vineland et la Jordanie ont toutes les commodités nécessaires telles que les épiceries, banques, restaurants, magasin de matériel, et de la bière et des magasins d'alcool (situé dans le Avondale Store, Vineland). Quelques bons restaurants à proximité comprennent Vineland Estates & Redstone Winery (sur le côté coûteux) et la Maison Jordan si vous cherchez super nourriture de style pub à un prix raisonnable. Si vous prenez vos vélos (ou utilisez la nôtre), vous pouvez facilement le vélo à une douzaine d'établissements vinicoles pour des dégustations et des visites. Il y a un point d'accès du sentier Bruce directement au nord (1 km environ) de Campden. Ce sentier offre de belles vues depuis le sommet de l'escarpement du Niagara sur le banc ci-dessous. Falls à proximité Ballon fournit également d'excellentes randonnées avec un centre d'interprétation historique et naturel.
We loved our stay in Campden. Lloyd and his wife were so welcoming. We were warmly greeted upon our arrival, offered a pack and play and highchair for our little girls, and given a generous amount of delicious food for our stay (including eggs from the chickens living on the property). The space was clean and the bed was comfortable. We chose to stay in this particular Airbnb because of the animals they own, and they did not disappoint. Lloyd introduced us to them and our 2 year old spent a good long while playing with the chickens and feeding all of her leftovers the miniature pony and goats :) The drive to Niagara Falls is short and, after spending a long day walking around in the sun and crowds, we were glad to come home to this cozy cottage house. The property is beautiful. We had a wonderful experience and would definitely recommend you stay here!
Jordan
2016-07-07T00:00:00Z
When we booked this Airbnb is was for the location next to my daughters wedding venue. Boy did I luck out with the amazing hospitality that greeted us when we arrived. Lloyd showed us into our quaint cottage with welcomed air conditioner providing with a break from the heat. The cottage was stocked with the most amazing treats. A bottle of wine and some cheese and crackers. Lloyd provide us with farm fresh eggs and bacon for breakfast. The bed was so comfortable. My hubby, mom, my two grand babies and I all stayed there comfortablely. I loved this Cotrage and told all the guest at the wedding to look up Lloyds place if they want an amazing place to stay.
Vanessa
2016-08-28T00:00:00Z
We stayed at Lloyd's cottage for 1 night ... And as soon as we arrived I wished we were staying longer! Really comfortable accommodations, minutes to local vineyards plus Lloyd is lovely and the farm animals are a treat. Farm fresh eggs, bacon, snacks and a bottle of local wine really made this a treat!
Jackie
2016-08-29T00:00:00Z
Having enjoyed using AirBnB in both Europe and the US, how wonderful to experience our most special booking to date back home in Canada! Lloyd and his wife have taken a great deal of care in providing a most excellent 'little home' in the heart of wine country. Visitors will not be disappointed. And if you are walking the Bruce Trail (as we were) it is within 2k or so. A visit to be savoured!
GregK
2016-09-13T00:00:00Z
Our stay was excellence! Lloyd and his wife are very friendly! We stayed one night and wished we could have stayed longer. The apartment is furnished very nicely with everything you would need. Even the fold out couch was very comfortable! The included breakfast (farm fresh eggs, bacon etc...) was a plus! Our kids really enjoyed all the animals especially the miniature horse and pot belly pig! The host also provided a pack n play and high chair for our little ones! We would definitely recommend staying here and will come back if we are ever in the area!
John
2016-10-01T00:00:00Z
Stayed at Lloyd and Vicki's for a month. The place was great for the longer visit! It had everything needed to make an excellent visit to the area. The house was very clean and well maintained. Fully stocked kitchen made daily living very comfortable. I would highly recommend to anyone for future rentals, and should I be in the area again, I would not hesitate to return! Thank you for a wonderful month in Campden!
Nicole
2016-08-06T00:00:00Z
Excellent hosts were super happy from start to finish. Would definitely stay there again.
Mike
2017-04-02T00:00:00Z
Our stay at the cottage was perfect! As a host Lloyd was incredibly gracious, the cottage was lovely, exceptionally comfortable and had everything we needed to squirrel ourselves away from the world. Will be recommending to friends for sure.
Kindle
2017-01-29T00:00:00Z
Szoba típusa
Teljes ház/lakás
---
Ingatlan típusa
Kisház
---
Férőhelyek
4
---
Hálószobák
Campden, Ontario, Kanada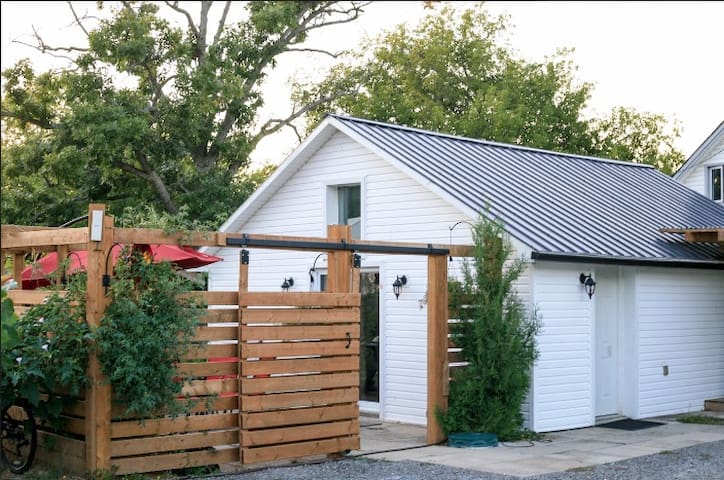 Unser Haus liegt direkt am wunderschönen Simsbury Bank gelegen! Wir sind bequem zu allen Niagara Weinkellereien, Schritte zum Bruce Trail, eine Stunde von Toronto und 35 Minuten. Niagara Falls. Unsere apt. vollständig selbst ist mit allen Annehmlichkeiten enthalten. Herzlich willkommen!!
Sie erhalten eine geräumige Schlafzimmer voll ausgestattete private Wohnung genießen. Eine einzelne Matratze ist auf Anfrage ebenfalls erhältlich. Wir sind auf der schönen Simsbury Bank gelegen! Wir sind bequem in der Nähe von allen Niagara Weinkellereien, 35 Minuten entfernt. Niagara Falls, 60 Min. nach Toronto, und Schritte zum Bruce Trail und einem atemberaubenden Blick! Unser Haus ist direkt gegenüber von einem der Niagara schönen Weinberge! Wir sind auch 20 Minuten zum neuen Outlet Mall und 10 Minuten von Jordan Station.
Wir sind 5 Minuten mit dem Bruce Trail zu Fuß und einem atemberaubenden Blick. Wir sind ein 39-minütige Wanderung entlang der Bruce Trail zu wunderschönen Boutique-Weingüter mit einem atemberaubenden Blick auf den Lake Ontario und Toronto. Wir sind nur wenige Minuten mit dem Auto nach 30 oder mehr preisgekrönten Winzer, Handwerk Bier und Gin Destillerie Dillon. Sie können ein Fahrrad mitbringen oder mieten und bequem zu den Kellereien fahren. Ich halte Simsbury Bank ein verstecktes Juwel zu sein !! Überzeugen Sie sich selbst !!
We had a lovely stay at Yvette and Joel's quiet home in the heart of Ontario's wine country, just a short drive (or bike ride if you don't mind a few hill!) from some great wineries. Niagara, Niagara-on-the-Lake, Toronto and many other tourist attractions are very easy to get too, so the location is great for exploring. Yvette and Joel were really welcoming and friendly, and suggested which areas we should visit. The flat itself is beautiful, very private and very comfortable. There's a swimming pool too, great after a long hot day of sight-seeing! I wouldn't hesitate to recommend this place!
Henry
2016-08-07T00:00:00Z
Un super séjour ! Des hôtes attentifs et agréables. Je dois y retourner pour profiter davantage de l'endroit et de la région !
Patrick
2016-11-19T00:00:00Z
Thank you to our wonderful hosts for providing us with such a beautiful apartment. It was so comfortable and very spacious, along with fantastic amenities to really make us feel right at home! We highly recommend to stay here, as we will definitely be back
Sandra
2016-08-12T00:00:00Z
I had the time of my life in lincoln ontario and the town was everything i hoped it would be. Its a small town feel in the most beautiful place i've ever been. My host and her house exceeded my expectations. Yvette and her husband Joel were some of the nicest people i've ever met. I expected to have fun at their property but i never expected that it would feel like home. If anyone is looking at finding a way to take an adventure and relax. I would highly recommend that anyone looking for a great time with an amazing host stay here. After this Airbnb experience i will never willingly stay at another hotel again.
Kristen
2016-09-09T00:00:00Z
We honestly had the most wonderful time at Our Empty Nest. Homely from the get go. Yvette and Joel are so friendly and welcoming. It is completely like you have a home from home. The area is gorgeous and home exactly as describe. So cute and perfect for what we needed.
Kim
2016-10-01T00:00:00Z
Amazing place! Perfect location for exploring wine country. The hot tub was great!
Mathew
2017-01-21T00:00:00Z
Yvette made us feel comfortable right from the first email greeting. The photos and description of Our Empty Nest, were exact and our stay was a relaxing, romantic getaway. We may never stay in a hotel again.
Sheri
2016-10-18T00:00:00Z
Amazing place! Highly recommended. Very welcoming host and very comfortable basement apartment with everything you might need to sped a great day or more next to Niagara Falls.
Max
2016-11-06T00:00:00Z
Szoba típusa
Teljes ház/lakás
---
Ingatlan típusa
Lakás
---
Férőhelyek
3
---
Hálószobák
Lincoln, Ontario, Kanada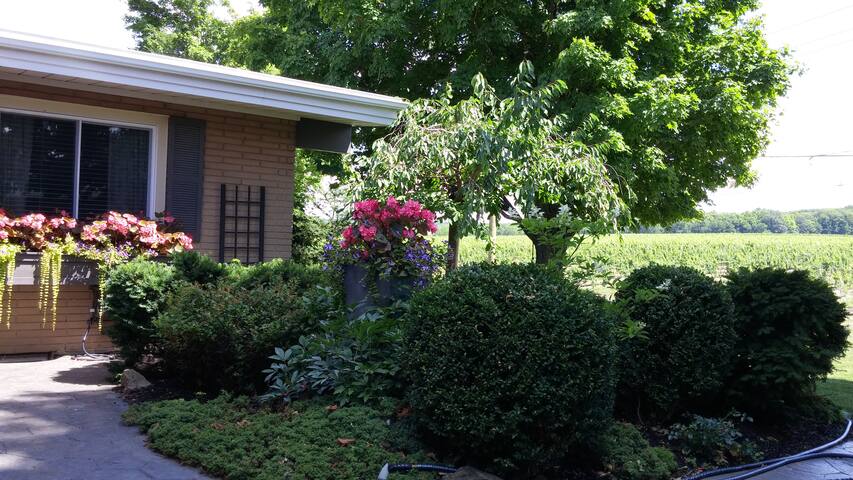 Lakeside Villa est une maison de 3 chambres sur la rive sud du lac Ontario.
Grimsby, établie en 1790, est l'une des plus anciennes villes de la région de Niagara. Aujourd'hui, Grimsby est une ville de 24.000 personnes en conservant son caractère de ville petit. La ville a deux parties séparées par l'autoroute QEW. Notre maison est située dans la partie nord de la ville par le lac Ontario, qui est principalement résidentiel; la zone du centre-ville du côté sud de QEW a beaucoup de petites boutiques de caractère, des cafés et des magasins plus modernes. Grimsby est environ 28 miles (45km) à Niagara Falls et Niagara sur le lac; environ 56 miles / 90km à Toronto. S'il vous plaît noter que le temps de conduite dépend fortement des conditions de circulation en particulier à / de Toronto.
Szoba típusa
Teljes ház/lakás
---
Ingatlan típusa
Bungaló
---
Férőhelyek
6
---
Hálószobák
Grimsby, Ontario, Kanada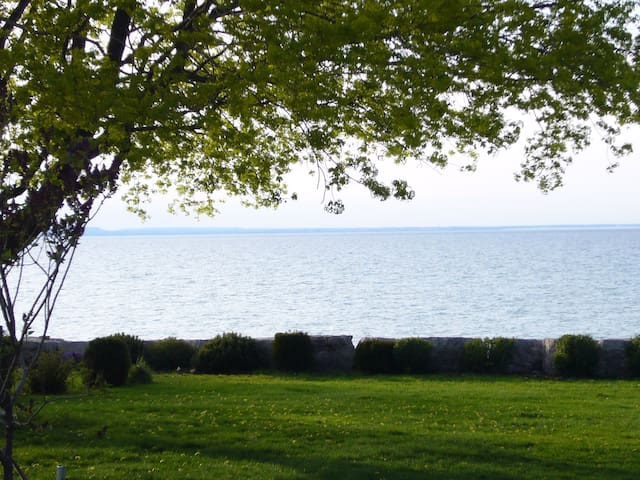 The place was exactly as pictured. Clean, quiet, bright. Easy to work in the kitchen. Everything we needed. And the bed was comfortable! And a welcoming host.
Kathryn
2015-06-05T00:00:00Z
The host canceled this reservation 269 days before arrival. This is an automated posting.
Jocelyne
2017-01-10T00:00:00Z
Had great time at Vineland last weekend! The property is better than on the pictures, everything works just fine. The owners are great, accommodating and ready to help, even got us a private greenhouse tour!
Dmitry
2014-05-12T00:00:00Z
This is located in Vineland making it close to St Catherines, Niagara-on-the-Lake, Queenston and Niagara Falls. Very reasonably priced and well appointed. Quiet location with the added bonus of an in-ground pool. We enjoyed morning walks in the neighbourhood. Thank you for opening your home to us.
Tiina
2015-07-21T00:00:00Z
The apartment was perfect for a weekend stay in the county. Very clean and an easy 20 minute commute to Niagara Falls or Niagara on the Lake.
Michelle
2014-08-05T00:00:00Z
Thanks. Unique, spacious, clean, well located and affordable. It's a working farm, so the hosts are always around and occupied with their business in the greenhouse and fields, but very respectful of our privacy. We loved having the pool to use. Wi-fi signal was a bit weak, but it was very convenient to have laundry in the suite. Lots of good nature hikes close by, and drives to attraction were easy.
Tracy
2014-08-02T00:00:00Z
Amazing!!! Absolutely loved the place and location! The pictures were accurate, apartment was in a quiet area close enough to the falls and downtown Toronto. Absolutely perfect for a getaway for my girlfriend and I. Next time I make the trip to Canada, I will definitely be staying here again!
Radames
2014-09-09T00:00:00Z
Jetty and Bill were great hosts. The check in process was seamless and everything was ready for us. It was a very hot day and they had even thought to turn on the air-conditioning for us so that the apartment was cool when we arrived. The apartment was as described and exactly as the pictures portrayed. Our kids loved the pool and the access to the yard to play. We stayed for 9 days and came to think of the apartment as home.
Peter
2015-08-26T00:00:00Z
Szoba típusa
Teljes ház/lakás
---
Ingatlan típusa
Lakás
---
Férőhelyek
3
---
Hálószobák
Lincoln, Ontario, Kanada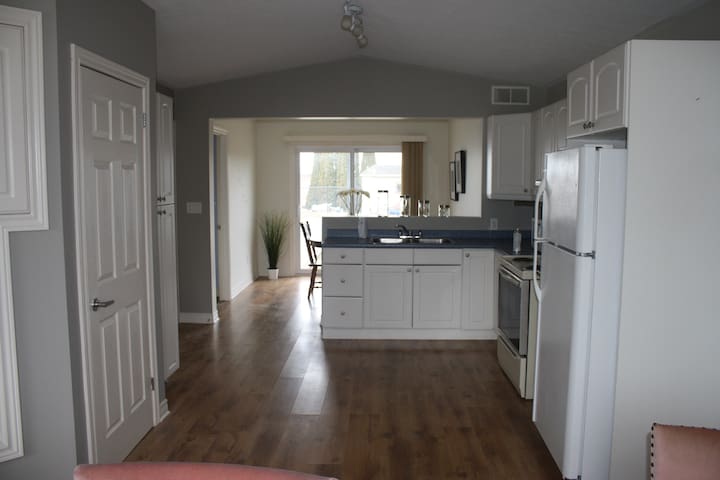 Schöne Villa in 2/3 acre Garten von Ontario See sitzen. Die Airbnb Wohnung besteht aus: - Gesamte 1. und 2. Stock (3400 Quadratfuß) im Haupthaus: 5 Schlafzimmer mit 4 Doppelbetten, 1 Doppelbett, voll ausgestattete Küche, großes Zimmer, formale Wohnzimmer, 3.1 / 2 Bäder (ein großer begehbarer Dusche Zimmer). - Sunroom (1000 qm) mit kleinen beheizten Pool mit 2 Sitzen Luftdüsen. - Terrasse mit Blick auf den Garten und Ontario-See (1000sqft).
Eine von einer Art Seeufer im südlichen Ontario, dem Tor zu den Niagarafällen und im Herzen der Weinregion. Schöne große Küche mit Frühstückstisch. Octagonal formalen Wohnzimmer. Große Zimmer (Familienzimmer und Esszimmer Kombination). 4 Queen-Size-Betten und 1 Doppelbett in 5 Schlafzimmern. Große Veranda mit Innen kleinen beheizten Sportbecken, kann als 2 gesetzt Whirlpool verwendet werden. Terrasse (Dachterrasse). Gärten und Koi Fischteich. Parkplatz für 2 Fahrzeuge + Parkplatz an der Strasse (16 Std max). Sitzbereich am See.
Natur, aber nah an alles, was Sie brauchen (Tankstellen, Supermärkte, Restaurants, Fast-Food-Restaurants, Touristenzentrum, Baumarkt, Café, ..)
We stayed at Huu's for 5 nights - a family group of Australians in Canada to attend a wedding in Hamilton. We were very happy with the house, the amenities, etc. A bit far from Toronto but very convenient to Niagara, the wineries, Hamilton etc. A great, classy, and fun place to stay.
John
2017-01-24T00:00:00Z
A truly fantastic home. Pictures do not do it justice. The house is spotless. Everything provided was top class. The hosts we're so welcoming and approachable.
Jatin
2015-07-19T00:00:00Z
A perfect stay for a family of 8. The house was better than expectations. The proximity to the highway and views of Lake Ontario are stellar. The hosts were very welcoming and we had fresh flowers daily from the beautiful gardens. House was very clean.
Kevin
2015-08-02T00:00:00Z
We had a very enjoyable stay. We weren't at the house much as we had a lot planned in the area, and it was a good location to get everywhere from.
John
2016-09-04T00:00:00Z
Our group of 5 adults just loved Huu's house on the lake. It was elegant and comfortable and made a great base from which to visit the local wineries. Don't be bothered by the nitwits who have left some bad reviews here. Huu and his wife are wonderful hosts with very separate accommodations on the property. You really do have the full run of the house when you stay here. The outdoor deck, barbecue and enclosed pool/sunroom let you take advantage of any weather conditions. There was more than ample room for everyone to interact or have their own comfortable couch to curl up and read. The quality of the fixtures/decorations and amenities are better than any resort where you would pay this price "per room" in stead of for the whole house. Huu was easy to reach to set up our arrival and then gave us our privacy. Huu and his wife get my top praise for the value they provide with this accommodation.
Timothy
2016-04-01T00:00:00Z
Wooow!!! Three nights at Huu's place was not enough. We were 6 adults and we were so sad we had to leave. First of, Huu is a great host who welcomed us into his home and had everything clean and set up for us. He made sure we could reach him anytime throughout the day and when we needed help, he was there ready to get things done. The place itself is gorgeous, you feel you are in million dollar house. Huu and his wife have put a great deal on maintaining their garden and what a result they have. We could not resist but to take walks on the garden and have a bon fire at night right in front of the lake. After a long day of travelling to Niagara and Toronto, it was great to be able to dip into the pool and enjoy the hot tube too. This stay was a vacation and we all felt comfortable and relaxed. I've seen people complain about how close the house is to the highway, but honestly the house is well designed that you do not realize that there is a highway next to you. The other complain i've read is that there are people renting part of the house. That is true but they are in their own seperate location, they can't hear us or see us and we can't either. We would stay up till 4 or 5 in the morning watching TV, playing music and having a good time and not once have we felt that there are people we had to take into consideration. This goes back to how well the house is designed. I give this place a 10/10 and highly recommend it!!! It is 20-30 mins away from Niagara and 40-50 mins away from Toronto. Right next to the house is a huge food court, a superstore and petrol station.
Basel
2016-05-03T00:00:00Z
This gorgeous mansion was a dream come true My bridal party and I stayed for the weekend and it was a dream come true. The home and gardens are beautiful, especially for taking pictures. Huu was an amazing host. Always available if we had questions or needed everything and left us with everything we needed.
Nicole
2016-06-13T00:00:00Z
I have never written a bad review before and it saddens me to do so, but I would have liked to know the following before renting this place, so here goes. The good (credit where credit is due): The house and grounds are very lovey and the beds comfortable. The view across the lake was amazing. The coffee pot was broken when we arrived. Once notified, he brought us a new one within an hour. The bad: The location is on a noisy freeway adjacent to a sewer treatment facility. It is a very narrow lot and you are not far from the sewer treatment facility anywhere on the property. Take a look on a mapping program and you'll see what I mean. No matter how nice the house and view, it will be hard for you and your other guests to forget that you are adjacent to the sewer treatment facility. The owners will be on the property. And not just back in the garden or anything. For us, he walked up to the house and peered into windows while we were in and around the little pool in our swim suits. It was creepy and awkward. While the rules listed here say no shoes upstairs, there are actually no shoes allowed in the entire house. Be prepared for cold feet if you didn't pack any slippers. (I was sent a message notifying me of this about a day before we arrived. Many of us had already left home and did not have the chance to pack slippers.) The worse: What felt like predatory extra-person pricing! There is a base fee to rent out the entire unit plus an extra-person fee if you have people over 5 (which you probably will as it's a 5-room unit). I had clarified before I booked the place how the extra-person fee worked as we were booking well in advance and I knew our numbers could change. There was some trouble with language, but it seemed clear that we would pay for the extra people we had. Unfortunately, after coordinating for months with the owner about our group number (at first we thought it would go up then it went down), I discovered that was not the case. Any change to the extra person fee was considered a cancellation! That we would lose half the fee if we reduced the number and that even then, he could deny our ability to lower the number at all. Mind you we were renting out the entire unit for the whole time anyway. All we're talking about is the extra-person fee above and beyond that. In any case, if you're thinking of renting this place, I would urge you to be very careful in how you book it (book for the least number of people possible then raise it from there no matter how he seems to suggest it will work) as it left me feeling taken advantage of.
Rebecca
2016-10-04T00:00:00Z
Szoba típusa
Teljes ház/lakás
---
Ingatlan típusa
Ház
---
Férőhelyek
15
---
Hálószobák
Grimsby, Ontario, Kanada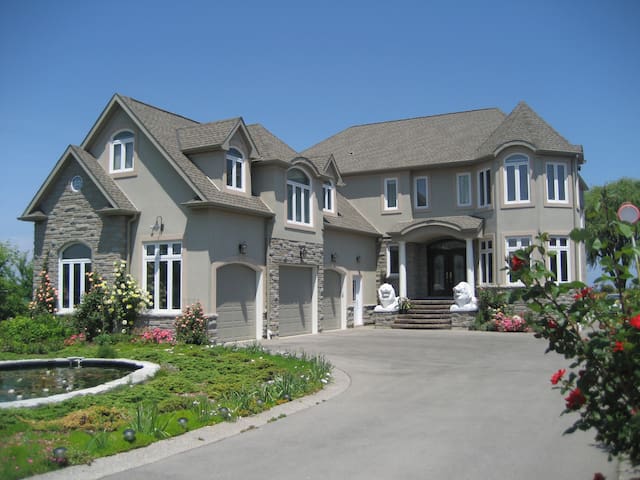 我們的家"緬甸園"是由著名的酒莊,葡萄園,包括酒莊,葡萄酒Ridgepoint,Tawse酒廠和自大狂酒廠所包圍。布魯斯線索是在步行距離之內,成為一個短期4分鐘的車程將帶你到景區球的瀑布。僅需35分鐘從尼亞加拉大瀑布和尼亞加拉湖。 "緬甸園"提供了充滿活力的葡萄園和布魯斯線索的茂密森林的壯觀景色享受一日遊到多倫多 - 1小時20分鐘的車程。
私人下議院公寓可以從我們家的後貫通外無鑰匙(數字鍵盤鎖定)門進入。公寓有兩間臥室,每一個特大號床和浴室。第一間臥室有大透雨浴缸和獨立淋浴和水槽和廁所。第二間臥室配有淋浴,洗手盆和馬桶。浴室鬱鬱蔥蔥的毛巾,肥皂,洗髮水,護髮和雜物儲備充足。床鋪擁有熨燙好的新鮮的床單和特大號枕頭製造。全吃在廚房(表4把椅子)有微波爐,咖啡壺,水壺以及全尺寸的冰箱和爐灶。廚房是配備了鍋,平底鍋,盤子,玻璃杯和餐具。咖啡,茶,瓶裝水,牛奶,奶油,酸奶,水果和零食提供的太多了。客廳/起居區配有一張沙發,愛座位和2個椅子喜歡坐在上談論當天發生的事。對物業共用部位:提出了甲板與我們共享的特徵,因為我們生活在家裡的主要級別的網站,圍欄在後院的部分是為威利·威爾士梗的地方在白天漫遊幾次,在溫暖的月份有櫻花樹下和魚塘以及升高的甲板室外休息區。你將有機會獲得無線網絡的公寓。我們有外部攝像機來監控我們的家的外面。
Le quartier est situé sur Twenty-Mile et entourée de magnifiques vignobles, les forêts et les sentiers Bruce. Vous pouvez facilement marcher à dîner ou déjeuner à l'une des deux caves avec restaurants par notre maison. Les week-ends, nous voyons les cyclistes, les randonneurs et les tours de vin bus / limousines profiter de tout l'atmosphère de Twenty-Mile ici à Vineland, en Ontario. LGBT environnement.
We had an amazing vacation at Victoria's place. Extremely nice people offered us everything we would want and went above and beyond our expectations. They prepared a cake, juices and milk in the fridge, clean rooms and cozy beds. Best experience we've had with this place even though we travel a lot across the U.S., Canada and Europe. Thank you, Victoria and Bill! Highly recommend!
Svetlana
2017-01-02T00:00:00Z
Victoria's place is perfectly situated amongst some of the best vineyards in the area. the amazing Vineland Estates, the oldest of all the vineyards, is around the corner, and the nouveau Megalomaniacs is across the street. There is fantastic hiking and scenic walks minutes away and the Bruce Trail is walking distance (about 1/4 mile away). Niagara on the Lake and Niagara Falls are just 30 minutes away. The apartment has a separate entrance from the house (where Victoria and Bill live upstairs). What made it terrific is having TWO BEDROOMS each with King Sized beds and en suite full bathrooms with lux towels. The kitchen living room area is small, but well stocked and comfortable, not luxurious. Victoria kindly stocked the fridge with milk, cream, waters and am assortment of yogurts, and plenty of fruit. and there were 4 yummy cupcakes waiting for us on arrival. She happily allowed us to use her lovely deck, which overlooks the vineyards,and we ate breakfast there, and had an afternoon sit-down over cheeses and wine. Make sure to check out her fish pond at the front of the house, and look for the awesome bullfrog! this was an awesome stay, and a good value. I highly recommend.
vinca
2016-10-16T00:00:00Z
Thanks for a lovely stay, Victoria. You're a most gracious host, and our accommodations couldn't have been cleaner, more comfortable or well-stocked. What a great location for wine touring! Will be in touch next time.
Don
2016-10-02T00:00:00Z
Everything about this place was fantastic. Lovely house, very clean, well furnished and supplied. Kings size beds and lovely bathrooms. Victoria even included things like tea, coffee, snacks and a cake! The location is beautiful surrounded by a nice garden and vines. Nothing negative to say. Great place. Would return anytime.
Rene
2016-10-23T00:00:00Z
Amazing place to spend your vacation. Victoria and Bill have a beautiful home, with many great places to sit outside and enjoy the view of the vineyards. They are so thoughtful with little details such as fruit, snacks, drinks, frozen meals in the fridge ready for you, and even new toothbrushes in the bathroom should you forget your own. They thought of everything to make your stay comfortable!
Aimee
2016-08-21T00:00:00Z
Super endroit, dans les vignobles, charmeur , nous y retournerons bientôt
claude
2016-10-12T00:00:00Z
We booked this place because it is near to Niagara Falls and also to Totonto. Very beautiful place amidst all the wineries, calm and peaceful. Victoria is a great host! We loved the property.
Krishna
2016-08-01T00:00:00Z
We had such a great stay at Burma Park! Victoria and Bill were great hosts. Victoria was there to meet us and show us around when we checked in and she messaged us while we were there to see if we needed anything and was very accommodating. Extras like snacks and coffee with cream and milk available was a great touch as well. The beds were very comfortable and the rooms exactly as shown in the pictures. It's especially nice for two couples as there is two bedrooms each with ensuite bathroom so everyone has privacy, but the sitting area also provides a comfortable place to chat. Also nice that there is a full kitchen well equipped for anyone wishing to cook their own meals. The apartment is very clean and bright. The view off the deck is gorgeous and it is so nice and quiet there. Very close to great restaurants and wineries. I would highly recommend this place!
Liz
2016-09-19T00:00:00Z
Szoba típusa
Teljes ház/lakás
---
Ingatlan típusa
Ház
---
Férőhelyek
4
---
Hálószobák
Lincoln, Ontario, Kanada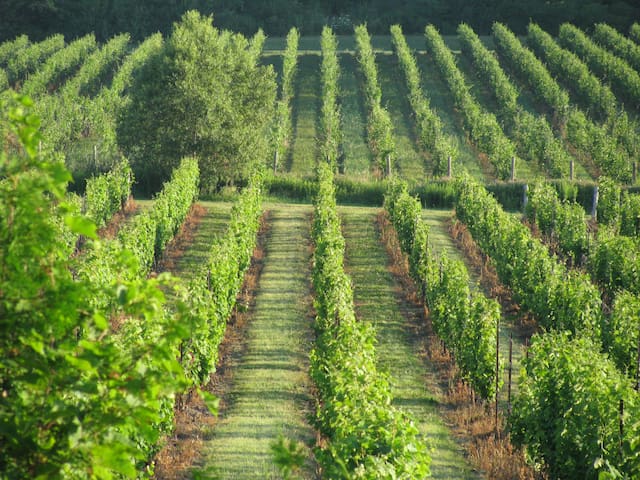 We had a great time. Foxs den was a very cute place to stay and was a great change from typical hotels.
Chris
2016-09-12T00:00:00Z
The cottage was beautiful and cozy. It was wonderful to have breakfast on the deck looking out over the vines and then a bonfire at night looking at the stars. Our dog also loved lying in the sun and exploring the vineyard. Janine was very easy to reach before and during our stay, she is so friendly and warm and left us delicious food for breakfast! Overall we had a very relaxing weekend.
Kelly
2016-09-06T00:00:00Z
We had an amazing time during our Christmas... The cottage was perfect for our cozy days up in Niágara region... the bed was soooo comfy!!! Thank you for having us :)
Ariane
2016-12-26T00:00:00Z
Totally recommended. Amazing view, amazing cottage, and great location.
Nasir
2017-02-05T00:00:00Z
The host canceled this reservation 13 days before arrival. This is an automated posting.
Geoff
2016-09-25T00:00:00Z
The listing was actually better than described. It is in a very lovely location, is spotlessly clean and very well appointed. Perfect for what we wanted. Janine and Frank made us all feel very welcome. They were excellent hosts!
David
2016-06-21T00:00:00Z
Janine was wonderful! Everything that was listed on her page was exactly how it was. She went grocery shopping so we would have breakfast and even spoke to the Vinelands winery (which is about a 10 minute walk away) about us coming for tastings. When we had questions she replied right away and was very helpful. This country home was absolutely lovely. Nestled back from the main road and surrounded by wine orchards and hills, this place truly is a little oasis. Apart from the occasional tractor coming through, this place is right out of a story book. The back porch became a favorite spot of mine and spent hours on end just watching the scenery and listening to the birds. Thank you for such a wonderful, peaceful stay!
Mel
2016-06-11T00:00:00Z
Our stay was simply wonderful, set right next to a vineyard, with a full stocked kitchen this well decorated cottage has it all and is set up amazingly well for a relaxing, comfortable and enjoyable getaway. We had an amazing stay here!
Bijan
2017-01-22T00:00:00Z
Szoba típusa
Teljes ház/lakás
---
Ingatlan típusa
Kisház
---
Férőhelyek
4
---
Hálószobák
Lincoln, Ontario, Kanada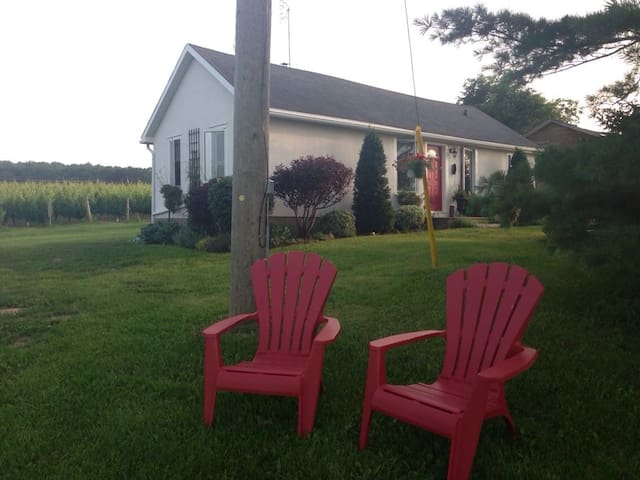 Sandra provided lots of little welcoming goodies that were a nice added touch to our stay. Sandra provided clear directions for everything in the house and had great suggestions for wineries and restaurants in the area. The home is very clean and up to date. We will definitely return to Sandra's home for another stay.
Kimberly
2016-06-27T00:00:00Z
Sandra's place was exactly as described and she was more than accommodating with our group. She was very prompt in her responses and also went above and beyond to bring us anything and everything we needed. Definitely a great weekend and the house is stunning.
Rhea
2016-08-07T00:00:00Z
We really enjoyed our stay at Sandra's wine country estate . Everything was exactly how it looked in the pictures of now better! Our host Sandra was warm and welcoming M ; offered to meet us on arrival-as requested by us to give us a tour . She thoughtfully had brochures and special offers for Wine tours picked out for us . When she mentioned that we have full access to the house and privacy that is exactly what happened . She even invited use things in the fridge like the eggs , bread / bagels / milk for the next day morning breakfast . A nice touch by Sandra was to gift us a bottle of wine and bread with dips - and a card wishing us wonderful vacation inviting us to start it off with a glass of wine by the deck . Taylor Sandra's lovely daughter even put out candy for us in the bedrooms . All in all a wonderful stay - would be great for families , friends and even a corporate retreat . Thank you Sandra !!!!
Gayatri
2015-08-02T00:00:00Z
We had the most wonderful time staying at Sandra's place. The house was perfect for our family with special touches that made us feel warmly welcome. Would definitely stay again if visiting the region! Thanks for everything Sandra!
Katie
2016-09-08T00:00:00Z
We had a wonderful stay here. House is as described and it is very clean, as well as kid-friendly. There was a large area in the basement that is perfect for babies/toddlers. Sandra was very accommodating by providing us a playpen. We also love the kitchen, outdoor area, and the hammock. We'll definitely stay here again in the future.
Insa
2016-07-18T00:00:00Z
The host canceled this reservation 53 days before arrival. This is an automated posting.
Michelle
2015-08-09T00:00:00Z
Our host made us feel very welcome. The house was in a beautiful neighbourhood and was gorgeous and spacious.
Nicole
2015-08-30T00:00:00Z
Beautiful home. We slept 7 people comfortably. Sandra was a great host and answered all queries right away. Would definitely stay again.
Meagan
2017-04-09T00:00:00Z
Szoba típusa
Teljes ház/lakás
---
Ingatlan típusa
Ház
---
Férőhelyek
8
---
Hálószobák
Lincoln, Ontario, Kanada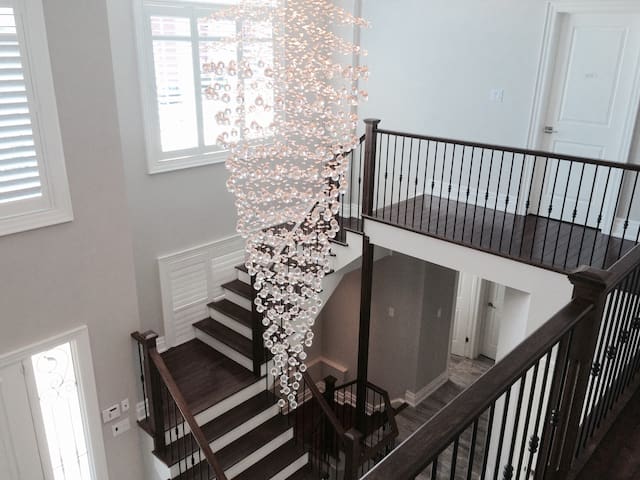 Este loft privado de un dormitorio en el corazón de Grimsby tiene todo lo necesario para disfrutar de una escapada relajante encantador! A pocos pasos de tiendas, restaurantes y rutas de senderismo. Situado al inicio de la región vinícola de Niagara. Lavadora / secadora, electrodomésticos de acero inoxidable y una cocina completa para disfrutar!
edificio histórico Grimsby convierte en un loft condominio. Casa privada de 2 plantas con amplio dormitorio y baño en el nivel superior. lavadora de carga frontal y secadora convenientemente situados fuera de la habitación. Entrada sin llave. espacio al aire libre con el conjunto de patio y barbacoa en el lado del patio del edificio.
2 λεπτά με τα πόδια από το κέντρο της πόλης Grimsby. Λίγα βήματα μακριά από εστιατόρια, καταστήματα και παντοπωλεία. Grimsby βρίσκεται στην αρχή της χώρας κρασιού Niagara του. Καταρράκτες του Νιαγάρα βρίσκεται σε απόσταση 25 λεπτών, και στο κέντρο της πόλης του Τορόντο είναι 1 ώρα μακριά. Το μονοπάτι Bruce απέχει 10 λεπτά με τα πόδια. Φέρτε τα ποδήλατα σας μαζί και να διασκεδάσουν την επίσκεψή σας στην περιοχή!
Laura was an outstanding and welcoming host. She stayed in contact and answered our emails right away making sure our stay was comfortable. The loft is exactly as presented in photos. Very charming private a very lovely place. We stayed in Grimsby to attend the Ultra marathon in Niagara. The drive was convenient and not far. The loft is located in the heart of Grimsby we were walking distance from amazing coffee at the Station House and numerous patio restaurants. Half a block away was an Italian restaurant called Cibo. Amazing food huge patio and live jazz in the evening. There could not have been a better place to stay. We are definitely going back and enjoy all the wineries in the area
Mimi
2016-06-20T00:00:00Z
Nous avons été agréablement surpris par la propreté et tout ce qui était à notre disposition, mais plus encore par la gentillesse et la disponibilité de Laura. L'extérieur du building ne représente pas du tout l'intérieur impeccable et spacieux de cet appartement.
Ghislain
2016-08-14T00:00:00Z
The host canceled this reservation 143 days before arrival. This is an automated posting.
Julio
2017-04-09T00:00:00Z
We loved our stay at Laura's place! Grimsby was the perfect location for our weekend getaway to see Niagara Falls and visit the wineries. Laura gave us great recommendations and was super helpful and responsive as we planned the trip. She definitely went above and beyond as an Airbnb host! The loft is comfortable, stylish, clean and well equipped with all you need. It is walking distance to the town's charming Main St. and less than a mile from Lake Ontario with a view of the Toronto skyline. We would absolutely stay here again!
Holly
2016-09-06T00:00:00Z
Amazing place, amzing hoste ! We spent a very nice time at Laura's. The place is as charming as described. You can find everything we might need to feel good, even a good (local?) wine bottle to welcome you. Everything is clean and tidy. Laura is very easy to talk to and available to help if needed or advise you on what to do. Probably one on the best Airbnb I've done so far :)
Coralie
2016-09-02T00:00:00Z
I was a little uneasy at the fact of renting someone's home out. However, Laura made me and my guest feel very welcomed. The residence looks better in person than in the pictures. To be honest her home almost felt like home lol. Laura welcomed us with some wine, a note of hot spots to eat along with some menus. The home was fully stocked with all essentials to eat in and stay in if need be. Some of the things Laura provided were fully stock kitchen i.e. Pots, pans, utinsiles, seasonings etc. Games, movies, playing cards, Cable, central air, coffee/tea, and last but not least wine. I appreciate laura for renting out her beautiful home. My birthday weekend to experience Canada/Niagara Falls was well spent thanks to the contribution of Laura.
Birtena
2016-07-24T00:00:00Z
The host canceled this reservation 126 days before arrival. This is an automated posting.
Christoph
2017-04-06T00:00:00Z
Laura's place was one of the best I've stayed at! A gorgeous and spacious loft, with everything you could ever need (including one of the most comfortable beds ever!) I was slightly worried that we might hear the train at night, but I didn't hear a thing. Walking distance to the lake, and a 5-minute drive to the Canadian Superstore for groceries was very convenient. We made a few trips to Niagara, Niagara-on-the-Lake and Port Dover. Highly recommended! Thanks Laura!
Krystal
2016-06-27T00:00:00Z
Szoba típusa
Teljes ház/lakás
---
Ingatlan típusa
Loftlakás
---
Férőhelyek
2
---
Hálószobák
Grimsby, Ontario, Kanada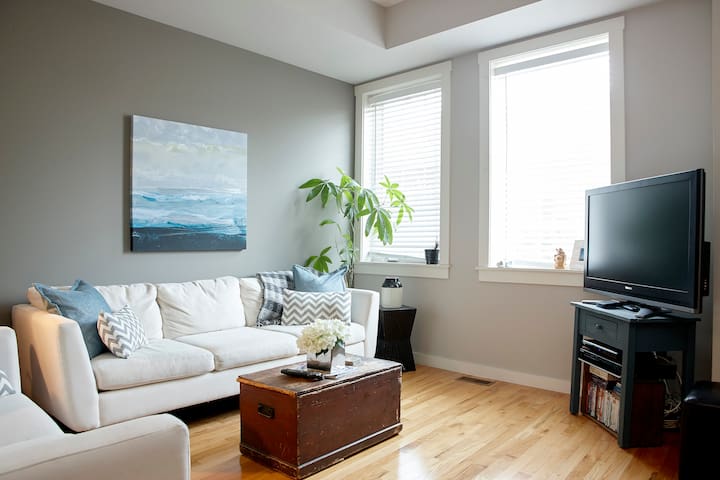 Our Farm is a great way to enjoy your vacation. It is quiet and relaxing. Close to shopping. You'll love our comfy apartment with a kitchen, living room and desk. Breakfast is included in price. Perfect for couples, solo adventurers. We are close to wineries, Bruce Trail, Toronto, Niagara Falls. You also get to meet our Alpacas which will relax you as soon as you see them. We also have a gift shop.
The apartment is located in our basement. It has great lighting. There is a fridge to store drinks, medications and snacks. There is a TV room and WIFI.
We do not have any neighbors close to us.
Szoba típusa
Teljes ház/lakás
---
Ingatlan típusa
Hozzáépített otthon
---
Férőhelyek
4
---
Hálószobák
Stoney Creek, Ontario, Kanada
你将有一个大床的房间,并有自己的私人浴室,只是在大厅(全文淋浴和浴缸)。您可以随时进入厨房,客厅和饭厅,你也可以使用后院和游泳池(天气允许的话!)。我们家是相当大的,所以让自己在家里!也有健身器材的地下室,您可以自由使用。
葡萄园位于尼亚加拉葡萄酒国家的心脏,是理想的目的地,因为它是接近的一切,但有大量的空间探索和放松。我们住在一个死胡同月牙结束,所以我们路上车辆很少。我们是从安大略湖数分钟车程,靠近许多远足,骑自行车和步行道,有很多酒厂和餐馆在该地区。虽然事情稍微散开在该地区,有车,你可以在一小时内驾车到达很多世界知名的旅游目的地!
The house is beautiful and in a perfect location for visiting tons of wineries. This house has the sweetest owner and the sweetest cat I've ever met in my life. House is clean and the bed was super comfortable.
Valerie
2017-04-09T00:00:00Z
We enjoyed our stay here and felt very welcome. The area is beautiful and our accommodation was conveniently located a short 7 minute drive from the Balls Falls conservation area where we were attending an event.
Patricia
2016-10-16T00:00:00Z
Beautiful home & very comfortable stay at Patty and Shae's. Very close to wineries and many scenic walks in the area. Highly recommend.
Marnie
2016-10-23T00:00:00Z
House was great. Everything was flawless. We arrived and checked-in with no problem. Close to the wineries and the wedding we attended. Great stay.
Crystal
2017-02-05T00:00:00Z
Very lovely home in a wonderful neighborhood! Extremely clean. The bedroom is a great size and the bathroom is large, which was great for us girls! We didn't have to fight over a mirror. Only a 31 minute drive to Niagara Falls. I would definitely stay with Shae again would highly recommend you to do the same!
Frankie
2016-09-05T00:00:00Z
Lovely home, bright and clean, and well equipped! The pool was an amazing bonus for a summertime trip, and the bed was super comfortable. Our host was wonderful - kind, helped us with our wine-tasting itinerary and happily gave us local dining recommendations, provided breakfast, enjoyed hearing about our stay, and had great stories of her travels near and far as well! We didn't want to leave!
Rachelle
2016-09-11T00:00:00Z
Was warmly greeted by Patty and she showed me around the house. It felt just like being at home. Both room and bathroom were private and clean. Breakfast was great. Thanks to Shae for the communication pre visit. The bird bangers operating during the daylight hours (noise canons that scare birds around wineries) were a little much for me noise wise, but I guess that goes with the area and time of year.
Janice
2016-10-30T00:00:00Z
Nice and cozy place in quiet neighborhood. Very friendly host, good bed and separate bathroom, very advisable!
Stephan
2017-03-29T00:00:00Z
Szoba típusa
Privát szoba
---
Ingatlan típusa
Ház
---
Férőhelyek
2
---
Hálószobák
Lincoln, Ontario, Kanada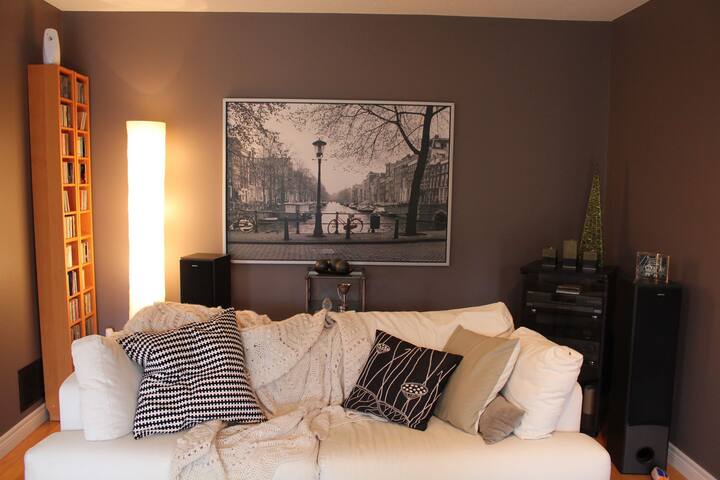 Bir kral yatak veya 2 adet tek kişilik yatak sahip bu odada seçim var. Eğer yastık yıldızları izleyin ve uykulu gözleriyle sabah erken büyülü gökyüzü görünüme sahip olabilir. oda Yirmi Vadisi ve Niagara Cephesi, UNESCO Dünya Mirası doğru güneye bakar. Bruce Trail, Kanada'nın en uzun ve en eski sürekli patika kayalıkların kenarında boyunca uzanır. Ben onların arabasına yürüyüş ve günün sonunda geri götürmek böylece onların zam başlangıcına yürüyüşçü götürmek (URL HIDDEN) 5 daha fazla kişi barındıracak 2 daha yatak odası var. Escarpment Odası ve Kızıl sincap (URL HIDDEN) yirmi Mile Creek üzerinde ve bir bisiklet, kano, kayak ve hatta bir ejderha tekne kiralama marina sadece çilek çiftliği tarafından yolda yoktur. Sen, Liman Estates Winery kürek rıhtım ve daha sonra onların Şarapçılık yolunda size rehberlik, ahşap oymalar takip edebilir! şarap imalathaneleri ve parkları ziyaret kırsal aracılığıyla götürecek farklı bisiklet yolları ve bisiklet haritaları vardır. Ve Büyük Niagara Çember Rota ve Welland Canal Parkway trafikten uzak bisiklet etmenize olanak (URL HIDDEN) sadece 20 dakika uzaklıkta Niagara Şelalesi Niagara Glen çarpıcı zam gelmektedir. o geçit aşındırabileceğine yolunda devam önce Niagara Şelalesi 8000 yıl önce düştüğü yer. Imagine düşüşler kapatmak bir anahtarı saygısız, sonra da dramatik manzara gereken ağaçlar, eğreltiotları, kır çiçekleri eklemek için bir sihirli değnek sallayarak. Antik dalma havuzları arasında yürüyüş ve çukurları görmek ve böyle yürüme eğrelti olarak karınca aslanları, lale ağaçları ve nadir eğreltiotlarına keşfedebilirsiniz. Sana bir doğabilimci boyunca isteseydi Turlar yüzden size rehberlik olabilirdi Niagara Doğa, Şarap ve Bahçe adlı bir şirket kendi!
İki dakika Ürdün Köyü'nden Baykuş Vakfı, ortasındayım ve başka bir yerde Kanada'da olduğundan daha benim belediyedeki fazla şarap imalathaneleri (URL HIDDEN) Ontario Gölü için Kanada'nın İhale Meyve Belt kalbinde ve yakın içindedir. Yani ilkbaharda meyve çiçekleri büyülü ve o zaman Ekim'e Haziran'dan size hizmet etmek için taze meyve :)
My wife an I had an amazing experience. Carla was an excellent hostess and a wealth of information about the area. The room was nice and clean. The breakfast was great and featured many locally produced items. We would definitely stay there again.
Mike
2014-08-19T00:00:00Z
Omg I loved staying at this B&B. Carla took care of me and all of her other guests with the kind of care and attention that makes you feel right at home. Seriously, I'm not kidding, she is a mother hen and I could not have felt more welcomed. The property is gorgeous and her B&B is cozy and clean. Oh, and it smells amazing. Reminds me fondly of my grandparents home. Her dog Cedar loves attention and is a terrible watch dog. ;) There is also some interesting history to learn about when her home was constructed and the materials used to do so. Did I mention I slept like a baby and got to listen to the beautiful hoots of owls during the night?!! I loved my experience. If you are still reading this review then God Bless you and just book already. :)
Marc
2015-07-22T00:00:00Z
Carla is a wonderful host. She is sweet, hospitable and knows many interesting things about the area and nature. Her property is amazing and the location is stunning. The breakfast is delicious, the whole house is very clean and well kept, and the bed is so comfortable. Cedar, the dog, is as sweet as Carla. Great place to stay.
TAMARA
2015-05-25T00:00:00Z
My boyfriend and I spent two wonderful nights at Bonnybank Bed & Breakfast. The house was enchanting like from a story book and the owner, Carla, was the sweetest person I have ever met. She made us feel very welcome and gave us lots of advice on where to visit in the area. The house was very clean and cozy and the breakfast was delicious. I would highly recommend staying here!
Priyanka
2014-05-12T00:00:00Z
Certainly in the top few b&b experiences I've had to date (based on my experience with airbnb over the past two years at ~ 10 places) though of course it depends on what you're looking for. Wonderful, healthy breakfast + Carla had a ton of regional knowledge about the area (wildlife, plant life, geology, things to do, history of the property itself, etc.). Without a doubt a much nicer experience than we would have had had we stayed at a conventional hotel in town. Definitely recommend this place!
Thomas
2014-08-24T00:00:00Z
What a lovely bed and breakfast! Bonnybank is a beautiful house filled with character and surrounded by a scenic view of the nearby Niagara escarpment. If your looking for a cozy getaway, away from the city, this is the place to book! Carla, our host was very accommodating. She gave us the best tips on local hiking trails and places we should visit. Breakfast was very tasty, with local farm fresh eggs made into a delicious omelette served alongside generous helpings of locally grown apples paired with yogurt. Overall, our experience was great at Bonnybank!
Beatriz
2015-04-04T00:00:00Z
What a wonderful stay with Carla at Bonnybank. She was an amazing and generous host, and the property is the perfect getaway from the craziness of the city. Breakfast was one of the best we have had in a long time. Highly recommend!
Max
2016-07-03T00:00:00Z
It was my mother's and I first B&B experience and it couldn't have been any better! Carla welcomed us both with open arms and immediately made us feel comfortable. The room was cozy and exactly what we expected with some great touches like lily of the valley from the garden beside our bedside. Carla's knowledge of the area and passion for the preservation of the land made our stay extremely meaningful and educational. I can't say enough about her hospitality, delicious breakfasts and suggestions to explore the surrounding area. I would highly recommend to anyone looking for a hidden gem to definitely connect with Carla to stay at her lovely home.
Cristin
2015-05-17T00:00:00Z
Szoba típusa
Privát szoba
---
Ingatlan típusa
Szoba reggelivel
---
Férőhelyek
2
---
Hálószobák
Jordan Station, 1, Kanada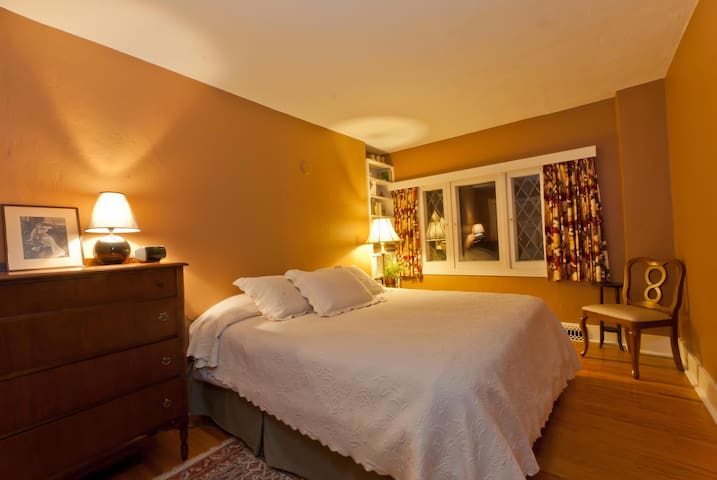 Add meg az időpontokat a teljes ár megtekintéséhez. Felmerülhetnek további költségek illetve adók.