Add meg az időpontokat a teljes ár megtekintéséhez. Felmerülhetnek további költségek illetve adók.
My place is good for couples, solo adventurers, and business travelers. HUNTERS WELCOME! Fenced yard for your bird dogs! Contractors looking for a place for an employee to stay other than a motel room? This is perfect! Out of town seminar or workshop? Stay here and have some elbow room. Relax with fellow travelers, fix yourself a homemade dinner, kick back and enjoy yourselves! Brush and the surrounding area have many events and happenings all through the year.
Two bathrooms! Comfortable beds with clean linens and lots of closet space and dresser space! Quiet.....Clean..... TV! WiFi! Kitchen is set up for your cooking skills! Wash your clothes and dry them too! Queen size bed in master bedroom and double bed in the other bedroom. THE WHOLE HOUSE! :-) Fenced back yard open for BBQ in the Spring and Summer and of course into the Fall, weather permitting..... I will be available if there is a problem or a question. Since I am not there at the house I will not personally be there to greet you but do not hesitate to contact if there is a concern.
If you are a hunter you will have small game hunting, large game hunting, goose, dove, duck, and pheasant at the times that are set forth by the Department of Wildlife. Be sure you are aware of the Rules and Regulations governing these types of sports. There are fishing spots for the fisherman within a 50 mile radius.
Szoba típusa
Teljes ház/lakás
---
Ingatlan típusa
Ház
---
Férőhelyek
4
---
Hálószobák
2
Brush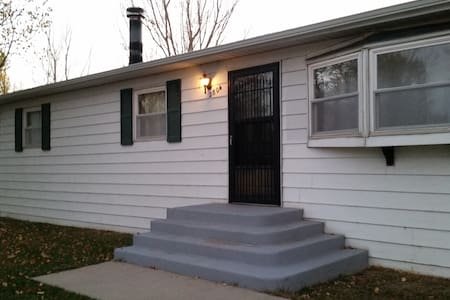 The Sedgwick Antique Inn has 14 bedrooms available in the historic bank building. Our guests tell us this is a wonderful place to stay. Please stay with us as long as you wish.
Lots of space and lots of room to let your imaginations flow. Guests have access to the whole building... We love to connect before, during and after our guests stay with us.
We walk the streets at night. You will be safe in our friendly little town. We have the Jumbo Reservoir 5 miles west of us. Fishing and hunting is abundant in our area. Keep in mind we are a small town with a bar and a dispensary across the street. Walk, ride bikes, etc. We have a new restaurant right next door.
Sedgwick is a tiny town with just a few businesses and a railroad track through it. Lupe is welcoming and talkative, and knows a lot about the area. It was fun to hear a bit about its history from her. Plenty of parking, but no gas station in town. There's a cafe attached to the inn where you can get an affordable meal. I recommend checking out the museum in Sterling, about 40 miles away.
Rae
July 2016
The host made me feel very welcome. The listing was accurate except it was much more quaint then expected. Very interesting stay. The bed was comfortable, the room was big and air conditioned. It was perfect.
Linda
July 2016
Lupe was very welcoming. She gave us a quick tour of the place and allowed us to choose our room. There are quite a few to choose from. There was also ample parking. Lupe gave us a brief overview of the town, which is quite tiny and set off from the highway. The town itself seemed peaceful, if a little isolated. It is also directly across from a dispensary if you're looking for that kind of thing. There are 2 bathrooms to share for all the rooms. The mattresses are a bit older and quite noisy, as is the center hallway that runs in front of all of the rooms. I also found it to be quite dusty (I'm allergic to almost everything) so I had to take a benadryl to get me through the night. Everything is a bit dated and worn, but some may find it to be kitsch. All in all, great host, but for the sake of my allergies and wanting a private bathroom, I would pass.
Princess
May 2016
We had a great stay with our 2 cats! Lupe was welcoming, generous, and can tell you a lot about the history of Sedgwick. Very cool building with a lot of character.
Rachel
October 2015
This was the perfect spot for us to stop on our trip. Everyone was super friendly and getting a tour to see the history of the building was the best part of the stay. Would definitely come back!
Quinn
December 2016
Loved the space, the host, and the town. Lupe is amazing! Can't recommend highly enough.
Kendra
December 2016
Staying at Lupe's inn was a trip and a half!! Lupe herself is charming and quirky (that's a compliment in our book) and very welcoming, and treats every guest more like a long-lost friend than a stranger on the other end of a commercial transaction. We were a little freaked out at first that there was no way to lock the room when we weren't in it, but in the tiny town -- whose main attraction is the marijuana outlet across the street from the inn -- it didn't seem to matter. The inn is chock full of beautiful and interesting antique furniture, so that it felt like we were staying in an antique store. There was a great selection of healthy options for breakfast, to which guests help themselves. In the evening we crossed the street to the one bar and were invited to hang out with the locals, who welcomed us warmly, though it was clear we were from different planets. We loved it. People who want a standardized and predictable travel experience will probably not have the same reaction, however.
Joan
August 2016
Lupe was very welcoming and gave my friend and I a great room. The place was adorable with lots of antique furniture. There was even a continental breakfast in the morning!
Katherine
August 2016
Szoba típusa
Privát szoba
---
Ingatlan típusa
Egyéb
---
Férőhelyek
16
---
Hálószobák
1
Sedgwick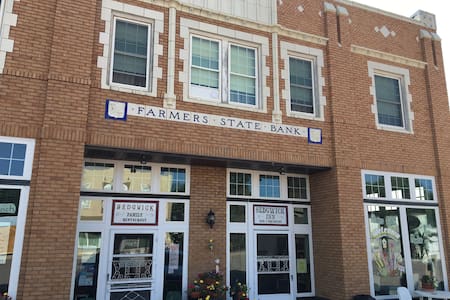 Two acres on the beautiful eastern Colorado plains. There is quiet serenity that abounds here! Room to park large vehicles, and hunting opportunities nearby. We are located a short drive (10-15 minutes) from Jackson Lake and approximately one hour northeast of Denver.
The space includes the entire finished garden level basement of my home. There is a living room, bar that includes a sink, refrigerator, microwave and Keurig coffee maker, a private bathroom with a shower and the bedroom with two beds. There is also a futon in the living area for additional guests. We can accommodate up to six people. Please be aware, there is no air conditioning in this space. Guests may access the entire downstairs area of the home. I'll be available sometimes to help answer questions or offer suggestions for things to do in the area.
We live in a very rural area, so if you're looking for peace and quiet or hunting accommodations we're available! Our home is approximately 15 minutes from Ft. Morgan, Colorado. There is no local public transportation. We have one well-behaved dog.
The host canceled this reservation 4 days before arrival. This is an automated posting.
Michael
Szoba típusa
Privát szoba
---
Ingatlan típusa
Ház
---
Férőhelyek
6
---
Hálószobák
1
Weldona