Orient Guest House is a traditional villa restored to its former glory, with eleven Arabian styled rooms, a Majlis (lounge) offering travelers a rare window to the gone by era. The open spaced roof terrace offers a bird's eye view of the city.
Orient Guest House has been active in different public events like Art Exhibitions organized by local and regional artists. The venue has been used as a backdrop for feature films and documentaries. It is also one of the privileged places where some of the famous Hollywood celebrities like Tom Cruise and world's dignitaries like Prince Charles of Great Britain and former President of United States of America – Mr. George Bush and President Tabare Vazquez of Uruguay have visited.
Being a guest house, this accommodation was a bit different-but very comfortable, plenty of space, air-conditioned, clean, tea & coffee making facilities + bar fridge and cooked breakfast provided. Location is good using the Metro system - there's a 7-10 minute walk to the closest station. Its in the old town, so handy to the museum, spice & gold souk - so an interesting part of town.
Sally
2016-06-04T00:00:00Z
Wonderful gem of a guest house, away from the hurly burly of Jumeirah. Very friendly staff, a courtyard to sit in, riad-style room, next to great brunch & coffee spots and the metro station. Would go back!
Katy
2016-05-31T00:00:00Z
A very authentic guest house. Furnishing and fittings are ageing, but the breakfasts are great.
melissa
2017-02-04T00:00:00Z
Located in the so-called historical Al Fahidi neighbourhood of Dubai, it's best just to give in to the recreated charm of the buildings and alleys. The best thing about Farhan's place is the courtyard where a passable breakfast is served; and the staff who are very helpful and friendly. We were assigned to a room that felt dark, dingy and cramped - with tiny 'traditional' vent-style windows to the outside, and a frosted window to the inside courtyard - stuffed with a four-poster bed with additional drapes for more darkness, trunks and other furniture, with little space to keep luggage. The bathroom was musty and the water pressure very low. If you're prepared for this, you can spend a perfectly decent time there. We even wanted to extend for a day, but it was fully booked. Enjoy.
Urs
2017-04-02T00:00:00Z
It was a great experience staying at this beautiful hotel. It was near around old dubai and dubai creek. There is a lot of small stores and restaurant to go to. The hotel was clean and the facility was good. The staff was super friendly. I recommend this hotel to the people that wanted a reasonable place to stay;)
Melvin
2016-01-05T00:00:00Z
Wir hatten uns wegen der Einzigartigkeit des Orient Guesthouse fuer dieses entschieden. Die Beschreibung klang interessant und originell fuer Dubai. Im gewoehnlichen Hotel kann man ueberall logieren. Jedoch Quartier war schwer zu finden, kannte keiner im Umkreis. Fuer uns gebuchtes reserviertes Zimmer war belegt (!!!!!!!) angeblich die AC defekt. Wir beschwerten uns heftig, ploetzlich war da ein Zimmer frei!! Farhan selbst war nie anzutreffen. Personal bemuehte sich freundlich um Abhilfe. Wir sollten ins nahe gelegene Hotel ziehen. Sonst war es wie in der Beschreibung steht.
Renate
2016-11-01T00:00:00Z
Very nice place for a quite stay in Dubai. The staff was very helpful A+++. Great breakfest.
Christina & Stephan
2016-07-26T00:00:00Z
It was a great experience to stay in orient guest room it have classic Middle East style and the staff are very helpful, take note that the location is walking distance from Dubai museum, so this is the place you can not miss out.
WEI PENG
2015-09-04T00:00:00Z
Szoba típusa
Teljes ház/lakás
---
Ingatlan típusa
Ház
---
Férőhelyek
2
---
Hálószobák
Dubai, Dubai, Egyesült Arab Emirátus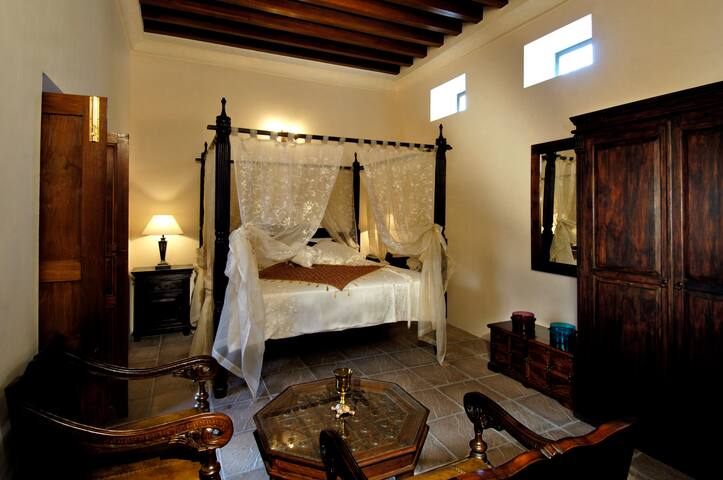 Ahmedia Heritage Guest House is an impressive and inviting traditional Arabic Heritage House with a grandeur entrance to the Courtyard. It has 15 bedrooms and offers round the clock Butler Service.
Traditional Arabic style room with queen size bed, complimentary breakfast, free Wi-Fi, wardrobe, in-room safe, satellite TV, IDD phones, ensuite with tub / shower combination, hair dryer, make up mirror, smoke detector Amenities Air Conditioned Bathtub Coffeemaker Cribs Available Free Newspaper Hairdryer In Room High Speed Internet Iron Ironing Board Shower Telephone
Located in the heart of Al-Ras Heritage area, adjacent to Al-Ahmadiya School Islamic Museum and The Heritage House, just a few hundred meters/yards away from the famous Spice Market, Gold Souk, and the Traditional Creek Side (Abra) water taxi that has been the most efficient and cost effective means of transport until now, although the state-of-art Al Ras Metro Station is equally convenient and situated only 100 meters walk from the Guest House.
I'm sure this place would have been lovely but due to my own choice, I ended up staying with a friend in the JLT area which was a bit closer to the nightlife action.
Hayley
2015-06-15T00:00:00Z
酒店位置得天独厚,出行交通十分便利,酒店管理人员专业热情,服务周到。阿拉伯人文风情浓郁,是迪拜为数不多的阿拉伯人民居住老城区。性价比超高,可尝试不同分店的住宿体验。我会反复入住这家酒店。
Forrest
2016-10-03T00:00:00Z
The place is historic and quiet. Staff is friendly.
Adel
2016-10-23T00:00:00Z
Listing was pretty accurate, very happy with my stay, nice and private, good location if you want to have a feel of the real city and local markets, close to the metro, great value for money... just didn't like the fact that it was a small corner shower with a shower curtain, there is room to improve the shower size and add a glass door.
Tauriq
2016-12-12T00:00:00Z
非常棒的民宿,德拉区位置方便,2分钟到地铁,工作也非常热心,帮助解决了好多问题
孙
2016-05-21T00:00:00Z
This is a nice Heritage Property!
vishal
2016-09-18T00:00:00Z
The host was very welcoming and the room was clean. The place is very convenient to visit Deira and Bur Dubai, with a metro station located nearby.
Jaaber
2016-12-25T00:00:00Z
I was quite confused trying to find this place and the directions provided where not helpful. This listing is actually a hotel - which is quite lovely and I recommend. Not sure it is necessary to book via ABB. I think the expectations were just a little off when booking based on the description. My room did not have AC and I think it was also across the street from the speaker for the Call of Prayer - bueatiful but load at 4:30am. Would I stay here again - yes. Was it as listed - no. Staff was wonderful!!!!
Trish
2015-09-06T00:00:00Z
Szoba típusa
Privát szoba
---
Ingatlan típusa
Ház
---
Férőhelyek
2
---
Hálószobák
Dubai, Dubai, Egyesült Arab Emirátus
Barjeel Heritage Guest House has many added advantages compared to other Guest houses, specially it's optimal location! Visitors instantly fall in love with its dramatic location offering panoramic views overlooking the Dubai Creek.
All its spacious uniquely designed rooms are traditional but individually furnished around the serene courtyard lawn. All rooms are on ground level by the waterfront, have 24 hours friendly personalized Butler service, along with great food and amazing Emirati cuisine adds on to make the visit memorable. It is also a photographer's delight with its historic Wind Tower as well as heritage-style architecture and decor. The Guest house has 9 spacious bedrooms with complete amenities that an International traveller is accustomed to i.e. Wi-Fi, Satellite and IDD phones, etc. Additional advantage comes through unique dining experience in the Traditional Barjeel Al Arab Restaurant offering Arabic and Emirati Cuisine. The restaurant offers multiple choices of seating, indoor, rooftop (first floor) alfresco dining option and the Creek facing outdoor seating.
The place was great situated for visiting Deira and really close to Metro. The room was wide, rustic decorated and comfortable. The breakfast was great and the place was calm and quiet. The butlers were very worried and helped me in several situations. The only thing to improve is the air conditioner. It was a little noisy. I highly recommend this place if you want to enjoy Dubai in a not Turistic beach Ressort. You also are able to use a gym and a swimming pool of a 10 minutes nearby hotel.
Borja
2015-07-16T00:00:00Z
The location is really great although the taxi driver found it difficult to locate. I should have printed off a more detailed map as to how to get there as the last few hundred meters are on foot (i.e. no vehicle access). It is easy once you know the way from the right Metro access point closes to The Creek! The room was comfortable, clean and very quiet which is what we were hoping for as we arrived there, as arranged, at 6am after a long flight. Hopefully this relative quiet will remain the case but I have my doubts as there is a large building site right next door that looks as though it may spring into action any day? Our major dissapointment was that on our arrival the concierge on duty at that early hour (6am) was not at all helpful. Having said he would be right back within 20 minutes and that he was taking our suitcases to our room (he apparently just needed to make sure it was ready for us) he never returned and we had to wait for two and a half hours in the reception area (on veyr hard chairs) until we were finally allowed into our room by which time we were feeling pretty exhausted and fed up! The booking form and correspondence with Farhan had made it quite clear that we would be arriving very early so this was not a great welcome. But after that initial bad start all was well and it is definitely a lovely part of Dubai to spend time.
Anthony
2016-01-08T00:00:00Z
A minor hiccup in the arrival process (guest house had no record of my accommodation) but the rest of the stay went well. Apt was clean and right near ferry landing.
Cameron
2016-01-24T00:00:00Z
Wonderful guest house right on the river. Perfect location for visiting the Souks. Of note there is no way to drive directly up to the guest house so we had to lug our bags from the Al Ghubaiba Metro Station. We visited all the guest houses in this group and were quite happy with this choice.
Gabe & Kate
2015-11-06T00:00:00Z
Barjeel Heritage Guest House离轻轨站和巴士站非常近,交通很方便,就是3至5分钟的路程就能到轻轨站和巴士站。房屋的管理人员和服务人员都非常热情,亲切友好,房间每天都清理得很干净,早餐非常丰富,我们很满意,如果下次再去迪拜,我们还是会回到这里。
娃娃
2015-06-16T00:00:00Z
The communication with the Guest House was prompt and efficient. The place was really nice with a generous breakfast included. There was really nothing to complain about. The only negative point is that because it is not very well known that there is a guest house there, the taxi was driving around for a bit before we spotted it.
Stephanie
2015-06-28T00:00:00Z
Lovely place very relaxed and typical Arabian heritage style. Easy communication, easy to get too being near metro. Close to waterfront and souks. Nice room, quite and enjoyable breakfast. Staff were great and helpful. Totally recommend.
Vonette
2015-07-11T00:00:00Z
This was a great place to stay. While it is a bit of a distance from the hustle of downtown, it is great if you want a bit of a quieter stay.
Wyatt
2016-10-02T00:00:00Z
Szoba típusa
Privát szoba
---
Ingatlan típusa
Ház
---
Férőhelyek
2
---
Hálószobák
Dubai, Dubai, Egyesült Arab Emirátus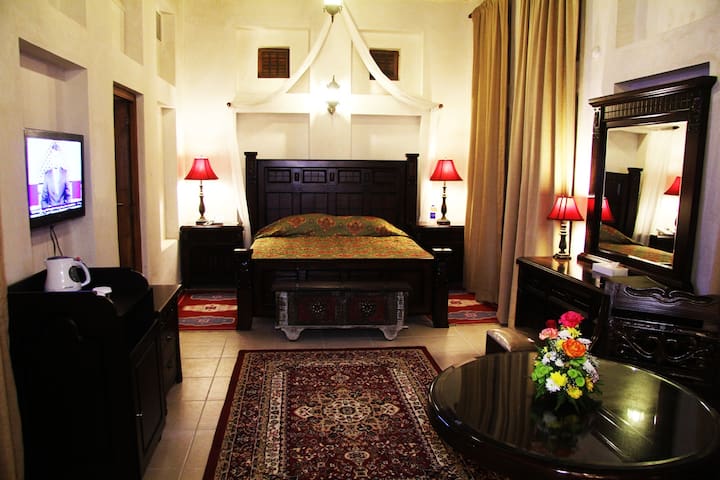 Peaceful and clean home Accessible to Metro, Supermarkets and Restaurants
It is a quiet and homey place, close to bus station and the metro.
It was quite comfortable. Close to the metro station. The host was very kind, friendly and hospitality.
Koichi
2017-04-04T00:00:00Z
Szoba típusa
Közös szoba
---
Ingatlan típusa
Ház
---
Férőhelyek
4
---
Hálószobák
Dubai, Dubai, Egyesült Arab Emirátus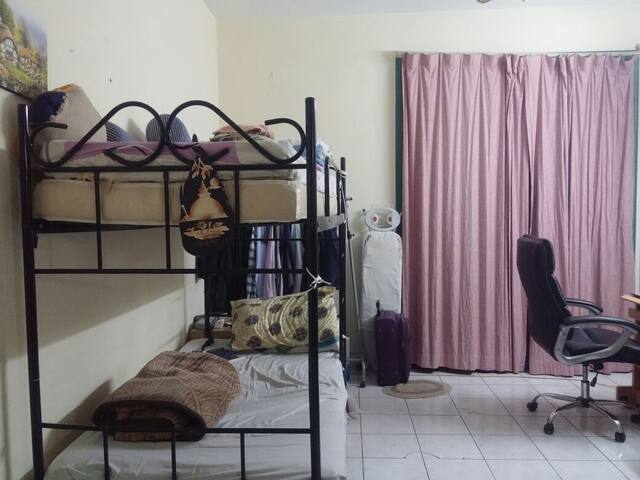 Add meg az időpontokat a teljes ár megtekintéséhez. Felmerülhetnek további költségek illetve adók.