Mike is a super easy guy to get along with, truly makes you feel like you're at home, he keeps the house very clean. If you are looking for place with a perfect manufactured feel to it, this isn't for you, there is a train track near by like he says in his listing, however if you are looking for a spacious country home away from home on the beautiful Ohio river with a settled in homey feel, you can't ask for better than the run tavern hops farm, I would absolutely return the next time I am in the West Point area.
Matthew
2016-10-17T00:00:00Z
Tun Tavern Hops Farm was the perfect little get away for my family. Sitting right on the Ohio river, it has a spectacular view! Also, just a quick 20-30min drive to downtown Louisville. Mike was especially considerate going above and beyond to make our trip special. We would love to stay here again.
Jason
2016-10-09T00:00:00Z
Szoba típusa
Teljes ház/lakás
---
Ingatlan típusa
Ház
---
Férőhelyek
4
---
Hálószobák
West Point, Kentucky, Egyesült Államok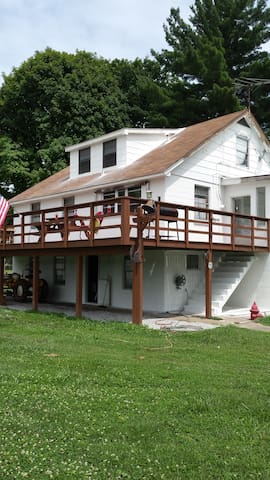 Una casa familiar única i espaiosa, en els suburbis de Southend, però a pocs minuts de la I-264, I-65, l'aeroport, recinte firal, Kentucky Unit i Churchill Downs. pati tancat. 20 Minuts del centre de Louisville. Capacitat per a 8 persones en llits amb espai per a més!
Una casa de ranxo tradicional construït a principis dels 60, aquesta casa compta amb una addició i la reconfiguració de l'espai que fa que sigui obert i còmode. Hi ha un parell de característiques úniques ... la xemeneia del saló és una construcció d'una vella caldera de ferro fos i mostra l'art del creador. La finestra d'arc de vidre de color al menjador va ser dissenyat i creat per un membre de la família original i que reflecteix la família d'aquest temps, les aus en les cantonades superiors que representen els pares i les flors precioses (6!) Als seus fills!
Els suburbis de Louisville Southend ofereix un respir del trànsit i el bullici, mantenint al mateix temps un viatge fàcil de molts punts d'interès. Mike Linnig restaurant és una meca Southend. Menjar el millor peix de la ciutat al llarg de les ribes del riu Ohio! El Farnsley-Moreman House ofereix una mirada històrica en com vivien els nostres relacions anteriors en pau i tranquil·litat al llarg del riu. El Loop Louisville és de fàcil accés i hi ha parcs aquàtics i parcs infantils a prop per als nens. Per descomptat, Kentucky Unit està a només 10-15 minuts de distància, com és l'aeroport, parcs d'atraccions i Churchill Downs. Louisville és la llar de molts parcs Frederick Law Olmstead ... Iroquois Park és a 10 minuts amb cotxe. Hi ha una Kroger i un Walmart prop per a qualsevol comoditat que pugui desitjar, juntament amb diverses cadenes i restaurants de menjar ràpid i centres comercials. Jefferson Mall, Oxmoor i centres comercials St Matthews, The Paddock Mall i ara, als afores de Louisville al llarg de la I-64 al comtat de Shelby, el nou Shoppes sortida del Bluegrass són meravellosos destinacions de compres i d'accés fàcil. L'escena del restaurant a Louisville és increïble, que ofereix molts llocs que ofereixen la carn de vaca obtinguts localment, porc i productes en els menús. També comptem amb una escena d'elaboració de la cervesa enorme i vostè tindrà l'oportunitat de gaudir de cerveses artesanals de la zona en gairebé qualsevol restaurant! Tenim molts, molts restaurants favorits per recomanar!
Is it possible to be remarkably hospitable and never see your guests in person? The answer apparently is YES! The house was absolutely wonderful and Patty was awesome. Really enjoyed our brief stay and will definitely look up Patty if we need to stay anywhere near Louisville again. Can't say enough nice things about how welcome we felt.
Kirby
2016-07-15T00:00:00Z
The mother/daughters LOVED staying at the Red Bird Family Home! Patty was absolutely amazing! The home was in a great location (close to Churchill Downs) which made our trip to the Derby easy. Everything was awesome and clean.
Celeste
2016-05-09T00:00:00Z
The place was immaculate! And as advertised. Lots of space and a wonderful back yard for my little one. Sorry I could have stayed longer for the peace and quiet. Thanks again for the accommodation.
Sheri
2015-12-04T00:00:00Z
What a clean, spacious and well-appointed home the Red Bird is. Having never been in KY before we found the neighborhood very easy to get around. (My girlfriend and I were able to walk to a local pizza place to watch my Philadelphia Eagles on a Sunday.) Maybe a total of 6 turns from the airport and we were easily there. It was so relaxing, my family just loved being there. If there's ever an opportunity to be in Louisville again, we'd surely stay there. Did I mention the Hot Tub? So great.
Michael
2015-10-06T00:00:00Z
This was my first AirBnB experience. The house was in a nice neighborhood and beyond anything I expected. It worked out perfect. We had the entire upstairs to ourselves while the teens had their own space downstairs. Everything we needed was there and Patty graciously answered all my questions. We would definitely stay here again.
Brooke
2016-10-03T00:00:00Z
I felt so welcome and comfortable in this home away from home. The house was exactly as pictured and a great place to stay. I would definitely ask to stay here again.
Tammy
2016-06-22T00:00:00Z
We very much enjoyed our stay at Patty's. Her house was clean, warm and inviting. We felt comfortable and right at home. Party's communication was excellent and everything was exactly as listed. The house is spacious yet cozy! We will definitely be back the next time our travels bring us to Louisville! PS-we LOVED the fireplace!
Beth
2016-02-19T00:00:00Z
Great place to stay! We went to Louisville for a bachelor party and bourbon tasting. The party bus we rented had no trouble finding us, and we were a very short Uber ride away from anything we wanted to do. The hosue was plenty spacious enough for all 7 of us. The beds and bathrooms exceeded expectations. I would highly recommend this place.
Ben
2016-12-18T00:00:00Z
Szoba típusa
Teljes ház/lakás
---
Ingatlan típusa
Ház
---
Férőhelyek
8
---
Hálószobák
Louisville, Kentucky, Egyesült Államok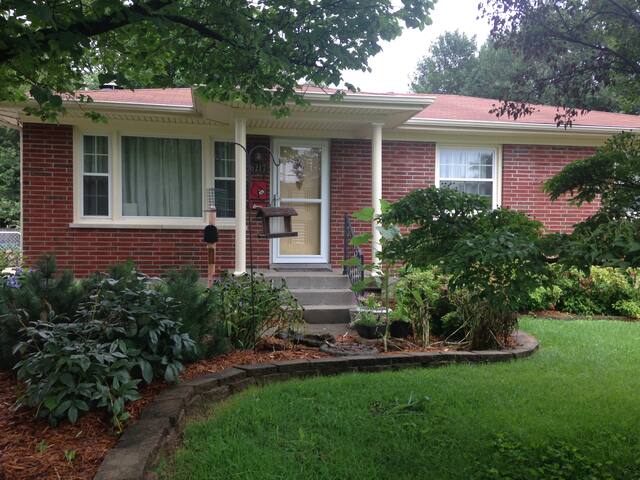 Entspannen Sie sich und genießen Sie Ihren Aufenthalt mit retro-modernen Möbeln in den Farben der warmen Blau und Gold. Dieses geräumige Zimmer verfügt über eine brandneue Memory-Foam-Matratze mit frisch gereinigten Wäsche versohlt. Wi-Fi High-Speed-Internet, einen 32 "Flachbildschirm Smart TV vorinstalliert mit Netflix, Amazon Video und Hulu / Showtime. Schlafen Sie in Komfort mit ultra-weichen Kissen. Die Küche ist voll ausgestattet und bereit für Sie! Kostenloser Kaffee, Müsli und Mineralwasser! Normalerweise habe ich ein paar mehr Lebensmittel für Gäste als auch
Chris was very prompt communicating with me when I booked the room. The place was clean, neat and suited my needs. Everything in the room is exactly as it is described in the pictures. I would love to stay here again the next time I'm in the Louisville area!
Nick
2017-03-18T00:00:00Z
Excellent house to stay in. Clean, organized and lots of amenities. Guest-friendly and great communication.
Alfonso
2017-02-26T00:00:00Z
Strong recommend.
Chris_banchao
2017-04-01T00:00:00Z
Great place. Chris was a great host and took us in last minute. Will definitely stay here again if I'm the area!
Brittany
2017-02-10T00:00:00Z
I may not have read the description well but i was hoping the house was closer to downtown and it was not as clean as i thought it should've been
John
2017-04-02T00:00:00Z
Great value. Chris was communicative and the the checkin was super easy. The other residents were also very helpful. Clean and comfortable. I would stay again.
Jeremy
2017-03-05T00:00:00Z
No recommendations. When I finished my dinner and went back to the house. I saw the another roommate, who is living there long term, walking out from my room. He scared me a lot and I found my luggage and bag were searched. No lost found so far. But it made me sleepless the whole night. And the sink in bathroom is bad.
Xuan
2017-02-19T00:00:00Z
Chris has been great to deal with. His property is nice and clean. Good location.
monica
2017-01-23T00:00:00Z
Szoba típusa
Privát szoba
---
Ingatlan típusa
Szoba reggelivel
---
Férőhelyek
2
---
Hálószobák
Louisville, Kentucky, Egyesült Államok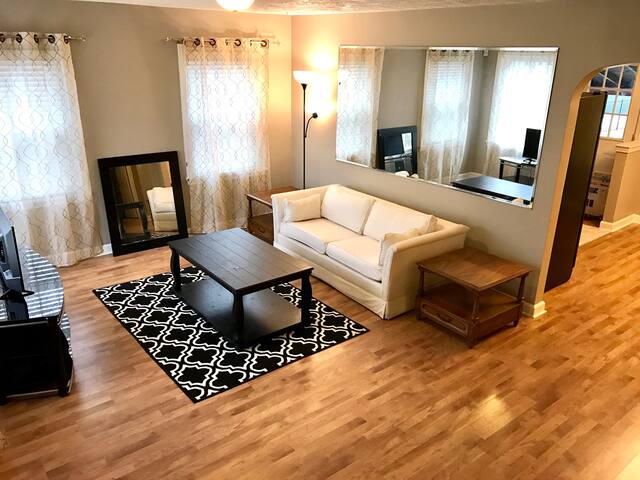 La casa se encuentra a 3 millas del centro de la ciudad ya sólo un par de millas de la U de L y Churchill Downs. Gran oportunidad de caminar a algunos de los mejores restaurantes y parques de Louisville. Dormitorio y baño privado con wifi de alta velocidad y televisión por cable. bañera de hidromasaje
A great visit with two super hosts! Although I arrived a little earlier than expected, Bob and Mike were able to welcome me like pros. They immediately made me feel at home and were incredibly friendly. The house is fantastic and in a great location. If you're going to Louisville, this would the place to stay.
Scott
2016-03-10T00:00:00Z
Friendly and welcoming hosts, with great recommendations and an exceptionally clean place to stay! I had a great time!
Erica
2016-07-25T00:00:00Z
Was fantastic
ralph
2016-10-17T00:00:00Z
Great place to stay!!Wonderful hosts!
Marlene
2017-01-13T00:00:00Z
We had a great time staying here. The guys were very nice & incredibly accommodating!
Joel
2016-05-16T00:00:00Z
I would highly recommend staying with Bob. The house was beautiful and clean. He was a great host, our conversations were fun, and he was generous. I would definitely stay here again.
Micah
2017-04-04T00:00:00Z
Our stay was great! We arrived a little later than we wanted to because we got caught in a snow storm, but Bob & Mike made us feel comfortable right away. We only stayed one night, but will definitely stay again next time we are in Louisville. They gave us some excellent suggestions on great local restaurants and things to do in the city. Their place was was extremely comfortable and they do a great job at making you feel right at home. Their two dogs are super cute, friendly and love attention. The room was the perfect size for two guests and the private bathroom had some toiletries in case you forgot anything. The neighborhood was quiet and safe (Very close to the University of Louisville & if I remember correctly they're in Germantown). It was also close to great restaurants, and a short drive to downtown, museums, and other activities. We had a great stay and highly recommend staying here. Also, it was extremely thoughtful when Bob found a ring in the room he immediately contacted me to let me know he would mail it. The ring wasn't mine & hopefully he was able to find the owner, but that initiative is one of the many things that make Bob and Mike amazing hosts.
amanda
2016-02-14T00:00:00Z
Bob and Mike were so welcoming and really made my boyfriend and I feel like we were at home. The location of the home was perfect for us as well. I loved how close they were to both the highlands and the downtown area. I would definitely come back and stay with them again next time I'm in Louisville. thanks so much again Bob and Mike!
Courtney
2016-02-22T00:00:00Z
Szoba típusa
Privát szoba
---
Ingatlan típusa
Ház
---
Férőhelyek
2
---
Hálószobák
Louisville, Kentucky, Egyesült Államok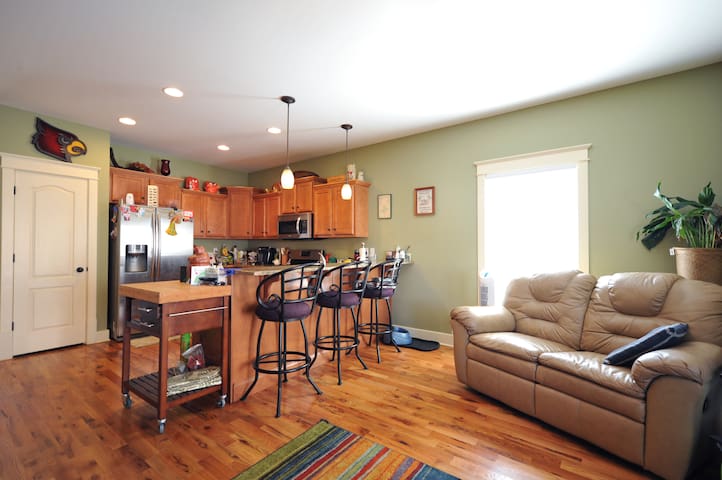 Homey, verstecktes Juwel im Traber Entfernung von weltberühmten Churchill Downs! In zentraler Lage mit guter Anbindung an Autobahnen, die Innenstadt, altes Louisville & the Highlands. Nur die Straße von Kentucky Exposition Center, UofL & Papa Johns Cardinal-Stadion. Gemütlich, mit viel Platz zu bewegen! Open Grundriss mit Küche und Wäscherei.
Das Hotel liegt in einem doof kleine Nachbarschaft genannt Glückliches Hufeisen mit einfachen Zugang zu allen wichtigen Sehenswürdigkeiten, Veranstaltungsorte und Restaurants. OK, so ist es nicht die snazziest Nachbarschaft in der Stadt, aber die Lage ist leicht zugänglich, um überall Sie Lust in Louisville. Während es in einem städtischen Gebiet, unsere kleine Ecke ist erstaunlich ruhig und in der Regel ziemlich ruhig. Kroger Lebensmittelgeschäft am 3. und Central, zusammen mit Starbucks, Planet Fitness & Liquor Welt nur auf der anderen Seite von Churchill Downs in der Nähe von Wagners Diner. Suche nach lokalen schrulligen Sachen? Seien Sie sicher, Tickled Pink bei Calhoun & Taylor zu überprüfen, ob Sie in Antiquitäten und Sammlerstücke sind. Schauen Sie sich die neue amerikanische Pharoah Ausstellung in Churchill Downs aus, und sicher sein, in einem Pferderennen zu nehmen, wenn die Strecke geöffnet ist! Nehmen Sie eine kurze Fahrt zu den Highlands und flanieren Bardstown Straße. Schöne Iroquois Park ist nur auf Taylor Blvd und hat einige schöne Wanderwege und tolle Shows im Amphitheater. Schauen Sie sich ihren Zeitplan auf (URL HIDDEN) Soweit Lebensmittel, Kopf südlich von Churchill Downs für die internationale Vielfalt oder in Richtung Innenstadt, UofL oder den Highlands für mehr einzigartige, gehobene oder traditionelle Gerichte. Ich will nur Barbecue? Schauen Sie sich Jimbos in Kenwood.
Our Host was great. She was willing to share important information for our stay. We spoke on the phone and she was very friendly. The home was very clean and breakfast was provided which was great. This was close to our conference and she left a lot of info. on other things to do while we were there.
James
2016-10-16T00:00:00Z
the place was better than I thought it would be. the only issues were small things that only come up when everything else is so good.Also I blame the weather
Vic
2017-01-10T00:00:00Z
Our stay was very pleasant. The home suited our needs perfectly. Barbara was very helpful and her place was very clean. Seemed like an amazing value to us. She left lots of personal touches around which made us feel very welcome.
Rhonda
2017-01-15T00:00:00Z
Our stay was perfect. We were in close proximity to downtown and Churchill Downs, the neighborhood was quiet at night so our kids could sleep no problem. Barbara provided a wonderful array of breakfast foods. We had everything we needed! We were only there two nights, my husband did the Iron Man in Louisville and the place was just what our family needed for the trip. My only FYI is that the stairs leading to the house are steep so if you have small kids be careful. If you have a physical disability, this might be hard for you. But we would stay again!
Jacquie
2016-10-11T00:00:00Z
Very cute and will be back!!!
Joeley
2017-04-09T00:00:00Z
Our 18 day stay in KY was very pleasant. Barbara was a great host. She provided quick items to fix for breakfast with juice, milk, coffee, etc. There was a minor leak in the bathroom, I called her and she offered to leave work to come get it taken care of. It wasn't an emergency but she did get it taken care of that day after work. It's located in an older area of Louisville and has been well taken care of. The area was quiet and I would recommend it highly.
Betty
2016-11-19T00:00:00Z
This was a fantastic experience for us on our trip to Louisville. We were made to feel very welcome, and Barbara went above and beyond to take care of us. The apartment is very comfortable and inviting, situated in a quiet neighborhood. We thoroughly enjoyed ourselves, and we couldn't believe the value. Thanks again for a great stay!
Brian
2016-05-23T00:00:00Z
We had an awesome stay at Barbara's. Our family includes two adults, a five year old and two two year olds. This was our first Airbnb experience and I'm not sure we'll ever stay at a hotel again :) but I do know we were spoiled at Barbara's. Not only is it a great two bedroom for way less than the price of a tiny hotel, the kitchen is loaded with great breakfast items too. The location is literally adjacent to Churchill Downs! We had the pleasure of getting to meet Barbara as she cut her lawn in 98 degree heat (that's how much she cares about the property) and she was absolutely wonderful! Stay here!!
Jessie
2016-07-26T00:00:00Z
Szoba típusa
Teljes ház/lakás
---
Ingatlan típusa
Lakás
---
Férőhelyek
4
---
Hálószobák
Louisville, Kentucky, Egyesült Államok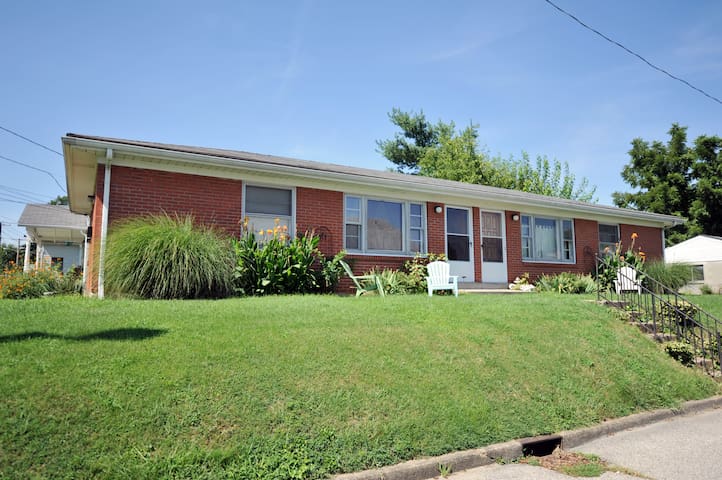 Mi lugar está cerca de la Universidad de Louisville. Te va a encantar mi lugar debido al espacio privado. Mi lugar es bueno para parejas, aventureros en solitario, y viajeros de negocios.
Clarence was kind, polite, and extremely responsive. He was very accommodating and flexible with our schedule, and was a fantastic host. If you had a question or needed to reach out to him, he would respond almost immediately. He was very helpful with providing places to visit and tips for our adventures in Louisville. You get more than the value. Great location.
Karina
2017-02-26T00:00:00Z
It was exactly what the pictures looked like. The room was very clean and I loved the big bed. Clarence was so helpful. Would definitely stay there again.
Kayla
2017-04-03T00:00:00Z
It was a fantastic value for a place to get some rest!
Brian
2017-01-21T00:00:00Z
Clarence was a great and communicative host. Close to campus andnot too far from other areas of nightlife, you'll be hard pressed to find a better location for the price.
Christopher
2017-03-26T00:00:00Z
Great room! Great location! Great price! Okay
annika
2017-01-23T00:00:00Z
Clarence is very friendly and engaging. The house is very close to many attractions and University of Louisville.
Yasar
2017-01-01T00:00:00Z
Clarence was easy to work with as a host. Good location close to lots of food. Nice king size bed, very comfortable.
Kyle
2017-01-11T00:00:00Z
Clarence was an awesome host and quickly responded to my messages. His place was clean and the bed was comfortable. Would stay here again!
Alex
2017-03-19T00:00:00Z
Szoba típusa
Privát szoba
---
Ingatlan típusa
Ház
---
Férőhelyek
2
---
Hálószobák
Louisville, Kentucky, Egyesült Államok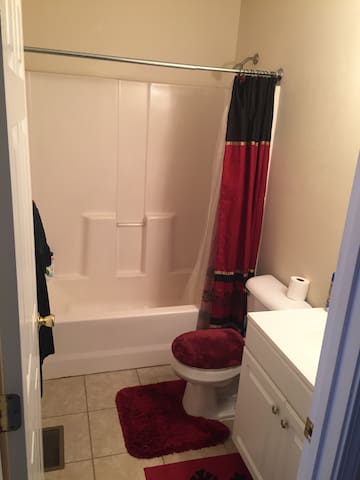 unité 2ème étage Charme, spacieux et privé dans un 1890 victorienne dans le cœur de la vieille Louisville avec une belle vue sur Central Park historique (conçu par les Frères Olmstead). Restaurants et bars dans un rayon de cinq blocs. Moins de 30 minutes à pied du centre-ville, l'Université de Louisville, et Churchill Downs, à 10 min en voiture des Highlands, Germantown, nulu, Butchertown et Portland. Nous avons d'autres propriétés disponibles. S'il vous plaît nous contacter pour discuter.
Notre maison de brique spacieuse, construite en 1905, est situé dans la grande, historique Old Louisville, acclamé comme le plus grand quartier victorien hanté en Amérique. Situé juste en face de Central Park, vous allez adorer le expansive 1200 sq. Ft. Appartement au deuxième étage, avec entrée privée à travers une entrée commune. Il dispose d'un confortable, une grande chambre à l'avant de la maison qui reçoit la lumière du matin fantastique. L'appartement est joliment meublé dans un style éclectique, et offre un grand salon avec un canapé qui se transforme en un lit complet, cuir chaise de lecture, et beaucoup de lumière naturelle. Il y a aussi une salle de bains de taille avec le cast victorienne trempage de fer bain, et une cuisine spacieuse avec tout le nécessaire pour créer un bon repas, il suffit d'ajouter la nourriture. Un merveilleux, grande terrasse au deuxième étage donnant sur la cour arrière attrayante. Enfin, vous aurez accès à plus de 125 chaînes de télévision et 30 meg Internet.
Vous serez directement en face de la rue du 17 acres Central Park, qui a été conçu par le célèbre Frederick Law Olmsted, qui a également conçu le Central Park de Manhattan. Bordé par une partie de la plus belle architecture victorienne Old Louisville, le parc dispose de courts de tennis et des sentiers pédestres optimistes. Seuls quelques blocs de là se trouve l'élégant 610 Magnolia; sans doute le meilleur restaurant de la ville. De renommée internationale célèbre chef, et James Beard Award Winner, Edward Lee a été le prestigieux Top Chef de NBC. Belle et historique de la Cour St. James, nommé "La plupart des rues de Charme en Amérique" par Southern Living, est juste autour du coin. Comme il est, Old Louisville Brewery (et parc pour chiens).
What a wonderful apartment, decorated with an eye for style and whimsical little touches, this is a great place to spend a romantic weekend or a few weeks as we did. The rooms are oveersized with large windows and lots of light. The rooms are all comfortably furnished with attention to detail. The memory foam queen sized-bed is super comfortable and our guest reported the sleep sofa to be surprisingly comfortable as well. We were in town for medical reasons and needed a really well-equipped kitchen. Our hosts were more than gracious in supplying everything we needed to prepare meals. The apartment is right on Central Park in the heart of the Old Louisville historic district famous for its large collection of Victorian homes. A really nice neighborhood to take a walk or to just sit on the front porch and watch the neighbors stroll by. Unfortunately we were unable to attend the Shakepeare in the Park performances, but these continue for the month of July. And our hosts, Kreid, can't say enough about them, gracious, kind, helpful....and overall just two very nice young men. We hope to be able to stay with them the next time we are in town. Thanks Kreid!
Anita
2015-07-01T00:00:00Z
Our hosts contacted us several times before we arrived with info about the property and responded quickly when we asked about locations of note in the neighborhood. Upon arrival everything was as advertised and we were thrilled to have so much space for the price. The neighborhood is walkable, and we strolled to the University of Louisville Campus and back easily one morning for breakfast. The drive to downtown or over to the Highlands are was also easy. Inside the house, we loved the comfortable bed and the loungable living room. The bath was more than adequate, and the kitchen/dinette area was great to pop a cork or store some leftovers. The dogs downstairs only barked when we entered and exited, and the location of the big park directly across the street was very convienent. Uber picked us up and dropped us off with no problem on our evening at the bars. What a great place to base our first foray into Louisville! We hope to be back in the future.
Brian
2015-09-08T00:00:00Z
Excellent property, very comfortable, well kept and extremely clean. Host's are very friendly and welcoming. Amazing location, value and service! Stay was absolutely perfect!
Shelly
2015-10-27T00:00:00Z
This was my first experience with AirBNB and it was awesome. Very nice apartment and Justin was great. I highly recommend staying here if you are visiting Louisville.
Robin
2016-10-26T00:00:00Z
Had a lovely stay here! The apartment was very cute and comfortable and had everything we needed for our 4 night stay. It was so nice to have coffee on the back veranda in the mornings. The neighborhood was beautiful and fun to explore. Check-in / check-out was easy and we weren't rushed out the day we had to check-out. Our host made us feel welcome and responded quickly to any questions we had. Also, a quick 10 min drive to downtown and plenty of street parking. Would highly recommend!
Simonne
2016-07-03T00:00:00Z
Justin's place was gorgeous, probably the prettiest Airbnb I've ever stayed in! We didn't get to spend much time in the apartment but I wish we had. Everything was clean and there were lots of great touches like a variety of products in the bathroom. Finding parking right in front was never an issue and check in/out was easy. Overall we loved it and would definitely stay there next time we visit!
Brittany
2016-12-21T00:00:00Z
We really enjoyed our stay in louisville with the guys - great hipster apartment close to downtown, clean and cosy. The hosts were helpful and communicative, recommended a lot good stuff - no problems at all! Love to come back.
Kai
2016-05-15T00:00:00Z
An absolutely charming and private space right in the middle of a beautiful neighborhood! My parents and I stayed and couldn't have asked for a better place for our first trip to Louisville. We loved the sunny space, and having a stocked kitchen made us feel very much at home. Super comfy fold-out sofa too! Jonathan was great with communication and very patient with our questions, and we felt safe with our larger-than-life canine protector just downstairs! Highly recommended, thank you!
(EMAIL HIDDEN)
2016-03-24T00:00:00Z
Szoba típusa
Teljes ház/lakás
---
Ingatlan típusa
Lakás
---
Férőhelyek
4
---
Hálószobák
Louisville, Kentucky, Egyesült Államok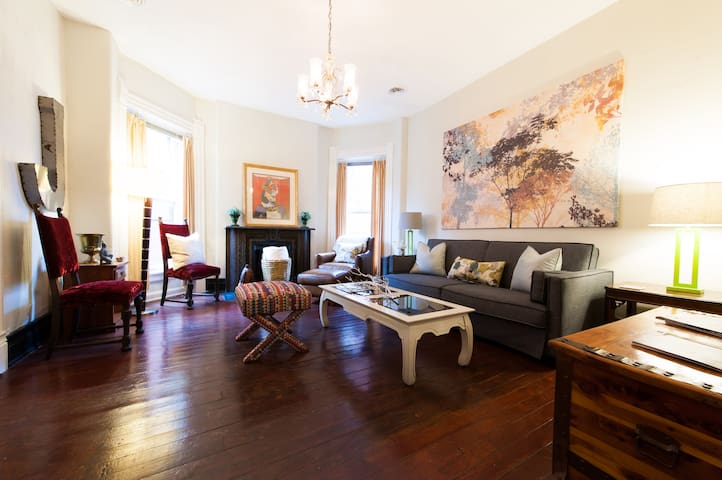 Great place for our group of 3. It was nice that the bedrooms weren't right next to each other. We walked downtown both days and took a cab back at the end of the evening. Much quieter than our previous hotel stays on 4th street. Looking forward to our return trip.
Tiffany
2017-02-20T00:00:00Z
Don's home is beautiful & comfortable. We were only a short Uber ride from anywhere we wanted to go!
Theresa
2016-12-02T00:00:00Z
Don was a great host, he made us feel very welcome in his beautiful home. It was very clean and set in a central location near downtown. I would rent from him again and highly recommend this property. My favorite amenity was the bedding and pillows. The most comfortable place I have ever stayed!
Chris
2016-10-25T00:00:00Z
Beautiful condo. Walked to/from 4th Street Live during day and evening. Clean! Clean! Clean! Don was more than accommodating to our needs and requests and would not hesitate to contact him again for future trips to L'ville.
Karen
2016-10-11T00:00:00Z
It was a great stay in Louisville! The condo was awesome and very relaxing.
Nikki
2016-08-11T00:00:00Z
Clean place. Would stay here again.
Samuel
2017-04-13T00:00:00Z
Don's place was beautiful and exactly what we were looking for. Three of us stayed here for the weekend and it served as the perfect home base. We were able to walk to brunch one morning and easily drive everywhere else we needed to go. Don did a great job of hosting.
Jeff
2016-12-18T00:00:00Z
I originally booked Don's 1 bedroom and Don was kind enough to upgrade us to his new 2 bedroom without increasing the price. Don was there to greet us when we arrived and gave us a rundown of everything we needed to know. This is beautiful 2 bedroom and was perfect for our group.
Nick
2016-06-27T00:00:00Z
Szoba típusa
Teljes ház/lakás
---
Ingatlan típusa
Lakás
---
Férőhelyek
4
---
Hálószobák
Louisville, Kentucky, Egyesült Államok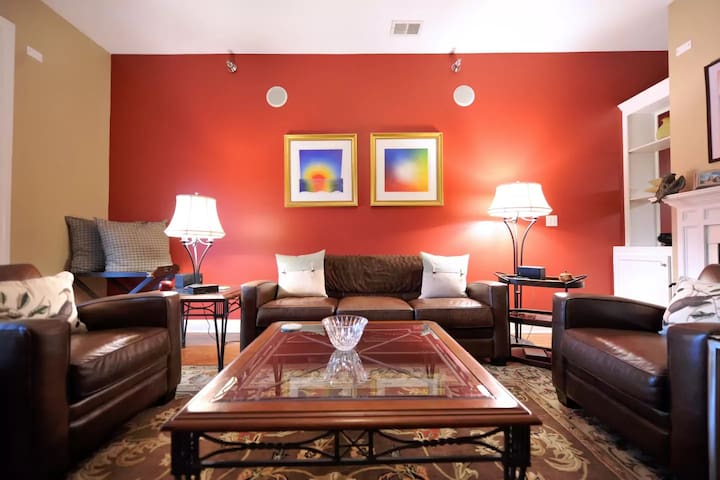 We had a wonderful experience at Katie and Luke's home. The suite was exactly as described and was very comfortable for our group. Luke met us upon arrival and gave us a tour of the suite. We chatted for a few minutes about our plans and Luke gave us some great recommendations for food/drinks. We mentioned that we were going to Hammerheads for dinner and a few minutes before we left, Luke texted us to let us know that Hammerheads was closed for construction. That was so thoughtful and saved us some money on what would have been a wasted Uber ride! The house is in such a nice neighborhood and was convenient to everywhere we wanted to go. We would definitely recommend Katie and Luke's home to anyone traveling to Louisville.
Angela
2016-08-15T00:00:00Z
Audobon park is a nice neighborhood. Close drive to the University of Lousiville campus. Katie and Luke were easy to get in touch with and really nice to offer suggestions on where to eat. You do have to hop in the car to drive to bars and restaurants. Comfortable bed.
Gina
2017-04-08T00:00:00Z
Wonderful neighborhood, very clean, great hosts. Fantastic to communicate. We hope to come back again!
Jeanne
2016-10-23T00:00:00Z
Luke and Katie were amazing hosts to an amazing private suite. In addition to being close to many shops, it was packed with all the amenities in order to feel right at home. If you're going to Louisville, don't bother looking at any other place because this is the one you want.
Cory
2016-07-30T00:00:00Z
My son and I were so blessed with this sweet place and beautiful neighborhood. So accommodating and felt like home away from home. We loved it and look forward to coming back next year.
Andrew
2016-04-24T00:00:00Z
Thank you very much it was a beautiful place to stay. We would definitely would like to stay there again when we visit Louisville. You made us feel right at home
Carla
2016-10-12T00:00:00Z
Luke and Katie were very welcoming and kind. They took the time to show us the place and make suggestions for places to visit in Louisville. The suite was very comfortable and clean. It was decorated with a lot of care, and style. We honestly wanted to stay more than one night!
Anne
2016-07-15T00:00:00Z
I expected a great space based upon the pictures, and it was great, but it also exceeded my expectations in all the small ways too. For example, I know it seems petty, but they had the best towels of any AirBnB I have stayed at (13+). I love a big comfortable, good-smelling towel. Other notable small things: Netflix, Hulu, comfortable seating, cokes/waters, oatmeal, coffee, great wifi, and much more. You can tell that the hosts are great people and will go out of their way to make your stay the best it can be. The whole home radiates peace. Also great restaurant recommendations. Try out El Taco Luchador!!
Isaac
2017-02-05T00:00:00Z
Szoba típusa
Teljes ház/lakás
---
Ingatlan típusa
Ház
---
Férőhelyek
2
---
Hálószobák
Louisville, Kentucky, Egyesült Államok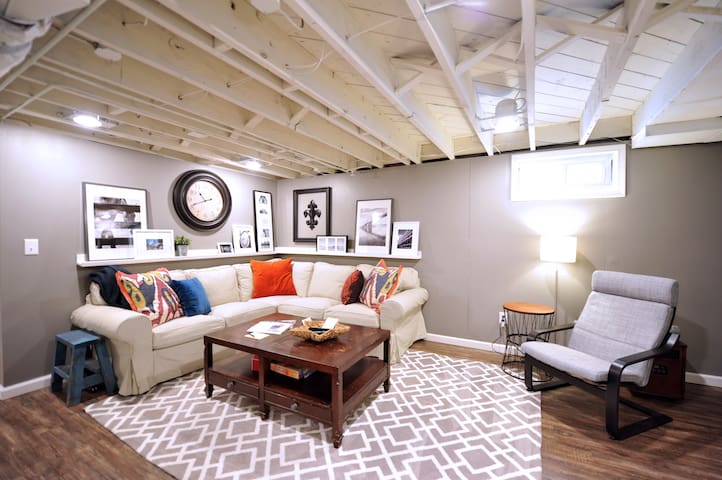 木々に包まプライベートデッキに座って、そして私たちの地元のコーヒーショップからコーヒーをすすります。この快適な、プライベート2階のアパートは閑静な住宅街にUofL、エキスポセンター/フェアグラウンズ、チャーチルダウンズ競馬場、イロコイパーク&アンフィシアター&空港の2マイル以内に位置しています。二つのベッドルーム(1 LG 1 SM)、ダイニングキッチン、&LG LRは、リラックス&更新するスペースを提供しています。州間高速道路&レストラン&広い駐車場に簡単にアクセスできます。 6.無線LAN&基本的なケーブルが眠ります。行儀の子供たちは歓迎します!所有者は1階に住んでいます。
改装された100以上の歳の家庭で広々とした客室 - 800 + SQ。フィート! 利用可能な十分な路上駐車 /サイクリングトレイルを居住地から1ブロックを歩きます 7人まで眠ります!大きなマスターBRは、クイーン、ダブルベッド、クローゼット、デスク、ドレッサーが含まれています。子供や家族がプライバシーを必要とするための理想的な - 小さなベッドルームにはシングルベッド、チェストを持っています! LRでの引き出しソファは2のための追加のベッドを提供します。エクステリアハウス手順は、デッキと専用の入り口につながります。 *新しく改装されたキッチンには、冷蔵庫、コンロ、シンク、電子レンジ、テーブルと椅子、ない食器洗い機を持っています。すべての料理、鍋やフライパン、等コーヒーメーカー、オーブントースター、など、あなたが使用できる小型家電製品、 *受賞コーヒーショップ、徒歩圏内には本物のエスニックレストラン! あなたの楽しみのために提供*スナック、ボトル入り飲料水、コーヒー、紅茶 *州間高速道路に非常に便利で、風光明媚な、歴史的な南パークウェイのすぐそばにあり、空港、UofL、チャーチルダウンズ競馬場、イロコイ円形劇場、エキスポセンター/フェアグラウンズ、ダウンタウン(簡単に、直接ルートで!) *プライベートデッキはすぐ南ダウンタウンルイビルの静かな、安全で、住宅街に木を見渡せます - 6マイルのストレート、簡単にドライブが繁華街にあなたを取ります *中央の空気と熱。暖かい夜と大きな、新しいウィンドウのための寝室の窓ユニットは、涼しい夜に風をキャッチ *高速無線LANおよび提供される基本的なケーブル、ならびに無数のDVD、ゲーム、パズル、および書籍 *サイクル、ハイキング、または750エーカーで、近くのイロコイパークで多くの森のトレイルを歩きます。場所にディスクゴルフ、遊び場、バスケットボール、テニスコート。イロコイ円形劇場はコンサート、公演、無料映画を提供しており、わずか数分の距離です!
ウェブ検索で出てくることはありませんが、これはあなたの好奇心を喜ばせるとあなたの味覚芽をじらすますエスニックレストランと私たちの近所のユニークなショッピングの場所がいくつかあります。私たちの近所には、多数の小さな民族飲食店や種類食品店の一つで、その結果、文化の素晴らしいミックスです。私たちはあなたの犬の散歩や運動を取得するための周辺全体に歩道があり、地元の公園は森、ランニングコース、遊び場、およびディスクゴルフの700エーカーです。
Amy, Thank you so much for your hospitality. My daughter and I thoroughly enjoyed our stay in your cozy apartment. The beds were comfortable, we had everything we needed, down to the umbrella. Your thoughtfulness was greatly appreciated. We especially loved all the notes around the apartment for guidance and the beautiful deco. I would highly recommend your place to stay for anyone flying, as the airport was a mere 5 minutes away. Thank you for a wonderful time in Louisville. Sheri Ross
Sheri
2015-10-14T00:00:00Z
Great trip. Amy was an excellent host. We were welcomed by raisin bread and a pitcher of apple cider. The space was huge and can sleep a lot of people if need be.
Elliot
2014-11-06T00:00:00Z
Hawk's Eyrie was pleasant place to stay, exactly what we needed for our short stay in Louisville. Although we didn't get a chance to meet Amy personally since she was a little under the weather, she made us feel very welcome. Even with not having a guided tour before hand everything was easy to figure out and instructions were easy to follow. The place was cozy, charming and clean, close to a lot of amenities as well. I would definitely recommend anyone staying.
Earl
2016-01-11T00:00:00Z
From the first email Amy and Ken made us feel right at home. Upon arrival Amy provided wonderful sweat potato cake and apple cider. The apartment is warm, fully stocked kitchen, and great atmosphere to unwind after a day on the bourbon trail.
Diane
2015-01-05T00:00:00Z
Loved this place! The pictures and description depict the apartment accurately—spacious yet cozy. We had everything we needed and loved charming touches like the claw-foot tub and kitchen nook. Quiet, super clean, and very comfortable.
Marlo
2016-02-21T00:00:00Z
Amy has been really helpful and the place is really cozy as well, super close to the airport and expo center
Anna
2016-02-15T00:00:00Z
This was our first time using Airbnb and what a wonderful experience. The apartment was just lovely and Amy thinks of EVERYTHING to accommodate guests. She is awesome with communication and such a nice person in general. The apartment was exactly as described if not better! I wish we would have stayed longer than just one night!
Laura
2015-10-05T00:00:00Z
Amy was an exceptionally considerate and thorough host. The apartment was comfortable, convenient, and well equipped. She made sure we were set with additional amenities for nearly any scenario. It was awesome.
Lindsey
2016-11-23T00:00:00Z
Szoba típusa
Teljes ház/lakás
---
Ingatlan típusa
Lakás
---
Férőhelyek
7
---
Hálószobák
Louisville, Kentucky, Egyesült Államok
Landon's home was clean and welcoming indeed. The queen beds were very comfortable, and the location was convenient to highways and airport and Churchill Downs, and only a 15 drive from downtown. The 3 bedrooms are on the main floor with 1 bathroom, and the second bathroom is in the basement, which was no problem for us. While we never met Landon, he was very communicative before and during our visit and was very responsive to our questions by text. The kitchen is large and we'll equipped, and the fridge was stocked with bottled water, which we really appreciated. And Landon surprised us with yummy home baked chocolate chip cookies upon our arrival.
Micki
2015-10-19T00:00:00Z
I have to say Landon was a great host his communication was quick and efficient. I had a very pleasant stay the home was very clean and it looked just like the pictures.I loved the fact that everything was labeled It really did feel like home. I would definitely recommend staying there for those visiting Louisville.
Shemekii
2016-07-23T00:00:00Z
We had a great stay at Landon's home! That house was as described and Landon was an excellent host.
Brandon
2016-04-01T00:00:00Z
Love the cookies. Will be looking for another opportunity to stay at Landon s again.
Chris
2016-05-12T00:00:00Z
This was our first time using AirBNB, I did not know what to expect but Landon's hosting abilities were beyond what I could have ever imagined. Even though he never appeared personally to see us, he made us feel special with all the little extra touches that were put into his wonderful home. Everything was as described, the neighborhood was quaint and we all felt safe (and we aren't huge adventurers either). The Netflix and Amazon Firestick that he had were a happy surprise, and the only thing we ever needed to leave to get was food. Everything was provided that you'd ever need. This is surely a place I would recommend to absolutely everybody if they were ever staying in Louisville! If I can manage it, I will never go to another hotel again! :)
Catrina
2016-04-12T00:00:00Z
There isn't enough I can say about Landon, from when I first reached out until the trip was over, he was a great host. His email response time was impeccable, making sure to answer every single question I had. The check-in and check-out process was a breeze and he was politely willing to make concessions for us when asked. Plenty of room for 6 people! Location was easy to find and navigation in and around town was convenient...Uber was readily available upon our request. We will most definitely be returning to Landon's home!!
Jacqueline
2017-04-07T00:00:00Z
We enjoyed our stay in Louisville. We had everything we needed in the house. We felt welcome when we arrived. Landon had a binder with information about sites to see in the neighborhood that was just great. We had come to Louisville to continue the KY bourbon tour and ended up having time to visit some of the sites listed in the binder as well.
Laura
2016-10-14T00:00:00Z
Landon was a wonderful host! He was extremely responsive throughout the pre-trip/booking process and during our stay. We never met face to face, but he had a binder with all of the information we needed, and was even kind enough to have fresh cookies waiting for us when we arrived! The house was very clean and lovely. There were seven of us and we all slept comfortably - Landon even provided us with an extra air mattress. The neighborhood is also decent, I never felt unsafe, and felt comfortable taking my dog for a walk by myself. The house is also close to the airport. Overall, I highly recommend this location!!
New
2015-11-09T00:00:00Z
Szoba típusa
Teljes ház/lakás
---
Ingatlan típusa
Ház
---
Férőhelyek
10
---
Hálószobák
Louisville, Kentucky, Egyesült Államok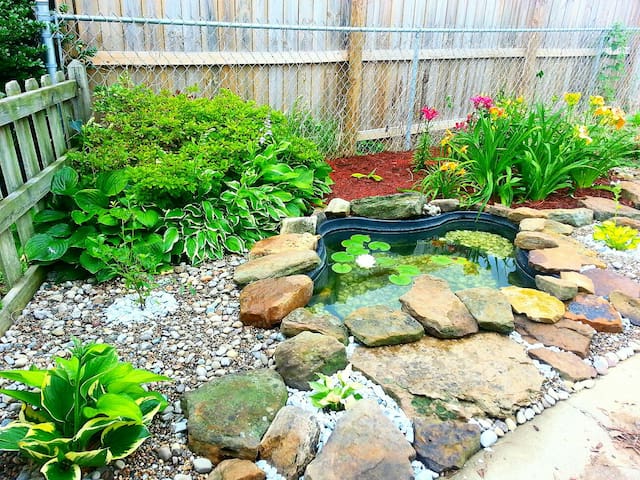 Convenient location to downtown. I drove to downtown usually took 12-13min in the morning. Its a quiet neighborhood. I did not meet Chris during my stay but check in was easy and he was very responsive to anything I needed.
Janki
2017-04-09T00:00:00Z
Szoba típusa
Privát szoba
---
Ingatlan típusa
Szoba reggelivel
---
Férőhelyek
2
---
Hálószobák
Louisville, Kentucky, Egyesült Államok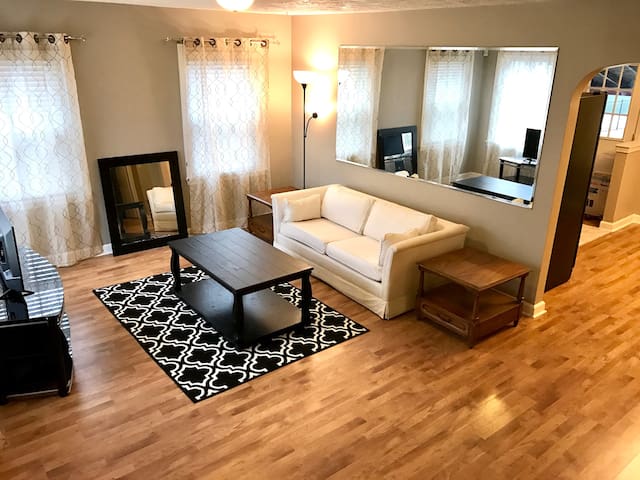 これは、いくつかの若い専門家の間で共有旧ルイビルのセントラルパークの近くに私たちのきちんとしていて、むしろファブビクトリア朝の家、です。私たちはしばしば、町の外にしているので、これは光&独立した旅行者のための絶好の場所です。それはでたむろ、またはから探検するベースとして使用する快適です。 注:この部屋は現在何もありません未満の30日間家賃のためのものです。
これは、旧ルイビルの北端にある私たちの130年の古い家の中の部屋、直接南の繁華街の美術館地区、北セントラルパークの数ブロック(セントジェームスコートに近い)です。既存の家は、実際に3階建ての建物の残りの上位2階で、1階は総リビングスペースは2000平方フィートで1922年にパン屋に変換しました。 私たちの場所は、常にいくつかの改装を受けているが、それはだ "ほとんどが行われ、 'と非常に快適。私たちは、大規模な、フェンスで囲まれた裏庭があり、屋上デッキ(秋を通じて家の春で最高の部屋)。客室には、専用の小さなしかし、10 '天井、フルサイズのロフトベッドがあります。それは2つの「フィット」人を収容することができます。 家は、様々なスケジュールで(アート/デザインと料理の分野で)いくつかの若い専門家の間で共有されています。同時に、私たちのすべてを見ることはほとんどありません。我々はまた、非常に友好的である(私たちの肖像画で小型犬、)Feist事件を持っています。 注意ベーネ:我々はきちんと物事を維持し、まとめるために最善を尽くしますが、これは私たちの家であり、我々は内とすることなく命を持っている - すべてが完璧ではありません。私たちは、私たちの家にあなたを歓迎します。それはそれではなく、ホテルであることを覚えておいてください。
旧ルイビルはルイビルで最も人口密度の高い多様な地域です。私たちは、ニューヨーク市後のビクトリア朝の家のほとんど無傷の近傍を持っています。世紀古い木々や公園が近く周りに歩いて、この素敵な場所を作ります。
I stayed here for a month. It's a solid spot. Lots of beautiful historic buildings in the neighborhood. You are centrally located so nothing is more than 2 miles away. The roommates are chill. I'd definitely go back again.
Brendan
2017-03-30T00:00:00Z
The place was as advertised. Jeff was friendly, helpful, and responsive. Louisville is a great town and I'm glad I got to experience it using my room as a base of operations.
Roberto
2016-12-30T00:00:00Z
This was a very welcoming household. The roof garden courtyard was my favorite part, the bathroom shower is nice and the room was cozy and comfortable. The location was perfect for exploring Old Louisville and very convenient to go downtown as well. I would say that the neighborhood is 90% adorable cool old houses and 10% a little rough. Overall I had a great experience and I would recommend this listing to any young artsy folks or students. Thanks so much guys!
Chris
2015-05-23T00:00:00Z
Jeff and Bess were the best hosts! I was relocating out to Louisville from the west coast, and they made the transition easy. The house is kept clean and has a great old victorian feel. Jeff and Bess made themselves available to answer any questions I had about the city and were flexible with my check-out date since I was looking for a place to live. I am really happy that I stayed with them. They were both so nice and accommodating!
Nicholas
2012-08-25T00:00:00Z
When I booked here, I assumed it wouldn't be inconvenient even if there isn't the owner in the house when I live there. However, it was actually much inconvenient because I had to wait for his answer every time I came up with a question such as "What is Wi-Fi password?" and "Where can I get drink water?" It was actually better for me to have some explanations when I arrive a place where I stay. This house's Wi-Fi was disconnected every five minutes I use internet. The room I stayed was quite small. That would be fine if it was just small, but the furnitures and closet were not so clean that I couldn't be relaxed. Moreover, there is an air intake which send my room cool air. This makes the bed, especially the position which my head was supposed to be, too cold. Because of this, I was forced to change my head position in the opposite direction. Even under such condition, the bed has only one light comforter. It was really uncomfortable.
Michiharu
2016-08-19T00:00:00Z
Jeff and Bess were great hosts - a sweet loft bed in an awesome apartment. They had great reccomendations on where to eat and drink - and even lent us their bikes to get us there. Will be back to Louisville for sure to hang on their rooftop!
Lindsay
2012-08-06T00:00:00Z
Very cute place. We enjoyed the stay and had fun playing with the cat. The place is also close to Bardstown and Downtown and easy to get to places.
Anthony
2014-07-08T00:00:00Z
Everything was as described. The house conditions, the localization, with very easy public transportation! It worths for the price!
José Felipe
2016-01-26T00:00:00Z
Szoba típusa
Privát szoba
---
Ingatlan típusa
Ház
---
Férőhelyek
2
---
Hálószobák
Louisville, Kentucky, Egyesült Államok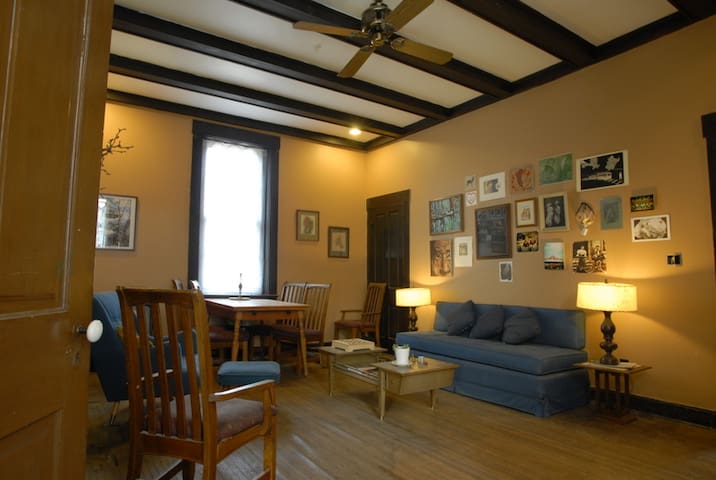 位於市中心,靠近一切,你會想在路易斯維爾體驗!分鐘,從老路易斯維爾,日耳曼,Butchertown,高原,市區時髦的酒吧,商店和餐館驅動。我們是在丘吉爾唐斯10分鐘車程!十分鐘的穆罕默德·阿里中心,棒球博物館,四大步行橋,影劇院,音樂廳,農貿市場,歷史街區旅遊......這樣的例子不勝枚舉和!
關閉的一切!不太步行距離,但非常接近時髦的酒吧,餐館和商店。從丘吉爾丘陵僅有幾分鐘的路程,市中心,高地,老路易斯維爾,日耳曼!這就是,如果你想體驗所有路易斯維爾所提供很大的面積為英寸 這是一個行動和未來的居民區仍處於過渡。家園被很多新裝修和當地企業中移動(檢查出猩紅色麵包店僅兩個街區沿街)。 如果你正在尋找一個小郊區,質樸的鄰里沒有字符,這樣不是很好。
Kelly has an wonderful, warm, homey home! It's in a great location, close to so many cool spots. Her animals are insanely sweet, which I think says a lot about her. The room is very nice, equipped with a television and wii (whoop whoop), there is also closet space (big plus). My stay was short, but I very much enjoyed my time there. I will be back!
Casey
2016-10-09T00:00:00Z
This was a very convenient place to crash for a night as I was traveling from Detroit to Memphis. Kelly thought if everything!! Ask her about the fancy hippie body wash. It's called Jesus and for good reason!! I'll be back anytime I'm in the Ville!!!
ron
2016-10-16T00:00:00Z
The house was incredibly cozy, and Kelly was very accommodating. She made a binder of local cool spots, restaurants, and bars close by (we tried out three suggestions and all were great), and the room we stayed in was very comfortable. She and Rivka encouraged us to make ourselves at home and were very sweet. Kelly's pets were amazing - two cats and two dogs, all very friendly. There was even a pot of French press coffee waiting for us in the morning. Great location and very chill place to come back to after a day or night around Germantown!
Josh
2016-12-06T00:00:00Z
Kelly thought of everything, down to a shelf reserved for guests in the fridge and a sewing kit in the guest room for wardrobe emergencies. She, and her fur babies, were wonderful company when we were all 'home' at the same time, otherwise the house was quiet and relaxing.
Amanda
2016-11-19T00:00:00Z
Had an awesome time here, will definitely choose them again if I find myself back in the area!
Shanise
2017-02-11T00:00:00Z
Our stay at Kelly's place couldn't have been better! Kelly was communicative and welcoming. The house was so cute, clean, and comfortable. We appreciated all the great recommendations for places to eat and drink, and the location was just a short drive from everything. We can't thank you enough for a great stay. Louisville has a lot to offer and we look forward to coming back!
Olga
2017-02-06T00:00:00Z
Kelly's place was warm, clean, and conveniently located for easy downtown access. We only stayed for a night, but it was perfect for our needs.
Shane
2016-11-26T00:00:00Z
It's a very nice house with great hostess, everything is perfect, there is Netflix in your room also. Cats and dogs are obviously well trained,strongly recommend
Ran
2017-04-13T00:00:00Z
Szoba típusa
Privát szoba
---
Ingatlan típusa
Ház
---
Férőhelyek
2
---
Hálószobák
Louisville, Kentucky, Egyesült Államok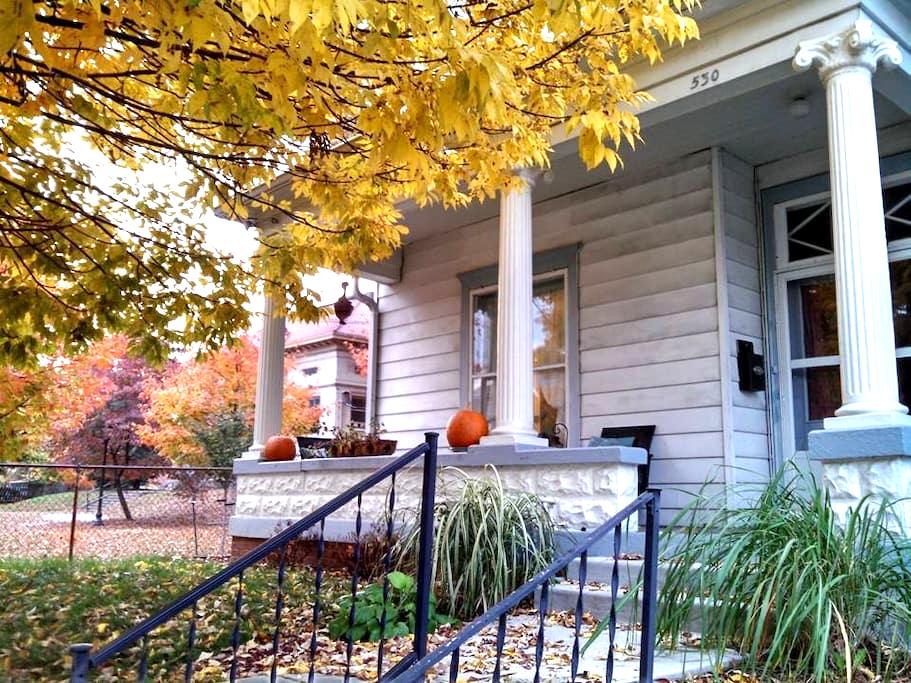 , Cochera hermoso brillante en el centro del histórico barrio antiguo de Louisville. Un poco más de 2 millas de Churchill Downs y momentos de fantásticos restaurantes, museos y todos los monumentos de la ciudad del río.
Hay una cama de matrimonio en la primera habitación del segundo piso, una cama individual y una cama nido doble en la segunda habitación del segundo piso y la cama de matrimonio en la planta baja con un baño completo.
La casa es parte de la mayor colección de casas de estilo victoriano en el país. Tenga en cuenta, no hay ruido de los trenes, aviones y otros sonidos de la ciudad aquí en Old Louisville. Si usted es un sueño ligero, esto puede no ser el lugar para usted.
A wonderful charming stay! We enjoyed everything about it!
Benjamin
2016-01-12T00:00:00Z
The Old Louisville Carriage House is a great place to stay in a lovely part of historic Louisville. We enjoyed our stay! It was clean, convenient and comfortable.
Jeff
2016-01-03T00:00:00Z
Debbie and Jon are exceptional and thoughtful hosts. Their attention to detail in arrival set up, to the amenities provided, to the layout of the house were top notch.
Jeffery
2016-10-12T00:00:00Z
Wonderful! We will be back!
Linde
2016-11-18T00:00:00Z
Jon was extremely hospitable, accommodating, knowledgeable & accessible. The house was a welcomed home away from home for our family of 5. We appreciated the provisions left in the fridge & pantry....along with being able to securely garage our car during our stay. Top hosts & house...Thanks Jon & Debbie
Kirstie
2016-08-09T00:00:00Z
This was such a beautiful property, and I could just shower this review with decor compliments. The check-in and check-out process went smoothly, and we received a welcome tour of the property upon arrival. It was a nice added touch that we were offered muffins and drinks. Our group of four were very comfortable inside this property, and we all had a great nights sleep. Washer and dryer was an added bonus! The location was ok, we didn't walk anywhere, but we were within a 5-15 min drive from all the destinations we wanted to hit in Louisville. The hosts also provide a great list of recommendations for the area. They live in the main house in the front, but this property is very private and there is a lovely garden patio area between the airbnb and their back yard. So to sum it up, we had a most excellent stay and Debbie and Jon were friendly and easy to reach hosts.
Kelly
2016-10-26T00:00:00Z
I appreciate the historic feel this home has. Debbie's husband has done a great job remodeling it. He also has quite a selection of bars and reaurants to check out. The next time I have a job in Louisville kentucky I would deffinatly stay at this house again
Christian
2016-01-08T00:00:00Z
The home was perfectly located to suit our needs. We were four friends on the bourbon trail and this was a comfortable spot to rest our heads. The butter and milk in the fridge along with the coffee and tea were nice touches. Would recommend.
Jim
2016-03-01T00:00:00Z
Szoba típusa
Teljes ház/lakás
---
Ingatlan típusa
Ház
---
Férőhelyek
6
---
Hálószobák
Louisville, Kentucky, Egyesült Államok
Great price, very central and easy get to. Matt was great with communication and was very accommodating with our arrival and departure. Rooftop is pretty sweet!
ANDREY
2017-04-08T00:00:00Z
Szoba típusa
Teljes ház/lakás
---
Ingatlan típusa
Lakás
---
Férőhelyek
3
---
Hálószobák
Louisville, Kentucky, Egyesült Államok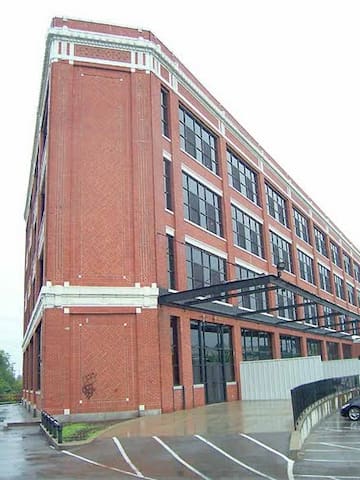 Grande, bairro histórico. Perto de muitas atracções. Próximo ao centro, o aeroporto, Kentucky State Fairgrounds, Kentucky Kingdom, Churchill Downs, KFC Yum! Center, Louisville International Convention Center, Waterfront Park, da Universidade de Louisville, distrito de entretenimento Nulu, bairro de Highlands, e Southern Indiana.
Steve and Jessica were great. Good communication and helpful with any needs. I would definitely recommend for a stay in the Old Louisville area.
Damon
2016-03-02T00:00:00Z
This house is Lovely and inviting. Not only is the house adorable, but Steve and Jessica provided you with a welcome packet with tourist/restaurant recommendations and beverages in the fridge. If you are staying in Louisville, I would highly recommend staying here!
Jenna
2016-06-06T00:00:00Z
Jessica and Steve were great! The home was beautiful and had its own entrance. There was plenty of sleeping options for the large party we had. And the location was great, right near a few cute restaurants and just a short cab ride to 4th St Live!
Erin
2016-04-26T00:00:00Z
Steve and Jessica had cold beverages there for us. They helped cool us down when we arrived on an over 90 degree day. The neighborhood felt save and it was close to our daily event. The bed was comfortable for myself and my daughter.
Julie
2016-07-30T00:00:00Z
Steve and Jessica's apartment was wonderful! They made their home very welcoming.
Maggie
2016-03-13T00:00:00Z
I really enjoyed my stay. The location was perfect for my visit with my daughter at the university of Louisville. The bourbon and sodas available on arrival were a lovely touch. Everything was clean and tidy and really comfortable. Hundreds of TV channels also. I would definitely recommend and would stay there again!
Amanda
2016-10-20T00:00:00Z
Apartment was clean and nice, everything you may need available plus some extra nice features. Worked perfect for us, will return for sure.
Leonardo
2017-03-11T00:00:00Z
Great hosts and great spot
Bailey
2017-02-05T00:00:00Z
Szoba típusa
Teljes ház/lakás
---
Ingatlan típusa
Lakás
---
Férőhelyek
6
---
Hálószobák
Louisville, Kentucky, Egyesült Államok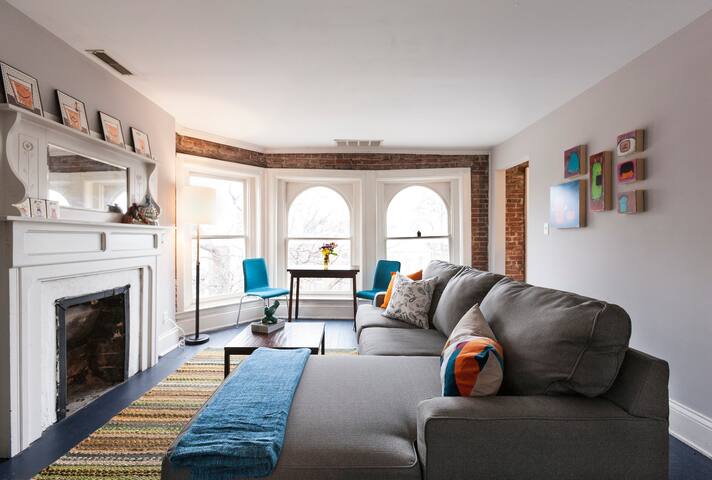 A meno di 5 minuti dal 265 e 65. Viviamo a soli 12 minuti da Churchill Downs, a 15 minuti dal Highlands, a 20 minuti dal centro. Oltre 40 ristoranti entro 10 minuti di auto e diversi outlet e distillerie in 20 minuti. Non siamo nel centro di Louisville, ma che significa che si ottiene 2 volte lo spazio per 1/2 del prezzo in una zona sicura, con facile accesso all'autostrada. Siamo super vicino alle distillerie di bourbon e la maggior parte delle parti della città a 15 minuti o meno di distanza.
Abbiamo due cuccioli in azienda: un laboratorio nero e un Border Collie. Sono super cordiale e sarà il vostro migliore amico per sempre o possono essere mantenuti al di fuori e / o in un'altra stanza, se i cuccioli non sono la vostra passione. Vi preghiamo di darci un testa a testa di 30 minuti prima del vostro arrivo in modo che possiamo ottenere i cani fuori delle aree comuni in modo da poter ottenere il vostro bagaglio a fuggire senza di loro. Grazie in anticipo! Il nostro check-in è quotata alle 6 di sera, ma possiamo essere flessibili se non ci fosse un ospite la sera prima. È elencato a 6pm in modo che possiamo essere sicuri di avere le camere pulite per voi prima di arrivare; se non abbiamo avuto un ospite la sera prima, la sala sarà già pulito. Basta messaggio se volete vedere se siamo in grado di fare un check-in e ci faremo sapere.
Timberbend è una strada senza uscita in modo molto poco traffico passa attraverso il quartiere. C'è un breve 1/2 miglio percorso ad anello escursionistico intorno ai due laghetti del quartiere. Il cortile è recintato e dotato di un ampio patio e un camino. Ci sono più di 40 negozi / ristoranti all'interno di un dieci minuti. Vi è anche un grande locale gelateria meno di sette minuti a piedi che è aperto stagionalmente. Si prega di parcheggiare sulla strada dalla cassetta postale o nel cerchio davanti alla nostra casa.
Andrew was a great host. Cozy room and clean bathroom. Dogs were super friendly! Would definitely come back.
Claire
2017-03-26T00:00:00Z
Nice place, clean 100% recommend
Luis
2016-11-14T00:00:00Z
Very welcoming and very kind, pups were adorable! We had our own tv with Netflix/Hulu/Amazon and in the upstairs area we had an Xbox one and an Xbox 360 with an awesome (and impressive) movie/game collection! Andrew was very knowledgable in the area and was around to answer any of our questions! Great place to stay, if I'm ever in Louisville again... I'm booking with Andrew!
Ricky
2016-08-17T00:00:00Z
The accommodations were exactly as advertised. The host could not have done anything more to make me comfortable and feel at home. Don't miss staying with Andrew and Melissa, you can't go wrong.
Richard
2017-02-25T00:00:00Z
Andrew did a great job making us feel welcome in his home. Though we were only there for one night, Andrew gave us some recommendations for local Louisville cuisine and free parking tips which came in handy throughout our stay. Even after the trip was over, Andrew helped me out by mailing me my Sonicare toothbrush that I accidentally left...what a great host!
Molly
2016-09-08T00:00:00Z
Andrew was great, I needed a place at the last minute and he came through for me. I told him what time I would arrive and he was waiting outside when I pulled up. The room was nice, clean, and organized. The bathroom had all the amenities I could have needed. I would recommend to stay.
Zach
2016-05-14T00:00:00Z
The room is lovely and the bed is VERY comfy and cozy. Even though I was only there for one night, Andrew and Melissa made me feel very welcome.
Sarah
2016-11-11T00:00:00Z
Absolutely beautiful home, stunning, clean & fragrant bedroom! Andrew was so accommodating, especially with working with my late night & sudden booking! I would give him a 15 out of 10 if possible!
Briea
2016-11-16T00:00:00Z
Szoba típusa
Privát szoba
---
Ingatlan típusa
Ház
---
Férőhelyek
4
---
Hálószobák
Louisville, Kentucky, Egyesült Államok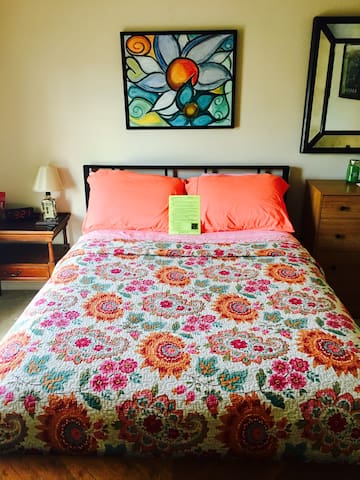 Add meg az időpontokat a teljes ár megtekintéséhez. Felmerülhetnek további költségek illetve adók.